If you're not tapping into the power of SMS communications, you're missing out. We break down the top text messaging services for business so you can start optimizing your communications ASAP!
Almost everyone has a cell phone these days. So it's no surprise that text messages are quickly becoming the most effective communication channel for business.
With 95% of all texts being read within the first 5 minutes, SMS is a convenient and efficient medium for urgent, up-to-the-minute messaging.
But with so many SMS business tools out there, it can be tough to know which one is best for your needs. To give you a hand, we've broken down everything you need to know about today's top text messaging services for business. Let's dive in!
What is Text Messaging for Business?
Business text messaging is the process of sharing SMS messages with, across, and between organizational staff, clients, and stakeholders.
When a recipient opts in to receive SMS text messages from your business, you open a space for quick, snappy, up-to-the-minute dialogue.
On the recipient's end, the SMS message will look much like any other text from a friend. But on your end, you'll be able to tap into a range of segmentation features, analytics, and sending preferences.
Quick Tip: Reach more employees in half the time and leverage multiple communication channels and sending lists with our list management tool.
Generally, you can choose from two types of SMS tools:
Internal SMS:

this type of tool is used to send quick and/or urgent messages to employees. A text messaging system like this is ideal for reaching/ engaging frontline workers.

External SMS:

this type of text messaging system is designed to engage and support existing customers while recruiting new ones through SMS marketing.
We recommend picking an SMS solution that integrates with email for optimal alignment across your communications.
With ContactMonkey's all-in-one messaging software, you can send email newsletters and text messages to employees and email newsletters from a single, easy-to-use interface. So you can avoid the hassle of jumping between dozens of tools just to get your message across!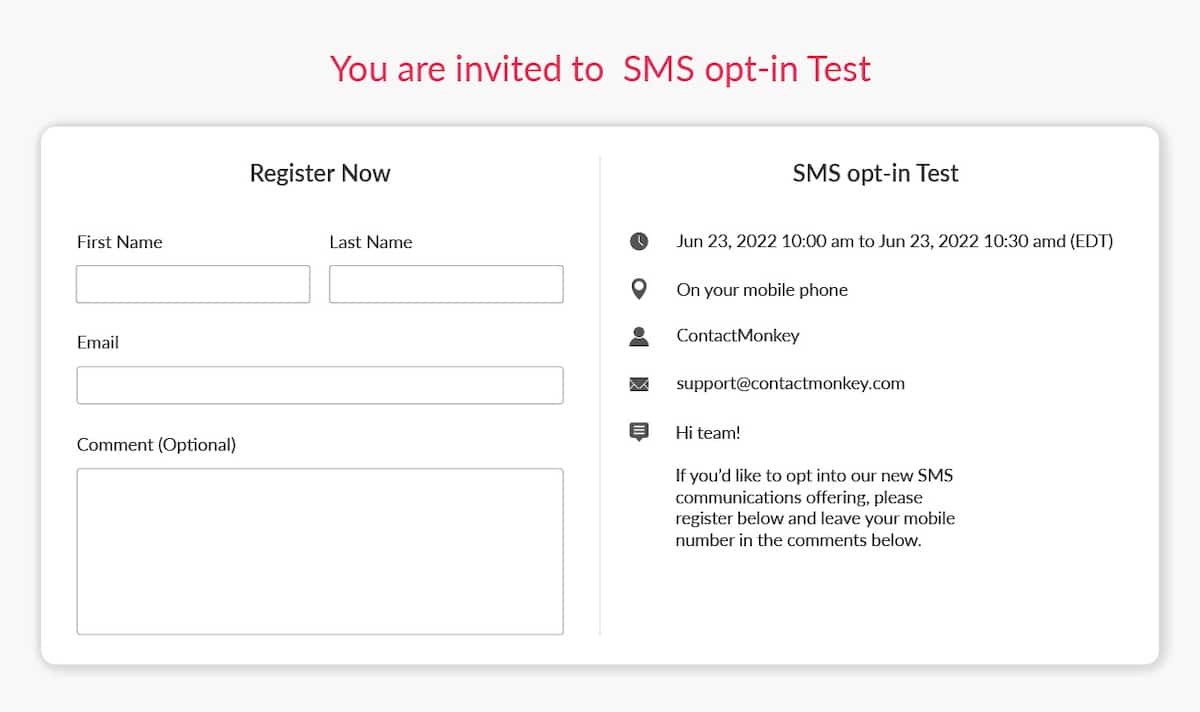 How Do You Select The Right Text Messaging Tool?
Some tools are tailored to SMS external marketing, optimized to target clients and leads with promotional messages. Other tools are designed for engaging with your workforce.
ContactMonkey's SMS solution belongs to the second category. As internal communications software, it's designed to streamline engagement with frontline workers and remote teams. It also serves as an emergency notification system for business, helping you deliver emergency text alerts and reach employees faster during a crisis. 
Before you decide what type of tool you need, consider your business goals. We recommend asking yourself questions like:
Once you've taken a quick audit of your communications, you'll be in a better position to choose the right text messaging tool for your organization.
Engage staff with internal email or SMS messages.
Start a 14-day trial. No credit card is necessary. Zero risk.
Why You Need a Text Messaging Service for Your Business
With the advent of smartphones, people are using their mobile devices significantly more often.
In fact, in 2022, 70% of consumers opted in to receive texts from businesses.
In addition, businesses are using text messaging more often to reach remote and hybrid employees while continuing to rely on SMS to engage frontline and operational staff.
Whether you're using it for customer support, to support your email marketing efforts, or as an internal communications tool, there are countless benefits to using business SMS.
Here are just a few advantages that you can unlock with the help of SMS messaging:
Faster communication

More efficient customer support

Absolutely zero learning curve for SMS recipients

More reliable communication during crisis situations

Easier way to reach and engage deskless or frontline workers
Pro Tip: Instantly generate customized internal messages from the same place where you send emails and texts with our OpenAI add-in.
Text Messaging for Business Use Cases
From delivering crisis communications alerts to sending meeting reminders, there are tons of ways you can use SMS. But most use cases will fall into three main categories:
Internal communications: Say you have a large group of field staff to communicate with regarding HR paperwork, scheduling, and the like. However, they don't have corporate emails. In this scenario, mass text is the best option to reach employees with your corporate communications. Using SMS can dramatically improve connectivity and reduce workplace miscommunication, especially when it comes to engaging with deskless workers.
Lead generation: SMS is a popular tool for reaching leads and customers alike with discount codes, flash sales, and other promotional campaigns. By enabling links and embedded documents, text messaging apps let you quickly lead recipients to key landing pages. SMS keyword campaigns also enable you to target customers with topics that are unique to your brand and monitor engagement metrics.
Customer support: SMS customer support is a simpler, more efficient alternative to overwhelming live chat pop-ups. Users can engage with existing clients and deliver solutions to their problems in a quicker and easier fashion. Not to mention, SMS enables immediate back-and-forth and offers few chances for communication disruptions. This way, customer concerns can be resolved faster.
10 Best Text Messaging Services for Businesses
As more organizations recognize the value of text messaging for business, a cascade of SMS tools has flooded the market. This can make choosing the right solution feel overwhelming.
Fortunately, we've simplified the task for you. Below, we've narrowed down today's top SMS tools, their standout features, and possible drawbacks.
1. ContactMonkey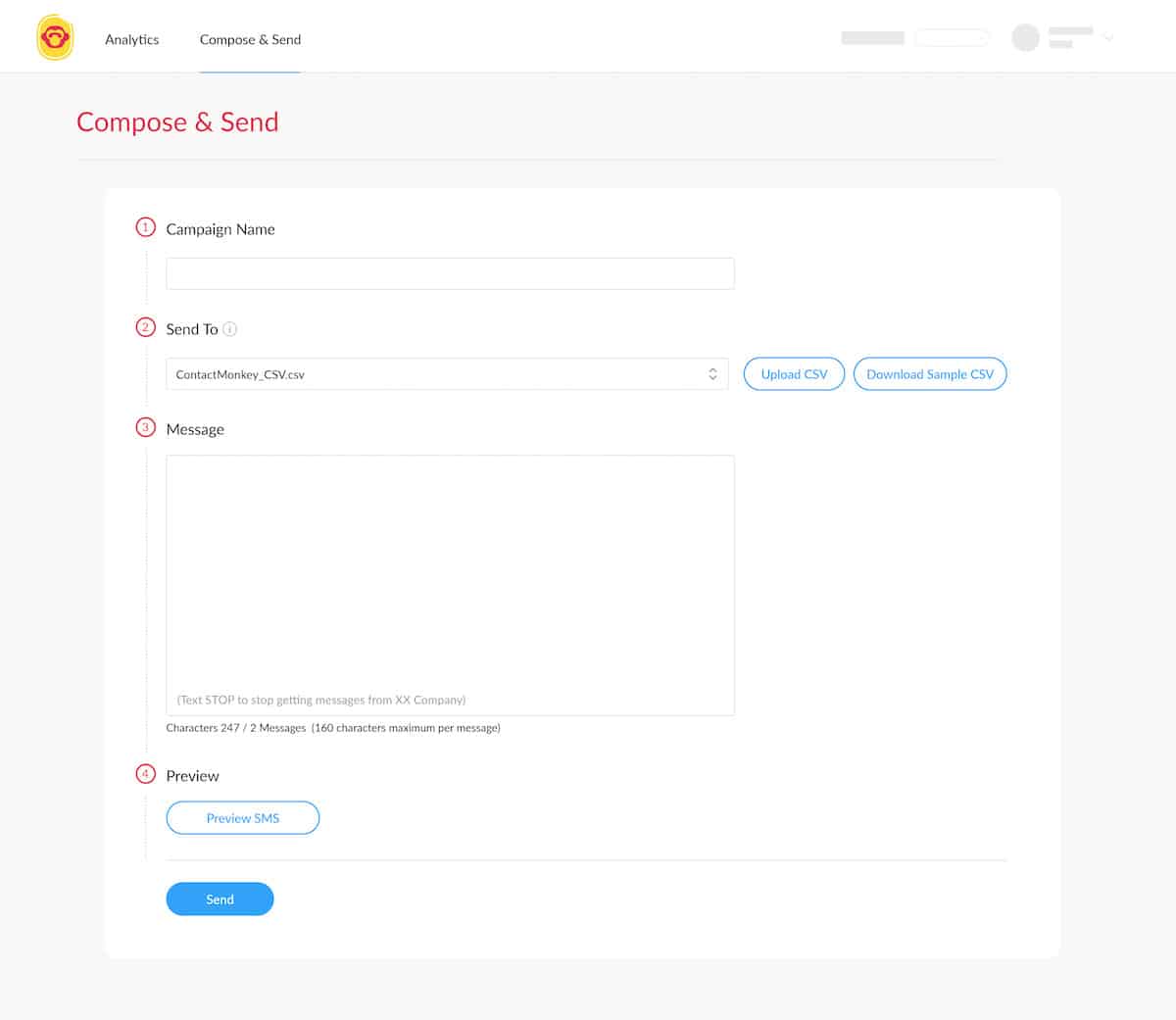 ContactMonkey is a game-changer when it comes to internal SMS. The employee text messaging software allows you to send custom-made SMS content directly to your employees' cell phones. The best part: you can do it all from the same spot where you manage your Outlook and Gmail newsletters.
By seamlessly integrating email and SMS, ContactMonkey lets internal communicators reach employees in half the time of traditional messaging tools. Not to mention, it extends the reach of internal messages and ensures alignment across employee content.
Here are just a few things you can do with ContactMonkey's all-in-one communications tool:
Reach employees from anywhere

Collaborate on SMS messages with your team

Streamline internal communications management

Check SMS analytics, including deliverability and bounce rates

Streamline event management by sending event reminders through SMS

Send document and meeting links via embedded URLs inside your text messages

Create unique distribution segments and import them directly into your SMS builder
Want to see ContactMonkey in action? Book your free trial today!
2. Textedly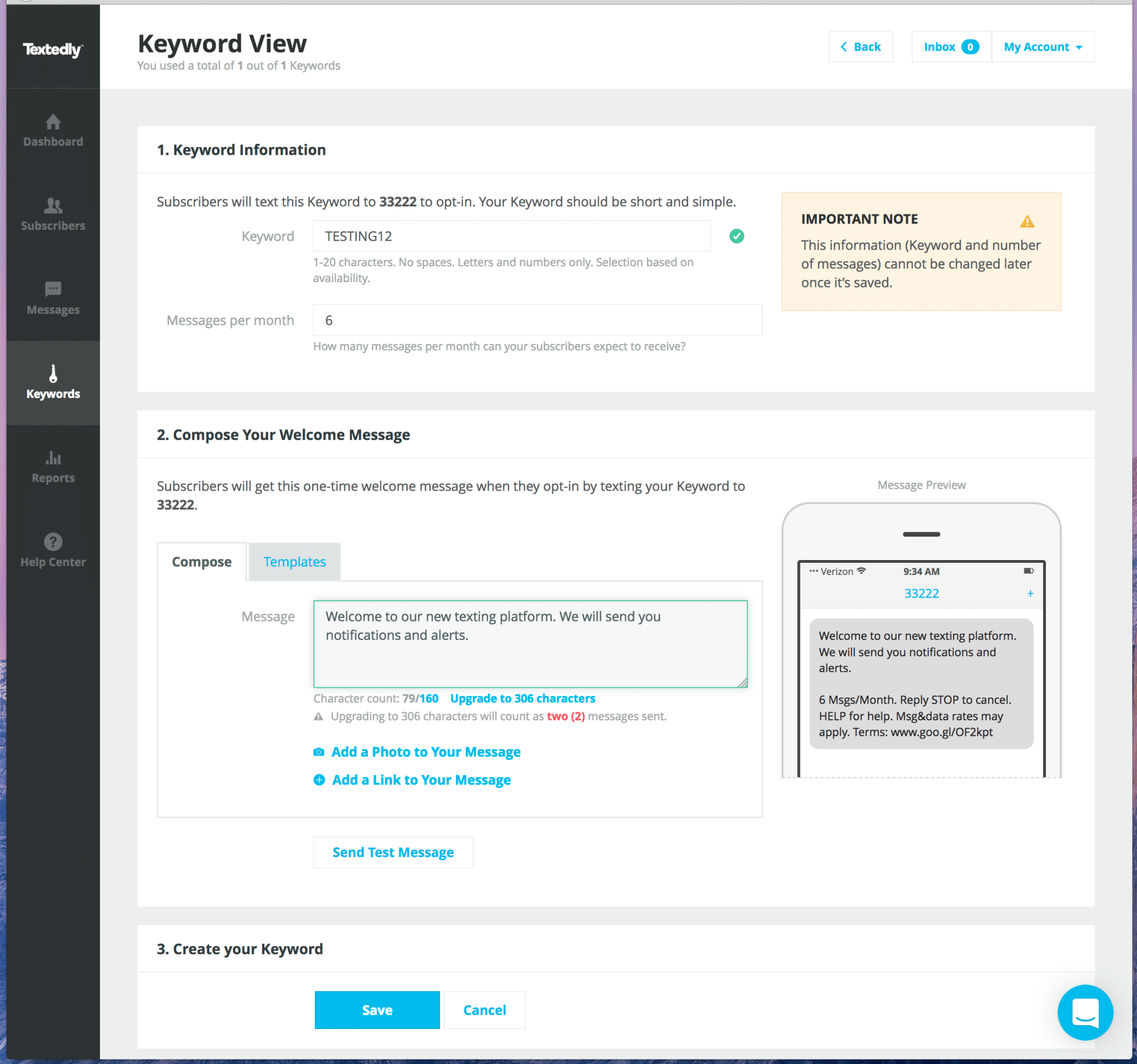 Textedly is a text messaging service designed for SMS marketing. It allows users to build or upload an opt-in subscriber list, schedule text messages, and track delivery. The service is also keyword-focused.
Marketing experts can set up SMS campaigns geared around specific keywords and wait to see results. One downside is that users need to pay for keywords they might not use at different times. Contact lists are attached to specific keywords.
Here are the standout features from Textedly:
Zapier integration

Easy SMS pre-scheduling

Solid SMS tracking and analytics

Users can instantly send up to 100,000 mass text messages

Ability to upload and manage existing SMS opt-in subscriber lists
3. Trumpia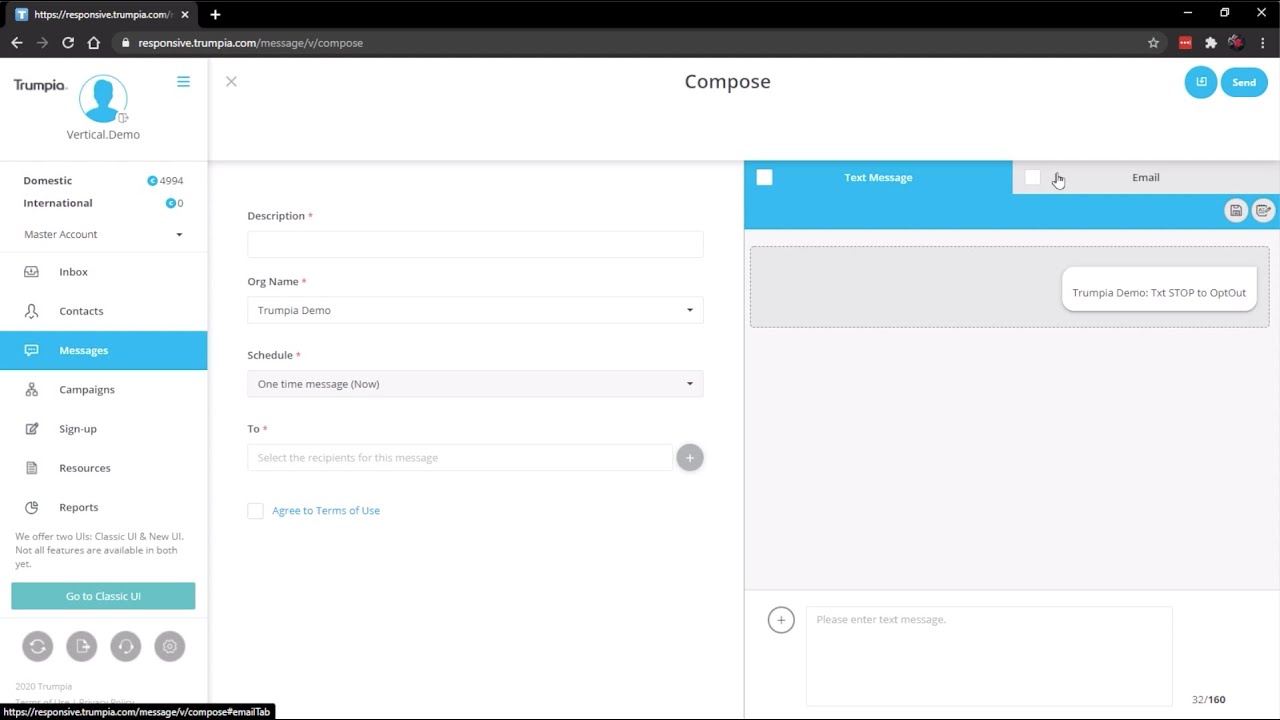 Trumpia is an external and internal SMS mass marketing software. The tool combines mobile keyword campaigns and mass messaging into one. It also includes advanced capabilities such as Smart Targeting to enable data-driven SMS campaigns.
Downsides reported on G2 and Capterra include a lack of reporting on scheduling fails and a laggy backend.
Use your existing recipient lists for SMS messages.
Try ContactMonkey's SMS tool. Improve internal comms.
Trumpia's standout features include:
Data-driven SMS campaign automation

HubSpot, Zapier, and Salesforce integrations

Keyword campaigns allow for targeted messages and easy, single-word responses
4. Zendesk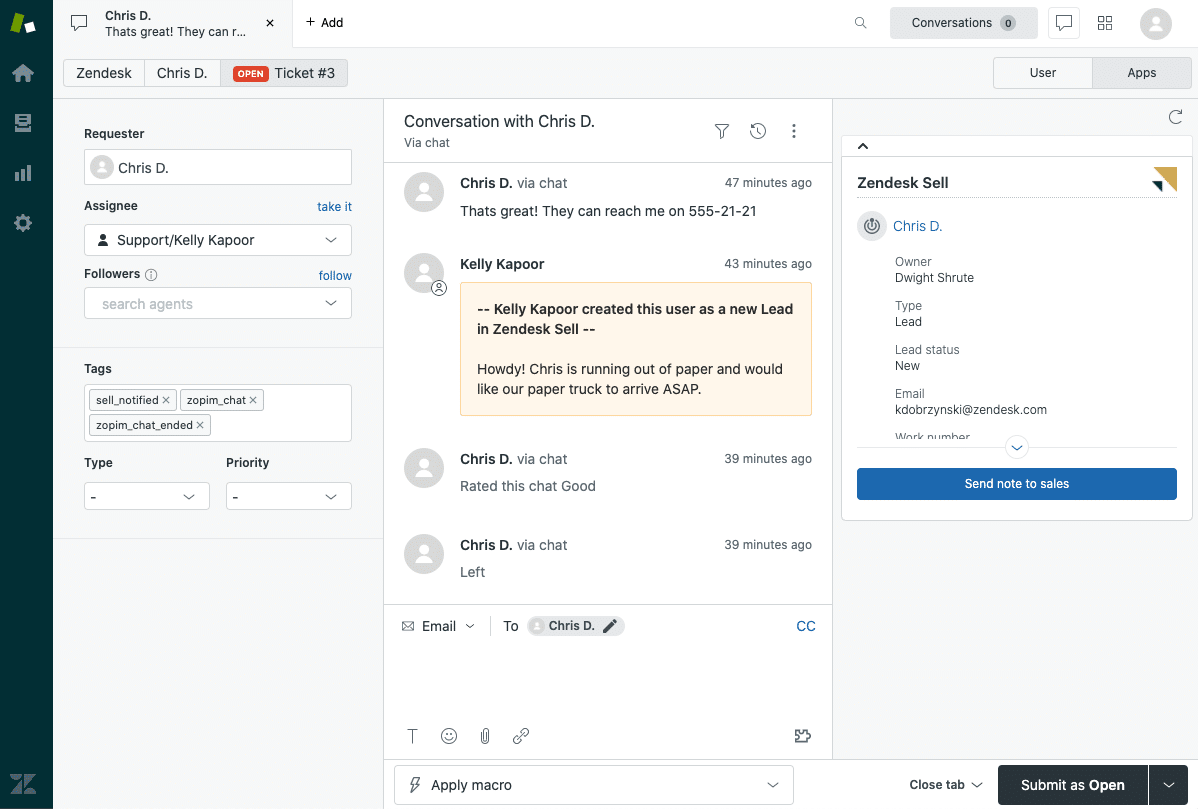 Zendesk is a handy customer support service and CRM with built-in SMS. The support suite enables users to build natural and seamless conversations with customers.
Meanwhile, Facebook, WhatsApp, and Apple Business Chat integration let Zendesk users step beyond SMS and communicate across multiple instant messaging apps. Zendesk is an external communications software and was not designed for internal messaging.
Best features from Zendesk:
Works with large enterprises and startups

Users can embed live chat to any Shopify-powered site.

Integrated support, sales, and customer engagement functions

Quick processing of refunds and cancellations with the Zendesk sidebar app.
5. Podium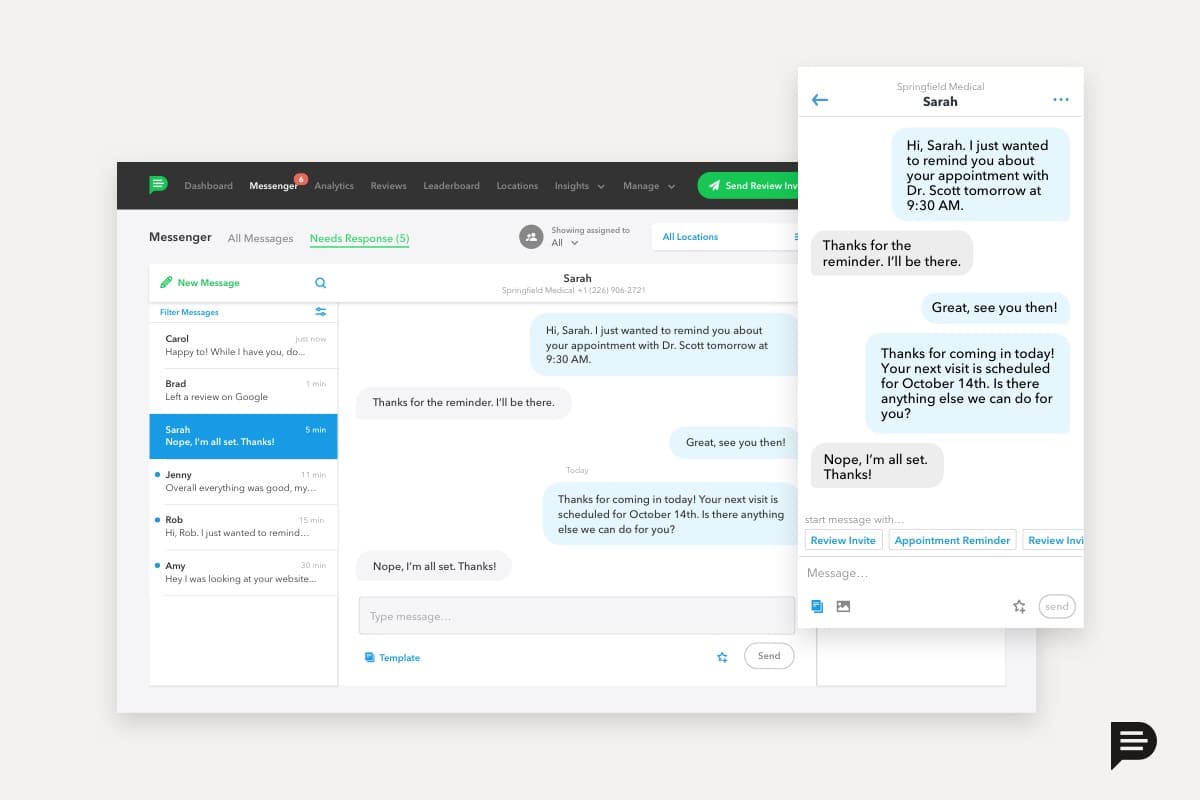 Podium is a simple SMS marketing service focused on gathering customer reviews and feedback.
WithGoogle Business integration, Podium lets users solicit customer reviews and immediately shares them on the organization's Google page. Using a website widget, Podium transfers all the incoming messages from a company's website to a single SMS interface.
What we like about Podium:
Webchat and payment widgets

Easy to instantly capture and share customer reviews

Users can efficiently manage all incoming customer messages from one place
6. Omnisend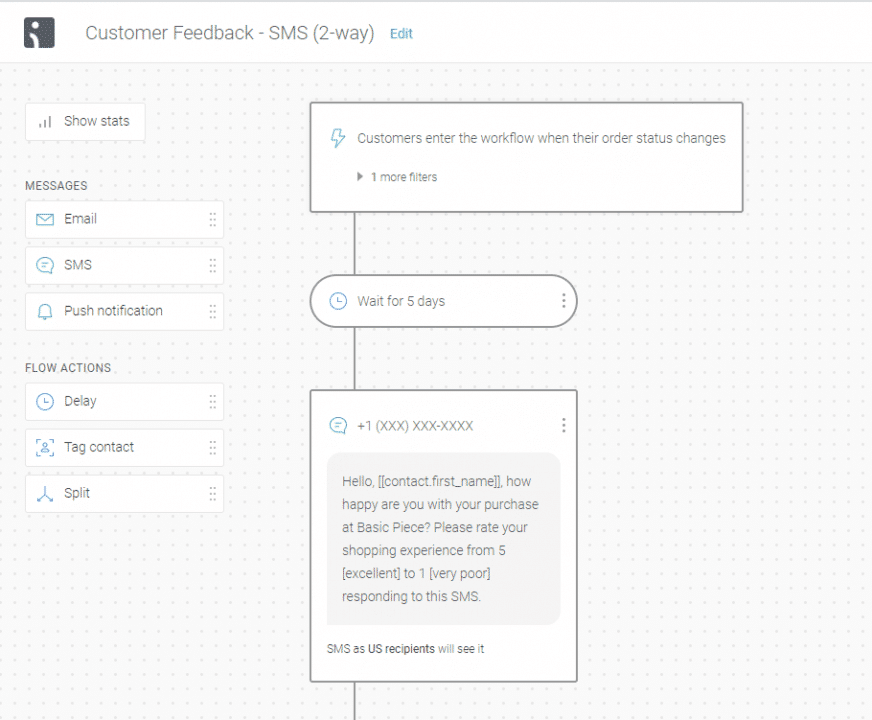 Omnisend is an ecommerce and marketing software with SMS capabilities. Users can build out SMS and email marketing campaigns from a single platform as well as track performance and gather analytics.
With pre-set templates and automations, the software is perfect for organizations that want to tackle all their marketing needs from a single spot. Keep in mind that while Omnisend is a great external marketing tool, it's not compatible with internal communications.
Here are a few Omnisend features that stand out:
SMS and email integration

Automated text and email

workflow

Automations library with pre-built workflow templates

Free monthly SMS credits allow users to save on SMS costs
7. SlickText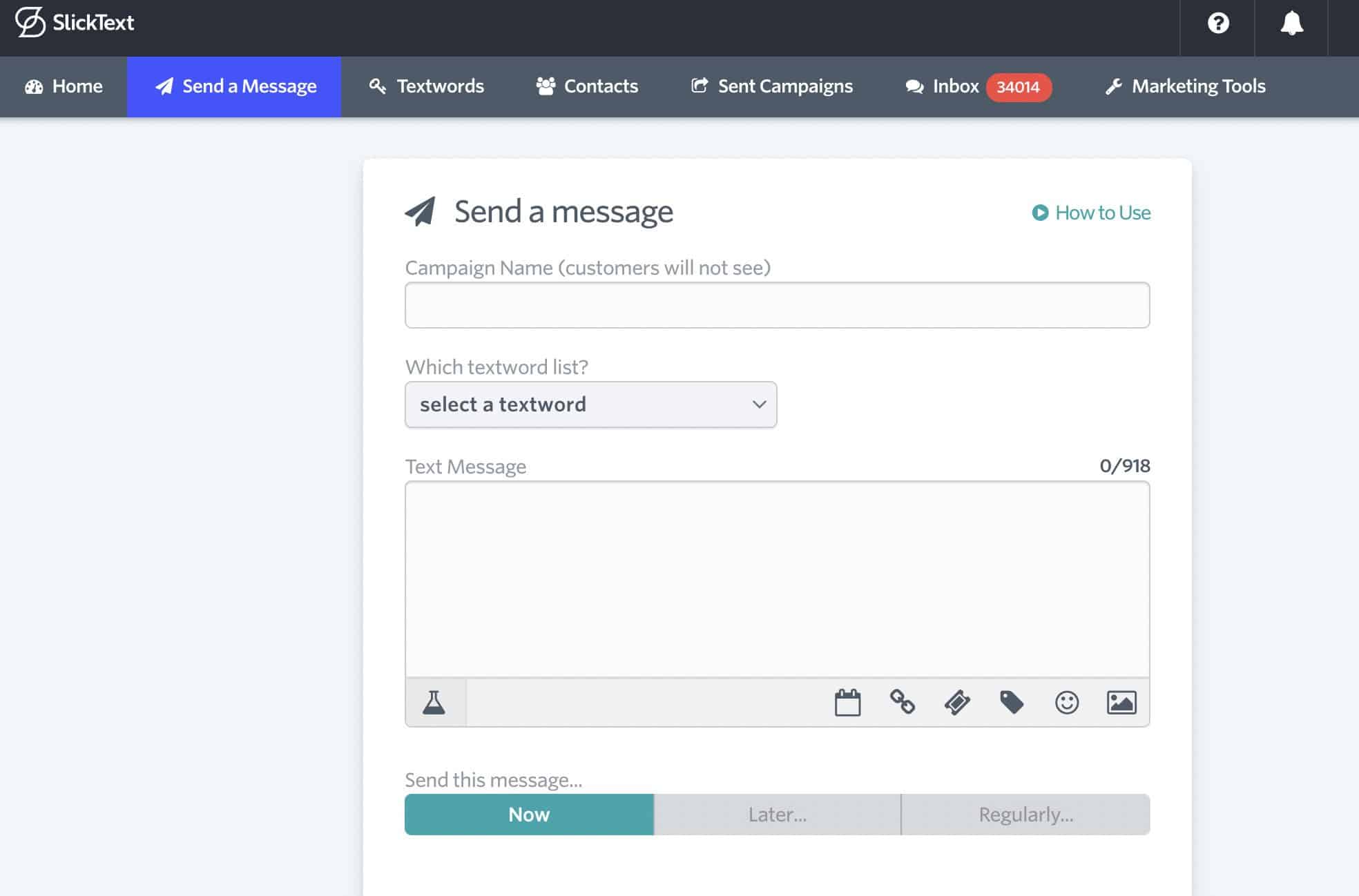 SlickText is an SMS text messaging service built around keyword campaigns. It lets users create a keyword unique to their business and enables recipients to quickly join a brand's SMS marketing list using the short code.
Those who send the keyword receive a customized response from the organization and begin a relationship with the brand. These features make SlickText a great external marketing tool for brands focused on growing their subscriber list.
Standout features from SlickText include:
Unlimited contacts

Keyword campaigns

Unused texts rollover

Text to landline messaging

Dedicated short codes and phone numbers
8. RingCentral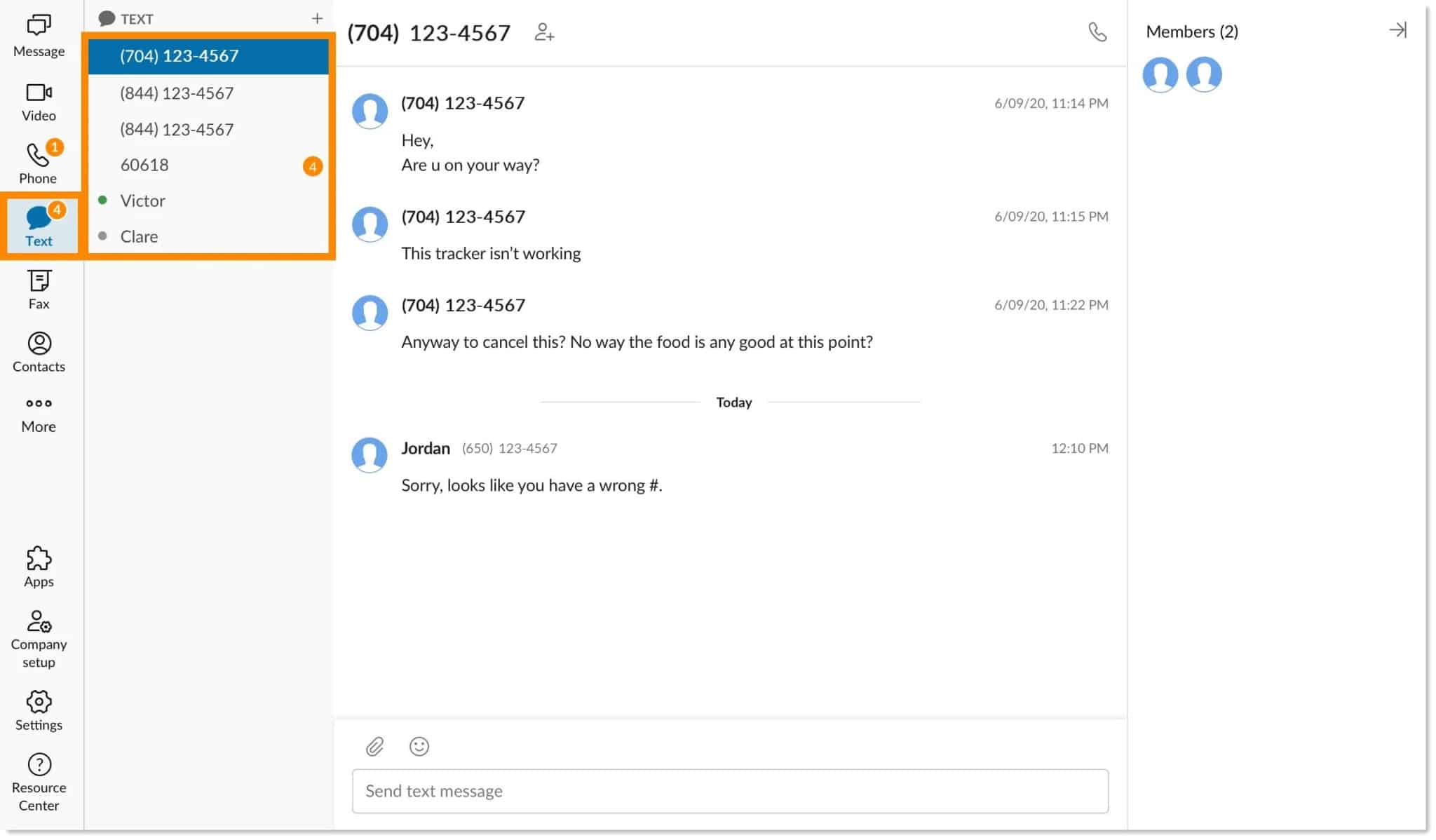 One of the oldest players in the game, RingCentral lets you send text and multimedia messages to colleagues, clients, and stakeholders through an all-in-one platform. With a web-based and mobile app, RingCentral makes it easier to manage SMS messages with customers and employees alike.
However, keep in mind that RingCentral does not integrate with existing internal communications tools like email. For optimal alignment, choose a software that lets you use email and SMS together.
That being said, RingCentral does have some powerful capabilities. Here are a few of our favourites:
SMS preview

Advanced search functions

International SMS messaging

Ability to send images, audio files, videos, and other file attachments

Delivers messages to Android and iOS cell phones, tablets, computers, and the RingCentral desktop and mobile app
9. SimpleTexting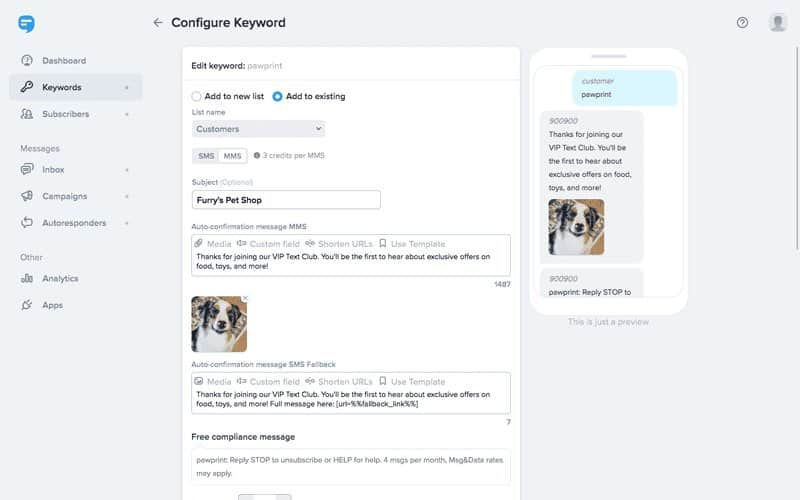 SimpleTexting lets you run SMS marketing campaigns quickly and with a minimal amount of steps. The texting service includes an intuitive user interface (UI), an auto-responder, and a keyword campaign manager.
With these features, SimpleTexting is ideal for mass texting customers and conducting simple and efficient text-based marketing campaigns.
Here are a few SimpleTexting features that we like:
Push notifications

Keyword campaigns

SMS tracking and analytics

Built-in technical marketing support tools

Auto-response for pre-set message replies
10. Birdeye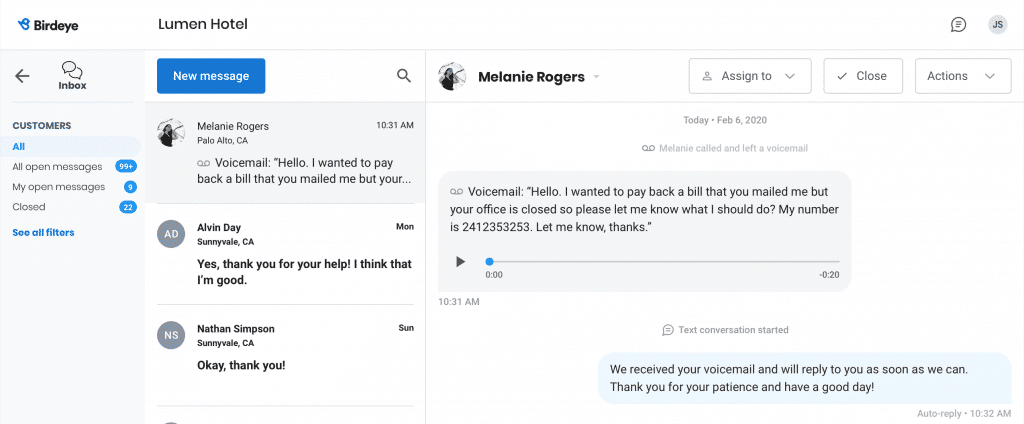 Best known as a resource for helping businesses manage their online listings and reviews, Birdeye also offers substantial SMS capabilities. By integrating with apps like Facebook Messenger, the texting tool lets users reach customers via SMS across a variety of platforms.
When recipients respond to mass texts, Birdeye allows users to turn the correspondence into a one-on-one conversation. All through a single click. These capabilities make Birdeye an ideal platform for tackling SMS marketing and customer support in one.
Standout features from Birdeye include:
Text-based surveys

Text message templates

SMS tracking and anlytics

Instagram and Facebook messenger integration

Ability to reach up to 10,000 contacts with a single text
Find Out Why ContactMonkey is the Best Text Messaging Service for Business
To choose the right text messaging solution for your business, you'll need to do your homework. Taking stock of your business needs and objectives as well as the KPIs you're looking to meet is a must.
In addition, you'll need to understand who your target audience is – employees, customers, or all of the above – and find a tool that serves your objectives. On the bright side, there are many quality tools out there and with a bit of research, you can find a solution tailored to your needs.
If you're looking for an SMS tool dedicated to employee engagement, ContactMonkey is your go-to. By combining the power of email and SMS in one, ContactMonkey lets you step up the capabilities of both communications channels. The result: better alignment and greater reach.
Book a free demo to see how you can reach your workforce instantly and boost employee engagement with our seamless SMS solution.