With over 1.5 billion users, Gmail is the world's most popular email service by a substantial margin. It's also a favourite among internal communications pros. But to get more out of your employee emails, using a Gmail newsletter template is a must.
There's no denying that Gmail has many perks. It's accessible from any browser and offers everything you could possibly need in an email. Well, almost everything.
When it comes to internal communications, Gmail doesn't allow you to send responsive HTML emails. This makes it tough to send responsive company newsletters from the convenience of your inbox.
But don't sweat it, there are workarounds. In this article, we'll show you how to build responsive email newsletter templates for Gmail using ContactMonkey and how to send a newsletter in Gmail in one go.
Why Use Gmail Newsletter Templates For Internal Communications?
Internal communications is all about promoting effective communication across your organization. It can completely change how you operate when done right.
89% of HR leaders say that supportive environments and frequent peer reviews have had a positive impact on their organizations.
But managing internal communications can be a complicated task. There needs to be a system in place to measure engagement and ensure interactive channels are accessible to every employee.
ContactMonkey's internal email tracking tool, combined with Gmail, offers a better way to streamline communications in your organization.
Here are a few reasons to use Gmail newsletter templates for internal communications:
Add Engaging Content and Media
There are basic formatting options in Gmail like bold, italic, underline, etc. But you can't easily add tables or images to your emails without HTML.
This has internal marketing managers wondering – how do I create an HTML newsletter in Gmail? HTML provides formatting and markup that isn't possible with plain text.
Just have a look at some of our stunning employee newsletter templates for Gmail from the ContactMonkey template library: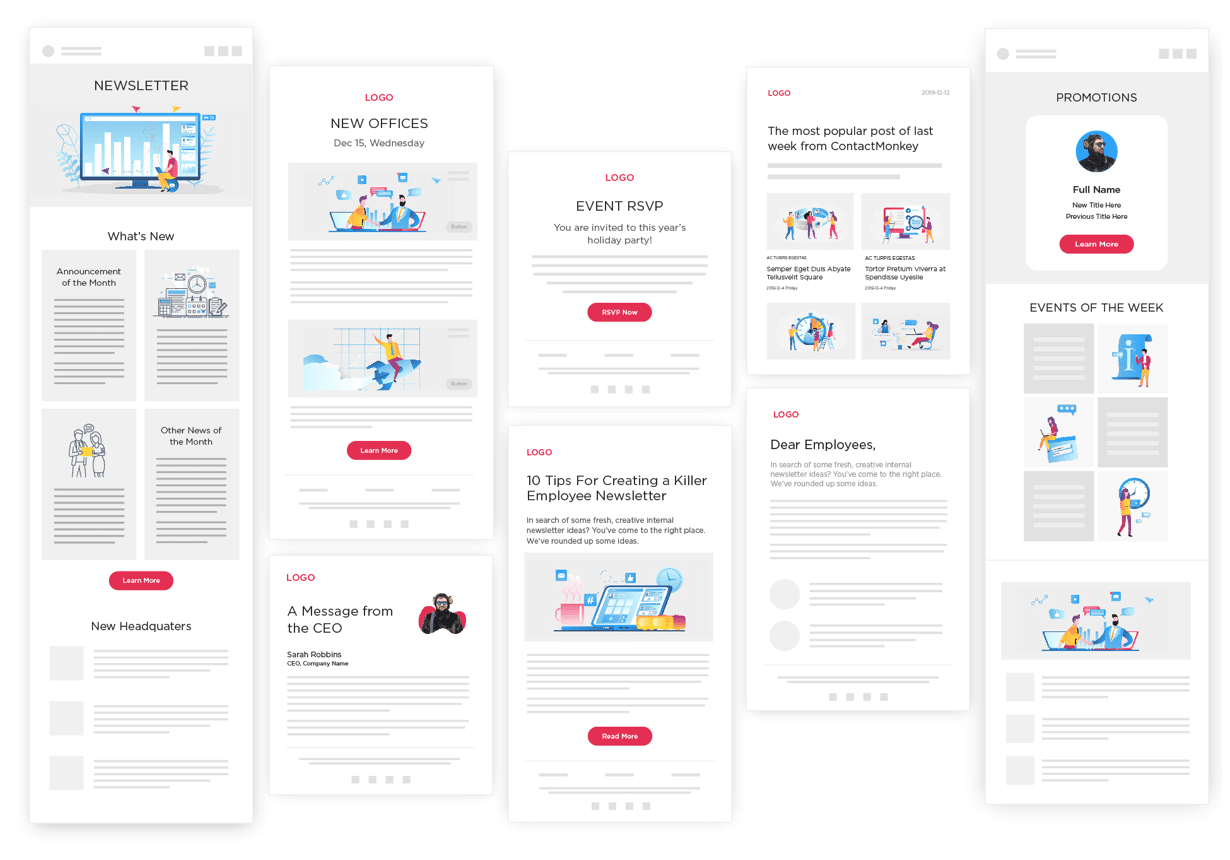 Plain text email simply doesn't offer the same kind of formatting that HTML does.
That's why the ContactMonkey email template builder makes it easy to customize HTML emails and send them to your team from Gmail.
Facilitate Two-Way Communications
No more wondering whether or not your emails resonate within the organization. ContactMonkey's newsletter creator for Gmail lets you turn internal emails into interactive channels.
Easily add pulse surveys, emoji reactions, eNPS questions, and star ratings to your templates.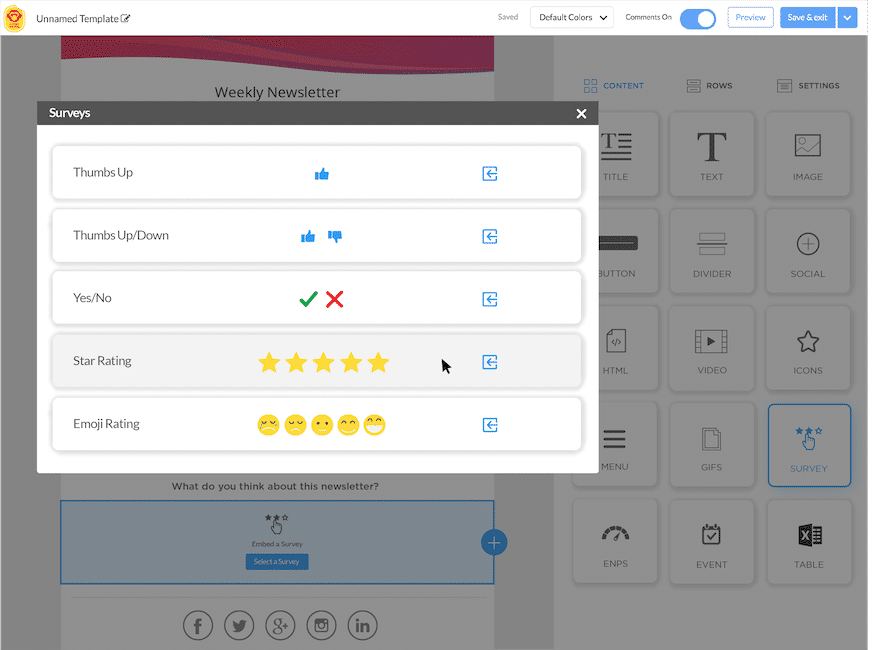 Then collect feedback from your internal emails and analyze that data right from your dashboard.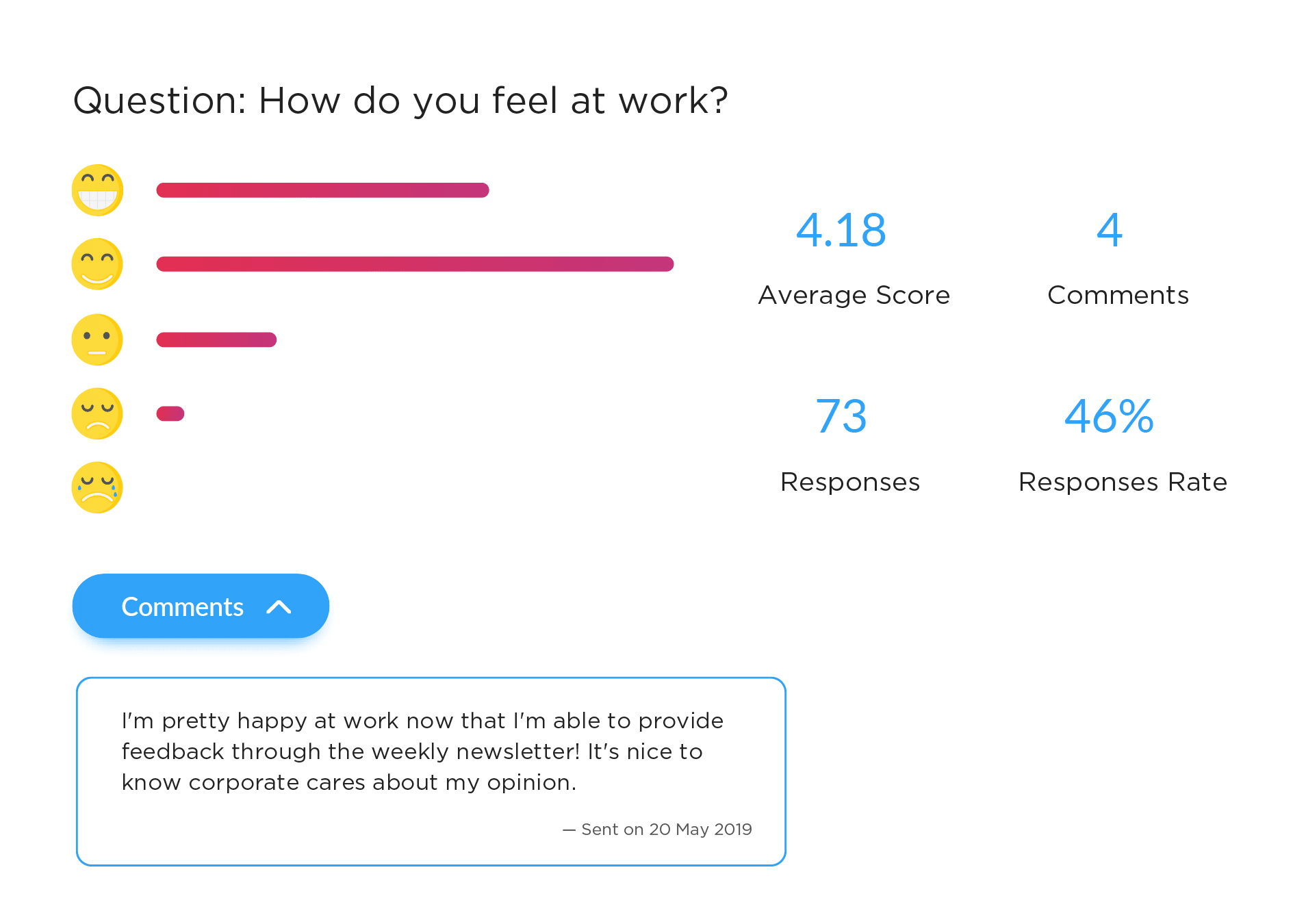 Effective internal communication allows information to flow both ways. Employees can even send anonymous comments and rate your latest newsletter.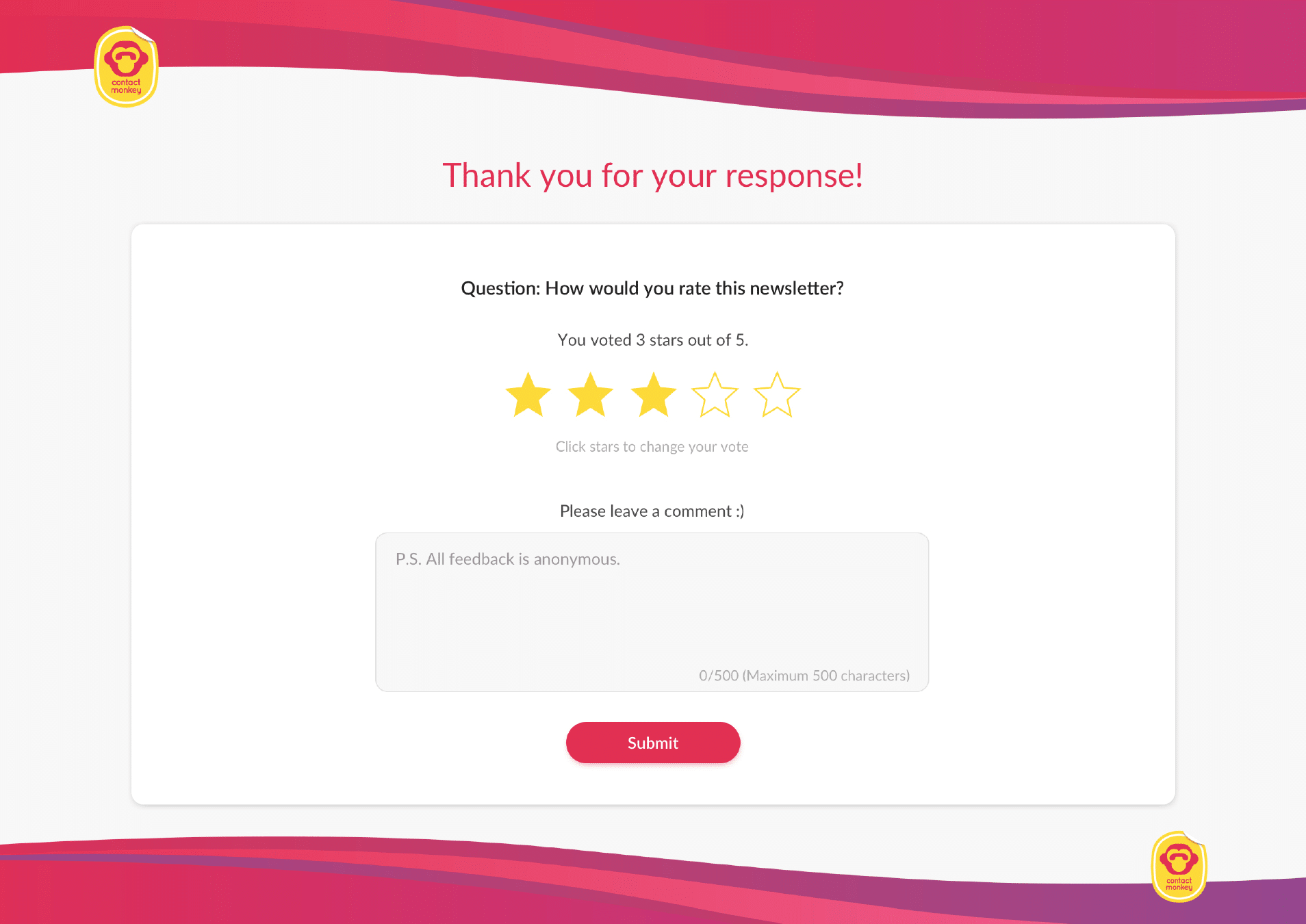 These communication features combined with real-time email analytics have allowed Exemplis, a manufacturer of office seating, to achieve a 70% open rate with their internal emails.
ContactMonkey has allowed Exemplis to turn their newsletters into two-way communication channels and gather valuable feedback about their employees.
Save Time
No need to learn how to create a newsletter in Gmail entirely from scratch each time. Simply choose a pre-made template from our existing library or load up your own — it's that easy.
Compose a new message from your ContactMonkey dashboard as you normally would. Add your preferred contacts, select a Google group, or upload a CSV. Choose your email subject line, pick your tracking options, then click on Templates right below the subject line: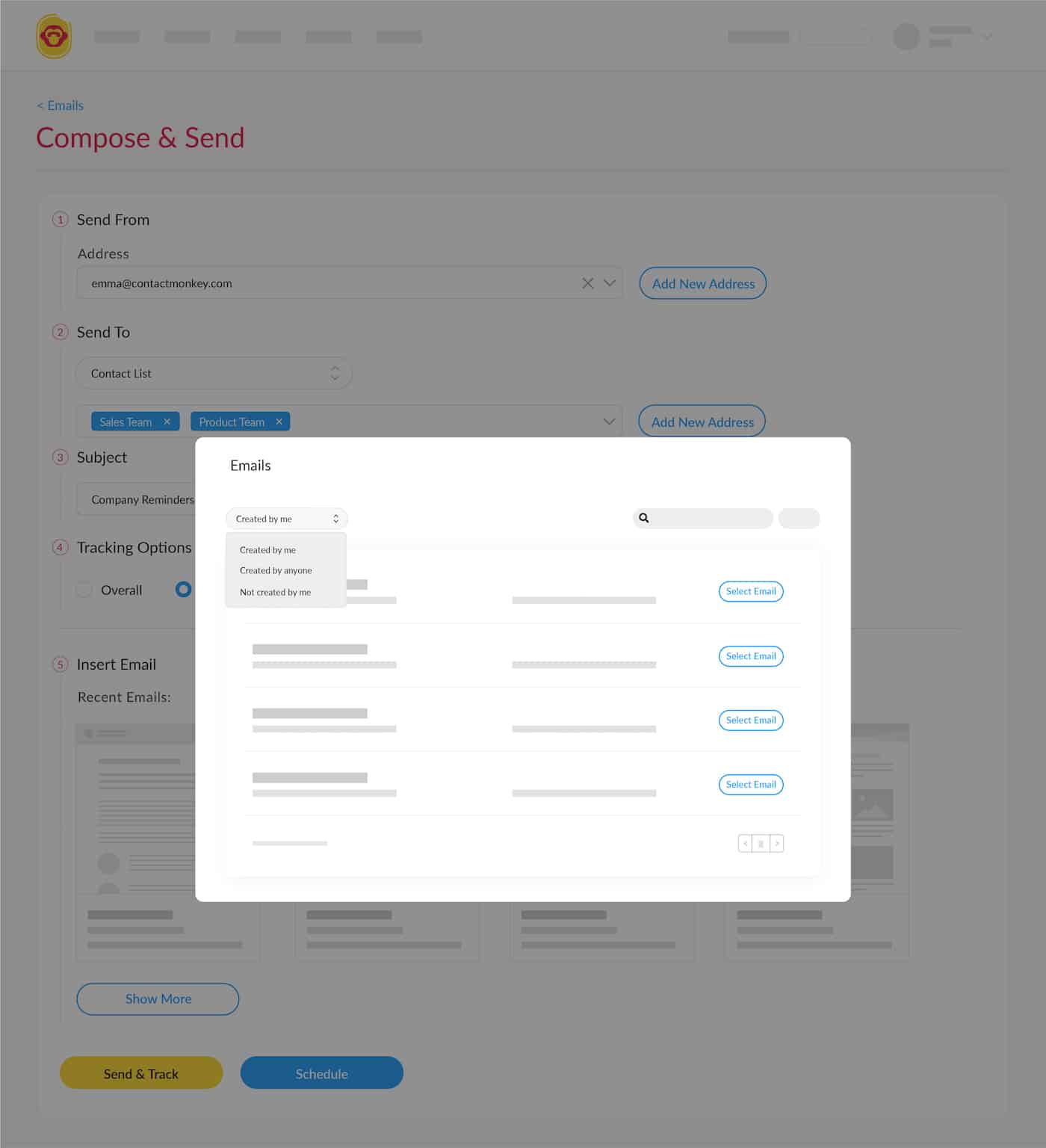 Choose your template (or build your own) and our tool will import the HTML into your sending window: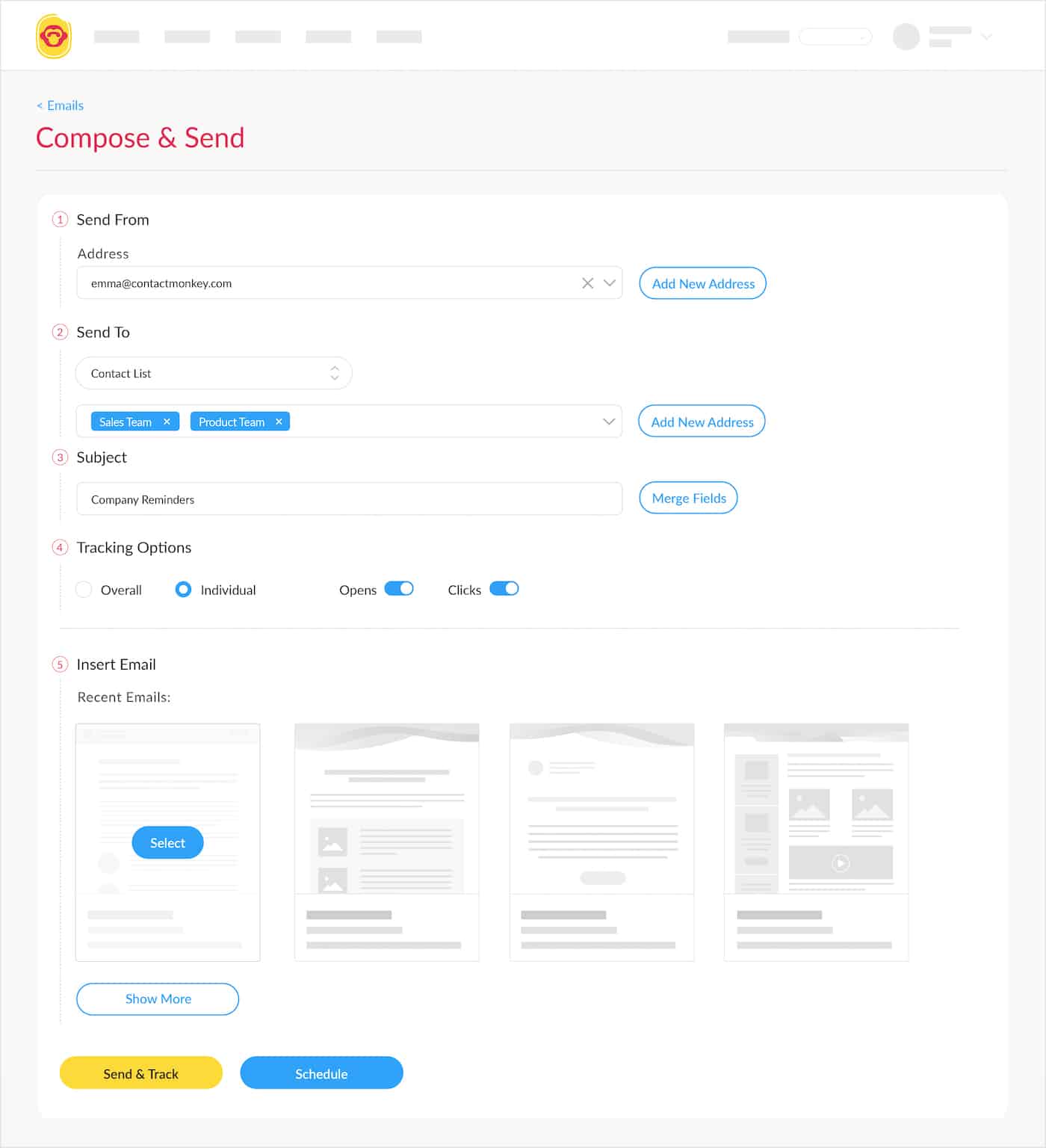 The process couldn't be easier. Once you find a template you like, you can continue to optimize metrics like open rates and clicks.
Mettler Toledo, a global manufacturer of laboratory instruments, saves 4 hours of work a week by using ContactMonkey for internal communications — that comes out to 25 days a year!
Add a More Personal Touch
I know it sounds counter-intuitive, but templated emails can actually be more personalized than non-templated emails.
ContactMonkey's templates enable you to personalize all internal communication by pulling in Gmail contacts or importing a CSV file.
And personalized emails have higher response rates than non-personal emails. With ContactMonkey's mail merge software, you can include a person's name in the subject to make them more likely to open an email. Simply select which merge field you'd like to include: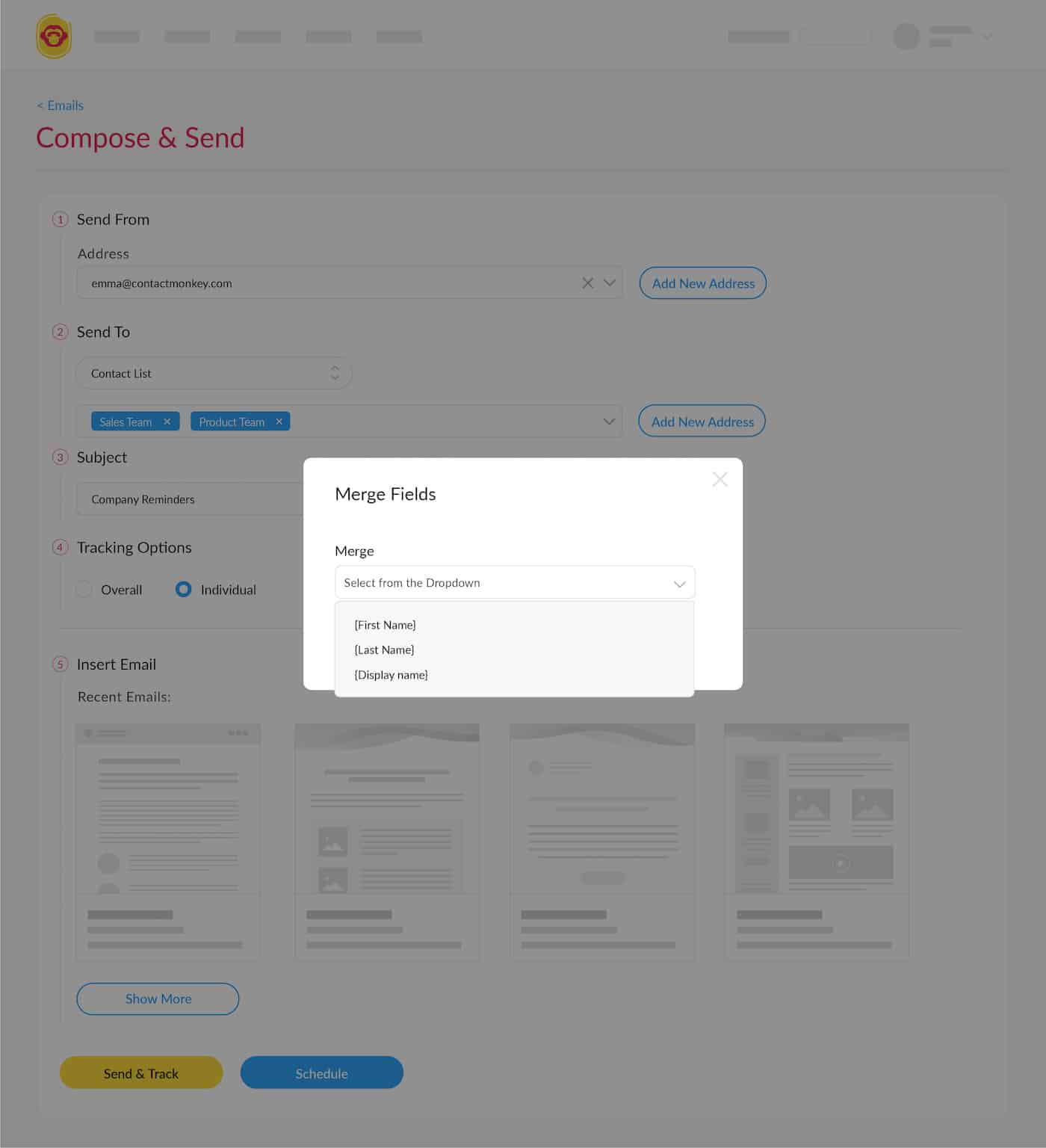 Add a more personal touch to your emails and start sending engaging newsletters with ContactMonkey — right from your Gmail inbox.
Track Email Metrics and Optimize Newsletters
When you use ContactMonkey's Gmail newsletter templates as a base for your employee email and send with our internal communication software, you'll be able to view and track key metrics like open rates, links, and more.
Track performance for an overall newsletter campaign or individual employee emails.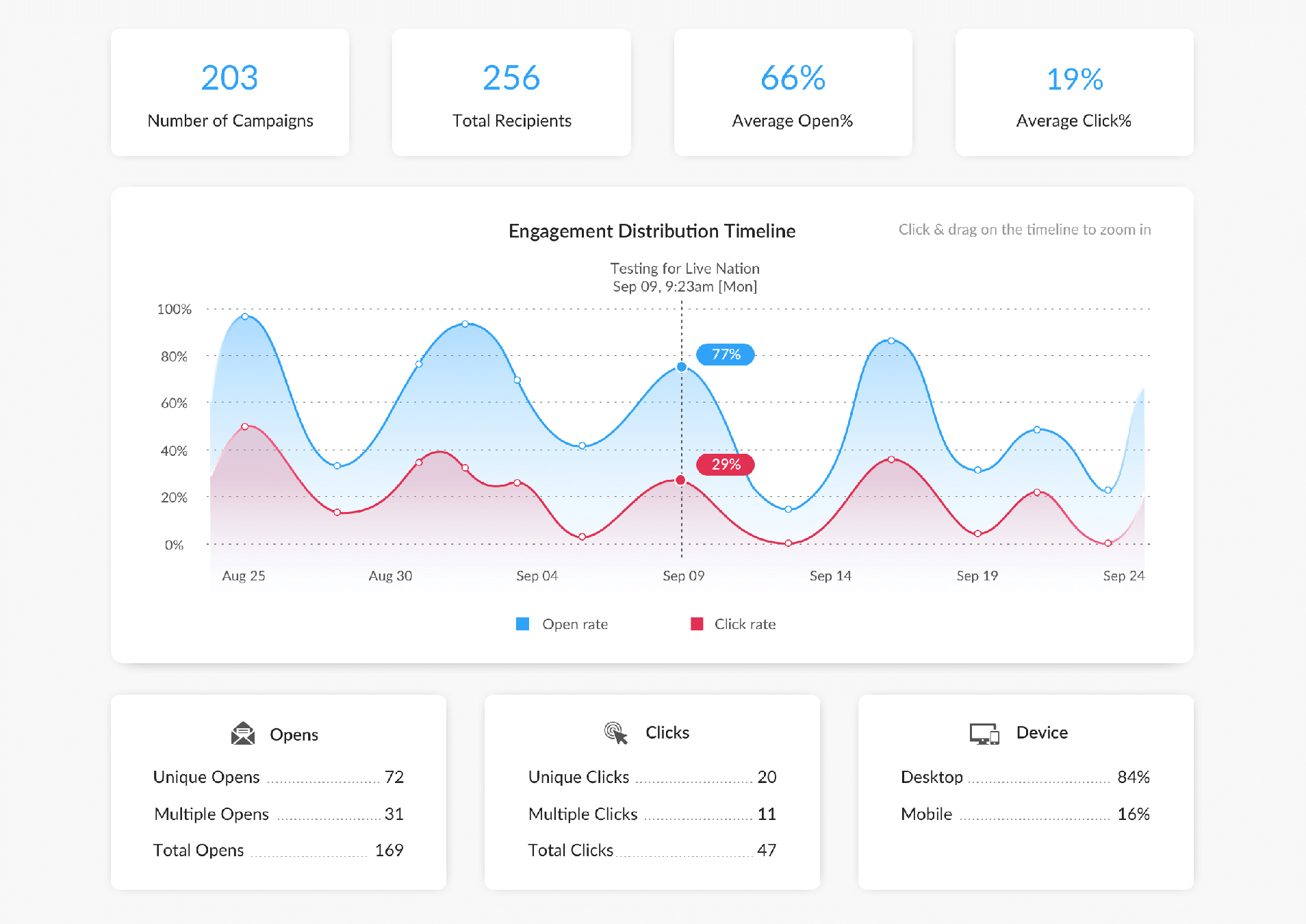 Use these metrics to identify your most engaging content and even pinpoint the best time to send internal emails.
How to Get Started with Gmail Newsletter Templates
The ContactMonkey template builder has an extensive selection of Gmail newsletter templates.
Here's a step-by-step guide to getting started:
Step 1
The first step to getting started with ContactMonkey's email template builder is booking your free, personalized demo.
Our Gmail newsletter templates are available exclusively to ContactMonkey users.
If you're ready to get started right away, we can help you get set up in just a few minutes on the demo call.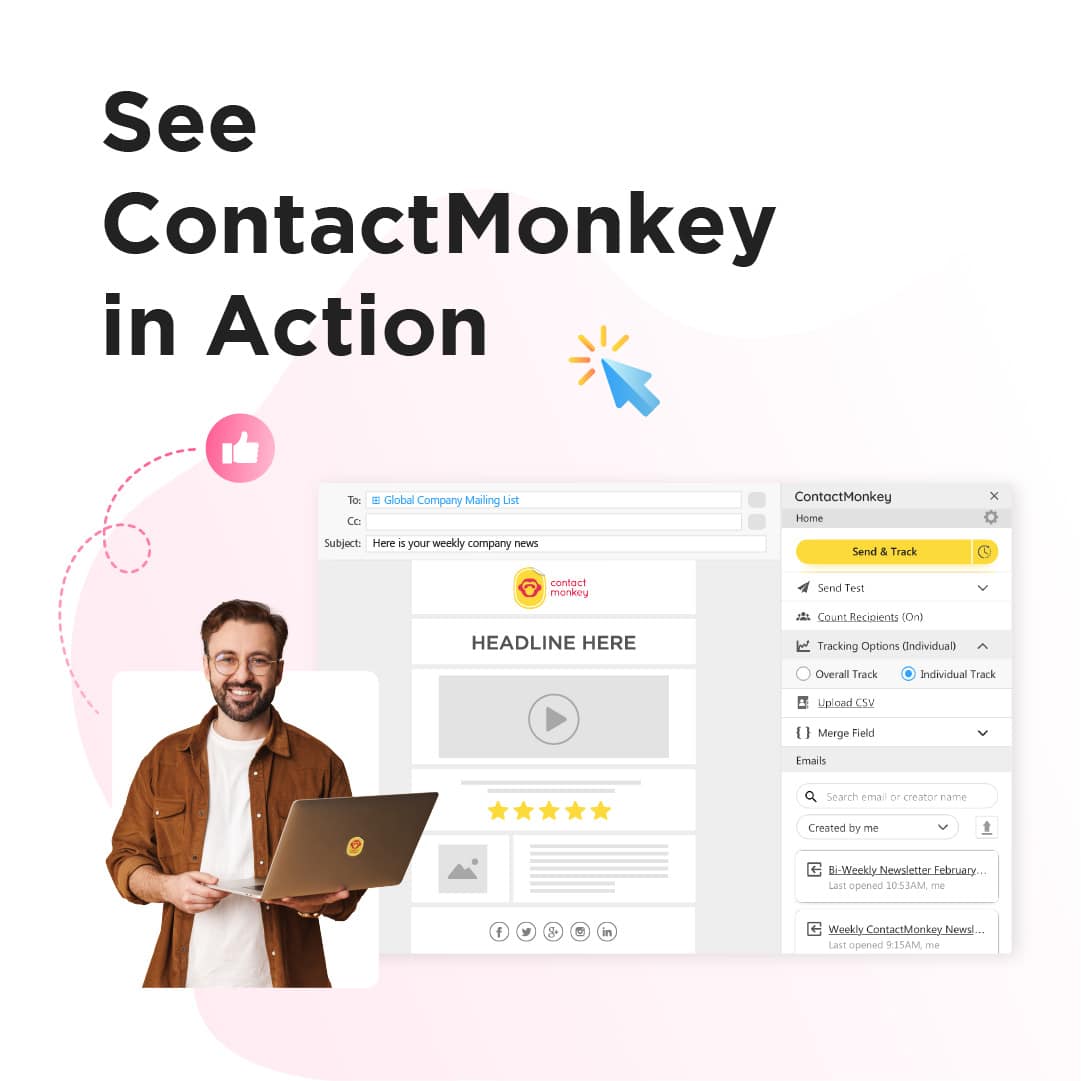 Step 2
Login to your ContactMonkey account using Sign in with Google, and click on Compose & Send: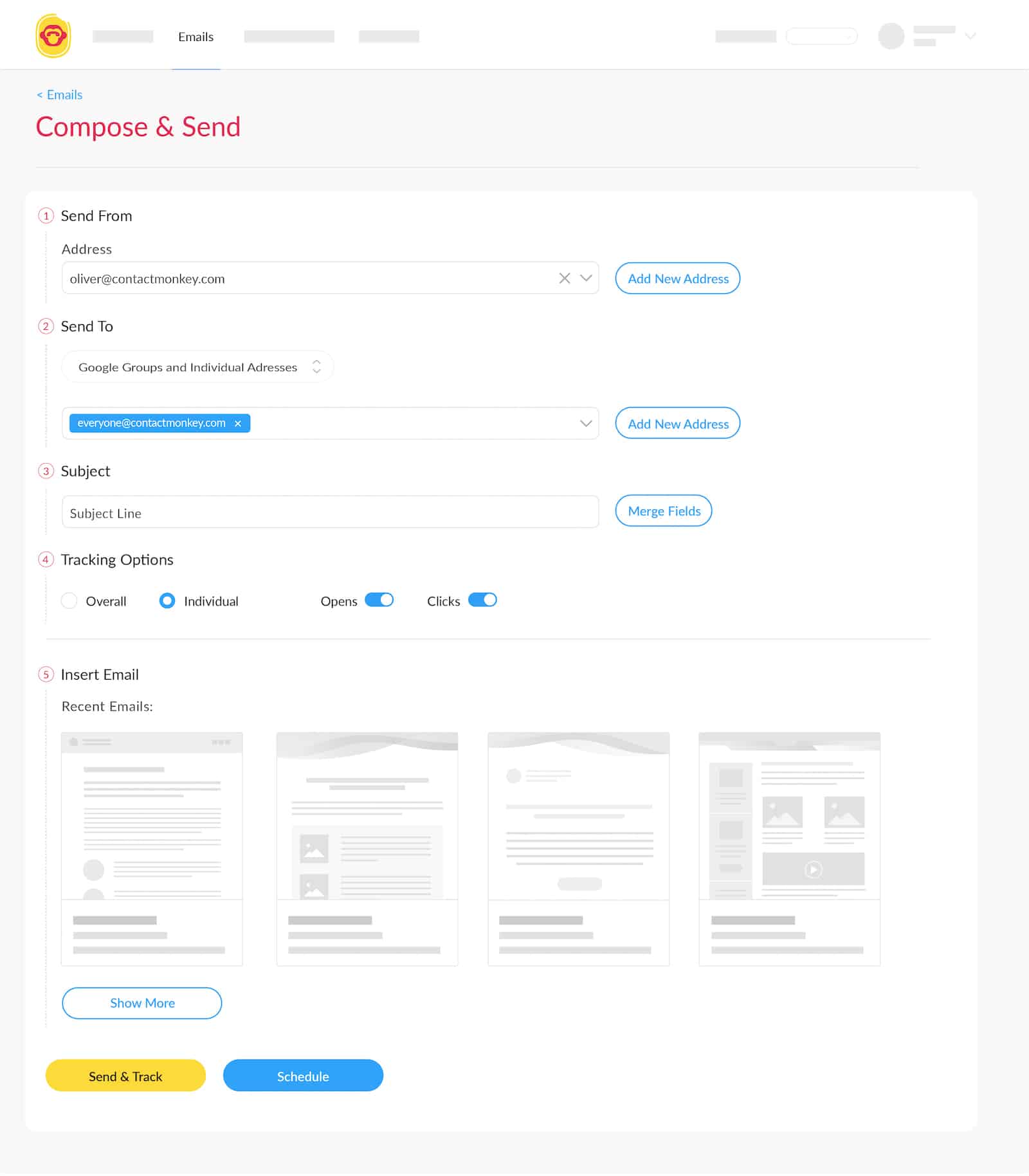 Then Insert your email by choosing from the Recent Emails or opting to Show More: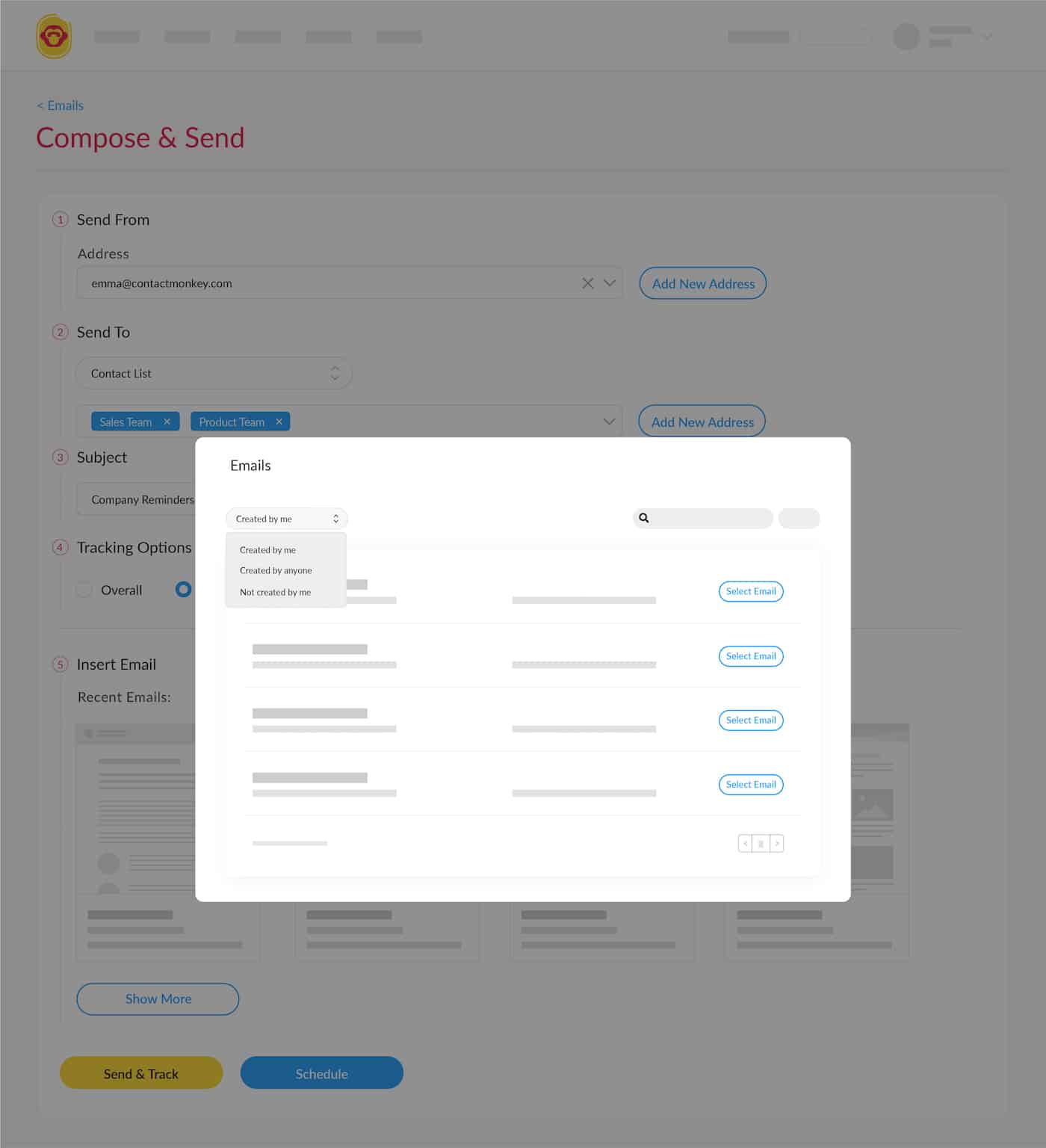 Step 3
Hover over a template you like and click Get Started to jump straight into the drag-and-drop builder.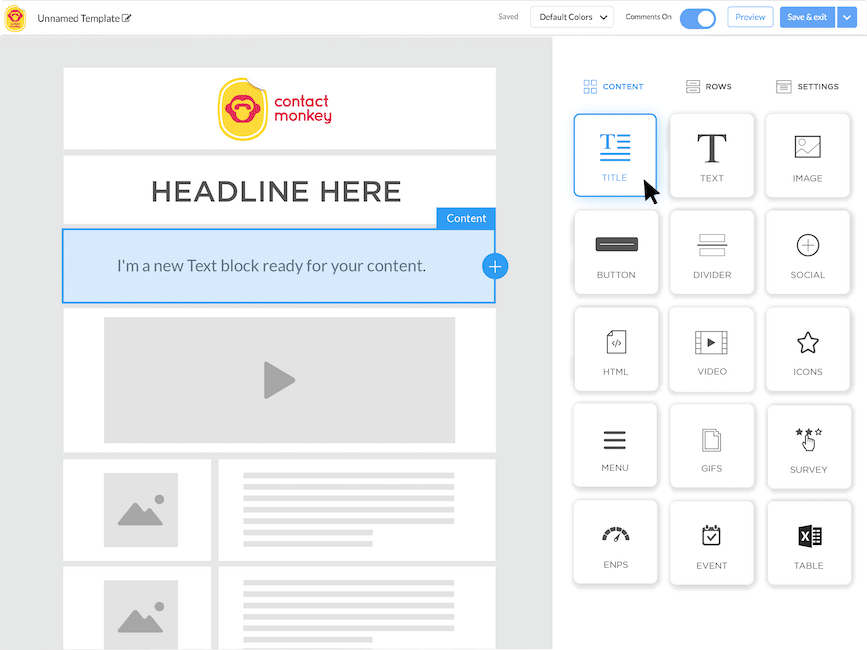 The builder lets you easily customize individual aspects of the template.
Want to add an image or social media icons? Simply drag those elements into your template and customize how they look on the right pane.
You can even turn your newsletters into two-way communication channels with multiple survey options, such as star ratings, emoji reactions, eNPS and even comments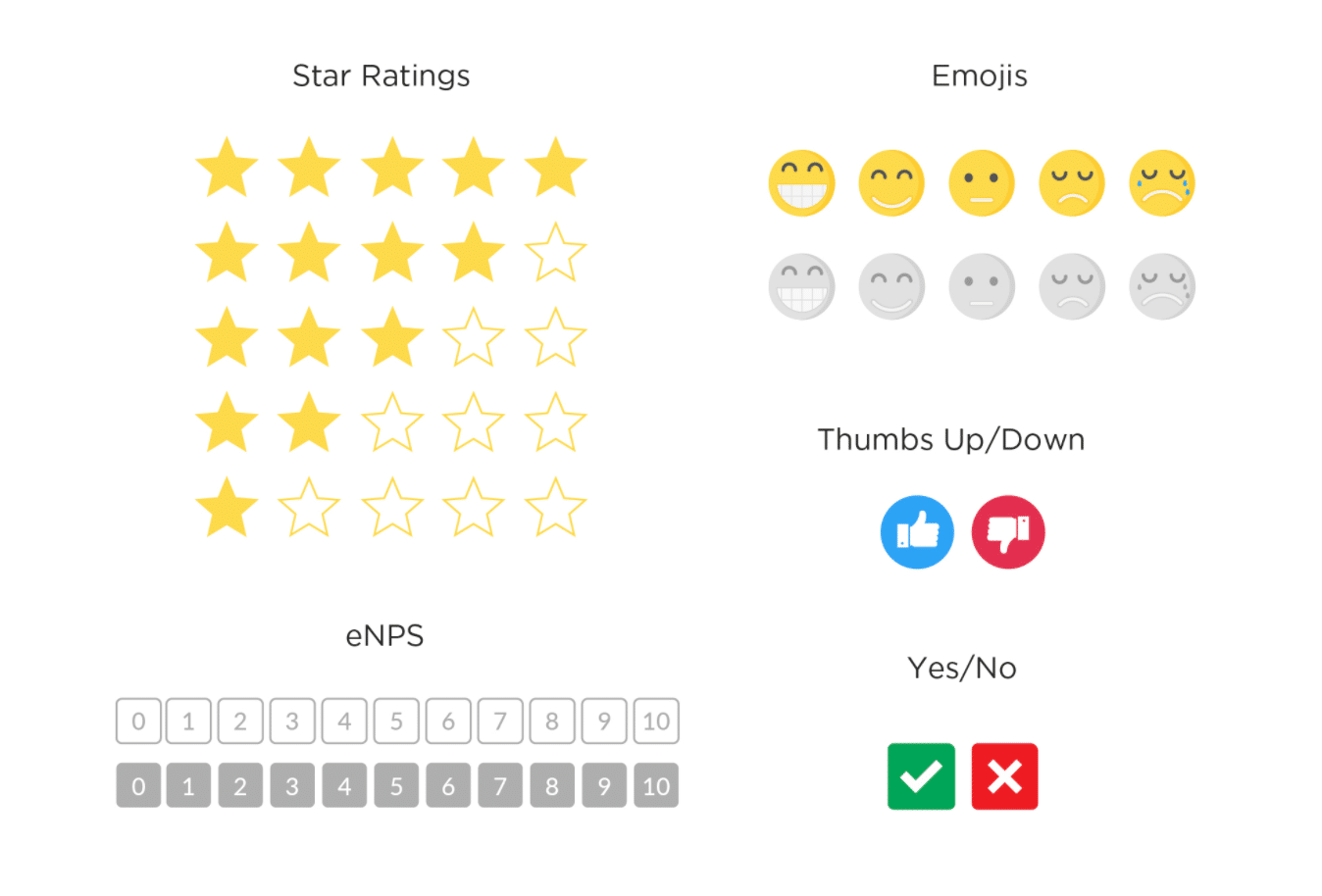 Step 4
Preview your designs on desktop and mobile devices, and save your changes when you're finished.
Employees access their emails from different devices, which makes the use of remote teams communication tools a necessity for any remote or hybrid workforce. You can use our preview mode to see how your template appears on both desktop and mobile.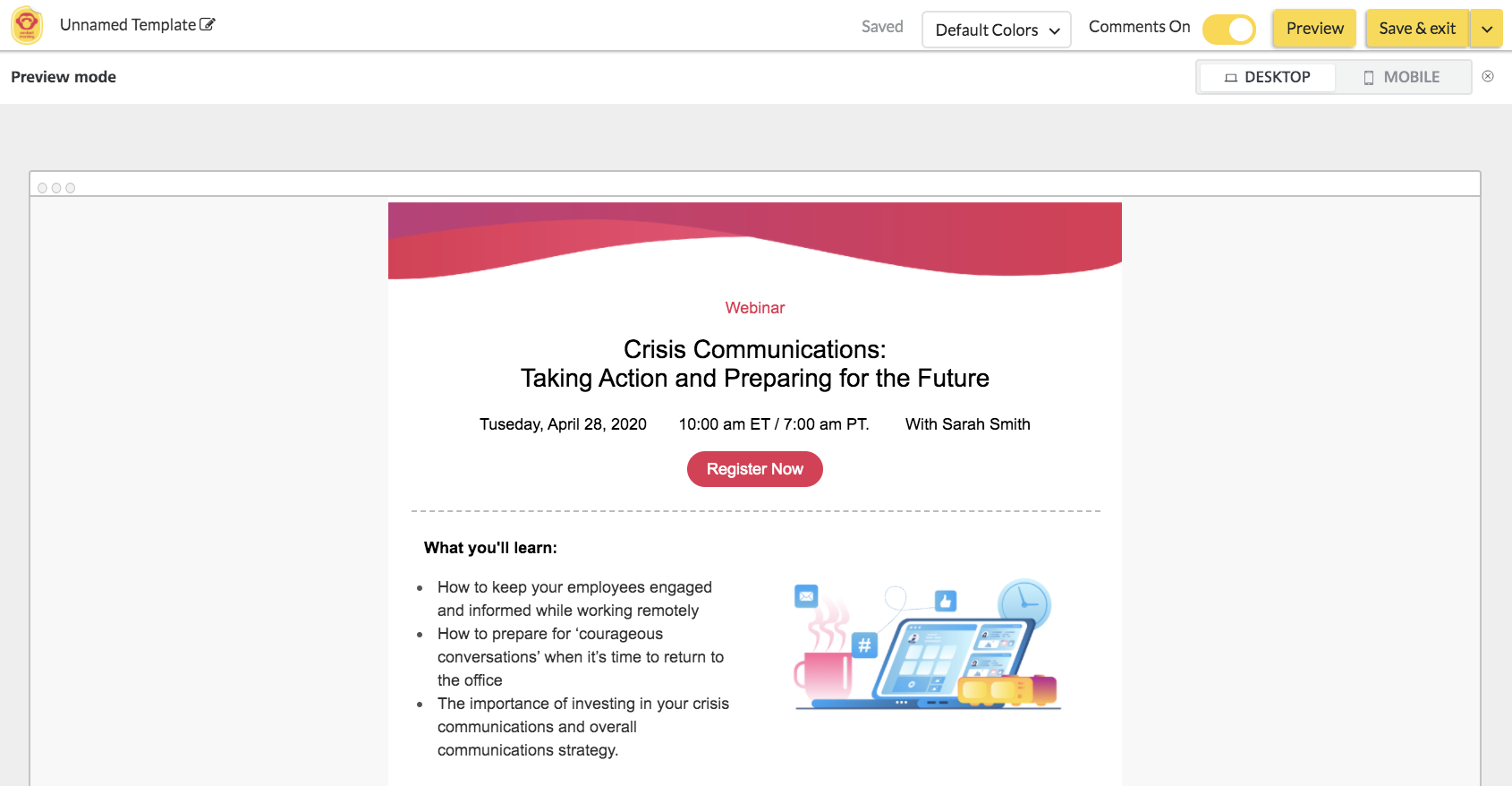 Our templates allow you to get a jump start on your next email, but we recognize that you may have more specific use-cases.
14 Gmail Newsletter Templates
Our email template builder gives you the flexibility to build all kinds of emails for internal communications. You can customize each element until you get just the right look.
Alternatively, you can also choose from the templates below and jump right to composing your next internal email campaign.
1. Weekly Newsletter Updates
Sending out newsletters is a great way to keep employees informed of new changes. It also reinforces transparency as sharing information shows that the company cares.
Send newsletters straight from your Gmail inbox with ContactMonkey's internal email tracking software and guarantee the deliverability of your newsletters. To boost Open Rate even more, consider segmenting your audience by creating and managing distribution lists using ContactMonkey's List Management features.
Compose your next newsletter with our Weekly Newsletter template.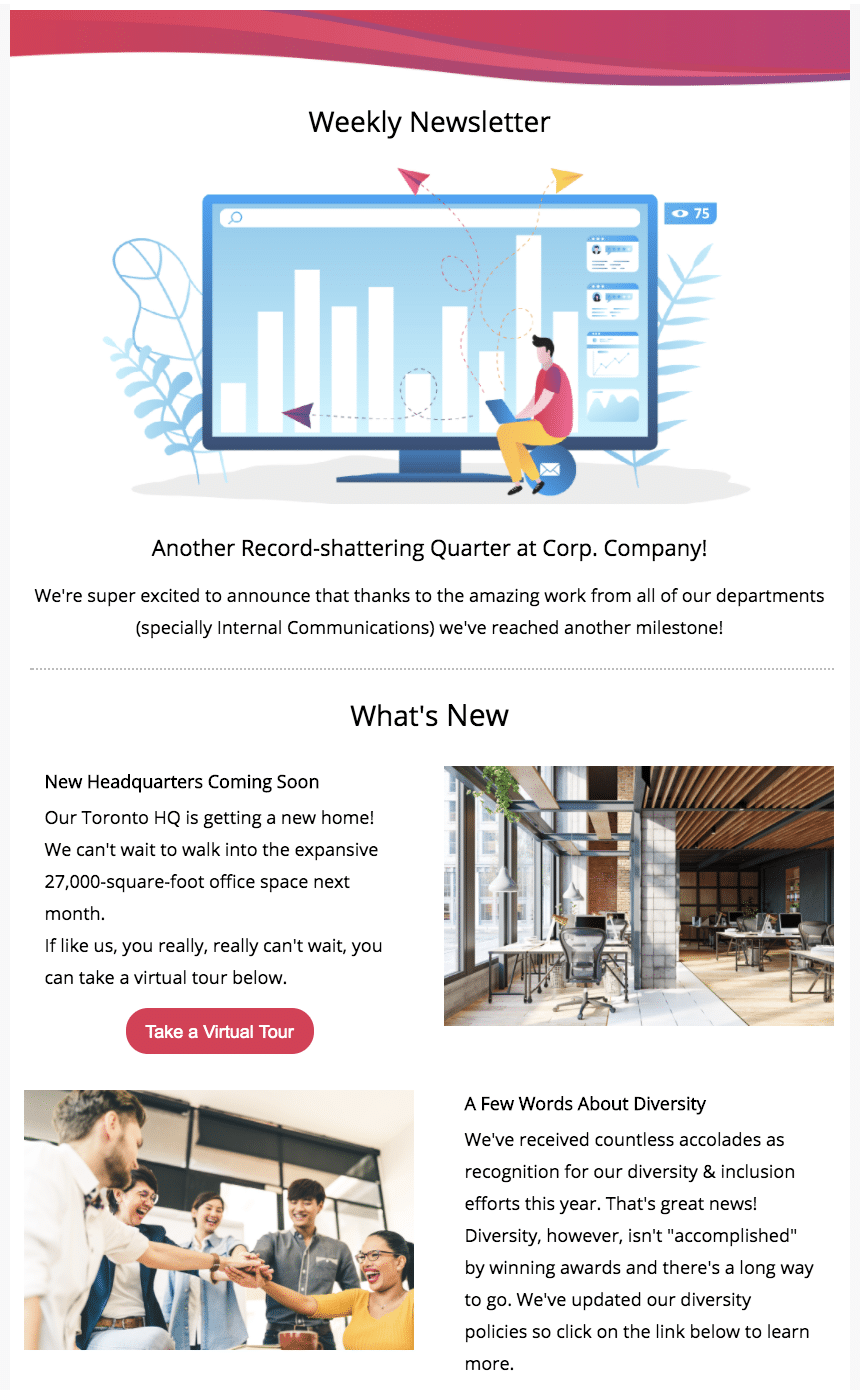 2. Crisis Communications
A crisis that affects an organization can happen at a moment's notice.
Use ContactMonkey's Crisis Communications template to compose emails that share updates about situations like financial or natural crises that may affect the company.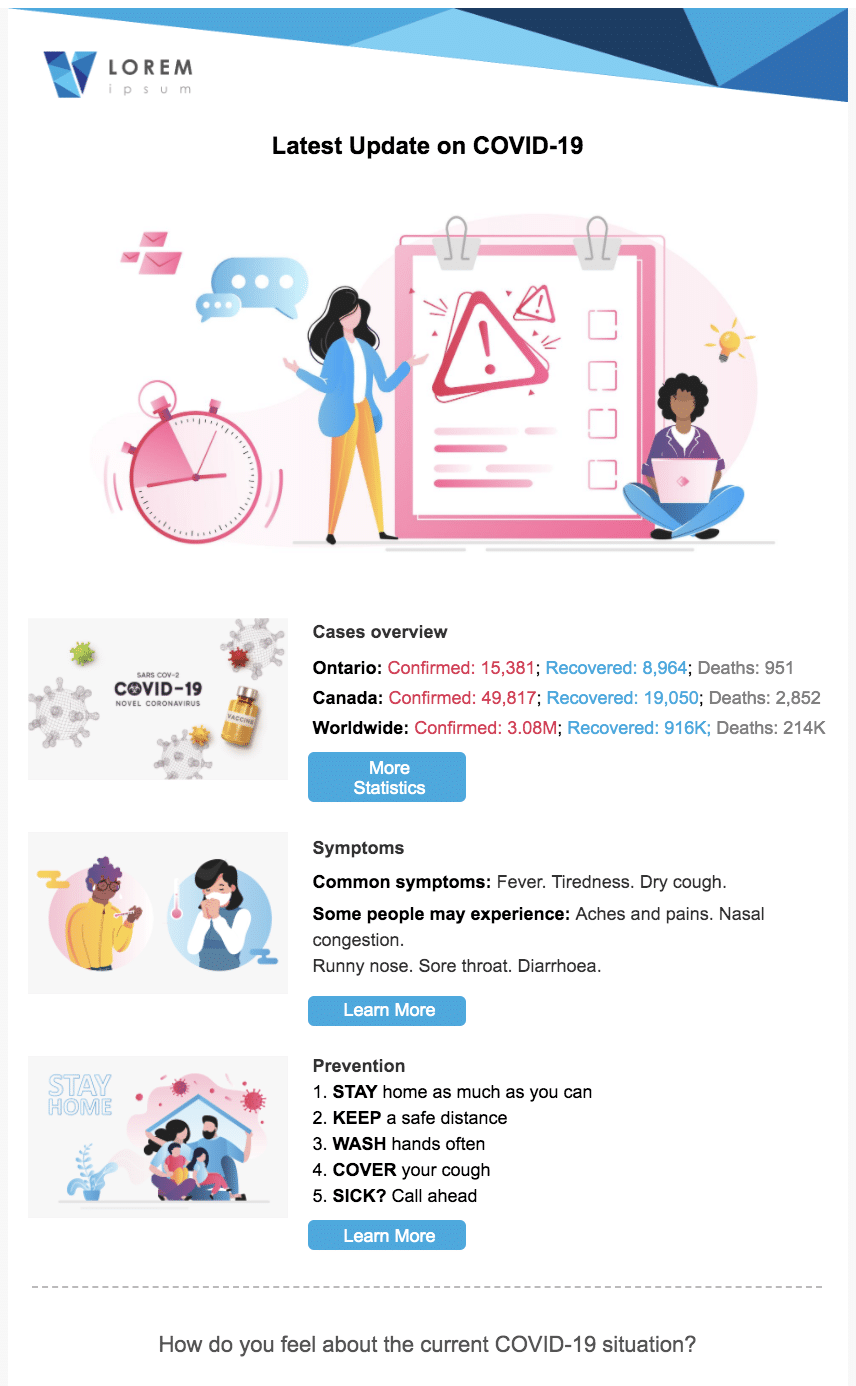 3. Product Updates
Need to share an important update about a new product?
Use ContactMonkey's Product Updates template to get the word out. Employees can also leave a star rating at the bottom of the email to rate the product update.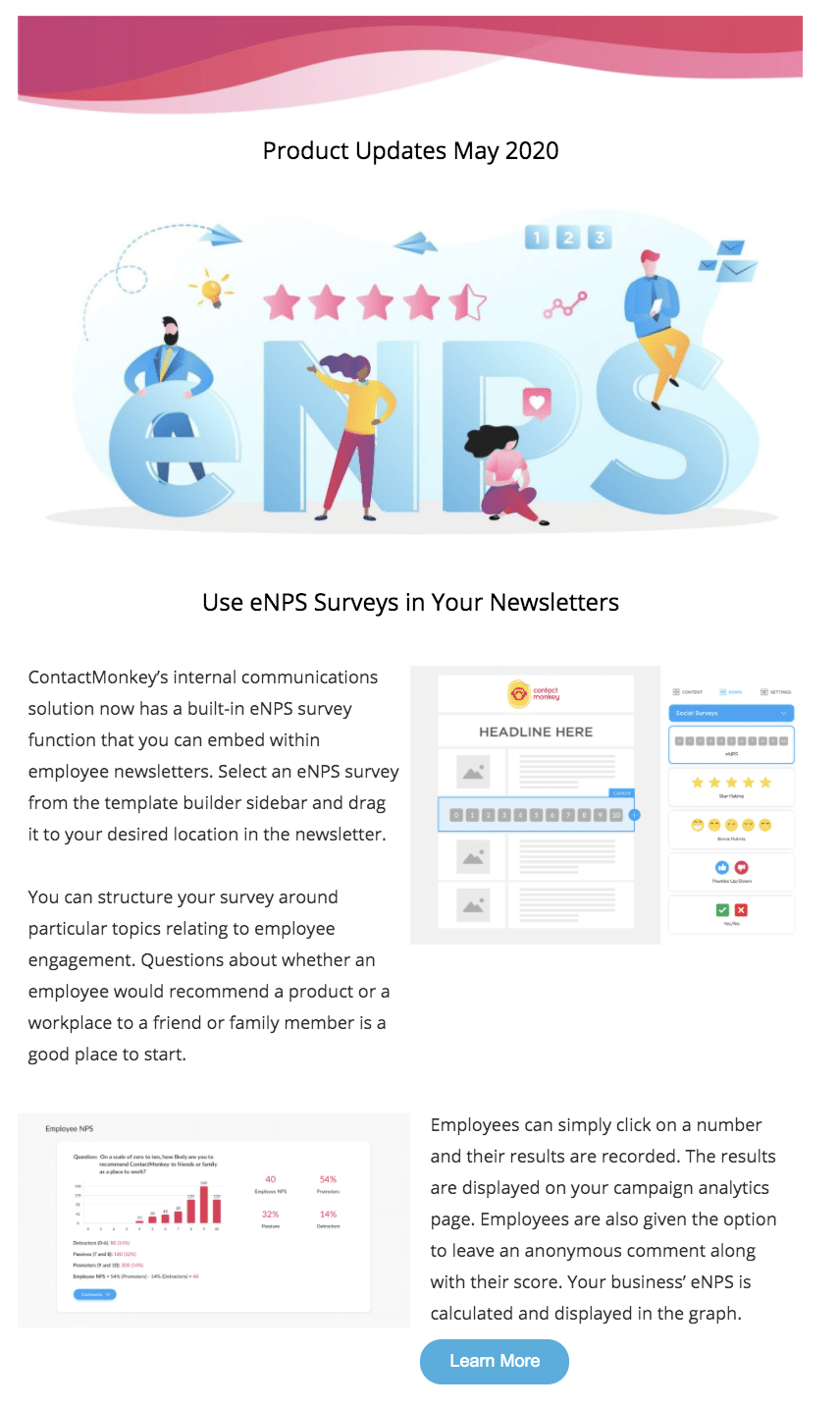 4. Alerts
Use ContactMonkey's Alerts template when you need to quickly send an email with an urgent message. You can also add external links for employees to get additional information.
Hitting the right tone and message for these types of emails is important. To help you get started, you can try using ContactMonkey's OpenAI integration to help you generate engaging, and high quality content for you to tweak.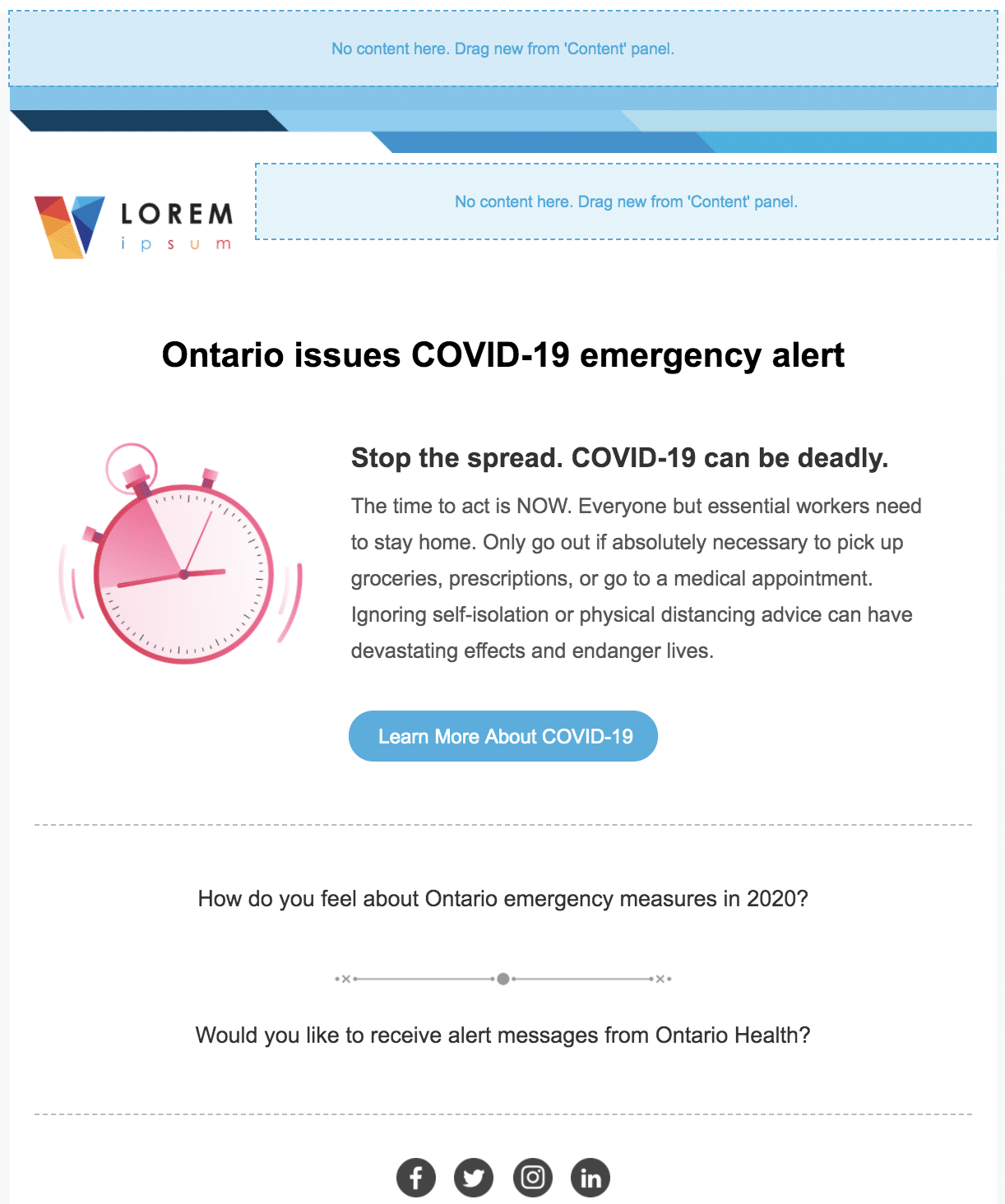 5. eNPS (Employee Net Promoter Score)
eNPS is a useful metric for measuring employee engagement and satisfaction based on the following question: "On a scale of 0 to 10, how likely are you to recommend this organization to friends or family as a place to work?"
Employees then choose a rating with 0 being not at all likely to recommend the organization and 10 being extremely likely to recommend. You can categorize employees into the following:
Detractors — those who give 0 to 6
Passives — those who give 7 or 8
Promoters — those who give 9 or 10
You can calculate your eNPS score by subtracting the percentage of Detractors from the percentage of Promoters. A good score is anything from 10 to 30.
Use ContactMonkey's eNPS template to gather feedback from employees.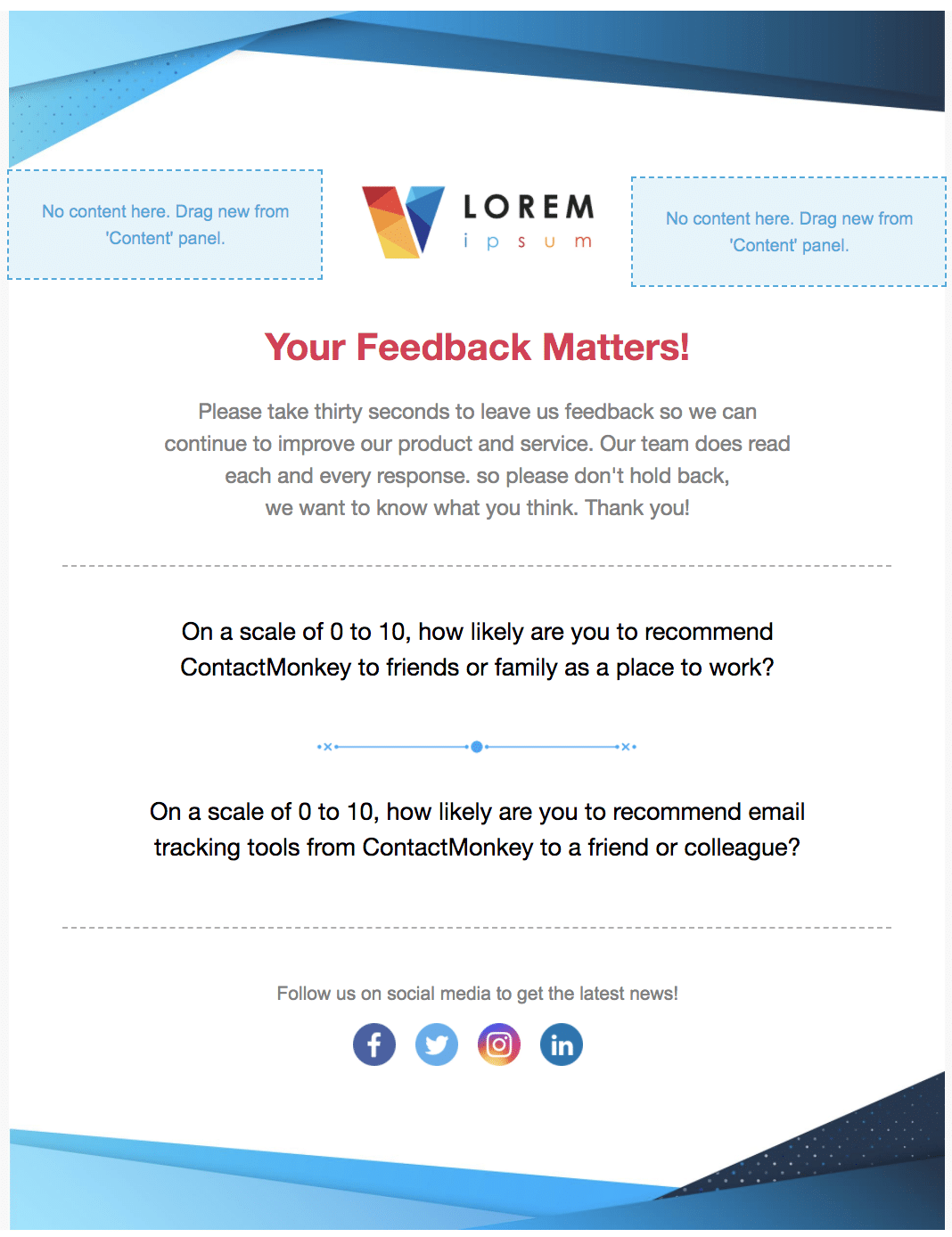 6. Employee Promotions
Use our Employee Promotions template to announce new promotions.
Employee recognition is important for employee engagement. It shows employees that their work is valued and contributes to the overall success of the company.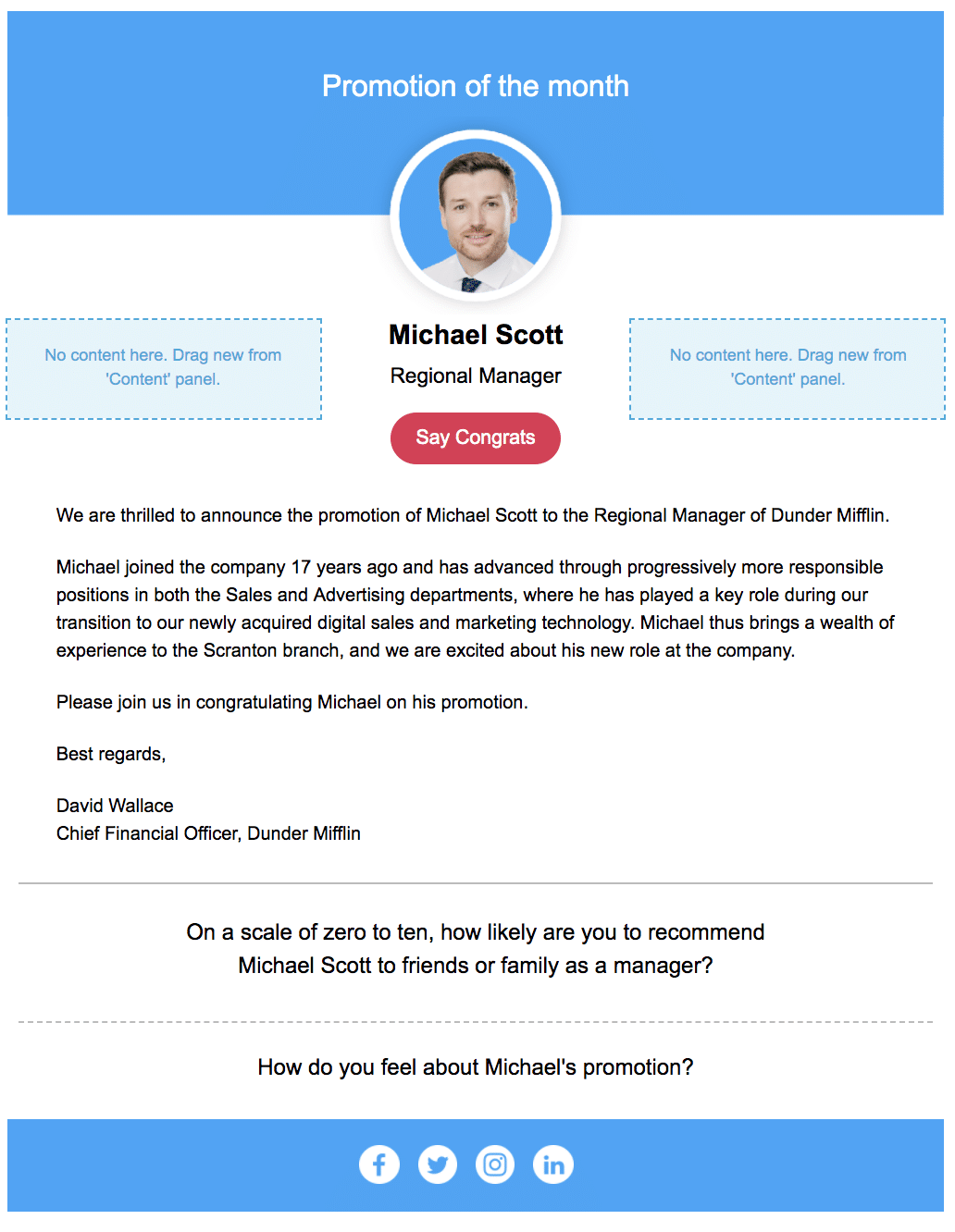 7. Event Webinars
Webinars are a convenient way to hold conferences and meetings.
Use our Event Webinars template to send details about an upcoming webinar including a registration link to participants.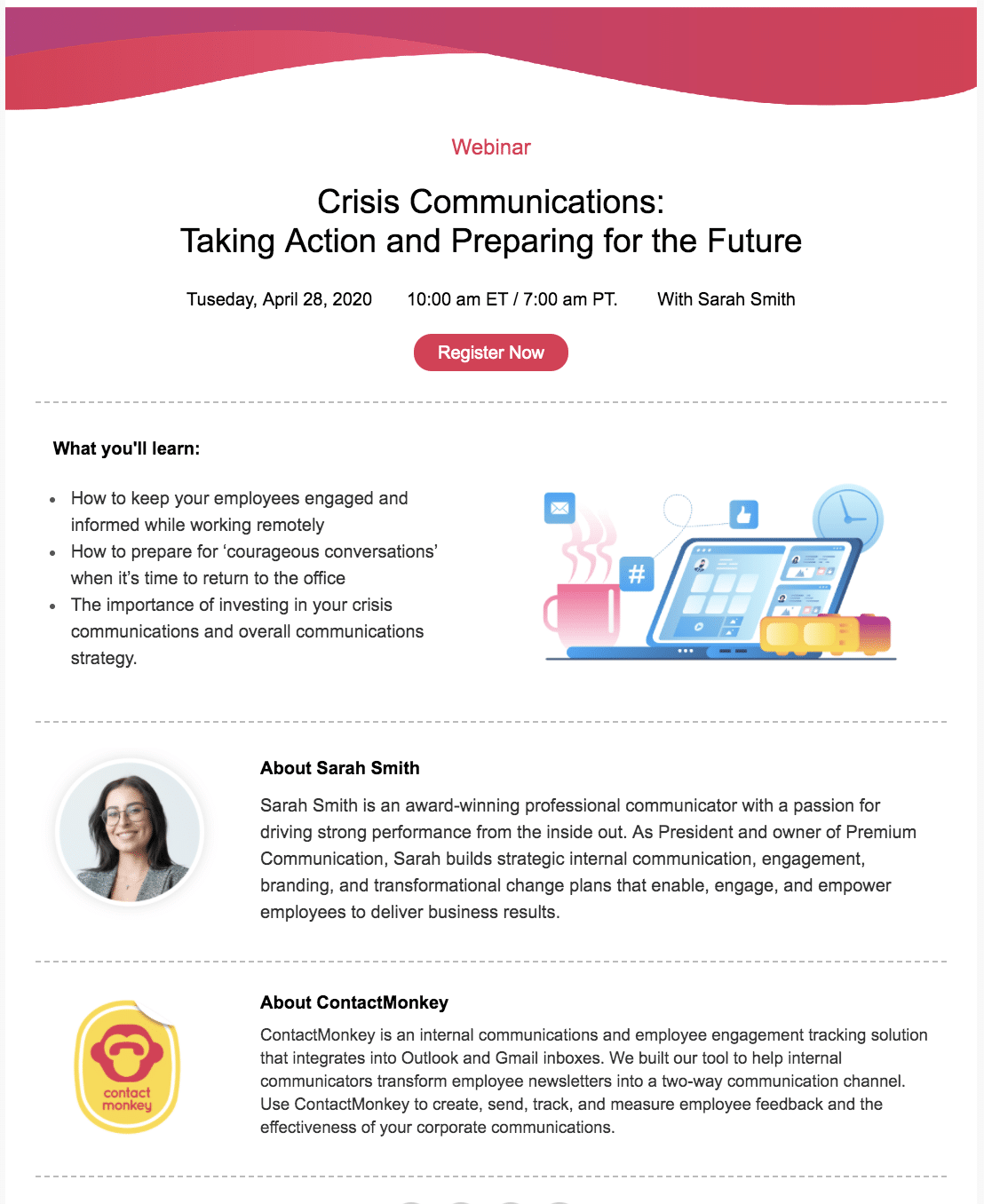 8. Message From the CEO
ContactMonkey's Message From the CEO template makes it easy for chief executives to quickly compose and send important emails to the entire organization.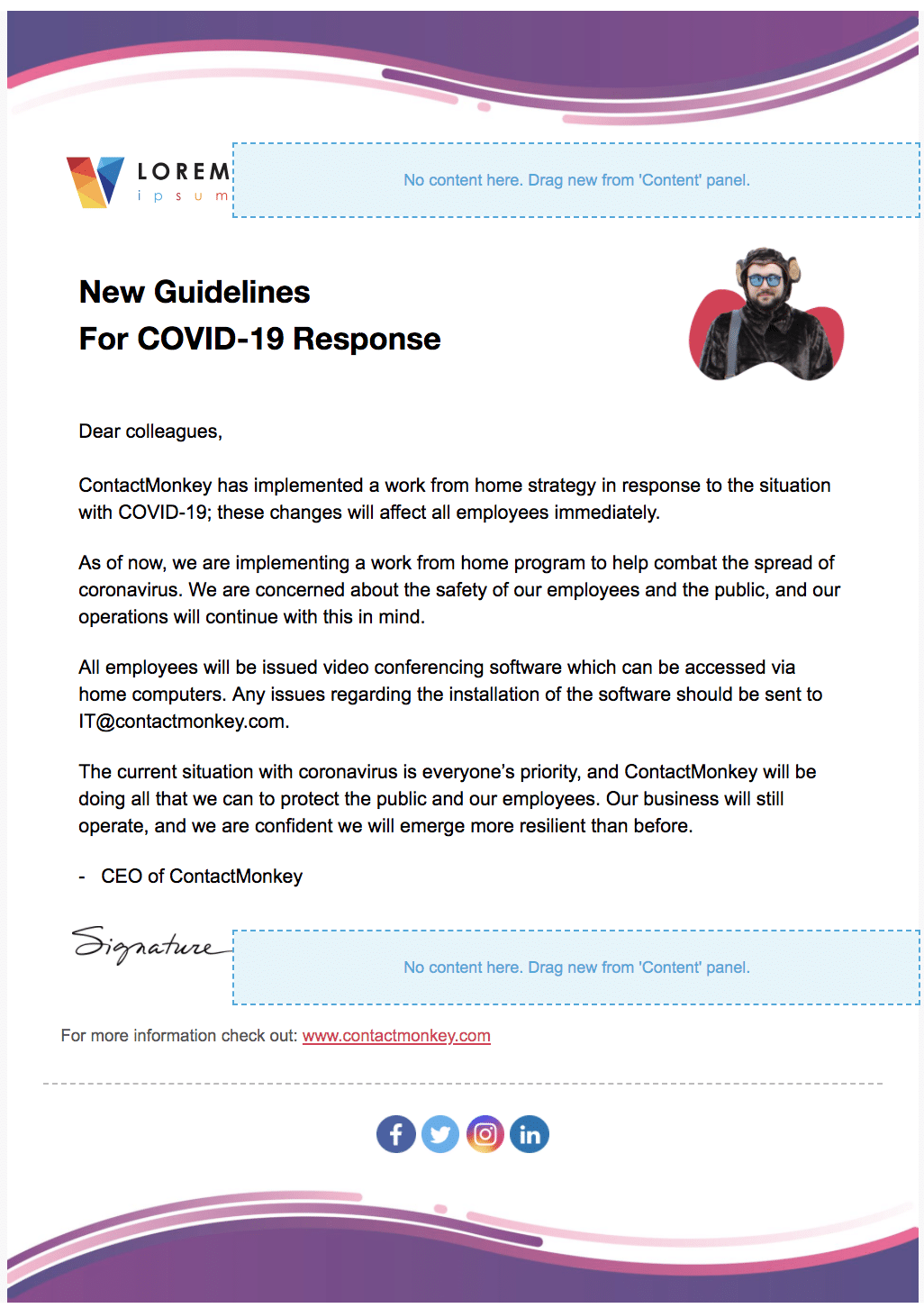 9. Company Policy Changes
Company policies are important as they establish guidelines and responsibilities for everyone in an organization.
Use our Company Policy Changes template to announce new policies or updates to existing policies.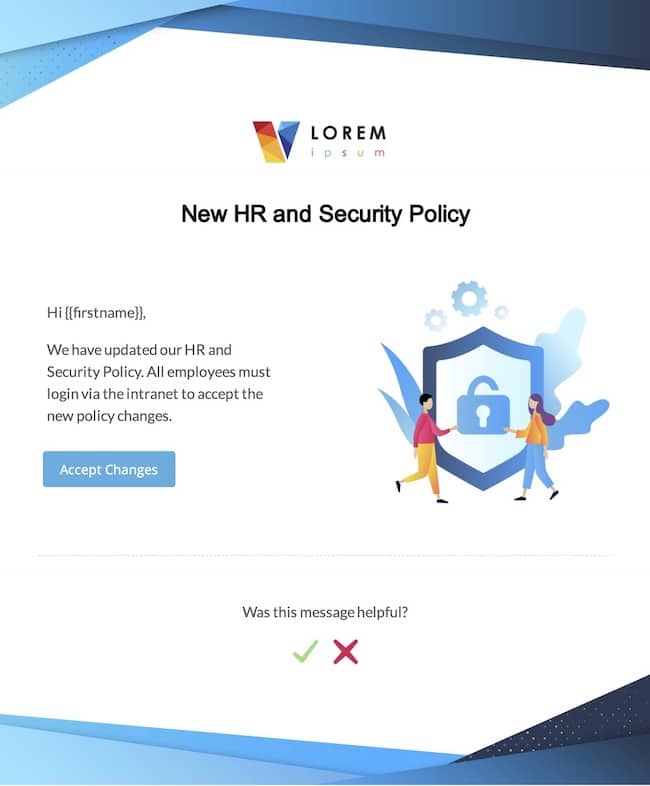 10. Employee Onboarding
An effective employee onboarding process helps new hires adjust to their role in the company.
Use ContactMonkey's Employee Onboarding template to welcome new employees. You can even personalize each email by pulling in Gmail contacts.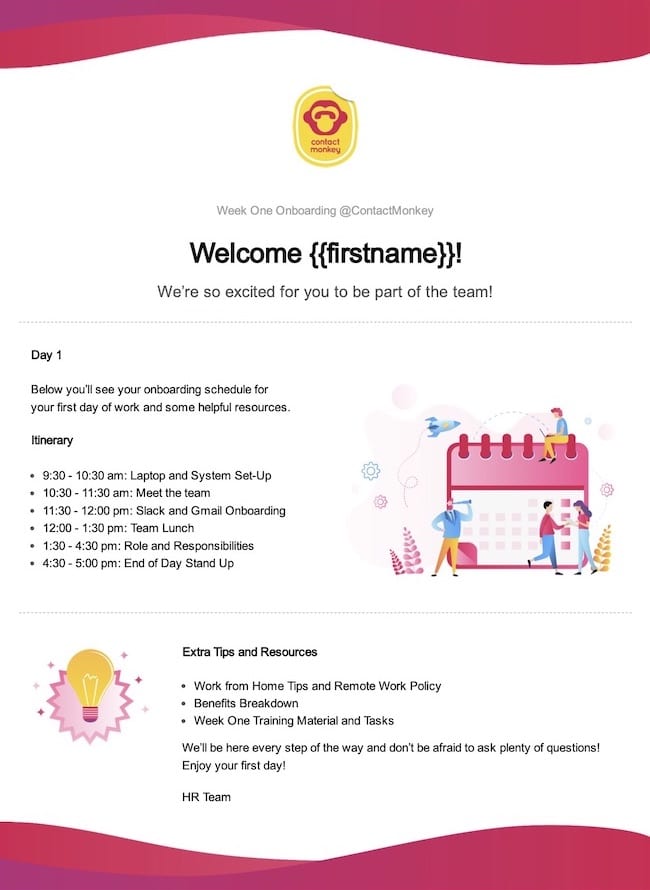 11. Event Invitations
Hosting a company event?
Send invitations to your employees with our Event Invitations template. You can also manage company events and track registrations – all from your Outlook inbox.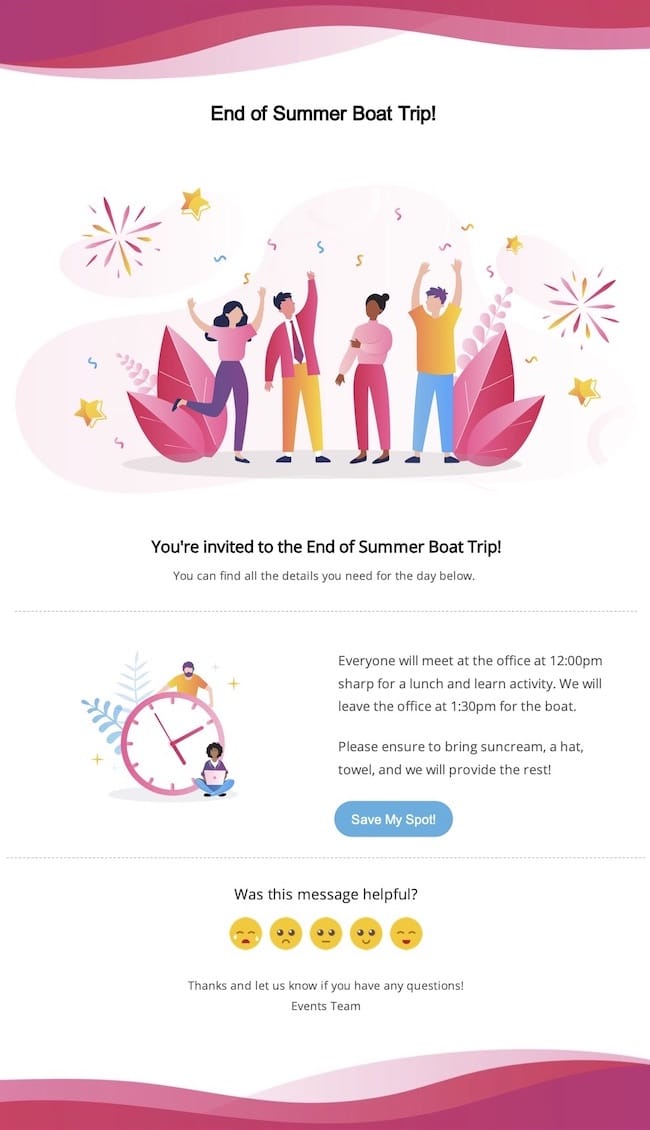 12. Pulse Surveys
A pulse survey is a quick survey that gets sent out to employees on a regular basis. These surveys are useful as you can review the responses to gauge overall satisfaction levels and meet your pulse survey objectives.
Use our pulse survey templates to quickly create surveys you can send to employees on a monthly or quarterly basis.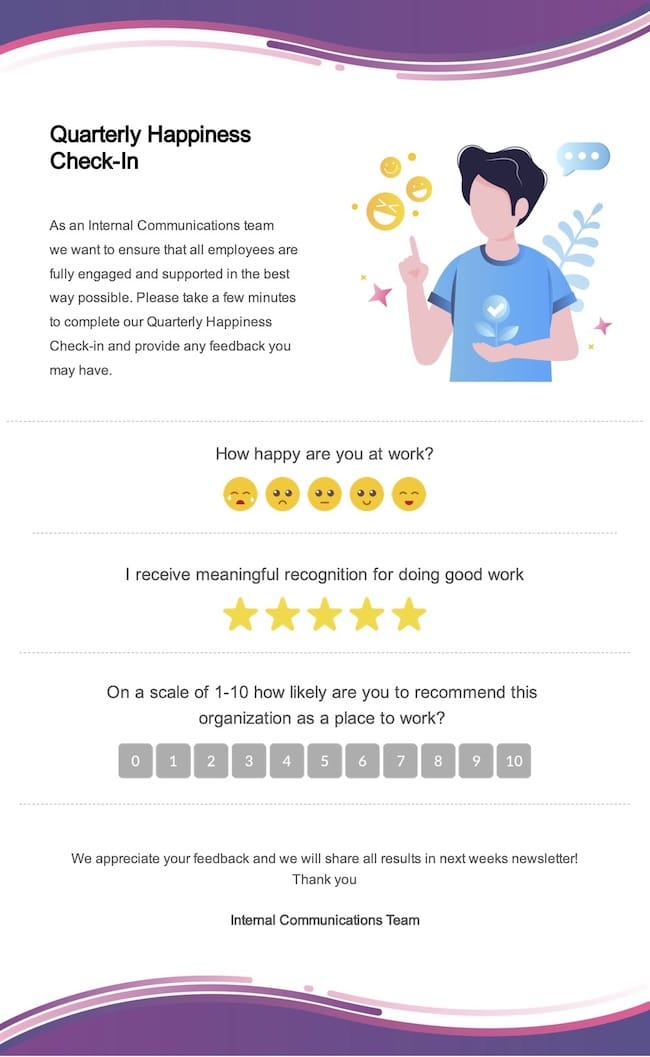 13. Company Reminders
It's easy for employees to get caught up in their work. Use our Company Reminders template to remind employees of upcoming tasks or important deadlines.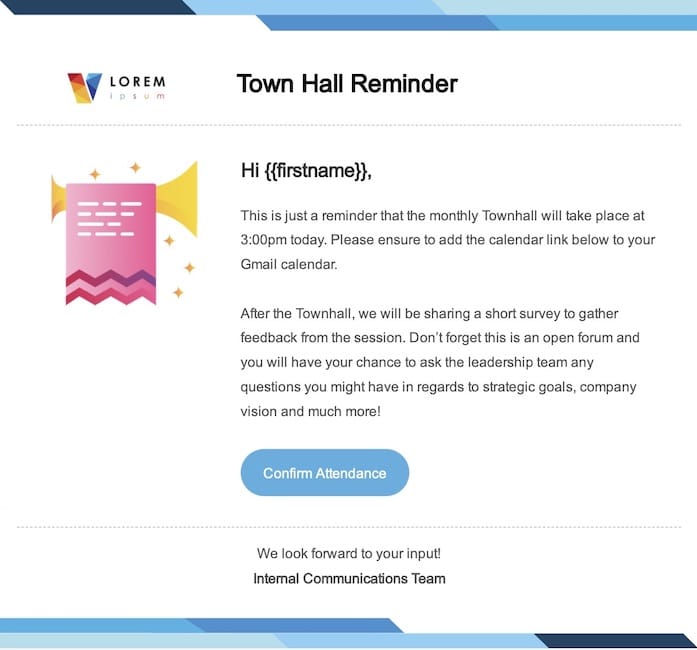 14. Remote Work Check-In
Employees today are increasingly working remotely. Use our Remote Work Check-In template to quickly check-in with remote employees.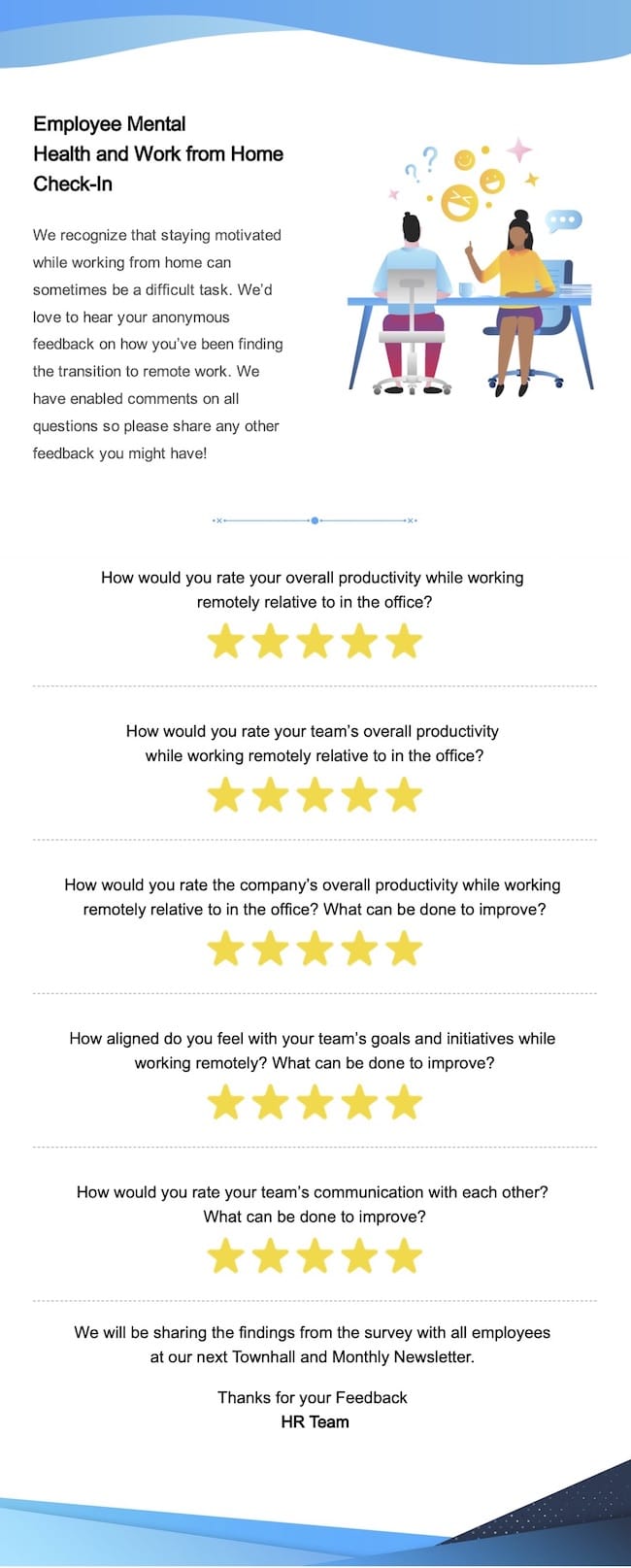 Best Practices For Gmail Newsletter Templates
Here are some Gmail email newsletter best practices to follow as you use our Gmail newsletter templates for internal communications.
Make Sure Your Emails Are Responsive
Employees today check their emails from multiple devices. Responsive emails adapt to all screen sizes, so employees can stay updated on new developments from any device.
With our email template builder, you can preview how your emails will look on desktop and mobile devices.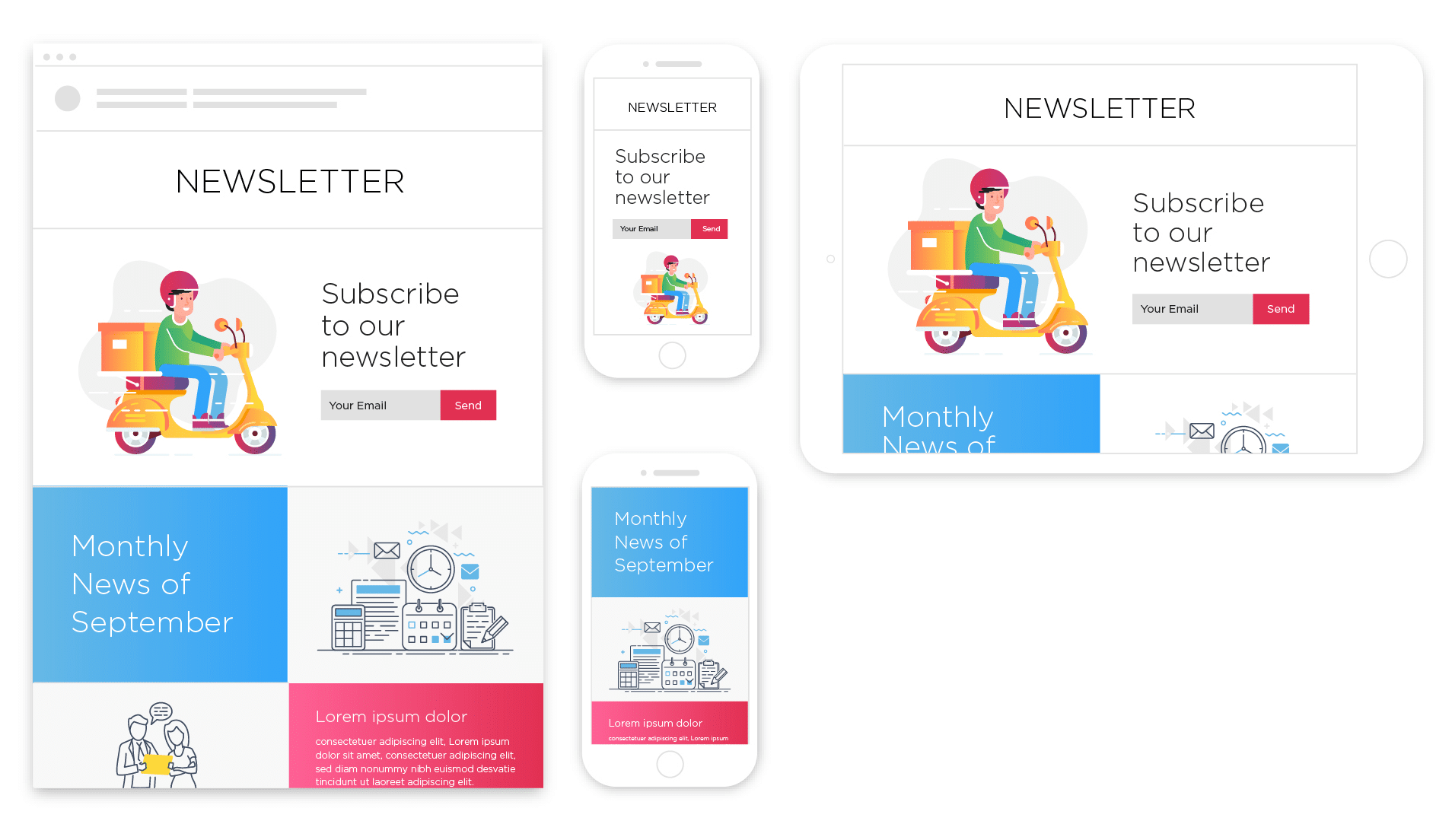 Use Images Sparingly
Images can help you get your point across. But use them sparingly as adding too many images to your emails can slow down loading times.
Use photo editing software like Photoshop to compress your images. There are also free alternatives online that can significantly reduce image size without compromising on quality.
ContactMonkey also has built-in royalty free images that you can add to your templates. Don't forget to add descriptive alt text to your images. Otherwise, recipients may see a blank space if their email client fails to render images.
Keep Your Emails Simple
It's important to keep all internal communications as concise as possible. Not everyone has the time to read through long emails.
Think about the main goal of the email you're composing and get straight to the point. Keeping your emails short is key to getting a timely response.
Streamline Internal Communications With ContactMonkey
Gmail is a powerful and user-friendly email service. But it has major drawbacks — you can't easily insert HTML and you can't personalize emails to your distribution lists.
Gmail doesn't have internal email tracking, so you have no idea who's opening your emails and clicking your links. And there's no way for recipients to rate emails or leave feedback.
ContactMonkey offers the perfect solution to streamline internal communications.
With ContactMonkey's Chrome extension you can build out engaging corporate emails using our Gmail newsletter templates. Once you add your template and send your employee email, you can easily track key metrics like open rates, link clicks, and more.
Encourage communication with features like emoji reactions, pulse surveys, and comments to inform your internal communication strategy.
ContactMonkey is an incredibly powerful and versatile tool that we're confident you'll love.
Additional Resources on Internal Communications:
Ready to streamline internal communications with Gmail? Then sign up for a personalized demo and we'll walk you through how our tool works in just under 5 minutes.