Looking to incorporate medical SMS into your healthcare software? In this article, learn about today's top providers of SMS for hospitals and weigh the pros and cons of the latest tools.
Using SMS in a hospital setting can improve communication and coordination among healthcare providers and with patients.
It can even help improve patient care and satisfaction, as well as the overall efficiency and effectiveness of the hospital.
But to reap the greatest benefits from medical texting, you need to pick a tool that's able to take on the unique challenges of SMS for hospitals. Let's take a look at the best medical SMS tools and help you find the right fit for your medical staff and patients.
What is Medical SMS?
Medical SMS refers to the use of text messages to communicate medical information, appointments, and other healthcare-related topics.
Medical SMS can be a useful tool for improving communication and engagement between healthcare providers and patients. It can also help reduce no-shows and improve patient adherence to treatment plans. And that equals speedier recovery.
Text messaging in healthcare can include sending appointment reminders, health education messages, wait time updates, and other information to patients via SMS.
In addition, text messaging tools can help doctors, nurses, and hospital staff stay connected from anywhere.
SMS in Hospitals: Use Cases
Hospitals may use SMS text messaging in a variety of ways to communicate with patients and other healthcare providers.
Most instances of SMS in hospitals can be divided into two main use cases:
Communicating with patients:

sending appointment reminders and medical forms for example.

Communicating with staff:

delivering urgent patient alerts, crisis communications, appointment reminders, and more.
Pro Tip: Instantly generate employee messages from the same place where you create emails and SMS messages. Use ContactMonkey's OpenAI add-in.
Some common uses of SMS text messaging in hospitals include:
Appointment SMS for doctors:

Hospitals may use SMS text messaging to send appointment reminders to patients, helping to reduce the number of missed appointments.

Lab results:

Hospitals may use SMS text messaging to quickly and securely transmit test results to patients and healthcare providers, allowing for faster diagnosis and treatment.

Patient communication:

Hospitals may use SMS text messaging to communicate with patients about their health, treatment plans, and other important information.

Emergency alerts: Hospitals may use SMS text messaging to quickly and efficiently send emergency SMS alerts to staff and other healthcare providers in case of an emergency.
Patient feedback

: Hospitals may use SMS text messaging to gather feedback from patients about their experience and satisfaction with the hospital's services.

Prescription refill alerts

: SMS is a quick and reliable way to remind patients to refill their medication to improve recovery and general health.
Engage staff with internal email or SMS messages.
Start a 14-day trial. No credit card is necessary. Zero risk.
Benefits of Text Messages for Healthcare and Hospitals
Today, nearly two-thirds of medical offices rely on text messaging for patient and staff communication. And there's a good reason for that.
The convenience of SMS automation makes it easy and fast to schedule appointment follow-ups, deliver prescription refill reminders, and much more.
Not to mention, healthcare facilities are increasingly adopting medical SMS software to engage with nurses, doctors, and even healthcare job candidates.
But don't take our word for it. Let the numbers tell the tale:
90%

of patients read a text message within the first three minutes of receiving it, resulting in faster communication.

With HIPAA-compliant SMS communication software, patient communications are

100%

secure.

Missed appointments cost hospitals

$150 billion

every year. Healthcare SMS for doctors can reduce the number of missed medical appointments by

20%

.
Send the right message to the right employees
Organize and segment employee sending lists with ContactMonkey's list management tool.
The Best SMS Software for Hospitals
There are a handful of tools offering bulk SMS software for hospitals. The best tool for your healthcare facility will depend on the scope and needs unique to your clinic. That being said, some healthcare SMS tools have consistently won the trust of medical professionals. We've listed some of them below:
1. ContactMonkey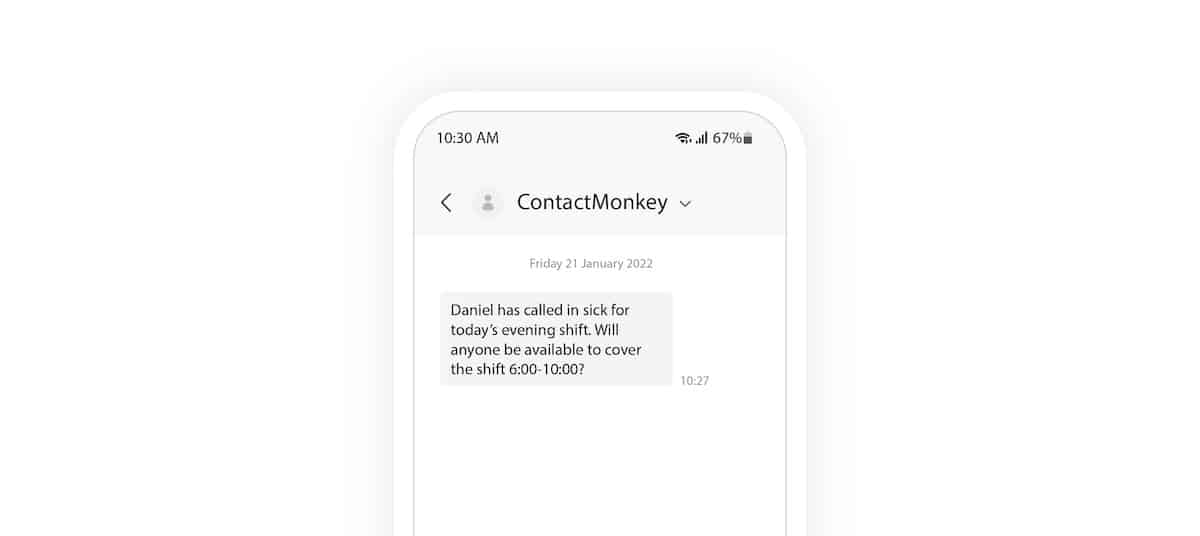 ContactMonkey is an all-in-one internal communications software that seamlessly integrates internal SMS with email. The internal text messaging system lets healthcare providers streamline patient outreach while communicating with hospital staff quickly, directly, and at scale.
No need to send a bunch of individual texts. With ContactMonkey, communicating with employees via text is easy. And following internal comms best practices becomes intuitive.
All it takes is accessing your ContactMonkey dashboard and engaging the SMS tab. You'll be able to group text employees en-masse and engage in real-time two-way conversations. You'll also have a secure and reliable mass notification system for business.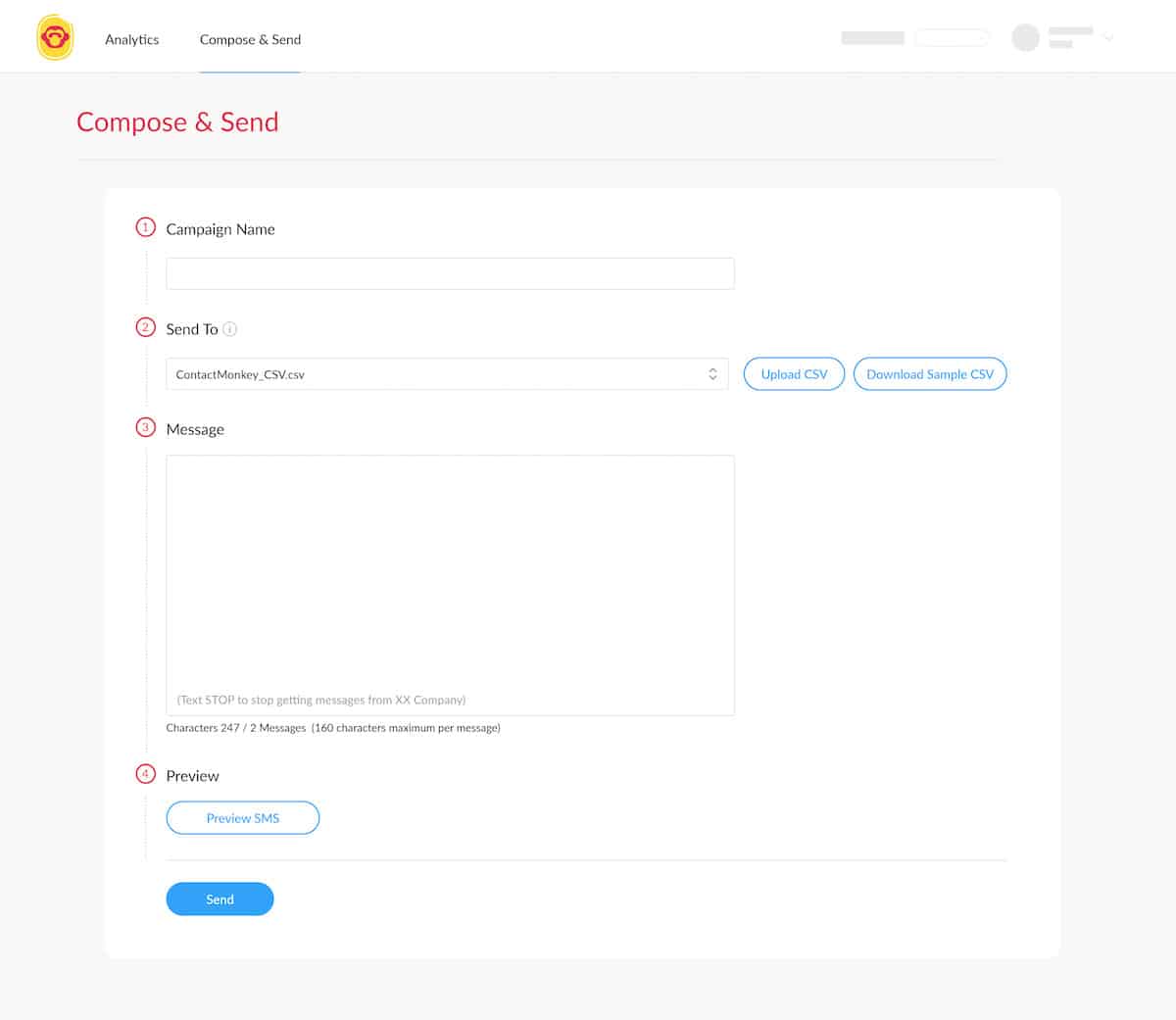 The result: more reliable patient reminders, fewer missed appointments, and fewer hassles for frontline hospital staff.
Here are a few of the other features available with ContactMonkey's employee SMS system:
Build, save, send, and organize SMS messages and internal emails in the same place.

Create a CSV of your patient contact numbers with unique distribution segments.

Embed links and documents into your healthcare text messages.

Track SMS delivery and bounce rates through powerful analytics.

Use premade

SMS text messaging templates

.

Guidance for following

SMS best practices

.

Preview text messages to avoid errors.
2. Trumpia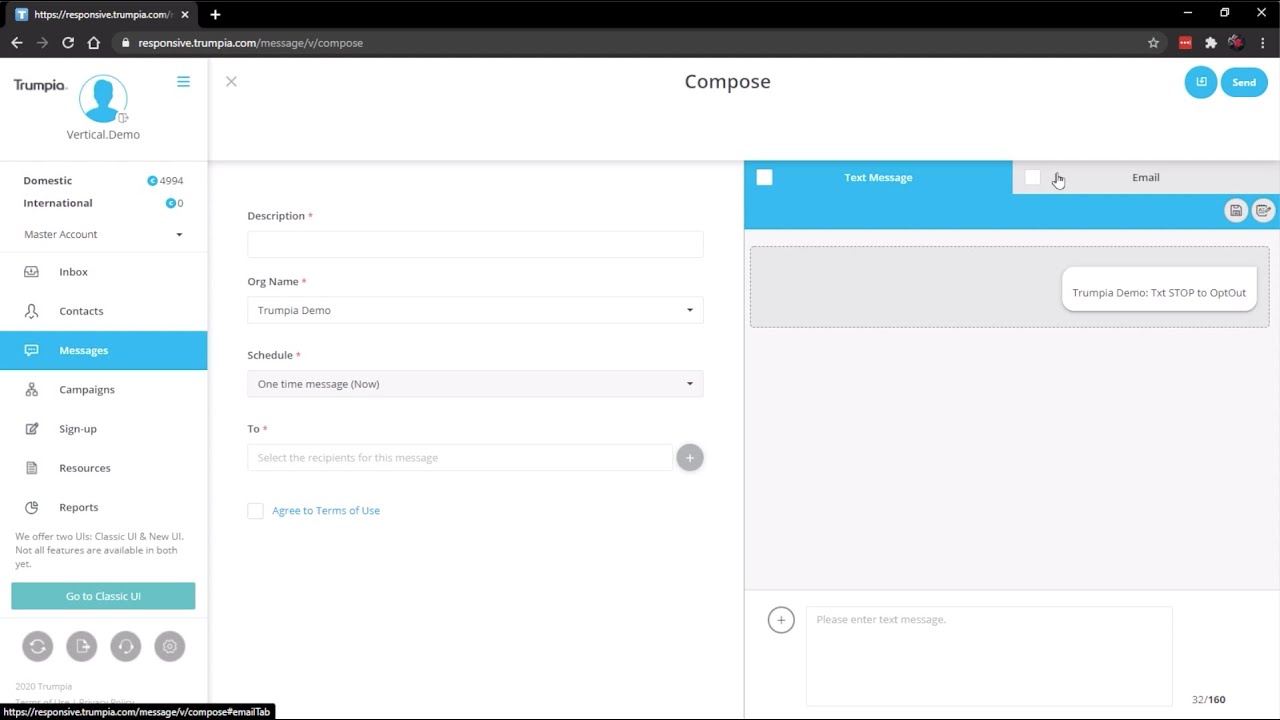 Trumpia is a cloud-based SMS software that allows businesses and healthcare providers to send mass text messages. It offers tools like automatic opt-in and opt-out management, customizable templates, and real-time analytics.
Trumpia also offers integrations with popular CRM and marketing automation platforms, making it easy to incorporate SMS into your overall marketing strategy. Key Trumpia features for healthcare providers include:
SMS scheduling

Segmented texting

Automated patient follow-up

Patient confirmation capability
3. Twilio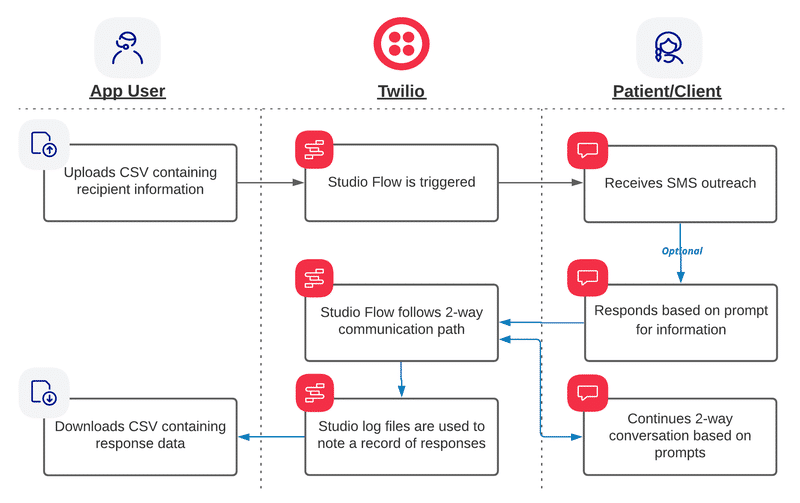 Twilio is a cloud-based platform that allows developers in the healthcare field to integrate SMS, voice, and other communication channels into their applications.
To help doctors deliver patient care remotely and at scale, Twilio enables users to connect over video chat, phone calls, or SMS.
With just a few lines of code, Twilio allows users to send and receive text messages. However, keep in mind that to use Twilio you'll need a dedicated team of developers to set up and integrate the API.
Use your existing recipient lists for SMS messages.
Try ContactMonkey's SMS tool. Improve internal comms.
Here are some Twilio features we like:
Scalability features

Developer-friendly APIs

Built-in compliance software

Real-time analytics for SMS troubleshooting
4. SimpleTexting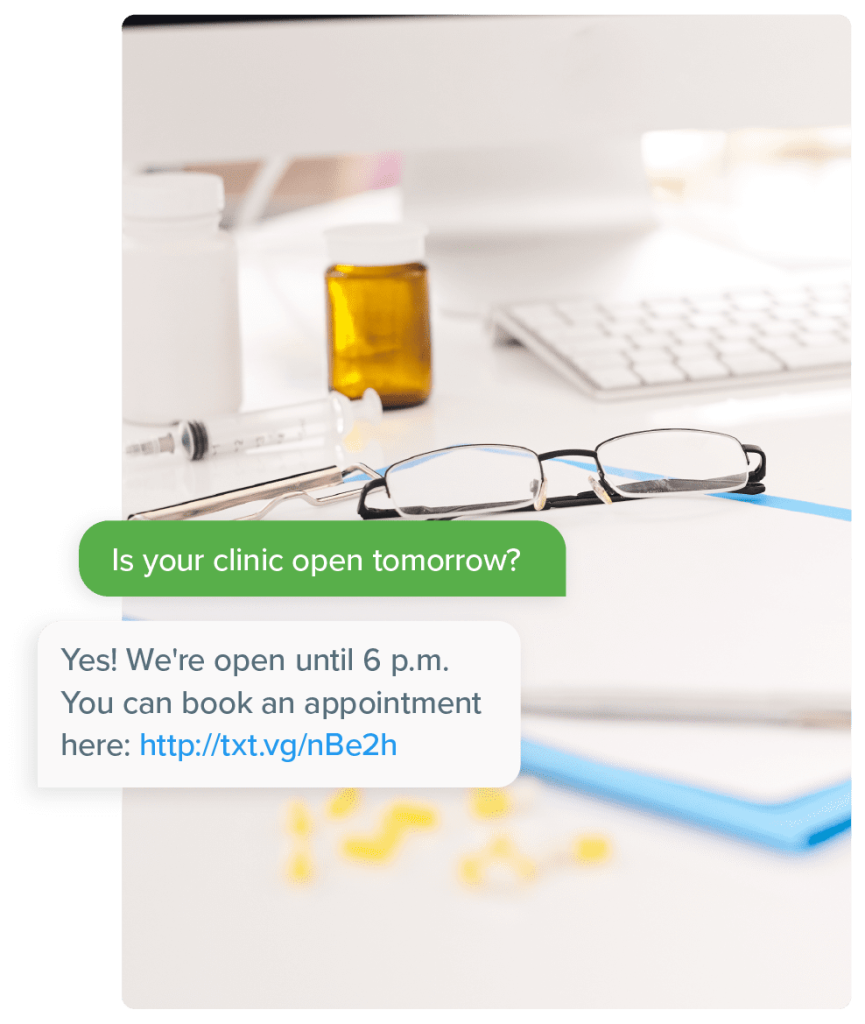 SimpleTexting is an SMS marketing platform that also offers bulk SMS for hospitals. Businesses and healthcare providers can automate and send text messages to customers, staff, and patients.
SimpleTexting is, as the name suggests, simple, but useful for those with straightforward messaging needs.
Some key uses for SimpleTexting include:
Bulk and

1-on-1 patient texting

Send automated appointment reminders

Schedule and send prescription reminders.
5. TextMagic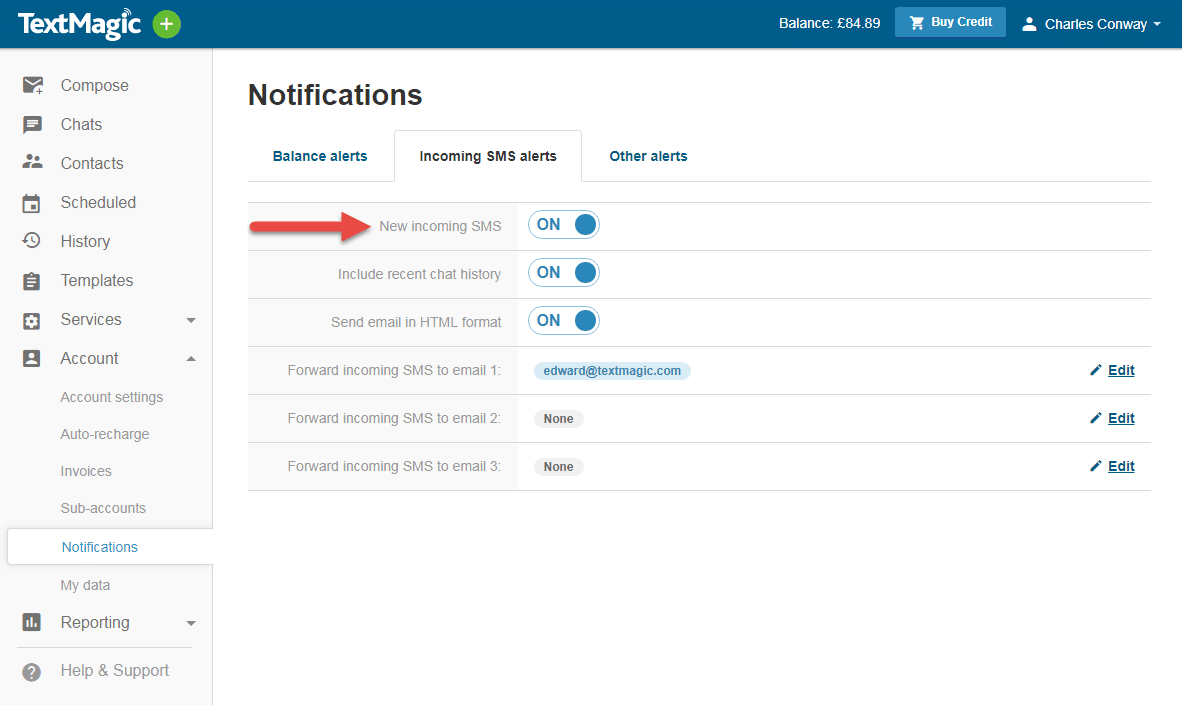 Textmagic was designed to help patients efficiently schedule and cancel medical appointments and provide healthcare practitioners with instant alerts.
In addition to SMS automation, the software also offers various tools for managing and analyzing the effectiveness of SMS campaigns.
Some TextMagic features we like include:
ER wait time updates

Medical report notifications

Hospital alert system integration

Medical booking software integration
6. ClickSend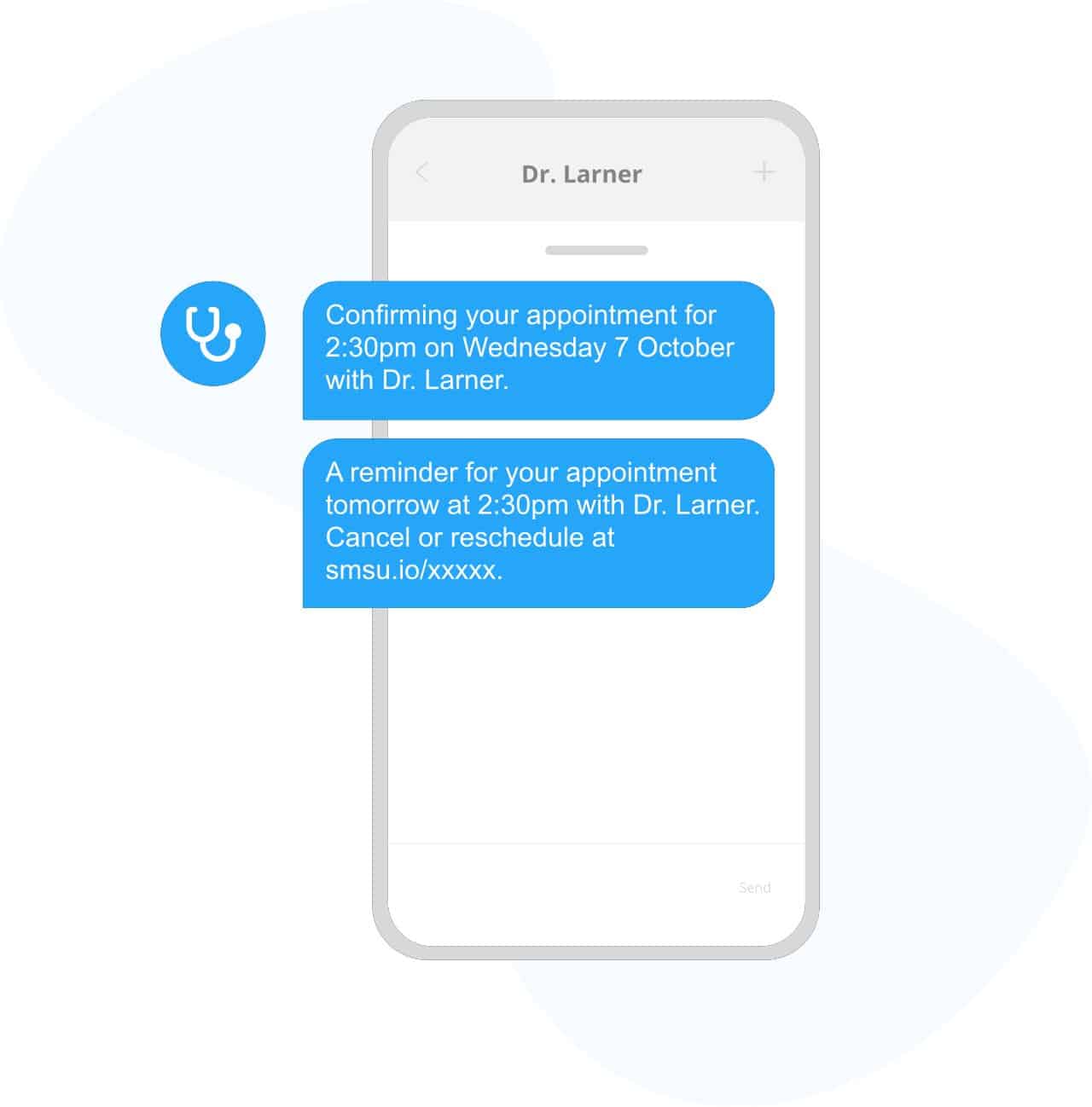 ClickSend is tailor-made for patient appointment reminders. The platform offers a handful of features that make it well-suited to the healthcare industry, including customizable templates and automatic opt-in and opt-out management.
ClickSend also provides integrations with popular CRM and marketing automation platforms.
Some other ClickSend features we like include:
ER wait time updates.

Bulk SMS text message alerts.

Appointment cancellation management.

Automatic appointment and prescription reminders.
7. SendHub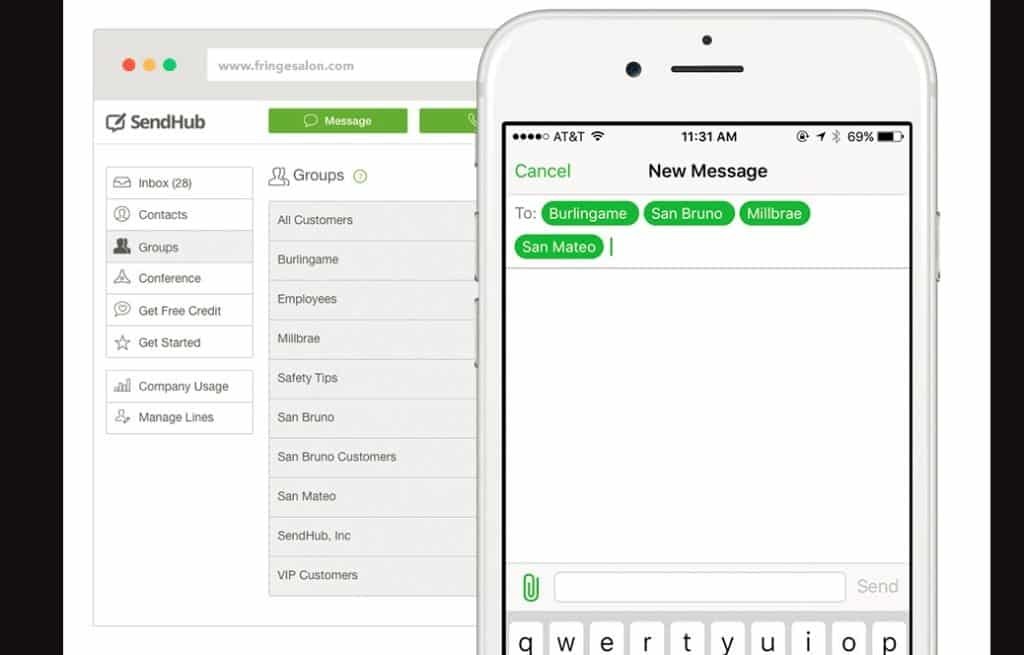 In addition to connecting healthcare practitioners and medical patients, SendHub's SMS integration for hospitals also takes on healthcare recruiting.
With a text-to-hire recruiting chatbot, SendHub lets users keep up with the demand for nurses and healthcare workers more broadly. Here's an overview of SendHub's key features:
SMS alert system

Chatbot features

Texting automation

Personalized SMS integration with existing healthcare apps
8. Textedly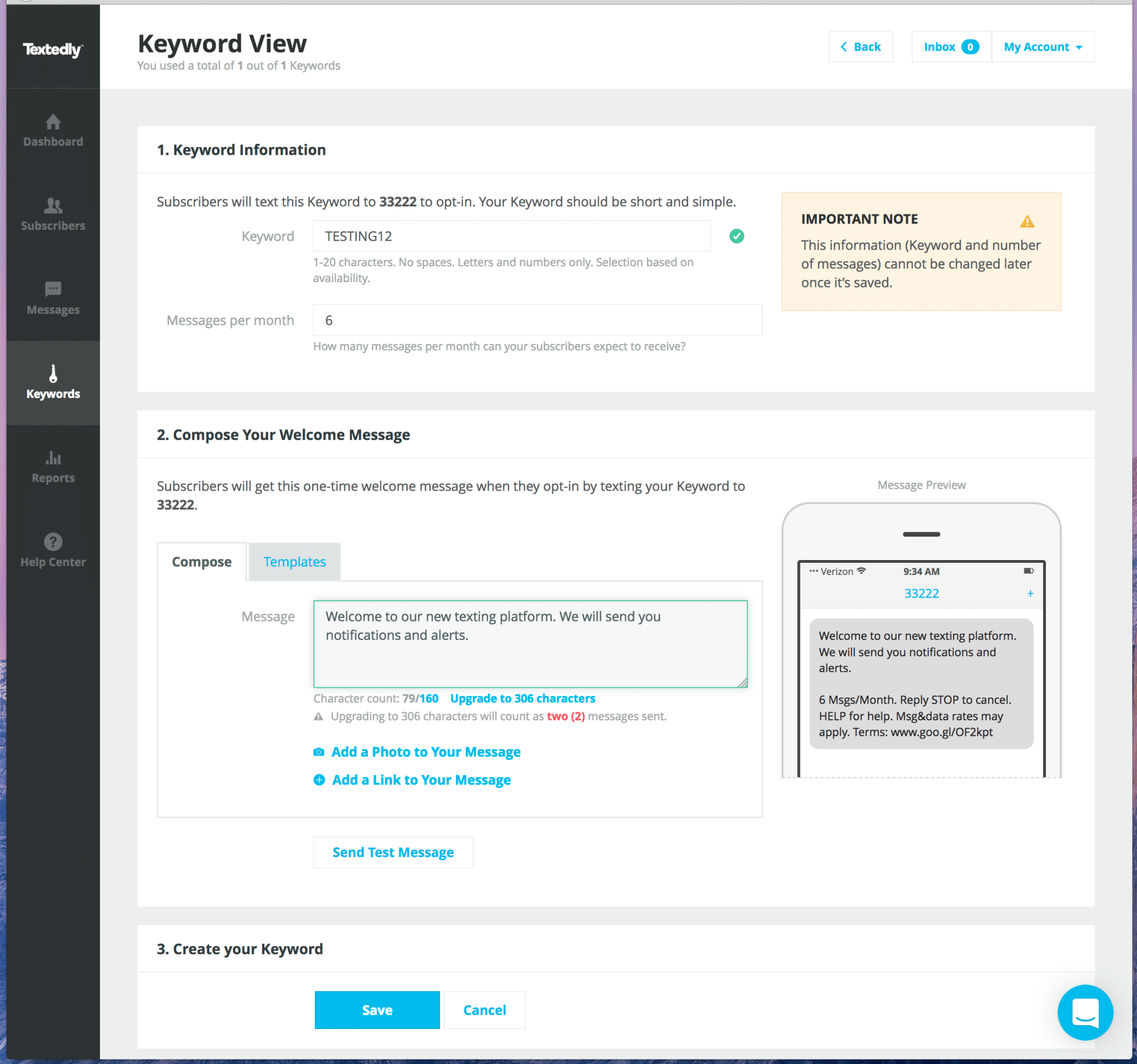 Textedly's is a user-friendly SMS software that offers useful features for healthcare providers.
With secure, automated messaging, Textedly makes it easy to send HIPAA-compliant SMS texts to patients, doctors, and other medical staff.
These Textedly features help ensure that your patients have the healthcare information they need:
Easy SMS opt-in

Appointment reminders

Emergency alerts for patients and staff

HIPAA-compliant security infrastructure
9. EZ Texting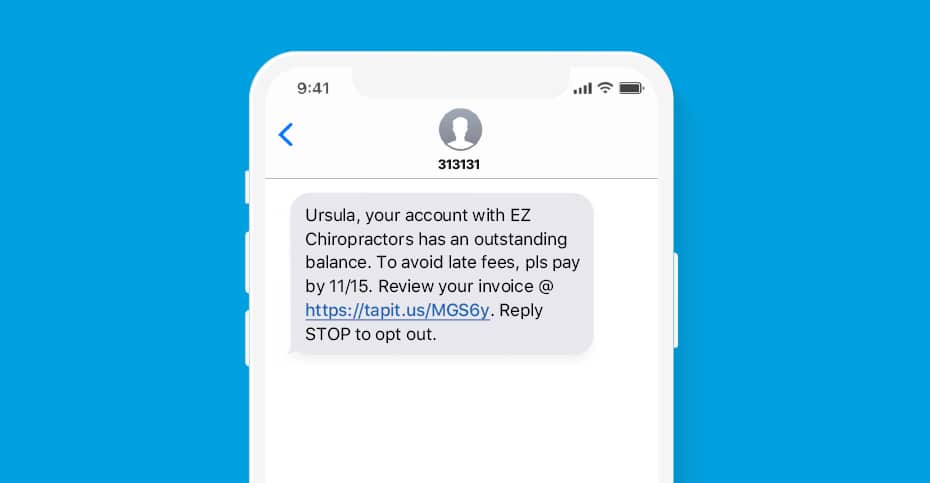 EZ texting is a healthcare SMS software designed specifically for medical professionals. The cloud-based SMS communications platform has a simple notification system that keeps both staff and patients in the know.
Patients quickly receive updates and reminders about lab results, prescription refills, and appointments—all in accordance with HIPAA guidelines. Meanwhile, staff can easily be notified about cleaning and maintenance schedules, equipment problems, low medication inventory, and more.
Here are a few EZ texting features worth noting:
SMS scheduling

Intuitive notification system

HIPAA security compliance

Appointment cancellation management
10. Message Media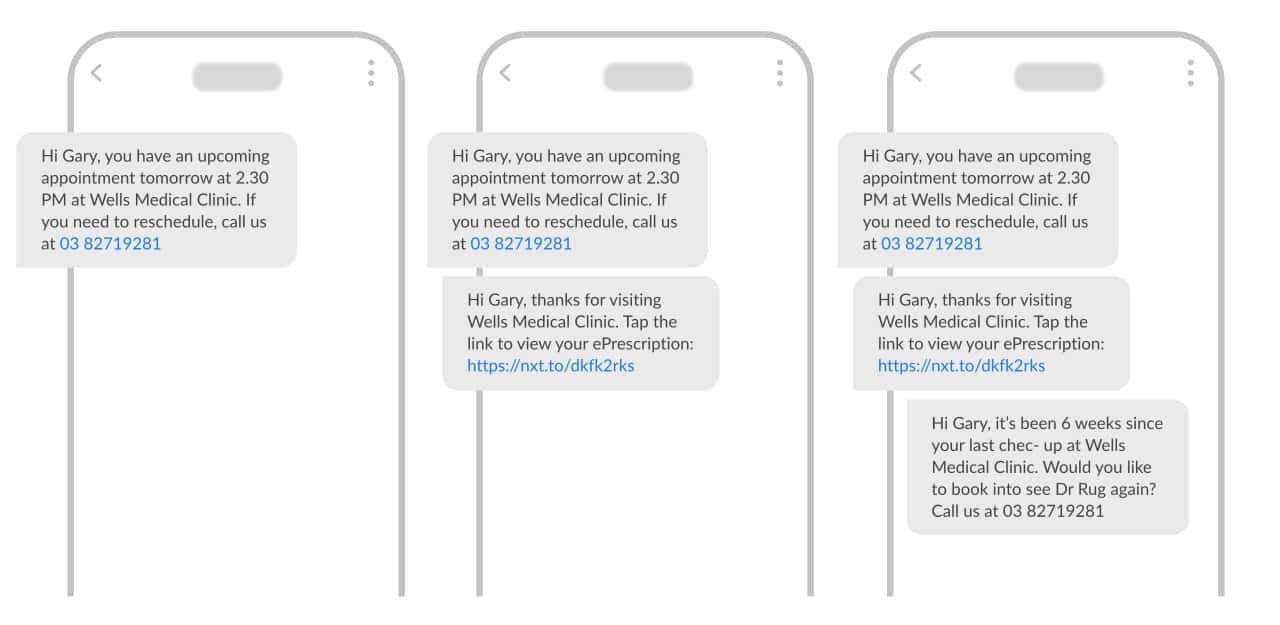 Message Media is an SMS software integration for hospitals and businesses. MessageMedia is optimized for sending automated SMS reminders to patients about upcoming appointments.
The software's suite of tools can help reduce no-shows and improve patient adherence to treatment plans.
The healthcare SMS platform can also be used to send educational information and tips to patients on a variety of health topics, improving patient knowledge and engagement.
Some Message Media features that stand out include:
Healthcare staff management

Two-way patient communication

Multiple integrations, including Microsoft Outlook 365

Two-factor authentication for healthcare data protection
Accelerate Healthcare Communication with ContactMonkey
We hope our shortlist has helped you make progress in your search for the right SMS tool for your healthcare facility. Of course, the best choice will depend on your specific needs and preferences. It's worth researching and comparing different options to find the one that best suits your needs.
With ContactMonkey's free trial period, you can take our SMS solution for a spin and see how it works for yourself.
Try using SMS and email software together, test out pre-made text message templates, and send your first text all for absolutely free. Start for free today!