When your business experiences a crisis, every second counts. Keep your employees safe and informed by making sure that you have the best emergency notification system for your business.
Every business communicates with its employees differently. But in the event of an emergency, you need to be able to send crisis communications quickly and be sure that your employees get the message. That's where mass notification solutions can help.
Emergency communication software brings together your business's internal communications channels so you can create, send, and track emergency messages, fast.
Solutions like ContactMonkey allow you to quickly build and send new emergency notifications from pre-designed templates, saving you valuable time in an emergency. Not only that, but you can track how and when employees interact with your messages, so you can know for sure whether your crucial communications are being read.
To help you be better prepared for an emergency, we've assembled a list of emergency alert systems for businesses to consider when you're looking for emergency notification solutions that best fit your business's communications structure.
What is an Emergency Notification System?
An emergency notification system refers to the infrastructure in place for alerting people of urgent information. The goal of an emergency notification system for businesses is to send information that will lessen the impact of the crisis at hand. The faster the system can alert employees, the sooner they'll know how to respond to the situation.
Emergency communication systems can vary greatly in form and function. A simple emergency communication system could be a safety officer yelling for people to evacuate a room. On the other hand, a complex emergency notification system for businesses likely involves some form of mass communication software and can include simultaneous messages sent across various mediums, planned procedures for issuing new information, and verification and evaluation of the system's reach and effectiveness.
Ultimately, the success of an emergency alert system for a business will depend on how well it integrates with existing communications. Familiar communication channels will be most effective during emergencies, so your employee notification system should incorporate your crisis communications into your existing internal communication channels.
20 Best Emergency Notification Software Products for Businesses
Each of the emergency mass notification systems on this list takes a slightly different approach to sending corporate emergency communications.
We'll provide a brief breakdown of each emergency alert software product and the different channels they encompass, so you can quickly see how they match up with your business's current communication structure.
1. ContactMonkey
ContactMonkey is a multichannel internal communications software that streamlines your business's employee communications, including your emergency alerts.
ContactMonkey integrates into your existing internal comms infrastructure, so creating and sending emergency notifications is simple, fast, and intuitive, with no messing around with a separate platform.
Plus, Contact Monkey's analytics dashboard shows you how employees interact with your corporate emergency communications, so you know if key information has been received.
With ContactMonkey as your employee notification system, you can:
Prepare for emergencies with customizable crisis communication email templates
ContactMonkey's drag-and-drop email template builder makes it easy to build crisis communications email templates for any situation your business is likely to encounter.
When a crisis occurs, just replicate the relevant template and add any specific information you need employees to know. Your email can be designed and ready to go out in seconds.
You can even embed survey questions to get a quick pulse check on a situation and encourage employee feedback or suggestions via anonymous comments.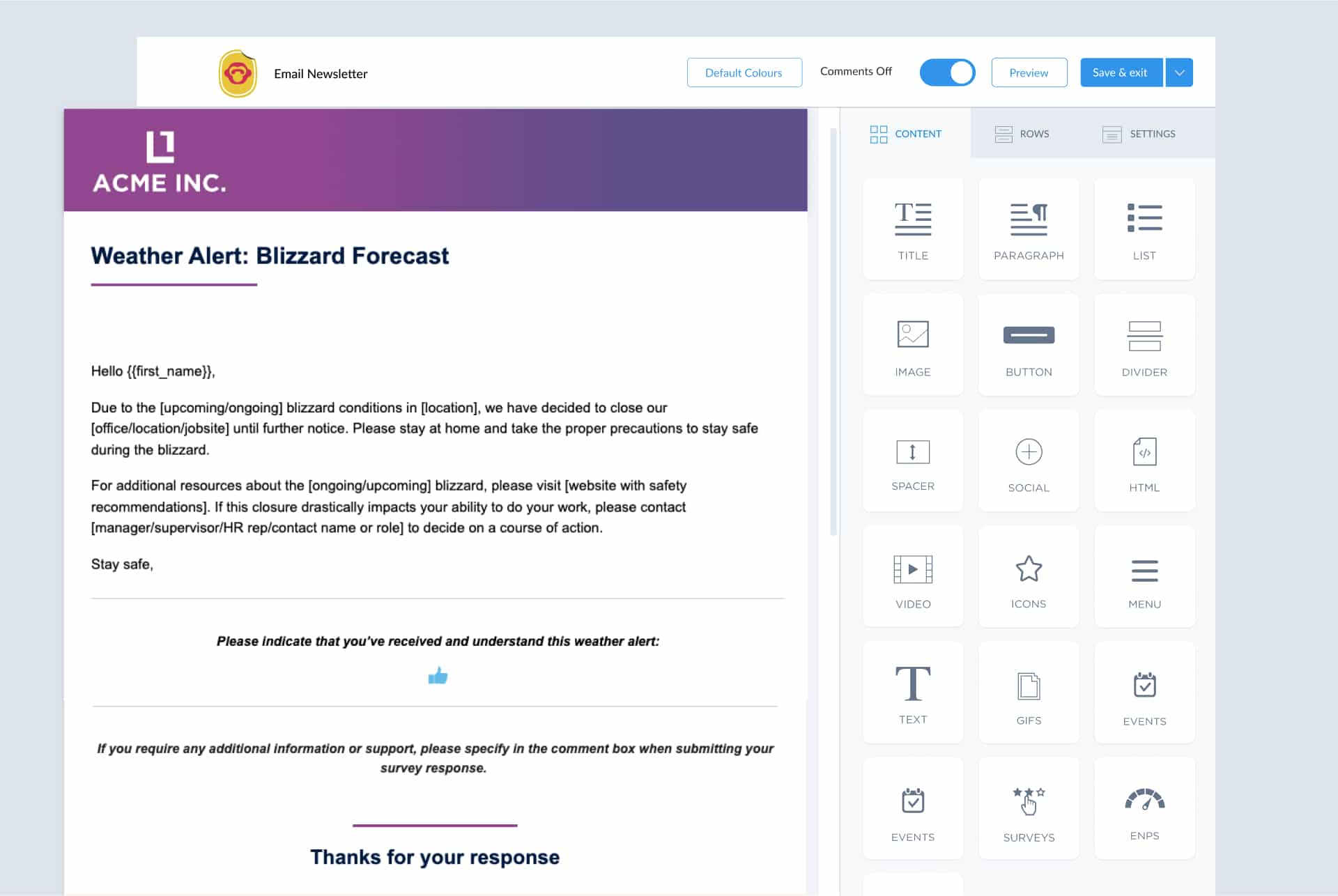 Ensure employees receive emergency emails faster with Email at Scale
ContactMonkey's Email at Scale is a mass notification solution for enterprises with large distribution lists.
Email at Scale removes the constraints of Outlook and Gmail sending limits and sends emails up to 16 times faster. Employees can receive emails and respond to crises faster, while communicators save time by not having to split their emergency notifications into multiple email sends.
Get more eyes on your messages quickly with mass text messaging
ContactMonkey's employee text messaging system makes it easy to quickly draft and send emergency text messages directly to employees' phones: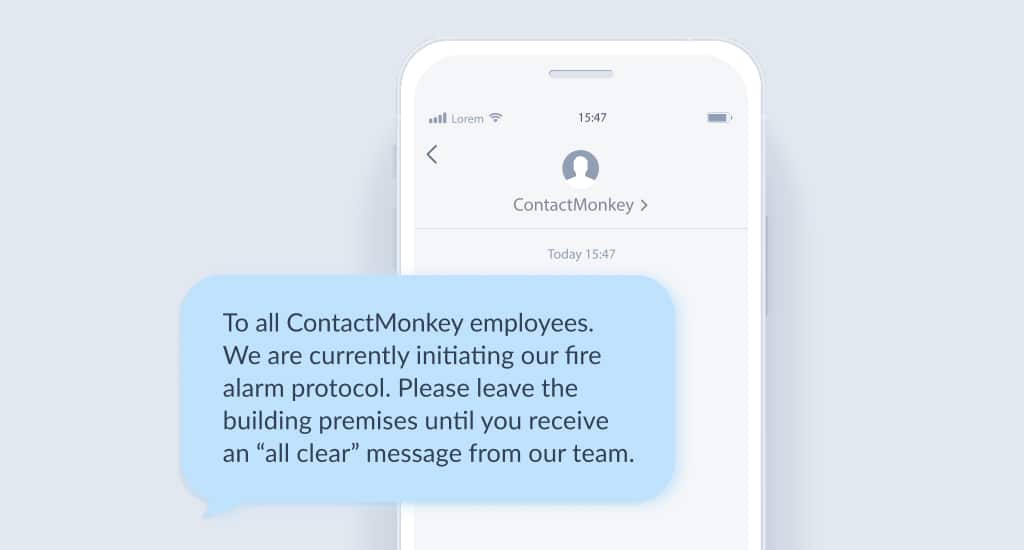 What makes text messages an ideal employee notification system for crisis communications? Not only are texts read faster and more consistently than other types of communication, they're also often the only way employers communicate with deskless and frontline employees.
When an emergency is actively evolving and you need to keep employees up to date or prompt them to take immediate action, employee SMS gives you the best chance of getting the message out and reaching employees wherever they are.
Generate copy on the fly with integrated AI
Wording your employee alert correctly is the last thing you need to worry about in a crisis. ContactMonkey's ChatGPT integration helps you get corporate emergency communications out quickly and move on to the rest of your emergency response tasks.
With the AI assistant tool, you can input any details you need employees to know and have it generate your email text. You can also ask it to make what you've already written shorter and more urgent to ensure you get eyes on your urgent messages.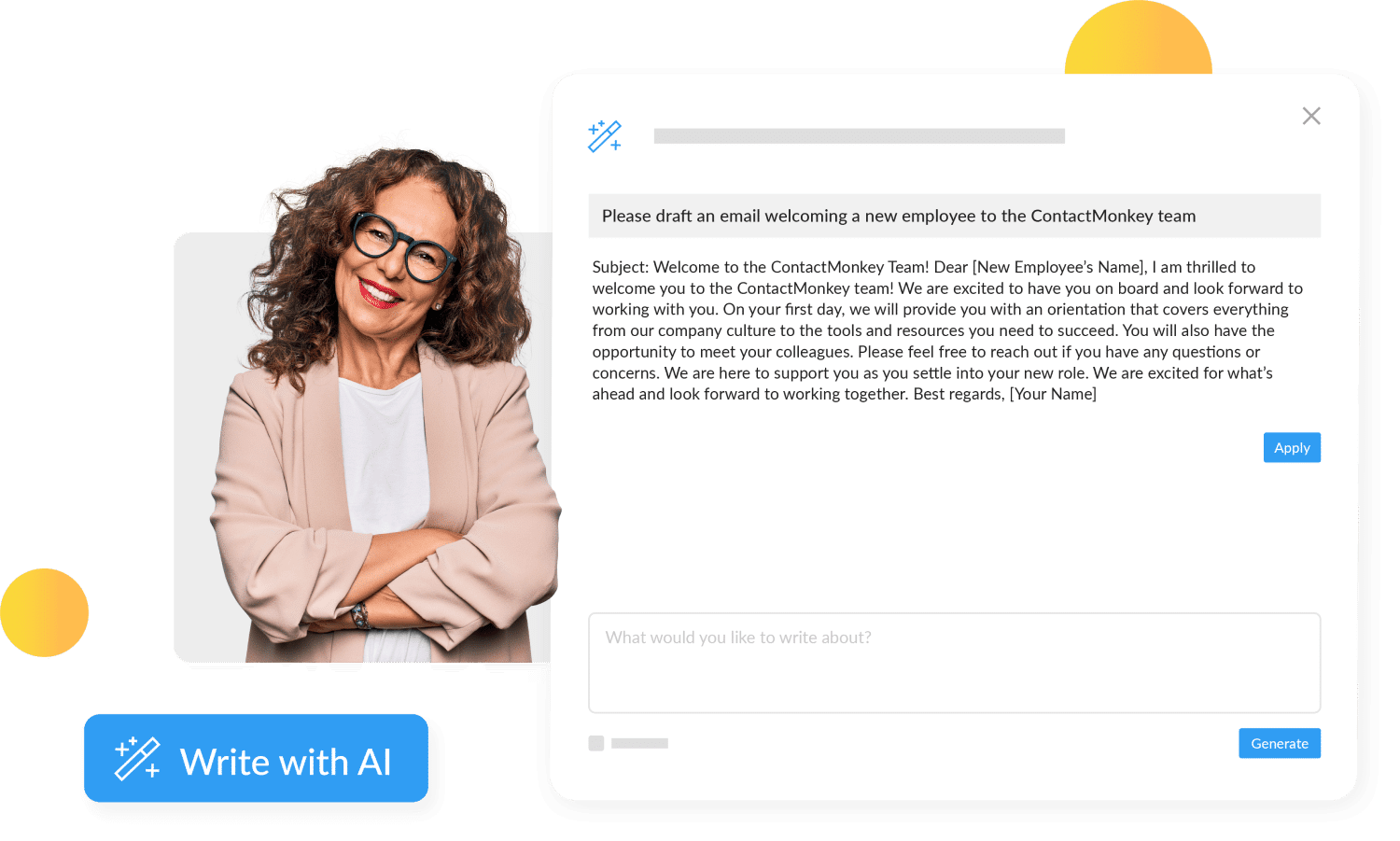 Segment sending to reach relevant employees
Depending on the nature and location of an emergency, it might not make sense to send your corporate emergency communications to everyone in the organization.
ContactMonkey's List Management feature lets you segment your Email and SMS sending list by geography, home office, or any number of other attributes, so you can limit your sending to relevant recipients when an emergency only affects a single location or team.
ContactMonkey also integrates with your existing Outlook distribution lists, your Human Resources Information System (HRIS), or your Azure Active Directory to keep your distribution lists synced and up to date.
Monitor the response to your emergency communication with powerful analytics
ContactMonkey tracks the communications sent through the platform, so you can instantly start monitoring how your emergency alerts are doing with SMS and email analytics.
You can keep an eye on email open rates and read times to see which employees have seen and read your messages, get responses to embedded survey questions, and even download a list of employees who haven't opened the email so you can follow up with them.
Added a link in your employee SMS alert? Track link clicks to see whether employees are accessing the resources you shared.
Once the crisis has passed, ContactMonkey's SMS and email analytics can help you evaluate your emergency response and set benchmarks for future improvements.
Having these insights also allows you to conduct regular internal communications audits to consistently elevate your messaging.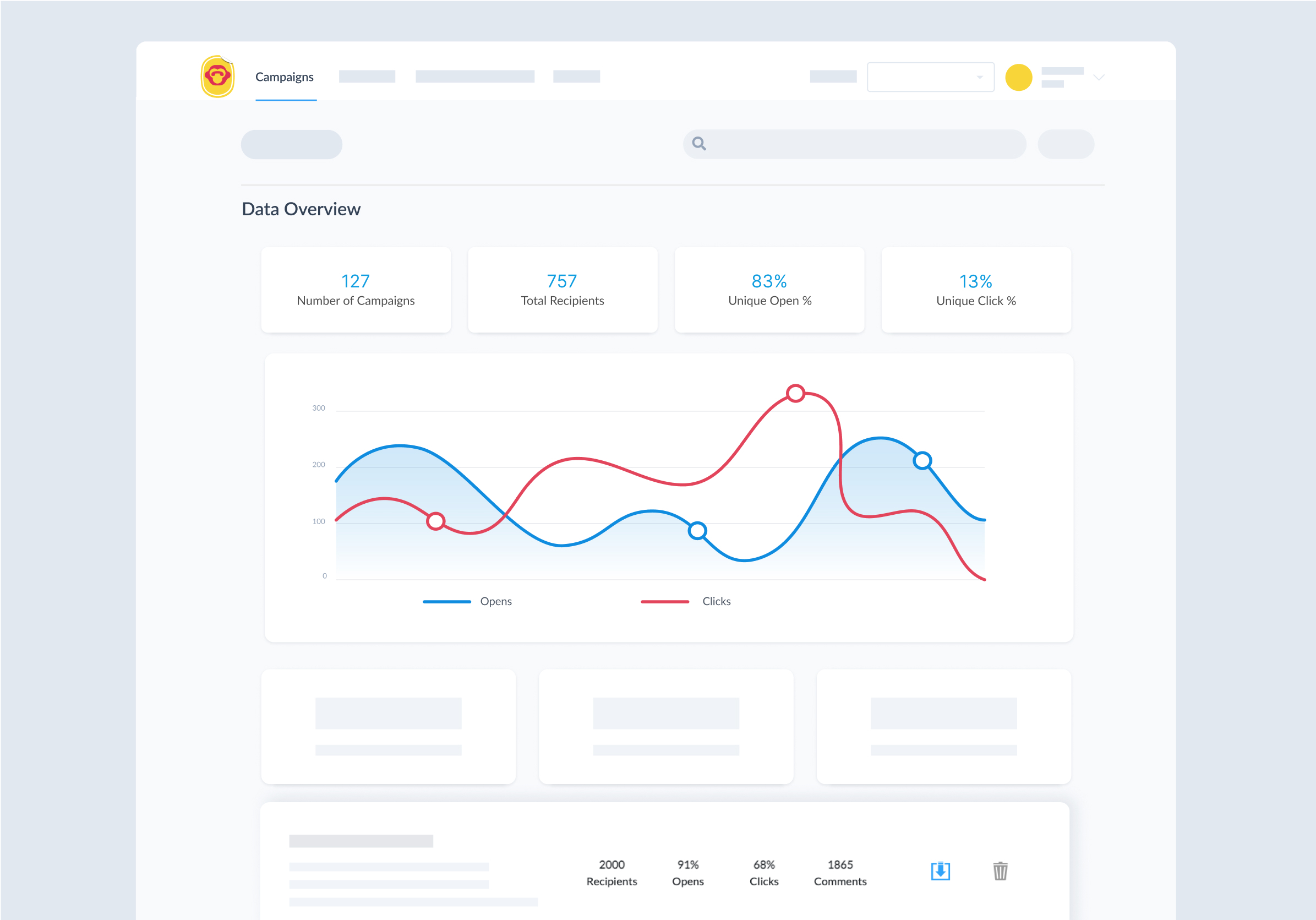 Communication channels:
Email
Email newsletters
SMS
There are countless ways that ContactMonkey streamlines your emergency notification system; see ContactMonkey in action for free by clicking here.
2. Informacast
Informacast is an emergency notification system that can be used in crisis situations such as:
Severe weather alerts
Building lockdowns and evacuation
Reporting and incident management
Paging and intercom
Employee safety threats
Their emergency mass notification system has options for both administration and employees to send notifications depending on the emergency needs of the business. These notifications can be easily triggered and can be sent across a variety of channels.
Informacast also provides tracking information for its notifications. Monitor the results of your notification, like whether the message was successfully sent, opened by the recipient, and more. You can easily create emergency notification messages ahead of time using their command center, so you can respond quickly if a situation arises.
Communication channels:
Desk and mobile phones
Informacast app
Microsoft Teams
IP-based speakers
Digital signage
Zoom
Twitter
3. Voyent Alert!
Voyent Alert! is a mass notification system that offers an easy-to-use interface for creating and sending emergency notifications. Using the Voyent dashboard, you can choose from a variety of pre-made emergency notification templates or create your own.
Voyent allows you to highlight the physical location of the emergency and notify recipients who are in the same geographic location: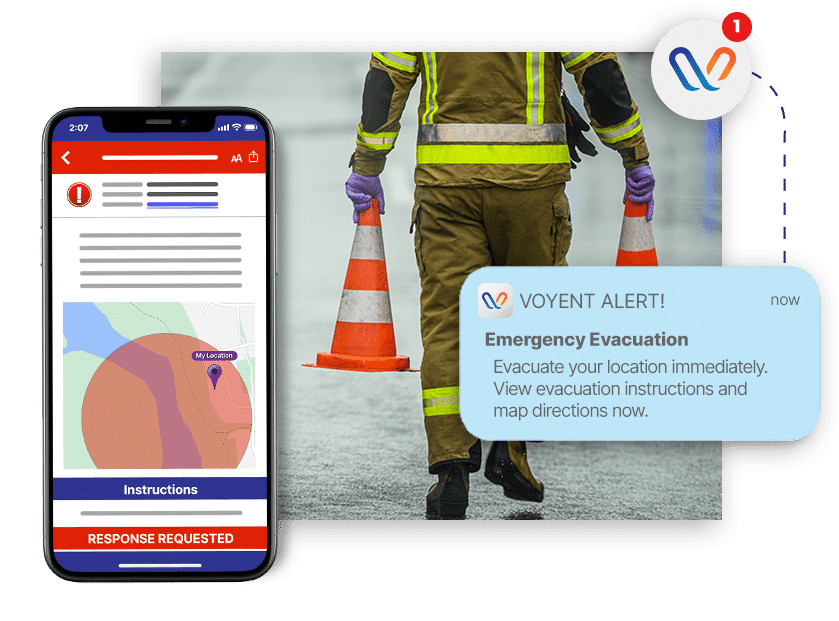 You can include links, photos, and more within the notifications you send with Voyent to give your recipients additional information about the incident. Recipients can also respond to Voyent notifications with additional information.
Communication channels:
SMS text
Mobile app
Voice-to-landline
Social media
Email
4. Crises Control
Crises Control is an emergency mass notification system for businesses that offers in-depth features for managing emergency communications. Their app covers numerous emergency situations, and can help minimize the danger your employees face—and the damage your business faces—in the event of a crisis
Crises Control records all your notifications so you can review their performance later. They can also determine whether your notifications have been opened and track the physical location of your recipients using GPS.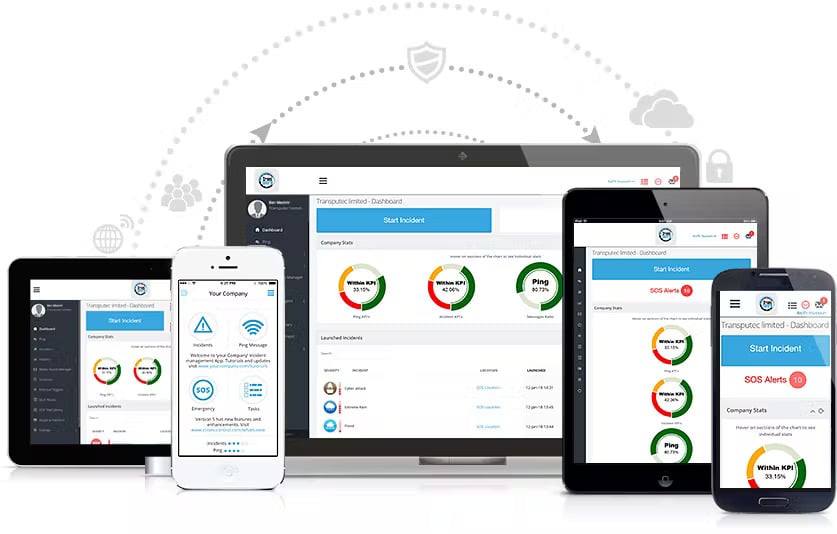 Using Crises Control, your communication team can reduce your business' emergency response time and provide crisis action plans to your employees as soon as possible.
Communication channels:
SMS text
Phone calls
Email
PUSH notifications
5. Alertmedia
Alertmedia is an emergency communication software that provides a simple and straightforward approach to emergency notifications. Alertmedia makes sending information over a variety of channels easy, and allows users to track how an incident is unfolding via recipient feedback and tracking metrics.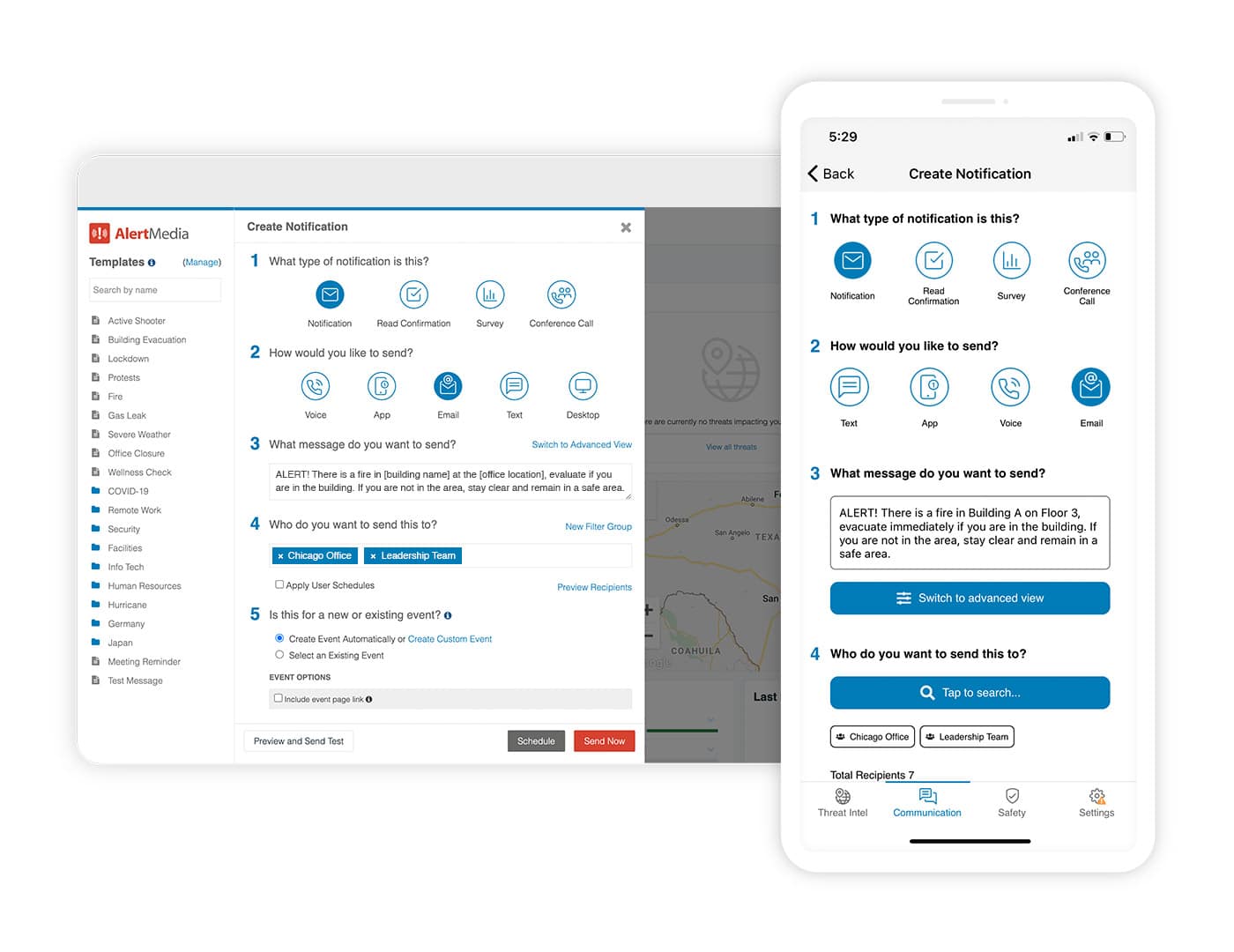 Similar to Voyet, Alertmedia has a mapping feature where you can choose who to send notifications to based on their location. The Alertmedia app allows you to choose which channels you want to send your notifications over, and your employees can trigger emergency alerts using pre-established protocols.
Communication channels:
App
Mobile
Desktop
Voice
Email
Slack
Social media
6. RedFlag
RedFlag is an emergency communication and alert system that helps businesses large and small respond to a variety of emergency situations. RedFlag can lessen the impact of severe weather, IT threats, maintenance incidents, and unexpected closures on businesses.
Their mass notification solution lets you reach your employees fast with real-time alerts. Their centralized dashboard allows you to track the status of your notifications, and their Outlook plugin makes sending email alerts quick and easy: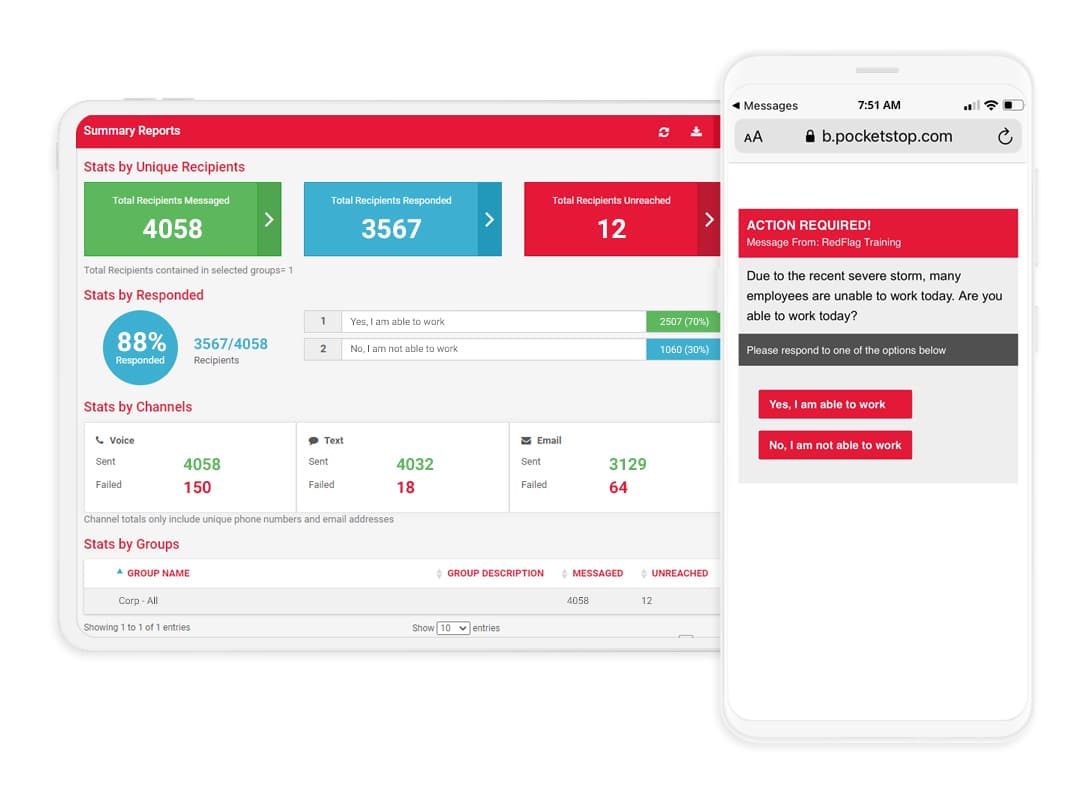 Create emergency notification templates so you can respond faster to incidents that affect your employees, and use the data you collect from previous emergency events to improve your response in the future.
Communication channels:
Email
SMS text messages
Voice calls
Social media
Intranet
Digital signage
7. DeskAlerts
DeskAlerts is an alerting software that helps businesses communicate with large numbers of employees. While DeskAlerts' notification system isn't designed specifically for emergency notifications, it can be used to send critical updates and information to employees in the event of an emergency.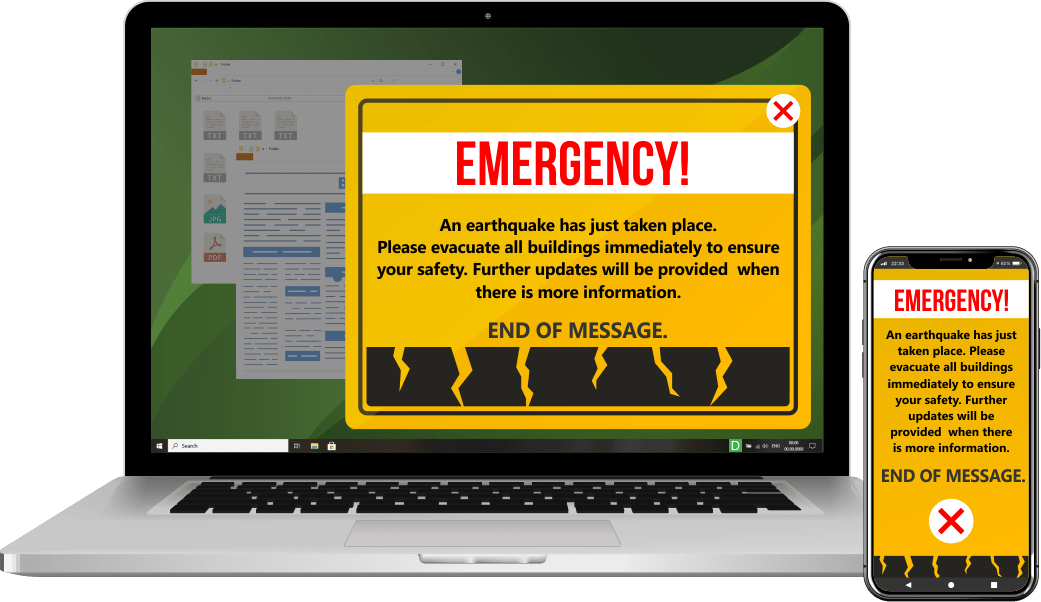 DeskAlerts helps users respond as quickly as possible to workplace incidents. Their notifications can be triggered manually or via API integrations—like being triggered by an antivirus software. Like the other solutions on this list, DeskAlerts allows users to draft their emergency notifications ahead of time to minimize response time.
Communication channels:
Desktop
Mobile app
SMS text
Digital signage
Corporate screensavers
8. Rave Alert
Rave Alert is a mass notification system for businesses that offers organizations an accessible way to send communications in the event of an emergency. Their software can be used for corporate emergency communications and other functions like event management and scheduling.
Create templates based on the types of notifications your business will need in the future, and send them quickly through a variety of communication channels.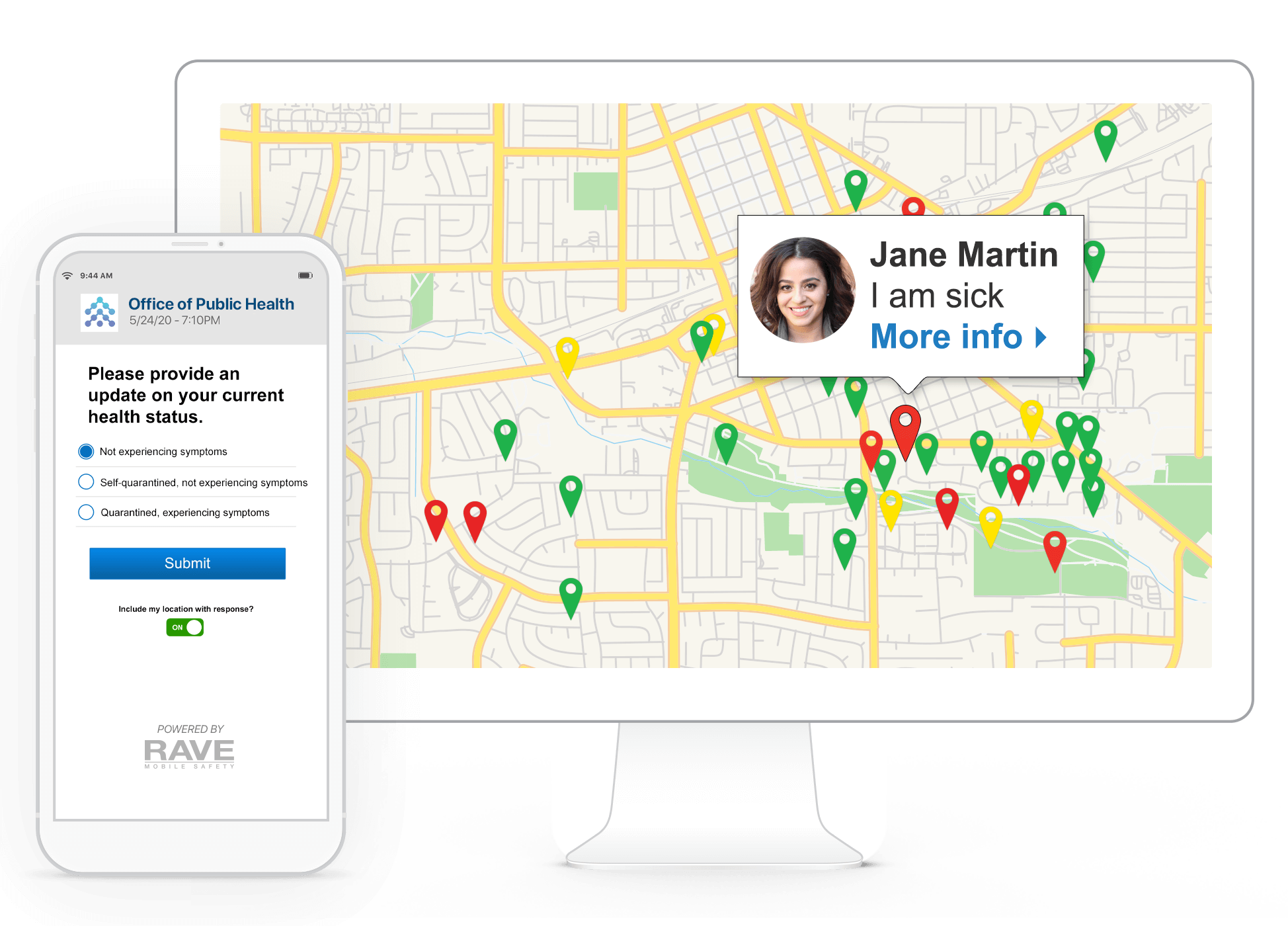 Rave Alerts has a mapping functionality where you can view where your recipients are and request feedback from them to inform your response. They also offer analytics to help you track the success of your emergency notifications.
Communication channels:
Desktop
Mobile app
SMS text
Voice calls
Digital signage
Social media
9. Everbridge mass notification
Everbridge is a mass notification software that can be used for a wide range of emergency situations like severe weather, workplace violence, IT alerts, power outages, and more. Everbridge uses a centralized dashboard where you can respond to emergencies and send notifications quickly.
Like the other solutions we've looked at, Everbridge GPS-based tracking of events and recipients, so you can send your notifications to only those affected by whatever incident is happening.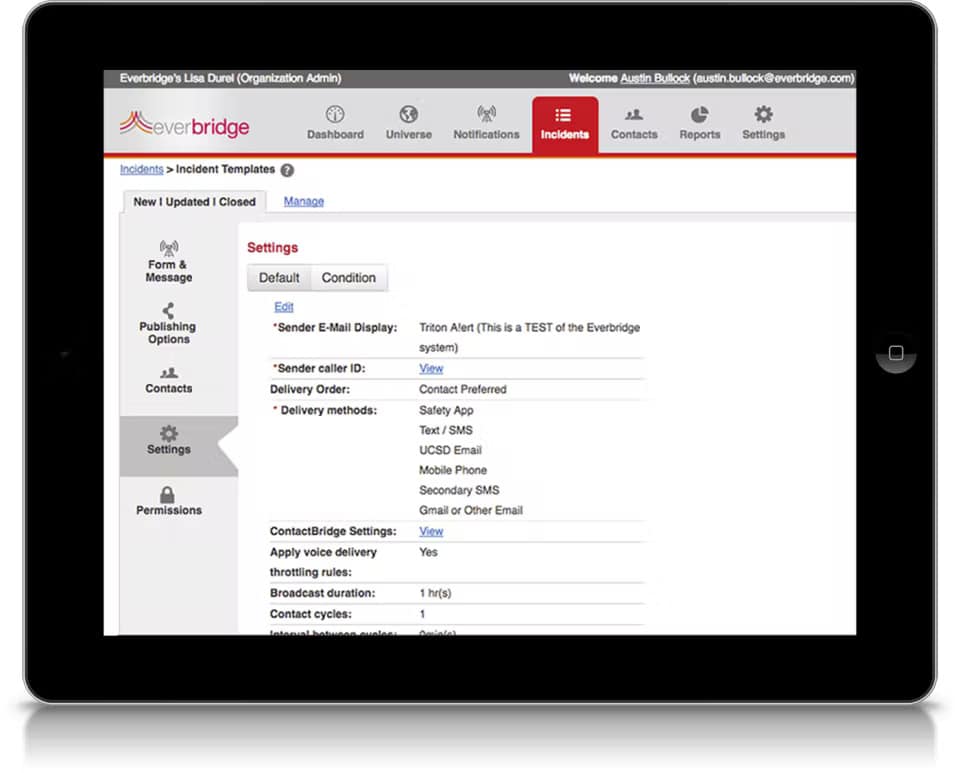 Everbridge also offers notification analytics so you can measure the effectiveness of your response. Everbridge can be used for both enterprise solutions and civilian-based solutions.
Communication channels:
Text
Email
Desktop Alert
Mobile App Notification
Voice Call
Slack
Social
Digital Signage
10. Alertable
Alertable is a mass notification app designed for both business and non-business uses. Alertable has an accessible app-based interface that lets users find safety alerts that have been posted for their area. They can filter the kind of alerts that are visible to them so they're not inundated with alerts that don't apply to them.
Rather than send alerts to specific recipients, Alertable users post notifications based on geographic location. These alerts will be visible to users who have searched for alerts in that area.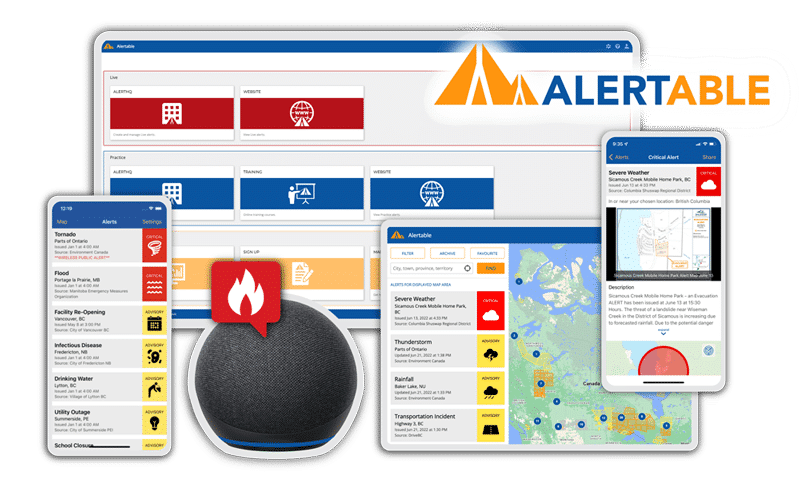 Alertable is a more simplified way of issuing mass notifications, although it does have capabilities to send notifications via a variety of methods. Alterable includes analytics to give you an idea of the reach of your notifications.
Communication channels:
App
Email
SMS texts
Social media
Slack
Voice calls
Digital signage
11. Text-em-all
Text-em-all is a mass text and phone call software designed for organizations to reach their recipients fast. This solution boasts a variety of uses including emergency notifications, employee updates, surveys, shift scheduling, announcements, and more.
Text-em-all provides a straightforward interface for creating, sending, and tracking text message alerts sent to your recipients. Text-em-all allows personalization for alerts and the creation of pre-made templates. Track the status of your sent text messages using their tracking data: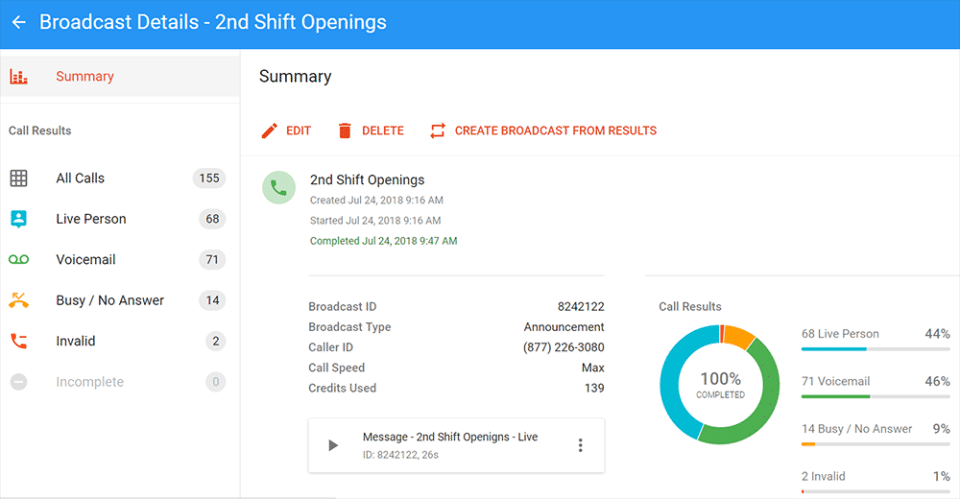 Text-em-all also offers an automated calling system where you can send recorded voice messages to your recipients. They boast super-fast send times for both their text messages and voice calls, so your recipients receive the information they need as soon as possible. They also have a mobile app from which you can manage your sent notifications
Communication channels:
Text messages
Voice calls
12. Titan HST
Titan HST is an emergency and mass communication software with a variety of features for sending information to your recipients. Titan HST can be used for both business and non-business purposes and has options for different emergency situations like fire, weather emergencies, medical incidents, safety threats, and more.
Their software offers location-based notifications, and even augmented reality features to help people in incidents where their vision is affected, like in fires and inclement weather. Their mesh network allows their software to work when internet networks have been knocked out.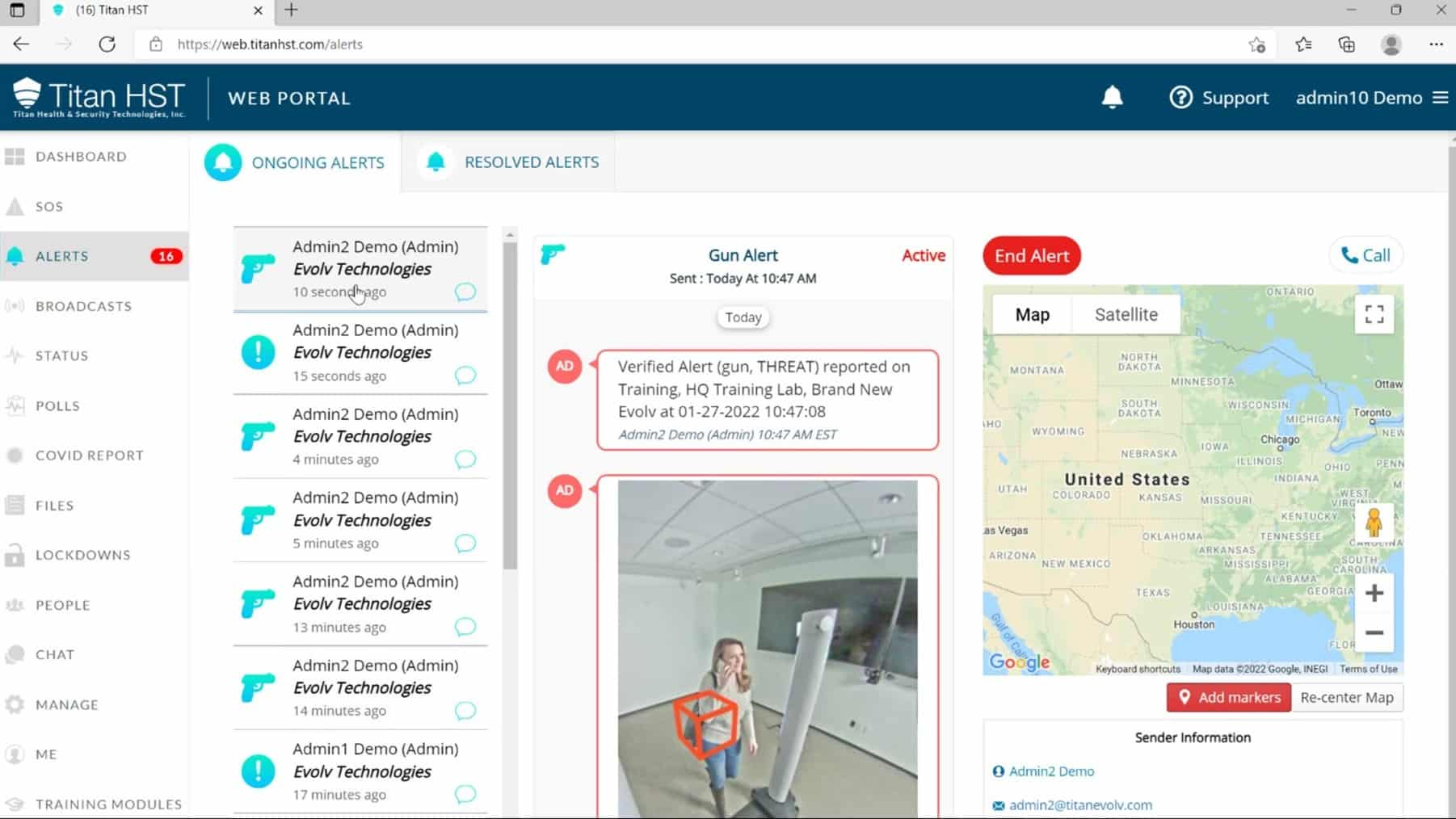 Titan HST also offers feedback options where your recipients can answer questions and polls. This can help you gather information as an incident unfolds to help shape your response.
Communication channels:
Mobile app
Mobile notification
13. Konexus
Konexus is an emergency notification software for business use and a critical event management tool with in-depth features for responding to crises and keeping your employees safe. With a wide array of features like polls, emergency alerting, secure mobile chat, and in-stream translations, you can coordinate your emergency communications in response to numerous situations.
Konexus can be used from their dashboard or via mobile app. Send emergency communications to relevant recipients only by using geo-location alerting.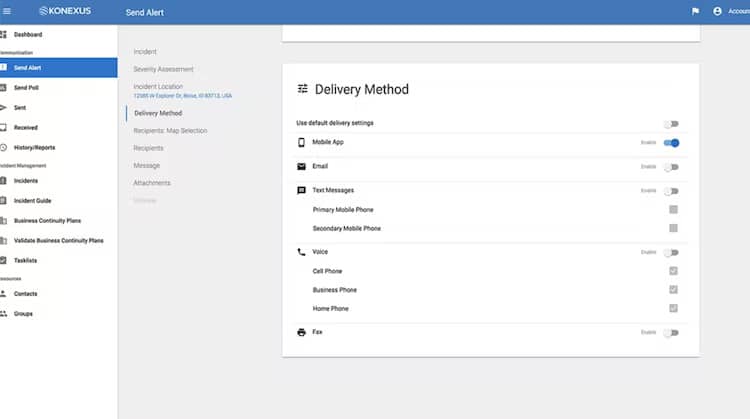 Konexus helps companies reach their employees through numerous channels and provides detailed metrics about how your emergency communications performed.
Communication channels:
Mobile push notifications
Email
SMS text messages
Voice calls
Fax
14. Derdack
Derdack is a targeted alert notifications software designed to help businesses respond to emergencies and IT incidents. If your business relies on IT infrastructure, your IT team needs to be able to respond to any and all incidents whenever they occur.
Derdack gives your business a comprehensive set of tools to keep your IT team informed about the ongoing performance of your IT infrastructure. Send detailed alerts to your employees, coordinate IT support schedules, and even troubleshoot IT issues directly using the Derdack app.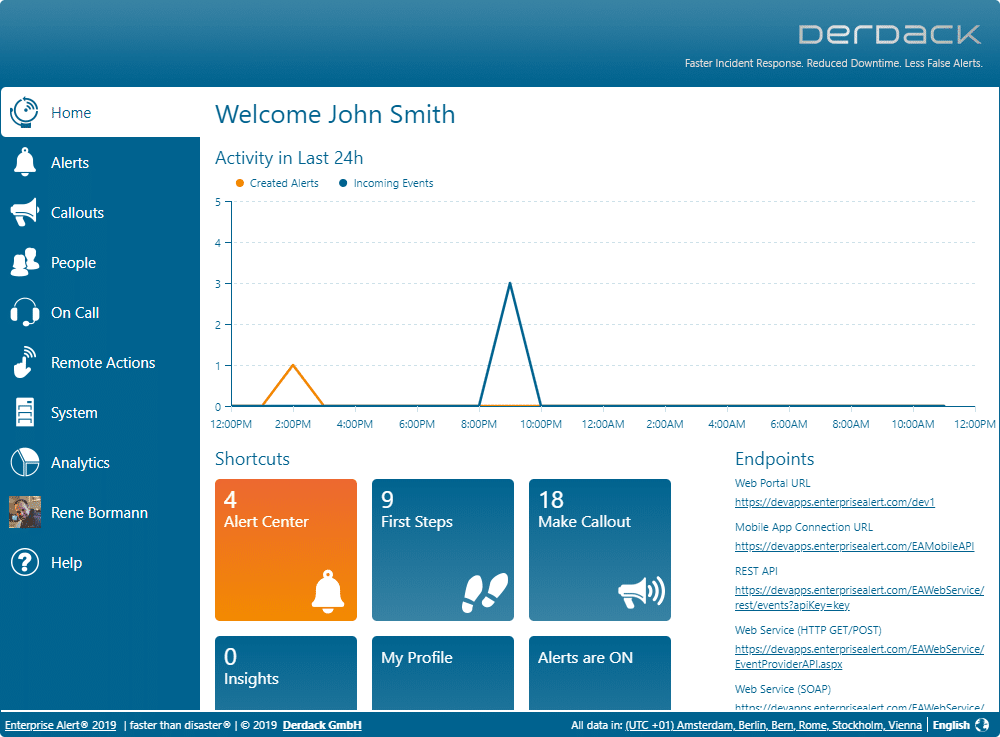 Derdack is a powerful IT incident management solution, and with their mobile app you can ensure that your IT assets are up and running wherever you are.
Communication channels:
channels:
Voice calls
Push notifications
SMS text messages
Instant messaging
Email
15. Alertus
Alertus is a mass notification system for business use designed to help organizations create and manage their emergency notifications. They boast multiple layers of communication to ensure that recipients get the information they need in times of emergency.
Unlike the other solutions we've looked at, Alertus sells a variety of notification products in addition to its notification software. From wall-mounted alarms to loudspeakers to panic buttons, Alertus helps ensure organizations can respond quickly and comprehensively to crisis situations.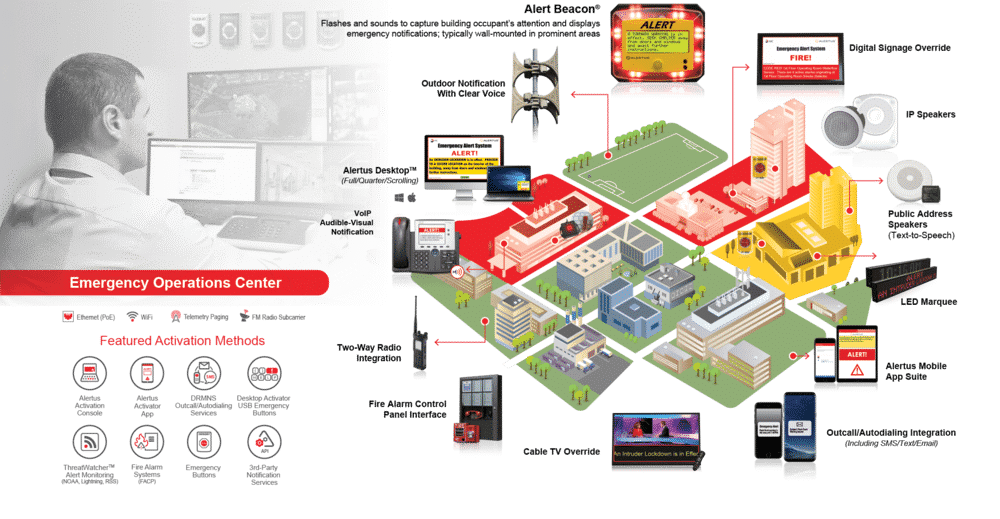 Alertus has the features of other emergency notification systems we've examined, like pre-made templates, scheduling, and metrics reporting. Alertus is by far one of the most comprehensive emergency alert systems for businesses that we've covered.
Communication channels:
Desktop alerts
Digital signage
SMS text messages
Public and outdoor speakers
Voice calls
Fire alarm panels
16. Revolution
Revolution is an emergency notification system that unifies your organization's existing communications infrastructure for faster emergency responses. This solution uses a centralized management platform to coordinate your emergency communications across a variety of channels.
Revolution aims to have a simple approach to emergency communications. Manage your messaging, channels, notification history, and analytics from their software dashboard:
Schedule notifications, create pre-made communications, manage recipients, and more using Revolution. They also have geo-location features so only those in affected areas will receive emergency notifications.
Communication channels:
SMS text messages
Digital signage
Mobile devices
Speakers and loud horns
17. OnSolve
OnSolve is a critical event management solution that covers a wide range of business-related communications needs. From employee safety situations to IT incidents, OnSolve helps businesses respond quickly to any issue that may affect their daily operations.
OnSolve uses a similar approach as other software solutions we've covered. From their platform, users can coordinate their emergency notifications over a number of channels. Their dashboard lets users control their emergency response and analyze their success via communication analytics: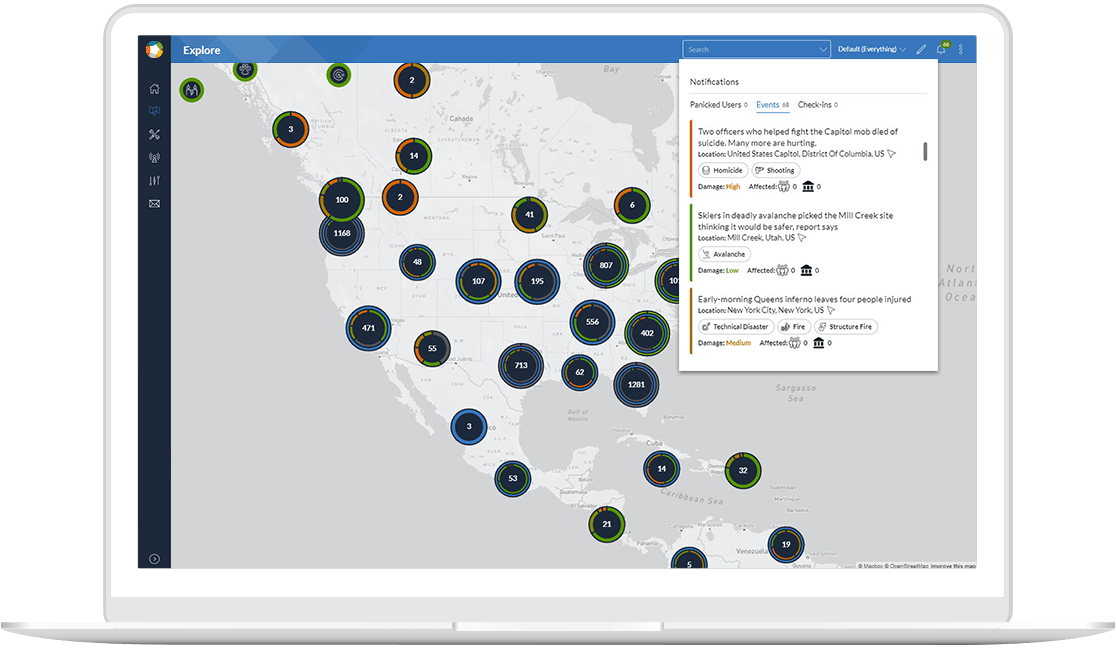 OnSolve supports geo-location emergency communications so the right people get the right information. Their easy-to-use interface helps businesses respond as quickly as possible to ensure minimal risk to your employees and business.
Communication channels:
Voice calls
Email
SMS text messages
Desktop alerts
Phone systems
18. Regroup
Regroup is a mass notification solution designed for a variety of organizations such as education, healthcare, enterprise business, and government. They provide an easy-to-use system for setting up and managing your emergency notifications.
From their dashboard or mobile app, you can quickly send information to your recipients over a variety of channels. Create templates for faster response times, and use information from integrated services to gather the latest information about crisis situations. Regroup has geo-location services to determine which recipients need to receive notifications: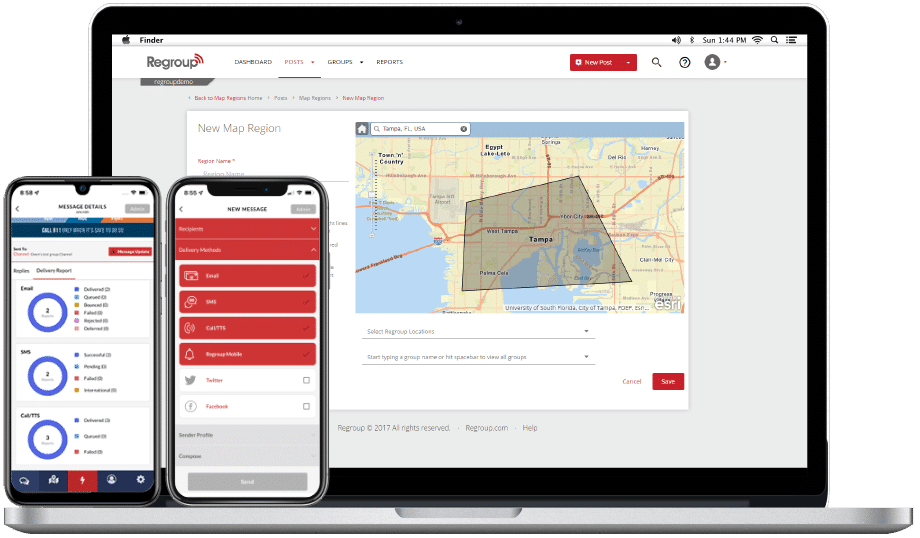 Using their notification analytics, you can determine which of your recipients have received your notifications and use alternative methods if you still need to reach them. They offer 24/7 technical support to ensure users get the most out of Regroup.
Communication channels:
Email
SMS text messages
Push notifications
Desktop alerts
Voice calls
Digital signage
PA systems
Website portals
Social media
19. Hyper-Reach
Hyper-Reach is a mass notification solution that lets users respond quickly to emergencies from wherever they are. With both desktop software and a mobile application, Hyper-Reach helps you get your emergency notifications out quickly regardless of what kind of incident you're facing.
Create emergency communication templates, schedule notifications, and determine who receives your messages based on geographic location. From the dashboard, you can coordinate your emergency response with ease: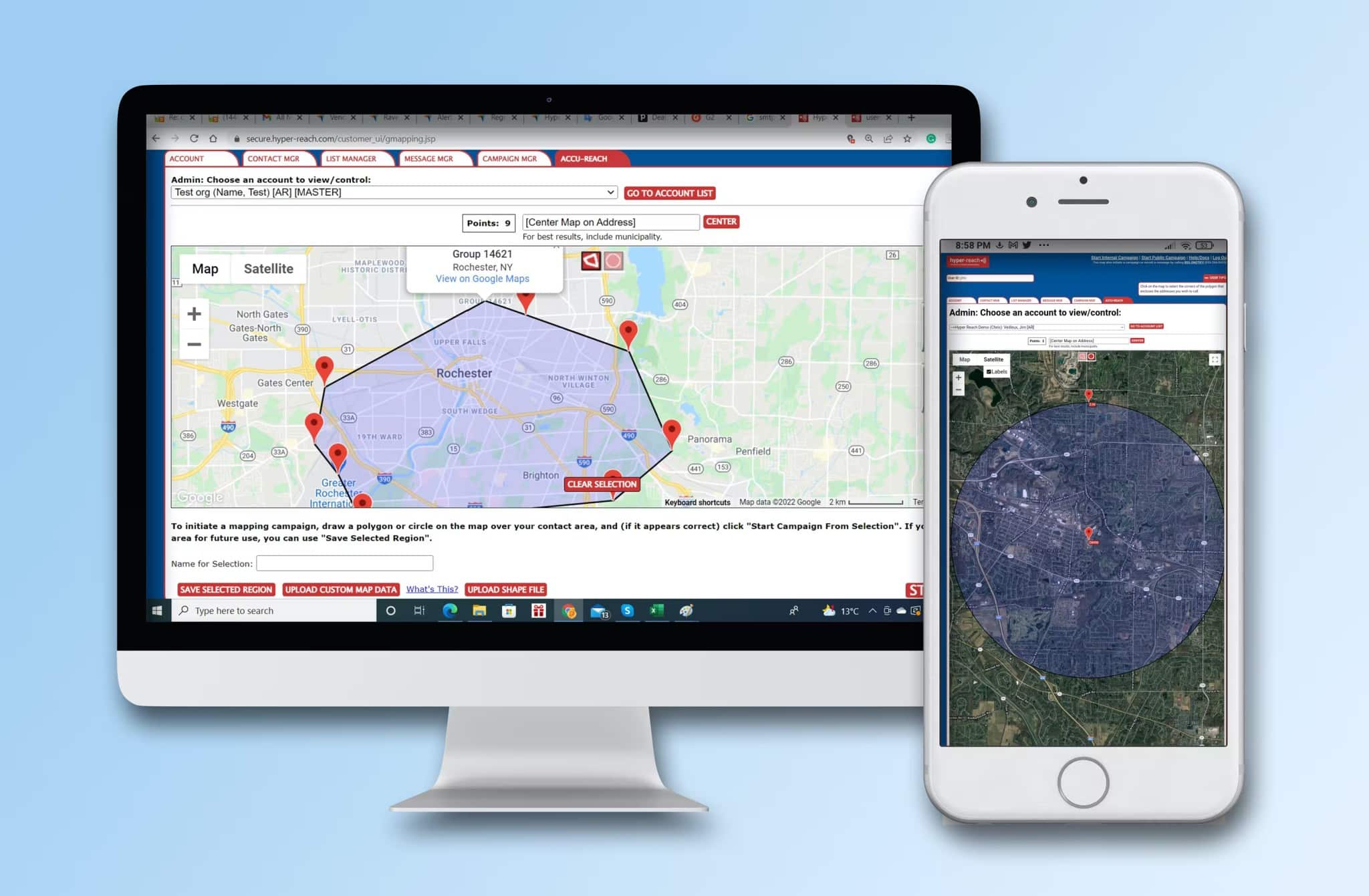 Hyper-Reach can be used for a variety of emergency situations, for both business and non-business organizations.
Communication channels:
SMS text messages
Social media
Desktop alerts
Alexa smart speakers
20. DialMyCalls
DialMyCalls is a mass notification solution that helps users quickly and easily send messages via text messaging, phones, and email. They offer automated calling features, mass text sending, and bulk email management for users looking to disseminate information to a large audience.
Using their dashboard-based software users can create, schedule, send, and track their mass communications. Manage recipient lists and create groups to ensure your messages get sent to the right people. You can send DialMyCalls notifications from be desktop and mobile devices: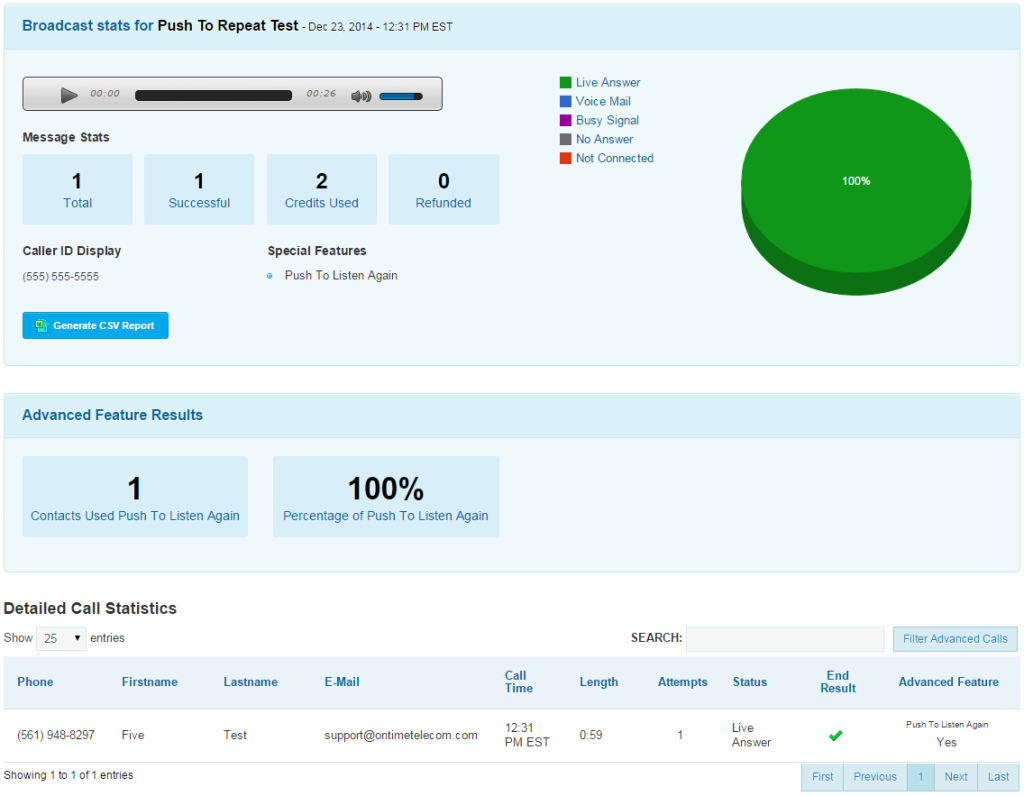 While not designed specifically for emergency communications, DialMyCalls offers a fast and easy way to use popular communication channels to reach a wide audience.
Communication channels:
SMS text messages
Voice calls
Email
SMS Emergency Alert Templates for Employees
Many of the software solutions we listed feature some kind of template creation feature. Pre-made corporate emergency communications help businesses respond to incidents faster, as they just have to plug in relevant information rather than draft an entirely new message.
For your SMS-based communications, we've provided a number of pre-made SMS text templates that you can use for your business:
EMERGENCY ALERT: A [emergency or threat] has been detected at [your employees' workplace or location]. EXIT the location using our emergency protocol. You will receive a follow-up message when it is safe to re-enter the location.
Customize this example or use it as inspiration for specific emergency communications that your business may face. Consider building out a catalog of pre-made communications and sorting them by the type of incident they're aimed to address.
Be Prepared to Notify Your Employees in an Instant
Every business faces unique challenges and requires unique emergency notification solutions to ensure minimal disruption. Choosing the best emergency notification software for your business can help your organization respond to safety and operational incidents in a timely and effective manner.
You can use our list to match up the solution to the channels your business already relies on for emergency communications. Since your employees already check these channels for your notifications, your emergency notifications will be more effective.
But keep in mind that when putting a crisis communications plan in place, tools that work with your existing communications infrastructure (and not just the same channels) will be easier for both employees and communicators to use.
Looking for an emergency notification system that uses your existing internal communications infrastructure? Book a free demo to see how ContactMonkey's all-in-one internal communications platform can improve your business's emergency response capabilities: