If you're an internal communications professional looking to invest in internal communication software such as an internal email tracking tool to increase employee engagement, this blog is for you!
Without the right internal communication software, you can run into a host of problems when getting in touch with your employees.
For one, you might have trouble personalizing your emails. Even worse, you might not know if people are even opening your emails.
When it comes to successful internal communications, plenty of workplaces and professionals admit to huge gaps in processes.
That's why we created an internal communications software that lets you create, send and track beautiful responsive HTML and personalized messages to dozens, hundreds or even thousands of employees using Outlook Distribution Lists or Google Groups, straight from your inbox.
Why should you care? Let's spell out the benefits for you!
Stay in Outlook and Gmail with Our Internal Communication Software
Yup, you read that right! It's an Outlook add-in or Gmail Chrome Extension so you never ever have to leave Outlook or Gmail to send employee newsletters.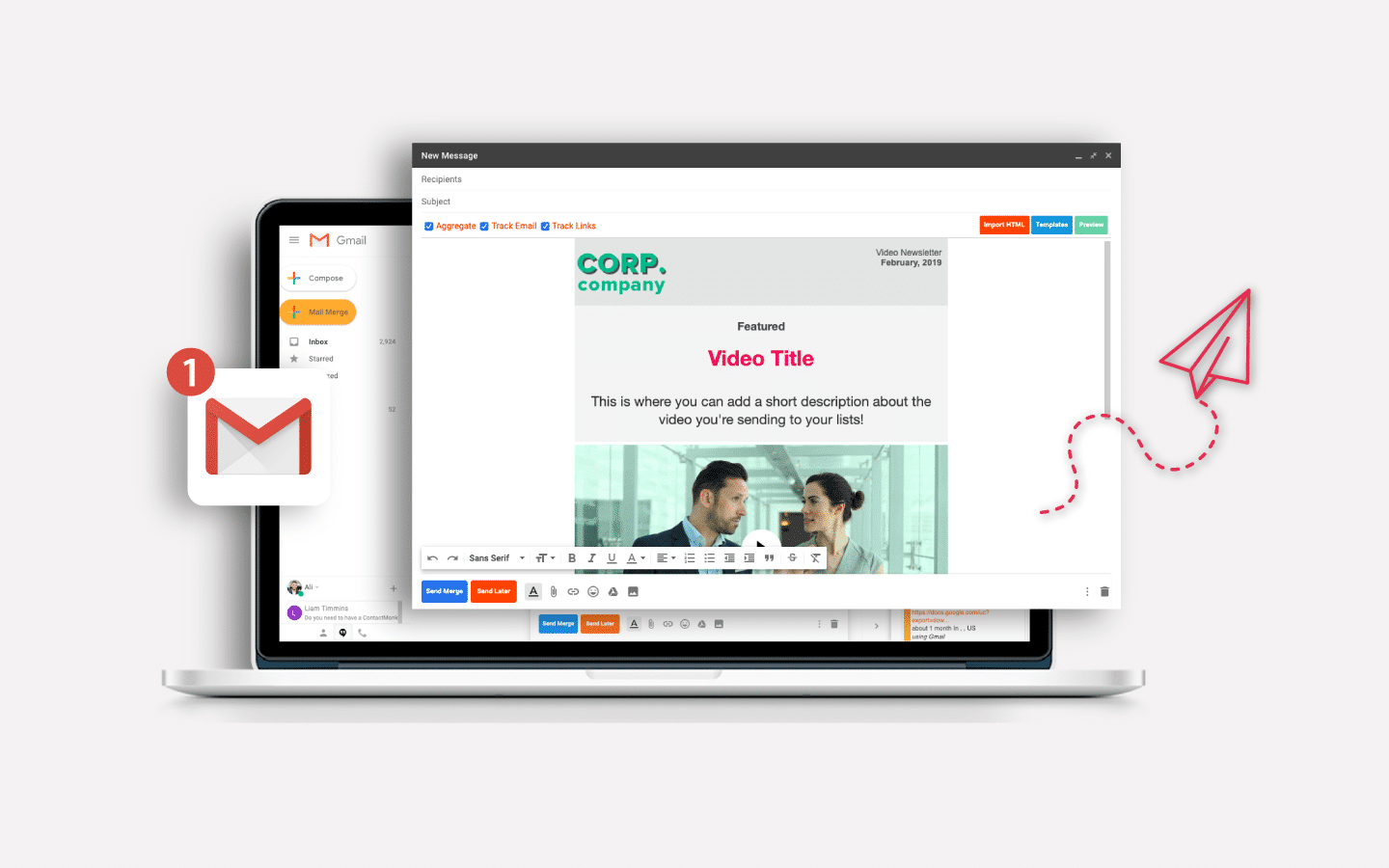 It's also the only tool that tracks individual employee emails from your existing Outlook distribution lists (no more word mail merge!). Plus we are the only tool that supports sending responsive HTML emails from Gmail.
Let's spell out some of the main benefits of our internal email tracking tool for you.
Integrate With Your Email Client
Install right into your Outlook or Gmail inbox (rather than relying on a third party software such as Mailchimp for your internal communications). Available for Outlook for Windows, Outlook for Mac, Office 365 and Gmail. Create, send and track all your employee emails within your inbox.
Send to your Outlook Distribution Lists or Google Groups
Send your beautiful branded newsletters to your existing Outlook distribution lists or Google groups. Never worry about maintaining or exporting your employee email lists to an external system ever again.

Personalize to Every Employee Using Our Internal Communication Software
Personalize email subject lines and body copy in one click to each employee on your distribution list, dynamic distribution group or upload a CSV file. Measure at an individual employee or aggregate campaign level to identify what works, what doesn't, and continually improve your employee communications.
Boost Employee Engagement with Internal Communication Software
Engage, Understand & Influence Employees 
Transform your employee emails into an interactive two-way channel with pulse surveys, emoji reactions, star ratings plus much more. Enable employees to react to your messages in real-time and see live feedback to enhance your employee communications.
Measure as a Team Using Our Internal Communication Software
See overall campaign performance, or performance at an individual employee level including open rates, link clicks, location, devices, pulse survey results and more.
Collaborate with your team to compare campaign analytics and discover what content engages employees.
Use shareable reports to prove your team's success.
Work & Succeed in Outlook & Gmail with Our Internal Communication Software
Design beautiful responsive HTML employee newsletters with our drag-and-drop email template builder. Send from your own Outlook or Gmail to your existing distribution lists and Google groups in seconds (Outlook for Windows, Outlook for Mac, Office 365 and Gmail).  
Create & Send Beautiful and Responsive Employee Newsletters from Outlook and Gmail
Choose Your Template
Choose from dozens of pre-designed internal email templates or upload your existing responsive HTML email designs straight to Outlook or Gmail to get started.
Design Your Template with Our Internal Communication Software
Use our simple drag-and-drop email template builder to customize your email template design to match your companies brand colours, messaging and imagery style.
Mobile Responsive Design with Our Internal Communication Software
Preview your email designs on both desktop and mobile to make sure your messages are responsive and look just the way you intended, even in Outlook and Gmail.
Send & Track Your Employee Emails
Send & track your beautifully designed HTML employee newsletter to your existing Outlook distribution lists or Google groups from your Outlook or Gmail inbox.
Get Real-Time Employee Feedback with Our Internal Communication Software
You can also add emoji reactions, pulse surveys, and like buttons to the content in your internal emails by simply dragging the respective block anywhere you want in a pre-built or new HTML template.
You'll find these blocks in your email template builder that is part of ContactMonkey for Internal Comms.
Emoji Reactions 
Give your employees the ability to love, like and laugh at any content you send them via email. With emoji reactions now your internal comms team can constantly gather feedback in a seamless way.
Pulse Surveys
With pulse surveys you'll also get actionable data on your email communications in seconds. You'll be able to see all of the responses live in real time on your ContactMonkey dashboard.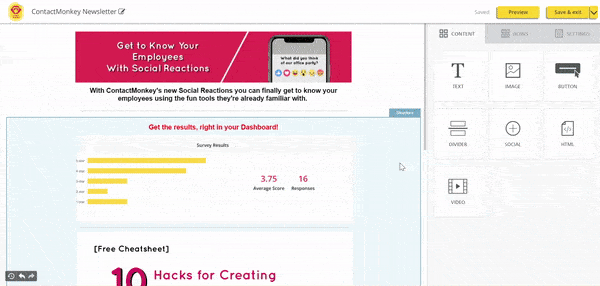 Like Buttons
Your employees are already liking content on all the social media platforms they use on their own time. By adding like buttons to your own internal emails, you'll be able to engage your employees with your content and actually learn what they like.
Employee Comments
Now you can receive employee comments on any newsletter or internal email you send from Outlook or Gmail.
Simply enable "Comments" via your email template builder and see all comments or answers to your questions in your dashboard. Now you finally have a way to see quantitative and qualitative data all in once place!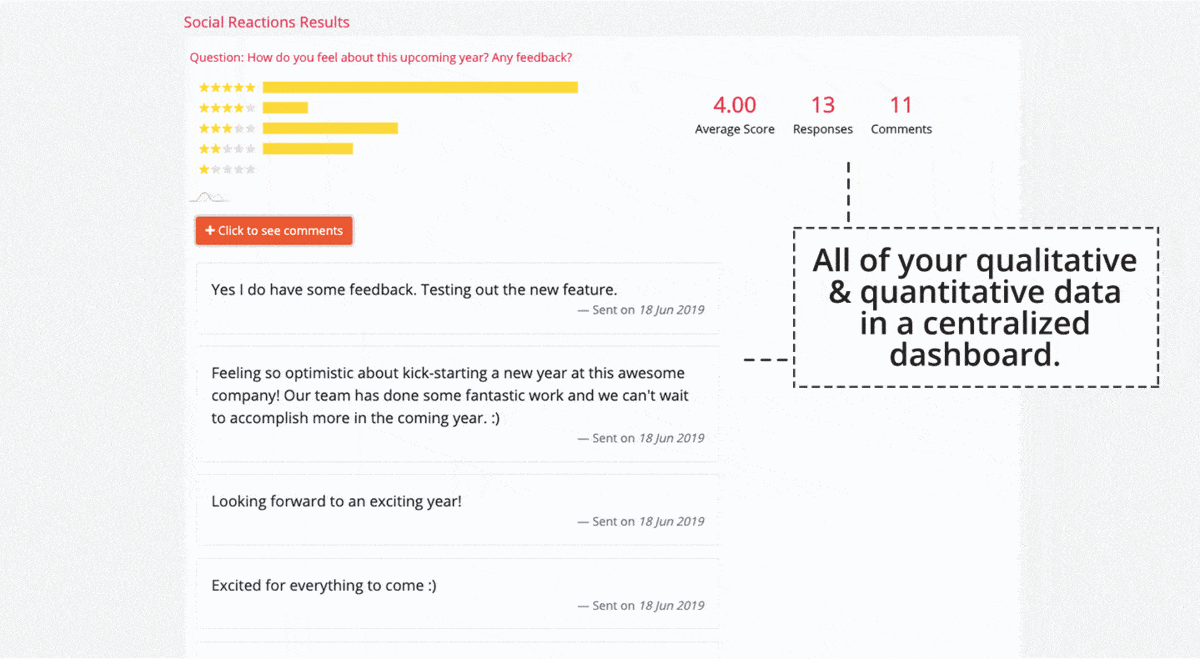 Which Internal Email Tracking Metrics Can Help You Keep Track of Employee Engagement?
Opens
Opens let you know whether people are being informed and in the know of important company announcements.
Link Clicks
A high click-through rate tells you that the content you're sending out is relevant.
Location
Being able to tell where employees are opening their emails can be helpful for big companies.
Employee Engagement Surveys
Collecting employee feedback is something we all struggle with. More often than not we send out yearly surveys that fail to accurately measure employees.
You can read more about how to make sense of internal email metrics here. 
Communication is Key!
If you enjoyed reading this blog, you may find it useful to further read:
Prove the ROI of Employee Engagement Using Email Tracking
The Best Internal Communication Tools for 2019 
Guide to Sending Internal Emails from Outlook
How to Conduct an Internal Communications Audit and Choose the Right Software