It's getting more difficult to captivate employees' attention. Virtual reality, social media, and countless digital devices add up to a whole lot of sensory overload. But as technology advances, there are also more opportunities to implement creative ways to communicate information to employees.
In a rapidly changing world of work, internal communication keeps employees grounded and connected. As a result, more companies are currently investing in internal communications than ever before.
Technologically speaking, there are also more opportunities to step up the way we communicate with staff. Needless to say, today's internal communicators have the power to exercise greater creativity when it comes to employee engagement ideas.
In this post, we'll explore a range of creative ways to communicate information to employees and improve employee engagement. In addition, we'll highlight the internal communications tools that can help you get the job done.
Start using a modern internal communications tool.
Get creative with ContactMonkey. Send better messages.
13 Creative Internal Communications and Innovative Ways to Communicate With Employees
If you're looking to boost internal email open rates and increase employee engagement with your employee communications, it's important to think outside the box. With the average employee receiving up to 120 emails a day, your communications will need something that extra something to help them stand out.
But stress not. We have some creative corporate communications ideas to help you out.
Below, we've broken down a range of creative and innovative ways to communicate with staff. We also zero in on specific internal communication methods to measure employee engagement and help you enhance your internal communications strategy long-term.
If you're struggling to come up with innovative ideas for your internal emails, try using ContactMonkey's OpenAI ChatGPT integration to generate unique ideas for your emails. Simply write a prompt describing what you'd like to accomplish with your internal email, and edit the generated suggestions according to your audience.
1. Interactive employee emails
Interactive emails are one of the latest internal comms ideas to emerge on the corporate stage. And it's gaining popularity quickly and with good reason.
With interactive emails, employees are able to click, respond, or comment on a range of email features. The best example of these types of internal communications are company newsletters with pulse surveys, comment boxes, and smart links.
Create internal emails employees love to read.
Start your 14-day trial. No credit card is necessary.
Interactive features make it much easier to build dialogue, making these types of emails one of the most effective ways to communicate with employees. They can also be used to verify whether employees have received important information, like IT security alerts and email phishing awareness training.
With ContactMonkey's interactive email software, you can easily embed employee surveys through Outlook or Gmail and add anonymous feedback options directly into your weekly employee newsletter.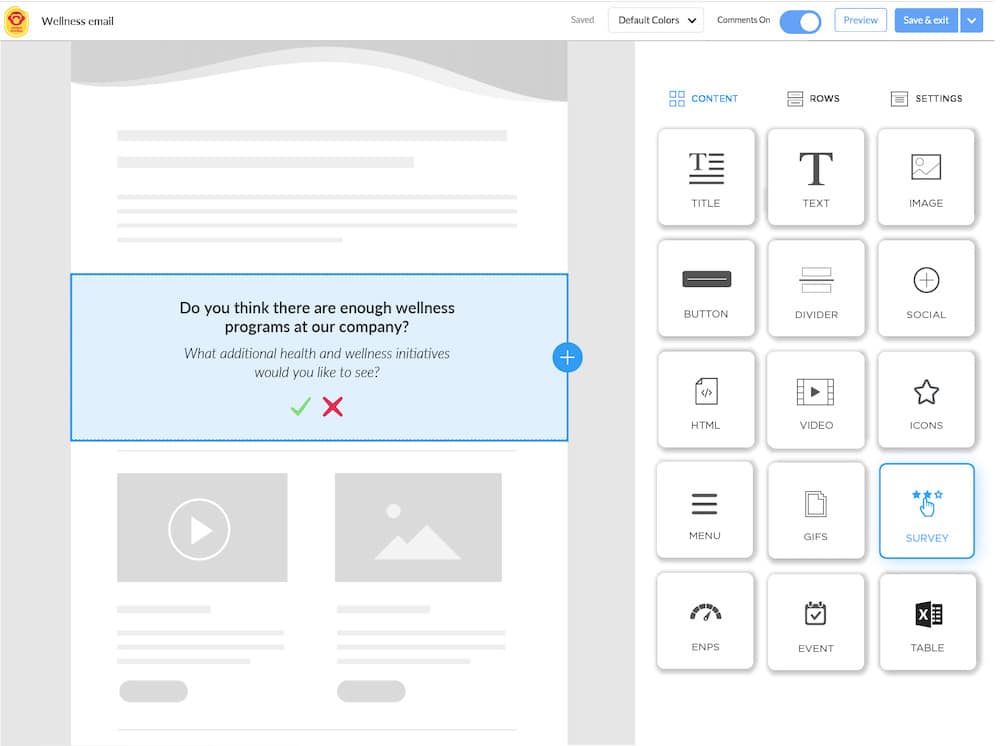 Want to optimize the interactivity of your internal emails? Using ContactMonkey's click maps feature, you can view how your employees are engaging with different parts of your email content. With this information you can optimize your email design so your recipients are more likely to see and engage with important information.
2. Employee SMS communication
How do large companies communicate with their employees when they're dispersed geographically and across different time zones? Employee SMS.
Originally developed to help employers deliver urgent updates quickly, the use cases for employee SMS have greatly expanded. In a world where more employees are working from different locations and time zones, SMS internal communications offer a viable solution for connecting staff instantly and from anywhere.
Not to mention, SMS enables employers to reach deskless workers and frontline staff quickly with emergency text message alerts on time-sensitive issues like office closures or shift updates. 
That being said, you'll have to be mindful of when and how you communicate information to employees using this tool. Our guide to SMS text messaging for internal communications can help set you on the right track.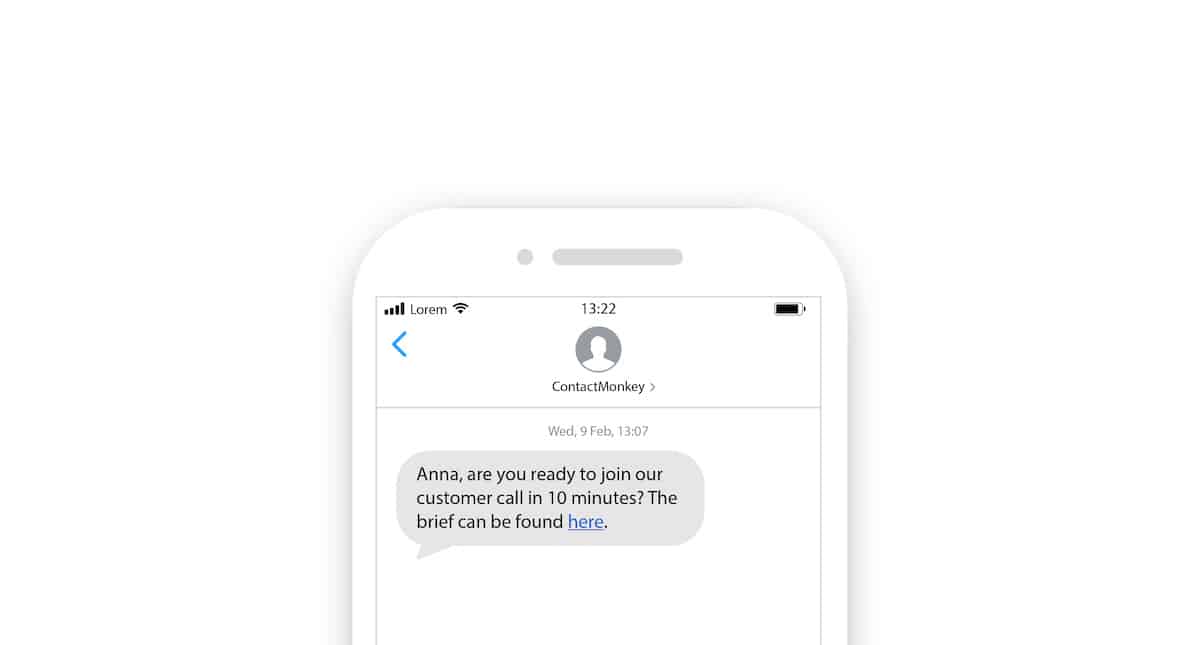 3. Video employee communications
Video internal communications make it a little easier to draw employees' attention and help them retain information longer. Why? Well, for starters, videos often take up less time than reading lengthy instructional manuals or policy documents.
Not to mention, videos are generally a more popular medium for information delivery. In fact, 59% of executives say that when they have the opportunity to choose between text and videos on the same topic, they're more inclined to pick video content.
Moreover, some studies are even suggesting that video content leads viewers to retain 95% of information, compared to 10% when reading.
So how do you apply these insights to improve your internal communications?
Start by choosing a video-friendly internal communications tool. Software like ContactMonkey allows users to embed videos and a range of other animated content straight into employee newsletters. From there, you can use a corporate video editing software like Clipchamp to build out your video content.
Whether it's instructional videos, leadership speeches, or anything in between, video content is an easy way to add creative flair to your internal comms.
4. Embedded GIFs
We love to see GIFs in our social media and use them liberally when texting friends. Why? Because GIFs evoke emotions and humour where words are lacking. As such, GIFs in emails are also quickly becoming one of the innovative ways to communicate with staff.
Internal commimications professionals are adding animated GIFs to their internal communications for a number of reasons. They do it to evoke a lighthearted tone across their communications, add some comedic relief, or draw attention to a particular section or message in an email.
Want to use GIFs to make your emails pop? ContactMonkey's responsive HTML email builder lets you easily embed GIFs, videos, and a range of other multimedia elements into your email newsletters.
Simply choose the design element from the sidebar menu, and drag it into your HTML email template. It's that simple.
5. Embedding infographics into employee newsletters
Let's face it, employees will often skim through your internal communications to find the key facts that they need. And this isn't always a bad thing. It means your staff relies on your internal emails for the essentials.
But to make sure employees don't miss out on any vital information or instructions, infographics can serve as a valuable aid.
If your goal is to inform employees about complex instructions or step-by-step guides, infographics are particularly useful. Rather than taking away from the body text of your email, they help underscore vital details.
Not to mention, they may even help employees retain important information better.
You can use a tool like Venngage to create simple, straightforward corporate infographics. With ContactMonkey's email builder you'll then be able to quickly embed any infographic content directly into your email builder using our simple drag-and-drop menu.
Add interactive elements to your internal emails.
Let us show you how easy it is with ContactMonkey.
6. Virtual focus groups
Virtual focus groups are one of the many new ways to communicate with staff that have been made possible by modern technology. Focus groups revolve around guided discussions on a particular topic.
They can also be used to analyze employee survey results or present change management communications. In such cases, a moderator guides a group of employees in assessing and discussing survey findings.
These days, virtual conferencing platforms like Zoom, Remo, and Pigeonhole Live, let employers engage remote staff in open discussion. They can also lead brainstorming sessions or gather LIVE employee feedback. Platforms like Remo even offer virtual whiteboards to help in this regard.
To ensure that your virtual group discussion stays focused, conduct an employee pulse survey ahead of time. Whether you want to discuss a new company policy or assess employee wellness, pulse surveys will help kickstart and inform your discussion.
ContactMonkey's pulse survey tool allows you to conduct surveys straight from your internal newsletter. Get the breakdown in our latest blog post: how to create a pulse survey.
7. Virtual events
Virtual events aren't just team-building opportunities. They open up a channel to communicate with staff in a comfortable and easy-going setting. Not to mention, if your workplace is remote, virtual events prevent employees from feeling isolated or disconnected.
And the best part is, your virtual event can take on many forms—from online gaming and escape rooms to jam sessions and 'wine downs.' We've even put together a list of 10 virtual event ideas to help inspire your next remote team-building session.
So how do you actually communicate information to employees during these events? For starters, platforms like Zoom allow you to conduct polls on any number of topics right from your virtual event. So you can fit in an employee experience poll or even some fun employee survey questions at the start of the session.
After your event, you can keep the conversation going by sending recaps, highlights, and fun screengrabs from the event using your employee newsletter. Alternatively, you could even create a dedicated Slack community for event participants.
Pro tip: use ContactMonkey's event management tool to promote and manage your virtual events all from one place—your employee newsletter.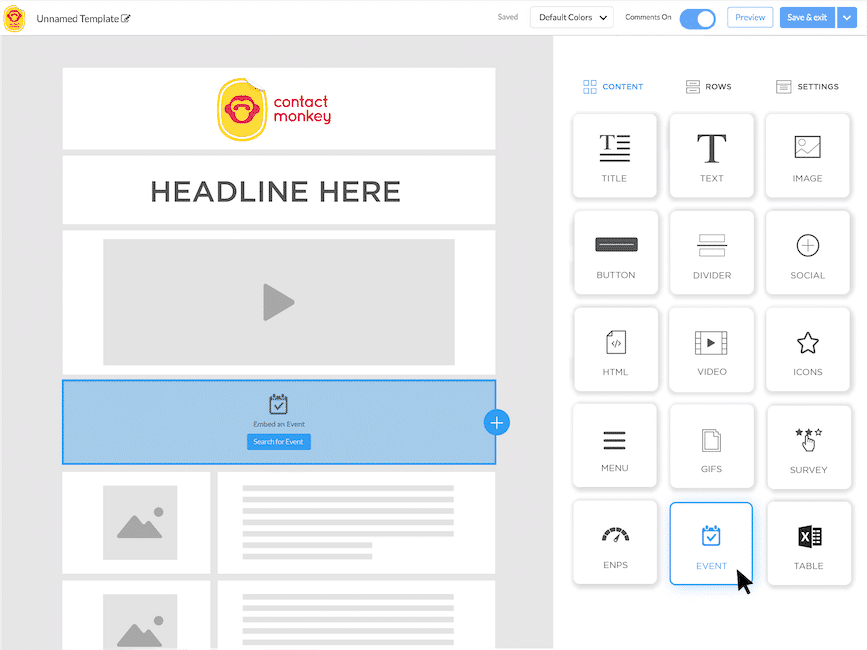 8. Gamification of internal communications
Gamification is one of the easiest, yet most underrated employee communication ideas. That's because most internal communicators have a range of information at their fingertips. But they don't always think about how to use it for long-term engagement.
Gamification allows internal communicators to tap into employee insights to encourage long-term engagement with company content. For instance, you can conduct a quick employee pulse survey in your internal newsletter to gather a range of fun facts about your staff.
Then, in your next newsletter, start a "two truths and a lie" feature. Here, employees can guess which facts are accurate about their fellow colleagues.
For a more visual feature, you can launch a "Guess the desk" game where you ask employees to send in photos of their remote workstations.
Then, publish one photo a week and have employees guess who the desk belongs to in the comments section. You can even spice things up with monthly prizes such as Uber Eats gift cards.
With an interactive email tool like ContactMonkey, transforming employee feedback into an engaging team game is easy. You can use the email builder to easily create and send fun employee engagement survey questions. Then, collect employees opinions and employee engagement productivity statistics in your internal email analytics dashboard.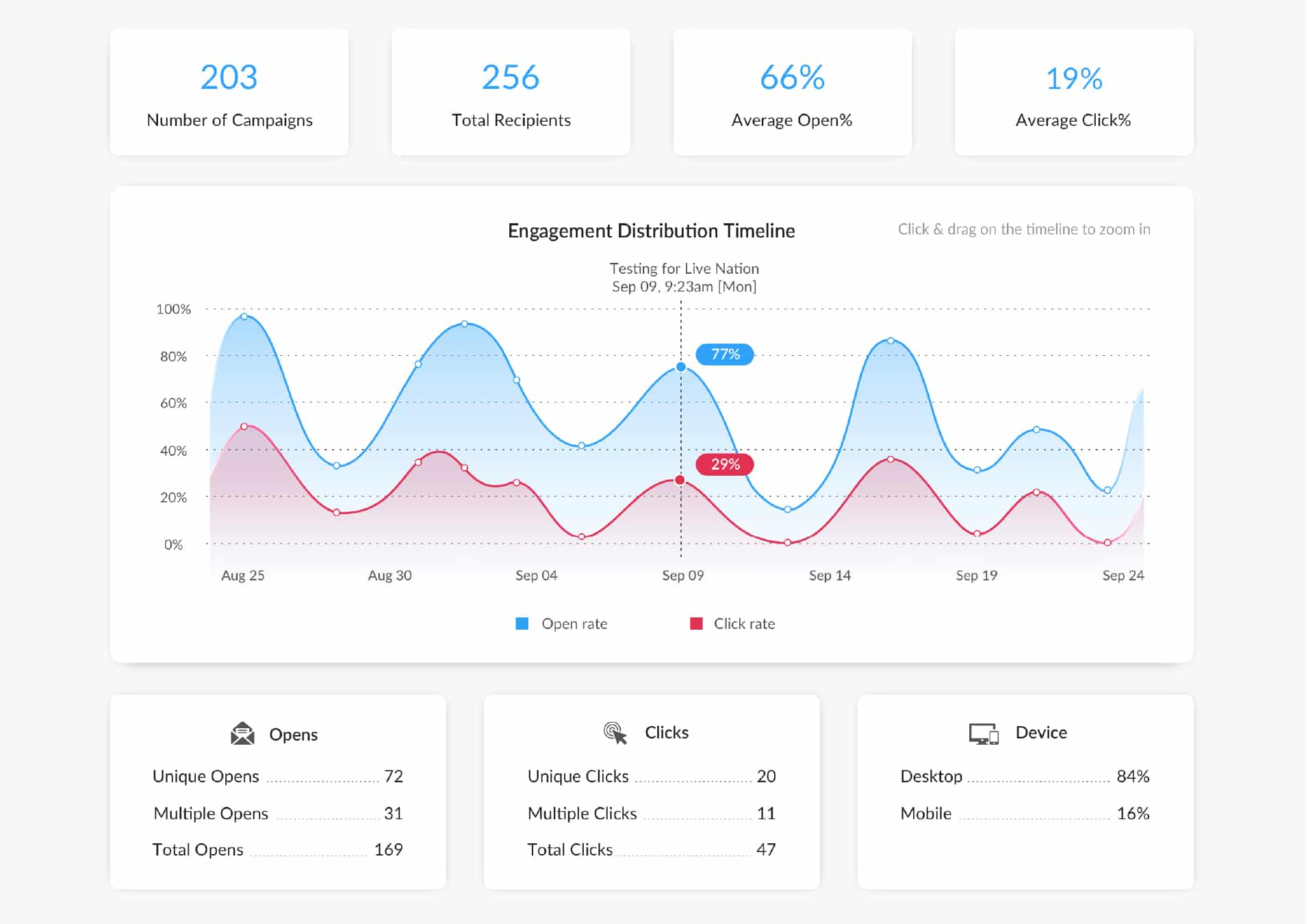 Once you've gathered your employee insights, you can use the data to create any number of engaging team games.
If your organization has internal or external regulations around email privacy, you can use ContactMonkey's anonymous email tracking to gather email metrics while maintaining your employees' privacy.
10. Employees as brand promoters
These days, one of the most creative ways to communicate information to employees is by enlisting staff as your brand storytellers. Allowing employees to lead their own communications gives voice to everyone in your organization.
Not to mention, these types of communications are much more likely to garner trust from other employees. In fact, the Edelman Trust Barometer indicates that 52% of people trust the "average" employee over CEOs and senior staff.
One way to implement employee-led communications is through "Lunch and Learns" (L&Ls). These sessions encourage employees to take turns guiding discussions.
For instance, one team member can choose a webinar for all of their colleagues to watch. Alternatively, employees can guide a brainstorming session on a given topic.
No matter which strategy you implement, the main point is that employees are the ones leading discussion rather than internal communicators or managers. This can be especially empowering for new employees and those looking for opportunities to develop their leadership and presentation skills.
11. Internal communications campaigns
When we think of the word "campaign," we often think of external marketing. Ads and marketing campaigns build excitement around a specific event or topic. But the same strategy can be implemented in your internal communications.
Internal communication campaigns are able to build hype around a new product launch, company rebrand, or the introduction of new internal software. One of the best internal campaign ideas involves teaser features where some information is initially hidden from most employees.
For example, you can create a countdown timer and publish it across your intranet communications or your internal newsletter. With each new company-wide email, you announce how much time is left on the timer until the anticipated announcement is made.
You could also add clues in each email and have employees give their guesses using embedded comment boxes. With ContactMonkey, you can easily enable comment features or polls, and embed your surveys directly into Outlook email or Gmail newsletter templates.
If you need to target your email campaigns to a particular segment of your workforce, try using custom email lists to target relevant employees while excluding those who don't need to see it. Using ContactMonkey's List Management feature, you can create your own custom email lists—without needing IT—that integrate with your Human Resource Information System (HRIS) like Workday and ADP, as well as Azure Active Directory, so they'll update automatically as employees join and leave your organization.
Track and measure your internal comms campaigns.
Learn about our email analytics and reporting features.
12. Virtual and digital signage / noticeboards
Digital signage and virtual noticeboards are another creative and innovative way to communicate with employees who are working in the office. This employee engagement tool emerged in sequence with the rising popularity of online news aggregate platforms for information delivery.
Digital screens placed around an office space take advantage of our modern tendency towards passive content consumption. While employees wait around for a meeting (or even simply procrastinate on work), their gaze can rest on a digital noticeboard. In turn, they can consume the key company insights you post to your noticeboard without much effort.
Alternatively, the home screen of your intranet can also serve as a virtual noticeboard for remote and hybrid workplace employees. All you have to do is create a focus feature or news carousel on your intranet homepage, which is possible with most intranet platforms.
A key perk is that multiple departments can help curate these noticeboards. So it becomes easy to synchronize a range of company updates. Not to mention, it doesn't take much time to develop content for your noticeboard as you can repurpose key updates from your company newsletter.
13. Virtual reality communications
While it's still early days for VR technology, it's not far from becoming one of the best ways to communicate with employees. As it remains a relatively new technology, VR still holds the 'wow factor.' This makes it an incredibly powerful tool for drawing employees' attention.
In the past few years, VR has made leaps and bounds in terms of its corporate use cases. And as scalability improves, the technology will become more attainable for many organizations.
So how can internal communicators use virtual reality communications to stay ahead of the curve? For L'Oréal Beauty Lab in New York City, a high-resolution (4K) immersive visualization solution has offered a unique way to boost employee engagement.
By incorporating the VR tool during employee meetings, L'Oreal is able to bring an authentic retail experience to their corporate staff. In other words, employees can feel immersed in the locations where key brand products are being sold. In turn, they gain a more tailored and strategic decision-making. Not to mention, a much more engaging team meeting.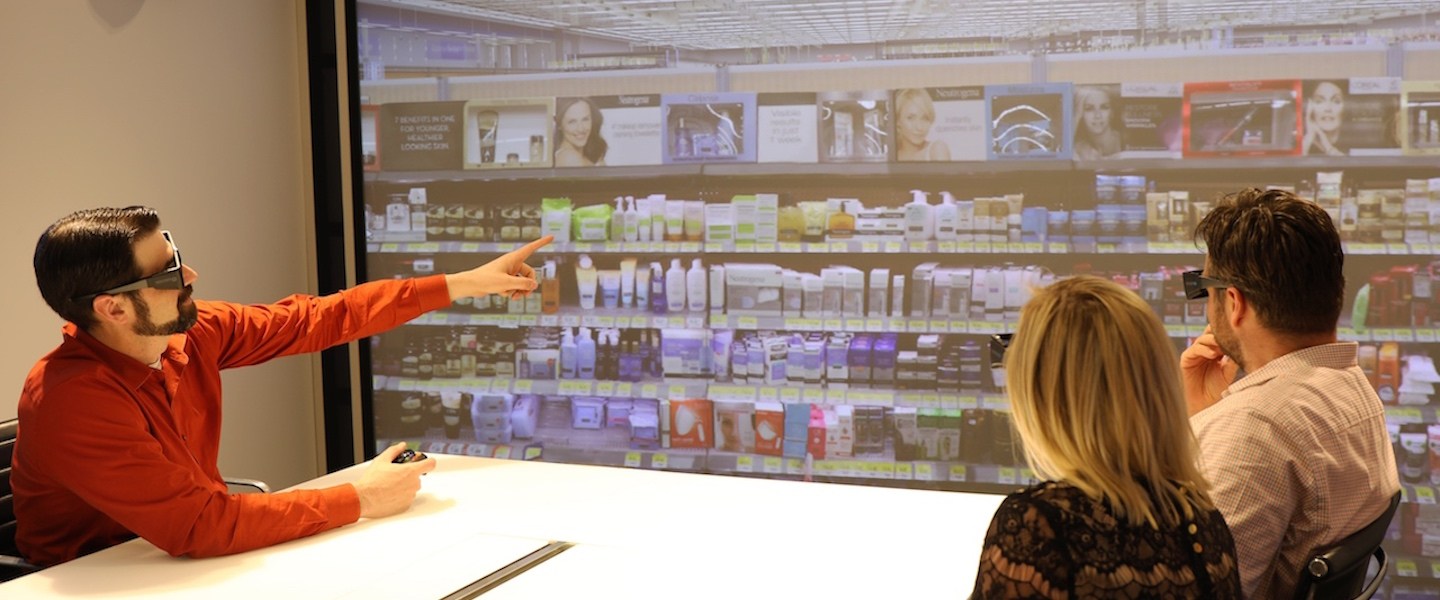 ContactMonkey Makes it Easy to Implement Creative and Innovative Ways to Communicate With Employees
When it comes to internal communication ideas, today's constant influx of information has an important downside. It's more difficult than ever for internal content to truly stand out and engage employees.
Whether you're sending recurring or asynchronous communications, the right tool can help you come up with creative and innovative ways to communicate with staff. And hopefully our list of internal communications ideas has served up some inspiration.
To boost the 'wow factor' of your internal content, use ContactMonkey's dedicated internal communications tool. With an easy-to-use email builder and interactive capabilities, ContactMonkey ensures that your employee emails stand out from the crowd. Not convinced? Try your free ContactMonkey demo today.