In your internal communications strategy have you ever considered what the role of employee experience plays? Have you dedicated resources to building out an employee experience program? 
In today's digital age, we know that expectations are high and customers are fickle, and if their experience isn't seamless they'll soon move on. This is why so many businesses have understood the importance of creating valuable customer experiences, spending time and allocating extensive resources into them.
But few companies pay the same level of attention to their employee experiences. Which is odd really, since it's the employees who make a business what it is.
But before we dive into why companies must invest in employee experiences (EX), it's important to understand what this concept entails.
[/fusion_text]
Simply put, employee experiences or EX refers to the collective experiences an individual employee has within an organization – beginning from the first point of contact by HR for a job opening to the last day of their employment and beyond.
A study found that 83% of HR leaders said "employee experiences" is an important factor for their organization's success. As a result, they are reaching out to partner with groups such as Internal Communications to deliver seamless employee and customer experiences.
What many employers get wrong here is they think employee engagement is the same as employee experience. They send out a survey once a year which shows their staff are X% engaged, and that will do. But they fail to actively manage and curate employee experiences to improve engagement.
Think of employee experiences as a means to engagement – which ultimately translates to employees who are committed to their jobs and to your organization.
If your organization is guilty of overlooking employee experiences, here are some reasons why you might want to change course this year.
Why You Can't Overlook Employee Experiences
Customers aren't the only one shopping around
Did you know it's not just your customers who shop around? According to Hays, 81% of employees would consider leaving their current if the right offer comes along.
A number of factors in the current workspace mean that prospective employees can be increasingly picky about where they work.
Firstly, there is a talent war raging in many sectors which is making it harder for employers to find and retain skilled staff, often driven by a shortage of talented employees.
"There's definitely a shortage in the market for a skilled workforce," says Kathryn Bownes, head of Employee Engagement at Salesforce.
In this competitive environment, unrivaled employee experiences can give you the edge you need to attract the best talent and – more importantly – keep them engaged and loyal to your company.
Sites like LinkedIn and Glassdoor haven't helped in this matter – at least not from an employer's perspective. Prospective employees won't be fooled by a glossy website, glowing job description, and empty recruiter promises; in just a few clicks they can see what life for employees is truly like at the company they're considering.
If employee experiences are second-rate, that organization is quickly scratched off the list. The best employees can afford to be choosy, so make sure your company stands out for the right reasons.
Engaged Employees = Engaged Customers
We've established that your employees are a big part of your company's reputation, so how do you go about getting them to portray you in a good light?
There are no tricks or gimmicks involved here; you need to make sure they are engaged with your organization and happy enough at work to advocate your brand to others, including your customers and stakeholders.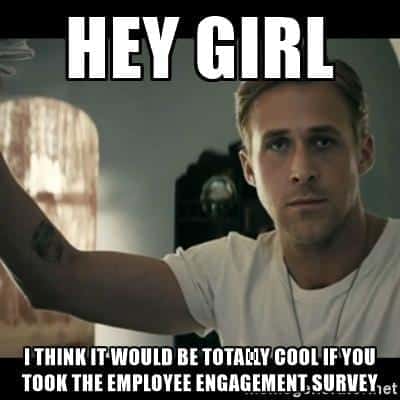 A Gallup researcher explained in his report, "Engaged employees are more attentive and vigilant. They look out for the needs of their coworkers and the overall enterprise, because they personally 'own' the result of their work and that of the organization.
If you're looking to increase employee engagement, you can gain some inspiration from these employee engagement ideas and activities. 
So why do many organizations fail when it comes to employee engagement? They fail to make it a priority at an executive level, or they are measuring the wrong data and don't implement it as a strategy for the right reasons.
A report by Kronos backs up this claim as they reveal 14% of HR leaders say lack of executive support is an obstacle to improving employee (engagement) in 2017.

As companies recognize the need for this shift, employee experiences will become a job in itself so you can expect to see more roles of this nature being created.
Employee Experience leads to better company productivity  
When employees feel like they are valued and their contributions are essential to an organization's success, it will have an impact on the overall productivity. A study revealed that employees who are emotionally and mentally invested in an organization are likely to make a positive impact on business results. IBM Smarter Workforce Institute notes that employees are 3X more likely to perform better when they are engaged by the company, as compared to those who are not.
Jacob Morgan, author of The Employee Experience Advantage, found that companies most heavily invested in EX were:

Mentioned 11.5 times more often as "Best Places to Work"

Featured 4.4 times more often as North-America's Most In-Demand Employers

Listed 28 times more often as Fast Company's Most Innovative Companies

Featured 2X in American Customer Satisfaction Index
On the financial front, he found that experiential organizations typically had double the average revenue and quadruple the average profit of all those he analyzed.
Not only this, but these companies were also around 25% smaller, suggesting their business operations were more productive and innovative.
Also, not only does employee experience boost productivity, but it also reduces turnover rate and hiring costs, ensuring performance growth and longevity in the marketplace.
Bonus Section: Boosting Employee Experience with Email
Adding social reactions and pulse surveys are a great way to improve employee experiences at your organizations. Showing employees that you actually care about their feedback is a great way to make them feel involved. Pulse surveys and social reactions are also a quick way to get feedback from employees in a matter of seconds.
What are Social Reactions and Pulse Surveys?   
Social Reactions 😀
Give your employees the ability to love, like and laugh at any content you send them via email. With social reactions now your internal comms team can constantly gather feedback in a seamless way.
Pulse Surveys ✅
With pulse surveys you'll also get actionable data on your email communications in seconds. You'll be able to see all of the responses live in real time on your ContactMonkey dashboard.
You can get started with pulse surveys and social reactions by requesting a demo of our Internal Comms Email Tracking tool and we will get you started with a free trial so that you can test out social reactions and pulse surveys for yourself!
So with all these potential benefits, isn't it about time you shift your focus to your employees? To get you started, read our blog on 20 Things to Consider Before Sending an Internal Email.
If you're looking to get started with email tracking and pulse surveys we can get you started with a FREE TRIAL of our Internal Comms Software!