For years, business leaders have been pointing to employee engagement as the secret to their success. But exactly why is employee engagement important for an organization?
Employee engagement is a term that gets bounced around a lot—from HR circles to corporate social committees. It's even made its way to memes.
But without understanding why employee engagement is important in an organization, seeing it as more than a buzzword can be tough.
If you want to get your senior leaders investing in employee engagement, you'll need to be able to clearly explain the benefits of an engaged workforce.
We'll take a 360 look at the importance of employee engagement as well as the best employee engagement software. So the next time your executive team asks, "Why is employee engagement important?" you'll be able to answer confidently.
Engage staff with a modern internal comms tool.
Start a 14-day trial. No credit card is necessary. Zero risk.
What is Employee Engagement?
From business revenue and customer service to employee satisfaction and wellbeing—employee engagement plays a key role in just about every area of your business.
But exactly what is employee engagement and why is it important?
Employee engagement can be defined as the relationship between your company and its employees. High levels of employee engagement indicate a strong relationship between your organization and its workers. One where the company succeeds in inspiring employees and employees are driven to do their best work.
Companies can adopt various employee engagement models to achieve a variety of engagement-related goals and save time on creating a strategy from scratch.
15 Benefits of Employee Engagement
Over 90% of business leaders believe that engaged employees perform better and boost business success. But exactly why is employee engagement important for so many executives?
The importance of employee engagement lies in multiple benefits working side by side. Like a domino effect, employee engagement improves employee wellbeing and transforms employee performance on the job. This in turn leads to company-wide employee engagement benefits on a structural level.
Here are just some of the benefits of high employee engagement:
1. Increased employee productivity and performance
Employees who are genuinely invested and interested in what they're doing, feel a deeper connection to their work.
So it's no surprise that companies with an engaged workforce experience a 20-25% boost in productivity.
Notice that employees are lagging behind on deadlines, or don't seem to be as motivated as in the past? It's important to check your employee engagement levels. You could teach your employees how to adopt some of these skills. Start by sending a training email to employees to help them hone some of these productivity hacks.
With ContactMonkey, you can check employee engagement on a regular basis with quick, simple employee pulse surveys. Pulse surveys use a single, pointed question to collect employee opinions: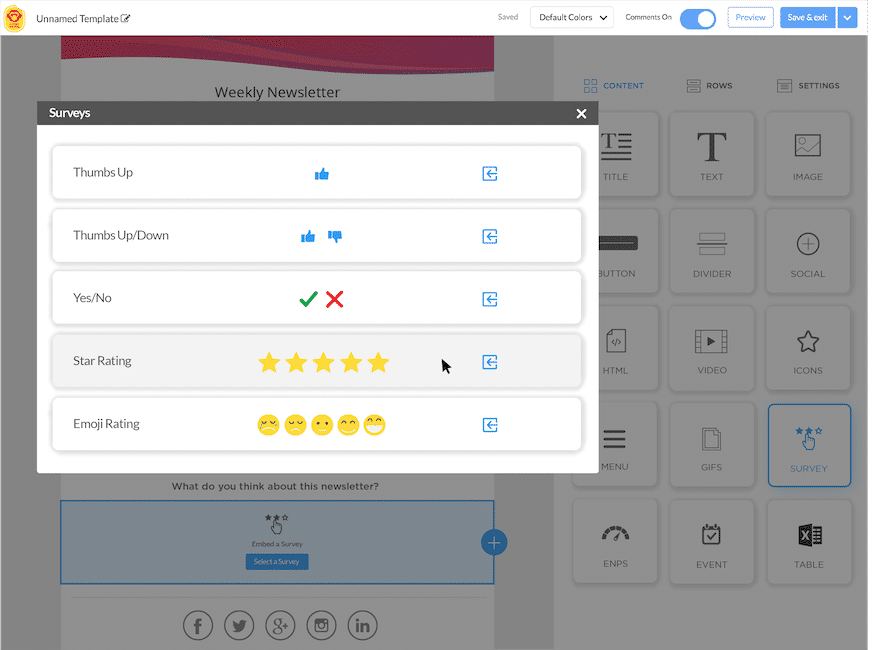 ContactMonkey's email management software lets you embed your surveys directly into employee emails. We also use simple response options such as stars, emojis, and thumbs up/down, so providing feedback never becomes a hassle.
You can also generate new employee engagement content using ContactMonkey's OpenAI ChatGPT integration. Simply write a prompt describing what you'd like to accomplish with your employee engagement emails, and grab the relevant output to use in your email.
2. Improved products and services
Better products and services are one of the most visible outcomes of employee engagement.
Engaged employees consistently go above and beyond in their work. This is one of the key reasons why employee engagement is so important for an organization.
When your staff has a personal stake in the company's success, the quality of their work increases across all their tasks. This ranges from the way they engage with customers to how much detail they put into their presentations and reports.
If you want to continue to drive employee employee engagement and inspire staff to deliver their best work, it's important to recognize a job well done. This can be as simple as celebrating your top-performers in your internal company newsletter, starting an employee of the month program, or other fun employee recognition ideas.
With ContactMonkey's responsive HTML email template builder, you can create dynamic employee of the week features by adding images, embedding GIFs in Outlook emails, and even featuring videos.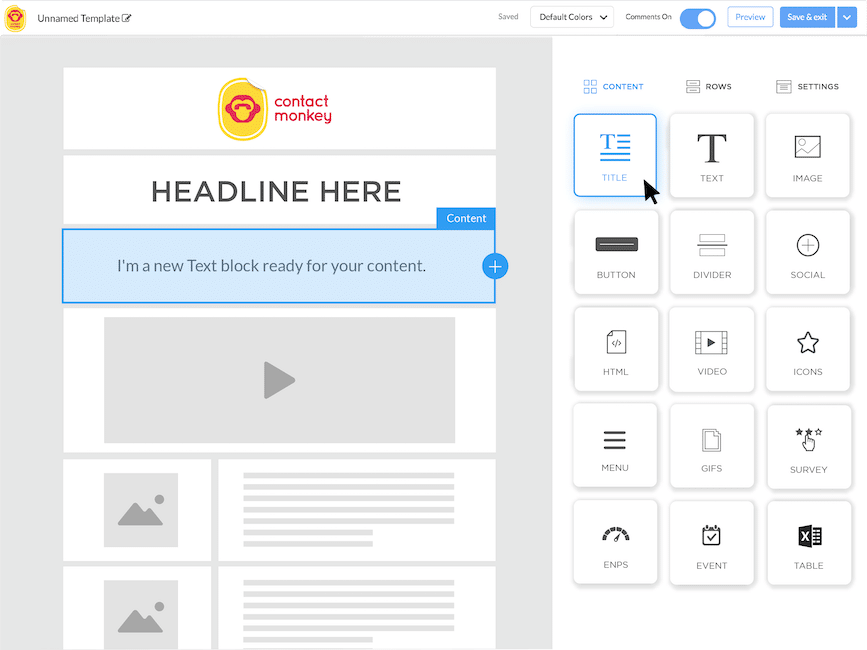 Pro tip: add a comments box so all your staff can share in celebrating a colleague's accomplishments. This builds a more inclusive and supportive work environment where employees are inspired to get engaged and strengthen your company culture.
3. Better customer service
Another reason why employee engagement is important is that it leads to improved customer service. Who better to deliver high-quality products to customers than an employee who truly believes in your brand mission?
Engaged employees go above and beyond to provide exceptional customer experience.
Remember: employee engagement means that staff are personally invested in your organization's success. So much so that companies with high engagement rates see 20% higher sales than competitors with disengaged employees.
Want to ensure that employees deliver the best customer service to your clients? Measure employee engagement often and effectively with tools like ContactMonkey.
4. Higher customer satisfaction
The impact of employee engagement on customer service is undeniable. As a result, you can expect to see a boost in customer satisfaction as well.
Why? Because engaged employees deliver exceptional customer service, leading to more customer loyalty, greater upsells, and more referrals.
Passionate employees are great at conveying enthusiasm to customers and fueling their trust in the brand. In the long run, this helps strengthen relationships between your business and clients.
If you want to ensure customer satisfaction, start by improving employee engagement. When employees are engaged, they'll be inspired to go above and beyond in their client interactions.
5. Higher profitability and improved sales performance
As we saw earlier, the business case for employee engagement is solid. But nowhere is this made more apparent than in the profitability of companies with engaged employees.
In fact, a recent Gallup study showed that companies with higher levels of employee engagement have 22% higher profits than competitors. That's alongside the 20% higher sales across companies with an engaged workforce.
Here's the math: when you're experiencing less employee turnover, increasing employee engagement and productivity, and raising customer service, the profits soon follow. So employee engagement becomes important in boosting your bottom line. So start paying attention to employee engagement today!
6. Better collaboration and innovation
When employees are engaged, they want to see your organization succeed—not only as a unit, but as a team. This is yet another reason why employee engagement is so important.
Engaged employees inspire their team to excel, which requires working together effectively and sharing ideas. In this way, employee engagement fosters relationship-building and helps develop the sort of trust necessary for a free-flow of ideas.
Innovation happens when teams build the trust necessary to share ideas with confidence and build off each other's success. In this way, employee engagement inspires new ideas and new ways to solve problems. At the same time, it generates a spike in innovation to further boost your bottom line.
7. Less turnover, greater employee retention
When employees love their job, they're less likely to want to leave. Employee engagement plays a big role in this by keeping staff inspired, satisfied, and emotionally connected to their work.
The importance of employee engagement and retention are closely linked. Employers that fail to invest in engaging their workforce can expect to spend up to $7,000 on replacing valuable staff.
What does investing in employee engagement mean? For one, it requires motivating employees to share in your company values and providing a compelling brand vision. It also means keeping all staff properly informed so no one feels like the odd man out.
With ContactMonkey, you can track, measure, and boost employee engagement all from a single employee engagement tool—your company newsletter.
Through in-depth analytics, ContactMonkey let's you see if employees are interested and aware when it comes to company news, updates, and milestones. This way, you can gauge what percentage of employees are actively engaged. You can use this information to learn when to send internal emails and maximize your email engagement.
Meanwhile, with segmented reporting, you can see which areas of your company are disengaged and develop targeted employee engagement strategies.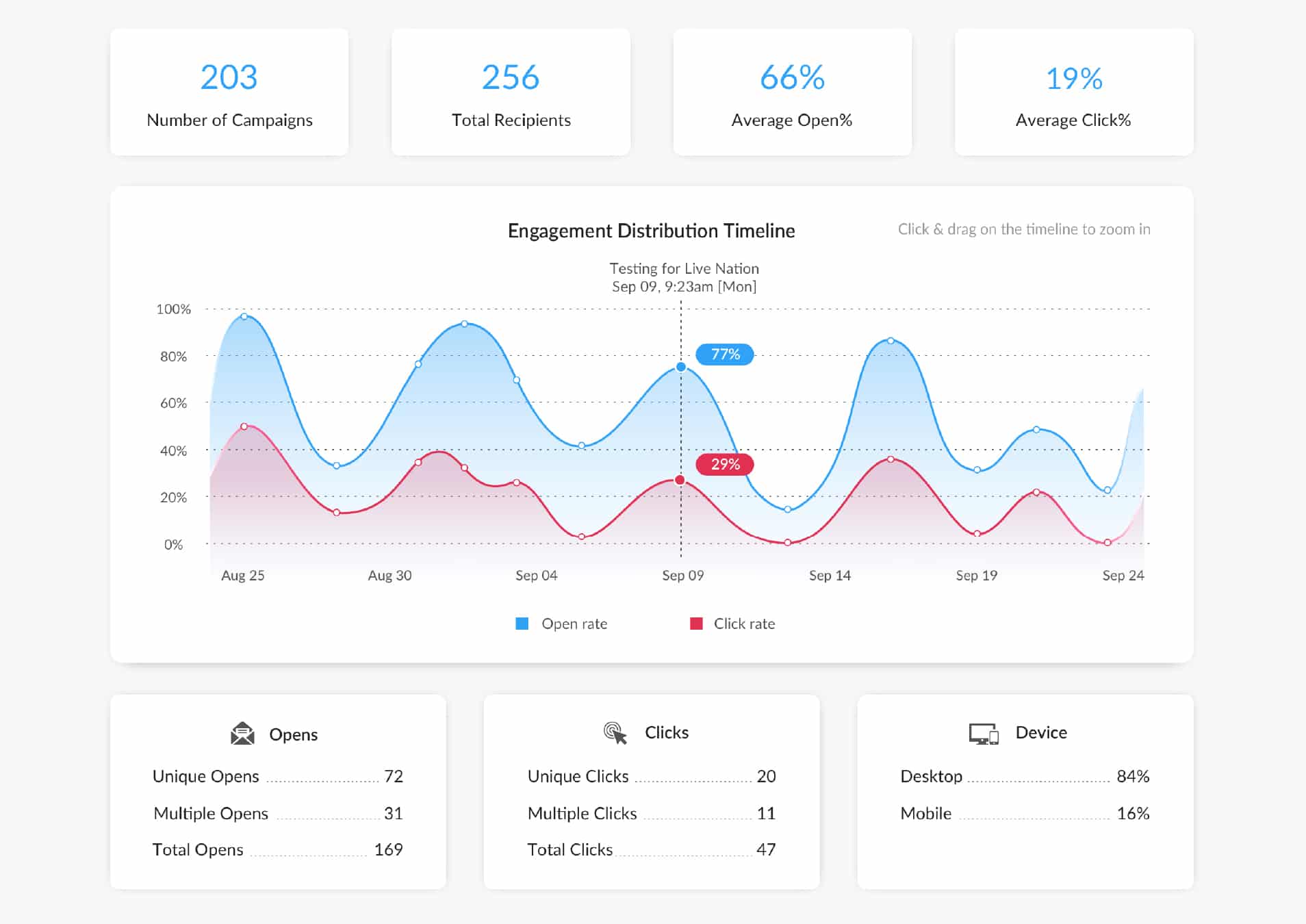 If your organization has external or internal regulations around email privacy, you can use ContactMonkey's anonymous email tracking to gather email metrics while maintaining your employees' privacy.
8. Stronger company culture
This one's pretty simple: it's just easier to connect and engage with people who share in your goals and vision. And not because they're more upbeat or optimistic, but because they demonstrate a culture of employee engagement.
To create a strong company culture, ensure that employees understand your company values and inspire others to share in them. This begins with the employee onboarding process and extends to the daily internal communications employees receive.
With ContactMonkey, you can easily showcase your brand values and create a culture of employee engagement through interactive newsletters.
ContactMonkey turns your employee newsletter into a space for showcasing your brand voice and style through branded content. It's also a place to demonstrate the news, ideas, and goals your company lives by.
Most importantly, ContactMonkey transforms your company newsletter into a two-way dialogue stream. Employees can react, provide feedback, or ask questions right in the newsletter, creating conversation and fostering a collaborative work environment.
9. Better employee health
Did you know that the importance of employee engagement extends to the health and safety of your staff? In fact, engaged employees are less likely to suffer from chronic illness and even injuries.
Wondering, "how could employee engagement impact health and safety?"
It's simple. Employers who prioritize employee engagement show respect for employees' needs and provide them with the time and space to live healthier lives. That includes having enough time for lunch breaks where staff can enjoy mindful eating. It also means reducing workplace stress and increasing time for rest.
With ContactMonkey, you can conduct a health and wellness pulse survey right from your employee newsletter. With multiple Likert scale response options like emojis and star ratings, you can add pulse survey questions such as:
How would you rate your work-life balance?

Does your company prioritize health and safety?
Then, using the anonymous feedback box, ask your employees for suggestions on what they would like to see change. This way, you'll tap into your employees' health and safety needs while improving engagement in the long term.
10. Improved employee safety
Due to its impact on employee health, workplace engagement also plays a role in employee safety.
It's easy to see how this works. When employees are well-rested and focused, they're proven to be less likely to have workplace accidents.
You can conduct an employee safety survey to see the precise relationship between employee engagement and workplace safety.
11. Happier and more satisfied employees
In an engaged workforce, employers have no need to turn to high-pressure tactics to motivate employees or boost productivity. As we've learned from the above examples, keeping employees engaged is on its own enough to inspire and motivate employees.
A less stressful work environment not only boosts employee happiness and satisfaction. It also makes employees more excited to come into work, more confident to share ideas, and more inspired to collaborate with others. This is another reason behind the importance of employee engagement.
With ContactMonkey, you can measure employee satisfaction as well as calculate employee happiness metrics through a simple pulse survey embedded right into your employee newsletter. You can also set up a suggestion box to get employee feedback on how to foster a more supportive and stress-free workplace.
12. More work-life balance
Did you know that engaged employees are even happier in their home lives? At engaged companies, there are schedules and policies in place to support staff in their personal lives. This includes ensuring that staff have time to pick up their kids from school or join their families in time for dinner.
Not to mention, when people are inspired and excited about their work, they bring their enthusiasm into their family life.
Engaged employees are keen to share positive experiences and events with their close ones. As employee experience improves, it creates stronger and more positive relationships at home.
In this way, the importance of employee engagement transcends the workplace. But it always gets back to it.
13. Less employee burnout
By investing in employee engagement, employers create a domino effect whereby employees are happier at home and come to work less stressed. In a hybrid work setting, the effects of this are multiplied as home life and work life often intersect.
The result of greater work-life balance is a lower risk of employee burnout and overall workplace stress. Engaged workers have time to focus on themselves and balance their personal and professional priorities. As a result, they're more likely to continue being engaged and stick with your company for the long haul.
14. Greater employee loyalty
When employees are disinterested in their work and disengaged at your company, there's not much stopping them from jumping ship. Even when employees aren't actively looking for a new job, they may still accept a compelling offer when it comes their way.
This is where one of the most important answers to the question, "why is employee engagement important?" emerges. Employee engagement leads to greater staff loyalty.
When loyal staff thinks about their future, they think about growth within your company rather than outside of it.
Additionally, loyal employees give honest suggestions and feedback to managers. This has sizable impacts on the success of your business as employees have frontline insights that can be invaluable.
If you want to increase employee loyalty, start by consistently measuring employee engagement. Once you have the data, it'll be easier to show your senior staff why they should invest in improving it. With this guide, you'll be able to take the first step to demonstrate the ROI on employee engagement and getting buy-in from executives.
15. More employee ambassadors
One of the most important, yet frequently overlooked employee engagement objectives is to grow employee advocacy.
When employees feel engaged and connected to their company, they're more likely to share this with others. This is often referred to as "the BBQ test," meaning, what will someone say about your company at a barbecue?
When employees are engaged, they share positive things about your company. This strengthens your brand reputation and helps you attract top talent, which is a key outcome of employee engagement.
Bypass email-sending limits of Outlook and Gmail.
Send all of your internal emails within ContactMonkey.
How to Measure Employee Engagement
Measuring employee engagement is an employee engagement best practice, and allows you to understand the underlying factors behind an engaged or disengaged workforce.
It also gives you insight about your company's strengths and problem areas before they become deal-breakers for employees, as well as employee newsletter ideas you can do to help.
If you're wondering how to measure employee engagement, here are a few essential steps:
Establish engagement goals and benchmarks: these are criteria for distinguishing an engaged employee from a disengaged one. They can include things such as low absenteeism rate and high scores on staff survey questions.
Gather continuous employee feedback: find out employee engagement levels directly from your staff. Analyze employee surveys to get quick, consistent, and actionable insights.
Calculate your eNPS:

Employee Net Promoter Score determines how many of your employees would recommend your workplace to others. It uses a single focused question such as: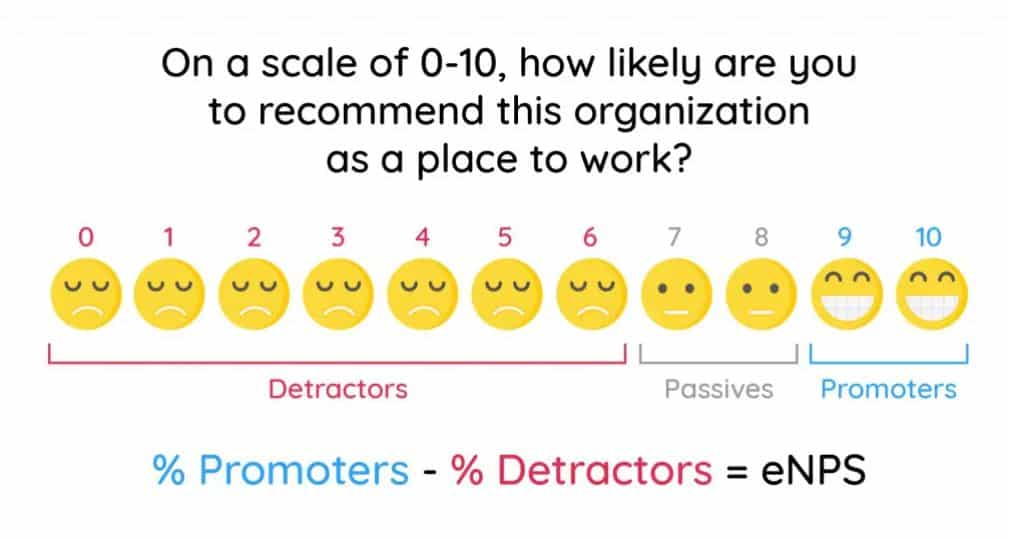 With ContactMonkey, you can embed eNPS surveys in your emails with ease. Employee responses automatically display in your analytics dashboard: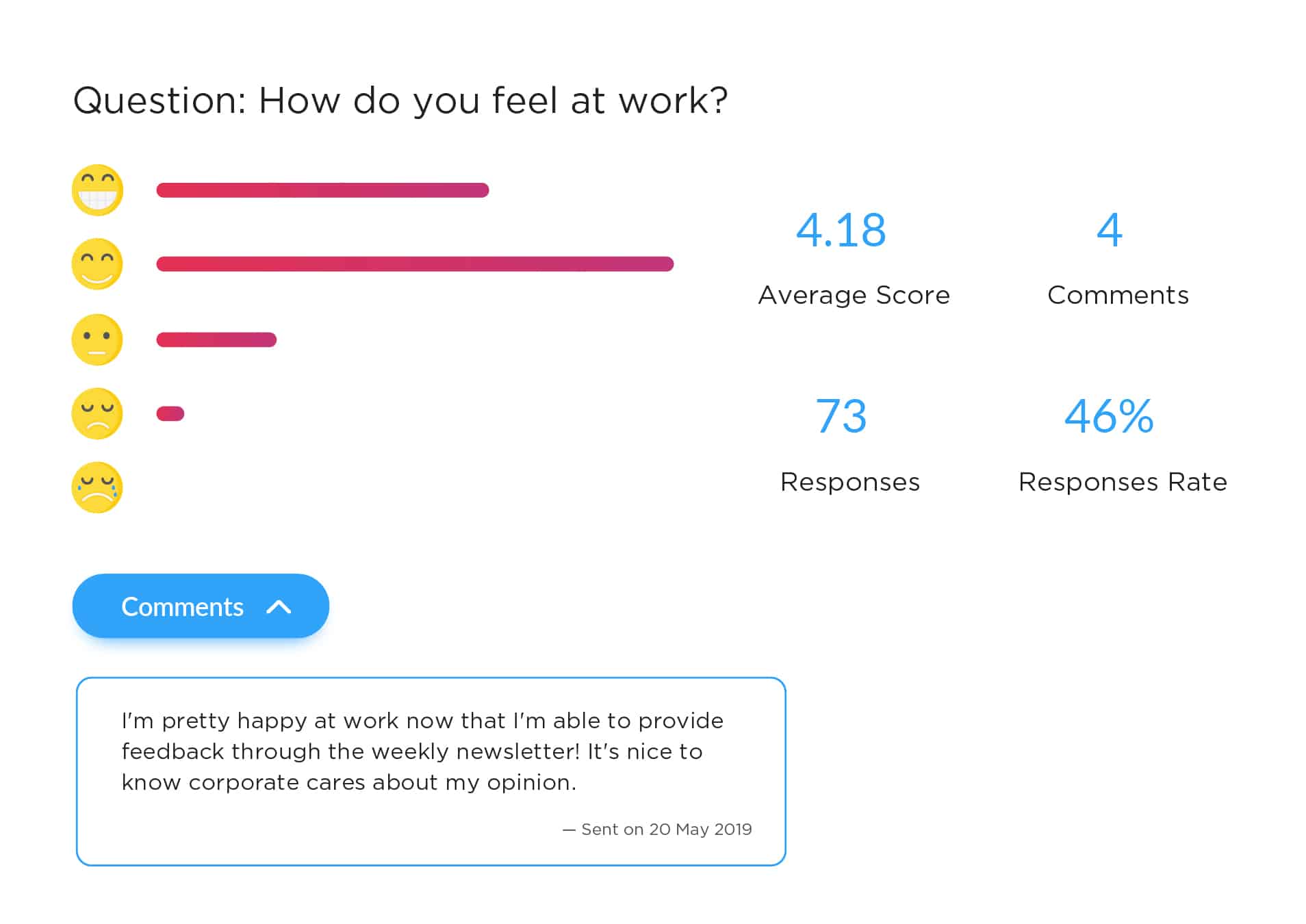 For more tips, visit our complete guide on measuring employee engagement.
You can measure employee engagement among different groups of employees using ContactMonkey's List Management feature. Build custom email lists—without IT—to target different segments of your workforce, and integrate your lists with your Human Resource Information System (HRIS) like Workday and ADP, as well as Azure Active Directory, so they'll update automatically.
How to Get Employees Engaged with ContactMonkey
We hope that this post has helped you answer the question of 'Why is employee engagement important?' The next step is to use these insights to develop a strategy for improving employee engagement.
Combined with concrete employee engagement data, this guide can help you easily prove the ROI of employee engagement.
With ContactMonkey's email tracking software, you'll get valuable employee engagement insights through feedback and data. You'll also be able to create an engagement strategy targeted to your employees' needs.