Surveys are a great way to learn from your employees. But long and tedious questionnaires are off-putting. Fun employee survey questions get your staff to open up and share in meaningful ways—a quality survey tool will help you get the job done.
Surveys are essential to employee communication, engagement, and business optimization.
But let's face it, some employee surveys can feel like a gruelling exam. This is especially the case when you're handed a long list of tiresome questions.
A survey tool that deploys fun surveys quickly and efficiently makes it easy to create exciting employee surveys. In this post, we'll show you how to create fun employee survey questions using intuitive survey tools like ContactMonkey.
Why Conduct Fun Employee Surveys?
Let's face it, you wouldn't want to work for an organization that's serious, stern, and dull all the time. Neither do your employees. So it's important to balance out business with a little bit of fun.
Workplace surveys are a great place to start applying this ethos. We have a wide selection of internal survey email templates that you can download for free.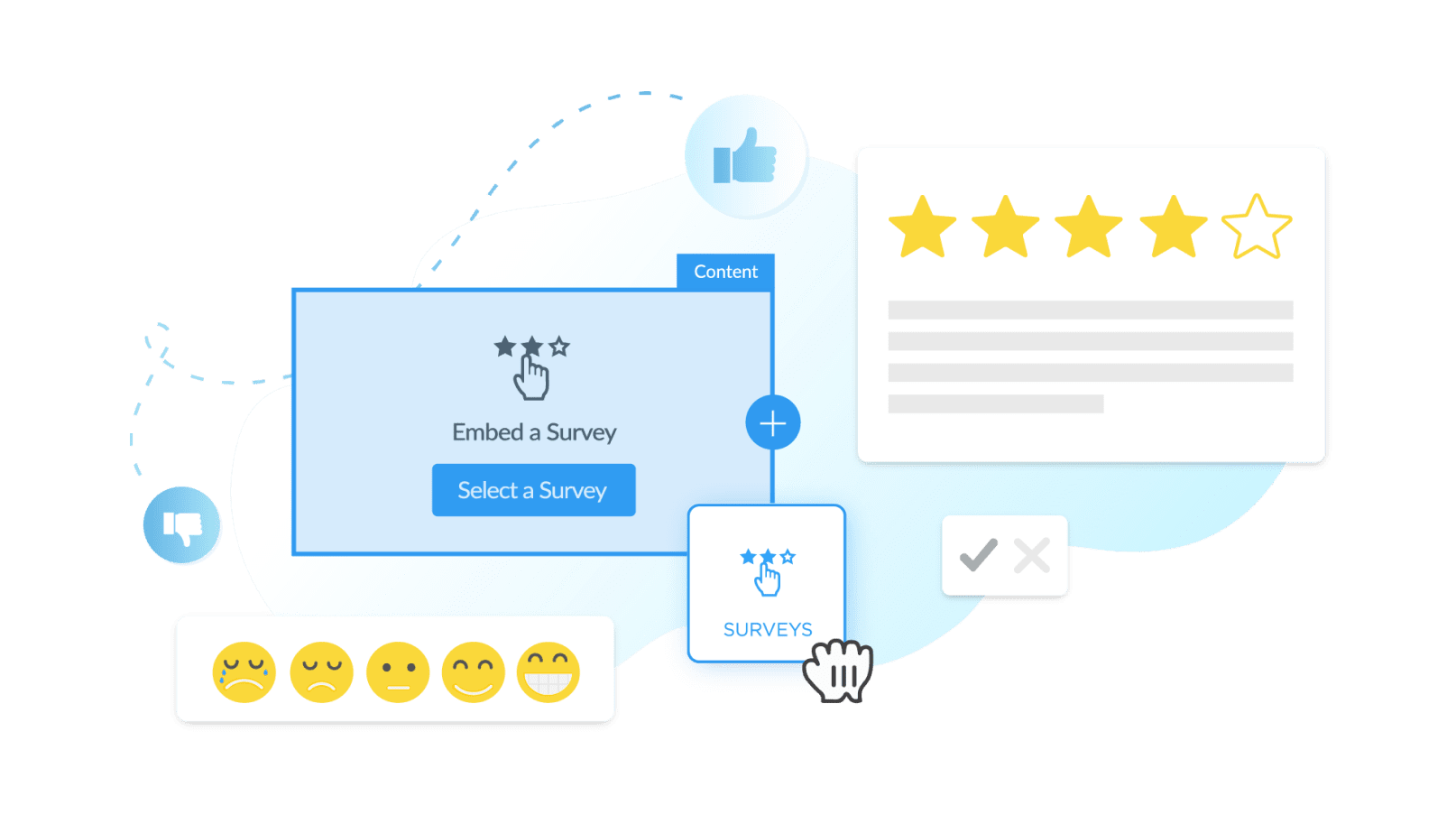 How Fun Employee Survey Questions Can Boost Employee Engagement
The ultimate goal of any good employee survey is to generate the necessary insights to enhance employee engagement. Why? Because workplace engagement single-handedly improves everything from employee retention to customer satisfaction.
When your survey questions are fun and engaging, it sets a light-hearted atmosphere for conversation. In turn, fun survey questions for employees can increase response rates, provide more authentic feedback, and maximize survey insights. 
Try ContactMonkey today. See what you are missing.
Start your free 14-day trial. No credit card necessary.
Surveys are asynchronous communications that help start conversations and get employees to open up—when done right. You can make employee surveys simple and straightforward by using an employee survey platform like ContactMonkey.
With dozens of ready-to-use survey templates, you can start measuring your employee engagement in no time! Not to mention, with dynamic response options like star ratings, emoji reactions, and thumbs up / down, you can make surveys more engaging and yield greater results.
40 Employee Survey Questions that are Fun and Engaging
To foster a strong company culture and an engaged workforce you need to go beyond having mediocre relationships with colleagues. Team-building means forging authentic connections through real, personal conversations.
The only way to reach this goal is to promote a tone and style of communication that conveys authenticity. And the easiest place to start is with your employee surveys.
We've broken down our top suggestions for lighthearted, original, and most of all—fun employee survey questions to ask your teams.
Get to know your team survey questions
Improving in-person and digital employee experience and boosting engagement starts with understanding what your employees want. Tailored strategies are always more effective and personal.
But you'll have to get to know your employees better in order to understand what they're interested in and what makes employees happy. Here are a few fun team engagement questions to get to know your employees:
What is your last played song on Spotify (no cheating!)

Who was your celebrity crush in high school?

If you were stuck on a deserted island with two books, what would they be?

What's the one snack we'd always find in your kitchen?

What does a perfect weekend look like for you?

What Netflix show are you absolutely obsessed with right now?

Where was your most memorable vacation?

A book about your life would be called_______.

What's your hidden talent?

Describe your personality in a single word.
Icebreaker survey questions
Employee engagement activities, whether virtual or in person, are one of the best ways to improve employee engagement. Employees have the opportunity to connect and get to know each other in a whole new context. They meet one another as people rather than just colleagues.
That being said, it can often take a moment or two to get your teams to step out of 'work mode' and start opening up. Icebreakers are a great way to get the ball rolling.
If it's a virtual event, you can easily add fun employee survey questions on-screen using digital trivia add-ins like Kahoot.
Alternatively, you could send out your icebreaker survey questions in advance via your internal newsletter. With ContactMonkey's pulse survey software, you can embed surveys into company emails and collect employee opinions easily.
Not to mention, with ContactMonkey's survey analytics, you'll get precision data to inform your survey questions:

Then, when your event is underway, you can share some of the funniest responses and get your whole team to share a few laughs. Here are some funny survey questions for coworkers:
If you could hop on a plane right this second, where would you go?

Name three people who you would invite to your dream dinner party (historic figures welcome).

If you could be any fictional character, who would you be?

Share two truths and a lie.

If your life had a soundtrack, the song would be:

What's the best present you've ever received

If you could read minds, whose would you read first?

Name your go-to karaoke song:

Without a doubt, the best ice-cream flavour is__________.

If you could hop on a time machine, what period/place would you go to?
Company culture survey questions
Company culture can make or break employee engagement. If your culture is welcoming and inclusive, employees are far more likely to feel confident participating and providing effective employee feedback.
On the other hand, if your company culture is exclusionary, employees may be confused about what role they have to play in it. As a result, employee engagement suffers.
Seeing what your employees think about your company culture via company culture survey questions is essential for understanding it and testing its strength. An employee feedback tool lets you easily survey your employees about your company culture.

With fun employee survey questions, you promote a casual atmosphere that's more likely to encourage honest and authentic sharing. Here are a few fun employee engagement questions to learn what your staff think about workplace culture:
How would you rate our virtual team building activities?

What fun team building activity do you wish we did more often?

On a scale of 1-10 how likely are you to recommend our company to your BFF?

Can you describe our company culture in just one word?

What are two things that you love about working at this company?

If your team had a theme song, what would it be?

Do you feel like you have a support system at work?

Complete the sentence: "What I love most about my colleagues is________."

What's your biggest pet peeve at work?

If you could add one element to our workspace, what would it be?
Workplace wellness and work-life balance survey questions
Most employees know that creating a healthy and happy workplace benefits both employees and the company as a whole. Stressed and exhausted staff will have little interest in engaging in the workplace outside of their usual tasks.
They'll also become burnt out more quickly and may ultimately look for other opportunities. The problem is, many employees don't feel comfortable sharing that they're stressed or that their well-being is suffering.
In order to make employees more comfortable sharing, you can incorporate more fun employee survey questions about workplace wellness. While creating a casual atmosphere, many of these questions still gather important insights about your employees' state of wellness and work-life balance. Here are some question examples to get you started:
Do you prefer working from the office or at home in your PJs?

What word describes your fitness routine best: gymshark, yogi, or armchair athlete?

How do you de-stress during the hustle and bustle of the workday?

If you were our workplace wellness leader for the day, what would be your first order of business?

If we had a workplace wellness hour, would you prefer: guided meditation, nature walk / picnic with the team, virtual yoga session, puppy therapy, other?

Describe your dream day off.

What's your go-to lunch meal?

Can you share your top two hobbies / activities outside of work?

Are there any snacks you wish we had in the staff kitchen?

Overall, how would you rate the work-life balance at your company? [Scale of 1-10]
Create Fun Employee Survey Questions With ContactMonkey
Whether you want to create a fun employee engagement quiz or just get to know your employees better, fun employee surveys are your go-to. They're a hassle-free tool for encouraging team-building and team-bonding.
With a little creativity (and some inspiration from yours truly), you can whip up survey questions that are both engaging and unique, but still deliver vital employee engagement statistics you can use to show the ROI of employee engagement.
With ContactMonkey's drag-and-drop email template builder, you can create fun employee surveys quickly and easily. Maximize the chances of getting more quality employee feedback. Book your free demo today.