Asking employee survey questions about culture will help you understand what team members think of your workplace environment. Once you identify areas for improvement, it becomes easier to know where to start strengthening workplace culture.
Company culture is your organization's bedrock, in good times and bad. It's also the driving force behind employee engagement.
Organizations with strong corporate culture are able to withstand greater obstacles because their teams are aligned behind a single company mission and robust values.
The best part: all you have to do to understand your company's culture is to ask your employees what they think. The hard part: you have to develop compelling employee survey questions about your culture.
We've broken down 15 examples of employee survey questions about company culture to get you started.
What Is a Workplace Culture Survey?
The purpose of a workplace culture survey is to understand how employees perceive your company culture and gather insights that can help you improve it.
Whether you need to amp up your virtual team building strategies or make changes to leadership communications, having the right culture questions to ask employees can help guide you.
To tap into employee insights, your pulse survey questions should be both clear and captivating, as well as simple and straightforward.
With ContactMonkey's internal communications tool, you can streamline your workplace culture survey by embedding it directly into employee emails and sending them from Outlook or Gmail.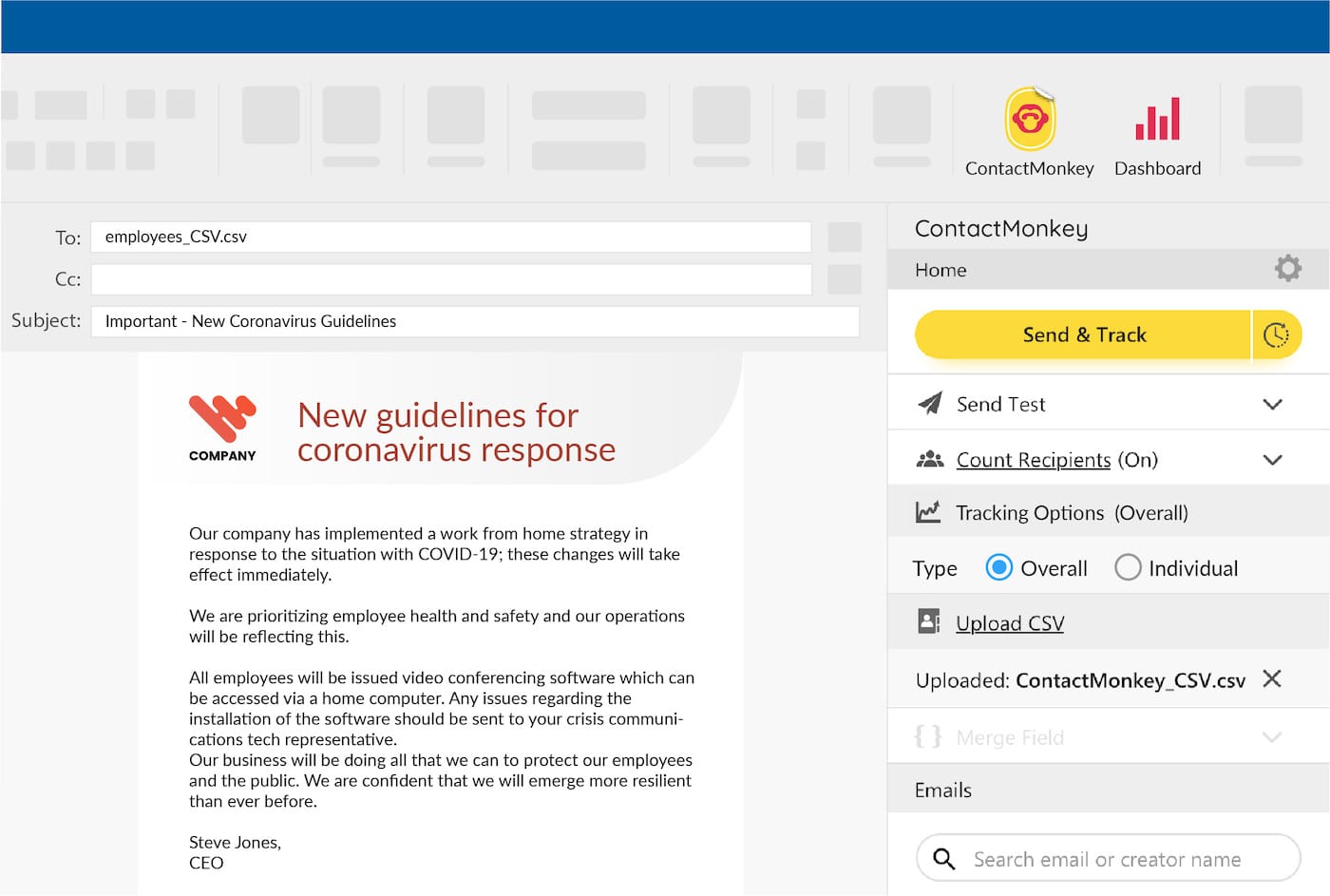 Your staff can respond quickly and easily using star ratings, emoji reactions, or anonymous comments—to name just a few.
Not sure how to design your employee surveys? Try using ContactMonkey's click maps feature to see how your employees are interacting with your emails. Click maps help you determine which parts of your emails are grabbing your employee's attention and where you should place important information. You can also download our employee feedback survey templates for free.
Create and send employee surveys right now.
Start a 14-day trial. No credit card necessary.
Why Is It Important to Improve Company Culture?
A strong company culture is one of the key drivers of employee engagement and business performance.
In fact, 88% of employees believe strong company culture leads to business success.
To fuel innovation and teamwork at your company, there must be a culture of trust, feedback, and open communication. Without this, you'll lose out on employee satisfaction and engagement, and see productivity plummet alongside business performance.
To attract and keep top talent, you'll need to proactively stay on top of how employees perceive company culture. A corporate culture employee survey can help you do just that.
15 Essential Work Culture Survey Questions
We'll admit it—fostering a positive and united workplace culture is no walk in the park.
You have to tune your company culture to complement your organizational goals and values. Not to mention, ensure that all employees feel comfortable engaging and being their authentic selves in the workplace.
Your company culture survey questions need to cover a range of topics that represent the building blocks of solid corporate culture.
These include:
Teamwork

Leadership

Diversity and inclusion

Management feedback
We'll touch on these elements and more as we break down 15 examples of culture survey questions.
Struggling to create effective company culture survey questions? Try using ContactMonkey's OpenAI ChatGPT integration to generate employee survey questions about culture to meet your unique needs. Simply write a prompt describing what you'd like to learn from your survey, and edit the suggested questions according to your audience.
1. Our company culture prioritizes integrity, teamwork, and collaboration
Question style: rate how relevant you think this statement is to your experience working at the company.
While every company culture should have its unique elements, integrity and the ability to work as a team are critical aspects of any positive corporate culture.
This question asks employees to rate whether they see these qualities reflected in their own firsthand experience at the company.
What's great about this type of company culture question is that it provides measurable insights.
In this particular case, it will demonstrate to what extent your company actually walks the walk. In other words, does it channel the values it stands for?
2. I feel comfortable sharing my thoughts and ideas with peers and team leaders.
Question style: scale of 'strongly agree' to 'strongly disagree'
Authenticity is a key component of a happy workforce. Building an authentic company culture can establish trust and help employees feel more connected to their work.
To gauge whether your culture encourages authenticity and trust, learn whether employees feel like they can bring their authentic selves to work and connect easily with others.
3. Could you describe your workplace environment in two words?
Question style: anonymous comments.
Your employees need to find themselves in an environment that's conducive to the type of work they're doing. And one which allows them to excel in their roles.
Staff should feel physically comfortable and safe at your workplace but they also need psychological safety. We're talking about a positive work environment, where employee feedback is welcomed and where staff input is valued.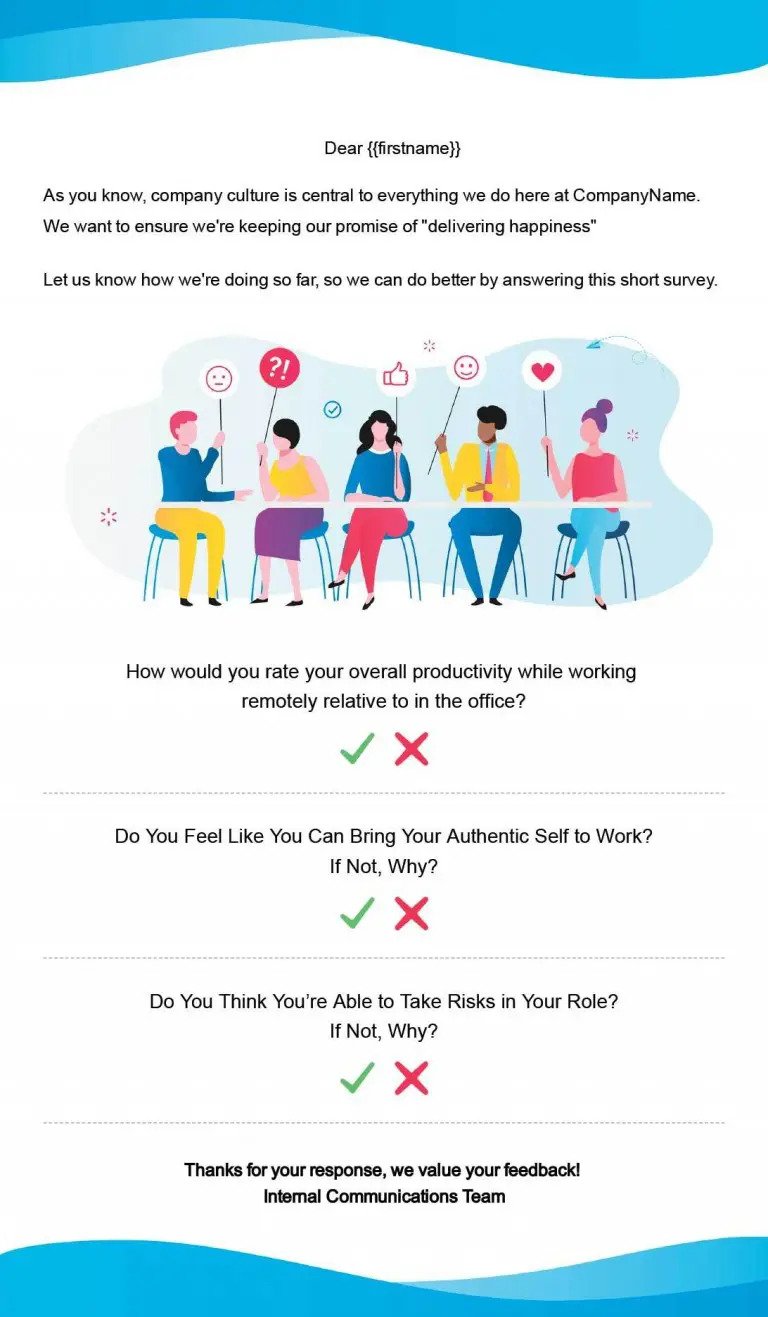 It should be recognized that employees may not be forthcoming about whether your work environment is comfortable or welcoming, especially if, well, it isn't.
ContactMonkey's pulse survey tool offers an added level of comfort through anonymity. Pulse survey questions are short questions sent on a regular schedule which help make feedback a regular part of your company culture.

Our survey feature includes an optional text box that allows employees to leave comments and responses to open-ended questions completely anonymously. Simply activate the anonymous comments option in your email template builder before sending: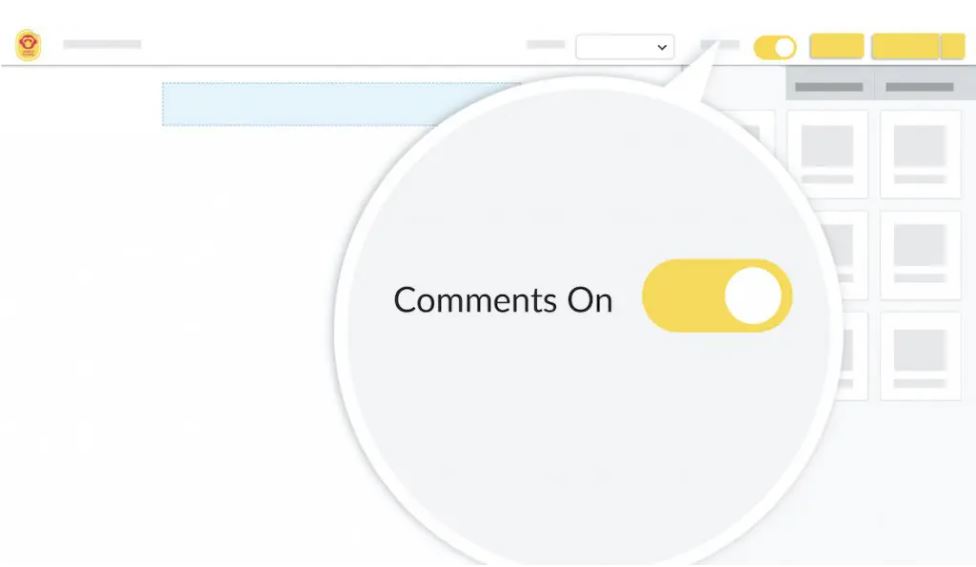 You can also track email metrics anonymously using ContactMonkey's anonymous email tracking. If you have internal or external email privacy regulations—like GDPR—ContactMonkey can help you gather email metrics while maintaining your employees' anonymity.
4. How likely are you to recommend our company to your friends, family, and former colleagues as a result of its culture?
Question style: Employee Net Promoter Score (eNPS) survey
Engaged and satisfied employees are your company's biggest ambassadors. Boasting about your organization is what these employees do naturally, because they truly enjoy an exceptional workplace experience.
That being said, dissatisfied employees will be equally vocal about their negative experience. This is what makes employee engagement survey questions like eNPS so vital.
Engage staff with a modern internal comms tool.
Start a 14-day trial. No credit card is necessary. Zero risk.
By asking this eNPS question, you'll get the necessary insights to guide you in improving employee experience and company reputation.
eNPS surveys focus around a single, pointed question with answers given on a scale rating: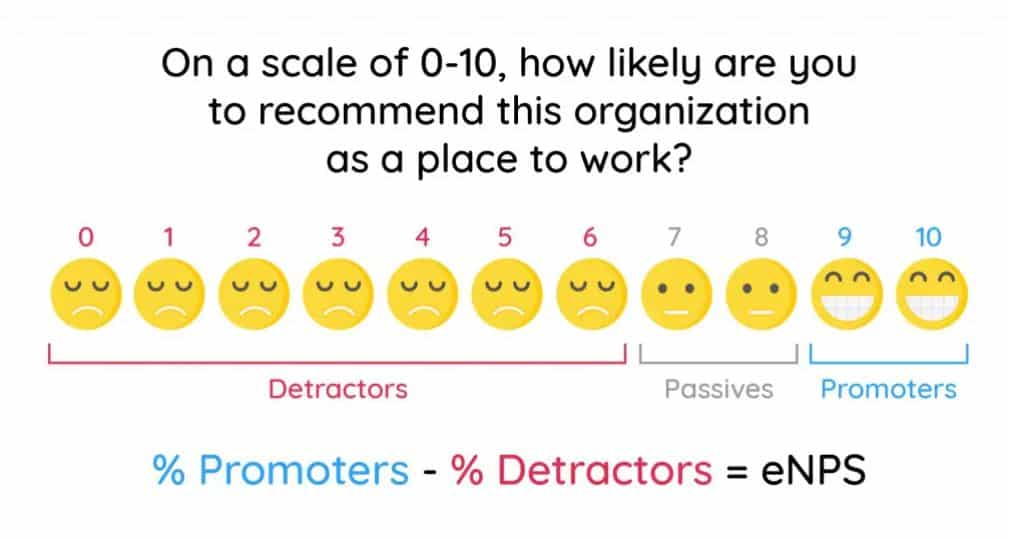 With ContactMonkey, you can easily embed eNPS score questions directly into your employee newsletter. You can also do it straight from your Outlook or Gmail inbox.
Not only does the feedback process become simple and seamless, but analyzing your survey responses can help inform future employee opinion survey questions. In your ContactMonkey dashboard, you'll get a breakdown of your eNPS stats—so you can start acting on them quicker.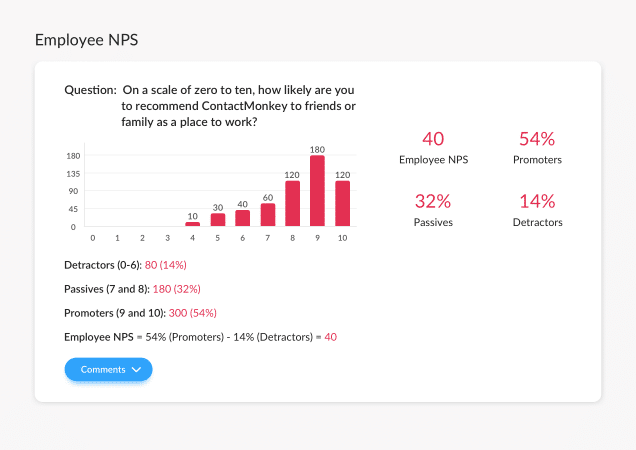 5. Are you able to be creative and take risks in your role? If not, why?
Question style: thumbs up/down alongside anonymous comment option.
Risk and creativity are key elements in a company culture of innovation. You'll also see them as a common denominator across top employee engagement companies.
Unfortunately, employees often avoid speaking up and taking risks because they feel that their work environment is not conducive to this sort of 'risky behaviour.'
Limitations like these stunt the flow of new ideas at your company. Employees feel uncomfortable at work, less likely to share their input, and company culture suffers.
That's why it's crucial to create a culture that encourages employees to voice their opinions without being afraid. With this employee motivation survey question about culture, you'll be able to see how you're doing on that front and make improvements if necessary.
6. I rarely think about looking for a job at another company
Question style: answer yes/no or thumbs up / down.
This question is geared towards understanding your staff's present level of commitment to the organization.
One of the key differences between a satisfied and engaged employee is that the latter isn't just content in the present. They see themselves growing and thriving with the company, and have a positive outlook towards a future at your organization.
Employees who are not engaged will be actively or passively looking for other opportunities. And your employee turnover rate will reflect this.
Expect results for this question to vary across different demographics and roles.
7. I am able to maintain a healthy work-life balance in my current role
Question style: answer yes/no, thumbs up/down, or star ratings.
Since the COVID-19 pandemic made remote and hybrid work the norm, work-life balance as we know it is no more. Yet despite the transformations to our work environment, work-life balance remains just as critical.
Employee wellbeing is at the core of positive company culture. Imagine if employees are logging into work exhausted, overwhelmed, or constantly burnt out. It's unlikely that they'll participate in team building or take initiative to collaborate with others.
This type of employee survey question about culture will indicate if your employees are able to strike a balance between their work and personal life.
Need to send your survey to only a certain segment of your organization? Custom email lists allow you to target relevant employees to drive engagement and keep your employees' inboxes clean. With ContactMonkey's list management feature, you can create your own email lists—without needing IT—that integrate with your Human Resource Information System (HRIS) like Workday and ADP, as well as Azure Active Directory,
8. Does your manager provide you with timely feedback about your work?
Question style: answer yes / no or thumbs up / down
Feedback from managers is often hit or miss. Some love to dish it out in spoonfuls without asking for any in return. Others like to avoid confrontation and stay clear of giving straightforward employee feedback.
But effective feedback is essential for providing employees with the support and guidance that makes them active and engaged in the office.
It lets employees understand what they're doing well or steers them in the right direction—if done effectively.
With this employee survey question about company culture, you're examining a key element of healthy workplace culture. Not simply feedback, but timely and meaningful feedback that helps further inform your employee engagement ideas in the workplace.
9. I feel listened to in the company and my ideas are regularly implemented
Question style: Rating with emojis or star ranking.
Feedback is all about give and take. As much as you hand it out, you need to ask for it in return.
When employees feel like they can express their honest concerns and provide authentic input, they feel valued and empowered. This in turn promotes greater engagement in the workplace and can improve employee morale.
Ask this employee culture survey question to understand whether employees feel that your company culture is inclusive and allows their voice to be heard.
Bypass email-sending limits of Outlook and Gmail.
Send all of your internal emails within ContactMonkey.
10. How would you describe the leadership of this organization?
Question style: anonymous feedback.
Company leaders set an example for how things flow in your company. They offer a benchmark of habits and behaviours that become the norm across your workplace.
As a result, company culture is always to some extent set and tuned by leadership. By understanding how employees feel about senior leaders you'll equally tap into their perception of your company culture.
For this type of company culture question, ensure that you're using an internal communications tool with anonymous commenting, like ContactMonkey. This way, employees will feel confident giving an honest response.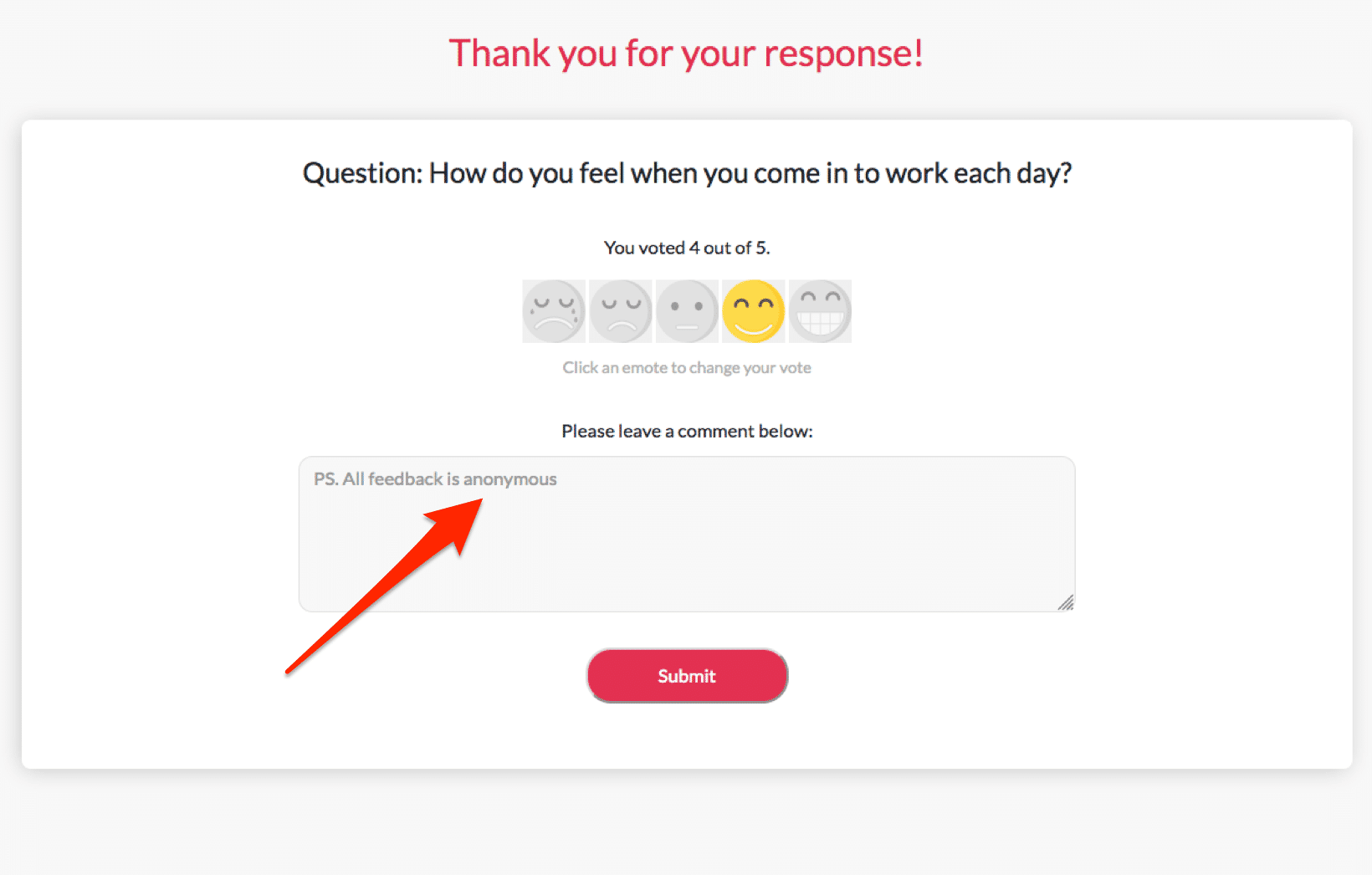 Pro tip: add a brief disclaimer at the start of this survey question stating that your survey is entirely anonymous. Employees can have the assurance that they won't be in trouble for commenting on this touchy topic.
11. I am proud to work for this organization
Question style: numerical scale from 1-10, star ratings, or emojis.
The focus of this question is employees' pride and confidence in their company, as well as its mission and values.
Measure employee engagement by placing responses on a scale rating. That way, resulting scores can provide a measurable value for the level of brand and mission engagement and affiliation experienced by employees.
If you're using a numerical scale, the industry standard when it comes to benchmarks for this type of question range from 80%-90% for agreement. Scores below 70% should be considered a warning sign for your company's culture, and that action needs to be taken swiftly.
12. Is your company dedicated to diversity and inclusion?
Question style: yes / no or thumbs up / down.
Without inclusion, a strong company culture is impossible.
Employees won't feel comfortable being at work or expressing their genuine thoughts and ideas if they feel at risk of being judged. Or worse—completely ignored.
Companies that are welcoming and inclusive to employees of all genders, religions, sexual orientations, and ethnicities foster safe places to work. That's what diversity and inclusion truly means.
Psychological safety combined with physical safety create an essential foundation for building a strong company culture. This simple fact makes this one of the most important employee survey questions about company culture to ask your staff.
13. My manager is a great role model for employees
Question style: Answer using a likert scale such as star rating.
Instead of directly asking employees about their relationship with their manager, this question explores how staff perceive management and their influence on the workplace at large.
It then allows you to gather insight about management's impact on the company culture.
With this type of company culture question, you're looking for responses in the 4-5 star range. Scores that go below this benchmark suggest that you need to consider further training for managers.
14. I have access to the learning and development I need to do my job well
Question style: yes / no or thumbs up / down alongside anonymous comments.
This question goes deeper than simply asking whether employees see a future at the company.
It examines whether staff see a direct path and resources towards learning and growth within the organization. This can include training sessions, professional development courses, and career resources.
You can bolster this question by using an anonymous comments box to ask employees what specific resources they'd like to see.
With ContactMonkey, you can easily enable anonymous feedback in any of your employee emails and ensure suggestions are streamlined into your internal communications.
15. I receive appropriate recognition when I do good work
Question style: yes / no or thumbs up / down.
Knowing when you're doing an outstanding job is empowering. Employee recognition helps employees channel their best qualities and abilities by helping them recognize what they are.
If you notice a lot of 'no' answers, this should indicate that your employees don't in fact feel recognized for their work.
In turn, you should take action to amend this. Whether it be implementing more employee thank you notes, giving employees a shoutout in your virtual town hall, or creating an employee of the month feature in your internal newsletter.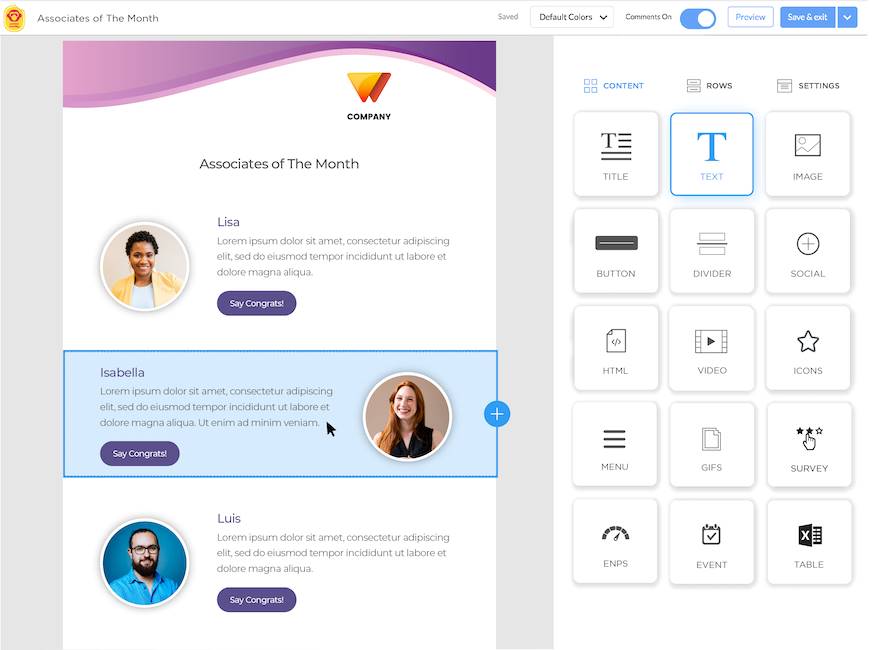 Create Better Employee Culture Survey Questions with ContactMonkey
If you want to improve company culture, it's essential to ask meaningful employee survey questions about your company culture and act on survey results in tangible ways. Continuously seeking and analyzing employee insights will help you keep track of gaps across the building blocks of your workplace culture.
Most importantly, you need to acknowledge the feedback and inform employees of the actions leadership will take to make improvements.
Schedule a ContactMonkey demo, and see how our software can help you send surveys, collect feedback, and analyze responses easily.