"Happy employees produce better results"—that's the simple but snappy mantra of one of the top employee engagement companies on our list. In this post, we'll look at organizations that have nailed employee engagement and examine their methods and mantras for success.
Companies that are trail-blazers in their industry didn't reach success overnight. They had to build winning teams. That's where employee engagement comes into play.
One thing that all industry leaders have in common is the ability to attract and retain motivated, innovative, and above all—engaged employees.
How do they do it? We'll answer this question by examining the top 10 employee engagement companies, and the internal communication tools they use to get the most from their employees.
What is Employee Engagement?
Employee engagement is the measure of personal investment and emotional connection that employees experience in relation to their workplace.
But there are countless factors that can play a role in keeping employees engaged—from work-life balance, to employee recognition, and compensation. These drivers of employee engagement can be helpful to understanding how workers become engaged. They also signal where successful companies focus their engagement efforts.
Why is Employee Engagement Important?
Employee engagement is important because the connection between company success and engaged employees is direct, clear, and compelling. When employees are engaged, there's less turnover, greater productivity, and enhanced innovation.
Unfortunately, many companies still struggle to foster employee engagement and retention in the workplace.
To tackle this problem, let's take a few pointers from the best in the business and compare their best practices in employee engagement.
Top 10 Employee Engagement Companies
To explore the most innovative and effective employee engagement strategies and employee engagement models, we began with a few questions.
The first was, which companies have succeeded in engaging their workers across different industries and business fields? The second question: what employee engagement tools and techniques do these companies use? And finally: what are some examples of employee engagement across successful companies?
The result: a list of companies that keep making headlines for their strong company culture, leading diversity and inclusion efforts, and of course—employee engagement.
Let's take a deep dive into each of these employee engagement companies.
Test ContactMonkey for free. Start engaging staff.
Start a 14-day trial. No credit card necessary. Zero risk.
1. Microsoft Corp.
It's hard to come by a single list of companies with great employee engagement without finding this technology giant at the top.
Over the years, Microsoft has spearheaded employee engagement efforts through multiple channels. So how do they do it exactly?
Building community through communication: The company fosters a sense of community by facilitating effective internal communication across all departments. By incorporating an "CEO Connection" page into their internal communications plan, the company lets employees network with staff and leaders. It also makes leadership communications more accessible and fosters top-down conversations.
Professional Development: Microsoft doesn't simply offer professional growth opportunities, it promotes a growth culture. Satya Nadella, the company's CEO, says that he sees Microsoft as a company of "learn-it-alls," not "know-it-alls." He supports this by making videos recognizing employees who showcase a growth mindset.
Pulse surveys: Microsoft's 'Daily Pulse' is a series of pulse surveys that capture a snapshot of how employees are feeling. By regularly surveying employees using a pulse survey tool, you can easily measure employee engagement and employee engagement trends over time.
Team-building activities: The company arranges a slew of team-building events and opportunities for colleagues to bond. They also use events to rally employees behind solid company values. For instance, social responsibility is bolstered through regular community outreach activities.
Using ContactMonkey, you can easily create, send, and manage event invitations from Outlook or Gmail. Embed event invitations in your employee engagement emails with our drag-and-drop email template builder, and track RSVPs: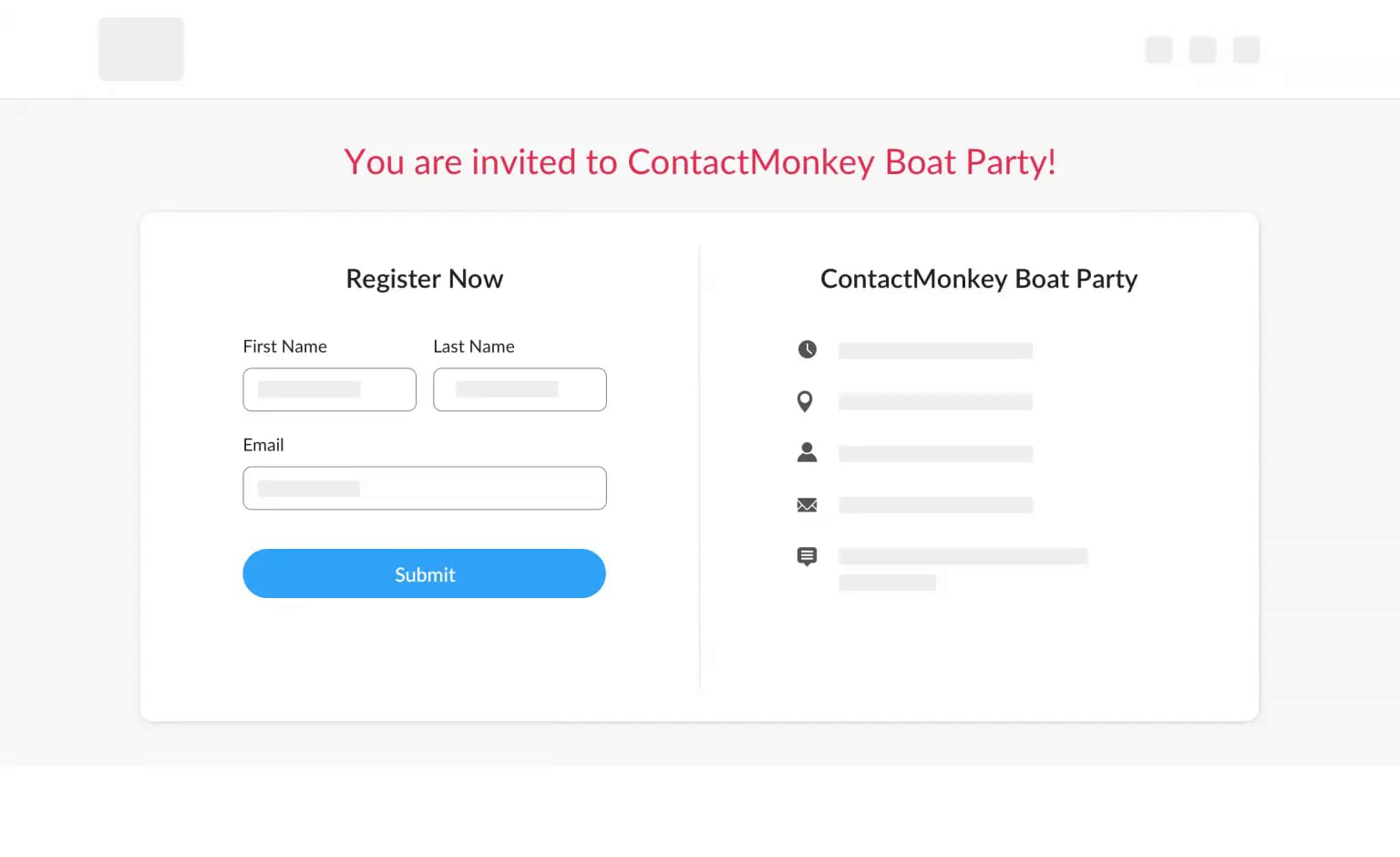 2. Alphabet Inc.
Wondering where the quote 'Happy employees produce better results' came from? Look no further.
Better known as the parent company of Google, Alphabet Inc. has no problem attracting top talent. The software ringleader puts employee engagement first. And doesn't shy away from being the first to try out new strategies to improve employee engagement.
Here are some techniques the company has utilized in building an engaged workforce:
Unique compensation and benefits: Google goes beyond competitive salaries. In 2006, the company became the first to introduce a transferable stock option program for employees. The company even made headlines by offering competitive employee death benefits.
Staff empowerment and autonomy: The company's famous 20% creative time, 80% work program encourages employees to take autonomy and pride in their work. This approach clearly paid off—one of the innovations to stem from the program was Google Adsense. The tool accounted for 20% of Google's total revenue in 2014 alone.
Work environment: Google is renowned for the impeccable work environment it creates for employees. But besides the fitness studios and unlimited meals, Google also offers employees maximum flexibility in their workplace. Most employees can enjoy fully remote or hybrid work.
3. Salesforce Inc.
Salesforce knows that in order to recruit workers that propel its company forward, it needs to first engage its top brand advocates—employees. In the company's efforts to engage employees, Salesforce has focused on offering unique and competitive benefits and work perks.
But these are always tied into the company's overarching values and sense of responsibility to their local communities. Here are some examples of the brand's employee engagement efforts:
Paid volunteer time: Employees receive 56 hours of paid time in order to volunteer in their neighbourhood. They also enjoy a competitive matching policy of up to $5,000 annually for giving back to causes they care about.
Diversity and inclusion groups: "We focus on the key differentiators that Salesforce has to offer," says Ana Recio, EVP, Global Recruiting, Salesforce. Staff have the option to join Equality Groups, which are employee-led groups centered on common backgrounds, identities, or interests.
Focus on wellness and work-life balance: The company's Wellness Reimbursement Program offers staff $100 each month to use on any wellness activity they like – Yoga classes, nutrition therapy, and more.
Curious to see how added wellness benefits can boost employee engagement in your organization? Conduct an employee engagement survey. With ContactMonkey, you can embed quick, simple pulse surveys directly into your employee emails.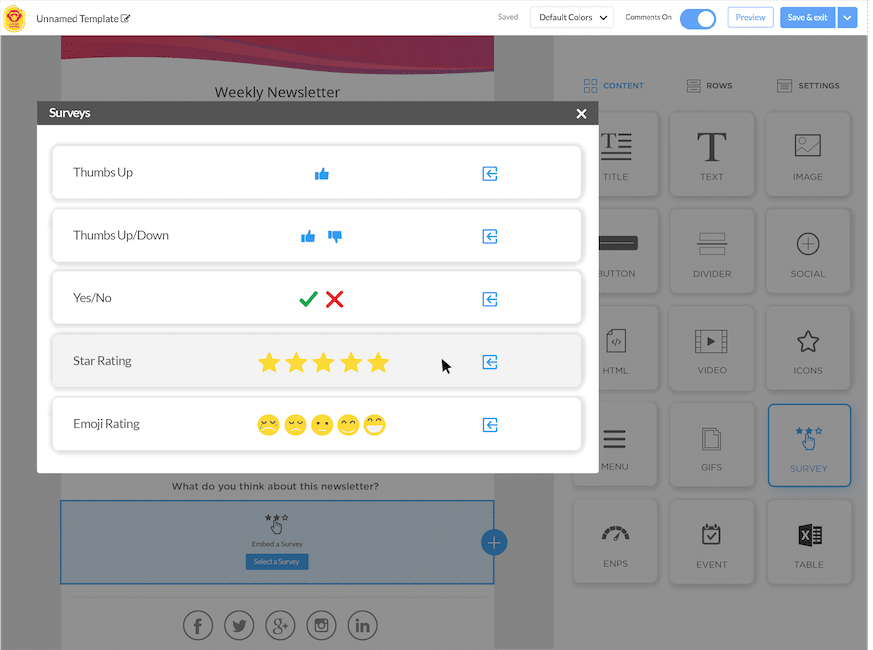 Employees can respond just as fast, rating your current wellness benefits using emojis, star ratings, and thumbs up/down. You can maximize engagement on your surveys by using effective engagement survey questions and company culture survey questions. Using ContactMonkey, you can also pinpoint the best times to send internal emails.
Your employees can also add suggestions for which wellness options they'd like to see using the comments box.
4. Mastercard
This multinational financial service giant has become a leader among employee engagement companies in its industry. Their success can be attributed to a few key employee engagement drivers:
Diversity and inclusion: "You need to harness the collective uniqueness of those around you to widen your field of vision – to see things differently, to fail harder, to innovate," says Ajay Banga, Mastercard's Executive Chairman. The company's commitment to an inclusive work environment is firm and backed by extensive employee training.
Continuous feedback: Mastercard's firm belief is that innovation and better business results are driven most of all by employee engagement and workplace inclusion. At the heart of this, is regular employee feedback to ensure that all employee voices are heard.
Flexible work: Since remote work became the norm during the coronavirus crisis, Mastercard has grown to adapt to flexible work arrangements. Today, many workers at Mastercard can continue working from home until they feel comfortable returning to the office.
5. Apple
When Steve Jobs, Apple's famed co-founder, was asked about team collaboration at a 2010 conference, he stated: "One of the keys to Apple is that Apple is an incredibly collaborative company. Do you know how many committees we have at Apple?" The interviewer responded "No."
"Zero" replied jobs, "We are organized like a start-up. There is tremendous teamwork at the top of the company, which filters down to having tremendous teamwork in the rest of the company."
For Apple, teamwork is at the heart of their company culture and at the core of their success with employee engagement. Along with this, here are just a few employee engagement drivers that the company has nailed:
Culture of collaboration: A focus on teamwork has translated into an overarching culture of collaboration at the company. This is reflected in just about every aspect of the business. From its fluid company hierarchies to its open office design—everything encourages collaboration.
Competitive benefits and compensation: It goes without saying that the company offers some pretty awesome perks and benefits. Since 2015, Apple has offered free stock shares to all employees, with grants starting from $1000 to $2000.
Wellness in the workplace: It's not all about the financial perks. Apple's employees also enjoy plenty of wellness options such as in-house fitness centres and sprawling nature walks right outside their office.
6. Cisco systems
As a multinational technology corporation, Cisco has been able to engage employees across departments, borders, and time zones. Their strategy for success: a compelling brand vision, clear workplace standards, employee recognition and continuous employee feedback. Let's dive deeper into their strategy:
Communicating the brand vision: "We define employee engagement as the connection that our employees feel to Cisco's vision, strategies, and business execution, together with their commitment to helping us realize our objectives over time," states the team.
Clear workplace standards: Recognizing that clarity and work standards are key drivers of employee engagement, the company has promoted its Cisco Code of Business Conduct. This is a resource that employees can use for guidance and examples of integrity in the workplace.
Employee recognition: A formal Employee Recognition Initiative is another way the company promotes employee engagement. The program recognizes employees not just for their achievements at work but outstanding accomplishments in any area of their life.
Employee feedback: To support its employee engagement initiatives, an anonymous pulse survey asks employees for feedback on everything from management to career development. This allows Cisco to stay on top of how employees are feeling and single out areas for improvement.
7. PepsiCo
For PepsiCo, the road to employee engagement starts with getting employees to share in the brand mission statement. The food and beverage leader has even developed a moniker to rally employees behind a common culture and goal.
Here's a close up look at how PepsiCo leads employee engagement:
Communicating brand values: The Pepsico Way is a moniker representing the seven core employee behaviours and values that drive the company's vision. The simple but compelling list finds itself embedded in company communications and even company events like PepsiCo Way Day. It consists of:
Acting with integrity

Acting as owners

Voicing opinions fearlessly

Being consumer centric

Celebrating success

Raising the bar on diversity and talent

Focusing on getting things done fast
Strong company culture: By uniting employees behind simple, snappy, and clear company values, the company has strengthened its workplace culture.
Diversity and inclusion: Within its guiding principles, PepsiCo also conveyed its commitment to diversity and inclusion and hearing employee perspectives. "We continuously listen to our employees to ensure we are providing the best experience possible," says the team.
Employee feedback and recognition: In their commitment to the PepsiCo way, the company continuously celebrates employee achievements. In addition, it offers multiple channels for employees to share their opinions through a series of pulse surveys.
8. Travel Counsellors Ltd.
This global travel agency and ContactMonkey customer manages to keep 1,900 travel business partners and 200 colleagues engaged. And they did it during a global pandemic that saw an enormous strain on the travel industry. Here are the employee engagement tips they've shared with us:
Personalized internal communications: Using ContactMonkey's mail merge tool , the Travel Counsellors team is able to create individualized employee messages. This added an important personal touch when communicating with thousands of employees during challenging circumstances.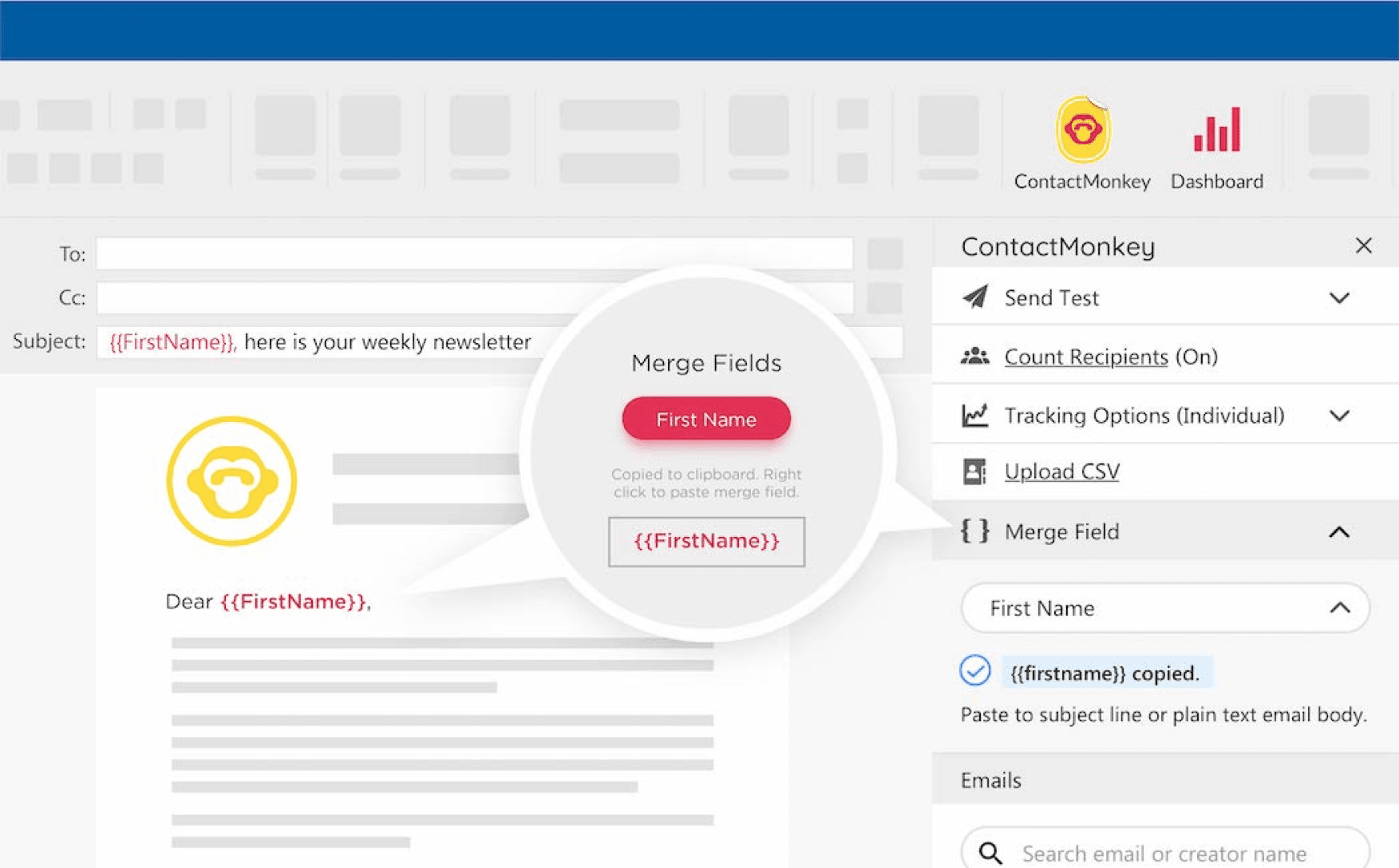 Continuous employee feedback: By embedding employee pulse surveys into internal newsletters, the team continuously gathers valuable employee feedback. They then use it to tailor their engagement strategy. It also allowed them to promote remote team communication when the pandemic overturned the in-person office and presented them with the all-to-common challenges of remote teams.
Email analytics: With a employee engagement app that offers in-depth email analytics, Travel Counsellors was able to monitor engagement with key communications. This way, they could adapt their communications strategy accordingly and create content that engaged their teams the most.
9. Intuit
Up to 95% of Intuit staff say this financial services company is a great place to work. That's in comparison to 59% of employees on average across U.S. companies. These numbers didn't emerge overnight. Here's how this employee engagement company got to where it is today:
Diversity and Inclusion Training: Intuit regularly sets diversity and inclusion benchmarks. To support these, the company holds multiple courses and training sessions for staff, including the Leading Inclusively e-learning.
Pay Equity: Intuit recognizes that pay equity is an integral part of diversity and inclusion and is essential for employee engagement. "As a company, we believe that pay equity is fundamental to our diversity and inclusion strategy," says the team. This includes a regular analysis of pay equity across different genders and ethnicities in the organization.
10. Nvidia
A multinational technology company, Nvidia designs state-of-the-art graphics processing units and computer chips. But beyond its value proposition, Nvidia is one of the global leaders in employee engagement. Here's the breakdown of their employee engagement strategy:
Team-centric attitude: "There's only one team at Nvidia. That means no politics, no hierarchy," says the team. This type of company culture helps build trust among employees and encourages confidence in participating in the workplace.
Team-building events: Promoting teamwork and collaboration goes beyond a great internal marketing statement. Nvidia also initiates regular team events and community outreach projects, which employees work on together to foster shared values.
Promoting innovation: Nvidia encourages employees to take risks and see failure as a step to success. This spirit of innovation helps empower employees in the workplace and promotes autonomy—a key driver of employee engagement.
Grow Employee Engagement Like the Pros – Use ContactMonkey
We've learned how the biggest industry leaders approach employee engagement. Now, you're probably thinking, 'Of course, employee engagement is easy with budgets the likes of Apple and Google.' But if you look closely, many of the strategies employed by the companies on this list require little financial input.
From employee recognition to solid employee onboarding practices, there are many employee engagement strategies that can be adopted to any business size and internal communications budget. With the right approach, you can easily gather data to help you prove the ROI of employee engagement.
With ContactMonkey, you can take the first step to boosting employee engagement. From dynamic internal emails to embedded employee feedback and event management, ContactMonkey helps you tackle the key components of engagement. So no matter your business size or scope, you can master employee engagement like the pros.