Love it or hate it, remote work is here to stay—in one shape or another. Instead of bracing against the current, businesses need to prepare actionable strategies for adapting to the new world of work. And that means mastering the art of remote team communications.
Remote team communication definitely has a learning curve. For starters, body language is eliminated from the communication equation. Neither can we easily rely on body language and gestures to give us subtle cues about how employees or managers truly feel. Moreover, the pace of communication changes as remote work interrupts the regular flow of conversations.
In light of this, developing internal communication strategies tailored to remote teams is essential. Managers should be recognizing the unique needs of remote employees and working with their remote teams to establish new communication norms.
To ensure that your remote communications aren't a guessing game, we'll walk you through some of our tried and trusted remote communication strategies. We'll also look at examples of the best remote communication methods that you can implement in your own organization.
Engage staff with a modern internal comms tool.
Start a 14-day trial. No credit card is necessary. Zero risk.
What is Remote Team Communication?
Remote team communication represents the set of different ways that companies communicate beyond in-person interactions.
Consider email newsletters, virtual town halls, and intranet for internal communications. These are some of the most common types of remote team communications in the corporate world. But it doesn't (and shouldn't) just be about business.
Remote team communication also comprises virtual game nights, holiday communications, and all the other ways you encourage remote employee engagement.
Before we delve into communication ideas for your remote teams, it's important to understand the 3 different types of distance involved in remote team communication:
Physical distance:

represents the spatial distance separating team members (think communication in remote areas).

Operational distance

: different departmental structures, employee skill levels, and know-how that can interfere with effective communication.

Affinity:

problems preventing teams from building trust and solid relationships
By identifying the types of distances that exist across your organization, you can develop more customized strategies for remote team working.
Pro tip: Improve remote employee engagement through tailored communications. Use list management to segment & customize email lists.
Why is Remote Team Communication Important?
Effective remote team working and communication is important because it helps bridge the physical and informational divide between employees.
When staff have the digital tools to engage with one another from anywhere, collaboration becomes easier. Keeping teams aligned and eliminating workplace silos also becomes possible through virtual standups and internal company newsletters.
But in order for remote teamwork to run smoothly, you need to plan and synchronize your communication methods. ContactMonkey helps you manage all of your virtual team communication channels – intranets, virtual standups, internal newsletters – from one single platform.
With ContactMonkey's Gmail newsletter templates and Outlook add-in, your internal newsletter becomes a one-stop-shop for all of your communication needs. Embed virtual event invites, company news, pulse surveys, and training videos into your email newsletter using customized HTML email templates: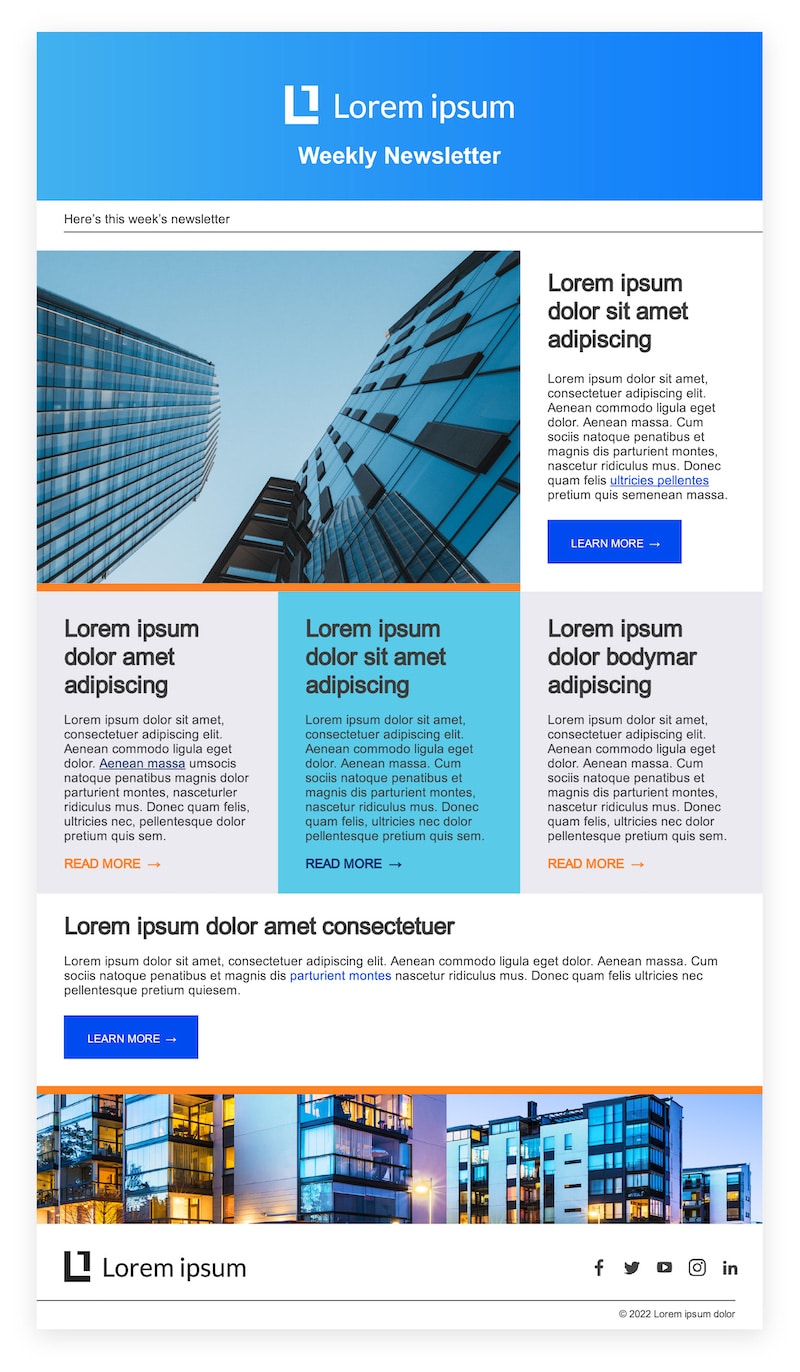 Use ContactMonkey's internal email tracking software to see how employees are engaging with your messages. Then, learn from the data to determine the best way to communicate with remote employees.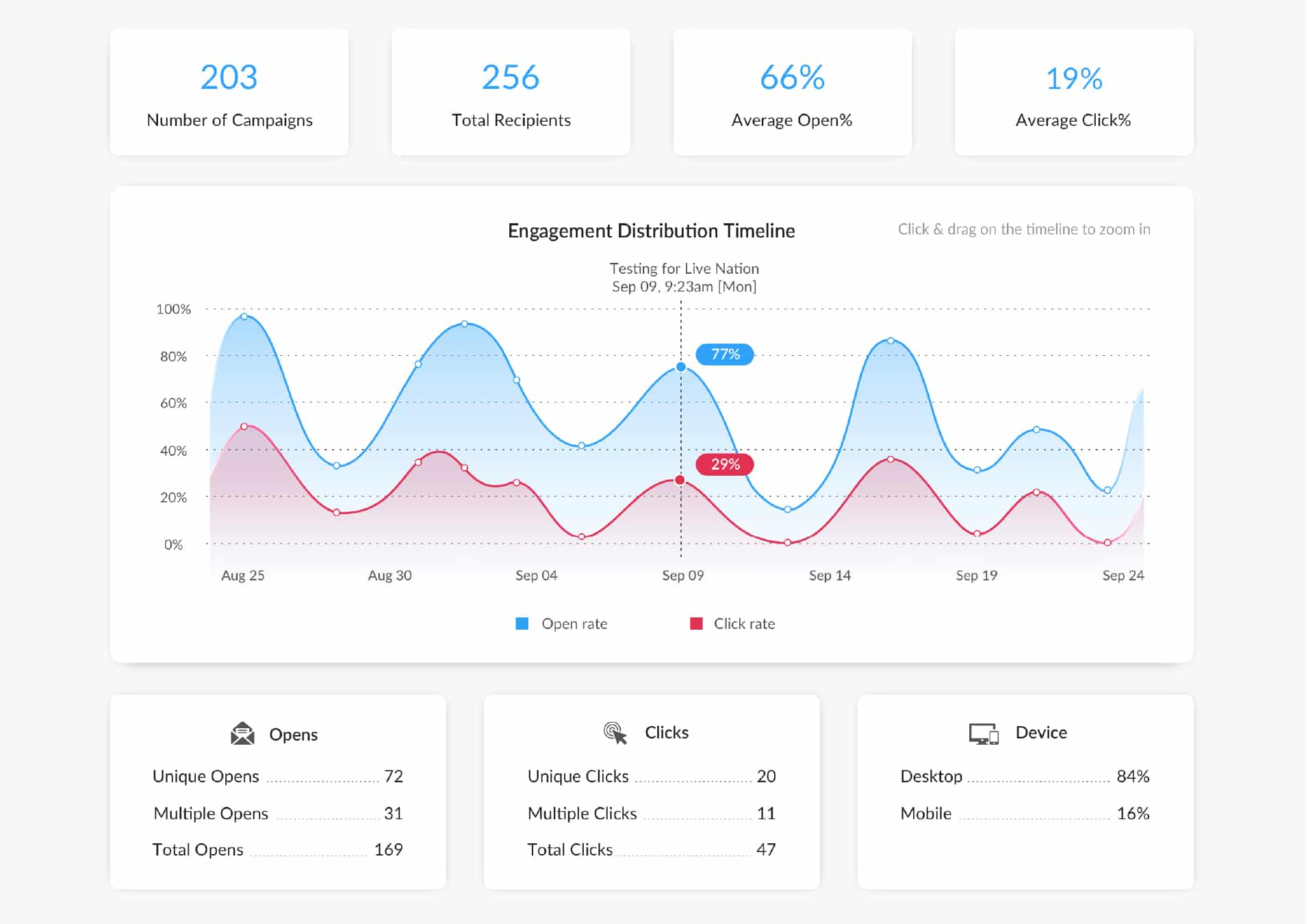 How to Communicate With Remote Teams: 15 Effective Strategies
Effective virtual team communication should accomplish three things. It should help employees stay on the same page on company priorities and collaborative tasks. Managers and HR professionals should also feel confident that everyone is informed on key company updates. And lastly, effective virtual communication should keep employees engaged and connected to the company on a personal level.
The remote team communication tips and strategies we've listed below help you tick all these boxes.
Pro Tip: Streamline remote employee engagement. Deliver remote employee communications quickly and at scale with our OpenAI add-in.
1. Determine and define your remote communication standards
The first step to any remote communication strategy worthy of the name is clearly outlining and defining your remote work standards. Employees should know what's expected of them, including what channels they should turn to for communicating with managers and finding key resources. Use your internal newsletter to outline different points of contact for different topics and issues.
To get started, you can use your internal newsletter to distribute a "Remote communication" manual describing essential resources and points of contact, such as who to contact about remote equipment issues. You can also create a knowledge base / FAQ section in your internal newsletter about how to set up and use remote communication tools.
2. Have an effective remote onboarding strategy
Nurturing remote employee engagement and team-building starts from day one. Your remote employee onboarding communications are like the pilot episode of a new show. They set the tone, style, and expectations for all of your remote team communications to come.
With this in mind, your new employee email should have all the resources your new hire needs to succeed. It should also evoke your internal brand voice and company culture.
An HTML email template can help you include more in your remote onboarding communications.
Create unique sections in your for onboarding schedules and meeting agendas, embed events, and even add in pulse surveys. You can do it all using ContactMonkey's email template builder, which gives you the extra perk of adding customized employer branding to reflect your company identity: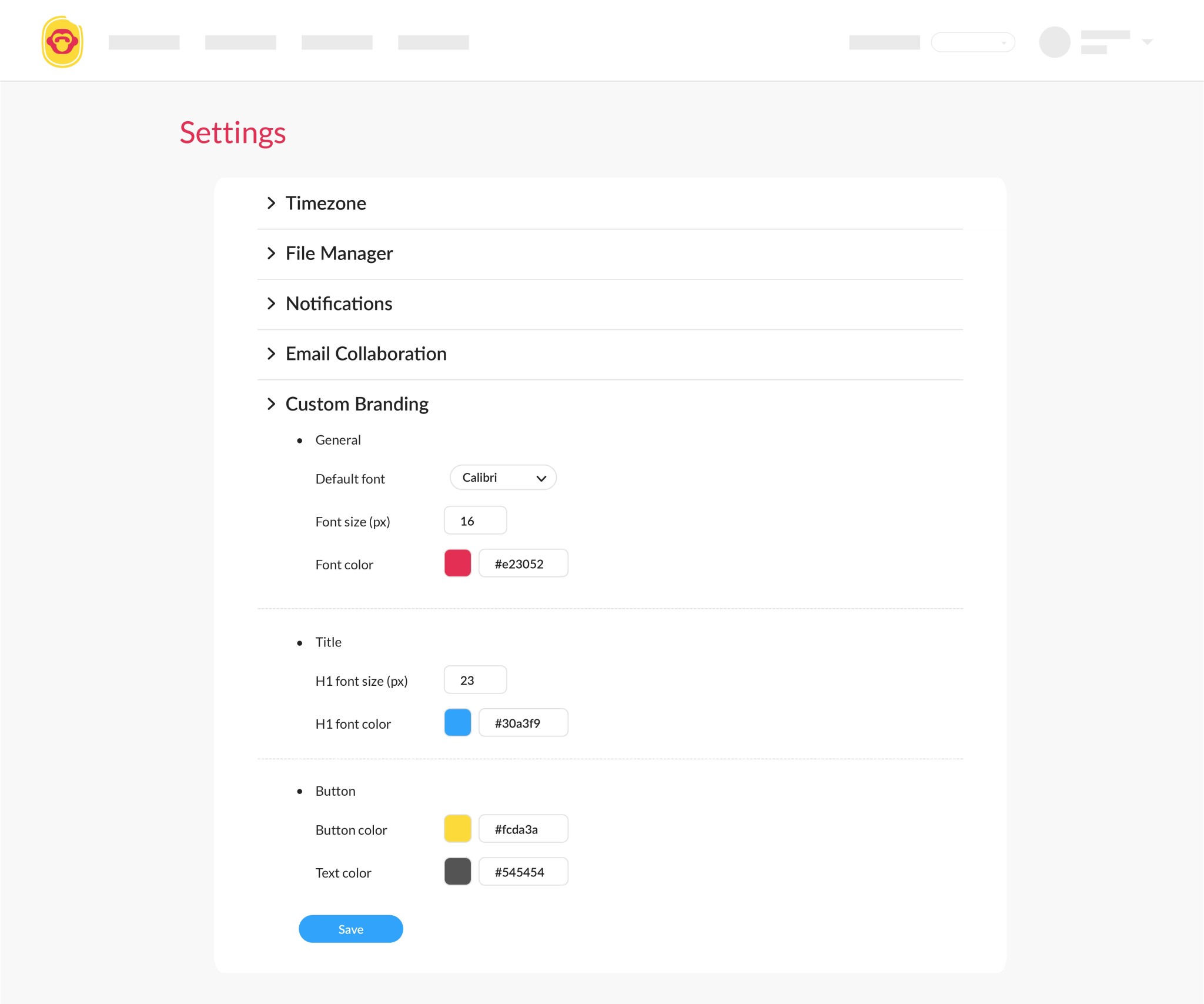 3. Prioritize remote leadership communications
Building relationships with company leaders was tough enough before remote work. But without the off-chance encounter in the boardroom or the holiday party, connecting with leaders is even harder. Effective remote leadership communications are still possible. But they require interest and initiative from company leaders along with access to the right tools.
First, leaders need to master authentic and transparent communications. With ContactMonkey, you can send personalized messages to employees on behalf of leaders using our mail merge tool. This feature enables you to automatically add employee names into your email body text and subject line. The result: more direct and individualized messaging.
Leaders can also create monthly video communications addressing staff about company news and recognizing outstanding workers. Internal communications videos can be embedded into your ContactMonkey email templates. And you can track and monitor video engagement to make improvements: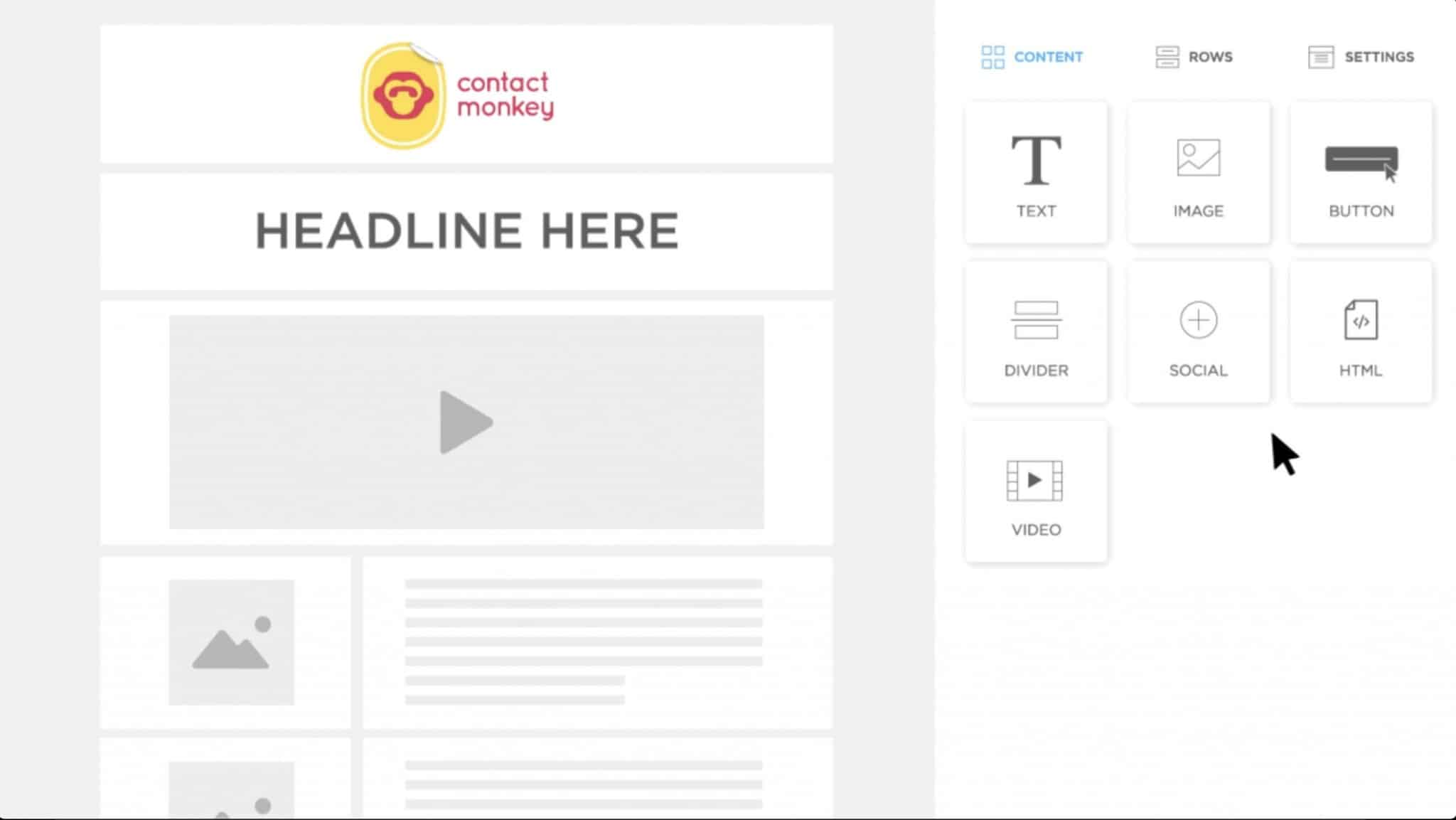 4. Be empathetic
Typing out a strongly worded email is much easier than being critical in person or over the phone. The written word can create a divide that makes us forget to be empathetic and considerate to others.
One way to avoid this is by creating more opportunities for face-to-face discussions, such as individual video calls and video standups. These allow both managers and employees to complement their written communications with verbal dialogue. Not to mention, it's much easier to build genuine connections when you can see facial expressions and gestures.
It also becomes easier for both parties to clarify tasks, ask questions, and open up more authentic dialogue between one another. More importantly, it makes it harder for either group to resort to harsh words that arise out of misunderstandings and lack of empathy.
5. Implement more video communications
As we touched upon previously, videos are an effective feature of many communications tools for remote workers. In fact, video communication is the closest we can get to that in-person connection without physical proximity.
Adding more videos into your remote team communication can take on multiple forms. For instance, you can add it in the form of asynchronous communication. This would involve turning your employee coaching and training guides into videos that you embed in your employee newsletter.
You can also start scheduling more regular video team chats. If in the past you only had one meeting with your immediate team every two weeks, you may now switch to weekly meetings. And don't forget to encourage people to turn their cameras on beforehand.
6. Implement quality internal comms tools
The impact of internal communications tools on the success of your remote team really can't be overstated. Think about all the Zoom interruptions that caused your team so much frustration, or even led to full-fledged misunderstandings.
Or consider the virtual event invites that didn't reach all of your employees and led many to miss out on key company events. Not to mention, Mailchimp for internal communications is not ideal. It can cause logistical headaches, such as automatically generating 'unsubsribe' buttons on internal emails, or may simply be incompatible with certain versions of Outlook.
But as much harm as bad internal communications tools can do, the good ones can be game-changers. Do your research and narrow down a list of tools that you like. See which capabilities each one has to offer and check how these align with your employee engagement goals.
ContactMonkey's all-in-one internal communications software offers a range of capabilities—from email template design to event management and internal email tracking. The best part? You can try ContactMonkey for free before making a commitment. See what ContactMonkey can do for you and start your free trial today.
7. Schedule team building activities
Virtual team-building activities help employees build stronger connections with colleagues. They do this by offering an entirely new context in which employees can connect with one another.
This allows employees to see each other in a totally new light and build deeper connections. These sorts of bonds are essential for strong remote workplace culture and communication.
With ContactMonkey, you can schedule and manage virtual team events all from your employee newsletter. Launch trivia nights, multi-player gaming, or virtual escape rooms. Or, conduct an employee pulse survey to see what sorts of virtual events your employees are interested in the most: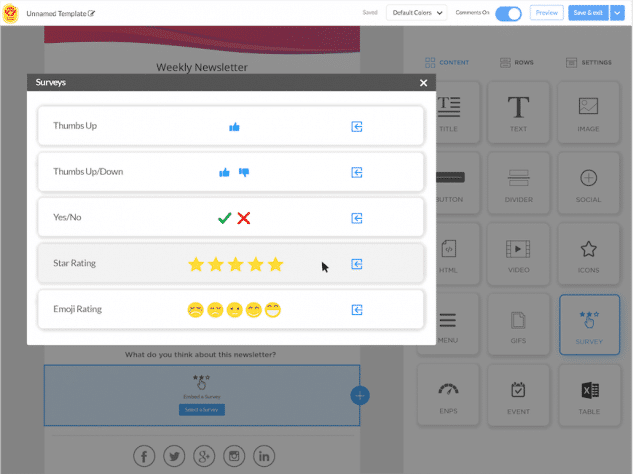 8. Continuously ask for employee feedback
A big challenge with remote team communication is building consistent dialogue with individual employees. As they become more physically distanced from the rest of their team, remote workers may be less comfortable sharing their feedback or asking questions. On the other hand, managers may simply forget to ask employees for feedback because they don't see them around as often.
Nonetheless, building a culture of feedback is essential for the success of a remote workforce. With ContactMonkey, gathering continuous employee feedback becomes part of your communications routine.
Users have the option to add employee pulse surveys and anonymous comment boxes into any internal email. Transform your newsletters into two-way communications using emoji reactions, star ratings, anonymous feedback, and eNPS surveys: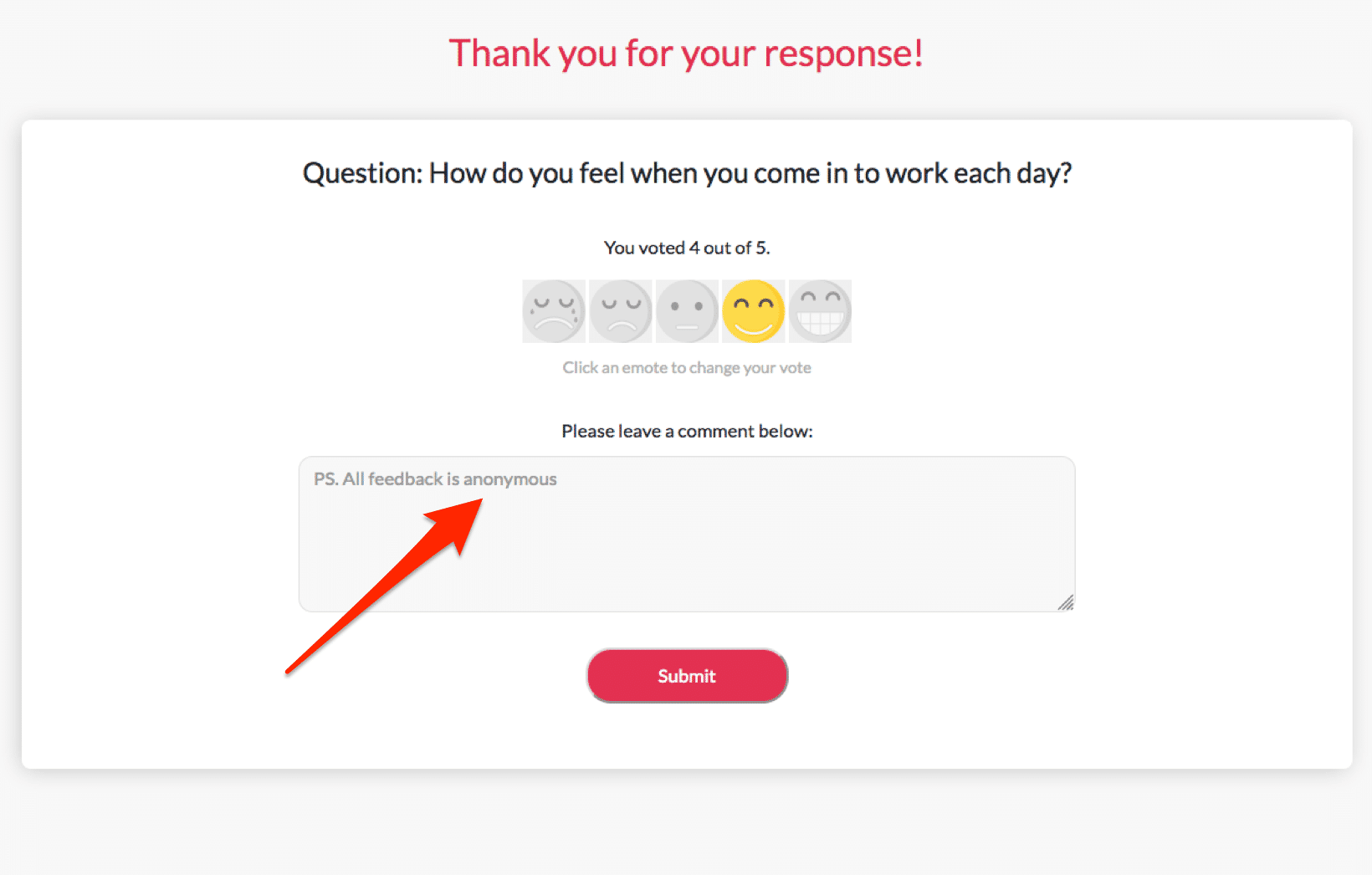 9. Have more regular 1-on-1 check-ins with remote employees
One-on-one check-ins open up another feedback channel for managers and employees. Moreover, it lets employees elaborate on any questions or issues they may have expressed over email or employee SMS.
The opportunity to connect face-to-face also offers a way to gauge nonverbal cues. And it does this much more effectively than large team meetings where there are more opportunities to disappear into the crowd.
We recommend scheduling virtual check-ins on a weekly basis. This way, employees have a reliable medium for sharing their thoughts, and managers can gauge problems early on.
10. Organize remote team 'lunch & learns'
Lunch and learns (L&Ls) serve a dual purpose. For starters, they're an effective medium for remote team-building as they open up space for informal, creative conversations. At the same time, they help support your employees' professional development.
The best part about 'lunch & learns' is that it can be customized to your unique team needs and availability.
For instance, to keep things simple, marketing managers can ask each person on their team to find an interesting webinar or podcast on a topic of choice. In rotation, each employee can host the L&L and lead a discussion on their chosen subject. This lets your staff take creative control and initiative while encouraging remote team brainstorming and idea-sharing.
11. Recognize employees regularly
Remembering to recognize your employees can be difficult when you don't see them every day. But that's the very same reason it's so important.
Time and time again studies have shown that remote employees are even more productive than in-person ones. Yet employee efforts are not as easily visible when they're working from home rather than sitting across from you in the office.
For this reason, managers need to make a concerted effort to recognize remote staff, whether it's through online thank you notes or prizes. Check out our blog post on employee recognition ideas for over 20 creative ways to recognize remote employees.
Bypass email-sending limits of Outlook and Gmail.
Send all of your internal emails within ContactMonkey.
12. Check employee engagement levels using eNPS
Not to be too blunt, but when employee engagement stagnates, it can be the beginning of the end. And remote remote work makes it even harder to spot the first signs of employee disengagement.
By conducting regular eNPS surveys, you can catch the early signs of employee engagement issues and target them early on. What is eNPS? Employee Net Promoter Score (eNPS) surveys check employee engagement levels through a single, focused question. They ask staff how likely they are to recommend their workplace to others and gather responses on a numerical scale: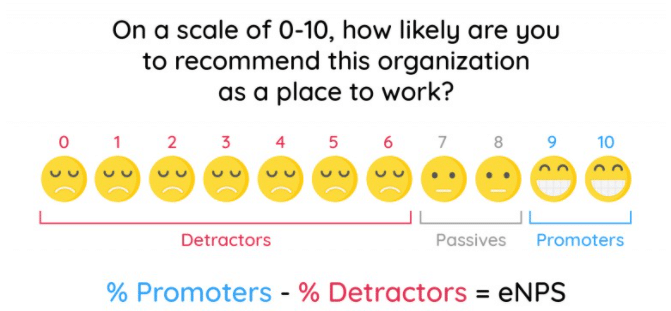 With ContactMonkey, you can directly embed surveys in Outlook email newsletters. Once the survey answers and survey response rates are in, you'll get a detailed breakdown of all the stats in your ContactMonkey dashboard.
13. Streamline remote teamwork with collaboration tools
With employees working in different locations, and even time zones, remote work has been known to slow down team collaboration.
Luckily, your internal communications team can avoid this hurdle with collaborative content creation tools. ContactMonkey's email collaboration, for instance, works just like Google docs.
Everyone on your internal communications team has a chance to make edits and see others' changes in real time. You even have the option to leave comments for your team as well, same as you would in Google docs.
By streamlining and simplifying the communications process, these tools make it easier for your internal comms team to keep remote employees informed and engaged.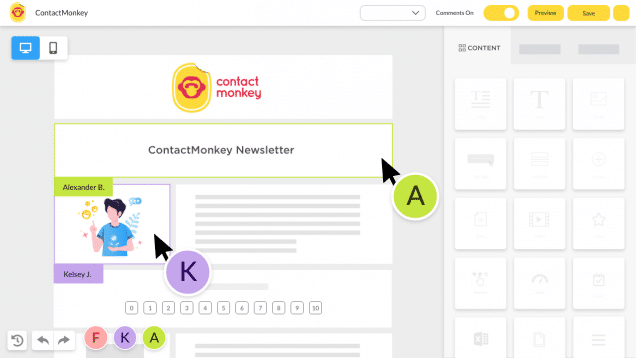 14. Include remote employee wellness surveys in your communications
Without engaging with employees face-to-face, on a daily basis, it's hard to see how workload and stress may be affecting them. Not to mention, the nature of remote work makes it easy for many employees to lose track of time and work late into the night.
If these sorts of habits are left unchecked, it won't be long until your employees' mental health and wellness begins to suffer. That's why conducting regular employee wellness surveys is one of the crucial remote team communication best practices.
With ContactMonkey, you can add employee wellness pulse surveys directly into your internal emails. This format ensures that wellness check-ins stay simple and become routine. Not to mention, it shows employees that their well-being matters to your company.
15. Provide virtual employee coaching opportunities
Employee coaching helps workers fulfill their personal and professional development goals while growing within your company. Moreover, when employees begin to excel at their tasks, their job becomes easier, and they get more work done.
That being said, encouraging employee coaching in a remote work environment can be tough. It's not as easy to pinpoint what remote team communication challenges your employees face when they're miles away. For this reason, it's important to breach the topic of virtual employee coaching during your remote communications.
With ContactMonkey, you can ask employees about their professional development goals and learn whether they're interested in coaching through pulse surveys. For instance, you can ask questions like "What professional development goals do you want to achieve this quarter?" or "What resources can our company provide to support your career growth?"
When you create and send your employee surveys using ContactMonkey, all employee responses remain anonymous. So employees can feel confident answering honestly. And you get authentic feedback that helps you develop customized employee coaching programs.
Improve Remote Team Communication in 2023
Whether it's the result of health and safety measures, logistical demands, or simply offering staff more flexible work, there will always be times when remote work is necessary. In these situations, recognizing the unique challenges and opportunities that remote work has to offer will help keep your teams aligned and engaged.
With ContactMonkey's all-in-one Internal Communications tool, you can improve remote team communication on multiple fronts. Create visually appealing emails with the easy-to-use email builder, before assessing employee engagement through powerful email analytics. See ContactMonkey in action and book your free demo today.