A company is only as good as its employees—and the numbers are here to tell the tale. All it takes is calculating the cost of employee disengagement.
The more engaged your employees, the better your business functions—plain and simple. Inversely, disengaged employees can have damaging effects on business performance.
Most internal communicators are already aware of the costs incurred by disengaged employees. But when it comes to implementing changes that boost workplace engagement there can be a lot of red tape.
Getting buy-in for the tools, resources, and manpower necessary to improve employee engagement means showing the numbers. By the end of this post, you'll know how to calculate the cost of employee disengagement, track its root causes, and prove the ROI on employee engagement.
What is Employee Disengagement?
Employee disengagement is best understood in contrast to its counterpart—employee engagement. While engaged employees are personally invested in their company's success, disengaged workers are simply trying to get through the day.
Employee disengagement is when staff limit their participation and contribution in the workplace.
Frequent absenteeism, poor customer service, and lack of involvement in team collaboration are just a few of the telltale signs of a disengaged employee.
Impact of Disengaged Employees on an Organization
The impacts of employee disengagement extend to just about every aspect of your business operations.
Think of it as a domino effect. Disengaged employees become less motivated in their jobs, which leads to less involvement in the workplace. Absenteeism increases and productivity plunges. There's also less participation in team events and collaborative processes.
Not to mention, disengaged employees often give poor reviews of their company and tend to discourage others from using brand products and services.
In effect, the impacts of employee disengagement can be summarized as:
Less productivity

Higher turnover

Lower rate of innovation

Decline in customer satisfaction

Less profitability

Challenges finding new talent
Needless to say, employee disengagement can have far-reaching negative effects on business performance.
But before you begin putting the blame on employees, it's important to remember that the workplace environment has the biggest impact on employee engagement. For these reasons, it's important to identify the signs of employee disengagement and start implementing strategies to tackle them head-on.
Check out our list of the top employee engagement companies to find out what leading brands are doing to engage their workforce!
Employee Disengagement Statistics to Understand
As the great resignation continues, employee disengagement statistics remain staggering. If you're still facing office skeptics who don't see employee engagement's ROI, these numbers may be eye-opening:
According to Gallup, employee disengagement has a hefty impact on the US economy, with costs of

nearly $350 billion

a year.

Gallup

research shows that disengaged employees have a 37% higher absenteeism rate. This results in 18% lower productivity and 15% lower profitability.

The average cost

According to

Gallup

, disengaged employees cost their company the equivalent of 18% of their annual salary. Other sources calculate

losses at up to

34% of a disengaged employee's annual salary

.

On an individual level, the average business loses a minimum of $2,246 for every disengaged employee.

Lost productivity alone resulting from employee disengagement

costs businesses

between $3,400 and $10,000.

Disengaged employees also have a direct impact on customer complaints and

client disengagement

. This can have additional costs in the long run.
Benefits of Employee Engagement
While employee disengagement can impart a hefty blow to your bottom line, employee engagement can help re-balance the scales.
Here are just a few key workplace engagement statistics:
With ContactMonkey, you can use your internal emails to measure employee engagement and give it a boost. Conduct employee engagement surveys straight from Outlook and Gmail, and access dozens of additional engagement analytics in a personalized dashboard: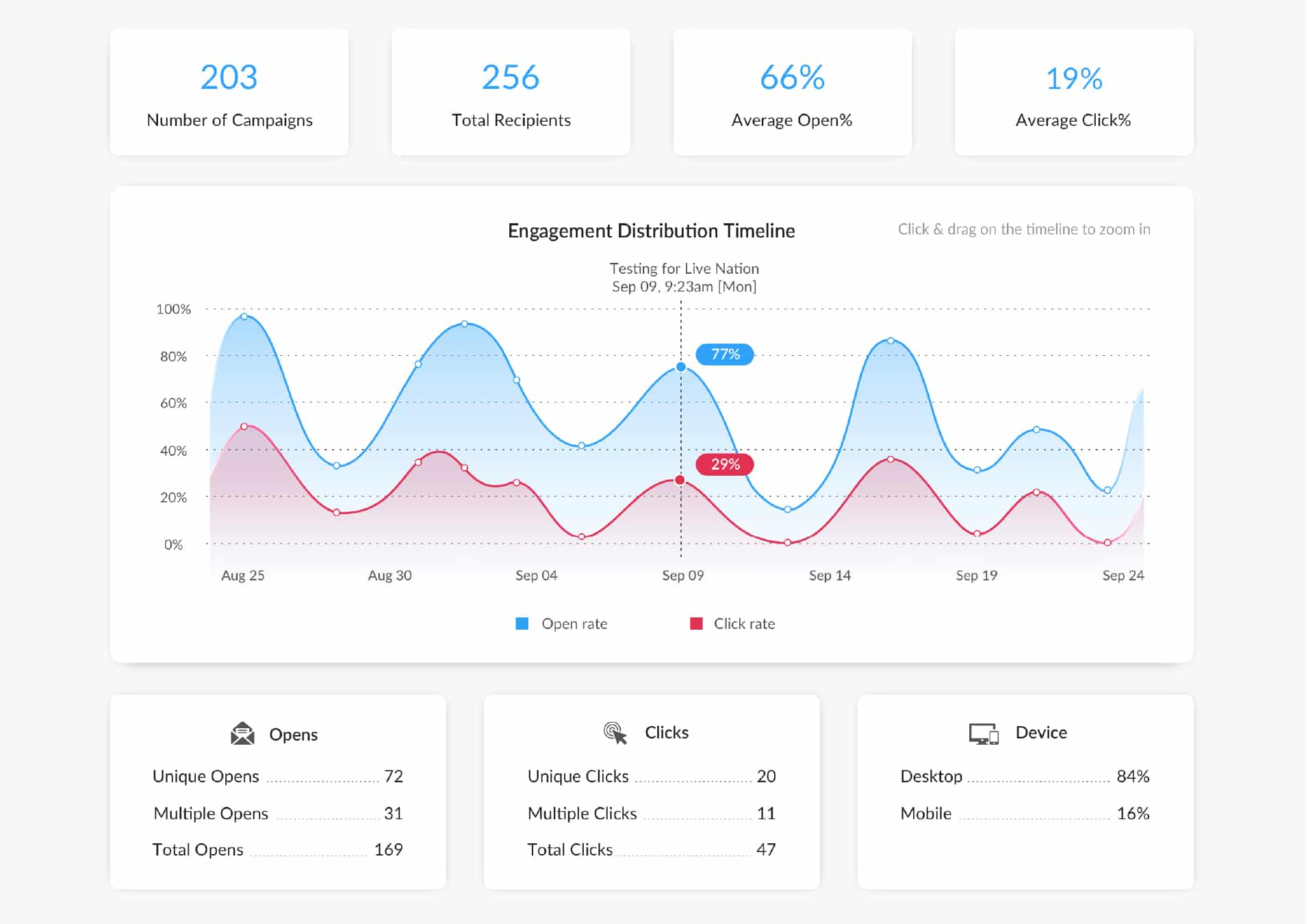 You can also use ContactMonkey to drive employee engagement via your emails. Using our List Management feature, you can minimize the amount of irrelevant emails your employees receive via custom email lists.
Easily create custom email lists that integrate with your Human Resource Information System (HRIS) like Workday and ADP, as well as Azure Active Directory, so they will update automatically.
What Causes Employee Disengagement?
The average employee spends 39% of their time at work. With so much time spent at the office – virtual or otherwise – it's important to help employees feel engaged while they're at work. And the first step is tracking the root causes of disengagement.
Just like there are multiple key drivers of employee engagement, there are many different factors at play with employee disengagement. Here are just 10 of the most notable reasons for employee disengagement:
Dissatisfaction with

compensation and benefits

Lack of professional development

opportunities

Poor

management

Lack of work/life balance

Hostile work environment/company culture

Lack of employee recognition

No flexible work options

Poor employee communication with team members

Dissatisfaction with leadership communications

Company is unable to adapt to change
Seeing signs of employee disengagement in your workplace? Use ContactMonkey to gather in-depth employee feedback for everything from company culture surveys and employee exit interviews, to leadership communications—in half the time of a traditional survey.
Check out our blog on staff survey questions to learn more!
How to Calculate the Cost of Employee Disengagement in 4 Steps
While you may already be seeing the toll of employee disengagement first-hand, proving it with data will help you make a stronger case. This is especially important if you're trying to build a business case for internal communications software, employee engagement apps, and other tools to drive engagement.
The importance of internal communication goes beyond informing employees about team absences and software upgrades. Employee communications are designed to drive employee engagement.
Here are a few key steps for demonstrating the cost of employee disengagement on business.
1. Determine and highlight the average employee disengagement rate
The first step to calculating the cost of disengagement is estimating the number of disengaged workers across your organization. There are a few ways to do this.
You can research the most up-to-date average employee disengagement rate for your region and use this as a basis for your calculations. For instance, as of 2022, Gallup reports that 16% of U.S. workers are actively disengaged.
For a more tailored analysis, you can conduct an Employee Net Promoter Score survey. This will determine the approximate disengagement rate in your specific organization. With ContactMonkey, you can embed eNPS surveys directly into your employee emails. 
Employee engagement rates are then calculated based on a single focused question, which employees evaluate on a scale from 1-10: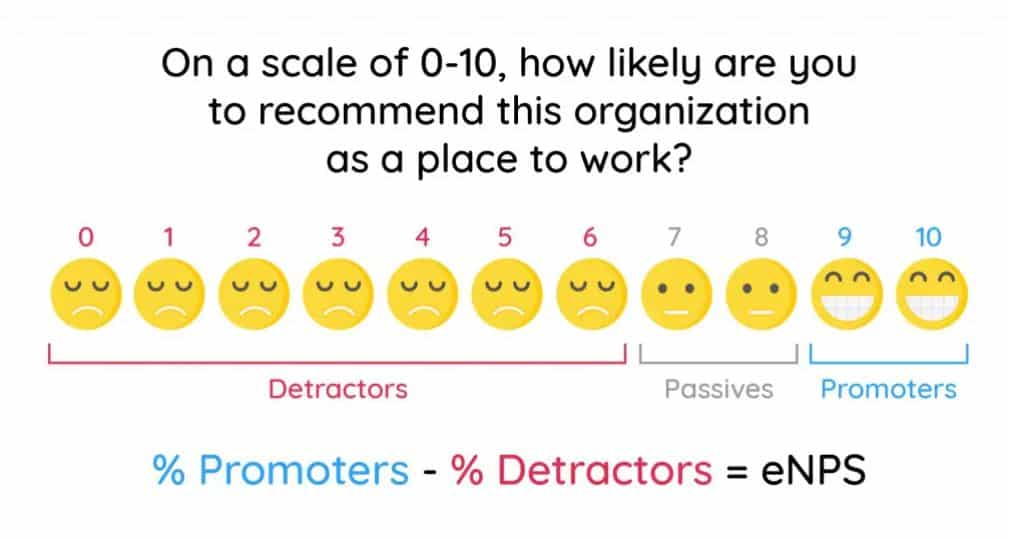 2. Multiply the total number of employees by the average disengagement rate
Once you have a rough estimate of the employee disengagement rate in your organization, the next step is to calculate the total amount of disengaged workers at your company.
You can do this by multiplying the average rate of employee disengagement (which you've gathered in step one), by the total amount of employees in your company. Your calculation will look something like this:
3,000 total employees X 16% disengagement rate = 480 disengaged workers
3. Multiply the average percentage cost of disengagement by your median salary
Now that you have an estimate for the number of disengaged workers, it's time to look at the expenses. For more accurate results, you'll first need to calculate the median salary in your organization.
Once you have this number, you'll need to multiply it by the average cost of employee disengagement. According to Gallup, the most recent number stands at 18%. So your calculation should look like this:
100,000 median salary X 18% = $18,000
4. Multiply average cost per disengaged employee by total number of employees
Now that you've gathered all of your key data points, it's time to add up the numbers. To get the total annual cost of employee disengagement, you'll need to multiply the number of disengaged employees in your organization (step 2) by the average cost of a single disengaged employee (step 4).
If you've been following along with our example, your final equation should look a lot like this:
$18,000 (average cost per disengaged employee) X 480 (total estimate of disengaged employees in your organization) = $8,640 000
How to Motivate an Employee Who is Disengaged
When you begin noticing the first signs of employee disengagement, it's important to act fast. The quicker you can begin tackling the issue at hand, the less it will cost your company in the long run. Here are a few employee engagement best practices to set you on the right track:
Conduct regular surveys:

If you're not exactly sure how to engage a disengaged employee, who better to ask than your staff themselves? ContactMonkey's

pulse surveys

let you gather

anonymous feedback

and ask open-ended employee engagement questions straight from your internal newsletter. Opposed to asynchronous communications, employee surveys can be conducted on a recurring basis to elicit comparable results.
Prioritize work/life balance:

Stress and exhaustion are some of the leading causes of employee disengagement. By offering more wellness resources and opportunities, such as unlimited vacation days, you can help employees fend off burnout and disengagement.

Amp up your employee recognition ideas:

Everyone wants to be appreciated for their hard work. When employees feel valued by their company, it motivates them to keep up the effort and envision a future at the organization.

Offer more professional development opportunities:

Feeling like your job is a dead end would lead even the most optimistic employee to disengage. By offering more

employee coaching

and professional development opportunities, you can help staff see their full potential at your company.

Optimize your internal communication design: Your employees shouldn't have to struggle to get information about their organization. Well-designed internal communications make sharing important information easier and less stressful. Use data like email analytics and click maps to refine your internal communication design.
Check out our blog on employee engagement strategies and employee engagement models for more employee engagement ideas and inspiration.
Cut the Costs of Employee Disengagement With ContactMonkey
In the age of the great resignation, employee disengagement is a deal-breaker for your organization. In the long run, ignoring the signs of a disengaged workforce will lead to far heftier costs than investing in employee engagement from the get-go.
Here's how ContactMonkey can help you cut the costs of employee disengagement:
Gather consistent employee feedback with pulse surveys.

Create interactive employee emails that boost engagement using ContactMonkey's email builder.

Track employee engagement with powerful email analytics.
Let us show you how our tool engages employees.
In 15 minutes we can show the power of ContactMonkey.
Use ContactMonkey to stay proactive in your employee engagement efforts. By nurturing continuous employee feedback and providing teams with regular engagement analytics, ContactMonkey keeps employee disengagement in check. Get your free demo to see ContactMonkey in action.