Talking about mental health and wellness at work can be tough. An employee wellness survey helps normalize, and build conversations around staff wellbeing. 
It's normal for employees to want to highlight their strengths in the workplace. Unfortunately, this mindset leads many to believe that if they reveal personal challenges, this will be seen as a weakness.
As a result, conversations about employee mental health and wellbeing are often avoided. In turn, employee engagement and performance can begin to suffer without anyone realizing why.
Removing the stigma from discussions of employee mental health and wellness is a long-term feat. However, conducting employee wellness surveys is a good first step. By encouraging staff to start opening up about their wellbeing, these types of surveys are an impactful tool in the workplace.
What Is an Employee Wellness Survey?
Employee wellness surveys are designed to assess a number of factors that directly impact employee wellbeing in the workplace. An example of asynchronous communications, these surveys include workload, health benefits, work-life balance, and management.
The goal is to get a measurement of employee wellness, determine where exactly employee wellbeing is being compromised, and gather employee engagement ideas for improvement.
Traditionally, HR teams estimate employee wellness through employee engagement stats, absence rates, and workplace turnover. The advantage of an employee wellbeing survey is that it addresses underlying issues up front.
Employees are invited to zero in on the state of their physical and mental health and the ways in which the company supports them.
Why is employee health and wellness important?
Poor employee health has far-reaching consequences, well beyond health insurance costs and employee absence. At the same time, the benefits of employee wellbeing can equally extend to every area of your business—from employee engagement to customer service.
Why employee wellness has such a big impact is no mystery. When employees feel their best, they perform at their best.
Here are a few considerations to keep in mind when it comes to employee wellbeing:
Poor employee health results in lower engagement levels

Employee health issues take a toll on employee performance and productivity

High employee absence is tied to poor employee health and wellness
Benefits of Employee Wellness Surveys
An employee wellness survey provides your HR and management teams with valuable data for creating evidence based wellness initiatives.
Let's break down some of the other benefits that employee health and wellness surveys can offer your business:
Getting an understanding of employee perspectives on the importance of health and wellness.

Assessing how much stress your workforce is experiencing.

Check if employees have access to effective stress management techniques.

Determine if an employee is taking appropriate health measures for any serious conditions.

Determine gaps in your current wellness programs and initiatives.

Get suggestions from employees for improving current wellness programs.

Optimize medical insurance policies for staff.

See if it's worth implementing any workplace ergonomics practices.

Improve office policies to allow for more work-life balance.

Boost employee job satisfaction while reducing turnover rates.

Improve work-life balance
Employee Wellness Survey Best Practices
Before you start sending off your employee wellness survey questions, there are a few best practices to keep in mind. These will help you make your survey more engaging and maximize results. Here are our top tips:
Ask compelling and diverse questions
The goal of your employee wellness survey is to uncover specific and actionable insights about your team's health and wellbeing. You don't want to simply see if things are good or bad.
You need to ask questions that enable you to get to the root of the issues. This means substituting questions like, "How much time do you spend exercising?" with, "What's your workout routine?" This simple question will help you understand if your staff are fitness-conscious.
You'll also have to ask a mix of closed-ended and open-ended questions. This will enable you to gather both measurable data and details to explain that data. Not to mention, it will help you keep things short and to-the-point.
Not sure how to phrase a survey question you'd like to ask? ContactMonkey has you covered. With our OpenAI ChatGPT integration, you can describe the kind of questions you'd like to ask and get a variety of suggestions. Simply write your prompt, find the questions that fit your needs, customize them for your organization and you're ready to go.
Make your wellness surveys short and simple
The best kinds of employee wellness surveys take 10 minutes or less to complete. If you drag things on, employees will lose interest. Not to mention, you'll gain a reputation for having lengthy and boring surveys, which employees will avoid going forward. So, keep your wellness survey short and sweet.
By using ContactMonkey embedded pulse surveys, you can help speed things along by embedding your survey directly into your employee emails.
Companies like Travel Counsellors rely on ContactMonkey to deliver weekly and monthly mental health and wellness check-ins.
Managers are able to learn how their employees are doing and staff can express what type of support they need. With the short survey format, staff can access the survey at the same time as they check out weekly company news, without ever having to visit a third-party site.
Utilize multiple channels to communicate your survey
Employees receive a flood of communications daily. So it's normal for them to miss a message or two. If you want to make sure that your employee wellness survey reaches staff on time, take advantage of multiple communications channels.
Send your survey over email, slack/work messaging apps, and your intranet. Make sure to also promote it in your weekly standups and town halls. You can also ask managers to block off time in their team's schedule so employees know to allocate that portion of their day to complete the survey.
Not every survey needs to be sent to every employee. If you want to target a particular portion of your employees, try using ContactMonkey's List Management feature to create custom email lists. Without having to wait on IT approval, you can create email lists that automatically update via integrating with your Human Resources Information Systems (HRIS), like Workday and ADP, along with Azure Active Directory. Send email surveys with confidence knowing your recipients will be interested in what you have to ask.
Offer incentives for participating in your survey
Maybe it's a lack of time, or maybe it's a lack of interest, but there will always be employees who ignore your survey. Truth be told, they may have simply had bad experiences with employee surveys in the past. Especially if they've only ever received long, tedious surveys that cut into their email workflow.
With some encouragement, these team members can also begin responding to your surveys. But you need to offer some sort of reward or incentive. And it doesn't have to be anything huge. For instance, entering them into a contest to win an UberEats Gift Card can be enough.
Most importantly, you need to demonstrate that your team will truly listen and act on survey results. By demonstrating that employee feedback can lead to tangible change, more employees will be inclined to participate in the long run, and have greater trust in their management team.
30 Employee Wellness Survey Questions and Templates
By helping you understand how employees are feeling, and their individual needs, an employee wellness survey can help you improve the quality of employee experience in the workplace. But it can't do that unless you have compelling questions delivered in an engaging format.
Below, we've broken down a few of the best employee wellness survey examples to get you started. You'll also find employee survey templates that you can use as inspiration. If you're a ContactMonkey customer, you can create and embed these templates directly into your Outlook or Gmail.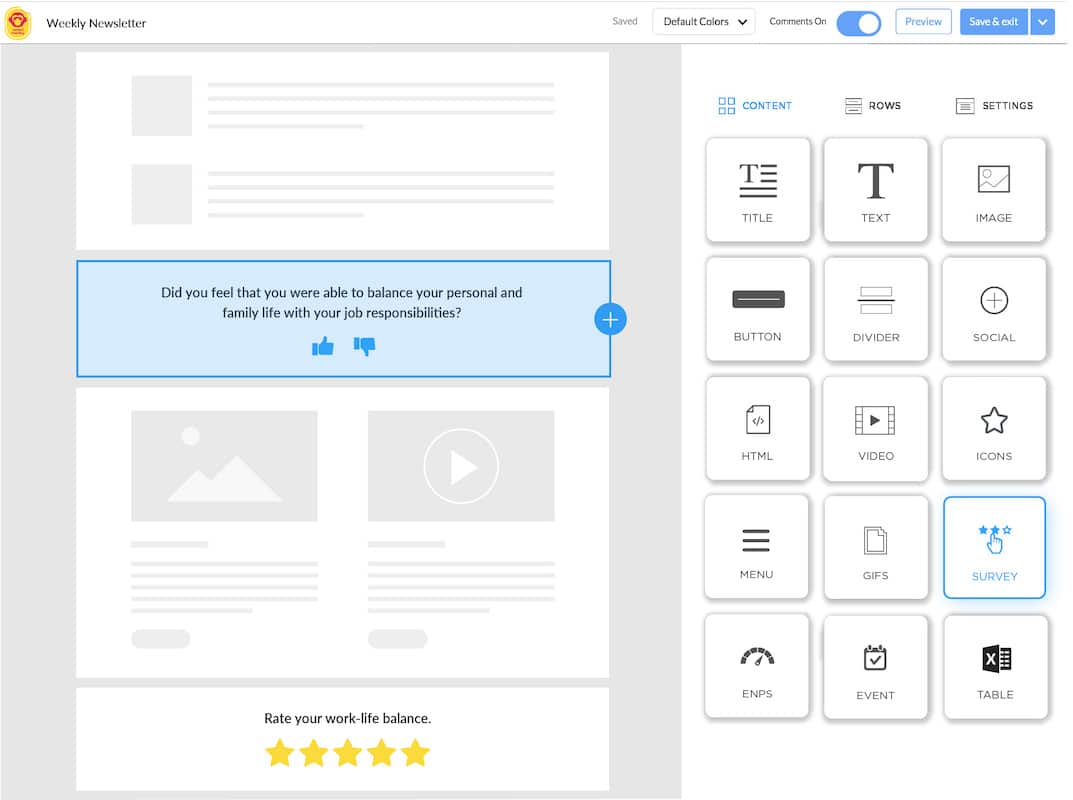 Optimize your employee survey design by tracking email click map data with ContactMonkey. Click maps let you know how your recipients engage with your emails so you can put important information—like surveys—in places where your employees are most likely to see them.
Work-life balance survey questions
Please rate your work-life balance in this job. (scale of 1-10)

Do you think the breaks provided are sufficiently long enough for you? (yes / no)

Would you feel comfortable asking your manager for support in sustaining a healthy work-life balance? (yes / no)

How often do your tasks drag into post-work hours? (very often, sometimes, never)

Do you agree with this statement: "My organization is committed to the wellness of its

employees." (yes / no)

Are you usually able to balance hobbies and personal activities with your workload? (yes / no)

Do your work responsibilities ever interfere with childcare or other family responsibilities? (yes / no)

Are there any changes you recommend that can improve your work-life balance? (anonymous comments)

Do you feel like there are enough flexible work arrangements in this job? (thumbs up / down)

What flexible working arrangements w

ould you like to see implemented in our organization? (anonymous comments)
Fitness, nutrition, and health survey questions
Do you follow a regular exercise routine? (yes / no)

Would you join a fitness club (e.g., Pilates, yoga, cycling club), if we start one in the organization? (yes / no)

Do you skip breakfast or lunch while at work? (yes / no)

Have you experienced any eyesight problems because of the screen time? (yes / no)

Does your neck, upper back, lower back, or elbows hurt while you work? (yes / no)

Do you experience any physical distress (i.e. headaches, dizziness, blood pressure, etc.) because of work stress?

Personally, is employee wellness important to you? (scale of 1-10)

Do you often snack during your work hours? (yes / no)

How would you rate the nutrition value of the food that you eat on a regular basis? (very healthy, healthy, not healthy)

Do you ever experience sleeplessness because of work pressure? (yes / no)
Workload and stress survey questions
My manager gives me a reasonable workload. (yes / no)

I often feel burnt out. (

yes / no)

I have someone to speak to when I am feeling stressed at work. (yes / no)

Conversations about mental health and stress are normal at my company. (yes / no)

Most days I look forward to coming to work. (yes / no)

My manager would be understanding if I took a mental health day. (yes / no)

I often have negative thoughts about my job. (yes / no)

I don't feel that I am getting what I want out of my job.

(yes / no)

I often feel emotionally drained.

(yes / no)

I'm comfortable giving my manager suggestions about improving my workload. (yes / no)
How to Measure and Analyze Employee Wellness Survey Results
You've sent out your survey and gathered employee responses. Now comes the tough part: analyzing results and determining the right course of action. With a few techniques, and the right tools, you can simplify this process. Here are a few things to consider:
Use the right analytics tool:

a great tool can make all the difference. When data is clearly broken down and visualized, it's much easier to see trends and patterns. With ContactMonkey's email

analytics

, all your survey responses and metrics are outlined and displayed in a simple dashboard.

Look for themes:

if you get many responses, that's great. But, it can be difficult to figure out what exactly all the data is telling you. Breaking down responses into themes is a great way to start making sense of things. For instance, if workload and stress concerns keep coming up, this should be a key theme to highlight and tackle.

Make sure to consider employee suggestions:

qualitative

feedback from employees

can inspire ideas that help you improve employee wellness. By including questions like "What other wellness initiatives do you wish to see in this organization?" you're directly enlisting employees to contribute to developing change. That being said, you have to show that you're acting on their suggestions, or at least giving it fair consideration.

Share employee survey results: showing the outcomes and value of your employee survey is essential. This not only helps to grow participation, but makes it easier to get buy-in for implementing change and prove the ROI of employee engagement.
How to Create and Send Employee Wellness Surveys by Email with ContactMonkey
With ContactMonkey employee feedback tools, you can create, send, and analyze your employee survey all from one place. Here's how:
Select from dozens or pre-designed email survey templates

or design your own using an easy drag-n-drop

email template builder

.

Explore a range of employee feedback options

, including star ratings, emoji reactions,

dichotomous scales

, and anonymous comment.

Embed your survey directly into Outlook or Gmail to easily collect employee opinions.
Track wellness survey analytics,

including open rates, responses, and

anonymous feedback

.

Visualize data

using our

analytics dashboard

to make recommendations and create an informed strategy for improving employee wellness.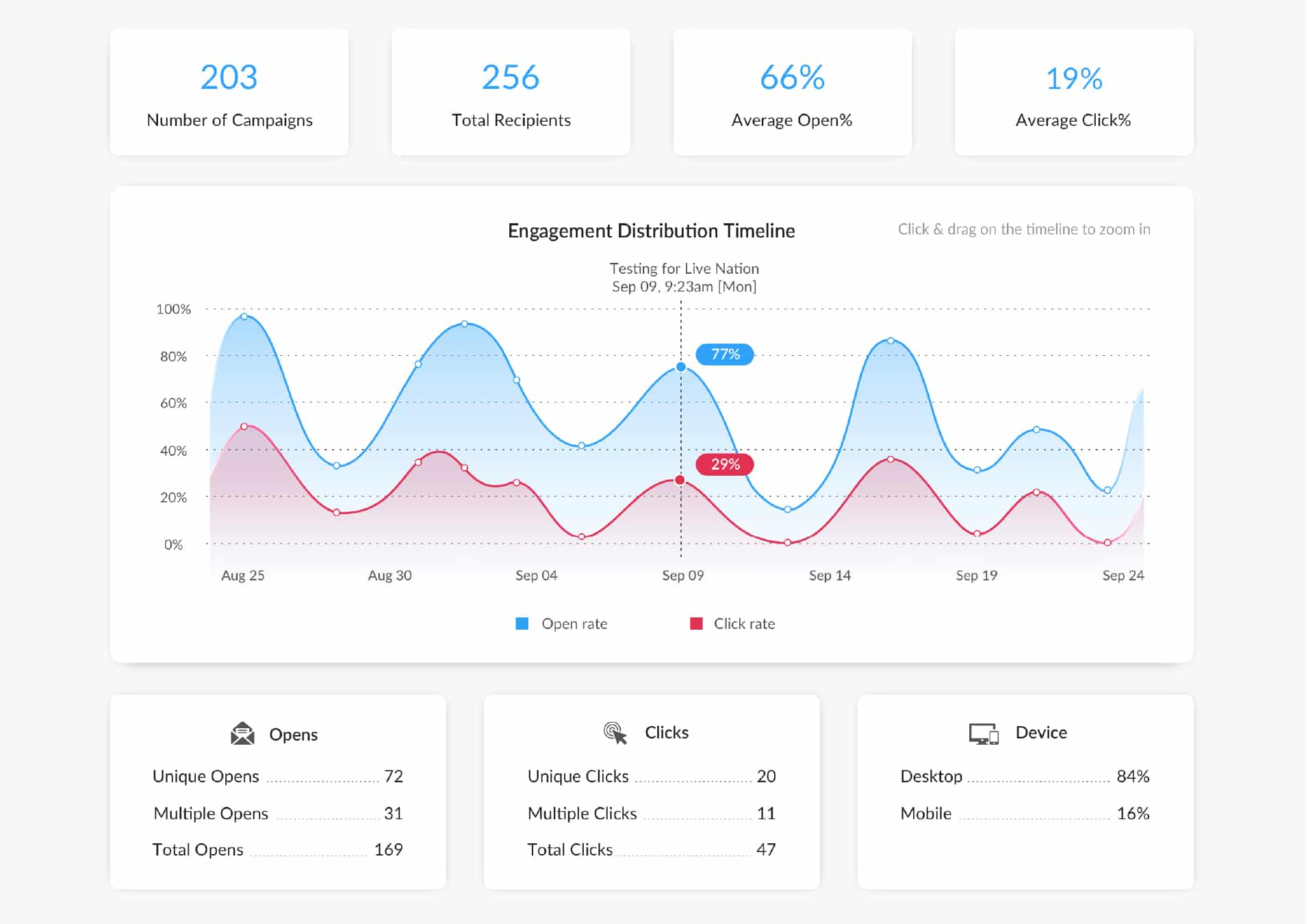 If your organization has internal or external regulations around email privacy, use ContactMonkey's anonymous email tracking to gather email metrics while maintaining your employees' privacy.
Improve Workplace Wellbeing With Simple Employee Wellness Surveys
Employee wellbeing surveys remind staff that their management team is taking active steps to support them. Conducting these types of surveys also normalizes conversations about mental health and wellbeing. In turn, employees never feel isolated or disengaged from their teams. To maximize the effectiveness of your surveys, ensure that you are conducting them regularly and using the right tools.
ContactMonkey's pulse survey tool lets you measure employee engagement with simple, embedded surveys. By collecting in-depth response data and breaking it down using a dynamic dashboard, ContactMonkey also makes it easier to develop recommendations. In turn, you can make quicker, more strategic improvements to employee wellness.