If you work in internal communications, it's only natural you'll spend a lot of your work day emailing employees. But let's be honest, it can get a bit tedious at times—especially when working HTML email templates in Outlook. 
Many internal emails lack foundational elements of a great email: simple, consistent and mobile-friendly.
Outlook HTML email templates are a great way for you to become more productive. Plus, they also help you stay sane when you have to create, send, and track employee newsletters on a daily, weekly, or monthly basis.
ContactMonkey's drag-and-drop email template builder comes equipped with professionally-designed email templates. Customize and personalize your email newsletter template with our easy-to-use sidebar featuring content like pictures, vidoes, GIFs, tables, and more.
href="https://cta-redirect.hubspot.com/cta/redirect/6282300/d8ad9e75-9388-4a46-a82f-0a4506ce42d6″ >
What are Outlook Email Templates?
Email templates are standard, preformatted emails. You don't have to type the same text or HTML every time you want to create an email to send to your Outlook distribution lists: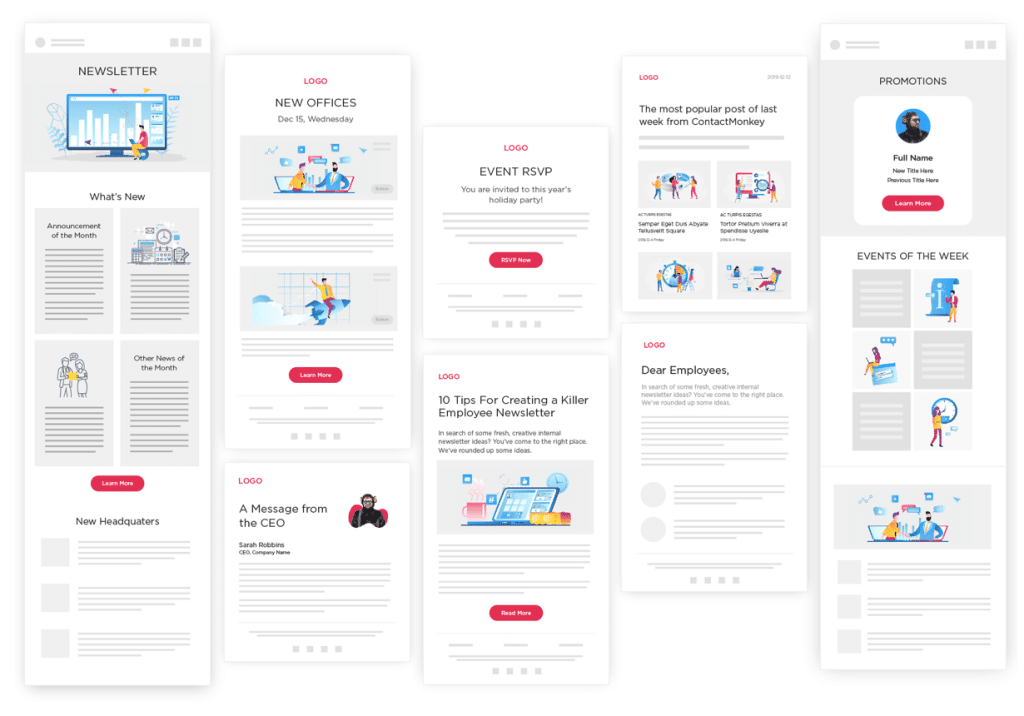 Email templates save time, enhance your content, and save space so you don't exceed Outlook email size limits.
Why are Outlook Email Templates so great?
Typing the same message over and over again is not only a waste of your time, but it also gets mind-numbingly dull.
Also, if you have to send the same email to over a dozen, or even hundreds of recipients, it's almost impossible to re-type (or copy-paste) the same email again and again. This is the main benefit of using email templates – you save time on monotonous email-writing.
When you use software like ContactMonkey's drag-and-drop email template builder you can build beautiful and responsive HTML email templates for Outlook and import them directly into your Outlook inbox.
Using an internal communications solution like ContactMonkey helps you streamline your email design and sending process. One of customers—Mettler Toledo—were able to save 25 days a year on their email newsletter process.
Outlook HTML Email Template Examples
The great thing about HTML email templates is their versatility. For every conceivable function of your internal communications there can be a corresponding template.
Here are some of our most popular email templates:
Weekly updates
As the most common internal communication email, weekly update newsletters keep employees in-the-know as to what's happening in their organization: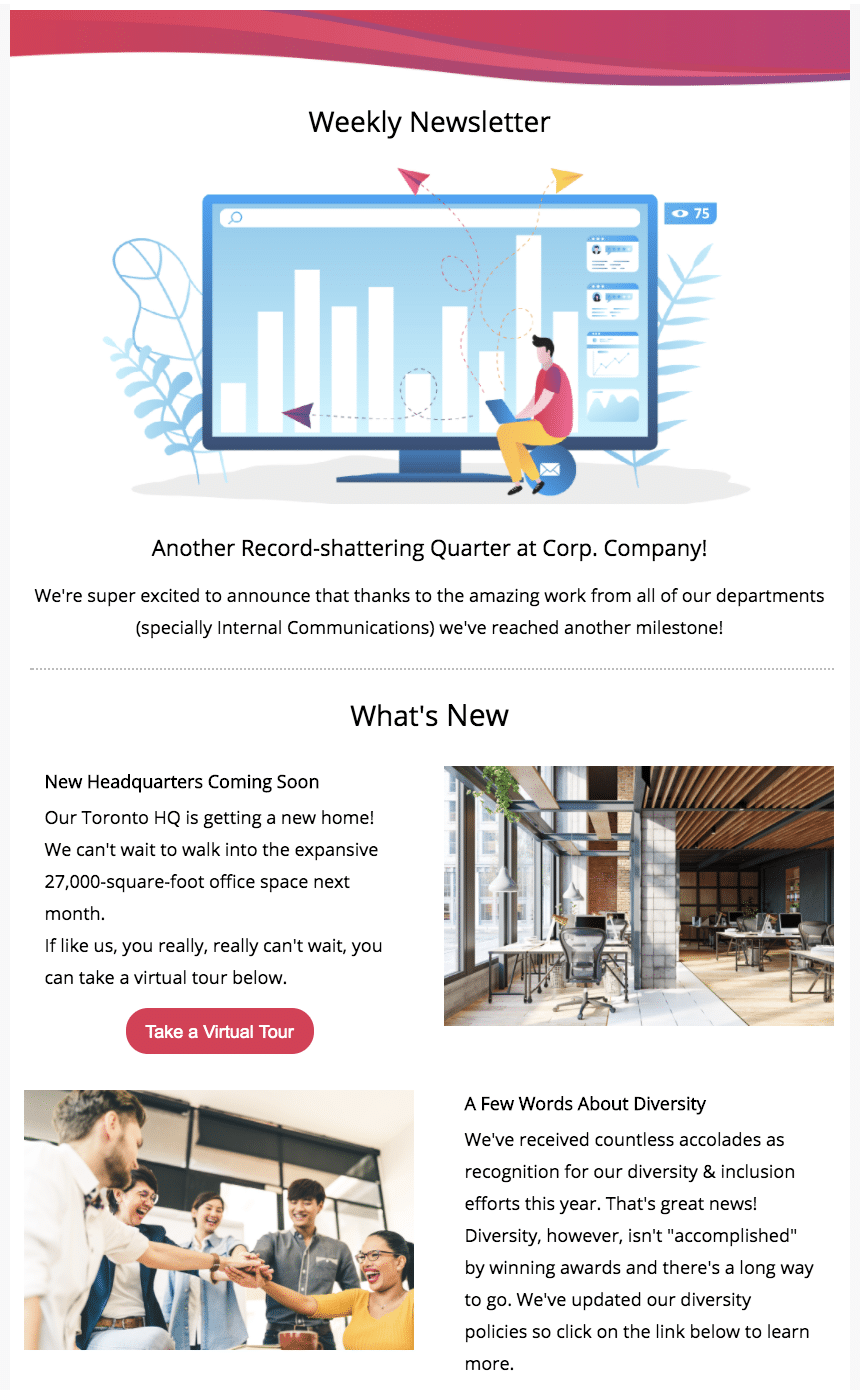 Templates are particularly useful for weekly updates as you just have to plug in your information into the appropriate section. And with more people working from home than ever, saving time on design work can help you be more in-touch with your remote workforce.
Crisis comms
Your ability to swiftly respond to interruptions and issues with your organization is vital. A Crisis Communication Plan outlines how your business will respond to a variety of situations, as well as provide pre-drafted communications for quick response: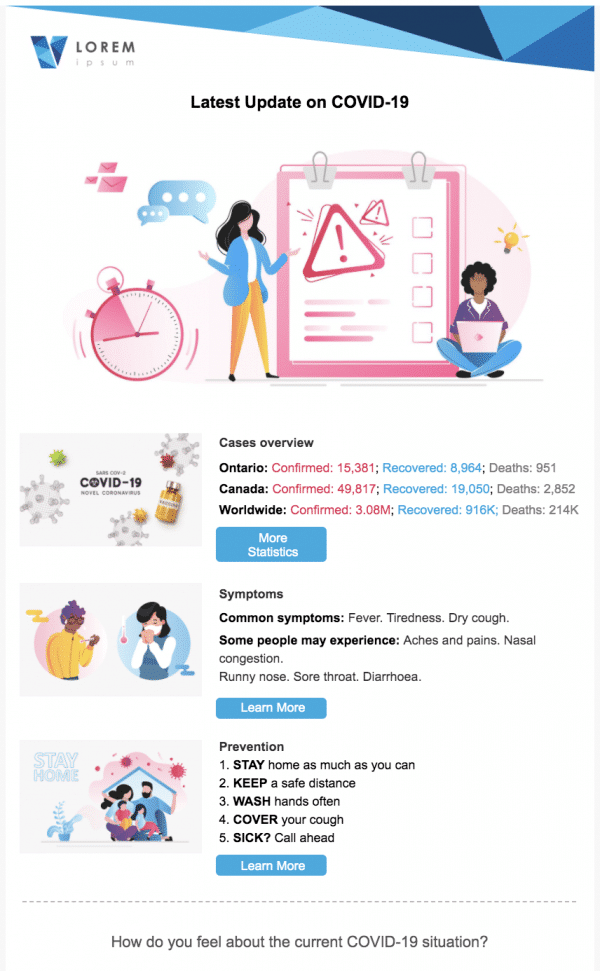 Product updates
Product Updates keep your customers in the know about the latest news and updates about your business. Quickly and effectively market your products using consistent email updates: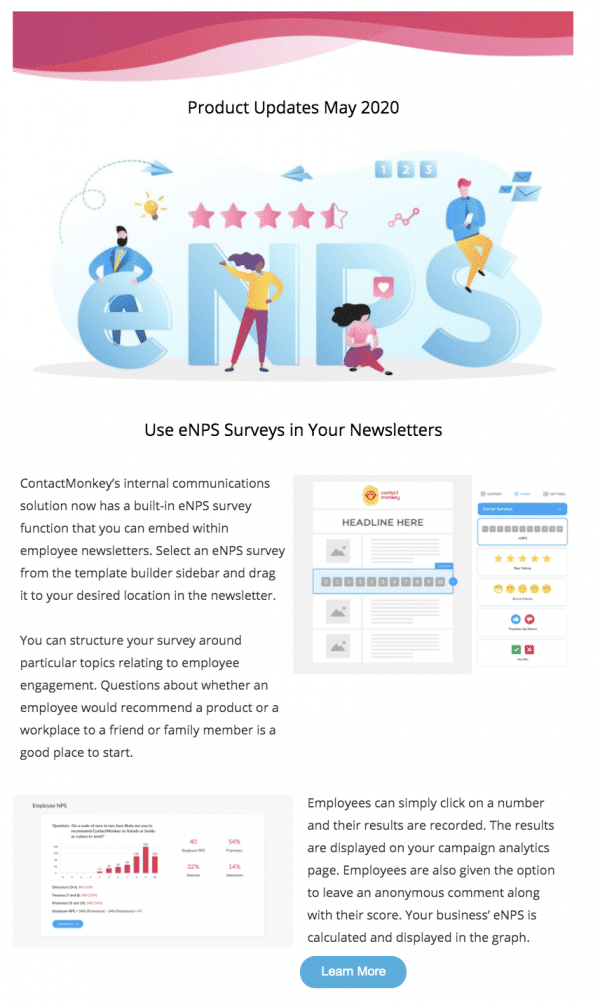 Alerts
No matter how well-prepared your business may be, unexpected issues like server problems and software malfunctions can affect your entire organization. Alert your employees of issues as soon as they arise: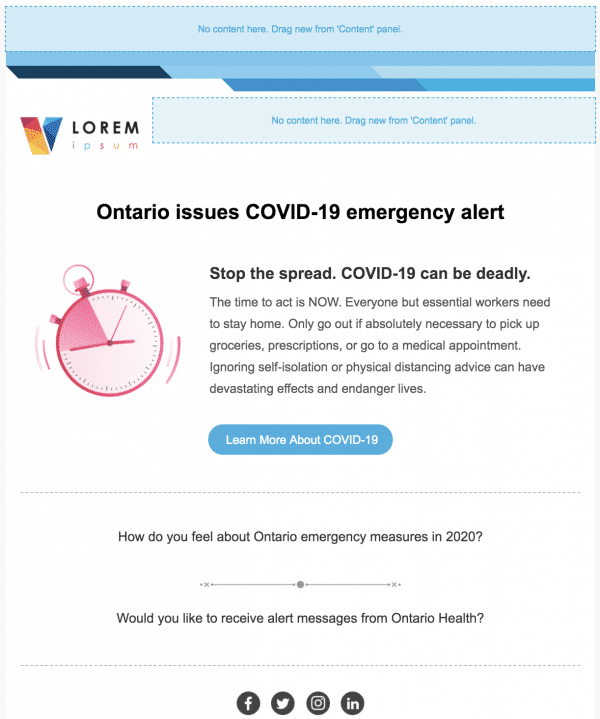 eNPS
Your Employee Net Promoter Score (eNPS) is a metric that tells you how likely your employees are to recommend your business as a place to work. ContactMonkey's email template builder comes equipped with eNPS content so you can easily conduct surveys: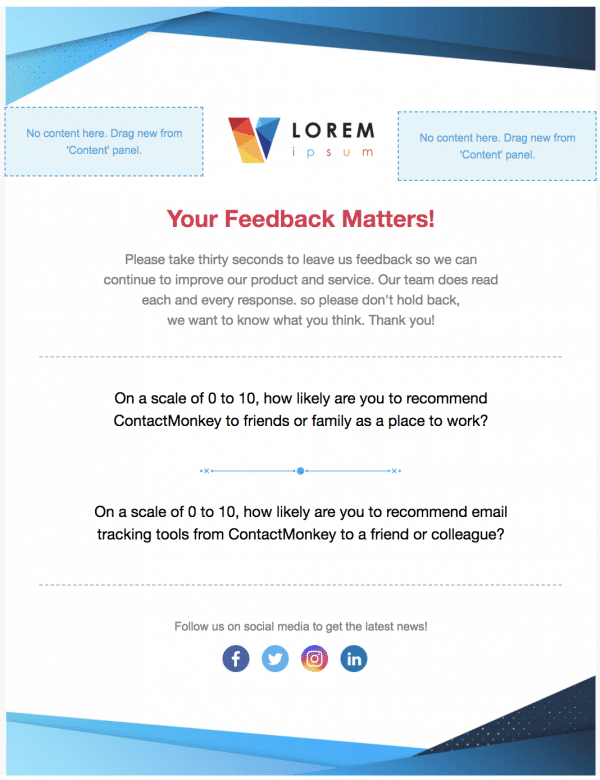 Event webinars
With more people working remotely than ever before, webinars have become a staple for businesses looking to connect with their audiences.
Event webinar templates help formalize the invitation process; seeing a familiar email invitation helps encourage recipients to sign up: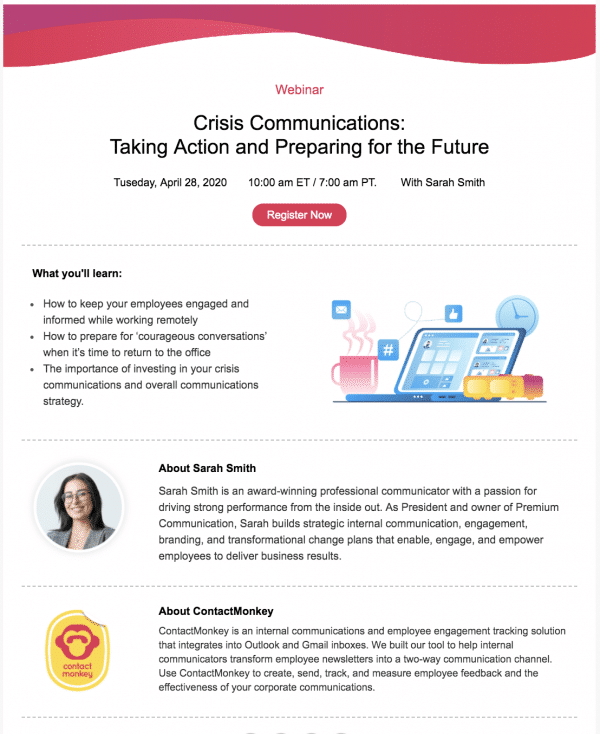 Company policy changes
Policy changes come in all shapes and sizes. ContactMonkey can help you inform everyone affected by new policy changes. Customize your subject line according to each recipient using distribution lists, and get information out quickly with policy changes templates:
All of these templates are fully customizable within ContactMonkey's email template builder. Easily import your company's brand colours, logos, fonts, and more.
href="https://cta-redirect.hubspot.com/cta/redirect/6282300/0bc6e0fb-d723-4e94-bc9c-5a0d05902d67″ >
How do I create Outlook email templates?
After looking at all these different email HTML templates, you might have some ideas of your own. For those wondering how to create email templates in Outlook, ContactMonkey's drag-and-drop email template builder lets you easily create beautiful responsive HTML email templates on your own!
Pick from a constantly-updating selection of email content including pictures, videos, GIPHYs, icons, and more to engage your audience:
Turn your emails into a two-way communication channel where you can receive feedback from your recipients. Learn exactly what type of content they want to see:
When you build your emails with ContactMonkey, you don't have to worry about how they'll appear on different devices. ContactMonkey templates are responsive, which means they'll display perfectly no matter what device they're being view on:
It shouldn't be a difficult process to create and send HTML email in Outlook. With ContactMonkey you can supercharge your email content.
href="https://cta-redirect.hubspot.com/cta/redirect/6282300/529cf15a-8987-4894-a40d-cde34e574fbb" >
Do you know if employees are reading your internal newsletters?
With ContactMonkey, you can see exactly who opens and clicks on all your employee newsletters.
Track emails on an individual employee or overall campaign level all within Outlook.
Use real-time email metrics to identify your team's best performing subject lines, links and most engaging content.
Highlight engaged and disengaged offices on a global level with our geolocation engagement map.
Identify in real-time what content, updates and announcements your employees are engaging with pulse surveys, social reactions, Like buttons, etc.
Easily share downloadable reports with your team.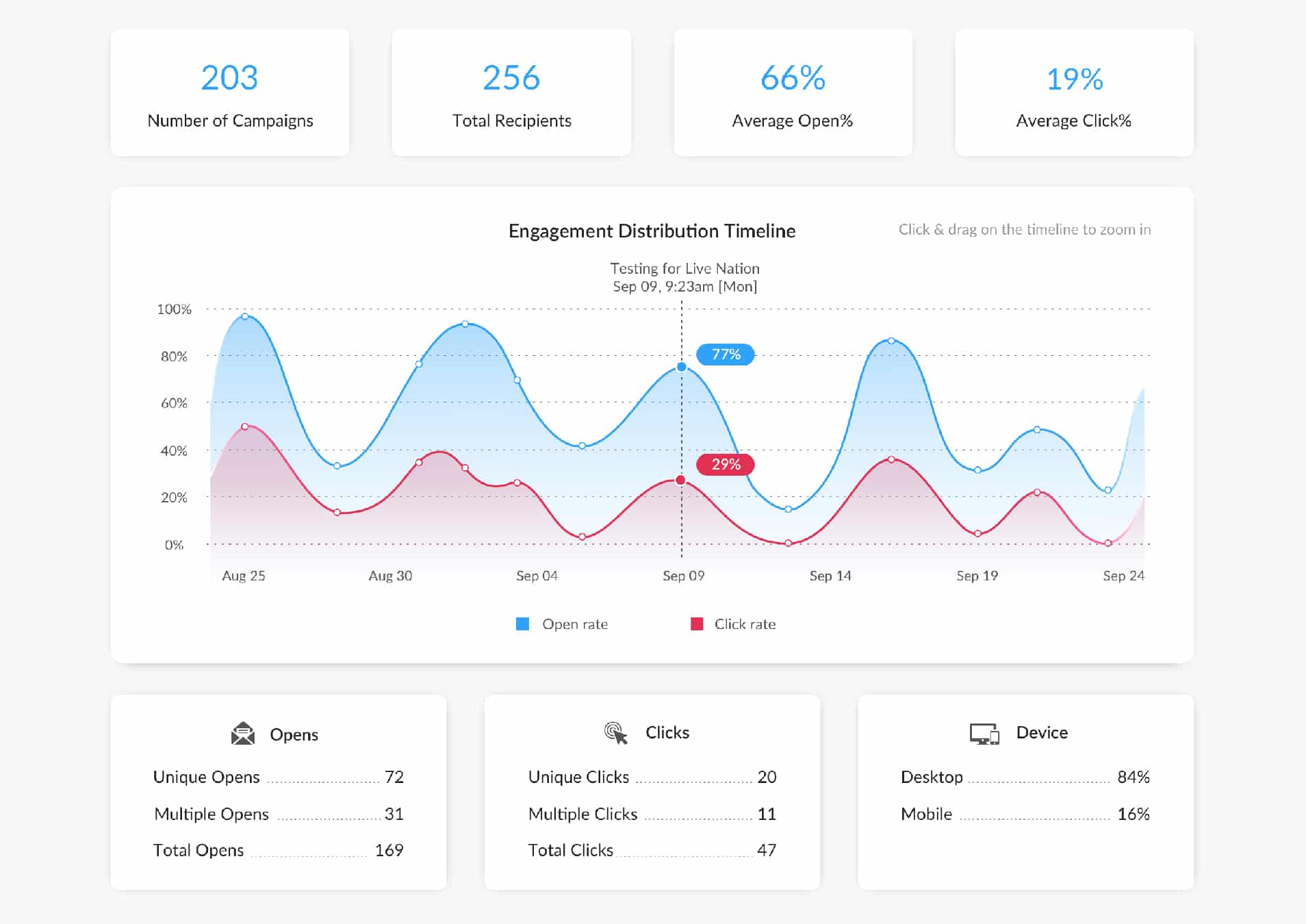 Templates can also be helpful for ensuring consistency across the organization when you have more than one person in your team responsible for emails.
With ContactMonkey it's easy to share your templates across your team, whether they are responsive HTML designs or plain text email templates.
Try HTML Email Templates for Yourself
If you're looking to up your email content game in Outlook, then HTML email templates are the way to go.
Avoid all the hassle of HTML code with ContactMonkey's email templates and email template builder, and start creating beautiful email templates and saving time on your email design process.
Convinced by the power of Outlook email templates? Do you want to find out what your employees are actually engaging with when it comes to internal emails? Book a free demo with one of our experts to see ContactMonkey in action!
href="https://cta-redirect.hubspot.com/cta/redirect/6282300/5bdfb1bf-4869-444c-9ccb-234e6d7a7d55″ >