87% of North American internal communicators say that they feel responsible for employee engagement. However, 60% admit that they don't have a long-term plan for company communications.
Now, consider that most business leaders agree that employee engagement significantly affects business performance. If you're concerned about your business' internal communications, you'll need the best tools for the job: a newsletter creator for Gmail or Outlook.
Luckily, ContactMonkey has you covered.
ContactMonkey is a simple, effective way to boost employee engagement, measure team feedback, communicate company news, and improve internal relations.
Read on to learn more about the top newsletter creators for Gmail, along with tried-and-tested strategies to get the most from your business' internal newsletter. Or try out ContactMonkey's email builder for free today!
What is a Newsletter Creator for Gmail?
A modern newsletter creator for Gmail will help you create, send, and track internal newsletters from your Gmail inbox.
Newsletter creators for Gmail (tools that are built specifically to extend the versatility of Gmail) can help you to build, manage, send, and even analyze emails among your team — all from the email platform you already know how to use.
But why bother?
Well, rock solid internal communications tools improve employee engagement. That's why around 70% of companies use newsletters for internal communications.
Effective company communications results in a bunch of positive returns for your firm, including:
Reduced employee turnover
Straightforward referrals for top talent
Enhanced employee productivity
Amplified innovation across the workplace
Higher rates of employee happiness
Uplifted overall brand image
For all these reasons, and more, we created ContactMonkey to offer a newsletter creator for Gmail that's designed to meet your business' internal communication needs.
Your newsletter template builder will increase engagement with more professional-looking personalized emails featuring interactive elements.
With an intuitive newsletter creator, there's no need for a graphic designer, as you'll be using employee newsletter templates:
Our newsletter creator for Gmail focuses on helping you craft highly-fruitful internal communications.
Enjoy our easy-to-use drag and drop newsletter builder and intuitive interface for generating sleek highly-responsive HTML emails and newsletter templates.
Add engaging content like images, videos, email tables, GIFs, and more.
Input feedback elements, such as surveys, to engage staff in dynamic ways and meet your pulse survey objectives.
Manage mass email blasts with our straightforward Gmail Mail Merge capabilities.
Pinpoint your top-performing internal campaigns with our sophisticated analytics dashboard and tracking software. Measure open rates, click-rates, responses, and more.
Send Gmail emails at scale! With ContactMonkey, Gmail users are not constrained by email send limits. Gmail users can now send emails to more than 2000 individuals in a single email!
Try a free ContactMonkey demo to see how you can magnify the effects of your internal communications.
Top strategies to create high-performing newsletters
You're trying to connect with your employees and communicate important developments, but the bottlenecks in your communication channels leave your team feeling deflated and unappreciated.
Manage your internal communications through a powerful newsletter creator for Gmail, like ContactMonkey. Craft beautiful emails that engage employees, measure feedback and enhance team cohesion.
Here's how you can use ContactMonkey to optimize your team's productivity to drive innovation in your enterprise.
1. Check your platform
When approaching the problem of internal communications, you need to build your systems where your staff are most responsive. Announcements get sent to the wrong platform or are lost under piles of messages.
Ask your team which platform suits them.
Introduce the idea of a Gmail newsletter as one centralized place for important information and feedback. Since everyone in your team should have no problem accessing Gmail, ContactMonkey would be the ideal universal solution.
Why don't you give it a try and see for yourself?
2. Plan an epic subject line
When you begin the process of writing your staff newsletter, you need to think about first impressions.
Countless sales personnel and marketers will tell you the unbelievable value of a strong subject line. It's the opener that leads to higher open rates.
If you want your team to read your emails, draw them in with catchy subject lines that trigger action. The better your subject line, the higher your internal open rates.
To enhance your internal email subject lines, use these email newsletter best practices:
Research high-converting subject lines.
Use ContactMonkey's analytics dashboard to test and monitor high-performing subject lines.
Use emojis as they boost conversion but use them sparingly as some people find them annoying.
Keep subject lines short. Ideally, try for below 43 characters.
3. Save time and money on design and execution
Nearly 20% of companies don't have the time or money to focus on creating an internal communications strategy. It's tough to strike the balance between sending sophisticated emails and doing it quickly and cost-effectively.
Employing a graphic designer to spruce up your emails costs time and money. Training to do it yourself also costs time and money. With ContactMonkey, you can save both your precious time and your hard-earned money by using our sleek newsletter creator.
4. Personalize newsletter content
Personalization has consistently been shown to improve click-through rates and open rates.
And ContactMonkey's newsletter creator for Gmail allows you to personalize newsletters to drive engagement among your staff with interactive elements, such as feedback forms and surveys.
Using mail merge tags, you can filter content to the right departments, personalize it to match the recipient, and avoid common mail merge fails.
This saves employee time as they only have to respond to relevant communications. Simultaneously, you'll boost engagement rates as employees won't ignore emails directed to their Gmail inbox.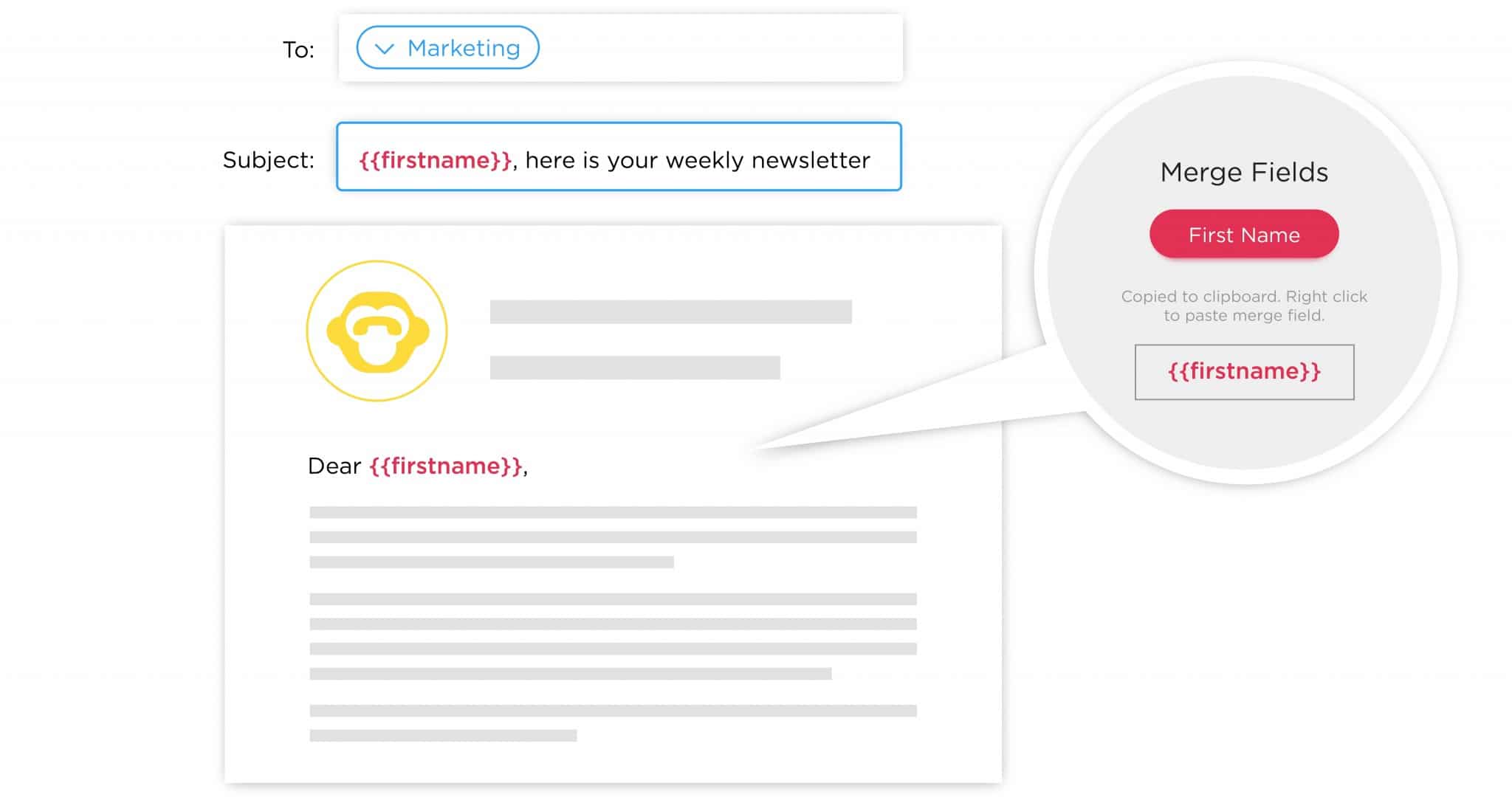 Personalization best practices:
Add names to subject lines
Add names to your email introductions and written content
Include the results of feedback and surveys
Schedule your newsletters to be sent at the optimal time for your team to receive them
5. Encourage interactive engagement
To drive a communicative culture within your company, your internal newsletters should entertain, educate, and engage. Invite interaction so staff communications become a conversation rather than a lecture.
Invite engagement with gamified feedback mechanisms like surveys, emoji ratings buttons, and star charts.
Since 38% of internal communication experts are using company communications to facilitate dialog and feedback, nurturing interactive behavior is essential.
Interactivity opens you up to feedback, driving innovation from the shop floor. After all, who knows your business better than those on the ground.
Try fostering feedback and interaction with…
Exclusive discounts/giveaways that reward responses
Shareable content so staff can share on social media
Internal feedback surveys
Clickable links and elements to show your staff have read and understood
Comment boxes
See how this process is unbelievably simple with ContactMonkey: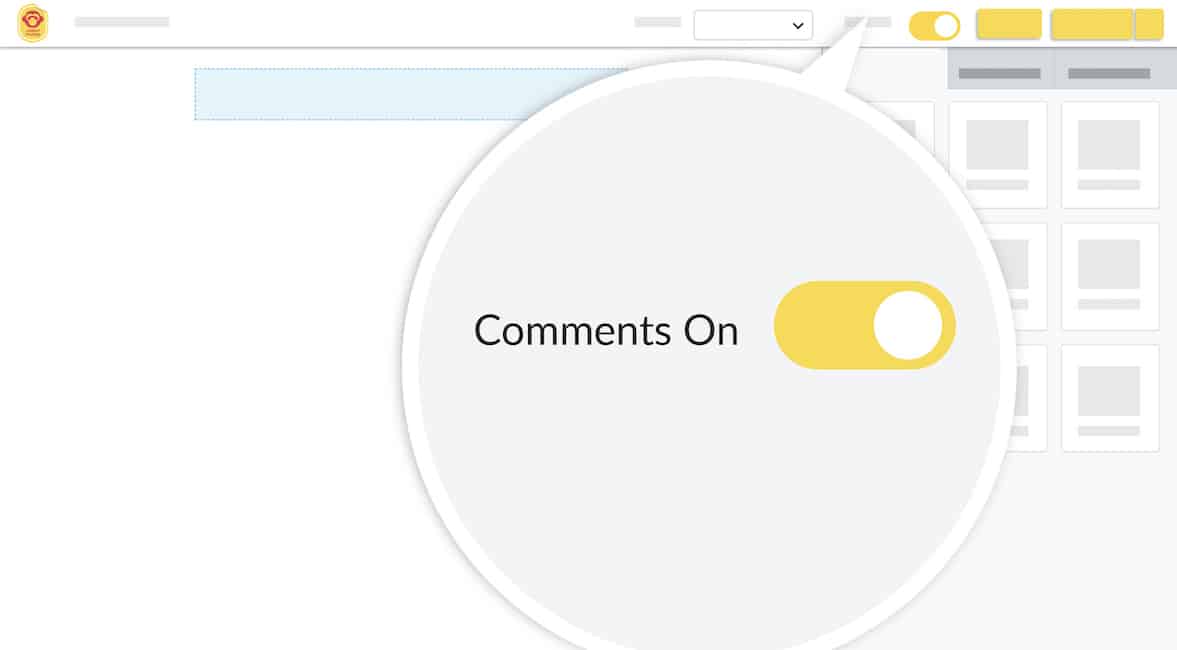 ContactMonkey makes it a breeze to invite, accept, manage, and monitor employee feedback. Imagine the business developments at your fingertips with your whole team behind you.
Try ContactMonkey now to see how easy it is to connect with your team's ideas.
6. Make your design mobile responsive
93% of users have left a website because it won't display correctly. That's why it's important to carry this lesson across to email communications.
Nowadays, two-thirds of employees use mobile devices for work-related communications.
This means it's imperative that you send responsive emails so your newsletters can be viewed correctly on various devices: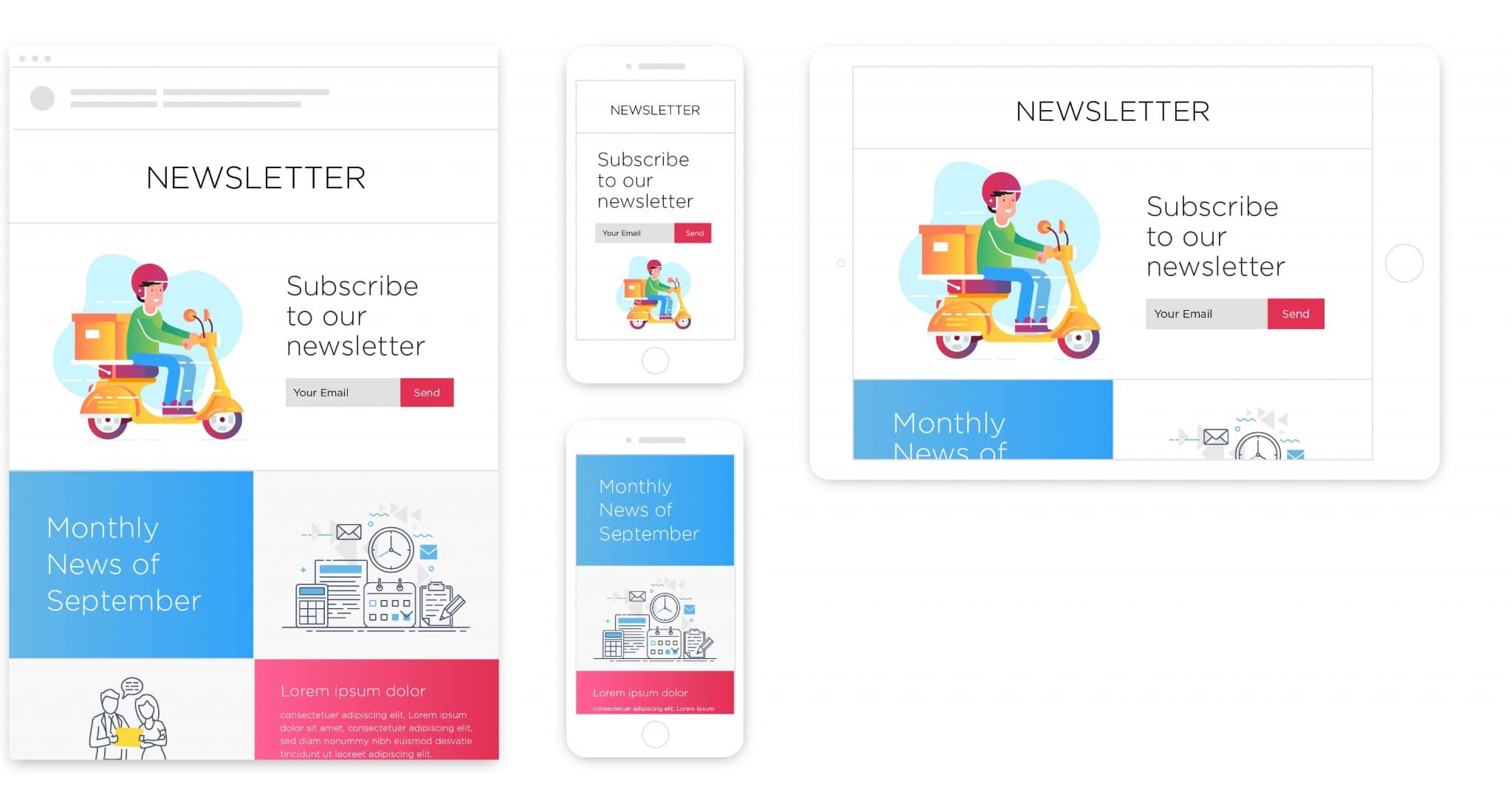 Your staff won't read communications that are tough to see. Make your Gmail newsletters easy-to-digest with stunning mobile responsive HTML emails from ContactMonkey's extensive Gmail newsletter template catalog. Combined with in-depth employee email analytics about employee engagement by device and location, ContactMonkey is one of the best communication tools for remote teams.
Remember that to speed up your newsletter's performance, you need to be careful with large image and video files. Make sure you compress these before uploading. Ensuring that your internal emails display correctly is an important part of your employee newsletter pre-send checklist.
7. Analyze your newsletter's performance
To improve the performance of your newsletter, track and monitor open rates, click rates, and interaction rates.
Unlike most newsletter creators for Gmail, ContactMonkey has a sophisticated analytics dashboard built in: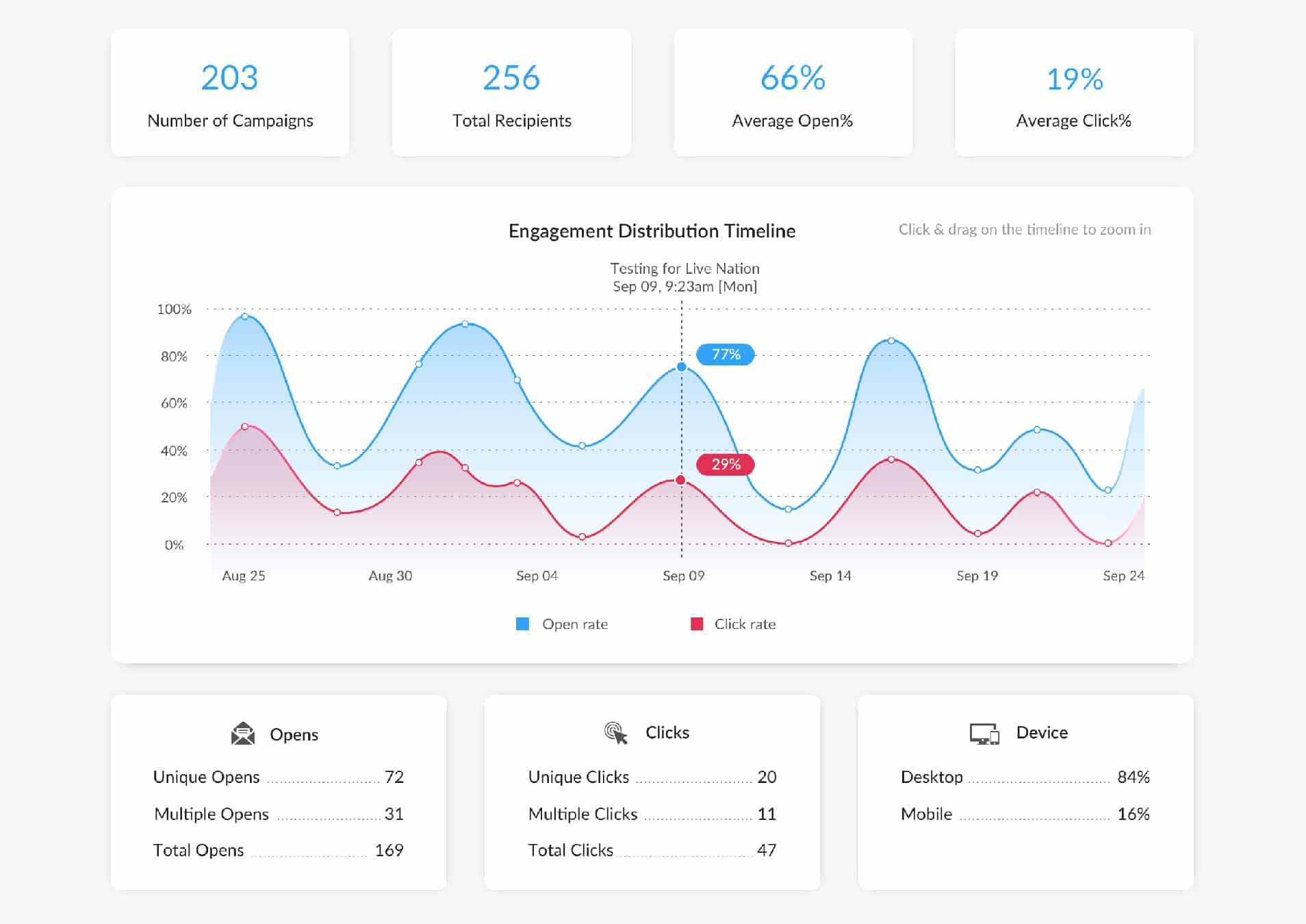 In addition, ContactMonkey's new Google Group support lets you collect individual tracking metrics on emails sent to your Google Groups. You'll also be able to access precise recipient numbers with every Gmail send.
The data will help you to understand what to replicate and what to scrap. From here, you can learn where to best apply your resources and efforts.
46% of firms are measuring the progress on their internal engagement goals, so you'll need to monitor engagement metrics to keep up. Use your data to learn when your staff will best respond.
8. Don't send too often
Keep your campaigns regular and consistent, but don't bombard staff with internal communications.
Over-sending emails will lead your team to ignore your communications, sending them to spam. Instead of distracting your staff with continuous pings all day, send one collated, professional-looking weekly newsletter — personalized to team segments.
Ideally, we recommend you send one (maybe two) employee newsletters per week. If you send too many emails, your staff simply disengage —  no matter how you personalize or what best practices you implement.
Top Newsletter Creators for Gmail
ContactMonkey is your answer for sophisticated internal newsletters on Gmail.
The only newsletter creator with responsive HTML Gmail templates, our platform combines a beautiful newsletter builder with a robust analytics platform.
MailStyler
MailStyler is a basic build tool for simple, professional-looking newsletters: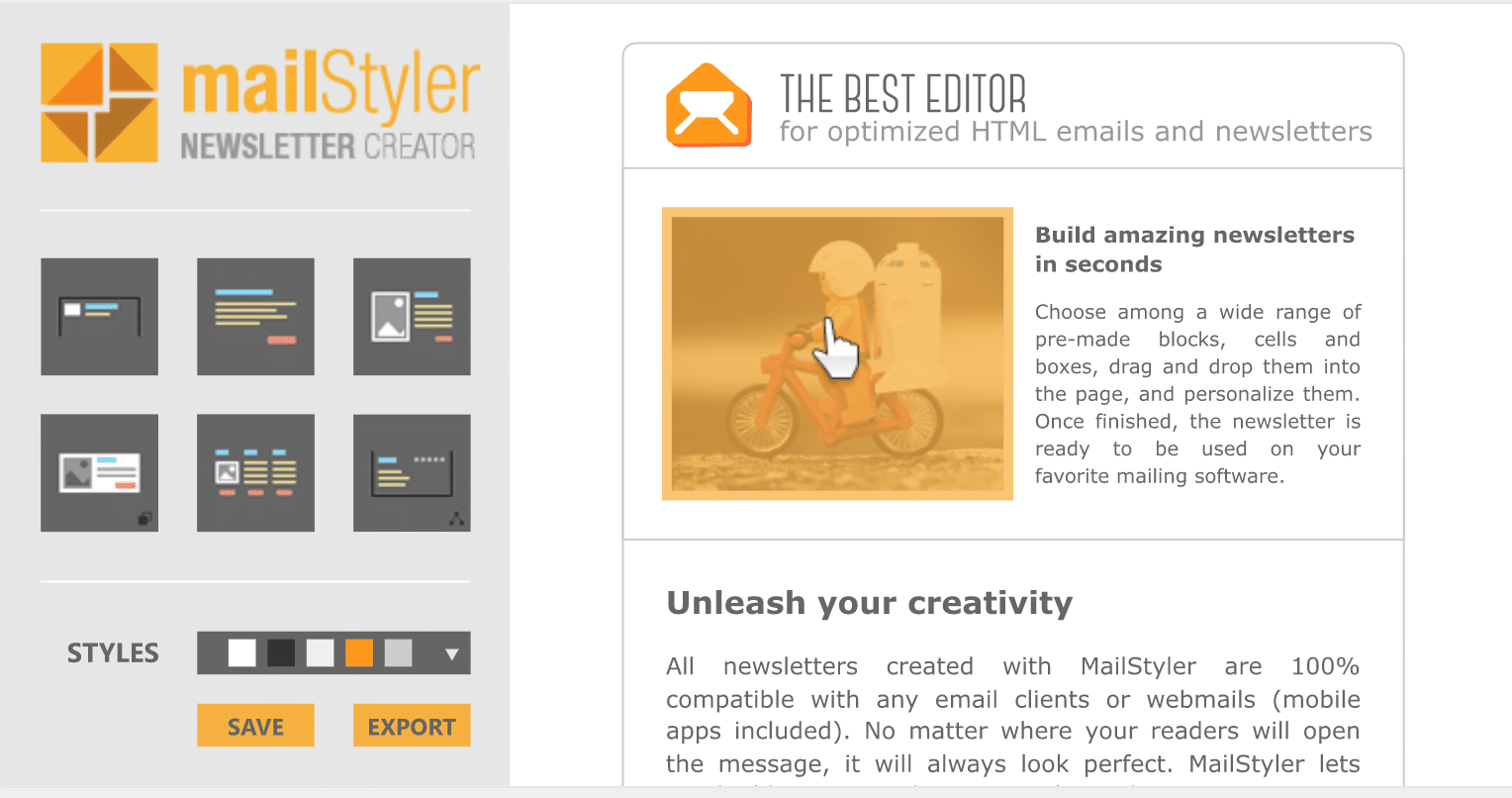 MailStyler is used by a bunch of big brands like Amazon, Microsoft, Hugo Boss, and P&G. It's only a template editor and builder and has no analytics capabilities.
Mail Designer 365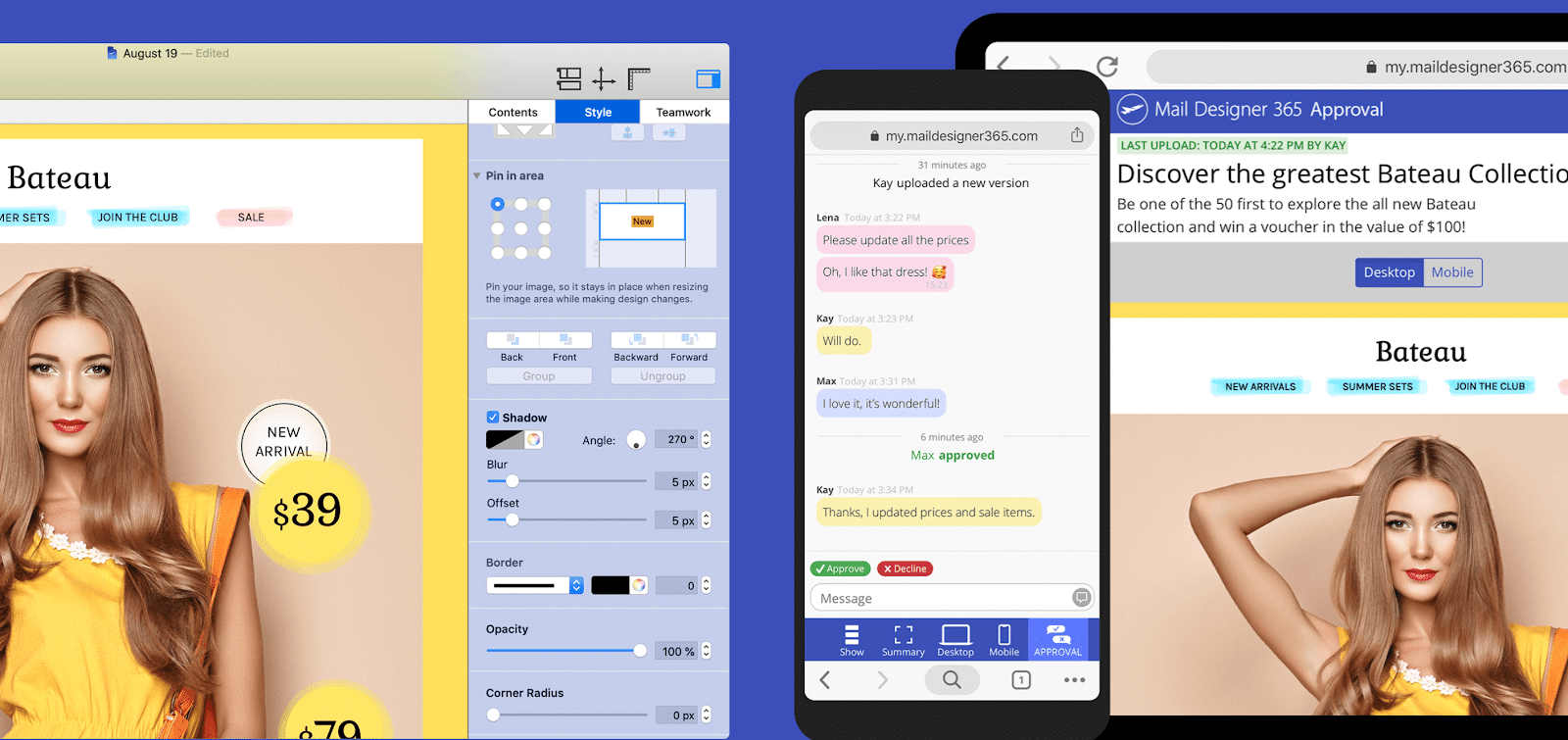 Mail Designer 365 is a powerful mail designer focused on visual design. You can create sleek internal mail that integrates with a whole host of ESPs, including Gmail.
You can collaborate with your team on this platform, but you don't have access to any analytics or data.
Stripo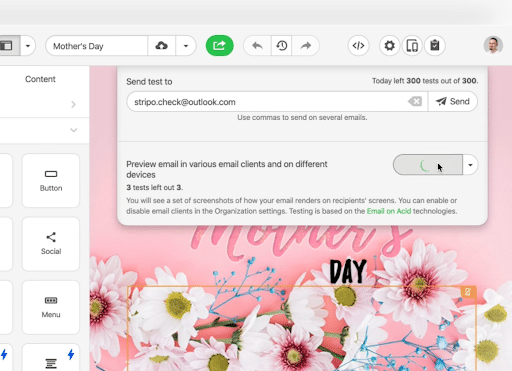 Stripo is a simple to use drag-an-drop email builder that integrates with lots of ESPs, including Gmail. It's straightforward to build and save your professional-looking newsletter template with Stripo's reusable web design elements.
Unfortunately, this Gmail newsletter creator doesn't have any analytics functionalities.
Conclusion
Employee engagement is crucial for business success. That's why businesses everywhere are using sleek newsletter creators for Gmail, like ContactMonkey.
With a robust internal communications plan in place, you can enhance employee interaction by leveraging your internal newsletter.
Need help with integrating a newsletter creator for Gmail? Contact the specialists at ContactMonkey.