Is your organization getting the most out of workforce analytics? Find out.
More than half of the organizations that participated in Deloitte's 2020 Global Human Capital Trends Report said their leaders' interest in workforce analytics has grown in the past 18 months. This underscores the need for reliable data to guide company policy. And yet, 30% of senior executives say they rely mostly on their own intuition when making major business decisions.
Experience and intuition are certainly valuable. But workforce analytics — the interpretation of data to improve decision-making — is essential in the modern workplace. It reveals insights that can help businesses optimize employee engagement, build better-performing teams, improve internal communications, and more.
Gathering and organizing workforce analytics data can be complicated and cumbersome, but ContactMonkey simplifies workforce analytics so you can save time and money.
What is Workforce Analytics?
Workforce analytics is a way of analyzing employee data in order to make business decisions and optimize business planning.
It involves using algorithm-based models and software to check the state of business processes, employee experience and talent acquisition. The goal is to be able to make data-driven business decisions.
It's also important to recognize that while workforce analytics is often used interchangeably with HR analytics, the two are not the same.
Workforce analytics is different from HR analytics as a result of its scope. While HR analytics are focused on the individual level, workforce analytics are centred around business insights and macro-level decision making.
With the right tools and strategies, implementing workforce analytics doesn't have to be a challenge. We'll break down the key steps, software and techniques you'll need to master workforce analytics.
Types of Workforce Analytics
Before we dive into how you can implement workforce analytics in your business, it's useful to understand the different types out there. By seeing what various kinds of workforce analytics are designed for, you can pick the approach that best suits your goals.
1. Descriptive analytics: this type of analytics is used to get a detailed picture of how things are or were in the past by describing a state of events. They're useful for getting a general feel for how things are going in a certain area of your business and root out opportunities or problems later.
2. Predictive analytics: these help us anticipate what may happen in the future by assessing what's happening now and what has happened in the past in order to make predictions. Usually, this type of workforce analytics is derived through data mining and machine learning.
3. Prescriptive analytics: they're specifically geared towards providing recommendations based on how things went in the past.
4. Diagnostic analytics: these are designed to target problems. They work hand in hand with descriptive analytics to pinpoint a problem in how things are and determine the cause. This is most helpful for employers who sense an issue in the workforce and are looking to create a solution.
Workforce Analytics Software
Workforce analytics software are tools that use statistical models to assess employee and business-related data.
They gather and visualize data with the goal of helping business leaders improve human resource management, or HRM for short. That means providing employers with data and insights on recruiting practices and talent management, but also employee productivity and engagement.
While there's an abundance of workforce analytics software and providers, the best workforce analytics software tend to share a few key features:
Automated data gathering
Data analysis
Data integration
Predictive and prescriptive analytics
Benchmark reporting
Data management
How to Implement Workforce Analytics
While there are many different ways you can go about implementing workforce analytics, a few steps are essential. Here's what you have to include in your process:
1. Defining a challenge or question: decide what you are trying to solve in your organization. This can include problems such as, 'How can I increase employee engagement ?' or 'How can we get more employees to enroll in professional development courses?'
2. Determining your goals and benchmarks: this part is about deciding what resources, information or KPIs employers would need to make an evidence-based decision. That means answering questions like, 'What does employee engagement look like in my organization?'
3. Monitoring and analyzing your metrics: this is all about determining what your metrics are displaying and how you should act on them. Say you notice that employees who scored themselves highly on your employee satisfaction survey also completed more professional development courses. Continue to monitor this metric and consider implementing action by encouraging more employees to try out a professional development course.
Benefits of Workforce Analytics
Workforce analytics is a powerful resource for employers. By providing data-driven insights, they can help leaders enhance recruiting techniques, improve hiring decisions and increase employee engagement. But it goes beyond that. Here are just a few things workforce analytics can help accomplish:
Determine which of your employee policies are effective
Predict the success of a new hire
Prevent an employee from quitting their job by seeing what causes employee turnover
Recognize potential work safety risks
Determine future workforce need
Optimize employee engagement
Determine if new departments or positions are needed
Quantify factors that lead to employee engagement and satisfaction
Decide how best to delegate tasks and goals
Identify ways to optimize organizational structure
Choose future company leaders
ContactMonkey Makes Gathering Workforce Analytics Data a Regular Practice
Organizations often turn to workforce analytics to research a specific problem or to use to inform a one-time consultancy project. However, the real value of workforce analytics lies in consistently collecting employee feedback.
With ContactMonkey, you can easily make collecting feedback a regular practice by gathering data from every internal communications email or company newsletter you send.
For example, create a continual real-time mood assessment with a weekly employee pulse survey that includes one to 10 questions. These surveys take just a few minutes for employees to complete, and they can reveal a lot about workplace sentiments.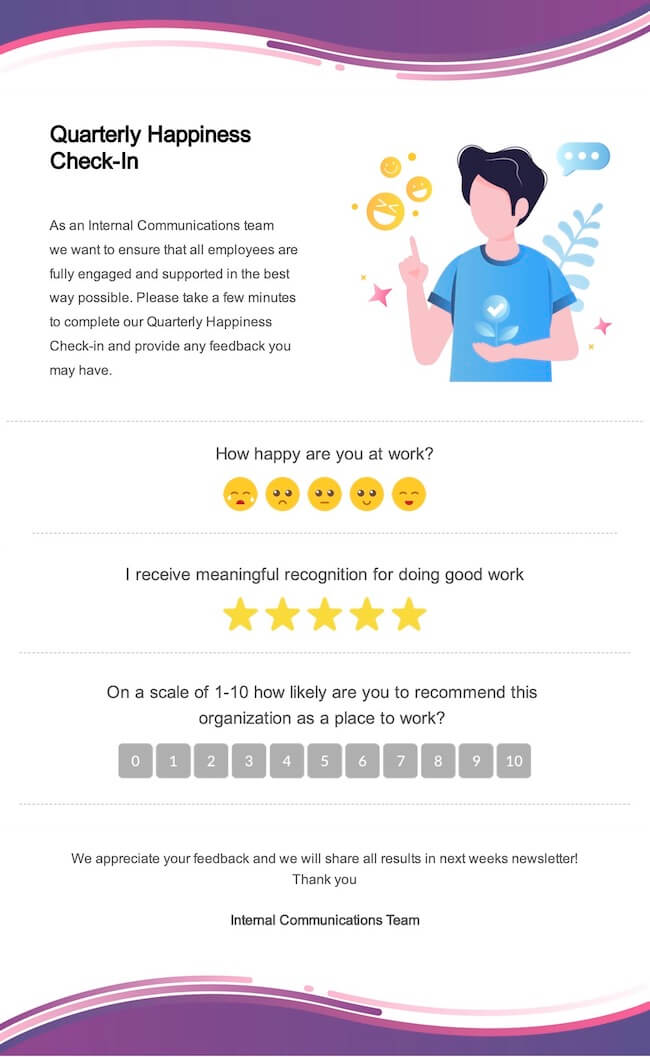 You can use them to get a quick but useful read on a variety of topics, including how workers feel about recent company updates, organizational changes, new policies, and the effectiveness of training. You can even poll workers about the new coffeemakers like Exemplis recently did, which revealed that 70% of people actually hated the machines.
Answering these regular questions — even about seemingly inane topics — gets employees into the practice of responding. "When the monthly [survey] comes, it's like, 'How aligned do you feel with Exemplis strategy? Do you feel like you have the resources, tools, and processes to do your job to the best of your ability? Do you feel like your manager motivates you to do your best work?'" said Corey Kachigan, Exemplis' engagement and communications lead.
And employees are comfortable responding to these deeper questions because providing feedback is such a part of the company culture. "It just feels super normal to the behaviors of our organization," Kachigan said.
Plus, regularly receiving this workforce analytics data empowers users to address issues as they come up. It also allows you to look at long-term data and recognize trends, identify problems, and take appropriate actions.
With ContactMonkey, your email newsletters become two-way communication channels between you and your employees. They receive important information and updates about the company, and you receive their feedback, ideas, and concerns from your surveys. Boost your Outlook or Gmail inbox with ContactMonkey:
ContactMonkey Provides User-Friendly, Actionable Information
Implementing workforce analytics to improve an organization is effective only if the information you collect is accessible and easy to understand. Luckily, that's exactly what ContactMonkey delivers with its analytics.
Users can analyze email performance based on the overall campaign, by individual employees' emails, and by location, so they can make data-driven decisions.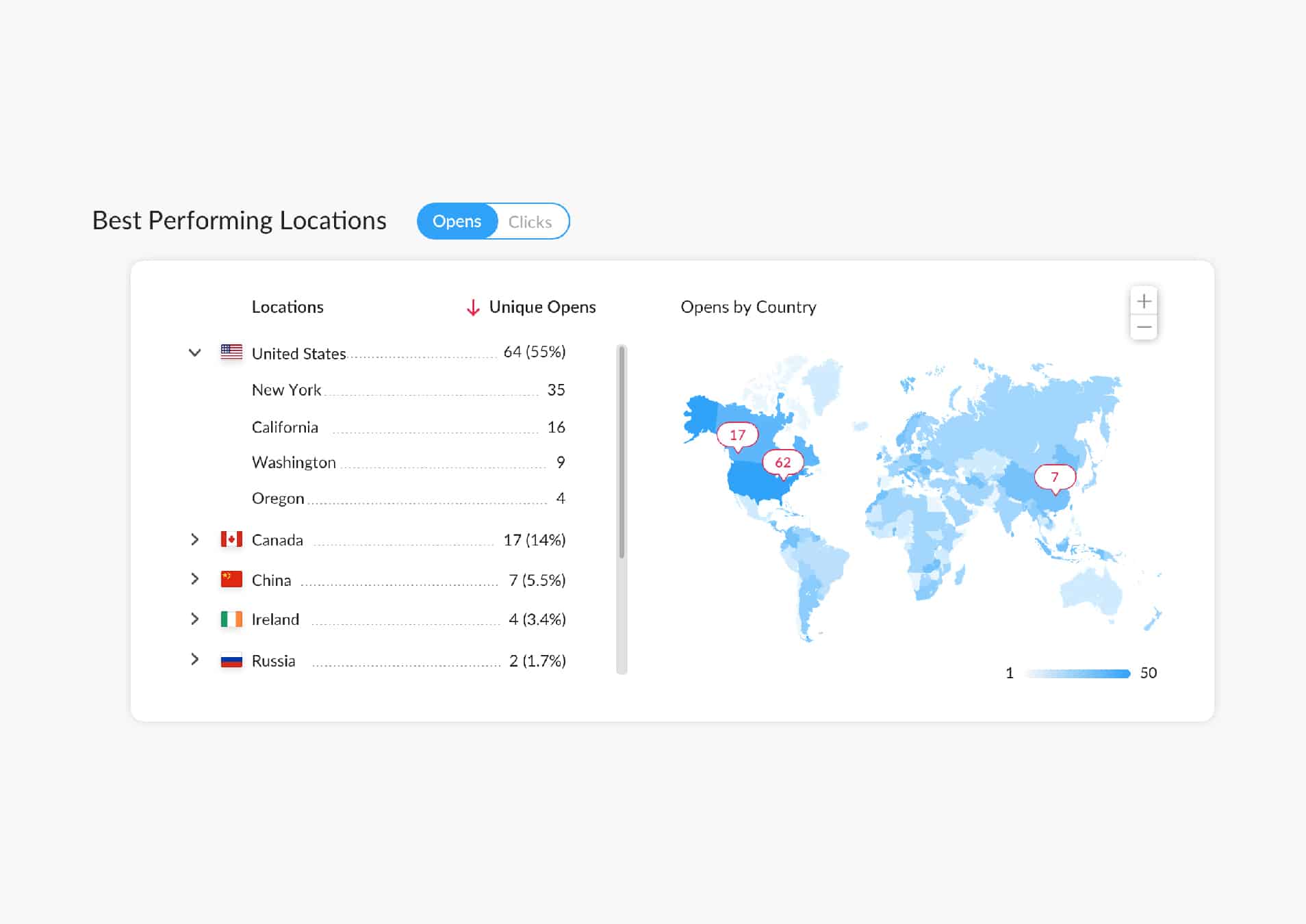 Let's say you notice that employees in one country have consistently lower newsletter open rates. This information may indicate that something about the emails' subject lines isn't appealing to workers in this location, prompting you to investigate further and take steps to rectify the issue.
With ContactMonkey's analytics, you can also track opens, link clicks, and more to identify the most engaging content and identify ways to create more effective communications. You can also use the click maps feature to help contextualize your tracking data and improve your email design: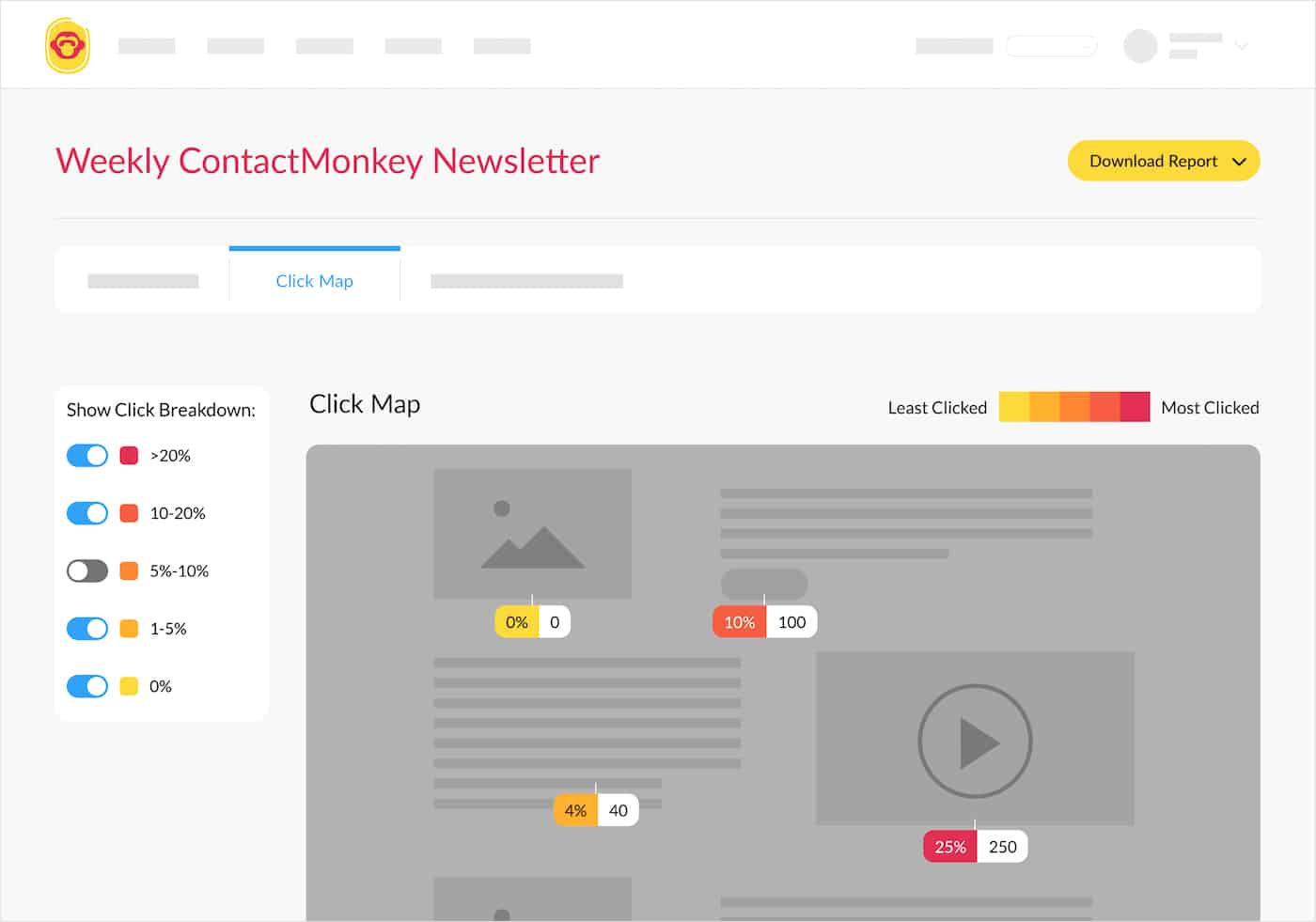 All of this data can help you optimize your email design and distribution to create higher engagement levels with your employees.
For example, Exemplis used ContactMonkey to increase its newsletter open rate to 70% and its click-through rate to 30%.
"The thing I love about ContactMonkey is that it allows us to communicate more consistently with our team, but also be able to have the data to back it up," Katchigan said. "When we used to send out newsletters, we didn't really have a way to see who did or didn't open it, who clicked what and they couldn't interact with the communication besides reply to me, which was super cumbersome."
You can also refer to the dashboard view of employee feedback to assess how people feel about their work, the organization, internal communications, and more. Plus, you can get a detailed view of this feedback at an individual, department, or company level. For example, data could reveal that a particular office is unsatisfied with the company, allowing HR to take steps to improve their experience, retain employees, and attract new talent.
If your organization has internal or external regulations around email privacy, you can use ContactMonkey's anonymous email tracking to gather email metrics while maintaining your employees' privacy.
Contact Monkey Makes Soliciting Employee Feedback Easy
Collecting comments, questions, and other types of feedback from workers frequently can be a time-consuming process. Depending on the organization, it may involve the creation of surveys, one-on-one interviews, and data entry.
But gathering workforce analytics data doesn't have to involve a lot of preparation and survey creation, thanks to ContactMonkey.
ContactMonkey has a drag-and-drop email template builder that lets you embed a variety of surveys in an email with just a few clicks and customize them for your workplace.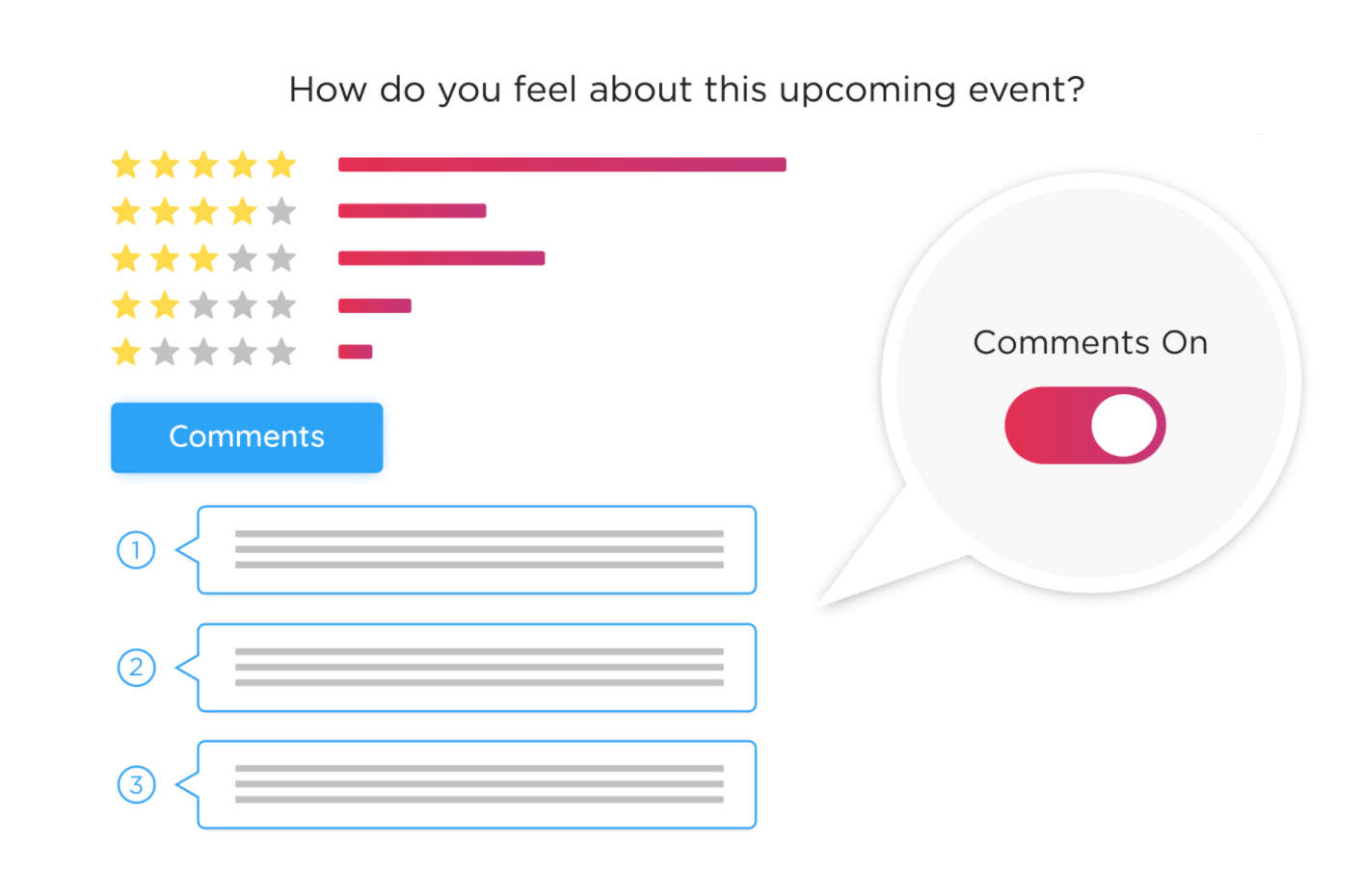 Of course, some data collection in workforce analytics — such as a comprehensive annual employee assessment — may require a more formal undertaking. But ContactMonkey also streamlines this process because when companies take a regular pulse of employee engagement, they're better prepared to raise the right questions during these sessions.
Plus, ContactMonkey creates a two-way communication channel, allowing employees to not only provide a quick emoji reaction to a specific statement but also submit anonymous feedback.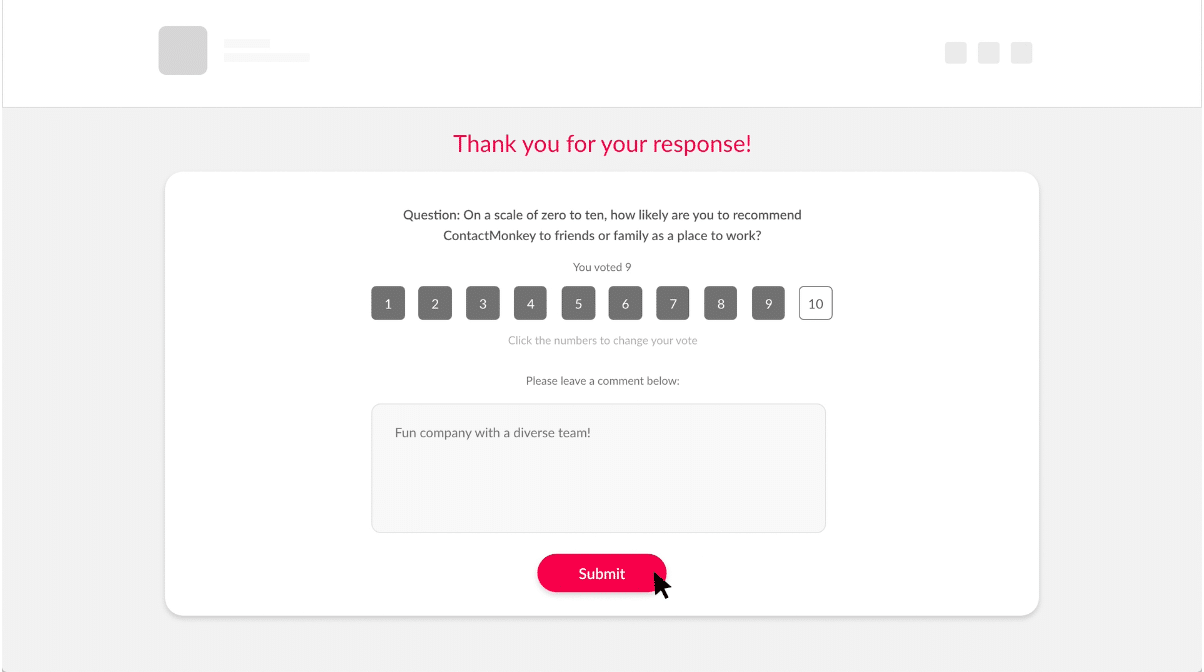 "We have a philosophy that feedback from our team is engagement of our team," Kachigan said. "Silence is one of the biggest employee disengagement warning for our team. Giving our team the chance to interact with pulse surveys monthly, comments weekly and ratings frequently has allowed us to informally check in on our team without sending another bulky engagement survey."
See What ContactMonkey Can Do for Your Workforce Analytics
ContactMonkey is the workforce analytics solution your company needs, especially if your organization is committed to improving employee engagement.
With ContactMonkey, you can make collecting workforce analytics data a regular practice, gather employee feedback, and get access to email analytics that'll empower you to make data-driven decisions to improve the workplace.
Try ContactMonkey Email Builder today.
Start a 14-day trial. No credit card is necessary. Zero risk.
Ready to learn more about what ContactMonkey can do for you? Book a personalized demo today!