Internal communications teams want employees to feel engaged in the workplace. What platform works best to empower internal communicators to meet this goal?
According to Deloitte University Press, while 80% of executives consider the employee experience important or very important, only 22% think their companies do well at creating a differentiated experience for their teams. How can internal communicators close that gap? Using the right employee engagement tool can help.
Email is one of the most effective employee engagement tools because of its wide availability, ease of use, and actionable results. Companies that find ways to use email creatively and efficiently can help their workers feel like a valuable part of the team.
Tap into the power of email with ContactMonkey's internal communications tool and learn how to use internal communications software to boost employee engagement and retention.
Email Is Your Team's Preferred Platform
Email is the most popular form of internal communication for most employees because it allows you to engage employees on the platform they already use the most. With so many employees communicating with email right now, email-based employee communications can integrate more smoothly in their daily communications compared with a separate platform.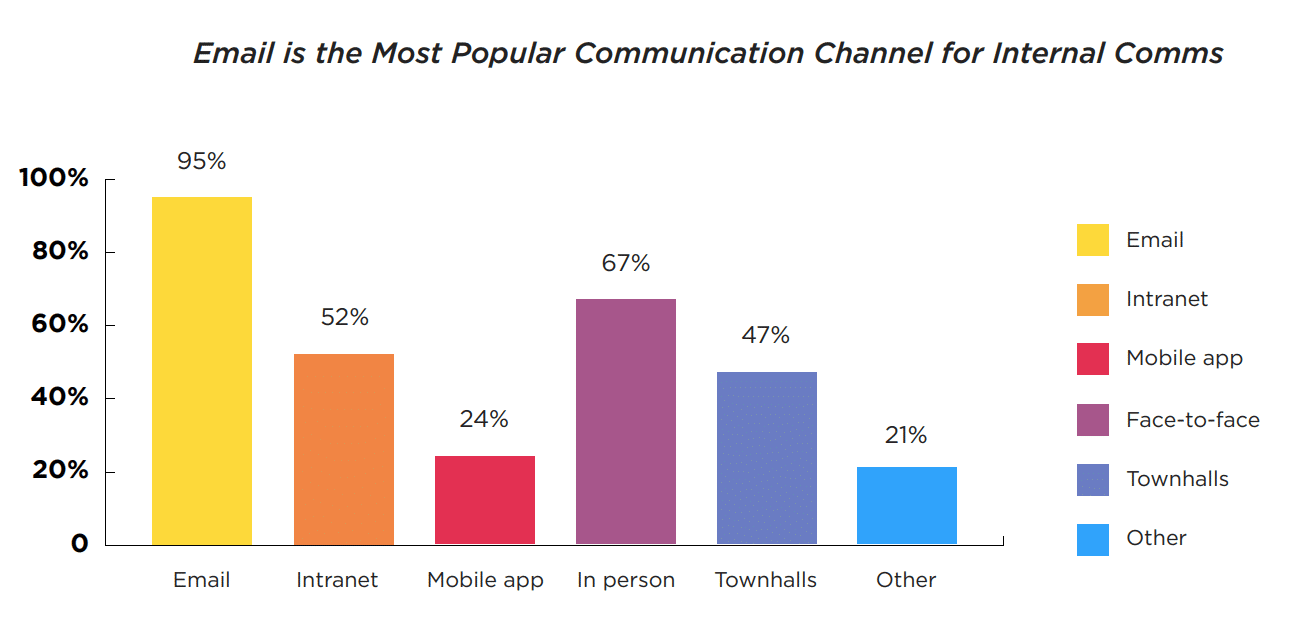 The majority of internal communicators also consider email their favorite platform, making it convenient for their strategies. According to ContactMonkey's Global State of Internal Communications 2022 Report, email is the most commonly used platform for internal communications.
Since your employees rely on email the most, it'll make your internal correspondence a win-win situation, which is why email is the best employee engagement tool.
Email Makes It Easy To Collect Actionable Data
According to our Global State of Internal Communications 2022 survey, access to accurate and in-depth data is a barrier to measuring performance for many internal communicators.
You can collect both qualitative and quantitative data from email tools such as surveys and performance metrics to inform your decisions.
Email works well for distributing surveys because it goes directly into your employees' inboxes, as opposed to platforms like message boards, where you share a link out in the open.
With your survey effectively reaching your team members, you can easily demonstrate the importance of employee engagement.
According to internal communicators at Facebook, surveys can predict behaviour, help employees feel heard, and influence actions.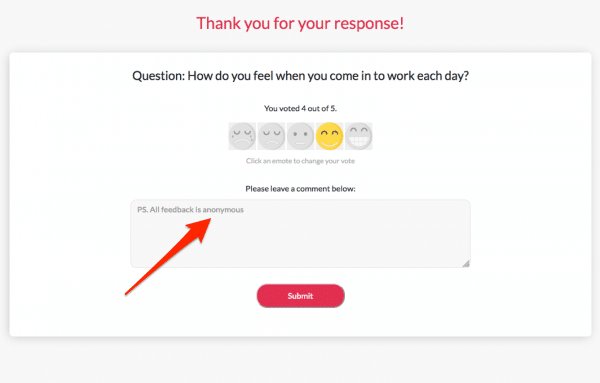 43% of respondents in our 2022 Global State of Internal Communications Survey found that measuring internal communications was their biggest challenge.
It can be difficult to get high-quality qualitative data from team members and measure it. But email surveys through ContactMonkey helped one of our customers overcome that barrier.
With ContactMonkey surveys, Alnylam could ask what its team needed during the COVID-19 pandemic and collect the answers in one place. This email solution lets the company get specific data collected in a single place.
When you use email with an employee engagement app like ContactMonkey, you can also set up metric tracking for automatic data collection.
Data accuracy was one of the main obstacles to measuring engagement that internal communicators brought up in the 2022 Global State of Internal Communications survey. But email metrics tools like ContactMonkey can help.
Cimpress uses ContactMonkey's advanced email tracking to learn the best times to send internal emails and schedule future newsletters to increase engagement.
Book a free demo to see how ContactMonkey's email tracking can increase employee engagement.
href="https://cta-redirect.hubspot.com/cta/redirect/6282300/e2ddcc9b-a2a1-4653-9c2c-eca76496d149″ >

Organizations Of Any Size Can Use Email And Its Add-Ons
Email's ease of use and accessibility allow teams of all sizes to use it for engagement, especially when a tool like ContactMonkey streamlines the process. You'll find plenty of scalable email platforms on the internet, including free options and advanced enterprise platforms. Thanks to email's scalability, you can find an option that fits your company size and internal communications budget.
If you have a lean team with limited resources, email has integrated solutions like ContactMonkey that make it simple to create engaging messages.
The small internal communications team at the University of North Texas was able to manage employee engagement with ContactMonkey's drag-and-drop templates and easy-to-use analytics. They ended up saving three hours on each newsletter's creation.
A comprehensive email solution that performs all aspects of engagement emails, can free up resources when you don't have many to spare. It also integrates with accessible email platforms like Outlook and Gmail so you have all of your resources in one place.
Using an email builder like ContactMonkey, you can have multiple team members working on an email simultaneously. With email collaboration, you can view changes in real time and track comments—just like in Google Docs.
You Can Customize Email For Better Engagement
Customizable elements such as headers, layouts, and graphics make email an even better employee engagement tool because it's visually appealing content. Email features such as templates, HTML customization, and the option to include video for internal communications give you more control over an email's appearance, unlike with messages in channels like messaging platforms:
Many internal communicators already recognize email's creative opportunities and want to find ways to optimize its use—which is why email feature so prominently in employee engagement best practices.
In our 2022 Global State of Internal Communications survey, email templates were among the top three most popular internal comms resources, alongside webinars and blogs.
Most notably, it was because of their ability to make emails more responsive and visually appealing.
At the same time, email templates were also the second most time-consuming type of content to create.
ContactMonkey's templates and drag-and-drop customization features empower IC pros to tailor their communications to readers' needs⁠—and do it quickly.
With pre-made, custom templates you can hit the ground running. From your employee onboarding templates to your exit interview surveys, ContactMonkey can help you save time and gain critical insight to improve engagement across your business.
ContactMonkey: The Best Email Employee Engagement Tool
With a solution like ContactMonkey, you can create opportunities for dynamic employee engagement with surveys, emoji reactions, and anonymous comments.
Exemplis, for instance, takes advantage of ContactMonkey's rating and comment features to simplify replies for employees.
Team members can add a quick rating or comment with less effort than a full employee engagement survey would require, allowing for more frequent communication.

Emails provide a channel for employees to respond to your messaging in real time when they have feedback or a question.
After you send a newsletter, announcement, or survey, your team can respond using embedded features or replying through the email thread.
Instead of getting lost in a message thread or meeting questions, their responses will stay in your inbox or metrics panel.
Take Advantage of the Ultimate Employee Engagement Tool
Thanks to its accessibility, potential for data collection, and customization opportunities compared with other channels, email continues to be the top employee engagement tool.
It's also compatible with add-ons like ContactMonkey, which further increase its potential for internal communication.
ContactMonkey enhances the power of email engagement through intuitive and comprehensive features. Combined with best practices for engaging internal emails, your internal communications team will be unstoppable.
See ContactMonkey in action to learn how it boosts the number one engagement tool. Schedule a personalized demo today.