Ever wondered, "how do I send HTML email in Gmail?" or "what's the best way to create Gmail HTML email?" Look no further, there's no better way to add HTML code to a Gmail email than via ContactMonkey.
If you've tried to put HTML in Gmail, you'll know it's not that easy. You can't just flip a button and turn on a what-you-see-is-what-you-get (WYSIWYG) editor. And you can't just paste in your code either.
Usually, if you wanted to send HTML email through Gmail you relied on workarounds. Unfortunately, these are usually pretty complicated and require an ability to code in order to get your responsive emails to look good. Often you're left with newsletters with broken images and links, or being distorted on mobile devices.
Well, now you can say goodbye to all of that.
ContactMonkey's email management software makes creating, sending, and tracking responsive HTML email in Gmail easier than ever before. Build stunning HTML email templates to feature company newsletter ideas using our email template builder, and track their performance from your campaign dashboard.
Book a free demo to see how ContactMonkey can streamline your internal communications in Gmail.
How Can I Create a Responsive HTML Email in Gmail?
Send HTML emails from Gmail using our built-in email template builder. You may be wondering, 'How do I insert HTML into Gmail?'
It's simple. ContactMonkey features an easy-to-use, drag-and-drop interface. With it, you can add images, videos, customizable icons, and other email newsletter best practices to your newsletters and export them as HTML emails. Even add GIFs to your emails to grab your employees' attention.
You can also add surveys, emoji reactions, anonymous comments, eNPS, and other feedback-collecting content to turn your email newsletters into a crucial part of your pulse survey strategy: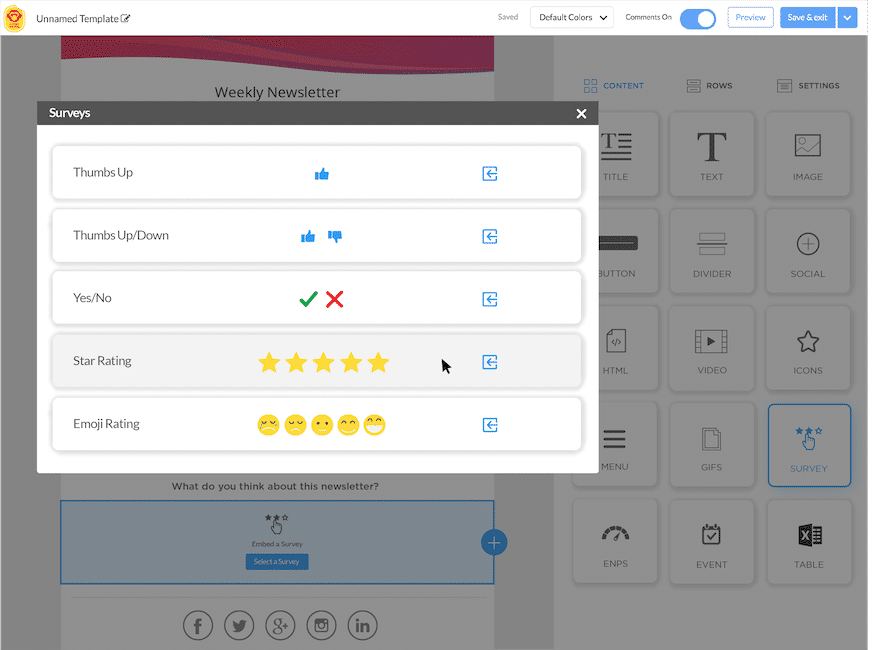 Quickly design and create employee newsletter templates that appear perfectly across all devices and email clients. If you're working with a remote or hybrid workforce, a remote teams communication tool like ContactMonkey is a must.
Preview how your newsletter will appear on mobile devices:

Unlike marketing tools like Mailchimp or Hubspot, ContactMonkey works out of your Gmail inbox and guarantees deliverability, and prevents your emails from ending up in the dreaded "Promotions" tab of Gmail. With this Hubspot and Mailchimp alternative, you'll never have to worry about your newsletters being filed away by spam filters again!
Step-by-Step Guide to Sending HTML Emails in Gmail
If you're still wondering, 'How do I send HTML content in an email?' We've got you covered.
With ContactMonkey, you can send the best content using HTML emails, customize your emails according to the recipient, and track how your emails perform using in-depth metrics.
1. Create and Send HTML emails from your Gmail inbox
Say goodbye to the counter-intuitive act of leaving your inbox to send HTML email through Gmail. All emails and responsive newsletters will be coming from your own Gmail inbox.
ContactMonkey integrates neatly within your Gmail inbox so you can quickly and easily send your HTML emails to your existing Google Groups: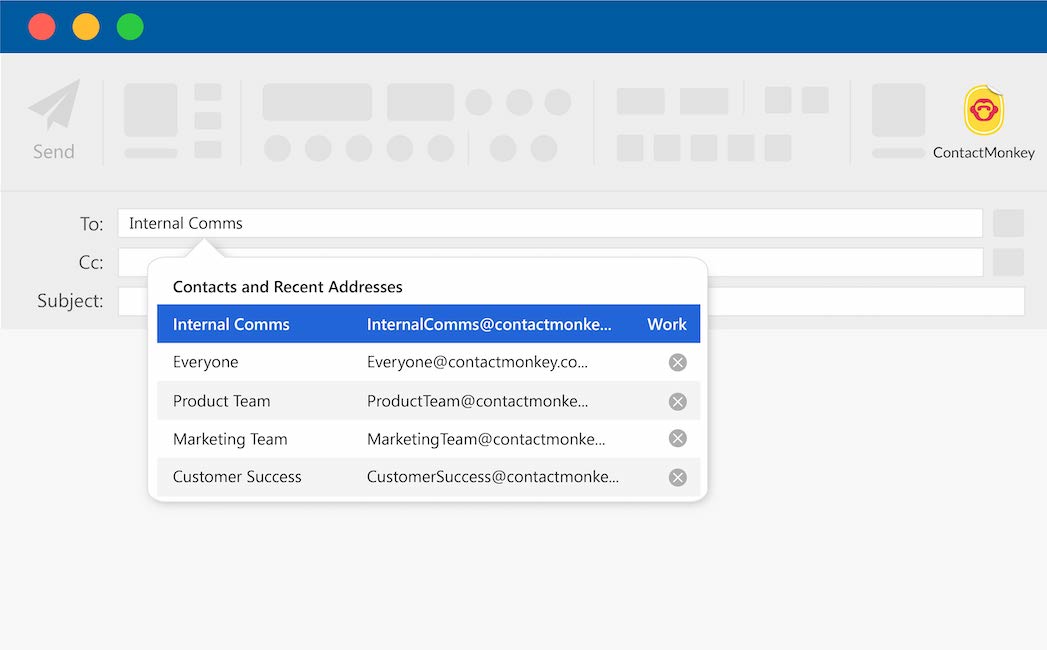 Alternatively, you can use ContactMonkey's List Management features to create and manage custom employee distribution lists. This makes the process of creating segmented groups simple, since you don't have to involve IT.
2. Personalize your HTML email in Gmail
Speaking of Google Groups, you can use Gmail to send HTML email with personalized subject lines and body copy with ContactMonkey. Based on who in your Google Groups is the recipient, you can insert merge tags in place of text to display the recipients first name, last name, user name, email, and more.
Boost your email open rate and send content your employees want to read with personalized HTML email body copy:
…and custom subject lines with Merge Fields: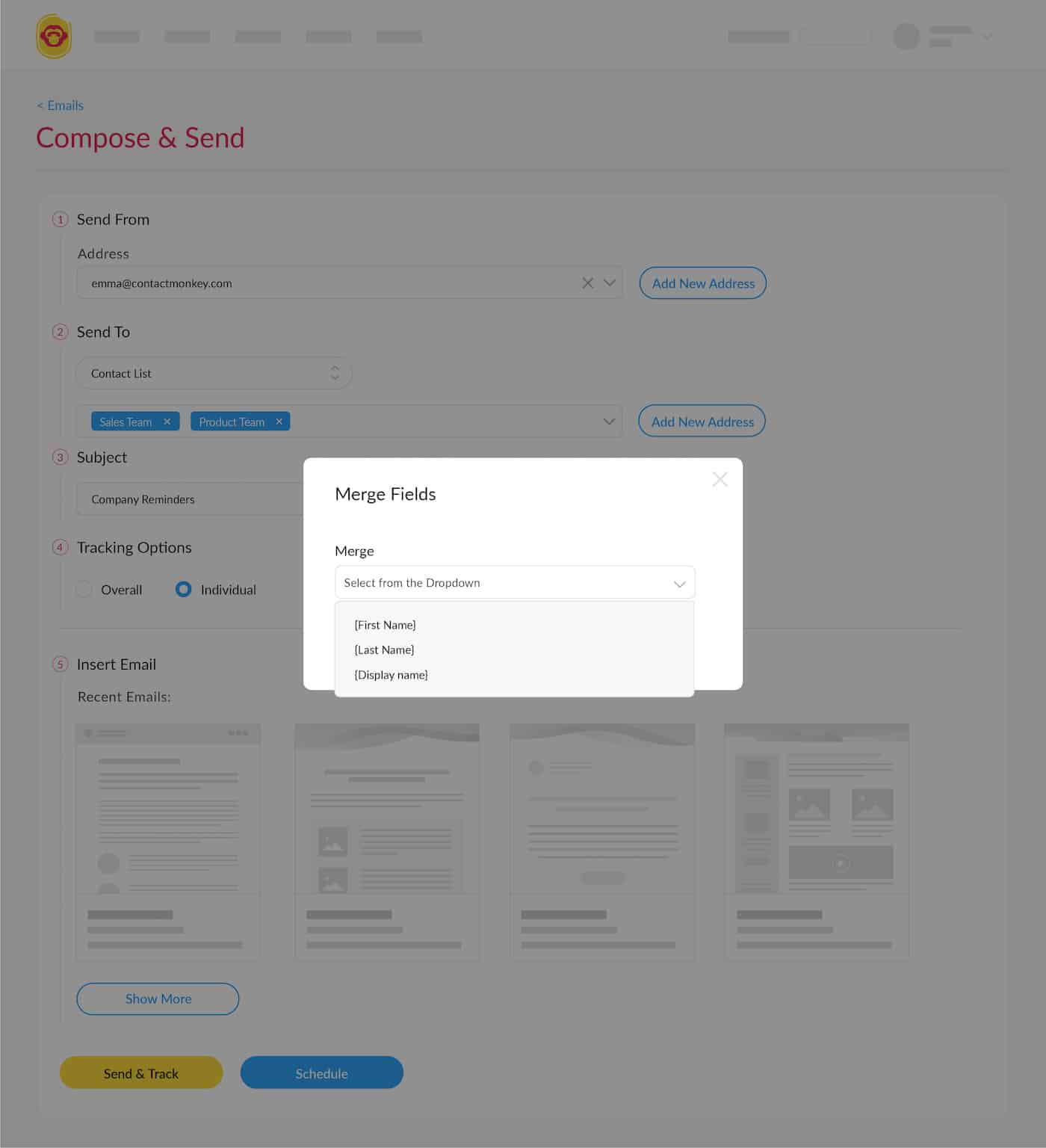 When your employees receive email that addresses them specifically, they're far more likely to engage with its contents more seriously. This is just one of the many ways that ContactMonkey boosts employee engagement via internal communications.
You can create even more employee engagement with high-quality, professional content that is relevant. Try ContactMonkey's OpenAI integration to help you save time generating engaging copy.
3. Maximize email reach with delayed sending
Not all email sending times are created equal. Many internal communicators will find that their recipients often have a particular window of time in which they are most likely to open and engage with email.
ContactMonkey helps you send email within this window by using delayed sending. It's super easy to input the time you want your emails to appear in your recipients' mailboxes: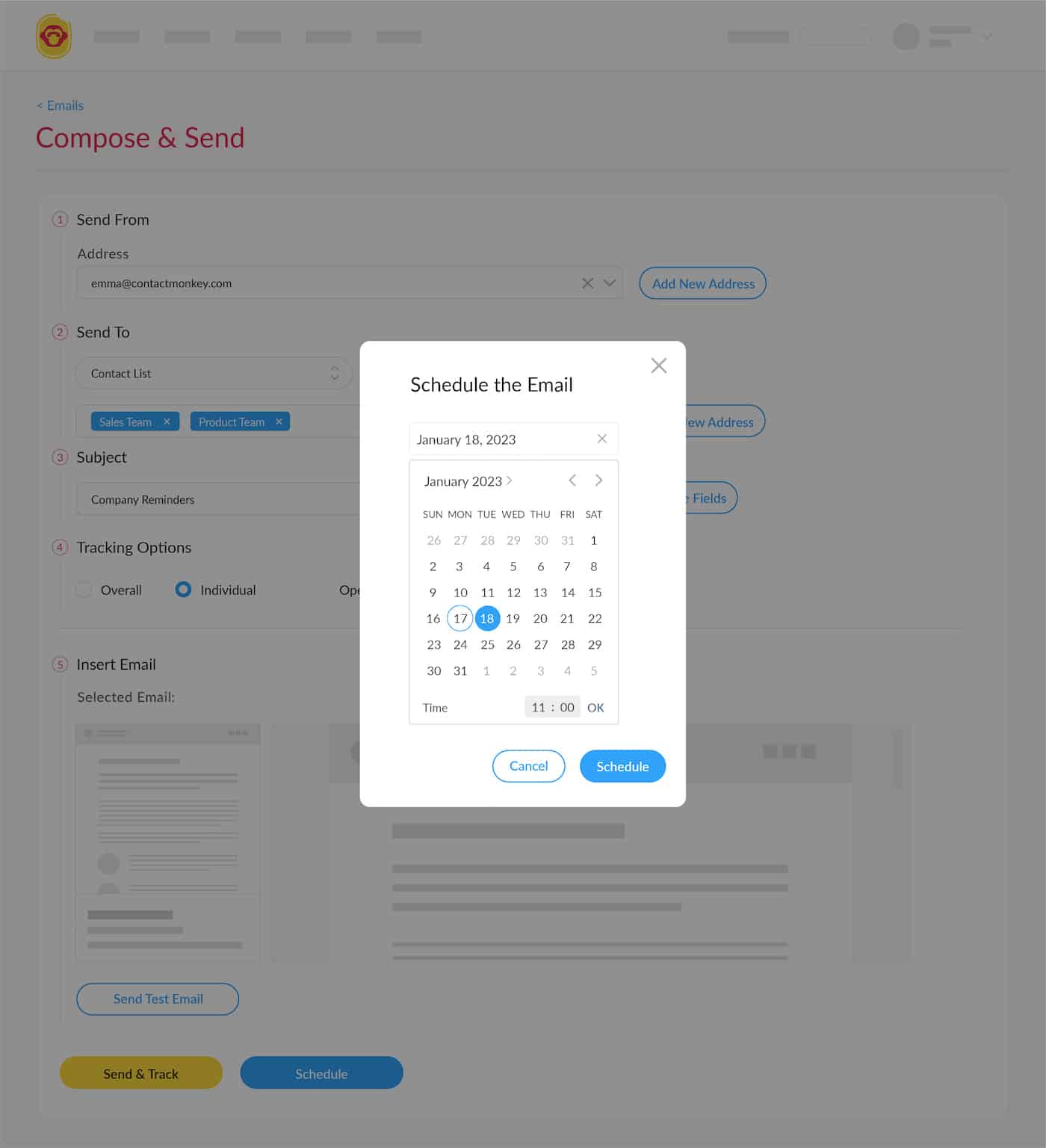 With ContactMonkey, Gmail users are also no longer constrained by existing email send limits of 2000 recipients per send. Gmail users can easily send emails to more than 2000 individuals in a single email send, achieving a wider reach with their internal email communications.
4. Track HTML emails in Gmail
Using ContactMonkey's intuitive campaign dashboard allows you to see how your campaign performs in real-time. Determine your best performing content and where you may need to improve by tracking opens, clicks, opens by location and device, and more: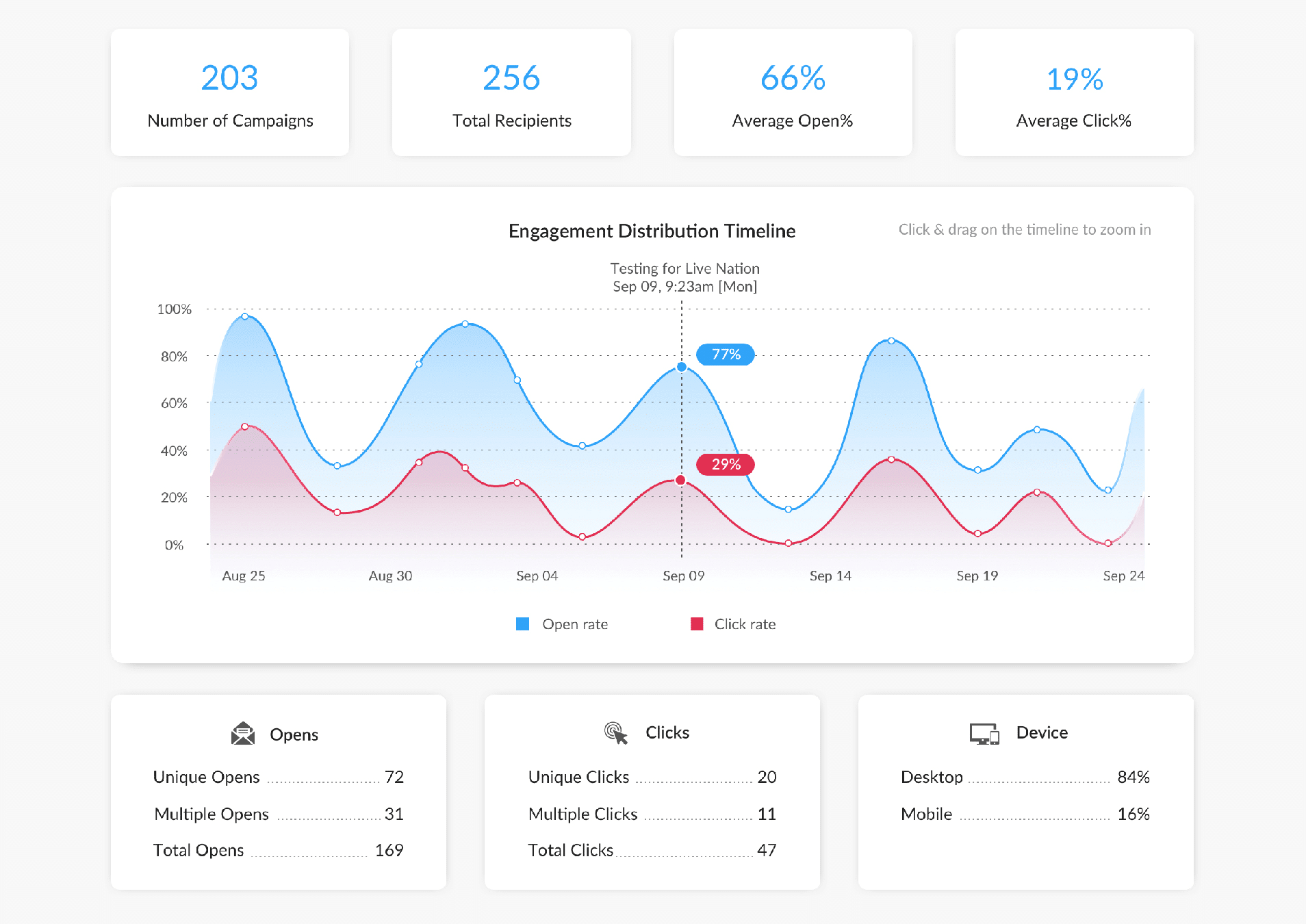 From your campaign dashboard, you can also keep track of employee responses you've received on your HTML email. View employee comments, emoji reaction and eNPS results, link clicks, and other employee input: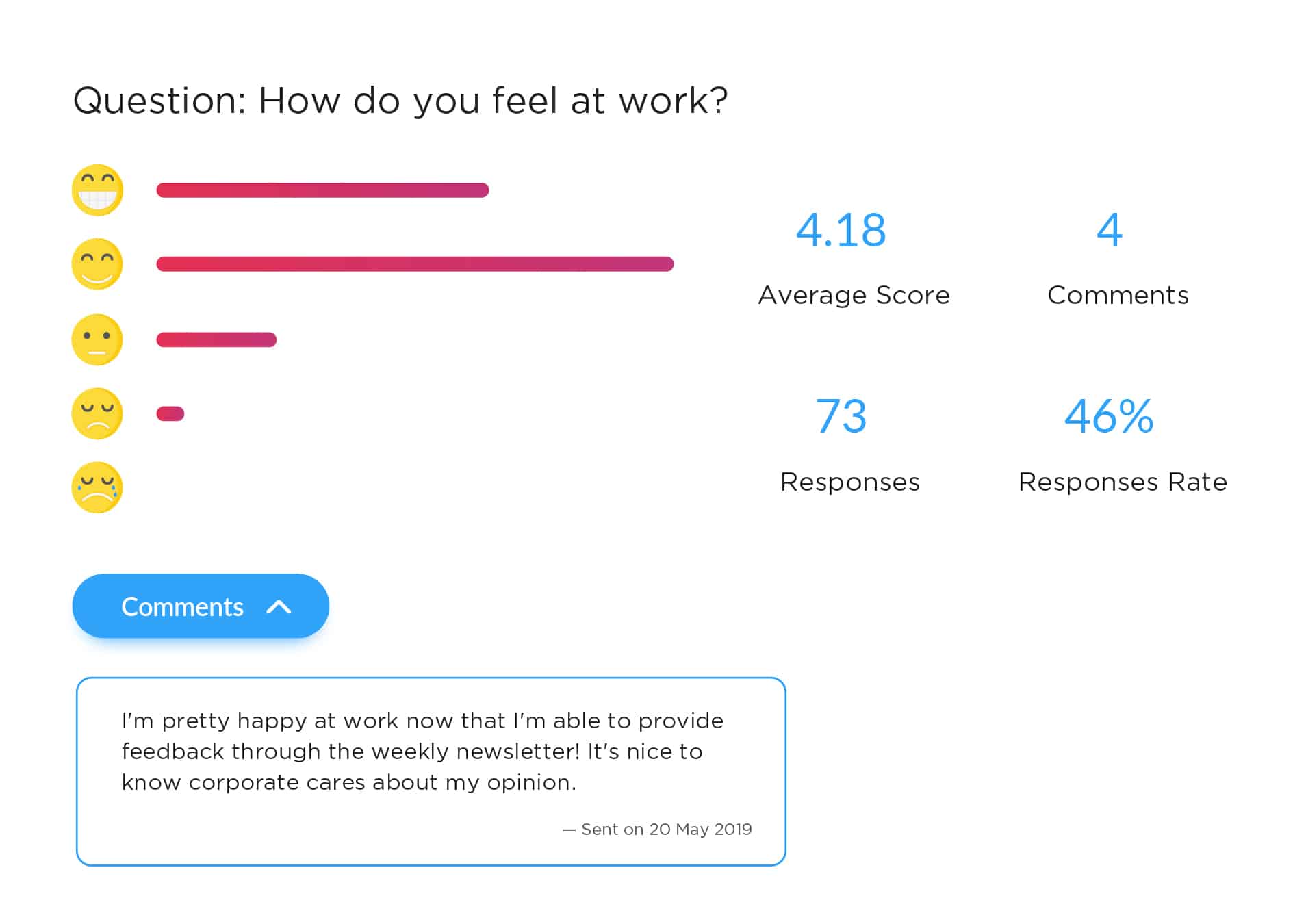 You can also download and share your reports, so the rest of your company can see the success of your campaigns and your overall impact on the company.
ContactMonkey's Google Group support also allows Gmail users to gather individual tracking metrics on emails sent to their Google Groups. With access to precise recipient numbers after each Gmail send, you can ensure more accurate and in-depth reporting.
5. Compare campaigns and make improvements
For added insights, you can also compare your email campaigns within ContactMonkey and even export them to Excel and PowerPoint.
Internal communications managers no longer have to view individual campaign metrics in silos. Instead, you can compare multiple campaigns side by side. Then, benchmark your campaigns against other best performing email newsletters.
This way, you can check what content and design resonated best with your audience and implement favourite features in your next email. You'll also see which campaigns didn't do as great as others and pinpoint areas for improvement.
Once you access your campaign comparison report in ContactMonkey, download it and easily export excel data onto PowerPoint to present to the rest of your team.
Email tracking and employee feedback are crucial aspects of a data-based internal communications strategy. At ContactMonkey we believe great employee content isn't left up to chance, and that the best internal communicators know exactly how their emails are performing in order to evaluate their success. Learn how to implement a data-based internal communications strategy by booking a free demo with one of our experts.
Unlock Gmail's Full Potential with HTML Emails
HTML emails in Gmail need not be headache inducing. Now that you know how to send an HTML email in Gmail, use ContactMonkey to boost your Gmail inbox performance with stunning, responsive HTML email templates, personalized email copy and subject lines, and in-depth tracking data and employee feedback.

ContactMonkey integrates directly into your Gmail inbox so there is no need to constantly switch between programs to send HTML emails in Gmail. Simply create, send, and track your emails using ContactMonkey and watch your recipients satisfaction grow.
Related Blogs:
Newsletter Creators for Gmail: Top Tools and Strategies
14 Gmail Newsletter Templates for Internal Communications
Ultimate Guide to Email Newsletters
HTML email can be the next step for many internal communicators looking to increase employee engagement using their email newsletters. If you want to know how ContactMonkey can streamline your internal communications process, book a free demo with one of our internal comms experts.