Email remains the most popular internal communication channel for businesses, but are there better alternatives? In this post, we explore the advantages and disadvantages of email for business and employee communication.
Email is synonymous with business internal communication, but does it still deserve to be the default means for connecting employer and employee?
Learn if the importance of email still holds, and whether the advantages of email continue to outweigh its disadvantages.
Why Is Email Important?
According to our Global State of Internal Communications Survey, email is the most popular internal communication channel by a significant margin. Email is popular for numerous reasons, but one of the main reasons is that email is a simple distillation of what the internet is: a means of sending and receiving information to and from others.
What is the purpose of email in a business context? Due to its versatility, email can be used by businesses in numerous ways for purposes large and small. From employee-to-employee communication to organization-wide announcements and employee newsletters, email can be configured to suit a wide range of business needs and feature a variety of company newsletter ideas.
But despite its widespread use, email is an old-school communication channel compared to recent innovations and improvements to other forms of communication. Should your business still be prioritizing email over other mediums? Our list of the advantages and disadvantages of email can help you decide.
Pro tip: Stop using an external email tool for your internal communications. Learn why you need a dedicated internal communication tool like ContactMonkey for your business.
Top Benefits and Advantages of Using Email
There are numerous reasons email remains the most used form of communication for businesses. Rather than examine its specific uses of email, we'll look at the overall attributes that contribute to email's effectiveness for business communication.
Accessibility
Email is one of the first things people learn how to use when starting out on the internet. Email's premise is simple: sending information to another person in a different location. Not only can users easily grasp how to use email, they have easy access to email services via countless different free providers.
Businesses rely on email—for both external and internal communications—because it's simultaneously instant and lasting. Since email is accessible from so many devices, your employees can read their emails as soon as they hit the inbox.
Even if your employees don't read your emails immediately, they'll be alerted about unread emails via "unread" labels. These built-in reminders within email inboxes help remind your employees to check the emails they've yet to read.
Reliability
Not only is email instant; it's also consistent. While other forms of communication may rely on a working internal connection for both sender and receiver, email only requires the sender to be connected to the internet during the sending process. Whenever your recipient connects to their inbox, your email will already be there.
However, if you're sending to larger groups of people you may run into limitations on the number and speed of the emails you send. Outlook sending limits and Gmail sending limits can impact your business' internal communication capabilities if you need to reach a number of employees beyond those restrictions.
Thankfully, email tools like ContactMonkey can help you send beyond these limits. With our Email at Scale feature, you can send more than 10,000+ emails in a single day up to 16 times faster than sending mass emails without.
Email at Scale also allows you to exceed the Gmail sending limit and send more than 2000 emails per day. And if you're sending emails to Google Groups, ContactMonkey is the only email tool that allows you to track individual email statistics in Gmail:

Customizability
Email is an incredibly versatile type of communication. It can be configured according to the type of information you want to send, or even the information you want to receive. Businesses unlock the full potential of email by using custom HTML code to bring their emails to life.
Add custom formatting, images, videos, GIFs, fonts and styles, reactive animations, and more all make your emails both standout and communicate information effectively. But despite HTML email's huge benefit for internal communication, businesses often see HTML coding as too great a barrier to overcome.
But using ContactMonkey's email template builder, you can create stunning HTML email templates without any HTML coding knowledge. Use the drag-and-drop interface and different content blocks to build an immersive email to match your business' brand and identity: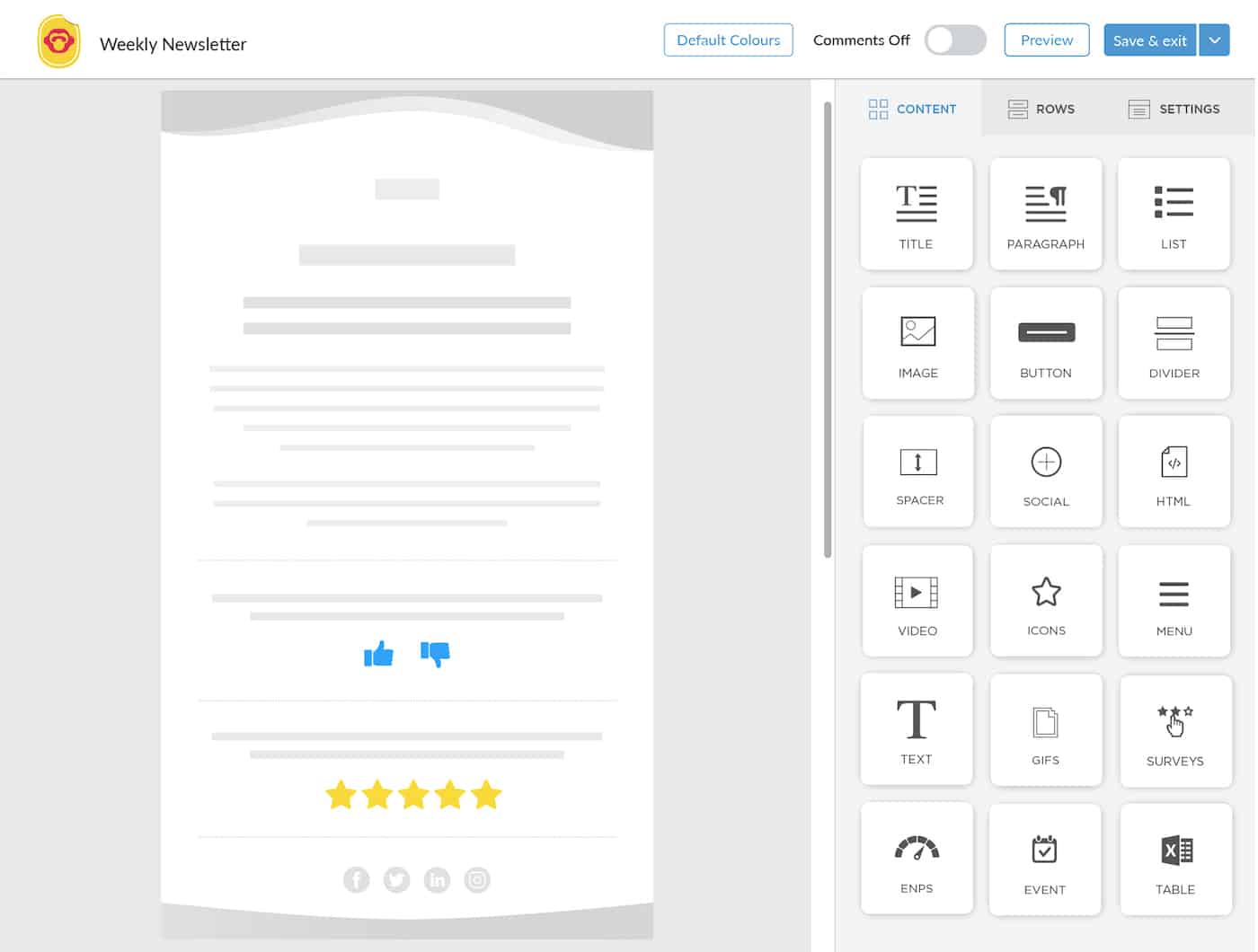 Not only can you customize the appearance of your emails, but you can add interactive and customized content to them as well. Use merge tags to create personalized body text and subject lines, which are proven to increase email open rates.
You can also add HTML features to collect employee feedback and survey responses. When you're sending emails to thousands of employees, receiving individual replies isn't feasible. ContactMonkey's employee feedback features make it easy for your employees to provide their input, and centralizes the feedback within your dashboard: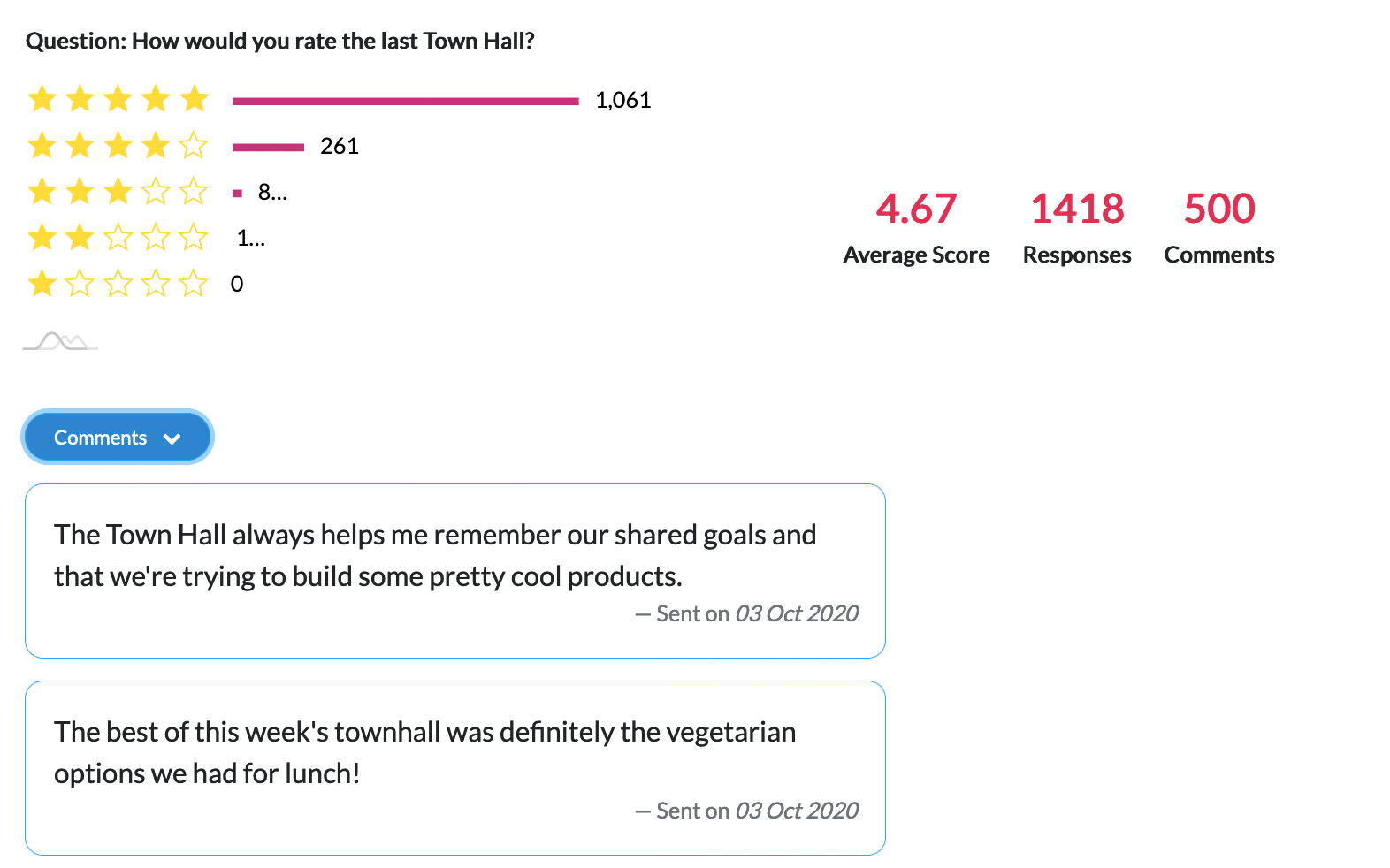 Email's flexibility for the type of content it can communicate is one of biggest advantages of email.
Another powerful example of email's customizability is email lists. These lists help you target relevant employees and reduce the amount of clutter in your employees' inboxes. Using ContactMonkey's List Management feature, you can easily create your own custom email lists—without needing IT—that integrate with your Human Resource Information System (HRIS) like Workday and ADP, as well as Azure Active Directory, so they'll update automatically.
Trackability
As we mentioned, email is a passive form of communication, which means the sender doesn't immediately know if the information they sent has been looked at by the recipient. Though the benefits of passive communication are what make email useful, businesses want the knowledge that their employees understand the information they were sent.
Internal email analytics can bridge this communication gap. Combined with employee feedback, email metrics can help internal communicators understand whether their emails are engaging their employees or falling flat. Email analytics provide quantitative measures of email engagement like:
Read time
Opens by device and location
Individual email open and clicks
These metrics help businesses track the reach of their emails, and create internal communication benchmarks with which they can measure their future success. Internal communicators can use these metrics to prove the ROI of internal communications and help cement email as an effective way to keep employees engaged and informed.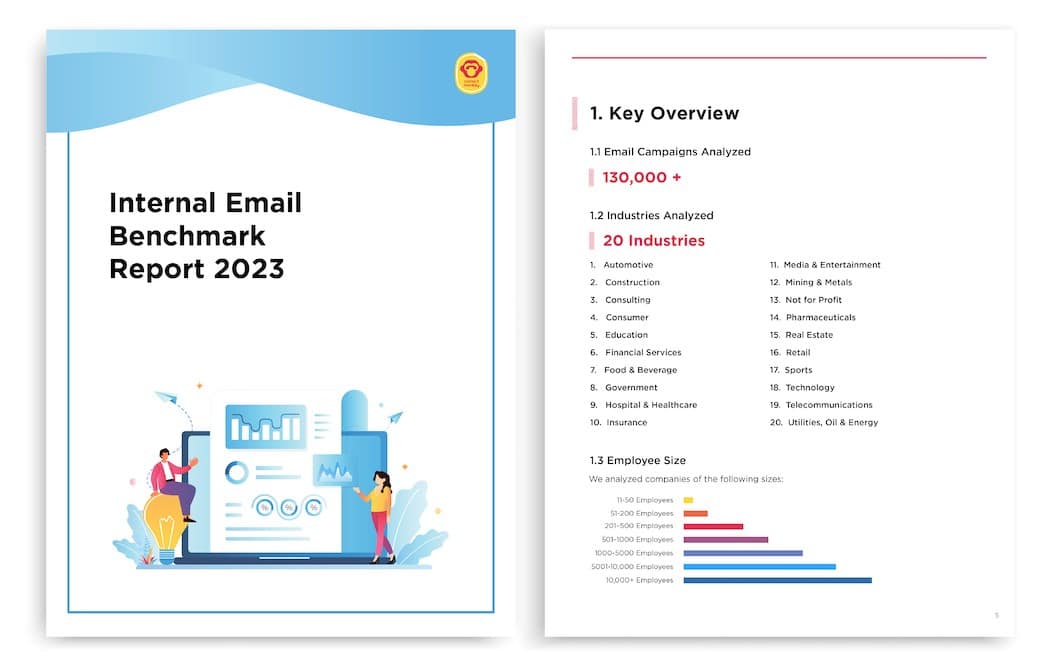 Disadvantages of using email
Email has stood the test of time to remain the main form of business communication for the foreseeable future. But such a tenure invariably exposes certain weaknesses, and email is no exception.
Display errors
While HTML can unlock email's true potential, it can also cause a slew of problems if not correctly applied. Outlook rendering issues can result in images not loading, text being misplaced, code being visible, and other problems.
Fortunately, if you use a tool like ContactMonkey you won't have to deal with coding issues. Email templates created with ContactMonkey appear perfectly on whatever email inbox or device you're sending to.
You can also use the preview feature to see how your email will appear on either desktop or mobile devices: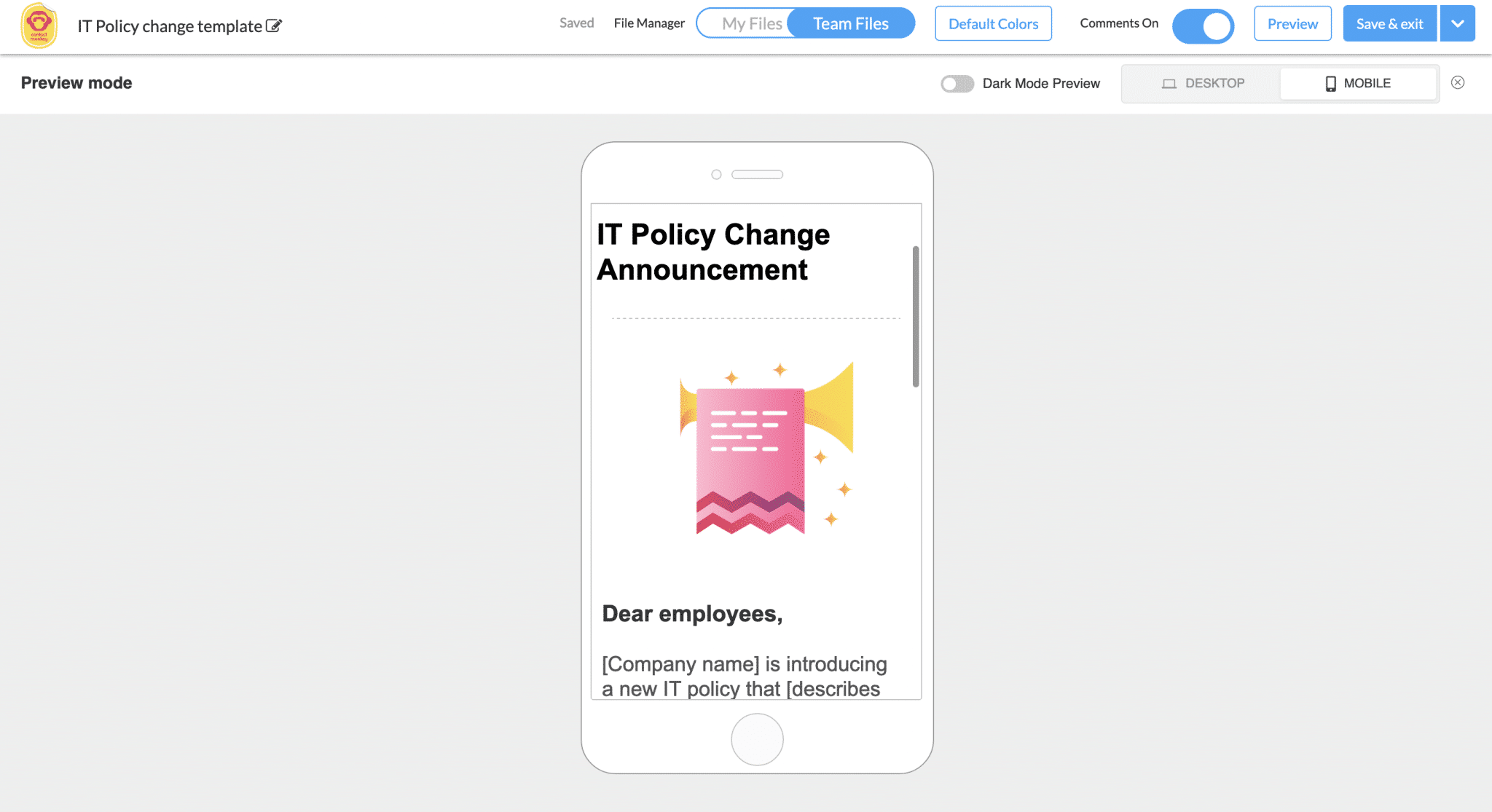 IT and business security
Email's popularity unfortunately also means it's subject to those looking to exploit employees and businesses. Email phishing, computer viruses, ransomware, and other threats can compromise your business and IT security, putting your business' and employees' data at risk.
While there is no all-in-one way to protect your business from these threats, you can take steps to ensure your business is prepared should you encounter an email scam or virus. Conduct regular IT training like phishing awareness with your employees so they know what to look out for.
Spam and oversaturation
Another disadvantage of email for businesses is overuse. Since businesses use email for both internal and external communication, your employees can be inundated with emails from your company and others.
This can result in your employees tuning out from certain emails in order to address more important ones. For internal communications, oversaturation can lead to your employees missing important information.
Fortunately, there are ways your business can avoid email oversaturation. Scheduling your employee emails ahead of time via an internal communications planning calendar can help you space out your emails over the course of a year: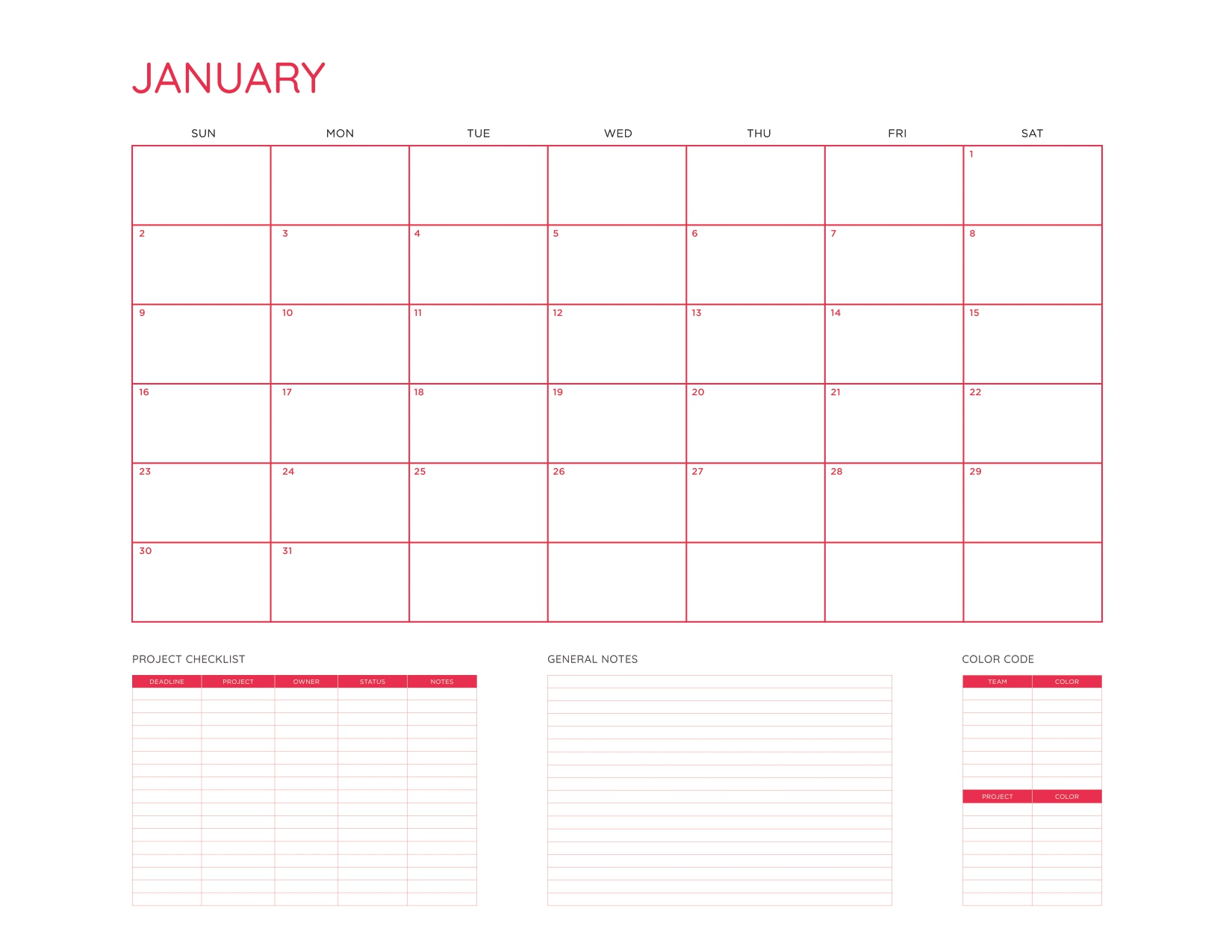 You can also vary the internal communication channels you use depending on the type of information you need to share. Instead of sending an email to remind your employees about an upcoming event or meeting, you can use channels like SMS text messaging to alert your employees.
In your planning calendar, you can plan both what type of information you're going to send and what channel you plan to use. Using different channels can help you keep your employees engaged and avoid the limitations of email.
Best Ways to Use Email for Internal Business Communication
Getting the most out of your business emails comes down to how to use them. Have a clear idea of when to use an email and when to use another form of communication for your business.
Here are some of the best ways to use email in a business context:
Internal newsletters are one of the most popular uses of email in business. You can use internal company newsletters to communicate lots of information in a simple, easy-to-digest format.
Leadership messages and leadership communications help connect employees with their employer. These can range from official announcements, to holiday best wishes, to crisis communications.
Employee feedback collected from emails can be an invaluable resource for businesses. Email surveys let your employees respond at their own pace, which can lead to more constructive feedback.
Product and service updates are terrific to share via email; they can be easily referenced whenever employees need to refresh themselves about the latest updates.
Employee recognition is a great feature for your business emails. Employee recognition emails can be used in conjunction with other communication channels, like in-person meetings and digital signage.
Alerts and Notifications can be communicated via email depending on the nature of the information. Email alerts can be used in conjunction with other communication channels like SMS, voice messages, and other fast communications to ensure your employees learn what they need to know fast.
Despite the overall pros and cons of email, its utility will depend on how your business chooses to use it. Hone in on the specific uses of email for your business to make your internal communication as effective as possible. A big advantage of email for internal communications is that you can adjust it according to what your business needs.
How to Improve Email Communication
Businesses can negate the disadvantages of using email in different ways. We've spoken about how planning your email communications can keep your employees stay engaged, and how choosing the right internal communications channel can help avoid issues like oversaturation.
Using a dedicated internal communication tool like ContactMonkey can eliminate many of the negative aspects of email. ContactMonkey helps businesses centralize their internal communications; create, send, and track both email and SMS employee communications from your Outlook or Gmail inbox.
If you run into trouble with your business emails, ContactMonkey provides full support for you and your team to help you reach and exceed your internal communication goals. To see how ContactMonkey can work for your business, you can try a free demo whenever you'd like.
Businesses Rely on Email Communications
Although it has its disadvantages, email remains overwhelmingly beneficial for businesses. As a passive form of internal communication that nonetheless demands attention from recipients, email's versatility for numerous business uses separate email from its other communication counterparts.
Email's full potential can be unlocked via various tools. For internal communications, ContactMonkey's all-in-one email tool provides businesses with a suite of features that expand the capabilities of their employee emails. Create stunning emails, optimize your sending, and measure your success all from your existing email inbox.
See the power of ContactMonkey for internal email.
Let us show the best tool for internal communications.
To see ContactMonkey in action, book a free demo to see how our internal communications software can improve your existing internal communications: