ContactMonkey's email template builder integrates seamlessly with Outlook. Save time and create beautiful, responsive HTML email templates for your corporate communications!
Our drag-and-drop Outlook email template builder—coupled with your Outlook inbox—truly gives you the best of both worlds: the power of the cloud without having to leave your email client to send and track beautiful, responsive employee emails.
Over 100,000+ happy communicators from companies of all sizes, industries, and locations use ContactMonkey. They leverage optimized email communications, powerful email analytics, and responsive email templates to increase employee engagement and improve business outcomes.
Our HTML email templates are designed to render perfectly within Outlook—an email client notorious for its incompatibility with HTML. Book a free demo to see how to create email newsletter templates to your distribution lists or CSVs with ContactMonkey.
Try the ContactMonkey Outlook Email Builder today.
Sign up for a free 2-week trial. No credit card necessary.
Email Template Builder for Outlook
Email templates are like cheat codes for internal communicators; they save time during the design process so more time can be spent focusing on providing great content.
With our email template builder—accessible from the ContactMonkey sidebar—users can choose from dozens of employee newsletter templates and edit them with easy-to-use drag-and-drop tools.
Customize your responsive email template by including images, email tables, internal company videos, icons, surveys, and animated GIFs in your emails:
What's even better, you can also save your templates under your "My Templates" section of the tool, so you can continue using your favourite personalized templates.
We're always adding new features to our HTML email builder for Outlook to make it even better. Have an idea for a feature for our software? Share your thoughts with one of ContactMonkey's internal communications experts in a free demo.
Optimize Your Internal Communications Process
A drag-and-drop email template builder makes creating beautiful internal emails simpler, more fun, and more effective. And that's pretty important considering that predictions on the future of email indicate that it's here to stay.
Having a formalized process for your internal communications not only saves you time in the creation process but helps maintain quality and consistency across numerous email communications, which strengthens your internal brand voice.
Centralize your entire internal communications process with the best HTML email template builder tool.
Here's how it works:
1. Book a demo to see Email Template Builder for Outlook in action
To get started with ContactMonkey, set up a free demo with one of our internal communications experts. They'll walk you through how ContactMonkey streamlines your internal comms process and how easily it integrates into your existing Outlook or Gmail inbox. It can basically become your Outlook email designer.
We'll also show you some pretty awesome Outlook hacks available with ContactMonkey.
After the demo, you can try it out for yourself!
2. Choose an email template
From basic to more advanced templates, you can access pre-built templates and customize them as you like. If you prefer to leave the work to the experts, you can also take advantage of ContactMonkey's email template design service. No more boring emails plain text emails: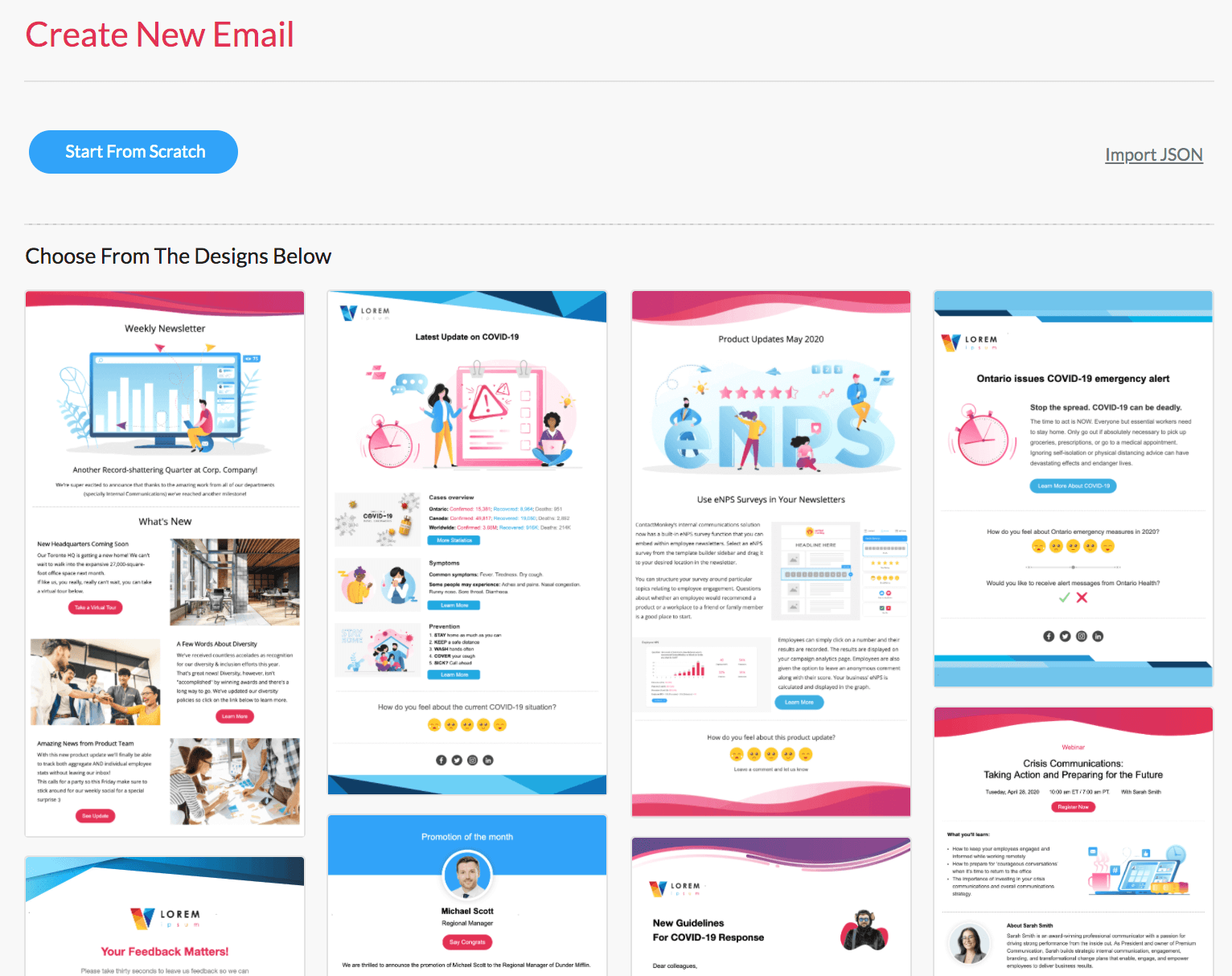 3. Save your email template
The more emails you create, the more templates you'll be able to reuse.
With our responsive Outlook email template builder, you're able to save your favorite templates under "My Templates". We recommend as a best practice to name your templates something descriptive so they're easily searchable later.
Quick Tip: Create and send email campaigns for specific parts of your workforce using ContactMonkey's list management feature to drive email engagement.
4. Import your email template
Couldn't decide from the dozens of templates we provide? No problem, you can still import your favourite HTML templates. Win-win.
5. Drag-and-drop your content
Easily add features to your templates with the drag-and-drop builder.
Our responsive email template builder uses rows to organize email content. Using rows, you can make certain visuals stand out over others, in this case, linkable icons to the company social media account:
Working with a team? ContactMonkey allows multiple users to edit an email template simultaneously. See who is currently working on your email, watch their changes in real-time, and leave comments for those issues that require consultation.
Just like in Google Docs, users will be alerted via email when they are tagged in comments. They'll be able to read the comment from their inbox and reply quickly.
Not sure how to design your internal emails? Use data as your road map: ContactMonkey's click maps feature allows you to see what parts of your emails are getting the most attention from your employees. This can help you optimize your email design and feature important information where your employees are most likely to see it.
6. Add emoji reactions, surveys, and employee comments
Turn your email newsletters into two-way communication channels between you and your employees with live feedback. Not only will you gain valuable input to help you pinpoint your best content, but your employees will feel more engaged when they get to respond to what they're being shown.
With pulse surveys, emoji reactions, eNPS, and anonymous employee comments you'll finally have a way to collect both qualitative and quantitative data from your employees: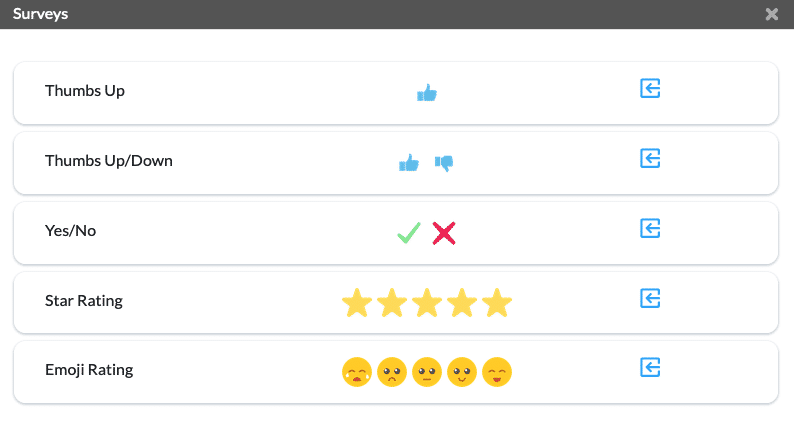 Gathering employee feedback is a newsletter best practice that is a crucial part of a data-based approach to internal communications. When you use email metrics and feedback to hone your content, you save time in your design process and create better emails and meet your pulse survey objectives.
Struggling to come up with effective survey questions? Try using ContactMonkey's OpenAI ChatGPT integration to generate unique survey questions. Simply write a prompt describing what you'd like to learn through your survey, and edit the suggested questions according to your audience.
7. Preview responsive template on desktop and mobile
ContactMonkey creates responsive HTML email templates which ensure your internal communications work perfectly on all devices. Make sure your internal newsletters ideas look exactly how you want them before sending by using the "Preview" button to see what your recipients will see:
8. Track success with ContactMonkey email analytics
While emoji reactions, eNPS surveys, and anonymous comments let your employees respond with qualitative feedback, a data-based approach to internal communications involves quantitative "feedback" as well. This is where email tracking comes in.
With ContactMonkey, you can measure email metrics like open rate, click-through rate, opens by device and location, and more. In addition to these overall tracking stats, you can track how individual recipients engage with your emails—like seeing how many times they open your email or click on an internal link.
All of this information is recorded within your campaign dashboard: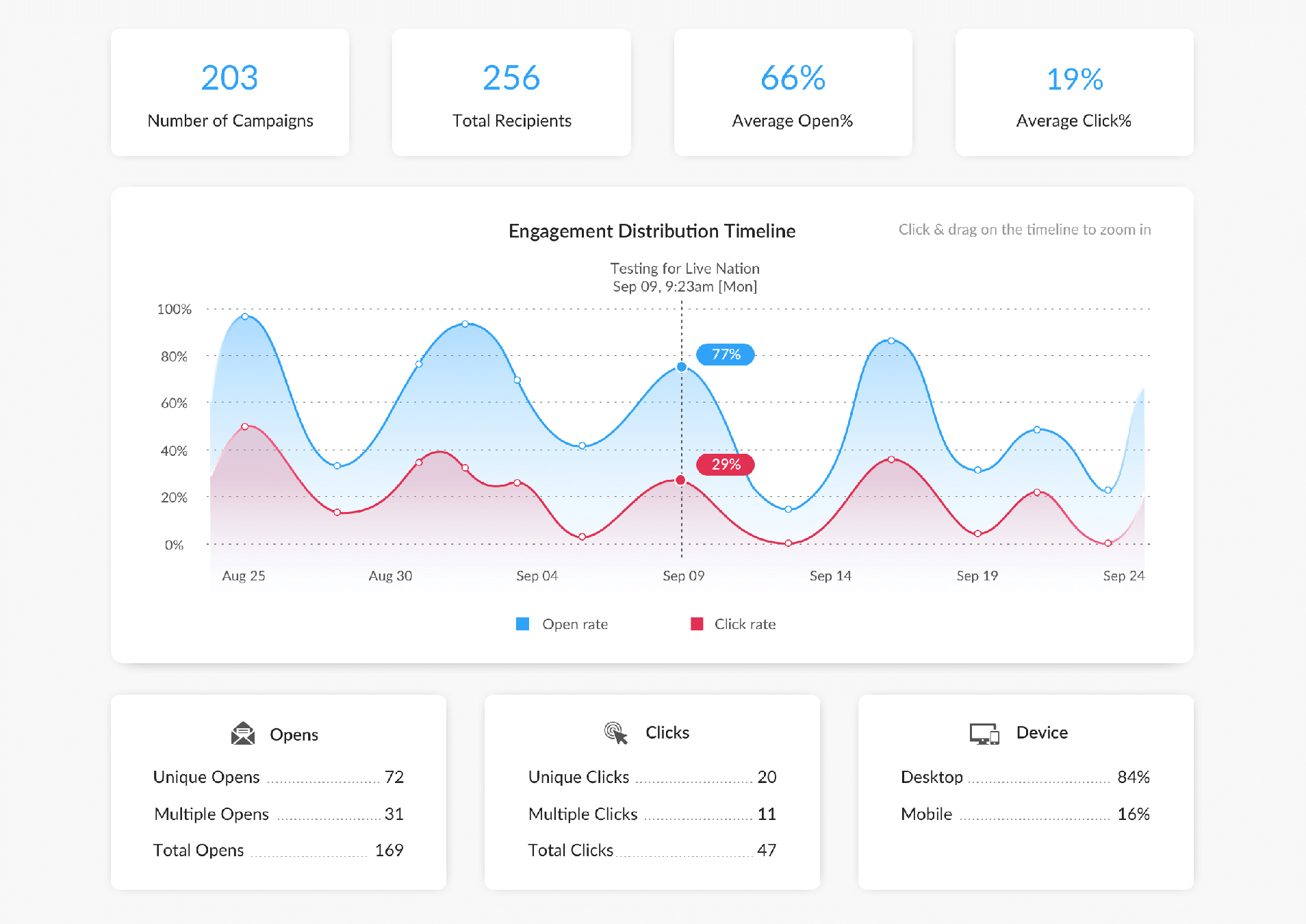 Email tracking lets you find your best-performing content, best times to send emails, most engaged employees, and more. You can also compare statistics of different campaigns against one another for an incredibly detailed breakdown of your email content.
If your organization has internal or external regulations around email privacy, use ContactMonkey's anonymous email tracking to gather email metrics while maintaining your employees' privacy.
Write Better Emails for Employees with ContactMonkey
Interested in exploring professionally crafted email samples for various employee messaging scenarios? We have additional resources available:
Send Better Emails with the Best Email Template Builder
Our goal at ContactMonkey is to help businesses harness the power of their internal communications. Using tools like our HTML email builder for Outlook, email tracking, and other employee newsletter ideas you can turn simple emails into two-way communication channels between you and your employees.
Create and send stellar email content, collect employee feedback, and track email performance, all from your Outlook or Gmail inbox. ContactMonkey makes internal communications easier than ever, with the email builder for Outlook.
Sign up for a personalized demo below and we'll walk you through how to build beautiful HTML templates that your employees will love. We're excited for you to use it and start seeing results using the best email template builder.