Internal communications is a crucial component of any business. Your internal newsletter is responsible for keeping employees engaged and up-to-date, and the right internal newsletter software can make a huge difference for you and your team.
Most internal newsletter software can help you create awesome emails and gather in-depth analytics via email tracking.
We've found that what really makes a difference for internal communicators is how the internal communications tool works with them. When you're creating regular email newsletters for hundreds and thousands of employees, an efficient newsletter workflow is essential for quality internal communications.
ContactMonkey and Poppulo are internal newsletter software that are very similar yet very different. Each boasts email template builders and email tracking for internal communications. However, it's how these tools operate that makes them distinct. And this distinction will help you decide which is best for your business.
Want to see ContactMonkey for yourself? You can book a free demo to learn what ContactMonkey is all about:
Choosing The Best Internal Newsletter Software
To find the best internal communications tool for your small business or large corporation, it's crucial to assess your current internal communications landscape and needs gap. How well an internal communications solution works for you will depend on how well it fits into this framework.
Both ContactMonkey and Poppulo have unique benefits to their platforms, and understanding how these can meet your business' specific needs can help you make the right choice.
Does it integrate with my current internal communication setup?
Whether you're new to internal company newsletters or are looking to switch up your existing internal newsletter software, how well a solution works with your internal communications landscape is critical.
Integration is one big difference between ContactMonkey and Poppulo. Poppulo is a web-based software that works within your browser: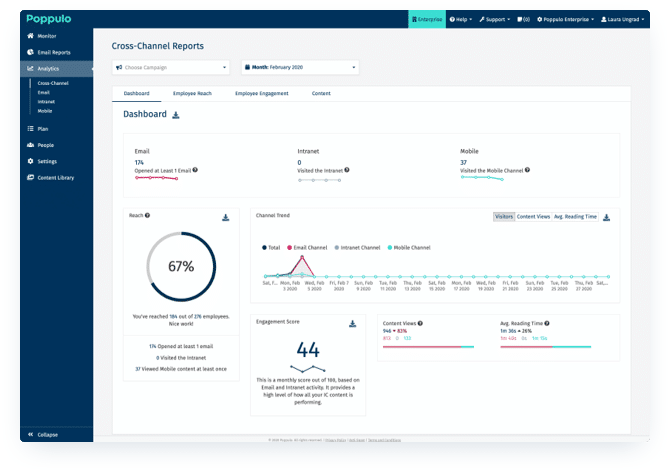 Poppulo offers customers a powerful tool for their internal communications. However, their web-based format comes with its caveats. You cannot work from your existing Outlook or Gmail mailbox, and you are required to use Poppulo distribution lists.
ContactMonkey works with your existing Outlook or Gmail distribution lists and mailboxes. ContactMonkey sits within your email inbox so you can easily send and track internal newsletters to your employees: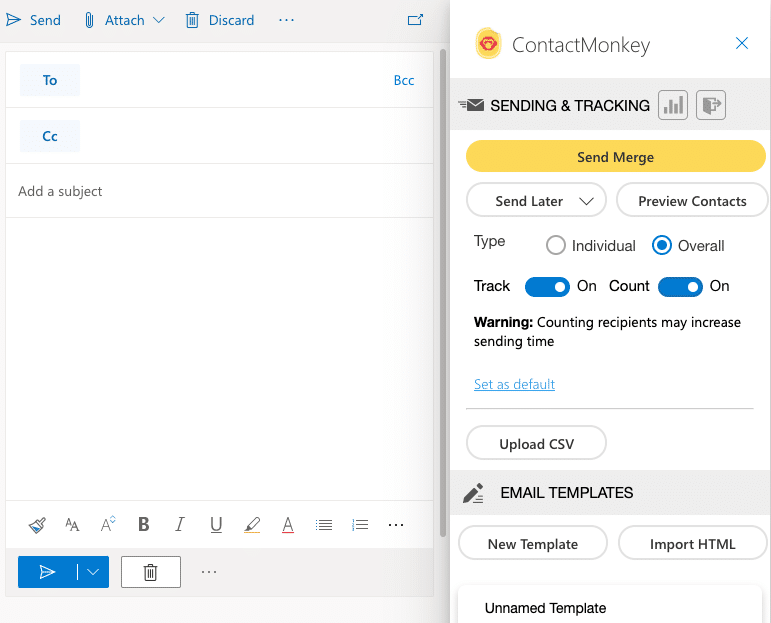 Because ContactMonkey integrates with your current Outlook or Gmail inbox, set-up is easy and immediate. ContactMonkey has same-day onboarding so you can get your new internal newsletter software online fast.
To get set-up with ContactMonkey and start sending and tracking internal email to your existing distribution lists, you can book a free demo with one of our internal communications experts.
How easy is it to use?
As an internal communicator, your focus is likely creating great content that grabs your audience attention while effectively communicating its message. But it can be a challenge to maintain this focus if you have to constantly fiddle with your internal communications software to get your desired result.
Poppulo and ContactMonkey take pretty different approaches to their user interface, though the functions they perform are similar.
Poppulo's internal communications software features a web-based interface where all its tools are centralized. You can create emails, manage employee data, and measure your email metrics all from the same browser window.
While this configuration makes it easy to switch between functions, it also has its drawbacks: the learning curve for Poppulo can be steep.
Compared to ContactMonkey's email template builder—which features drag-and-drop functionality and requires no zero coding—Poppulo's multi-page designer is a tad cumbersome. Poppulo requires you to have a knowledge of HTML coding to use their designer, and restricts your ability to customize format due to predefined rows and columns.
With ContactMonkey, you can build responsive HTML email templates using pre-made templates, or start from scratch to meet your exact specifications:
After you've built your email template, it will automatically appear in the ContactMonkey sidebar ready to be imported. Sending beautiful HTML emails from your Outlook or Gmail inbox has never been easier.
Drive more engagement with your emails by sending only relevant information to your employees. With ContactMonkey's List Management feature, you can create your own custom email lists without having to wait on IT. Use these lists to contact employees with information they'll find relevant, and avoid inundating them with emails that don't apply to them.
ContactMonkey integrates with your Human Resources Information System (HRIS) like Workday and ADP, as well as Azure Active Directory, so your custom email lists will automatically update as employees join and leave your organization.
Multiple people working on the same email template can be time-consuming and tedious. While both Poppulo and ContactMonkey offer team management, ContactMonkey's email template builder allow for multiple users to work on a template at once. With email collaboration you and your team can work simultaneously and leave comments for each other—just like Google Docs:
Not sure how to start your email? ContactMonkey's OpenAI ChatGPT integration has you covered. Simply write a prompt and generate email content you can customize and send to your employees. Use this integration to kickstart your emails and get new ideas to try.
How does this tool handle privacy and security?
For many businesses, their internal emails contain sensitive information which requires protection from malicious actors. Control over the path emails take to their destination is paramount so that only those with permission can access them.
When they are sent with Poppulo, emails are routed through their servers before heading to their destination. For companies with strict security concerns, this extra step can be seen as an unneeded liability.
ContactMonkey integrates with your existing Outlook or Gmail client, so all emails created with ContactMonkey are sent through your servers. You can easily build great internal communications and send them with confidence knowing that they aren't passing through external servers.
Does your organization have internal or external regulations for employee privacy? ContactMonkey's anonymous email tracking helps companies collect email metrics while maintaining recipient privacy.
Is it well-supported?
Poppulo's onboarding process is more drawn out: their onboarding process takes between 1-7 days, and you are required to watch a pre-recorded video before you are allowed to conduct a live trial.
With ContactMonkey, setup and onboarding are quick and easy with our dedicated team of Account Executives. You can be ready to go in no time with same-day onboarding.
If you have any questions that arise when you're using ContactMonkey, you are supported 24/7 by our Customer Success team.
Anywhere within ContactMonkey, click the Chat button in the bottom right hand corner of the screen and type in your question. If we don't have a help article about that topic, you can speak directly to one of our Customer Success experts.
You're also able to send ContactMonkey a help ticket, and we will contact you as soon as possible. We're constantly conducting customer interviews and surveys to better understand how our software is being used so we can make it even easier.
What Are The Differences Between Poppulo and ContactMonkey?
Although the way they go about it is pretty distinct, ContactMonkey and Poppulo's internal newsletter software have fairly similar functionality. Here's how they stack up in a head-to-head comparison:
Poppulo exclusive features:
Web-based software and app
Custom distribution lists
Features shared by Poppulo and ContactMonkey:
Employee feedback with emoji reactions and surveys
Email personalization
Event Management
Segmented Email Stats
CSV support
Email tracking
ContactMonkey exclusive features:
Outlook or Gmail integration
Drag-and-drop email template builder
Email collaboration
eNPS surveys
24/7 Customer Service
Same day set-up
List management
OpenAI ChatGPT integration
Anonymous email tracking
"The process is so much easier with ContactMonkey versus the way we were doing it previously…I don't think I was expecting the ease of putting the newsletter together." – Amy Armstrong, Senior Communications Strategist, University of North Texas
Who To Choose For Your Internal Newsletter Software?
The right internal newsletter software can improve your emails, save you time, and improve employee engagement. When choosing an internal newsletter software, consider your internal communication goals and how best to achieve them without sacrificing precious resources.
Both ContactMonkey and Poppulo offer all-in-one internal communications solutions, though the platforms function quite differently. Ultimately, the right choice will be the software that best accommodates your team's workflow and enables almost effortless email creation, from employee newsletters to leadership communications.
Though both platforms excel at all things internal emails, ContactMonkey is a better choice for those looking to work from their Outlook or Gmail inboxes. You can plug ContactMoney right into your existing email client and see how our solution can optimize your internal communications.
Learn how to use an internal communications software to send better internal emails and boost employee engagement. You can book a free demo to learn more about the difference the right internal communications tool can make.