Even the top employers know a thing or two about employee burnout and unmotivated teams. If you've found yourself wondering how to boost employee morale at work, you're not alone. In this guide, we'll cover everything you need to know about improving and maintaining team morale.
Employee morale represents the level of employee engagement and motivation across your company.
While workplace morale can have its highs and lows, a long-term dip can take a toll on business performance.
If improving employee morale isn't already the priority at your company, start shifting gears. Learn how to boost workplace morale with our 10 essential strategies.
Try a modern internal communications tool.
Start a 14-day trial. No credit card is necessary. Zero risk.
What is Employee Morale?
Employee morale is the level of motivation your staff experience in the workplace. It depends on a number of factors, but company culture, work-life balance, and recognition from employers have the biggest impact.
When employee morale is high, the impact can be felt across numerous areas of business—from customer satisfaction to productivity and innovation.
On the other hand, when staff morale is low, its impact can be just as strong in the opposite direction. Workplace efficiency can begin to suffer, alongside product quality and customer service.
Why is Employee Morale Important?
Employee morale is important because it has countless benefits for employee engagement and business performance, as well as informing your adherence to your employee engagement model.
Not only that, but employees high in morale can also be your company's biggest promoters. By pitching your workplace to their own circle of friends and family, they help your company build a strong reputation and attract top talent.
Some of the biggest benefits of high employee morale include:
Greater employee retention

Better business productivity

Increased employee engagement

Higher job satisfaction among staff

Greater innovation across your company
How to Boost Employee Morale at Work: 10 Essential Strategies
Improving employee morale is essential if you want to improve employee engagement and optimize business performance. But you'll have to tailor your strategy to the situation, and above all, stay proactive—that way, there's less need to troubleshoot later.
Here are our top tips for improving employee morale to get you started:
1. Share a compelling company vision
A strong company vision can be transformative. Employees gain a sense of pride and see the purpose behind their work. Moreover, employees who are dispersed across departments, cities, and time zones, can feel connected through a shared mission.
The key is knowing how to communicate your company vision. You can help employees get on board right from the start by outlining your company vision in your employee handbooks.
For Exemplis, a company undergoing a phase of massive growth, there was plenty to be proud of. The challenge was getting their teams to share in that common vision and feel a sense of shared pride while being dispersed across the US.
With ContactMonkey's internal communications software, Exemplis was able to stay focused on growth while boosting work morale by conveying an engaging, in-sync internal identity.
By offering dynamic design and in-depth email analytics, ContactMonkey enabled Exemplis to promote their company vision and core values across multiple locations and departments. They were also able to see who was reading and engaging with their communications and make improvements accordingly.
2. Promote a strong company culture
The power of company culture lies in its ability to transcend every area of the employee experience. You see it in everything from your company policies to the level of diversity and inclusion across your organization.
A positive workplace culture encourages employees to be creative, drives employee engagement through internal communications, creates employee engagement ideas, and continuously contributes to company success.
On the opposite end, you'll find company culture that is exclusionary and makes employees fearful of speaking their mind or contributing in a meaningful way.
In such environments, it's easy for employee morale to plummet.
To avoid this, it's imperative to understand how to improve employee morale at work in a proactive way—before issues arise. Using ContactMonkey's employee culture surveys, you'll start understanding what your company culture is really like from those who know it best—your employees.
Step up two-way communication with our employee feedback examples.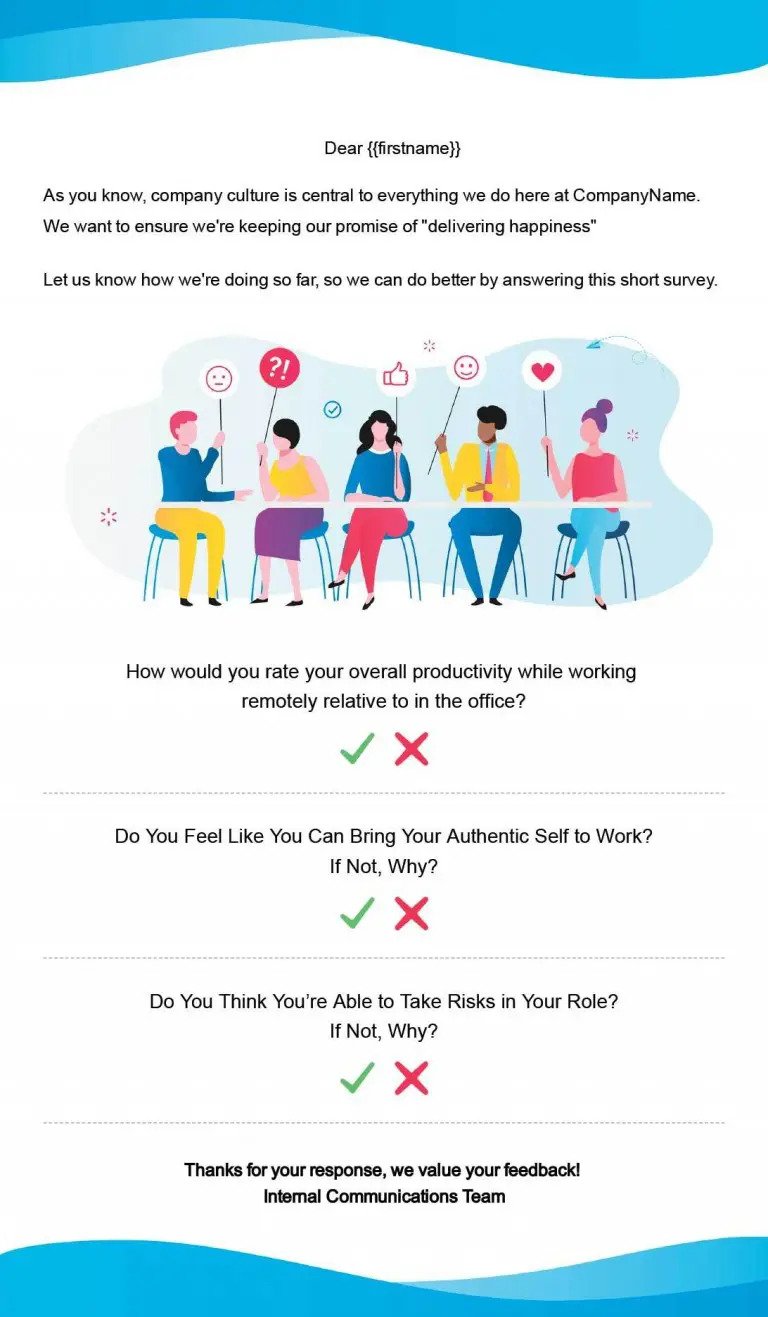 With ContactMonkey, you can gather employee feedback quickly and easily using employee pulse surveys embedded directly into your internal emails.
Not sure what questions to include in your email? Try using ContactMonkey's OpenAI ChatGPT integration to generate unique culture survey questions by writing a prompt describing what you'd like to find out.
3. Implement more professional development opportunities
The best employees are lifelong learners. While these individuals are often passionate, and fueled with drive, when they sense a lack of growth potential, their morale takes a dive.
When you offer plenty of professional development opportunities, you raise your reputation as an employer and prevent high turnover. In fact, 91% of Gen-Z employees consider professional development opportunities and employee engagement as a priority when choosing a job.
If you're unsure what professional development resources your employees would benefit from, conduct a pulse survey.
An effective employee newsletter idea: ask your employees whether they find the current selection useful and add a comments box where they can leave suggestions for what they'd like to see.
Get better workplace engagement insights with these engagement survey questions.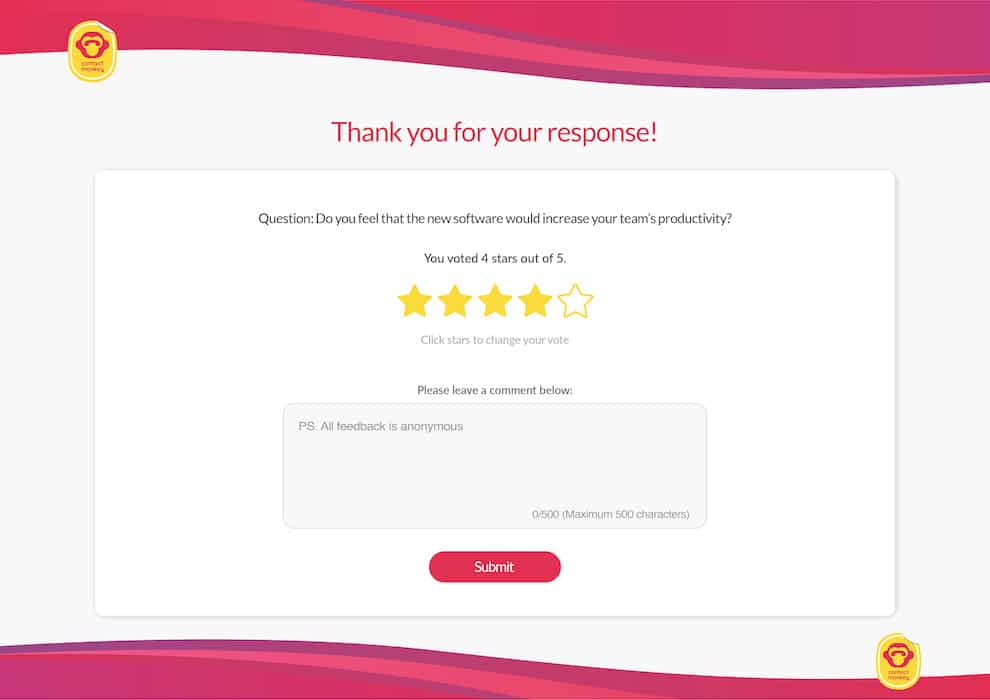 4. Prioritize employee recognition
If you're wondering how to boost employee morale and not sure where to start, look no further than employee recognition.
Not only is this the most simple way to boost employee morale (it takes seconds), but it's also the most powerful. Thoughtful employee recognition can boost employees' confidence in their work and inspire them to do even better.
But your recognition strategies have to be well thought-out.
First, it's important to be specific in your recognition. Spotlight examples of work ethic, habits, or behaviours that made a particular employee stand out. This will allow your employee to see and harness their biggest strengths while knowing the direction in which to improve.
Read our blog on employee recognition ideas for more tips and strategies.
5. Create personalized and authentic communications
Ever watched a TED talk or read an inspiring biography to get a boost of motivation? Then you already know the power of communication to raise morale.
Great communication can be inspiring—both outside and inside the workplace. At no time is this more evident than when a company is overcoming hardship, and when employees need a boost in morale the most.
For Travel Counsellors, a global leisure and travel agency, clear, compelling, and authentic communication was vital during their toughest year. When travel was disrupted during the global pandemic, the company's 1,900 business partners were in need of a strong boost in morale.
The company's Internal Communications team realized that cold and impersonal internal updates just wouldn't cut it during this difficult time. Seeing the need for personalized messaging, they turned to ContactMonkey in order to design more individualized communications.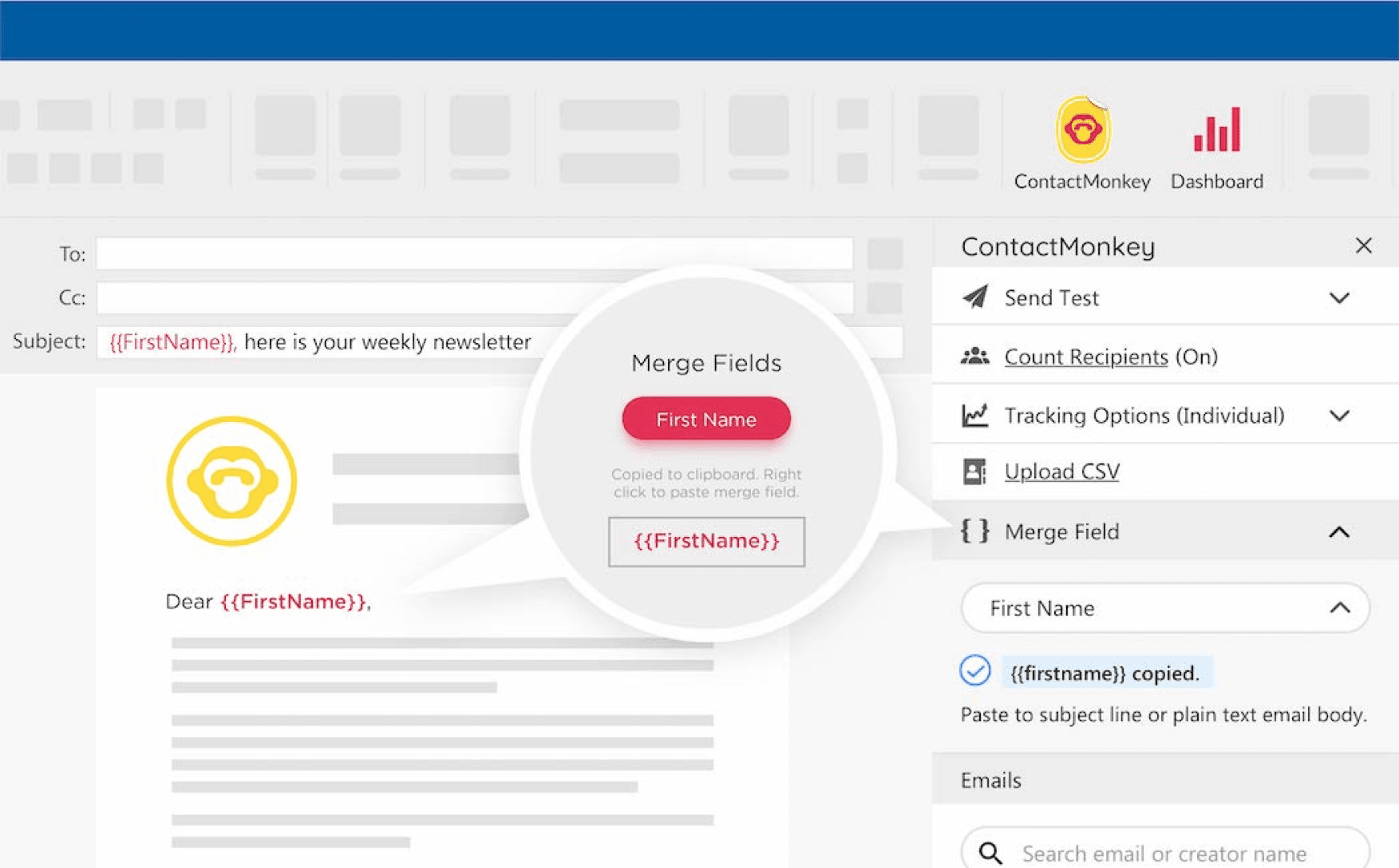 With merge tags for personalized subject fields and interactive elements like pulse surveys, Travel Counsellors was able to boost company morale through thoughtful, individualized messaging.
You can also increase the relevance of your emails by targeting specific groups of employees and excluding those who don't need to receive certain information. Custom email lists help you reduce the amount of unnecessary emails your employees receive.
ContactMonkey's List Management feature lets your create custom email lists without IT to help your drive email engagement. ContactMonkey integrates with your Human Resource Information System (HRIS) like Workday and ADP, as well as Azure Active Directory, so your custom lists will update automatically.
6. Ensure strong leadership communication
One of the best ways to boost morale at work is by investing in effective leadership communication.
Staff want to see how company decisions are made and feel like their input is valued by the higher ups. In fact, a recent study showed that 87% of employees value transparency among company leaders.
Making employees feel heard is vital to boosting employee morale because it shows them that their work, ideas, and opinions do matter.
Be consistent with your leadership communications, don't just revert to a quarterly quote in your company newsletter. Moreover, ensure that you convey authenticity and transparency by throwing out the jargon and opting for plain language. And lastly – always ask for feedback.
Check out our blog on leadership communication trends for more tips.
7. Encourage work-life balance
While few people will deny the importance of work-life balance, many all-to-easily forget about it in the midst of the daily work grind.
The mentality of, "just push through until the deal closes" or "just one more all-nighter before the presentation" is all too common these days. But the problem with this type of thinking is that it never truly ends with that "one last" moment.
There's always something new around the corner and before you know it, your employees are completely burnt out. When that happens, there's no quick fix to boosting employee morale or getting staff back on track to their regular performance. Finding balance before things get out of hand is essential.
Start making a habit of checking in on employee wellness and work-life balance regularly. With ContactMonkey's anonymous comment boxes, employees can share how they truly feel without fear of consequences. All you have to do is ask the right questions.
Here are some ideas: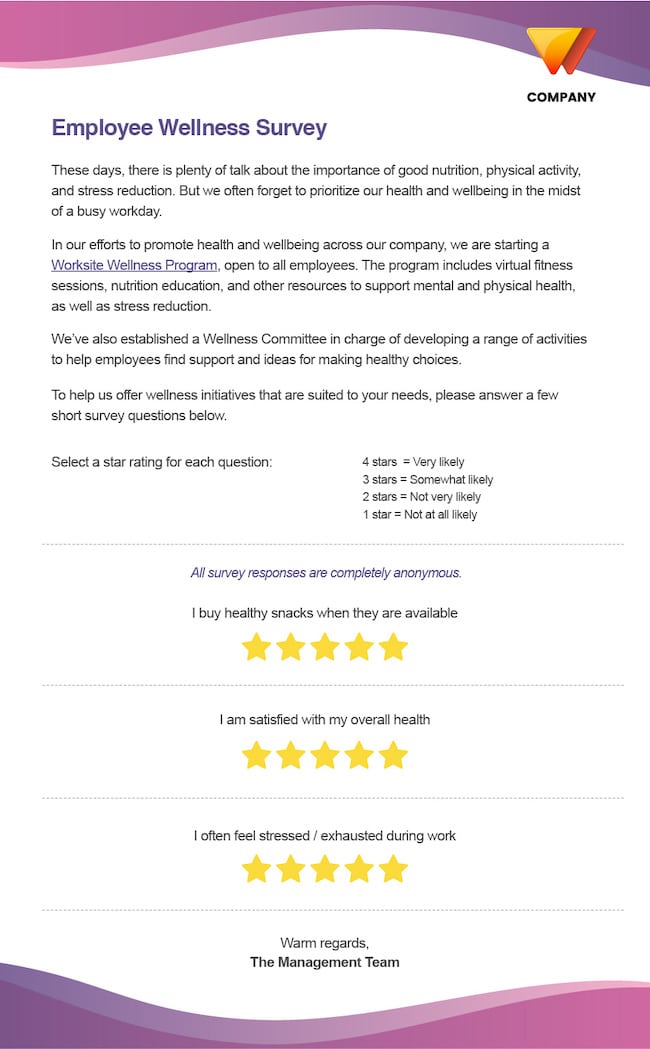 8. Invest in team building
When you're feeling down in your personal life, you'll likely turn to your close circle for advice. At work, we're equally in need of people with whom we can share and feel heard. This is especially true when it comes to workplace challenges that your friends and families can't always relate to.
That being said, in our new virtual world it's easy to feel disconnected from our colleagues. Virtual team building activities can help bridge this divide and foster stronger workplace relationships.
Through game nights, virtual comedy sessions, happy hours, and a handful of other initiatives, you can start building team trust and stronger workplace relationships. And you don't need much more than a computer and a mic.
Check out our blog post on virtual team building for a comprehensive list of virtual activities to do with your colleagues.
9. Encourage employee innovation
High employee morale is all about feeling empowered in the workplace. Your teams do their best work when they know that innovative thinking is not only encouraged, but supported with resources.
All it takes is a glimpse at Google and PricewaterhouseCoopers (PwC) to see the impact.
For Google, it was their 80/20 initiative that initially gave the company a reputation for stellar in-person and digital employee experience. The tech giant's employees get to spend 20 percent of their workweek on personal projects and professional development goals of their choosing.
The result of this initiative was not only increased employee morale, but some of the company's best-known tools like Adsense.
For PwC, supporting employee initiative led to the company-wide Be well, work well health and wellness campaign, which proved extremely popular.
By listening to employees and investing in staff-led initiatives, these companies were able to boost morale while improving operations at scale.
10. Create a more flexible work environment
Flexible work arrangements are becoming the norm. For employers who are lagging behind on this employee engagement trend, the toll on employee morale will become visible.
During lockdown, we learned that not everyone needs to be in an office to do their best work. In fact, for many, it's the opposite.
As a result, many employees will expect more flexible work arrangements as things return to normal. Whether it's flex time, reduced hours, a compressed work week, or more remote working opportunities, you need to start understanding how you can accommodate your staff.
Conducting a simple pulse survey will let you see which flexible work arrangements your staff are seeking. On your end, you can see where there's room for compromise, such as instating hybrid work options or making remote work optional. The first step is to ask.
Boost Employee Morale With ContactMonkey
Boosting employee morale is not always a quick fix. In some cases, employees may simply be seeking more recognition. Meanwhile in others, the lack of motivation and disinterest stems from deeper issues within your company culture.
In both cases, there are solutions to get your team members back on track. But the best strategy is staying proactive and taking steps to boost employee morale while it's still high. Measure employee engagement on an ongoing basis to get an accurate picture of employee engagement statistics at your organization.
With ContactMonkey's internal communications tool, you can encourage meaningful, two-way conversations that keep employees motivated and engaged. Learn how to gather actionable employee insights and boost employee morale by booking your ContactMonkey demo today.