How your employees feel about their work and workplace has a huge impact on their productivity. Learn how to improve employee experience with our comprehensive list of ideas to help your employees connect with your business.
Your employees' talent and ability only contributes in part to overall productivity. To unlock your employees' full potential, they need to enjoy their work and value the success of your business.
Our employee experience strategies will give you different ways to think about engaging your employees. Engaged and passionate employees will produce better work and contribute to a positive workplace culture.
Quick Tip: Instantly generate employee messages directly from your email builder with ContactMonkey's OpenAI integration.
What is Employee Experience?
Employee experience measures the level of comfort and happiness your employees feel at work. Contrasted to employee engagement, which measures the connection employees feel between each other and their workplace, employee experience focuses on day-to-day employee happiness, wellbeing, and feelings about their roles and employer.
To explore this distinction further, think about an employee who feels their work is valuable and gains personal satisfaction from their work, but does not feel the same way about their workplace or manager or coworkers. Though they may enjoy their actual work, they feel disconnected from the workplace culture or isolated from their coworkers. Your employee experience strategy should consider how to bridge the gap between your employees' engagement with their work and their engagement with their workplace.
Why is employee experience important?
Employee experience is a way of looking at how to ensure your employees look forward to going into work and interacting with their coworkers. Employee experience and engagement are closely-linked; ideally employees should feel happy about their workplace and care about the work they do.
Think of employee experience as a contributing factor to overall engagement. If an employee does not feel happy at their workplace, it will wear them down even if they enjoy the actual work they do. Balancing these two concepts is one of the key ways to improve employee experience.
Try a modern internal communications tool.
Start a 14-day trial. No credit card is necessary. Zero risk.
20 Ways to Improve Employee Experience
Every workplace is different and approaches their employee experience strategy differently. This list we've compiled contains ideas for how your company prioritizes its employees, and gives you many different employee experience examples upon which to base your own approach.
Pick and choose the employee communication ideas that work best for your workforce and tailor them to fit into your overall workplace culture. After all, what's the point of implementing new employee experience ideas if your employees won't be receptive to them.
1. Focus on employee engagement
We briefly discussed the connection between employee experience and employee engagement earlier, but it's worth emphasizing how the two concepts rely on each other.
William Kahn breaks down employe engagement into three different kinds:
Physical engagement reflects how your employees' mental and physical capabilities are utilized when doing their work. Put another way, if your employees feel their abilities benefit their work to a full extent, then they're more likely to be engaged with what they're doing.
Cognitive engagement has to do with your employees' understanding of your business' objectives and company values. Employees need to understand what your business sets out to accomplish and how their work contributes to those overall goals.
Emotional engagement is how employees feel about their relationship with your business. Your employees may know what your company mission is and how their work contributes to it, but they also have to care about that mission.
Emotional engagement is most closely related to employee experience. In order for your employees to care about your company and its goals, they need to feel involved in your company culture and be invested in the success of their coworkers.
To learn how to create great employee experiences, then it's important to know how your employees are engaged with their work. While there are many aspects that contribute to employee engagement, it's important to regularly measure employee engagement at your workplace. This will help you prioritize which employee experience strategies will be most beneficial.
2. Prioritize employee experience in your internal communications
From employee newsletters to event invitations to conversations between employees, internal communications is what enables your business to operate. It's also an important tool for promoting positive employee experiences.
Use your internal communications to inform employees about upcoming events, benefits programs, coworker birthdays and other milestones, and more. Spread your internal communication campaigns about employee experience across various channels—like newsletters, videos, mobile alerts, etc.—to ensure employees are informed about what's happening at your company.
With ContactMonkey, you can conveniently navigate multiple communication channels and sending lists through our HRIS integration.
3. Provide incentives that motivate employees
As we've noted, employee engagement can enable employee experience and vice-versa. For employees to care about their work and your business, they need to feel that their efforts are valued and appreciated. The most effective way to communicate this appreciation is to offer competitive compensation and benefits to your employees.
Employees want their work to be meaningful, and providing career opportunities to them is an excellent employee experience strategy to tie their current efforts to future success with your company. Let employees know from the get-go about promotion opportunities by outlining them in your employee handbook.
But employee incentives can go beyond direct compensation. Stock options help employees connect company success with personal success, and encourages them to be more invested with achieving company goals.
Demonstrate that your business is concerned with your employees' personal success by offering comprehensive health plans and personal development programs. These initiatives help employees balance their work and personal lives and underscores the benefit of being part of your organization.
4. Create a supportive work culture
Employee experience is just as reliant on good interpersonal relationships as it is with the relationship between employee and employer. Improving your company culture is a great employee experience strategy to encourage employees to build relationships with one another and share each others' success.
Carefully craft and communicate your company values to your employees. If your company claims to care about personal success, you need to put that into practice for it to resonate with employees. Show employees they're valued by hosting a variety of employee appreciation days and initiatives. These events are terrific ways to improve employee experience, as they let your employees celebrate the success of their coworkers.
5. Gather employee feedback to assess employee experiences
Like we already mentioned, every workplace is unique and employees will respond differently to different initiatives. How can you determine which employee experience initiatives will actually influence your employees for the better?
Just ask them! Employee feedback is tremendously beneficial practice for businesses. Not only do employees get to share their opinions and influence their workplace for the better, but you get to gather direct information about what matters to your employees.
We suggest using your internal communications to collect employee feedback. Employee surveys—be they engagement surveys or wellness surveys—make it easy for employees to share their thoughts in a quick and casual fashion. Using ContactMonkey, you can embed employee feedback methods directly into your internal emails: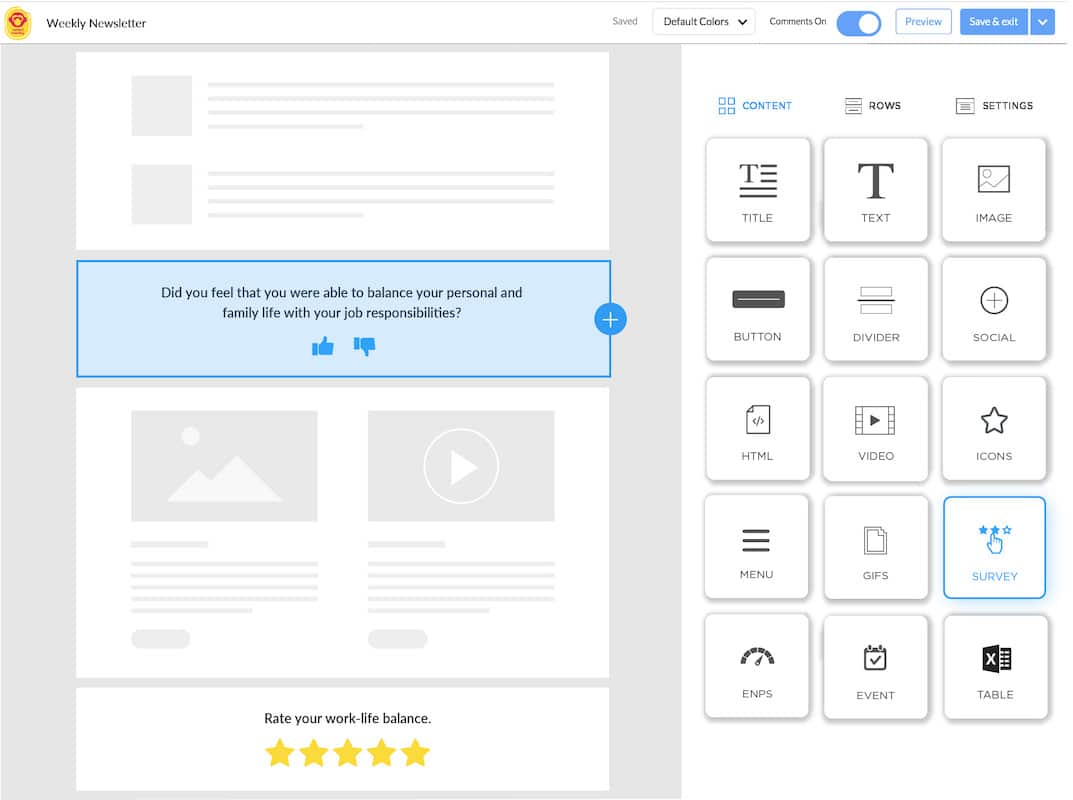 Feature emoji reactions, star ratings, thumbs up/down, yes/no, and more to conduct surveys and collect feedback within your internal communications. These feedback options can be combined with anonymous employee feedback to let your employees specify exactly how they feel about what you're asking.
Unsure what kind of company event your employees would attend? Want to know what programs to offer employees? Employee feedback is your key to better employee experiences.
6. Act on employee feedback
Employee feedback is a two-way street. Your employees won't continue to offer their opinions on your surveys or questionnaires if they feel their feedback won't be acted upon.
While your workplace won't be able to accommodate every single employee suggestion, it's still important to acknowledge your employees providing feedback. Follow up on employee feedback by asking further clarifying questions. If an employee makes a suggestion that can't be directly addressed, it's an employee experience strategy best practice to talk to them about their concerns to see if there is not some mutual course of action that would satisfy their concerns.
Employee feedback is voluntary; your employees went out of their way to provide their opinions to you. Show them you value their efforts by taking their concerns seriously and implementing their ideas and suggestions.
7. Treat your onboarding process seriously
Though this might seem obvious, it's still worth stating: your employees' experience begins the moment they start experiencing your company. Which means you should prioritize their experience the moment they choose to work at your organization.
A solid employee onboarding process will set up new hires for positive experiences and success at your business. Starting a new job can be an intimidating and overwhelming experience, with employees having to learn loads of new information in a short period of time.
Your onboarding process should provide them with all the information they need to succeed. It should also emphasize their value to the organization right from the beginning, and help them get to know how their work fits into the goals of your business, in accordance with the idea of cognitive engagement that we discussed earlier.
8. Take advantage of your offboarding process
While it may seem counterintuitive to think that departing employees play a role in employee experience, your offboarding process is just as important as your onboarding process—for several reasons.
Just as your current employees are spokespeople for your company, so are past employees. If departing employees are treated positively during the offboarding process, they'll be more likely to speak positively about your business and increase the chances of your business attracting top talent. Make employee departure announcements an integral part of your internal communications strategy to aid employee experience.
You can also use your offboarding process to collect valuable employee feedback from your departing employees. Exit interviews can reveal ongoing issues that may affect employee experience, and offer useful insights for how to improve how your company connects with your employees.
9. Connect employees and leadership
When employees feel siloed from their workplace, they'll struggle to feel in control of their career and see the value in their work. While employee feedback can diagnose this problem, encouraging leadership to connect with employees can help repair that disconnect.
Emphasize the importance of leadership communications with those in charge at your company. Feature them prominently in your internal communications via messages from leadership or videos of them explaining the latest company news, upcoming changes, or their decisions which affect the day-to-day conditions of employees.
10. Regularly send eNPS surveys
We mentioned earlier how you can use ContactMonkey to embed surveys within your internal communications to gather employee feedback. But there is another kind of survey that is incredibly reflective of how your employees feel about your company: employee net promoter score (eNPS).
eNPS measures how likely your employees are to recommend your product or service to their friends or family. It also measures how likely they are to recommend your business as a place to work to that same audience. This can reveal important trends in how your employees feel about their work and workplace, trends upon which you can direct your employee experience efforts. Within ContactMonkey's analytics dashboard, your eNPS surveys results are visualized this way:
Schedule your employee experience initiatives and conduct eNPS surveys on a similar basis. This way you'll be able to develop at least a loose correlation between the two aspects of how your employees feel about your business.
11. Implement internal communication channels your employees actually use
When using internal communications to promote employee events, benefits, and initiatives, you need to ensure that your employees are actually engaging with them.
But how do you know what internal communications channels your employees are using the most? Employee feedback can only take you so far in this respect, because if employees aren't using the channels where you're asking for their feedback, your results will be limited at best.
Internal communications tracking is a great way to improve employee experience via hard data. Most companies rely on email-based internal communications to reach their employees, and ContactMonkey can help you determine which efforts are making the biggest impact.
Measure open rate, click-through rate, opens by device and location, read time, and more with ContactMonkey's email analytics dashboard: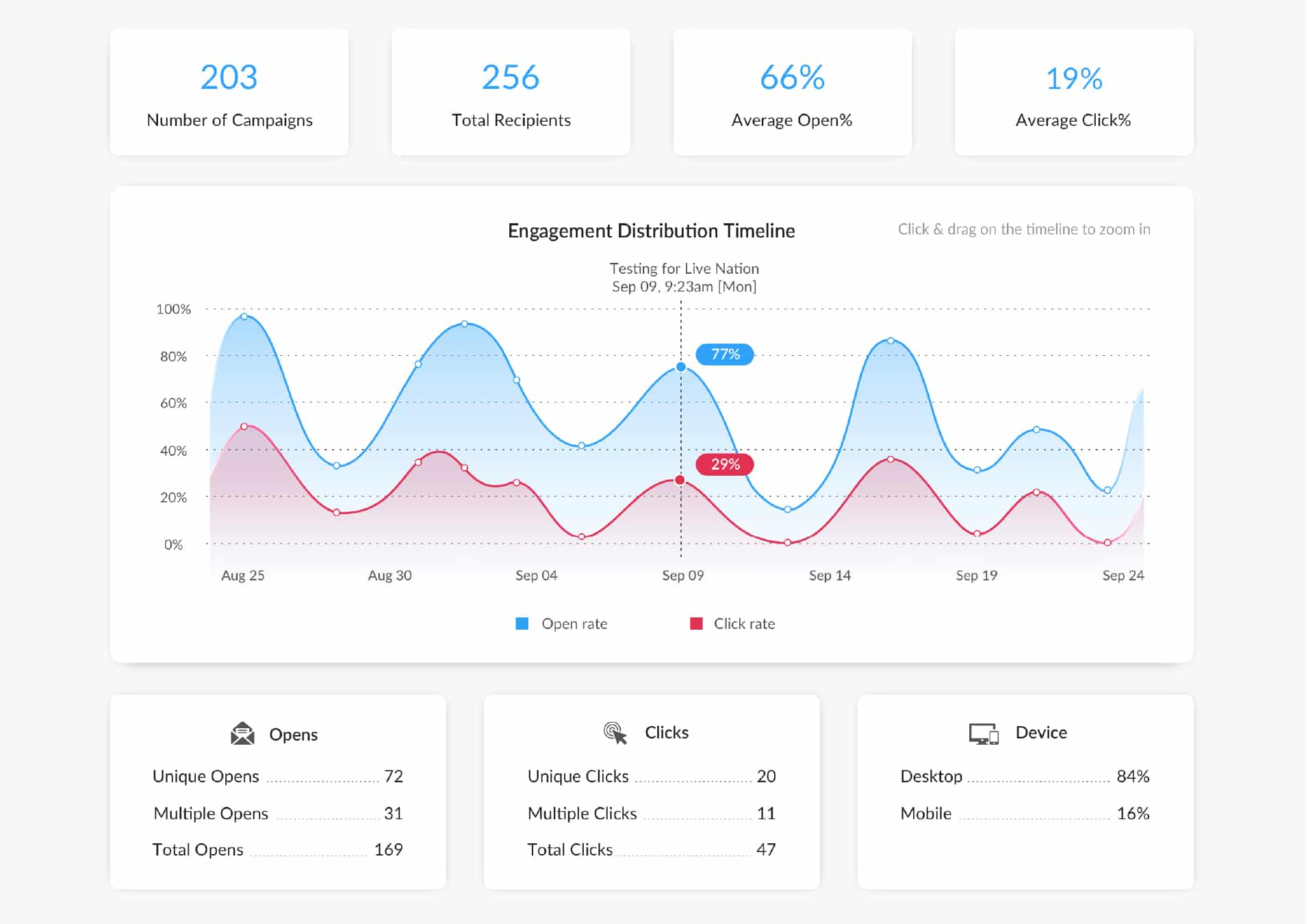 Internal email analytics can help you determine which of your communications garner the most attention, and help you find the best venue to feature your employee experience efforts.
12. Highlight positive customer feedback
An excellent way to both help emphasize the value of your employees' work and increase the bond between your employees is to share positive customer feedback.
Customers appreciate when employees help them solve their problems, and will often be very grateful for those employees who go the extra mile to assure their satisfaction. Even if it's just a short comment at the end of an email thread, sharing this feedback with the entire team of employees from that department is a terrific way to highlight the impact of their work.
At ContactMonkey, we have a Slack channel dedicated to sharing positive customer feedback. All it takes is a screenshot of a short statement of gratitude from a customer to brighten a team's day.
13. Provide flexible workplace options
Remote and hybrid workplaces are more common than ever. Letting employees choose where they want to work helps them balance their work and personal life and ultimately increases productivity and engagement. With myriad software options available to businesses for remote team communication, it's easy for employees to stay connected and avoid common remote team communication challenges.
Not only does providing these options to existing employees improve their experience at your business, but it also makes your company more enticing to top talent on the job market.
Read our internal communications blog to learn how to keep pace with the top employee engagement companies.
14. Don't forget digital employee experience
While we've mostly discussed how to ensure your employees have a solid in-person experience at your company, it's important to remember digital employee experience as well.
You can help improve the digital experience of your employees in several ways. Make sure you have easy-to-follow instructions for how to use and access digital work materials at your business. The less time your employees have to spend learning the various technologies required for their work, the more time they'll have for productivity.
You can take this a step further by adopting digital employee experience tools as part of your employee experience strategy. A simple survey can reveal the types of software your employees want to use, like if they prefer Google Groups over Slack for example. Allowing your employees to influence how they conduct their work is a great way to build engagement and increase the control they feel over their careers.
15. Encourage employees to connect with each other
Positive experiences between employees is a crucial part of their overall work experience. Fortunately there are countless activities you can implement to give employees the chance to get to know each other.
Allow employees to schedule coffee meetings or Slack Donut meetings with each other. These interactions don't take too much time out of their day while allowing them to build relationships with those who they may not interact with on a daily basis.
You can take this a step further by organizing out-of-office activities like office sports teams, book clubs, or other group activities. Employees who know each other beyond their roles within the company have an easier time collaborating with each other on work when need be.
16. Be clear about expectations
Your employees need to know exactly what is expected from them right from the start. We mentioned how a good onboarding process can set up employees for success the moment they start at your company; clearly communicating job expectations and responsibilities is essential to this.
Feature a clear breakdown of employee expectations within your onboarding materials, and encourage managers to constantly update their employees on the latest company news and how that will affect their work. For larger updates, consider hosting company town hall meetings where overall business goals are connected with individual efforts.
Employees who understand what is expected of them are better positioned to assess their physical and cognitive engagement within your company.
17. Don't let employees miss important information
Thinking back to digital employee experience, you should ensure that your communication technology helps your employees stay connected to your business where and however they work. If a large portion of your workforce doesn't have easy access to a computer or email, you'll need different solutions for alerting them of important information.
With the near-universal popularity of mobile devices, SMS employee communications can be a powerful option for engaging frontline workers and deskless employees within your company. SMS messages can be sent quickly and recipients are alerted immediately when they receive a text message.
Using ContactMonkey's SMS messaging features, you can send messages to your employees using your existing CSVs from the same platform with which you manage your emails: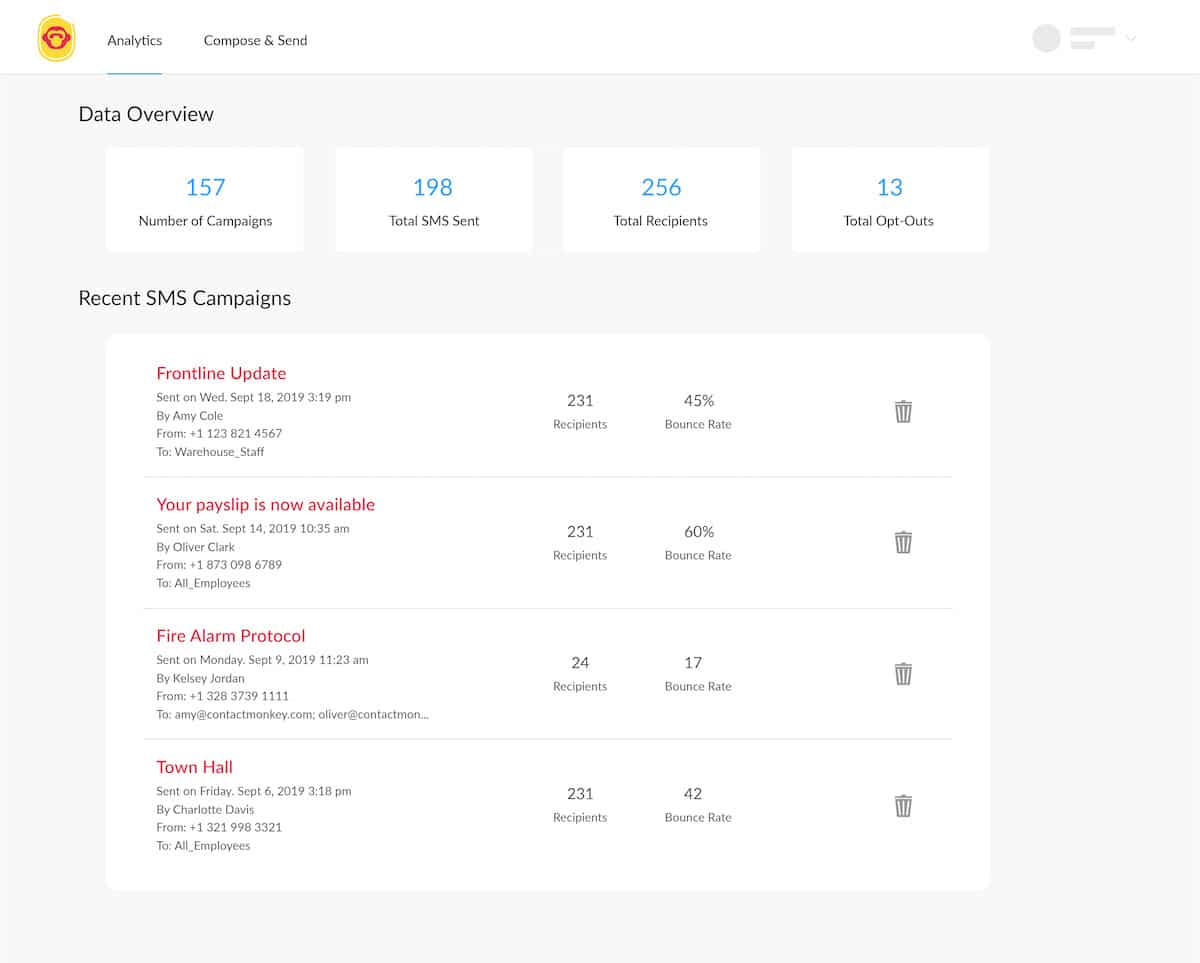 Combined with SMS text message templates, you can quickly and effectively alert employees to information they need to know immediately—from crisis communications like employee safety alerts to shift changes to weather notices.
18. Keep managers on the same page as employees
We mentioned how important it is for managers to apprise employees about job expectations and company goals. While many managers excel at this aspect of their jobs, it's still worth offering managerial training for those who may need a refresher.
Ultimately, you want your managers to empathize with your employees. When managers understand the challenges that employees face—be they balancing work/home life or staying up-to-date on company news—the better equipped they'll be for coaching employees and providing everything they need to succeed.
19. Be active in the community
Contributing to your community is another great way to improve employee experience. Make community contributions an important part of your employee experience strategy.
There are great ways for businesses to get involved in the community. Host charity drives with employees and match their donations to their favorite charities.
Organize volunteer programs where employees are allotted time to go and give back to the community. If there are local charity initiatives, consider sponsoring them and helping promote them to a larger audience.
Want to get expert tips for improving your internal communications? Check out our list of the best internal communications books by the biggest names in IC.
Bypass email-sending limits of Outlook and Gmail.
Send all of your internal emails within ContactMonkey.
20. Prioritize diversity, equity, and inclusion
In addition to contributing to your community, a great way to improve employee experience is to learn about and celebrate the personal and cultural differences of your employees.
Your employees' unique backgrounds will inform how they feel about your employee experience initiatives, so it's best to incorporate the principles of DEI into your employee experience strategy.
We've covered some of the many ways you can promote diversity and inclusion in the workplace that you can try at your business.
How to Measure Employee Experience
How can you ensure if your employee experience efforts are actually effective? While your business may see increased profits and productivity, it's important to nail down what caused these positive changes so you can reproduce them in the future.
Whenever you implement a new employee experience initiative, measure engagement metrics before and after to see if there has been a noticeable change.
If you use your internal communications to inform employees about different programs or initiatives, use a solution like ContactMonkey to track email metrics like open rate, click-through rate, read time, opens by device and location, and more to see if your message resonated with employees: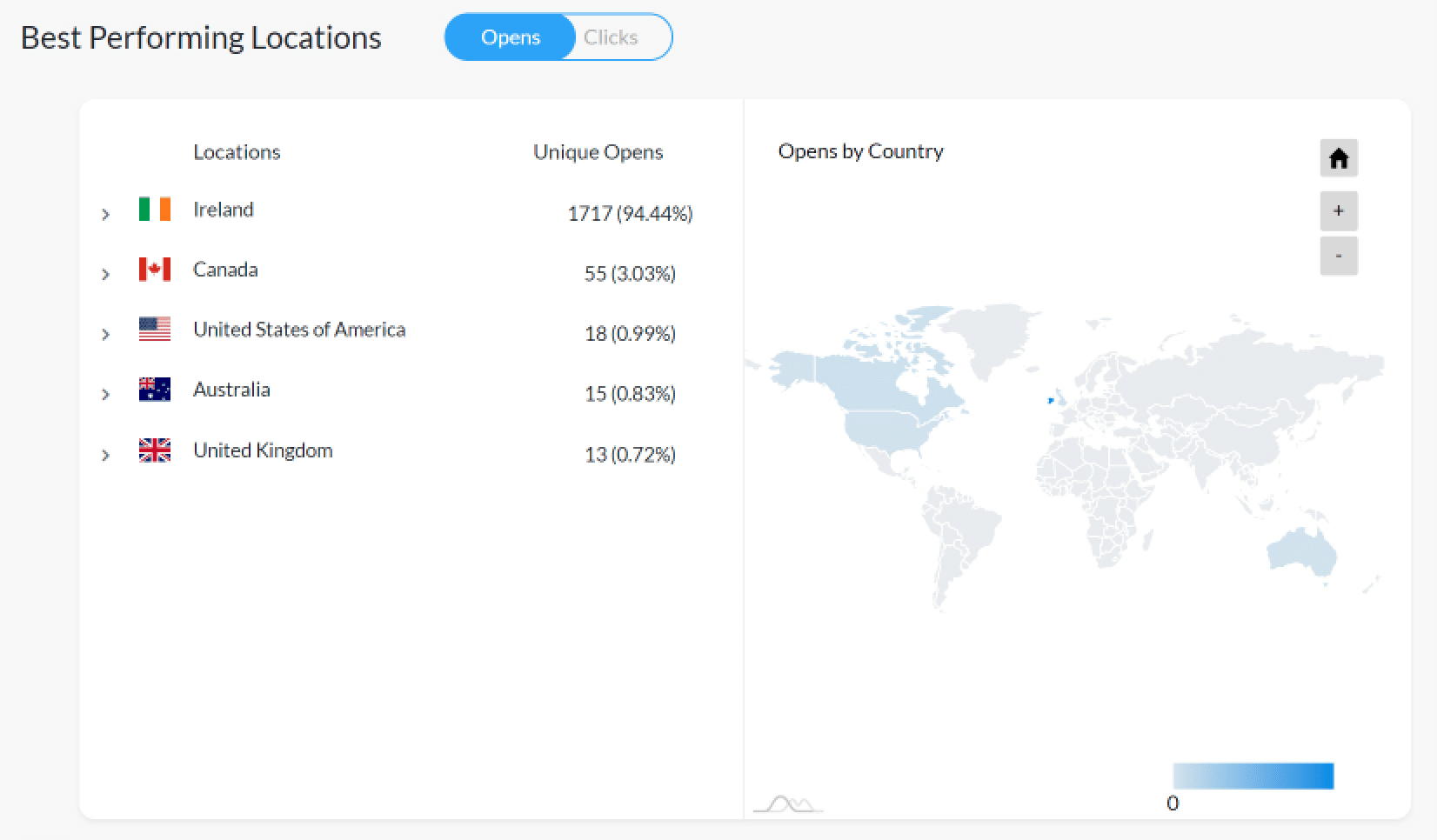 In addition to engagement metrics, collect employee feedback surrounding your employee experience efforts. Not only will this give you an idea of how excited employees are about the upcoming event, but you'll likely collect ideas on how to improve or tailor the event to better meet your employees expectations.
Happy Employees are Productive Employees
We hope you now understand how employee experience and engagement are connected and what things you can try on your employees to improve how they feel at your company. Whether your company has 100 or 10,000 employees, the greater connection they feel with their workplace and coworkers the better work they'll produce.
While employee experience efforts can take many forms, your internal communications play a central role in informing employees about upcoming initiatives and measuring how they were received. ContactMonkey is an all-in-one internal communications software that can help you make employee experience a key part of your internal communications strategy.
Want to see exactly how ContactMonkey can help bolster employee experience at your business? Book a free demo whenever you're free to see ContactMonkey in action: