The world of work has transformed overnight. As remote and hybrid teams continue to shift office dynamics, prioritizing digital employee experience is more important than ever.
Digital transformation, combined with the evolving needs of dispersed teams, has made modern businesses more reliant on technology in the workplace.
To maximize the benefits of digital workplace technology, it's important to look at new tools and software as part of an integrated digital employee experience. In this post, we break down the key components of excellent digital employee experience and the best practices to help you achieve it. 
Try a modern internal communications tool.
Start a 14-day trial. No credit card is necessary. Zero risk.
What is Digital Employee Experience?
Digital employee experience, or DEX for short, describes the way an organization's technology infrastructure impacts its workforce.
As digital transformation drives the evolution of the modern workplace, digital employee experience underscores the influence of this process on employees.
To better understand DEX, imagine how hybrid or remote employees might access urgent updates in your company. Is there a clearly defined procedure and accessible tools that help them stay informed from wherever they may be? Has digital transformation and internal communication simplified this process?
If the answer is yes, it's likely that your organization is optimizing its digital employee experience. If the answer is no, your approach to digital workplace communications and employee experience may need some tweaks.
Why is digital employee experience important?
Digital employee experience is important because it directly influences employee engagement and productivity.
Think about it, your workplace likely has dozens of different digital communications tools, employee apps, email management software, and scheduling tools.
These devices are designed to make your employees' lives easier. And when they do their job, it's smooth sailing. Employees can navigate between all their tools in a seamless manner and excel at their daily tasks.
However, when digital employee experience isn't a priority for organizations, all the devices simply add up to more confusion and frustration for employees.
Pro Tip: Never worry about IT restricting your internal employee lists. Use ContactMonkey to sync with your Azure Active Directory or HRIS. Get started today.
For these reasons, it's important to continuously evaluate your digital experience and ask employees for upward feedback on digital transformation in the workplace.
With ContactMonkey, you can conduct digital experience pulse surveys in seconds—directly from your internal emails. Learn how to create a pulse survey with our step-by-step guide.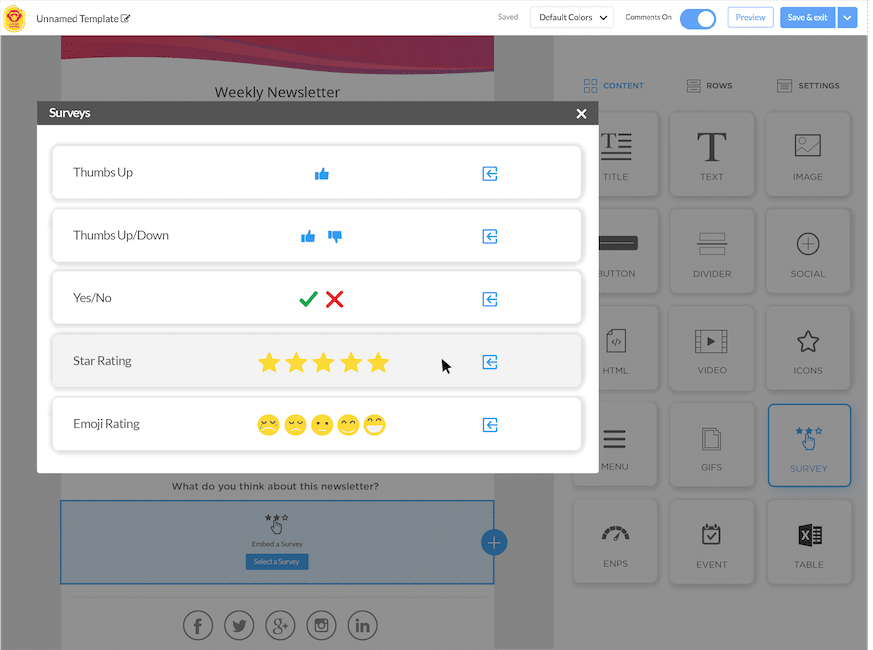 What Influences Digital Employee Experience?
A few different factors influence the quality of your digital employee experience. These include:
How well your organization explains the purpose of new office technologies and how to use them.

The quality of the internal tools and software you select, and how they align with your internal communication goals as well as your

employee engagement goals

.

Whether you have a proper evaluation process in place for new technology, can effectively

build a business case for internal communications software

and other employee tools, and get buy-in from your entire team.

Asking for employee feedback on new office technology, and acting on employee suggestions.
Why invest in digital employee experience?
Modern innovation means that the amount of new digital workplace tools on the market will continue to multiply.
Having a solid digital employee experience strategy is the first step to ensuring that your organization can adapt to change whenever and wherever it happens.
But there are even more reasons to invest in digital employee experience. Here are just a few to consider:
Enabling your organization to thrive in a remote/post-pandemic workplace.

Improving overall employee experience for greater workplace retention.

Enhancing workplace communication by successfully adopting new internal communications tools.

Improving

two-way communication in the workplace

with the latest interactive office technologies.

Helping to improve workplace productivity and reduce the number of tickets employees receive.

Enhancing customer experience by helping employees be more productive and able to excel in their roles.

Making it easier to attract and retain top talent through a reputable employee experience.

Staying in pace with the latest innovations.

Improving business profitability.
7 Digital Employee Experience Best Practices
Digitizing employee experience will continue to be the workplace norm across modern organizations. To make the most of this reality, you need to have a solid understanding of digital employee experience best practices. Here are a few to keep in mind:
1. Put employee needs and pain points at the forefront
Great digital employee experience happens when the digital tools make your employees' lives easier. To succeed in this, new employee software needs to target specific employee pain points and needs.
If you're just introducing the latest tools without a specific purpose, it'll only add up to more confusion and frustration for employees. Make sure to organize employee surveys, focus groups, and 1-on-1 chats to truly understand employee needs and determine the digital tools that will actually benefit them.
2. Establish clear digital employee engagement goals
Once you know what needs and pain points exist across your workforce, it's important to set up concrete digital employee experience goals. These will serve as benchmarks to help you determine whether a newly introduced technology is satisfying employee needs.
You'll also be able to narrow down what digital technology you may still need in the future. For instance, say you notice that employees don't always seem to be aware of important company news. Your digital employee engagement goal may involve increasing internal newsletter open rates or improving email click-through rates.
Whatever your digital employee experience goals may be, it's important to clearly outline them and have them handy when embarking on a search for new internal software.
3. Consistently measure digital employee experience
Once you know your digital employee experience goals and KPIs, it becomes easier to measure the quality of your digital employee experience.
Collecting employee feedback is the first step. But you'll often need to leverage digital workplace technology to get the most accurate employee experience analytics.
Tools like ContactMonkey combine employee feedback and engagement analytics to let you thoroughly assess digital employee experience on both fronts.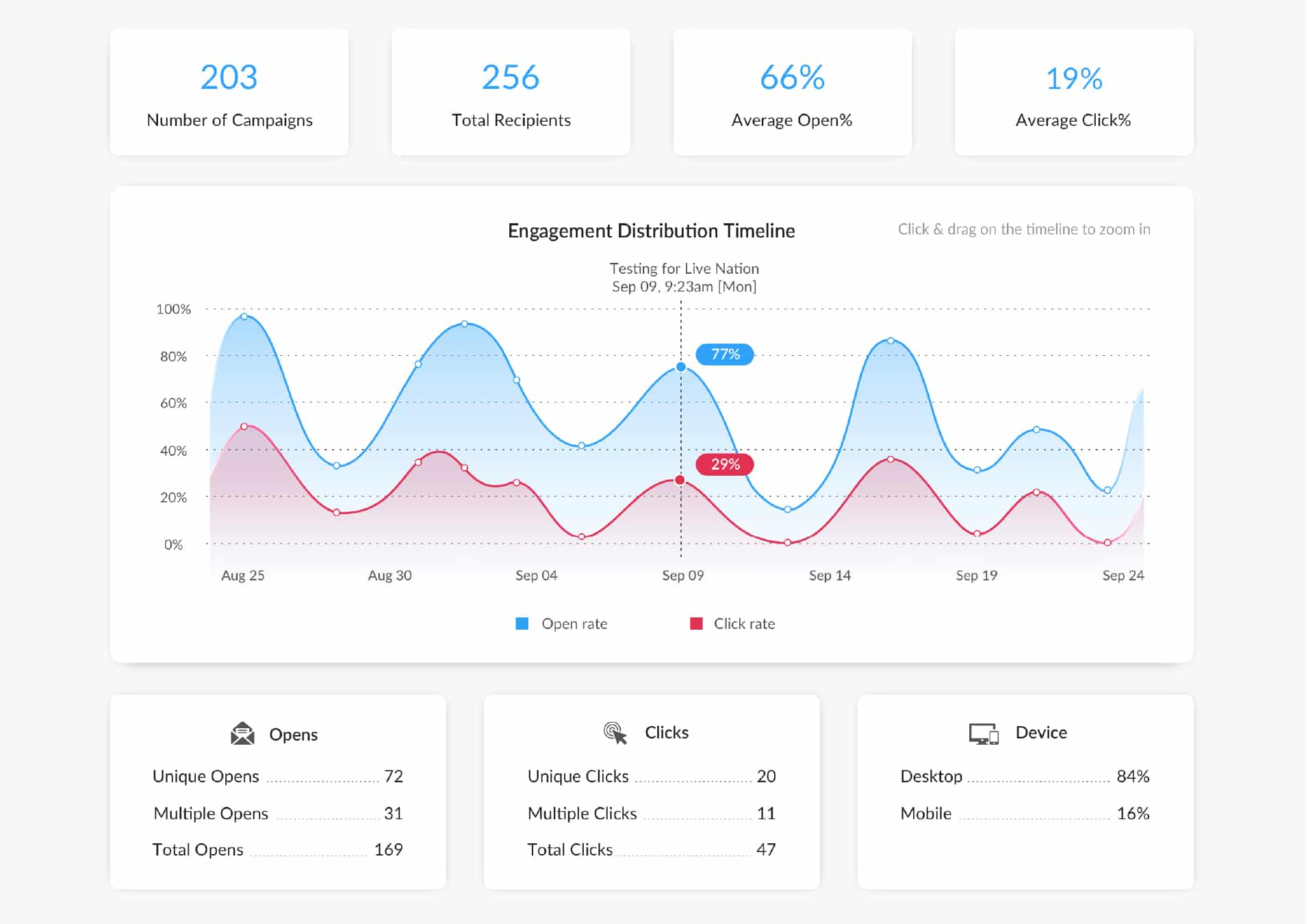 For instance, you'll be able to ask employees how they feel about a new intranet using email-embedded surveys. But you'll also be able to back up this data by seeing how many times employees clicked on intranet communications links across your employee emails. 
By starting with great internal communications technology, you'll be able to optimize the rest of your digital workplace channels and measure digital employee experience more effectively.
4. Refine your change management approach.
Successful digital implementation goes hand in hand with successful change management. In order to create an incredible digital employee experience, you need to make sure employees are ready for digital transformation and have all the information and resources they need.
On your end, you'll need a solid change management communications strategy. This should include sharing insights about new technology before it's introduced, and asking employees whether they have any questions/concerns.
It also involves conducting change management pulse surveys to learn what employees will need to help them adapt and how they're feeling at each stage of the change process.
By showing your workforce that you care about their experience want to prepare them as much as possible, you'll be able to mitigate pushback down the line.
5. Have a clear, standardized process for digital workplace technology evaluation
Who are the internal stakeholders that you need to consult in order to implement new workplace technology? What IT security requirements do new digital tools need to meet in order to be welcomed into your workplace?
You'll need to answer these and many more questions in order to implement digital software effectively in your organization.
In order to avoid missing any steps and ensure that a new tool meets all of your team's expectations, it's important to standardize the evaluation process. Create a checklist with all the steps you need to go through in order to successfully implement a new digital software.
In addition, write down the names and teams of all the internal players you'll need to consult. By developing a thorough and well-rounded assessment, you'll be better positioned to ensure that a new workplace tool builds a positive digital workplace experience. 
6. Get buy-in from your whole team before implementing new digital employee tools
In most companies, introducing new digital tools, or any change for that matter, will come with some pushback. But it's incredibly important to get buy-in from your whole team before implementing new technology.
If someone is resistant and feels like their point of view is overlooked, it will only lead to more problems down the line and a negative digital employee experience for some team members. To avoid this, build a compelling case for new digital workplace technologies by showing the ROI on employee engagement.
Pro tip: Use our internal communications software buyers guide to help you make an informed decision when investing in new employee experience tools.
7. Implement proper employee training
A lot of the time, a negative digital employee experience isn't a result of bad digital tools but poor training. The best way to ensure a smooth digital experience is by offering easy and accessible employee coaching when introducing a new digital software. Set up virtual employee training sessions with an expert and conduct Q&As to enable employees to really master a new tool.
Once your staff know the ins and outs of using a new technology, they'll feel less intimidated and more motivated to use it.
With ContactMonkey's all-in-one internal communications software, you can set up employee training sessions straight from your internal newsletter. Simply use the event management feature to schedule events and monitor registrations.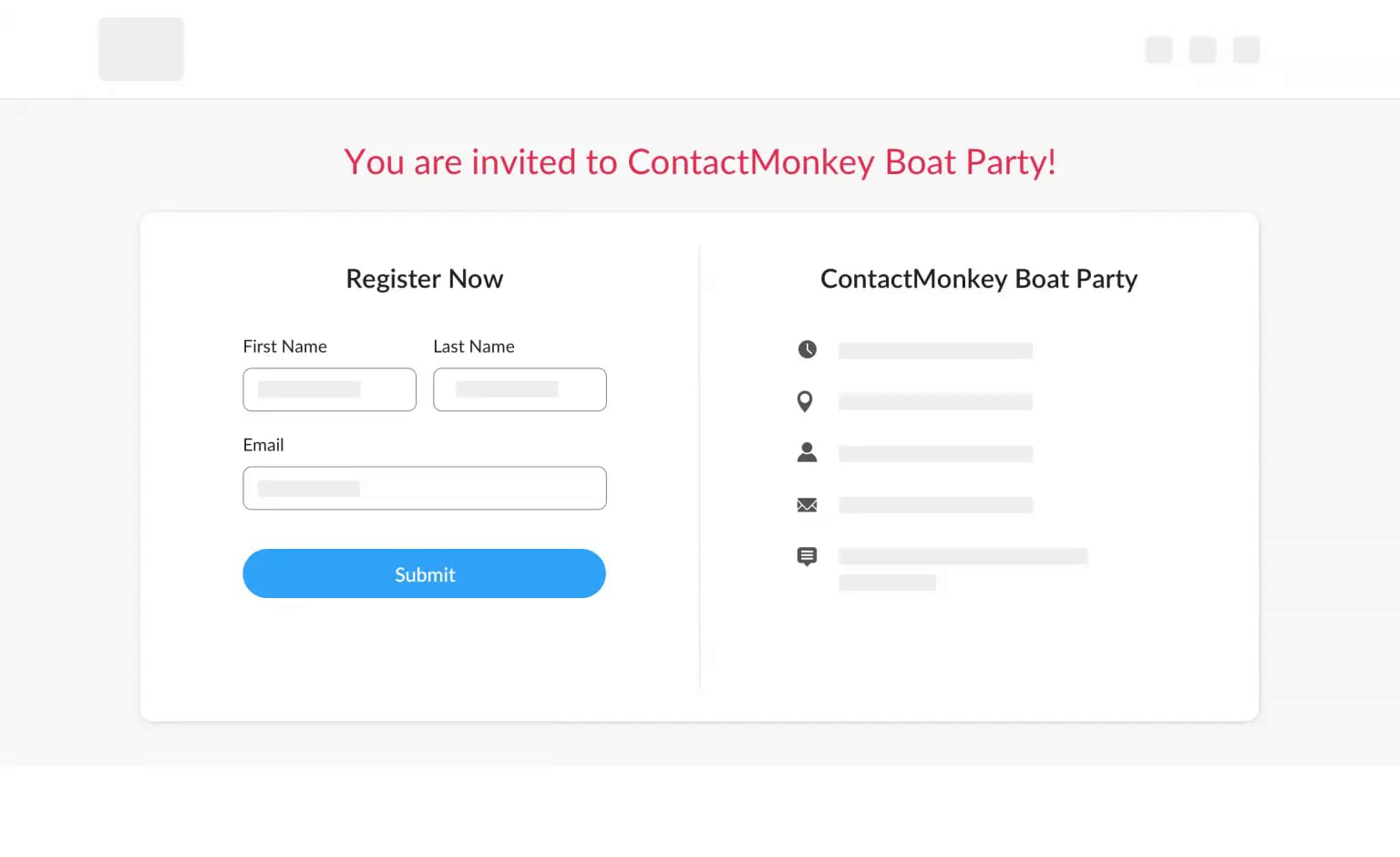 Alternatively, you can embed videos directly into employee emails and provide visual guides that employees can watch on their own time.
Read our blog on the importance of internal communication and learn how to get team buy-in for effective digital employee communication tools.
Digital Employee Experience Tools and Software
Exceptional digital employee experience starts with brainstorming employee communication ideas and choosing the right tools. The workplace software that you pick shouldn't just be the shiniest new gadget on the market. It needs to serve specific employee needs and engagement goals.
Below, we list a few of our favourite digital employee experience tools and why we love them:
Interactive employee newsletters: take your emails beyond static messages and help foster two-way communication across your workforce.
Tool of choice: ContactMonkey.
Workflow and productivity tools: help employees keep their projects organized and make it easier to measure project progress as well as team performance.
Tool of choice: Trello and Asana
Performance management system: set team goals and track how close employees are to meeting a specific objective.
Tool of choice: 15Five
Employee intranet: a one-stop-shop for all of your workplace news, address books, company milestones, staff forums, and more.
Tool of choice: Jostle
Employee recognition software: automate employee recognition and rewards to ensure that you never forget to send appreciation messages to your team or miss employee anniversaries.
Tool of choice: Bonusly
Pulse survey software: gather employee feedback in half the time of a traditional survey with short, focused questions embedded directly into internal emails.
Tool of choice: ContactMonkey
Video conferencing tools: Zoom fatigue is real. New video conferencing technology fosters remote employee interactions that more closely resemble real-world engagement, such as virtual halls, VR communications, and more.
Tool of choice: Remo and Webex
HR systems: automate HR functions and allow for employee self-service across multiple human resources tasks.
Tool of choice: Monday.com
Check out our list of the best digital employee engagement software for a deep dive into the latest workplace tools. 
Examples of Great Digital Employee Experience
We've done a lot of talking about great digital experience. But what does an exceptional digital workplace experience actually look like?
Let's examine a few quality digital employee experience examples to understand what it's all about:
Unified workplace employee experience
In this type of workplace environment, employees are never working in siloes. They are in-sync and aligned. This requires thoughtful implementation of asynchronous communication channels, such as internal newsletters, and instant messaging.
It also demands a consistent schedule of virtual team building events, such as lunch & learn webinars and games nights. With the right digital tools, employees can feel like a connected team from anywhere.
Find out how Exemplis was able to connect and engage employees across multiple team locations and remote departments with ContactMonkey.
Flexible workplaces
The latest research suggests that 36.2 million Americans will work remotely by 2025. In light of this employee engagement statistic, a successful digital employee experience will need to foster flexibility for workers, allowing them to work on more personalized schedules.
Many companies will learn that their workforce will want to keep working remotely full-time or prefers to opt for a hybrid work model.
In these scenarios, digital workplace technology, such as employee SMS, can help employers reach their staff from anywhere with return to work communications. The flexibility will in turn help foster a stronger work-life balance for employees and boost job satisfaction.
Learn how Chobani improved remote employee engagement with ContactMonkey's digital workplace communications tool.
Culture of feedback
The surest sign of great digital employee experience is when there's a culture of feedback in the workplace. That's because one of the biggest goals of any digital workplace technology is to foster a continuous flow of communication across the organization.
Digital software like pulse survey tools, for instance, are designed specifically to nurture feedback loops, build dialogue across teams, and foster a great digital employee experience.
When both managers and employees feel like they can share their opinions, questions, and concerns in an open and productive manner, a culture of feedback has been achieved.
Learn how House of Travel built a seamless digital employee experience and cultivated a culture of feedback with ContactMonkey.
How to Measure Digital Employee Experience With ContactMonkey
The key to ensuring that employees are benefiting from technology in the workplace is to consistently measure digital employee experience. With ContactMonkey's all-in-one internal communications software, you can streamline your digital employee experience while tracking and measuring its success from a single place—your employee newsletter:
With ContactMonkey, you'll be able to:
Conduct digital

employee experience

pulse surveys from your internal emails.

Create anonymous surveys

and get more authentic

employee feedback

on digital employee experience.

Track clicks on internal resources that employees find most valuable.

See a range of employee engagement analytics

—

from email opens to read times.
Learn more ways to use ContactMonkey for improving digital employee experience in our latest guide. 
Understand and Improve Your Digital Employee Experience
The digital workplace experience is made up of all the different digital interactions linking employees and technology. When these are simple and easy to navigate, the result is a positive digital employee experience. When technology only adds additional struggles to one's daily workflow, this adds up to a negative digital employee experience.
To improve the way employees engage with digital technology in the workplace, you have to start with quality tools, and continuously measure their success across your workforce. This will help you develop solid internal communication KPIs and prove the ROI of employee engagement to leadership.
ContactMonkey helps you build a seamless digital employee experience while delivering the data to measure its success. Book your free demo to see how ContactMonkey can help you create a better digital employee experience and boost employee engagement.