Recognizing your employees' accomplishments and contributions leads to increased employee engagement. Emphasize the value of your employees with our favourite employee appreciation day ideas.
Employee engagement is an ongoing process. An employee appreciation day can help emphasize your efforts and break up the monotony of the work schedule.
Employee appreciation days can take many forms; from big annual celebrations to smaller monthly activities. The goal of all of them is to help your employees feel valued and value each other.
Our list of employee appreciation day ideas covers both big and small activities for recognizing your employees' good work. Show your employees that they really matter to your organization by putting in effort to appreciate their contributions.
Engage staff with a modern internal comms tool.
Start a 14-day trial. No credit card is necessary. Zero risk.
What is Employee Appreciation?
Employee appreciation is the recognition of your employees' contributions, attitudes, or efforts that benefit your business.
As a category of employee engagement, employee appreciation emails are examples of asynchronous communication that aims to connect employees to their work, their organization, and each other. It describes how individual efforts contribute to wholesale success. When your employees feel that their work really matters, they gain more fulfillment from their roles and contribute more to the organization's success.
What is an employee appreciation day?
An employee appreciation day is a designated time to recognize the work of your employees. It can take many forms, but the emphasis is always the same: your employees enable success at your business, and that's worth emphasizing.
An employee appreciation day can be fun or formal, in-person or remote, company-wide or team-wide. However you choose to host your employee appreciation day, ensure that it best communicates your business' gratitude for your employees.
Why is Employee Appreciation Important?
Employee appreciation is an important facet of companies' employee engagement. Engaged employees feel a connection with their work, workplace, and coworkers that motivates them to contribute to the success of your organization.
Employee appreciation differs from other employee engagement initiatives in its explicit focus on employee success and rewarding that success. Other initiatives may be aimed at making work life easier for employees, but what differentiates employee appreciation is the recognition-aspect.
When is Employee Appreciation Day in 2023?
The official Employee Appreciation Day for 2023 is March 3rd. This is a day to recognize that for any business to succeed requires a capable, committed group of employees.
Though March 3rd is the "official" employee appreciation day for 2023, you can host your own celebration whenever during the year is convenient for your employees.
Employee Appreciation Day Ideas for 2023
We've broken down our favourite employee appreciation day ideas by how often they reoccur. Choose a combination of annual, monthly, and weekly appreciation ideas to create an employee engagement program that your employees will love.
Annual Ideas
People celebrate all kinds of annual milestones, and your employee appreciation approach can follow the same formula. Planning a big employee appreciation event can:
Encourage employees to work their best in order to gain recognition.
Strengthen your workplace culture by letting all your employees celebrate together.
Create continuity in your employees' yearly schedule.
If you need some quick ideas for your internal communications, you can try using ContactMonkey's OpenAI ChatGPT integration to generate content for your emails. Simply write a prompt describing the kind of email you'd like to send, and then edit the output text for your audience.
There are all kinds of annual employee appreciation events you can host at your workplace. Choose the best option for your business depending on how your employees are situated—in-office, remote, or hybrid. We've included employee engagement ideas for all kinds of workplace cultures:
1. Office party
Office parties are one of the most common ways to show your employees that they are valued at your organization. An office party can help employees relax and build relationships with one another without the pretext of getting work done.
Traditional office parties can be held in-office and at venues like restaurants and bars. But they can also be held remotely for those businesses that do not have in-office employees.
Remote office parties can use video conferencing software like Zoom to connect employees working from home. Try playing some group games specifically designed for large groups of people, like the Jackbox series of games.
Letting your employees relax and spend time connecting with their coworkers is a terrific way to build camaraderie. It also shows your employees that you value more than their work: their personal well-being and relationships matter to your business as well.
2. Awards ceremony
A more formalized version of the office party is the employee awards ceremony. This involves creating a series of annual awards to recognize areas of work where your employees excelled.
These awards can be chosen by management, or let employees choose which of their coworkers most deserve recognition. Once you've created your employee appreciation awards, conduct an employee pulse survey to poll your employees for possible winners.
With ContactMonkey, your employees can vote for their coworkers via our anonymous comments in Outlook and Gmail: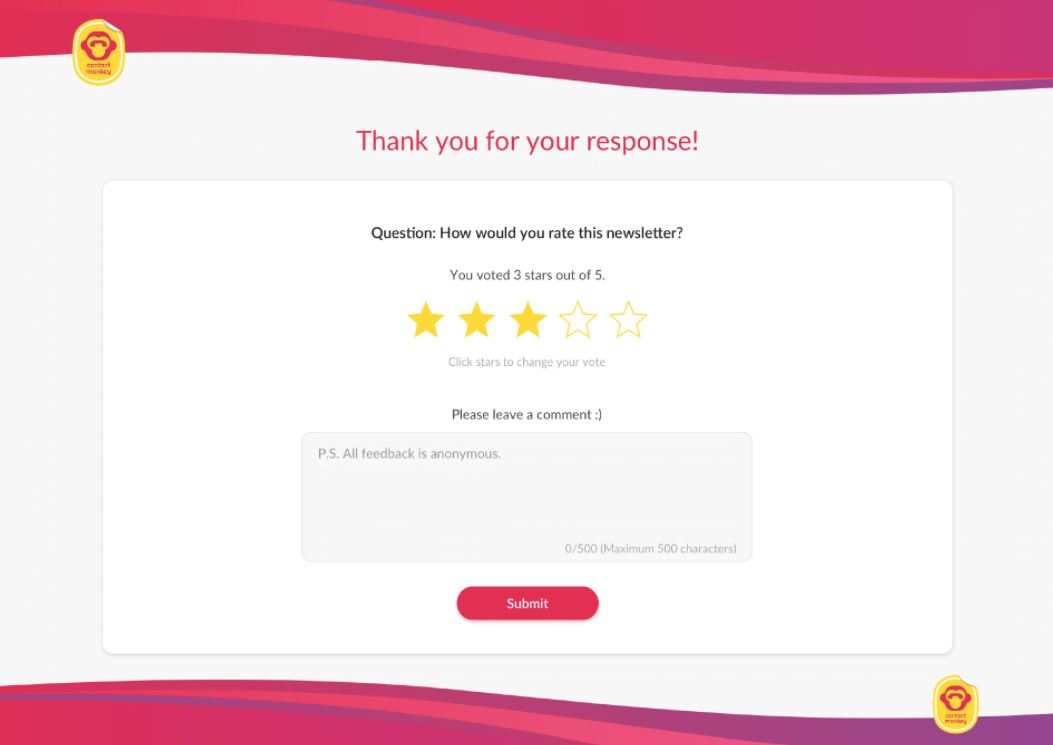 3. Rewards program
An annual employee rewards program works by giving employees specific quotas or key performance indicators to meet each year. Once they meet a quota, employees can be rewarded with different incentives like Amazon and iTunes gift cards, extra vacation days, and other desirable prizes.
Celebrating employees separate from their salaries can encourage them to give extra effort to meet and exceed their goals.
4. Recognition week
If you work in a large company with thousands of employees spread over different departments and countries, recognizing individual employee achievement can be a challenge. Instead of trying to fit all your annual employee recognition plans into one day, why not spread them out over the course of a week?
An annual employee recognition week is a terrific way to show every part of your company that they're valued. Perhaps each day can be dedicated to a different department, highlighting their exceptional work and talented team members.
Try announcing and tracking your employee recognition week using an internal company  newsletter. This way your entire company can follow along in acknowledging your employees' great work.
5. Milestone-based recognition
Businesses are all about growth, but so much looking forward can distract us from reflecting on past achievements.
Your annual employee appreciation can look back on the year's past achievements and highlights to encourage your employees for the future. Emphasize the importance of their work, and how it has contributed to the success you're currently experiencing.
Celebrating past accomplishments can also help improve your employees' experience of your organization, seeing their own work reflected in the success of the business.
6. Vote for new yearly initiatives
What better source for great employee appreciation ideas than your employees themselves? Try holding a yearly vote where employees select what kind of employee appreciation initiative they want to have.
Take suggestions from your employees—or use ideas from lists like this—to give your employees a wide range of choices for how to recognize their contributions to your business' success. Similar to the awards ceremony voting, you can use ContactMonkey's employee feedback tools to collect anonymous employee feedback to let your organization vote confidentially for their favourite idea.
7. Summer Fridays off
Reward your employees hard work with more than just recognition. Not only is giving employees extra days off in the summer a nice way to reward their hard work, it also keeps morale high and helps avoid burnout and lethargy.
Most work takes place indoors, despite the fact that people's moods can be greatly boosted by spending time outdoors. Keeping your employees happy and healthy is an incredibly efficient and easy way to keep productivity high.
Monthly Ideas
Not all employee recognition programs need to be elaborate yearly celebrations. There is also value in holding more frequent, scaled down initiatives for employee recognition.
Monthly initiatives give employees something to look forward to each month and break the monotony of often hectic work schedules. Monthly initiatives are also effective because they provide more opportunities for recognizing employee achievements, rather than having to focus on the largest ones. Here are our favourite monthly employee appreciation ideas:
8. Town hall shout outs
Monthly town halls are standard operating procedure for all kinds of businesses. They give management a chance to update employees about the company's success, and give employees a chance to voice their concerns or questions.
A great way to spice up your monthly town halls is to include a "shout out" portion where employees are encouraged to mention which of their teammates excelled in the previous month. Incentivize participation by holding a draw for everyone who gave/received a shout out after the town hall!
9. Employee-of-the-month program
While it's important to show appreciation for all of your employees' hard work, an employee of the month program can be a fun way to engage your workforce and build camaraderie.
Be sure to emphasize the "for fun" aspect of the program, to quell any jealousy or overblown competitiveness. Be sure to offer a reward for the winner of the program, and recognize them in a way for all to see, like in your monthly employee newsletter. And as an additional employee newsletter idea, collect employee feedback on your voting: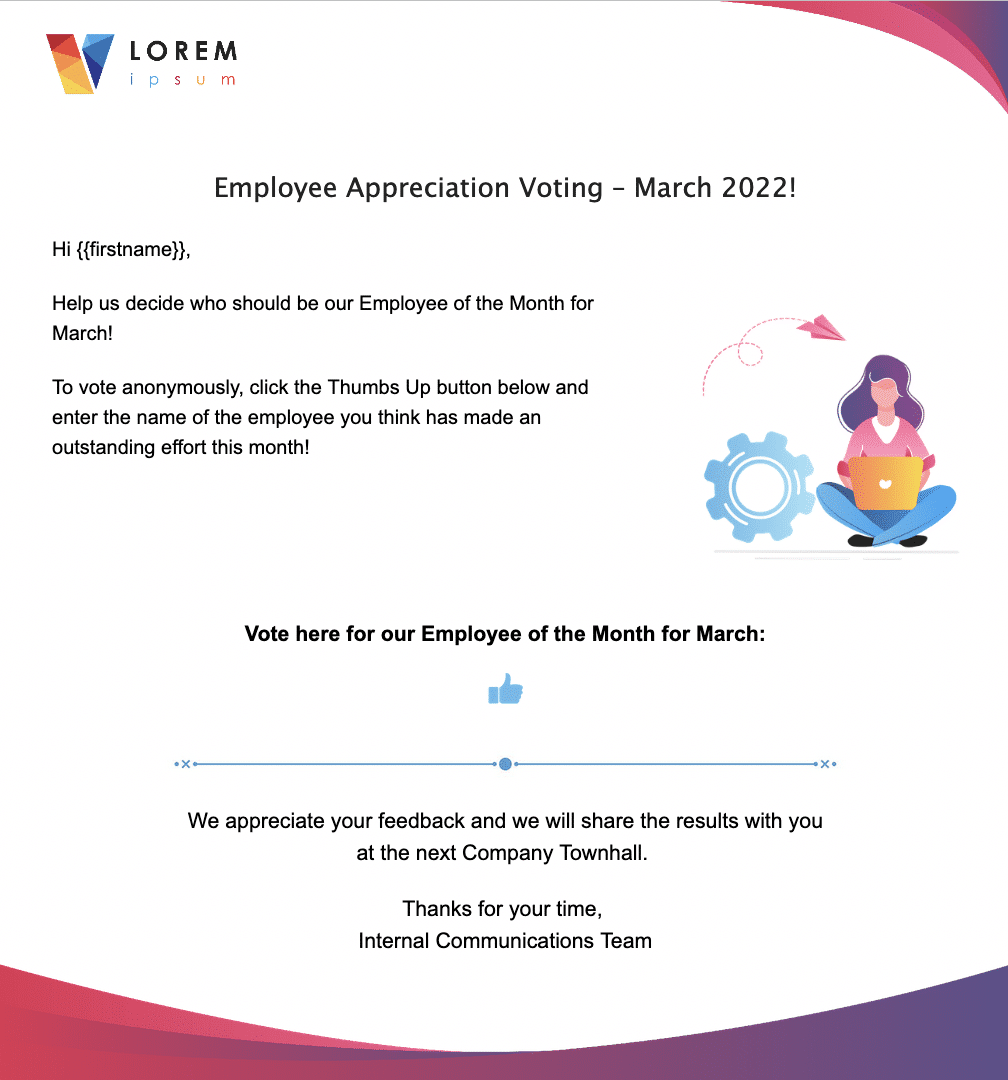 For larger companies, only certain employees may be interested in your employee of the month emails if they are in direct contact with the selected employee. If this is the case for your organization, consider using custom email lists to target only relevant employees.
With ContactMonkey's List Management feature, you can create custom email lists without IT. These lists integrate with your Human Resource Information System (HRIS) like Workday and ADP, as well as Azure Active Directory, so they'll update automatically.
10. Charity donation drives
Show interest in what's important to your employees by organizing monthly charity donation drives for foundations chosen by your employees.
Let your employees choose a selection over charities to support over the year, and schedule them month-to-month. Offer a percentage of your sales to a charity selected by your employees; your employees will be motivated to support a cause important to them and your customers can feel good about it too.
11. Pet days
Another great way to show interest in the personal lives of your employees is to offer a monthly Bring Your Pet to Work day.
For in-office employees, bringing a pet to work can bring fun and relaxation to the work day. Give your employees something they really look forward to each month by starting a Pet day.
12. Games days
Like pet days, games days give employees a fun way to take a break from the grind of work to connect with one another. Games days are great for both in-person and remote workers, and can help strengthen your workplace culture and build relationships between employees.
Games days are easy to organize, require little planning, and encourage employee participation better than many other kinds of initiatives—and let employees be themselves!
13. No meetings day
Meetings are necessary for any productive business, but they can wear on your employees and can cause them to tune out. Give your employees a day off so they can focus on their work by trying a monthly "no meetings day".
Schedule a day each month where it's decided that there won't be any meetings held. This way your employees can plan around it and use it as a catch-up day of various projects if need be.
Atlassian found that 31 hours a year were spent on unproductive meetings. Not only will these days give your employees a break, but it will also help manager think more critically about what meetings are really necessary.
14. Top 5 achievements of the month newsletter
Similar to an employee of the month program, a monthly email newsletter recognizing the top contributions from employees is a fun way to share outstanding employee achievements with the whole company.
You can even include a brief blurb from the employee about their success or what stood out to them about their performance. It's a great way to encourage your employees to appreciate the work they do for each other.
With ContactMonkey, you can easily create a reusable newsletter template for your monthly achievements. This way it's easy to make this fun employee recognition strategy a habit.
Bypass email-sending limits of Outlook and Gmail.
Send all of your internal emails within ContactMonkey.
Weekly ideas
Finally, employee appreciation can be expressed even on a weekly basis. Embrace a combination of weekly, monthly, and yearly employee appreciation initiatives to show your workforce that their morale is a priority.
15. Lunch and learn
Have teams meet for weekly lunch meetings where everyone votes for a podcast or webinar to listen to. Lunch costs should be covered by the business, which will encourage employees to participate. This works great with remote employees as well.
Lunch and learn sessions let your employees relate to each other in a relaxed fashion and develop their knowledge and skills.
16. Fitness programs
Prioritize your employees' physical wellbeing by hosting a weekly fitness program or challenge. Many people find it a challenge to keep up with their fitness while balancing work and personal life.
Designating office time for a brief fitness break can help encourage employees to stick with their fitness goals. This is a great idea for both in-office and remote workforces.
17. Casual days
For offices that operate with a formal dress code, giving your employees a day where they're allowed to dress down can be a fun way to let your workforce relax and be themselves for a day.
Schedule a weekly casual day at your office, and perhaps closer to holidays suggest a theme for employees' outfits. Sometimes it takes very little to engage your employees in a fun and easy way.
18. Happy hour
A great way to build employee relationships is to set up a weekly happy hour. Employees can meet at a local bar or restaurant to unwind after the work week and get to know each other outside of work.
Work happy hours give employees the chance to connect to other employees they may not get the chance to during office hours.
19. Field trip meetings
Like we mentioned above, letting your employees enjoy the nice weather improves their morale and mental wellbeing. A great idea for in-office and remote workforces alike is to plan a weekly "field trip" meeting where teams meet at an outdoor location, like a local park.
Of course this employee appreciation idea requires there to be nice weather, so perhaps select different possible meetings to host outdoors, and let the weather decide which day to do it.
20. Office sports teams
Another great way to show you value your employees physical wellbeing is to organize an office sports team. Whether you decide to set up an interdepartmental league or join a standalone sports league, you'll find many of your employees are eager to participate.
Encourage engagement by tracking the successes of your office sports teams using your employee newsletter; it's a great way to highlight your employees' achievements outside of the office.
Improve Your Employee Appreciation Via Feedback
Your employee appreciation efforts shouldn't just be unidirectional. After all, who knows what motivates your employees more than themselves? Inform your employee appreciation initiatives by asking your employees how they want to be recognized.
Try using an employee engagement survey question to gauge which ideas your employees like the best. Collect suggestions using anonymous comments and then let your workforce vote for the options they'd like to see.
Ultimately, you're better equipped to motivate and engage your employees when you know what's important to them. And that starts with collecting employee feedback and analyzing your employee engagement stats.
Recognize Your Employees' Excellence
Engaged employees feel connected to their work and their coworkers. They find meaning in their work and pride in their successes. Employee appreciation day initiatives help recognize these engaged employees, and encourage your entire workforce to get involved as well.
Try creating a yearly schedule for your employee appreciation initiatives based on your employees' suggestions. You'll be amazed at how small acts of gratitude and appreciation can make a huge difference in your employees' performance.
Want to learn exactly what kind of appreciation initiatives your employees want to see? Collect employee feedback and anonymous comments directly to your Outlook and Gmail inboxes with ContactMonkey. Book a free demo to see how to measure employee engagement at your organization: