If you're an internal communications professional looking to invest in internal communications software, or better understand the data behind your internal emails to increase employee engagement, you've come to the right place! 
What employees want is one of the main concerns of internal communications professionals today, especially when it comes to proving return on investment and getting buy-in from the C-Suite.
An internal email tracking tool, such as ContactMonkey, shows you how many employees opened the internal email, what links they clicked on (if this applies), what time they opened the email, whether they opened it on a desktop or mobile device, and where they were when they opened it. 
Looking at all of this data, whether tracked at the individual or overall employee level, is an excellent way to understand employee engagement within your organization.

href="https://cta-redirect.hubspot.com/cta/redirect/6282300/bd464b02-6850-4993-a632-92c9711aa1a3″ >
Internal Email Tracking in Microsoft Outlook
ContactMonkey is an Outlook add-on that enables you to measure employee communications without leaving your inbox. It's the only tool on the market that enables you to track both individual and overall employee email analytics from your existing Outlook distribution lists. 
Benefits of internal email tracking for internal communications: 
1. ContactMonkey integrates with your email client
With ContactMonkey, you don't need an external web application (like Mailchimp or Campaign Monitor) to track employee newsletters. Instead, you can stay right within your Outlook or Gmail inbox. 
ContactMonkey's internal communications employee newsletter tool works is available for: 
Outlook for Windows 

Outlook for Mac 

Office 365

Gmail
2. Send internal emails to your Outlook distribution lists
Keeping things internal only increases your security level. This way, employee data never ends up in the hands of an external third party. 
Plus, employees won't have the opportunity to unsubscribe from the employee newsletter, simply because they won't have the option. 
When you use an external marketing system for your internal emails you MUST include an unsubscribe link by law. Not really something you want your employees doing, is it? 
You can pretty much guarantee that all important internal information ends up in their inbox as all emails will be coming from your email address or from any email address you define, such as the CEO, Internal Communications or Human Resources. 
By using your existing Outlook distribution lists (or Google Groups if you're a G-Suite user) , you'll never have to worry about maintaining or exporting your employee email lists to an external system. 
3. Internal communications can be personalized for every employee
Playing around and personalizing email subject lines can be one of the best ways to guarantee employee engagement. Think about it: Who wouldn't want to open an email with their name in the subject line? 
With a single click, you can also personalize the subject line or body copy of your internal emails to each employee. This can be done in your distribution list, a dynamic distribution group, or in a CSV file that you upload. 
Measure at an individual employee or overall campaign level to identify what works and what doesn't. Use this data to continually improve your employee communications.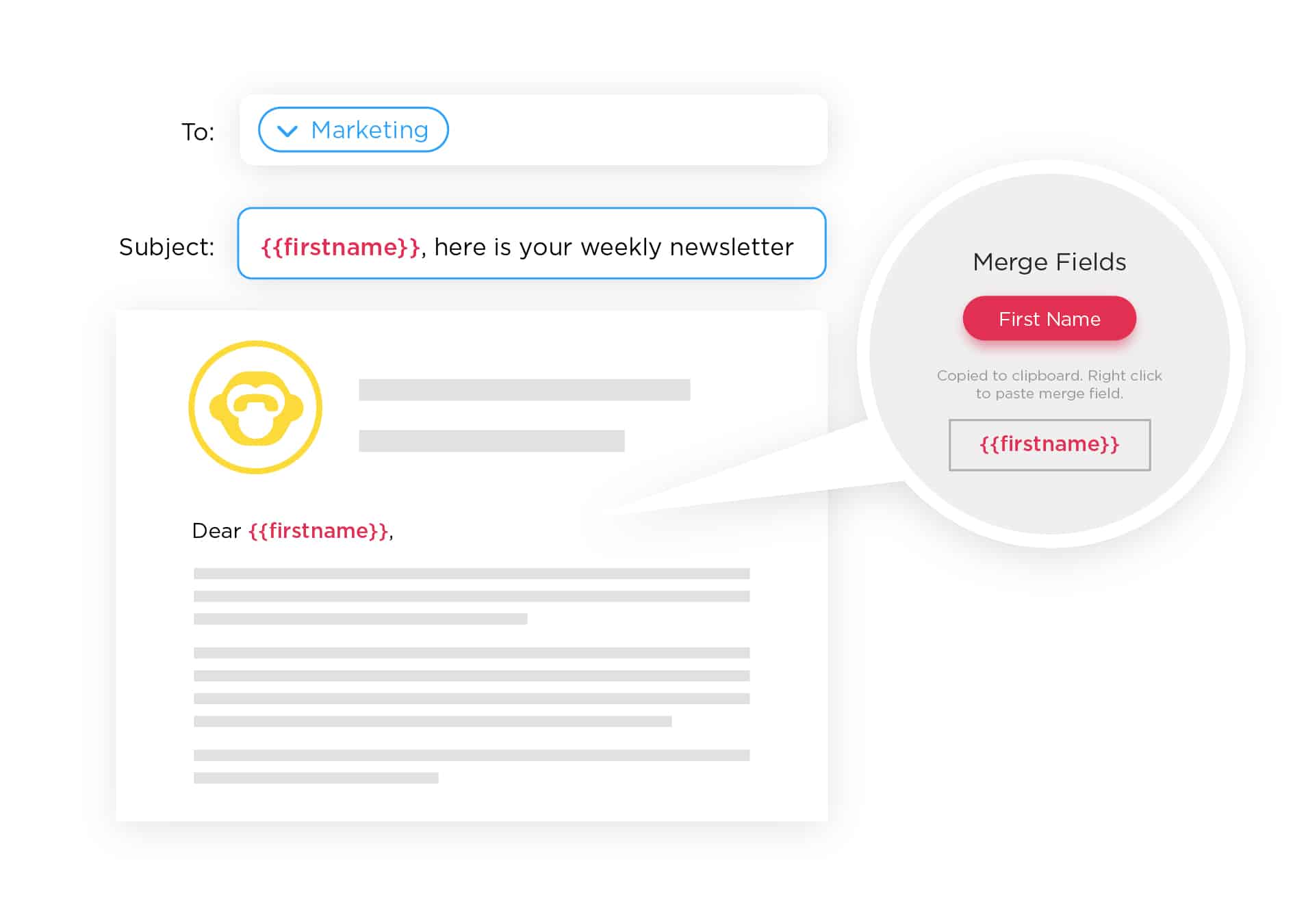 How to Increase Employee Engagement with Internal Email Tracking
When you're sending out your internal communications, you don't just want to have evidence of your communications landing in employee inboxes, but you also want to know that they're interacting with whatever lives inside those internal emails. 
Being able to see what's resonating is just as valuable seeing what employees are less interested in. 
Gather employee feedback with internal newsletters
Transform your employee emails into an interactive two-way channel with elements like pulse surveys, social reactions, and star ratings. Elements like these enable employees to react to your internal communication messages in real time. You can also show how valuable they are by using their feedback to improve employee communications going forward. Ultimately, internal communications are for employees first. 
The Employee Engagement team at Exemplis uses ContactMonkey to not only gather feedback, but keep a constant check on how employees are actually feeling. At present, they are averaging a 70% open rate on their internal communications since making the switch. 
Measure internal communications as a team
ContactMonkey allows you to see the performance of internal email campaigns at both the overall and individual employee levels. This includes data around open rates, link clicks, location, devices, and feedback results. 
Collaborate with your communications team to compare campaign analytics, discover what content engages employees, and use shareable reports to prove your team's success.
Design your employee newsletters in Outlook
Create beautiful responsive HTML employee newsletters with our easy to use email template builder. All you have to do is drag and drop to create your template: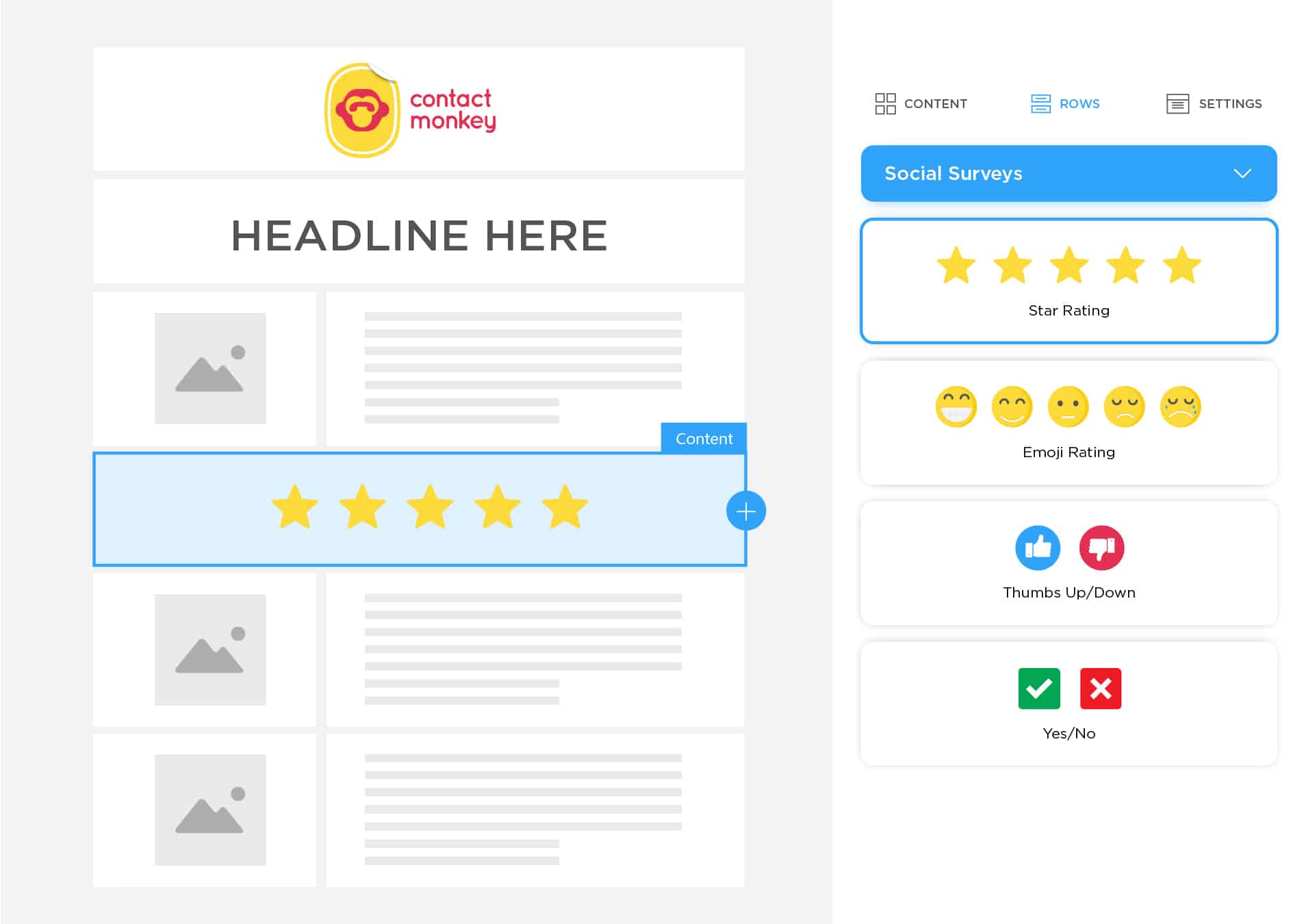 When you're happy with your creation, you can send it out from your Outlook inbox. That way, employee information doesn't end up in the hands of a third party, and your internal communications won't get caught in your spam filters.
Finally, queue up your internal email using your existing distribution lists and exchange groups in seconds  with Outlook for Windows, Outlook for Mac, and Office 365.  
href="https://cta-redirect.hubspot.com/cta/redirect/6282300/0bc6e0fb-d723-4e94-bc9c-5a0d05902d67″ >
How to Create and Send Employee Newsletters in Outlook
Choose your internal email template
Choose from dozens of pre-designed internal email templates or upload your existing responsive HTML email designs straight to Outlook to get star
Add unique design elements to your email template
Use our simple drag-and-drop email template builder to customize your email template design to match your company's brand colours, messaging, and imagery style.
Build mobile-friendly email templates
Preview your email designs on both desktop and mobile to make sure your messages are responsive and look just the way you intended, even in Outlook.
Send responsive internal newsletters.
Send and track your beautifully designed HTML employee newsletter to your existing Outlook distribution lists from your Outlook inbox. 
Everything can be managed from the ContactMonkey sidebar, and you can schedule your internal emails to send out at a later date and time. 
How to Get Real-Time Employee Feedback from Internal Email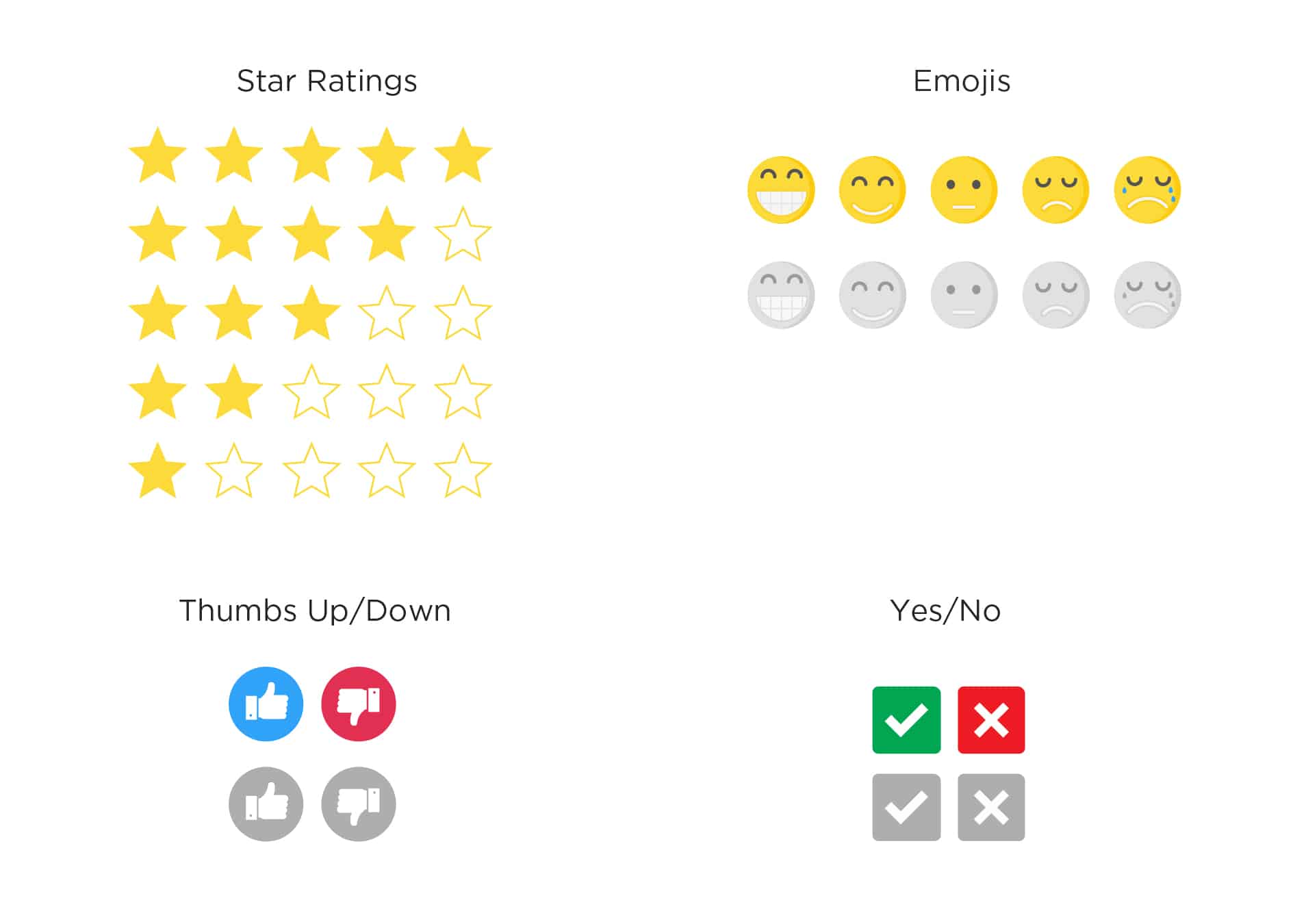 Our tool allows you to add emoji reactions, pulse surveys, and like buttons to the content in your internal emails by simply dragging the respective block anywhere you want in a pre-built or new HTML template.
You'll find these blocks in ContactMonkey email template builder for internal communications. You can include a question with your social reactions in order to gather more long-form, written employee feedback. 
Which employee feedback feature is your favourite?
Emoji reactions

Give your employees the ability to love, like and laugh at any content you send them via email. With social reactions now your internal communications team can constantly gather employee feedback in a seamless way.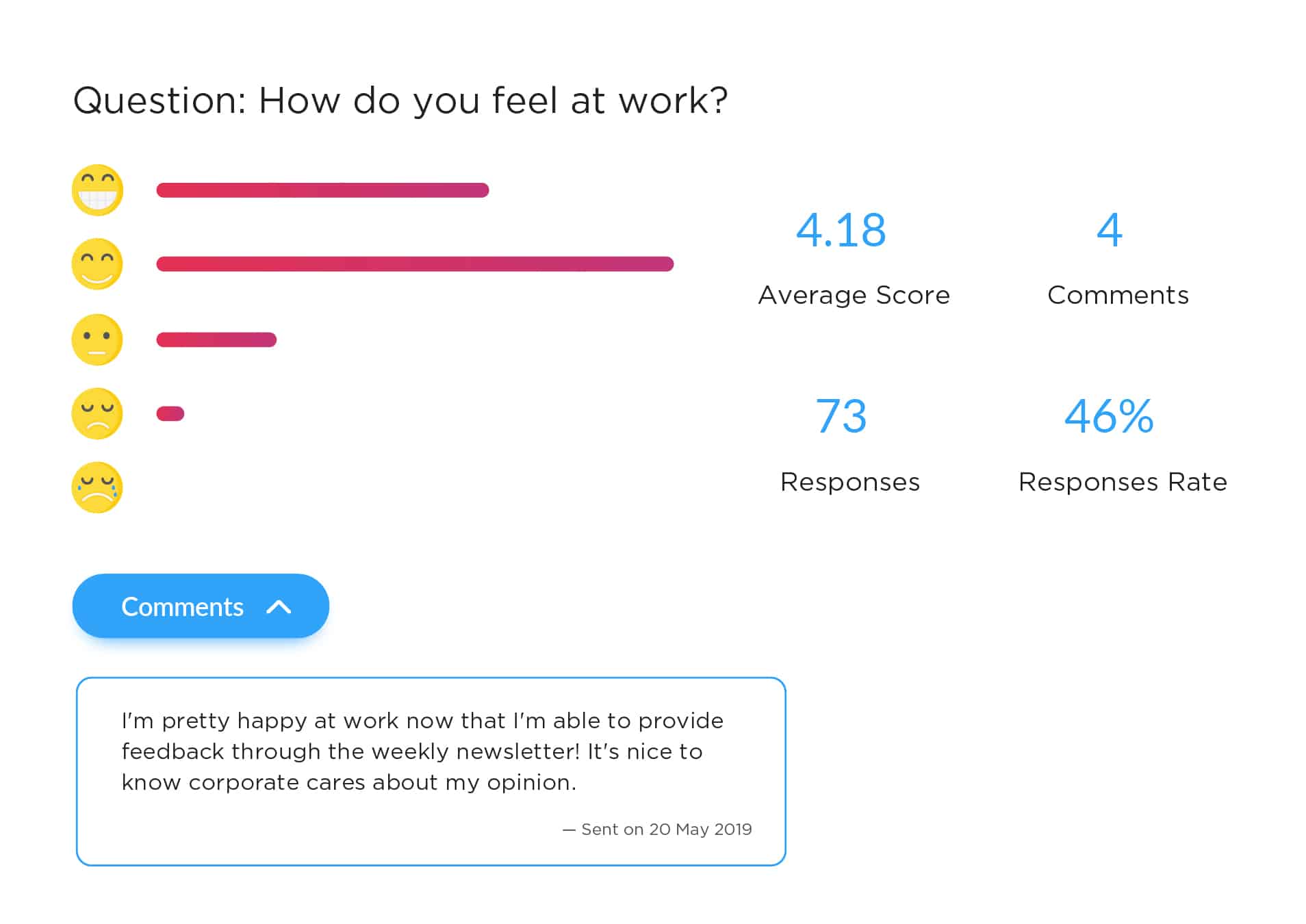 Pulse surveys
With pulse surveys you'll also get actionable data on your email communications in seconds. You'll be able to see all of the responses live in real time on your ContactMonkey dashboard.
Pulse surveys come in two styles within ContactMonkey:
The "Yes and No" options that we offer. These are used to gain a quick "pulse" response from your newsletter on specific binary questions.

The "Star Rating." These are used to gather quick feedback without bothering busy employees.  Such as, "On a scale of 1-5, how would you rate your work-life balance?"
'Like' buttons
Your employees are already 'liking' content on all the social media platforms they use on their own time. By adding like buttons to your own internal emails, you'll be able to engage your employees with your content and actually learn what they like or dislike.
Employee comments
Ever wondered how employees feel about a specific topic? Now, you can incorporate employee surveys or simply add one question to your newsletters using your email template builder.
Simply enable "comments" through the template builder and start getting actionable feedback from your employees.
href="https://cta-redirect.hubspot.com/cta/redirect/6282300/9fdf9ae0-5303-49fa-bf25-5d269e6d112b" >
Who Benefits from Internal Email Tracking Software? 
Internal communications is not always limited to a particular team. If your company doesn't have an Internal Communications department, the responsibility may fall on the Human Resources team, or the general management team. 
ContactMonkey's internal communications tool is perfect for all of the above teams to use, especially if they're primarily focused on using email to send out internal messages. 
What makes the tool so versatile is how easy it is to set up and the variety of internal email tracking statistics (like open rate and click-through rate) it provides. Key metrics vary from team to team, and organization to organization. 
Internal Email Tracking Metrics for Employee Engagement
As implied earlier, there are countless key metrics that an organization can choose to pay attention to. Oftentimes, it comes down to understanding the business goals, and how internal communications will support those goals. 
Below are a few of the most common key internal email tracking metrics that your communications team need to start tracking: 
Internal email opens
Email opens let you know whether people are being informed and in the know of important company announcements. When you're using an internal email tracking tool like ContactMonkey, your employees have no option to unsubscribe, and you can see right down to the individual employee who has yet to open your message. 
Link clicks
A high click-through rate tells you that the content you're sending out is relevant. On the flip side, if there are links that aren't getting a high rate of employee engagement, you can drop them going forward, and avoid sharing similar content.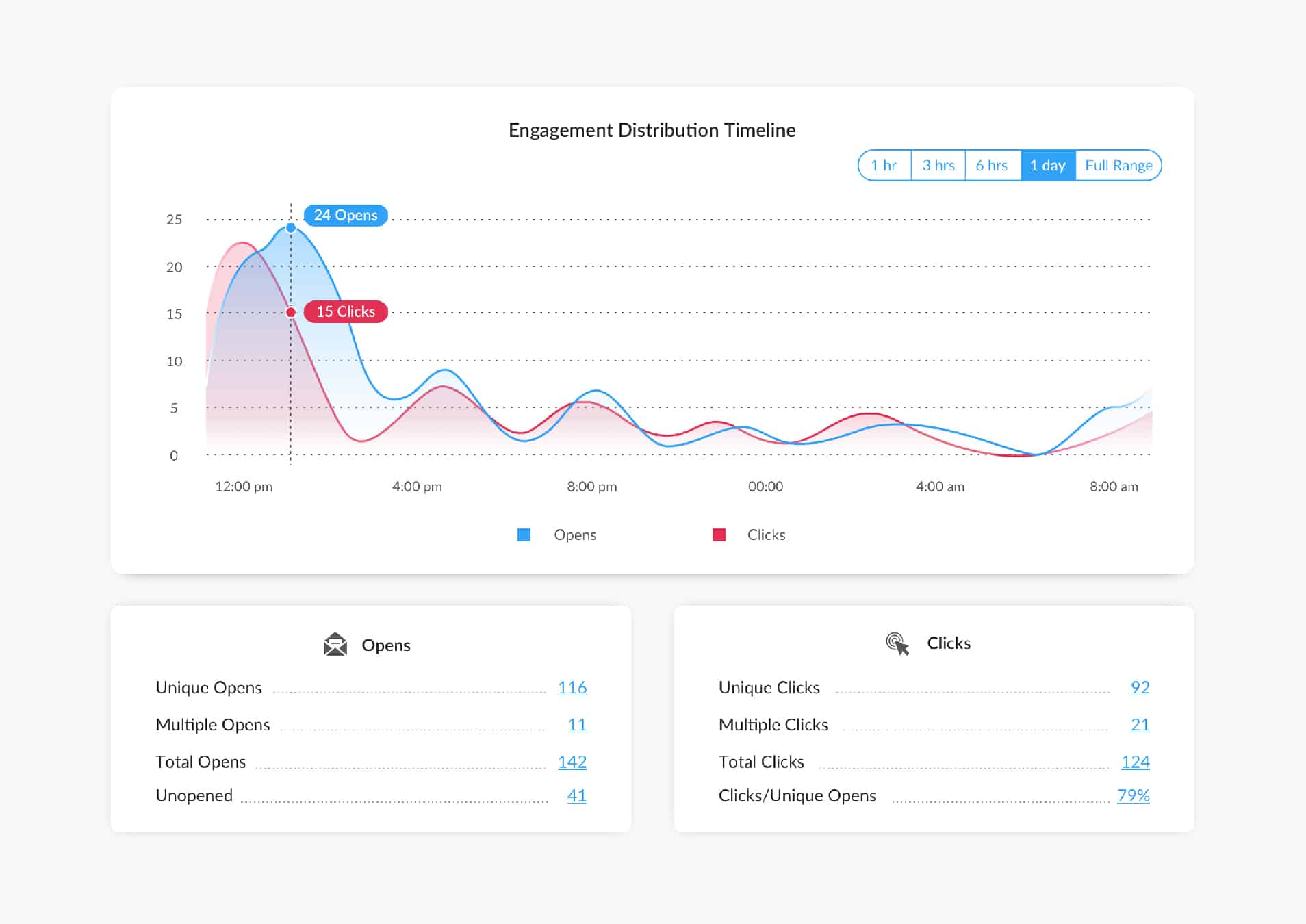 Location
Being able to tell where employees are opening their emails can be helpful for big companies. If they're opening it outside of office hours on a computer, or on their mobile devices, the content needs to move in that direction.
Employee engagement surveys
Collecting employee feedback can be a struggle, especially if employees aren't quite comfortable with sharing feedback openly. 
With ContactMonkey, you can ensure that employees have the opportunity to share employee feedback with comments from employee newsletters. 
Even though it's anonymous, the overall data is still useful to developing your internal communications strategy. 
Why Add Internal Email Tracking to 2020 Communications Plans 
ContactMonkey seeks to facilitate better internal communication, and make relationship-building in the workplace a priority.
With time-saving products for Internal Communication professionals, we make your life a little easier with an out-of-the-box software solution for email tracking and analyzing. 
Further reading: 
Prove the ROI of Employee Engagement Using Email Tracking
The Best Internal Communication Tools for 2019
Killer Employee Newsletter Ideas
Ready to see our internal email tracking tool in action? Get in touch with us, and our team will work with you to perform a demo that caters to your needs! 
 href="https://cta-redirect.hubspot.com/cta/redirect/6282300/5bdfb1bf-4869-444c-9ccb-234e6d7a7d55″ >