Your remote employees access their emails through a variety of ways. Responsive email templates make your content display perfectly across all devices, so your employees can read your email distraction free.
Responsive HTML email templates take the tediousness out of HTML email design. You can create great-looking internal newsletter content and save time without having to troubleshoot your email templates.
Below, we've compiled a list of our favourite responsive HTML templates. However your employees access their emails, these solutions will ensure your HTML emails appear exactly as they should.
Try ContactMonkey's email templates today!
Start a 14-day trial. No credit card is necessary. Zero risk.
Responsive HTML Email Templates: Our Favourites
95% of respondents to our Global State of Internal Communications Survey said email was their most important internal communications channel.
This comes as no surprise: nowadays employees can easily access email using desktop and mobile devices, which makes it an ideal platform to leverage your remote team communication tools.
It's always nice to try before you buy. Our list of free Outlook and Gmail responsive email templates gives you a chance to see how each template works with your email content.
Pro tip: Download ContactMonkey's free email templates to save time on your internal communications.
1. ContactMonkey
Using ContactMonkey internal email templates, you can do so much more than just communicate information to your employees (although they're pretty good at that too!).
ContactMonkey offers free email templates that will display perfectly across all your employees' devices. These templates will give you an idea of what ContactMonkey can do for your employee newsletters:
You can access our extensive library of professionally-designed responsive email templates and easily customize them using our responsive email template builder. You can have multiple people working on a template simultaneously and watch changes in real time—just like in Goolge Docs.
Include employee feedback options like star ratings, emoji reactions, eNPS surveys, and anonymous comments to learn exactly how your employees are feeling: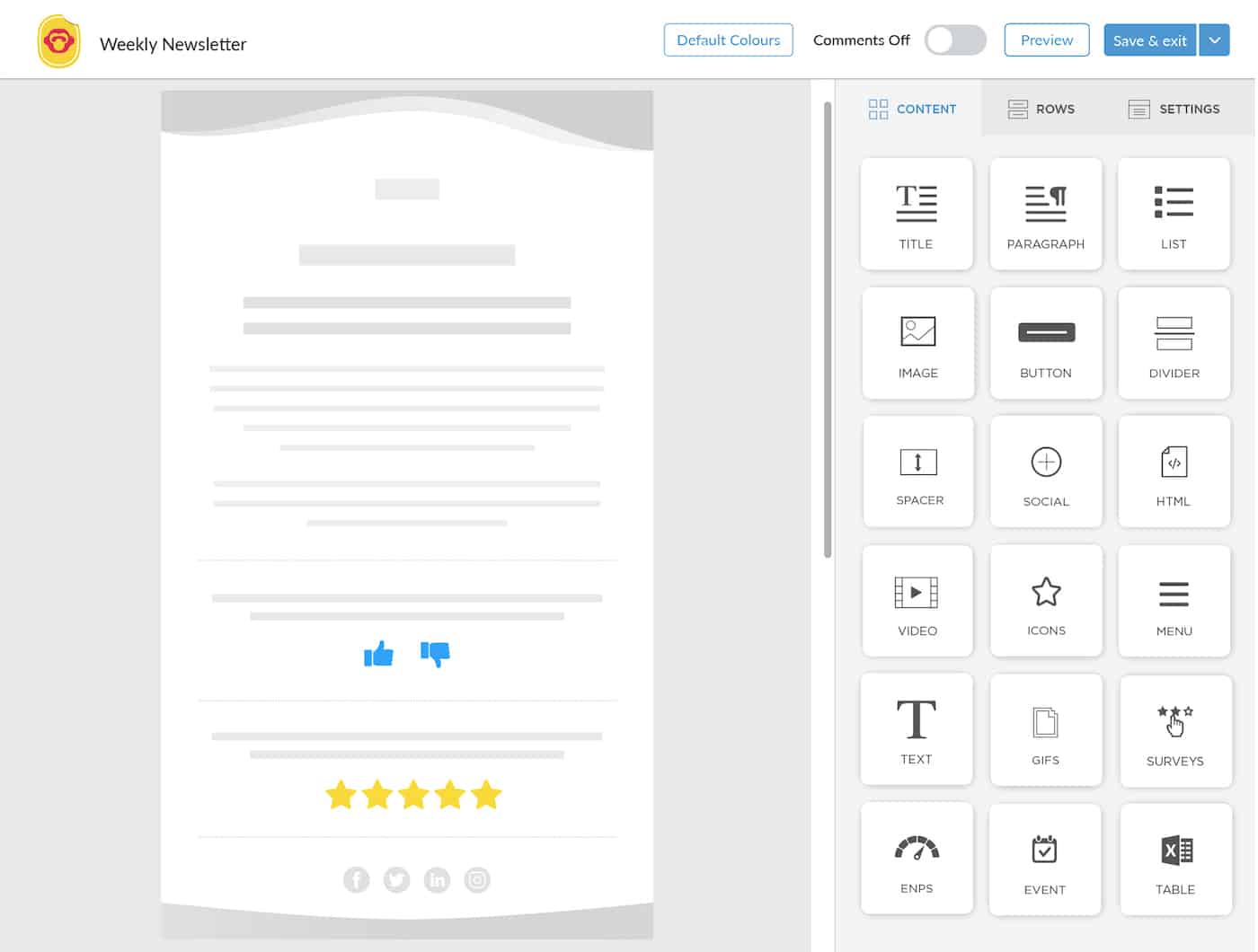 Send out regular pulse surveys using ContactMonkey's pulse survey tool. Regularly asking for your employees' opinions encourages participation over time and is a staple of your pulse survey strategy. You can even target specific segments of your workforce for survey using custom email lists created with our List Management feature to drive survey engagement and limit the number of irrelevant emails your employees receive.
Not sure how to start your email? ContactMonkey has you covered. With our OpenAI ChatGPT integration, you can provide a prompt as to what copy you want on your email and our email builder will generate text that you can customize and use.
You can even use our responsive email templates to gather email metrics like open rate, click-through rate, opens by device and location, and more. Collect data in real-time so you can hone in on the email content your employees like best: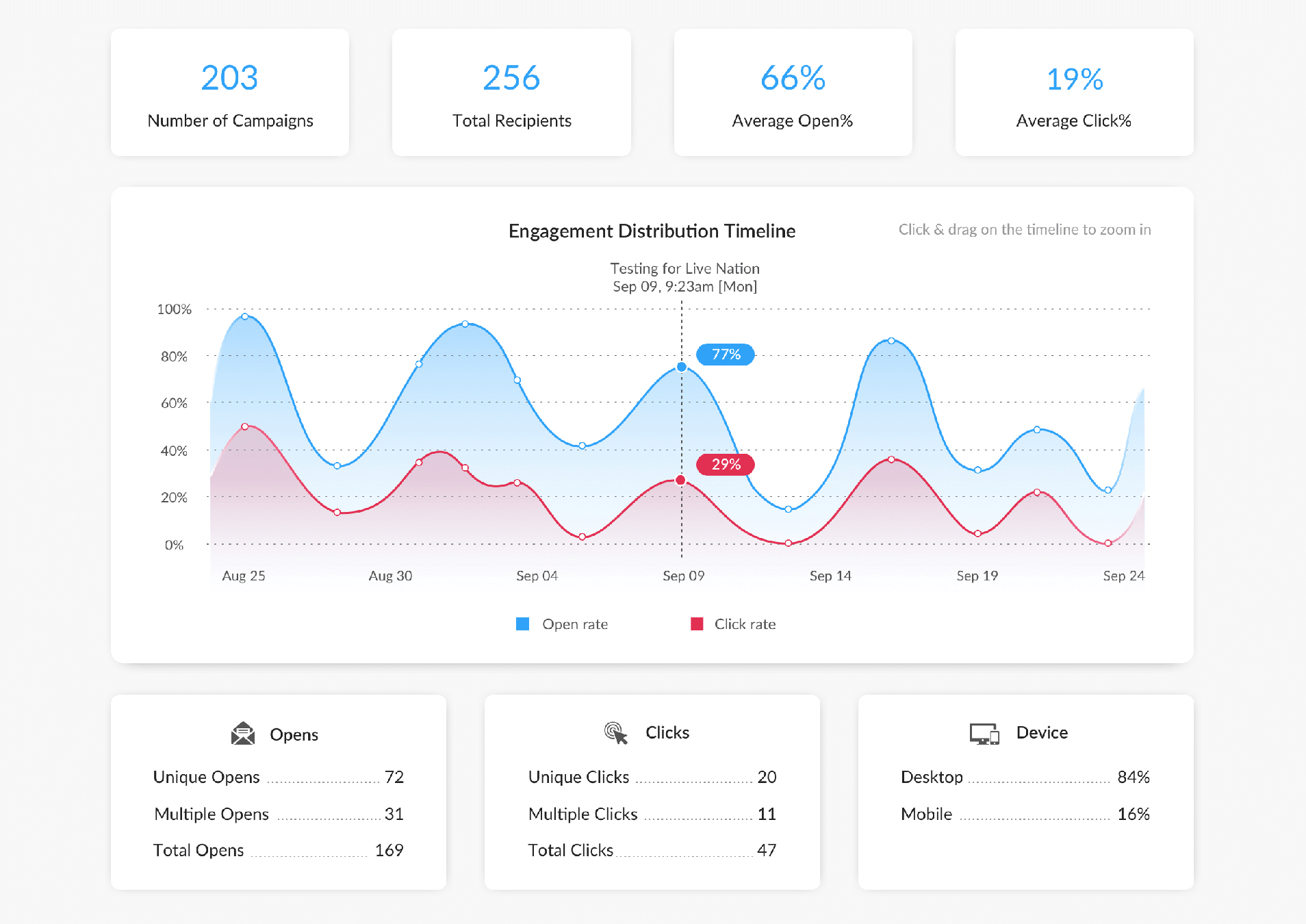 If your organization has internal or external regulations around email privacy, you can use ContactMonkey's anonymous email tracking to gather email metrics while maintaining your employees' privacy.
We also provide an Outlook Email Template Design service, where you can provide us with your email idea and our team will create you a professional responsive email design to bring your Outlook email template to life.
Create stunning internal email templates.
Try ContactMonkey's email template builder for free.
2. HTML Email
Whether you want to send responsive email templates daily, weekly or monthly, HTML Email has got you covered!
Developed by San Francisco based Email Designer and Developer, Lee Munroe, HTML Email offers responsive HTML email templates you can use for your email newsletters—and using a template is best practice for email newsletters.
The templates are equipped with social sharing icons and app store buttons. You can also replace the stock photography in the templates with your own GIFs and company photos. All of these responsive email templates have been tested on all major desktops, devices and email clients with Litmus: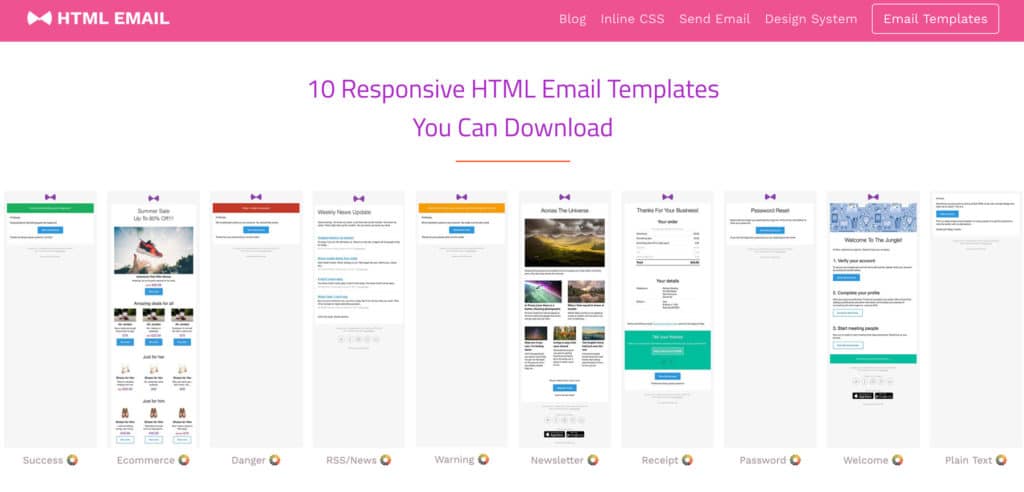 With the ContactMonkey plugin, you can use these responsive email templates by simply uploading the HTML file in Outlook.
3. Email Monks
EmailMonks offer custom responsive HTML email design and coding services for emails, newsletters, and landing pages.
They provide free responsive email templates for MailChimp, Campaign Monitor, Exact Target, and Marketo.
Their templates are perfect for newsletter emails, automated welcome messages and promotional emails. You can easily import HTML template as a file into your Outlook 365 using ContactMonkey or within any email service provider.
They have more than 25 unique sections you can easily customize.
If you're looking to find some employee newsletter templates for your internal emails or create internal company newsletters, definitely check out EmailMonks.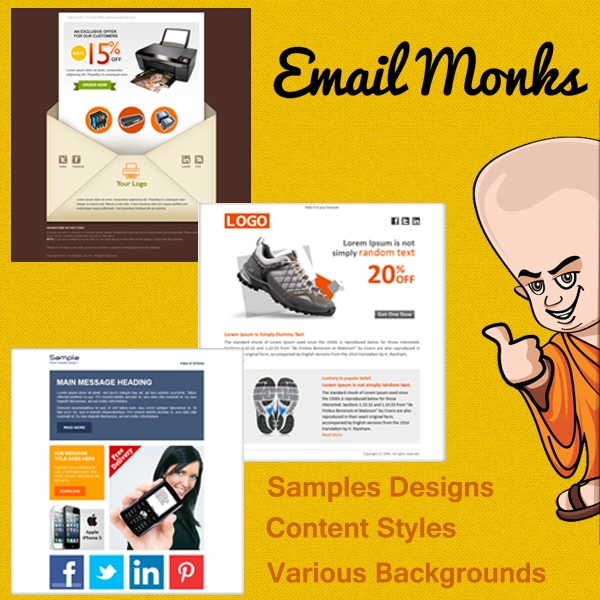 4. Dyspatch
Looking for open source email templates? Dypsatch offers numerous responsive email templates that you can customize using the Sendwithus Dashboard.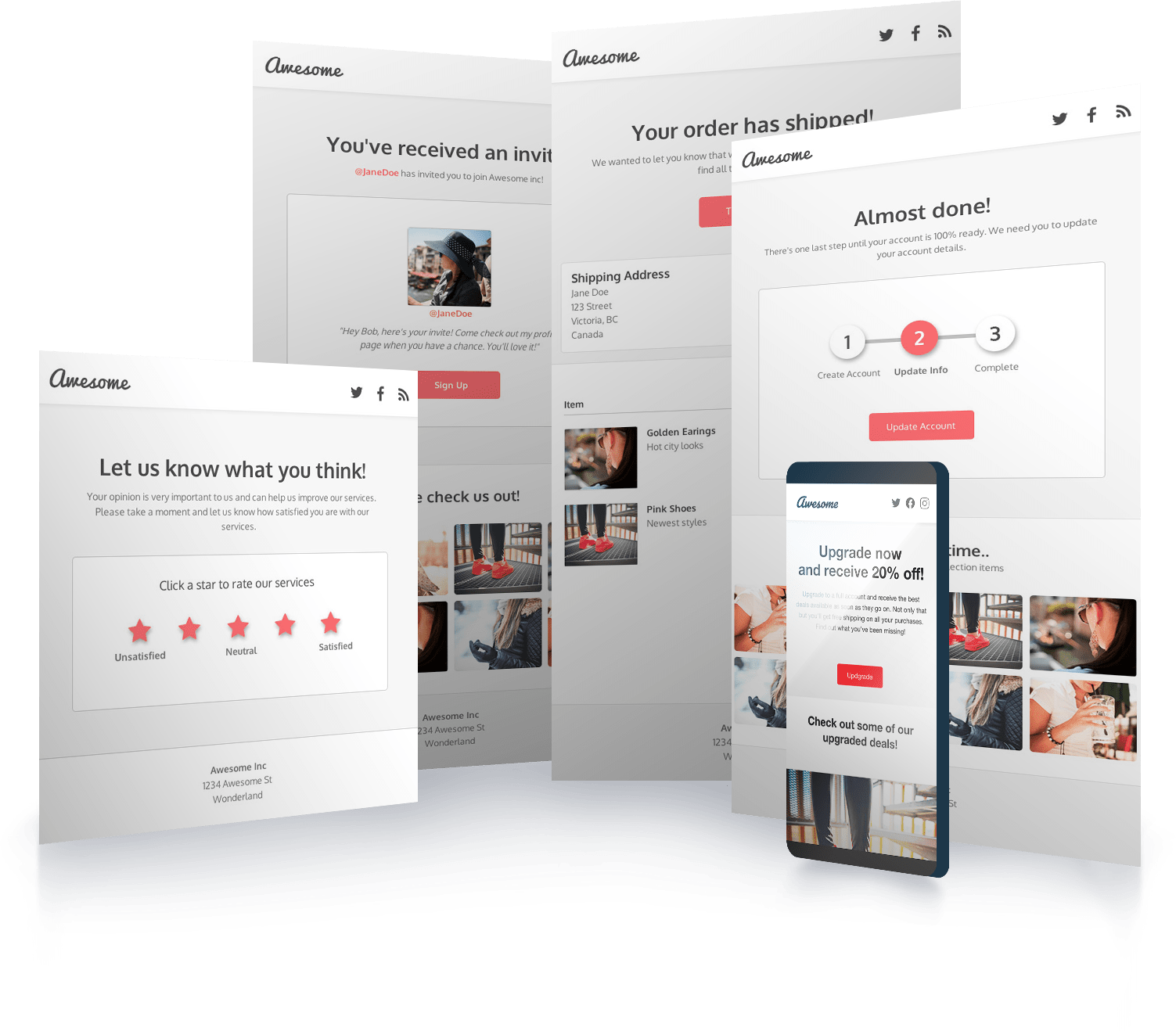 Dyspatch's goal is to make the email template process as easy as possible. Their email templates are fully responsive, so you don't have to worry about knowing HTML. They also feature a template builder where you can create your own templates from scratch.
5. Stripo
Stripo is all about helping you send your emails without errors, so naturally they provide responsive email templates (for free). Stripo's email templates cover a wide range of content topics, and new ones are always being added: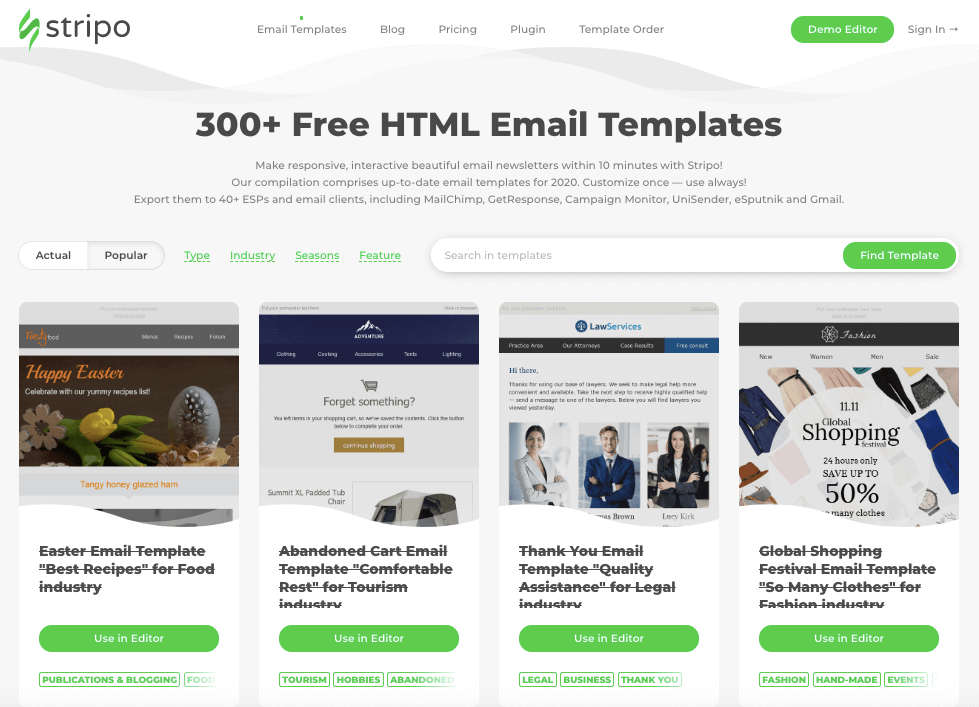 Like many of the templates on this list, Stripo allows users to create their own templates using their email builder. They also have several tools to help users check their emails for errors.
Stripo is great if you're sending external emails like marketing newsletters. But if you're sending to an internal audience like your employees, we recommend a dedicated internal communications tool like ContactMonkey. Our tool has features specifically designed for employees—like feedback and tracking—that you can't get with external tools.
You can book a free demo to learn more about how an internal email builder differs from an external email builder, and decide which is right for you.
6. Litmus
Litmus is a unique email marketing tool that integrates with your existing email-adjacent applications to improve your sending process. Combined with apps like Slack and Google Drive, Litmus is a great resource for sending external emails.
They feature a template builder and email analytics to help you get the most out of your marketing emails. They also provide some free email templates for you to try: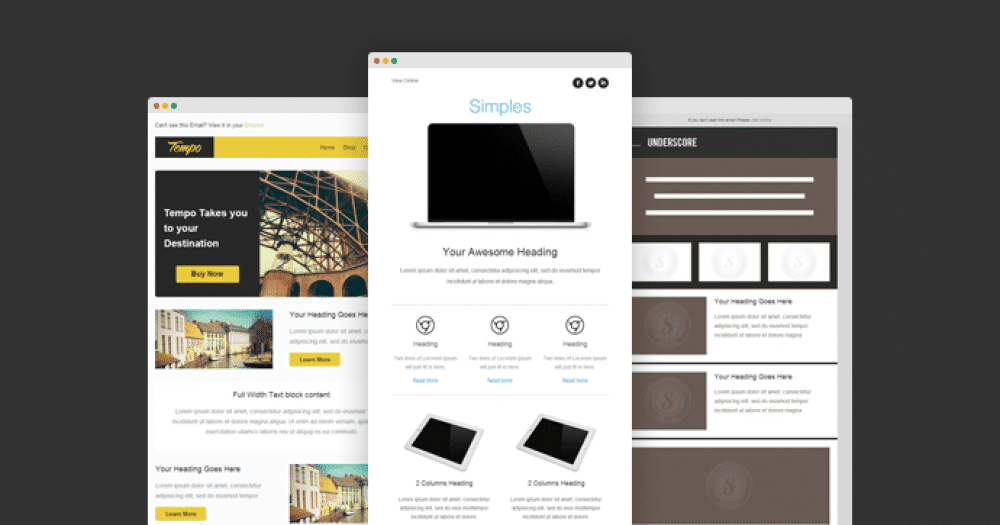 7. Colorlib
Colorlib offers a wide range of marketing templates for users to choose from. Their responsive email templates cover numerous marketing-related topics, so you can choose which best suits your organization: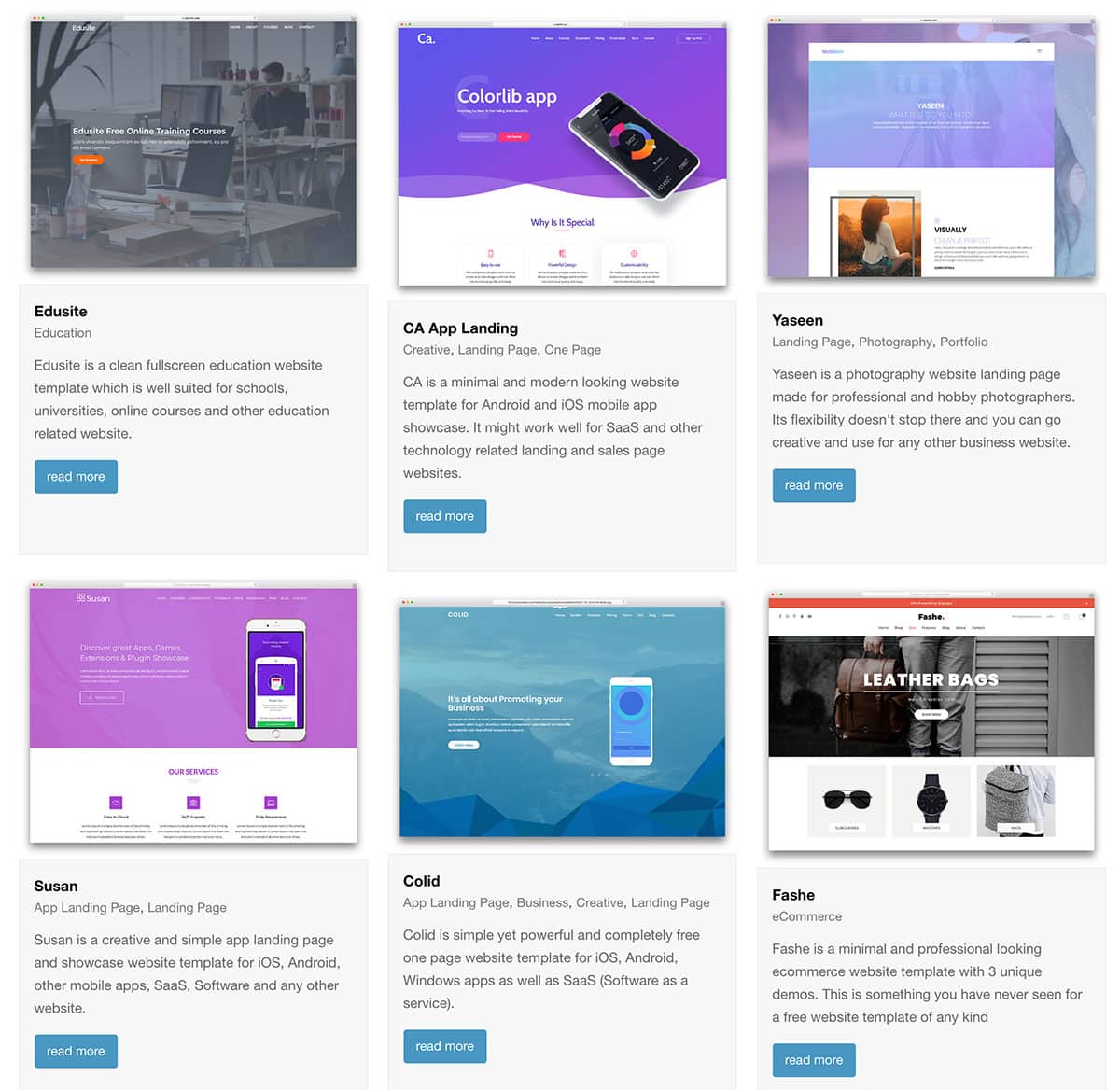 Colorlib's main focus is on providing users with high-quality WordPress layouts for various businesses. They provide both premium and free versions of their email templates and their WordPress themes.
8. Unlayer
Like Litmus, Unlayer gives users a suite of tools to design and send their marketing emails. Unlayer's drag-and-drop email designer makes creating stunning marketing emails easy, and they even provide you with some sample templates to give you an idea of what you can create: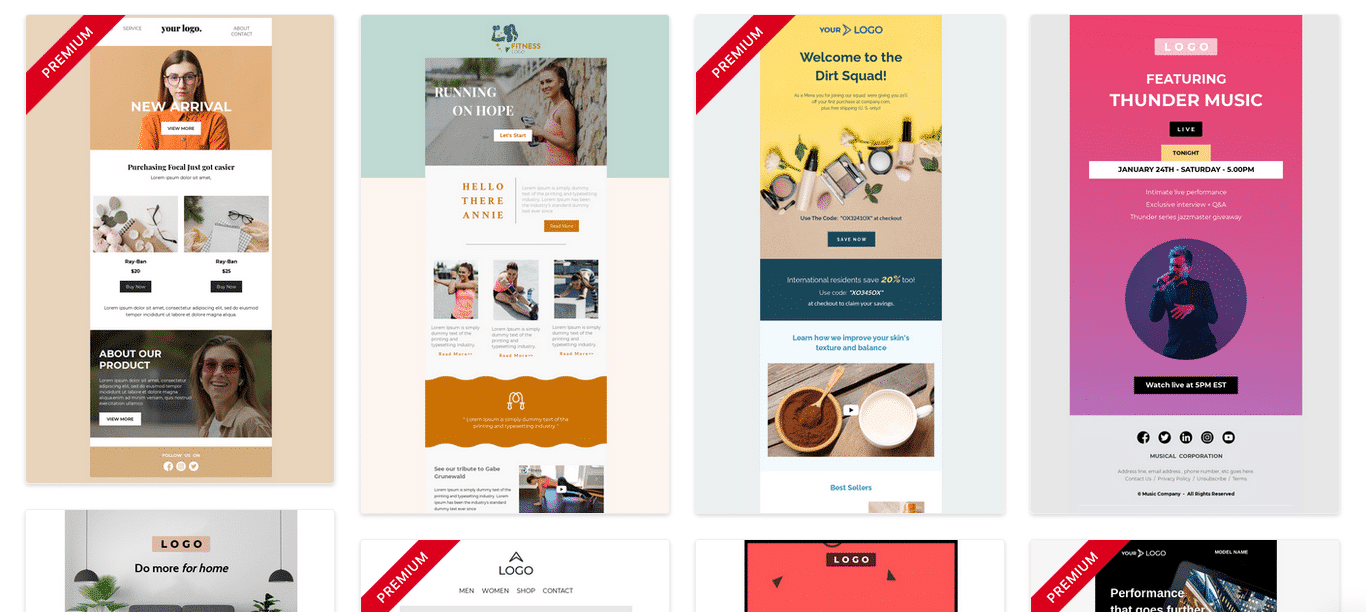 Unlayer also has great collaboration tools so you can work efficiently with your email templates.
9. Email on Acid
Email on Acid is all about helping you send emails error free. They have numerous content checking tools that range from spell-checkers to Campaign Pre-check. They also provide free email templates on their website: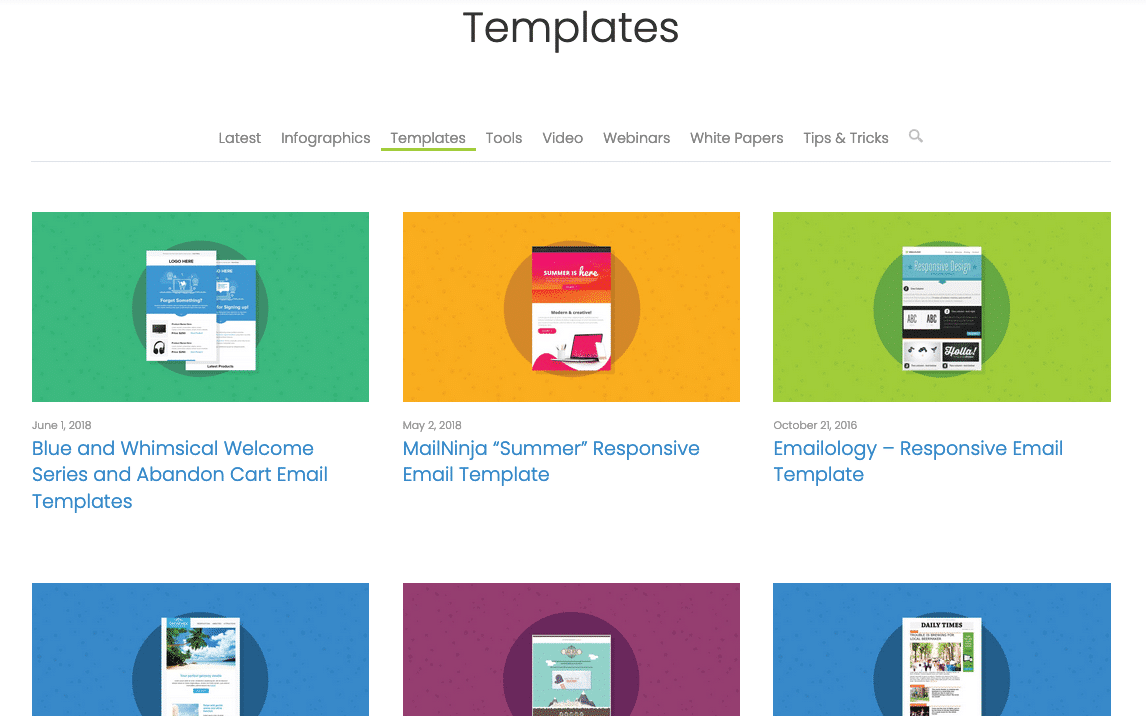 With Email on Acid, users can send flawless emails and be sure that their content will display correctly for their recipients.
10. MailBakery
MailBakery wants email marketers to send the best possible email newsletters. That's why they offer numerous responsive email template design options like email coding and mailchimp integration.
Want to try one of their email newsletters before ordering a custom one for yourself? MailBakery sells individual responsive email templates in their webstore. They also offer a selection of email templates for free: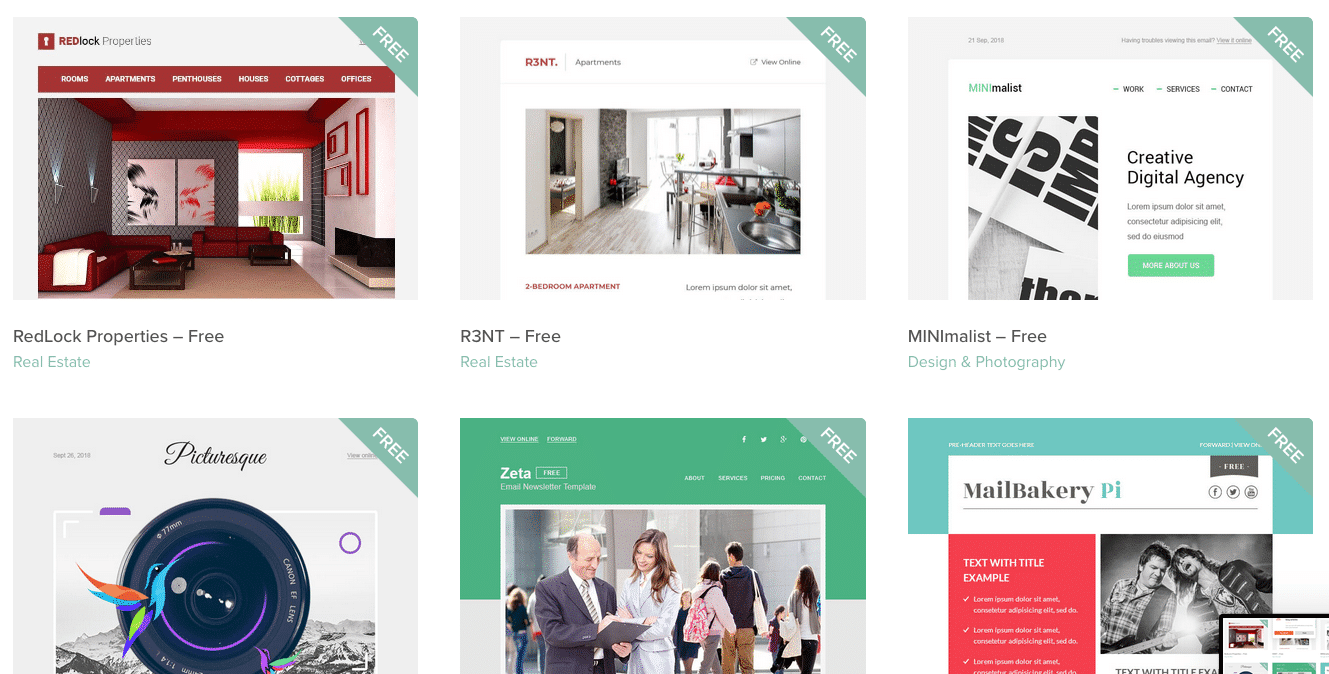 11. Chamaileon
Chamaileon provides users with a simple email template builder that lets you build great-looking marketing email. Their responsive templates look great across a wide range of different email clients, so your marketing content always looks great.
Chamaileon has free responsive email templates for download before you try their email template builder: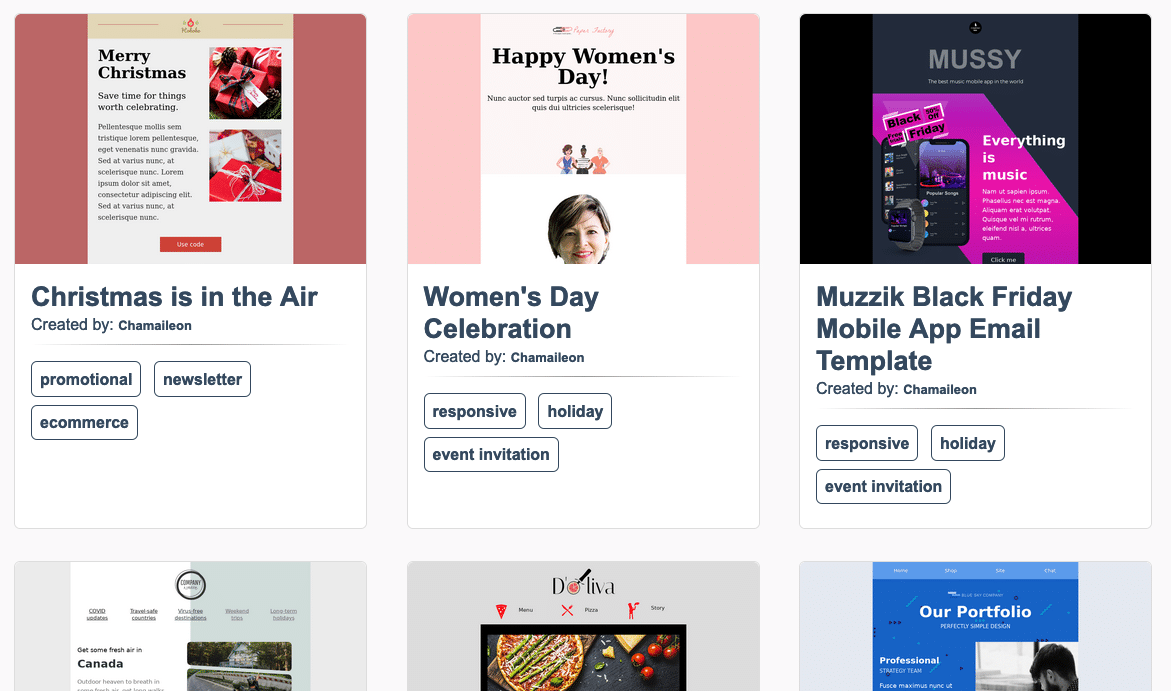 Do More With Your Emails
Our hope is that—having tried responsive email templates—you now know how easy they are to set up and use. Your recipients can view your email content across countless devices and email clients. Combined with updated distribution lists in Outlook, responsive email templates can make your internal communications a real driver of productivity.
Using an email template builder, you can create your email templates to your exact specifications. Email template builders, like ContactMonkey, also let you collect employee feedback and conduct surveys. It's time to put the power of HTML email to work for your business.
If you'd like to see ContactMonkey's email template builder in action, you can book a free demo to see how you can optimize your email sending process.