With an email template builder, creating great email content is easy. But choosing the right email builder for your audience isn't always as easy…
Great content doesn't exist in a vacuum, it has to have the desired "effect" on your audience to be considered successful.
Every audience is different, and the best email creators tailor their content specifically for their recipients. An eCommerce website may send out a newsletter advertising their latest products to their subscribers list, while a manufacturing company may send an email to their employees about the latest remote work policies.
Determining whether your emails are internal or external is crucial for choosing the right email template builder.
An external email template builder—like Stripo Email—is great for creating marketing content intended for customers and potential customers.
An internal email template builder—like ContactMonkey—is great for creating, sending, and tracking employees emails.
How can you decide which email builder best suits your use case? We've broken down what we think are the most important criteria for determining which tool to choose based on your email content.
If you're looking for an email template builder for internal communications, ContactMonkey's easy drag-and-drop interface and interactive email content can boost employee engagement at your business. You can see how ContactMonkey makes internal email templates easy by booking a free demo.
How To Choose An Email Builder: External vs Internal Communications
Internal and external communications differ in a number of significant ways. When looking for a responsive email template builder to improve your content creation process, it's important to consider these differences.
1. Who is your audience?
Your audience is your most important critic. If your email content doesn't resonate with your recipients, then you can bet your email won't accomplish what you intended.
The first question you should ask yourself: is your audience external or internal?
External audiences are made up of recipients from outside your organization. This can include current customers, potential customers, newsletter subscribers, or anyone receiving your marketing materials.
Those who send emails to external audiences often build customer personas to help them get a better idea of who is viewing their content. Customer personas represent hypothetical users who may come into contact with your communications.
These personas differ to represent a wide range of potential recipients, from those who are informed about your product/service to those who know only little about you. Using these personas can help you gauge your recipients' expectations, so you can trim out what's irrelevant and feature content your audience wants to see.
Internal audiences are a little different than external audiences. Internal audiences are unique and diverse but also have several important similarities that are absent from external audiences.
First and foremost: internal recipients are within your company! You can get a good idea of your recipients' expectations and common knowledge based on your company structure and culture.
For example, if your company culture emphasizes professionalism and formality when addressing external stakeholders, employees within your company will expect to see a similar tone in internal communications.
Likewise, if your company is a startup that emphasizes community and caring, your employees will likely expect your internal communications to reflect this culture.
So when choosing an email template builder, your first thought should be, "who is my audience?". After you've determined who is in your audience, you can start thinking about what kind of content you'll be sending them.
2. How does this tool improve your email content?
When you choose an email template builder, think about what kind of content you will be sending. If you are an eCommerce business advertising your latest products, then your email content will likely have a heavy visual focus. If you are sending a pulse check survey to your employees, then your content will likely have lots of text.
Understanding what kind of content you're sending will help you learn how to improve it. Email template builders for external audiences, like Stripo's email editor, can offer incredible visual customization and optimization to spice up your email content. Such email builders give you great freedom to choose how you structure your visual content to find exactly what resonates with your audience: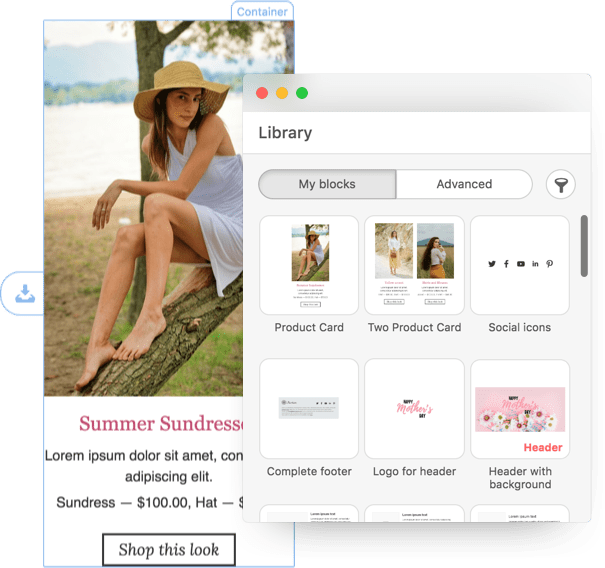 But internal communicators don't have that same freedom. Often, internal communications have to adhere to strict guidelines for consistency, accuracy, and liability while still producing engaging employee content.
An internal email builder like ContactMonkey can make navigating these guidelines much easier. Let employee feedback tools like emoji reactions, eNPS surveys, and anonymous employee comments inform what content you send:
Not only do you get valuable insight as to what your recipients want to see, but your employees feel heard when they are able to give feedback that is acted upon.
Including regular surveys in your email newsletters can help build a feedback culture in your workplace where employees do not hesitate to give their two cents about what content they are receiving.
Not sure how to start your internal email? ContactMonkey has got you covered. With our OpenAI ChatGPT integration, you can provide a prompt describing what you'd like to include in your email and it will produce example text for you to customize for your audience.
Event Management
Remote work is the norm for many companies. Internal communicators face a new challenge in keeping their employees working from home engaged.
With ContactMonkey's Event Management feature, you can create event invitations in seconds and embed them in your email content.
Not only can your employees RSVP directly from their inboxes, but they can also leave comments on your invitations: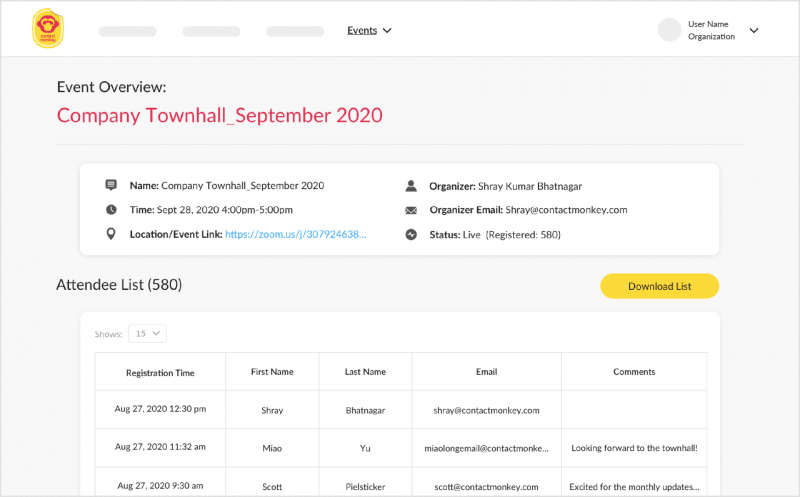 Using your employee emails to collect feedback helps solidify a company culture of open feedback. Your employees will feel heard as you are provided with actionable information about how to improve your communications. To learn more about how ContactMonkey's email template builder collects employee feedback, book a free demo.
3. How efficient is the tool for your workflow?
If you find yourself spending hours painstakingly crafting content for your audience, then you might want to look at improving your design process. Creating content that resonates with your audience shouldn't be time-consuming.
ContactMonkey works in Outlook and Gmail and optimizes your email workflow, as well as your content creation process. It does this through the use of automation, customization, and collaboration:
Drag-and-drop template builder makes building HTML emails a breeze, no coding experience is required.
Team Collaboration lets multiple editors leave comments for each other, just like Google Docs.
User roles can be defined to determine who can make edits on email templates.
Custom brand colours save the need to enter hex codes over and over.
Preview your final product on desktop and mobile to avoid sending errors.
Saved Rows—which are custom format blocks like headers, footers, or any commonly used design elements—allow for quick and easy email design.
Stripo also works in Outlook and Gmail and can optimize your external email design process in a similar way:
Content modules allow users to save customized design blocks to use across multiple templates.
Smart elements need only be designed once, then all you have to do is plugin your website content and it will be automatically formatted.
User permissions help control who works on email templates.
Brand guidelines can be imported to make email branding easy.
Drag-and-drop template builder can create HTML emails in minutes.
Ultimately, the email template builder you choose should save you time on email design while helping you boost your engagement. Mettler Toledo uses ContactMonkey to build emails that grab their recipients' attention while simultaneously saving 25 days a year on their internal communications!
Merge Tags
Both Stripo and ContactMonkey feature merge tags, which create custom text personalized to the recipient. This powerful resource can dramatically increase open rate and engagement on your emails, internal and external alike: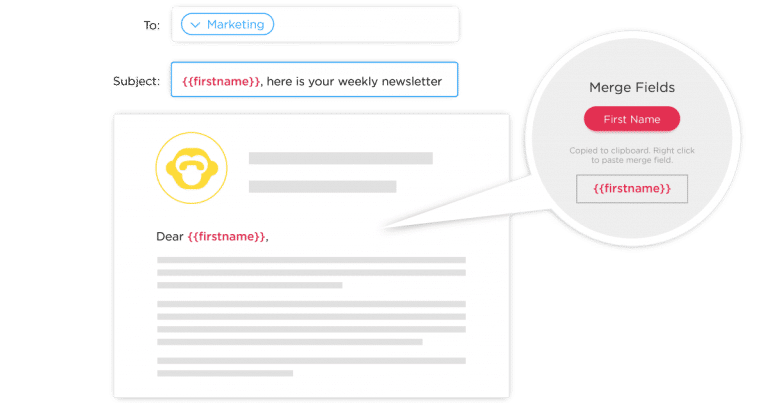 However, there are some key differences between how merge tags work for Stripo vs. ContactMonkey:
Stripo's merge tags are based on Email Service Provider (ESP), and include tags for 5 ESPs. If your ESP is not supported, you have the option to enter your merge tags manually.
ContactMonkey's merge tags are based on your distributions lists and CSVs. To make custom merge tags for your emails, simply update your distribution list in Outlook!
Email Collaboration
Working in an internal communications team? Using ContactMonkey you can have multiple users working on a single email template.
Just like in Google Docs you can see who is working on the email, what changes are being made, and if any comments need to be resolved:
List management
Tired of waiting on your IT department to create an email list for you? With ContactMonkey's List Management feature, you can create your own custom email lists so you can better target your internal communications and drive email engagement.
ContactMonkey integrates with your Human Resources Information System (HRIS) like Workday and ADP, as well as Azure Active Directory, so your custom email lists will automatically update as employees join and leave your organization.
4. What is the interface like?
A user-friendly user interface is indispensable for your internal communications tools.
Both ContactMonkey and Stripo feature drag-and-drop email template builders. Both tools work out of your Outlook and Gmail inboxes and both make it super easy to create beautiful email templates with little to any design experience.
But ContactMonkey doesn't stop at its email template builder. In addition to collecting employee feedback, email templates built with ContactMonkey provide you with in-depth metrics about email tracking. All employees feedback and email tracking information is displayed on your own campaign dashboard.
From here, you can view all of the feedback you've collected from your email templates. Employee comments, pulse surveys, emoji reactions, and eNPS results are all displayed here: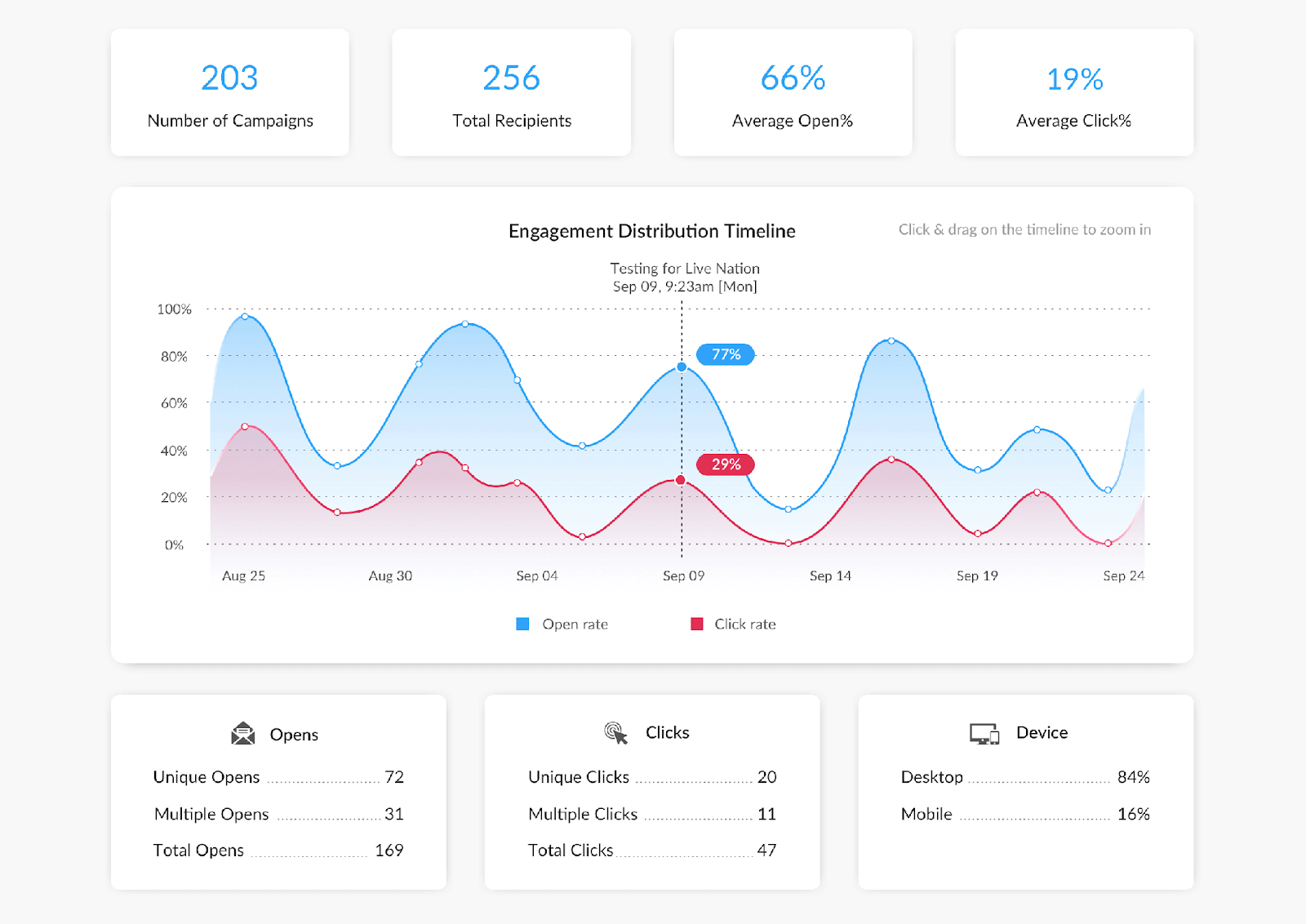 Track open rate, click-through rate, read times, opens by device and location, overall and individual email metrics, and more with ContactMonkey. You can even enable anonymous individual email tracking to gather email metrics while protecting privacy and complying with industry regulations like GDPR.
Your campaign dashboard is only a few clicks away from the email template builder, so incorporating what you've learned from your last send is a breeze. You can even compare previous campaigns and view email stats based on various criteria for in-depth analysis: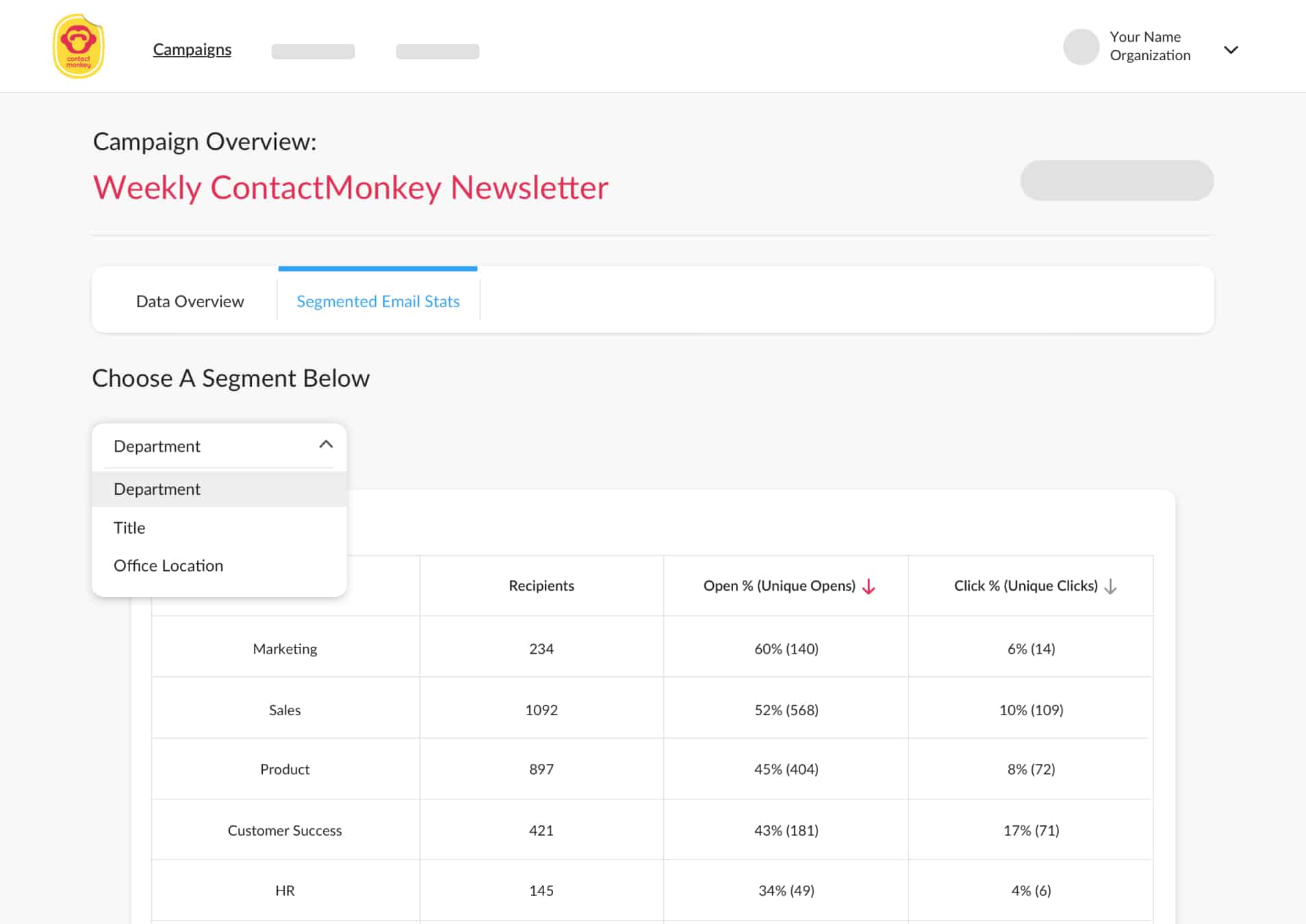 Finding your best performing email content is super easy when you use ContactMonkey. Our user-friendly interface visualizes all the information collected by your email templates in an easy-to-digest format. Book a free demo to see more what ContactMonkey has to offer.
What are the differences between Stripo and ContactMonkey?
Ultimately, the email builder you choose should be based on two things: your audience and your content.
Let these two criteria decide which features of an email builder are most important for your success. A quick recap of the key differences between Stripo's email editor and ContactMonkey's email template builder:
Stripo exclusive features:
Content Modules
Banner Tab module
Countdown Timer module
Various photo viewing options like Accordion, Carousel, etc.
AMP capabilities like building and embedding surveys in emails
Features shared by Stripo and ContactMonkey:
Drag-and-drop HTML email builder
Responsive templates that can be displayed on multiple devices
Pre-made templates
Social media links with a single click
Custom fonts
Custom rows
Team management/collaboration
Content libraries
Merge tags
Gmail/Outlook compatibility
ContactMonkey exclusive features:
Employee Feedback content
Email tracking and analytics
Event Management
Compare Campaigns
Segmented Email stats
Testimonial
"ContactMonkey has made a huge difference in network flow and that type of thing. I mean we look at the analytics each week, and we can see, Oh, this story was really popular, or this thing didn't get any attention at all. That's really nice, just to be able to start seeing those types of things." – Amy Armstrong, Senior Communications Strategist, University of North Texas
Pick the Best Tool for the Job
The right email template builder for your email content will depend on the content itself. Who are you sending to? What kind of content are you sending? What do you want to accomplish? All of these factors should inform your decision.
If you are looking for an email builder for creating external communications, such as eCommerce newsletters and other advertisements, then a tool like Stripo is best-suited for your use case.
Stripo offers tremendous flexibility when it comes to building visually appealing email content. Their drag-and-drop email template builder makes it easy to create well-formatted emails, and tools like Content Modules save you time when customizing content.
If you're looking to boost your employee email, then an email template builder designed for internal communications—like ContactMonkey—is your best choice.
ContactMonkey's drag-and-drop email template builder includes content tiles to help you build your email content. This makes it super easy to build all your internal emails, from employee newsletter to leadership communications.
In addition to creating email content, you can easily import your new templates and send them in Outlook or Gmail using ContactMonkey. You can even gather metrics about your emails using ContactMonkey's campaign dashboard to improve your email content and boost employee engagement.
Bottom line: Sending external emails? A tool like Stripo is a great choice. But if you want to boost employee engagement with great internal email content, trying ContactMonkey is the best decision you can make.
Learn how to use an internal communications software to boost employee engagement and improve your internal emails. Book a free demo to see how ContactMonkey can optimize your internal communications: