Finding the right internal communications tool for your business can be daunting. But it doesn't have to be. To help, we did some of the research for you by breaking down the key differences between PoliteMail and ContactMonkey, and examining why ContactMonkey is a top PoliteMail alternative.
As an internal communications professional, you have a lot on your plate. From crafting engaging content to tracking employee adoption, you're always looking for new ways to streamline your job. That's why it's important to choose a reliable internal communications tool that works for you—not against you.
We'll explore everything you need to know to make an informed decision, including what PoliteMail is and the key differences between ContactMonkey vs. PoliteMail.
Start crafting engaging content
See why ContactMonkey is a top PoliteMail alternative.
How to Choose an Internal Email Tool
There are a few key questions to consider when choosing an internal email tool or workplace communication platform. Answering these will set you up for success in selecting the right solution.
1. Who's going to be using the internal email tool?
There are solutions designed for different use cases that cater to different user needs. Are you trying to improve communication with remote workers? Do you need a tool that integrates with your current CRM or email platform? Further, which employees and job functions will be using the tool the most?
For instance, if your selected solution is intended for use by internal communicators, then handy tools like an email template builder can significantly simplify the process of crafting and dispatching superior internal emails that employees will actually read.
Email collaboration is a key aspect of this tool, enhancing the efficiency of team communications. For instance, it allows multiple users to work on the same email simultaneously, enabling real-time collaboration and ensuring consistency in communication. This feature is particularly useful for larger teams or projects where coordination and timely communication are critical.
"We have received feedback from people about our emails, saying they look great and that the emails have improved in quality since we started using ContactMonkey"
– Brenden Pires, Internal Communications Specialist for Alnylam
If your internal communications squad is tasked with keeping employees in the loop about upcoming events, then a solution that folds event management into its platform can offer substantial benefits for your business. ContactMonkey's internal communications tool comes with a dedicated event management feature, making it a breeze to set up events, include invitations in your internal communications, and gather RSVPs along with employee feedback: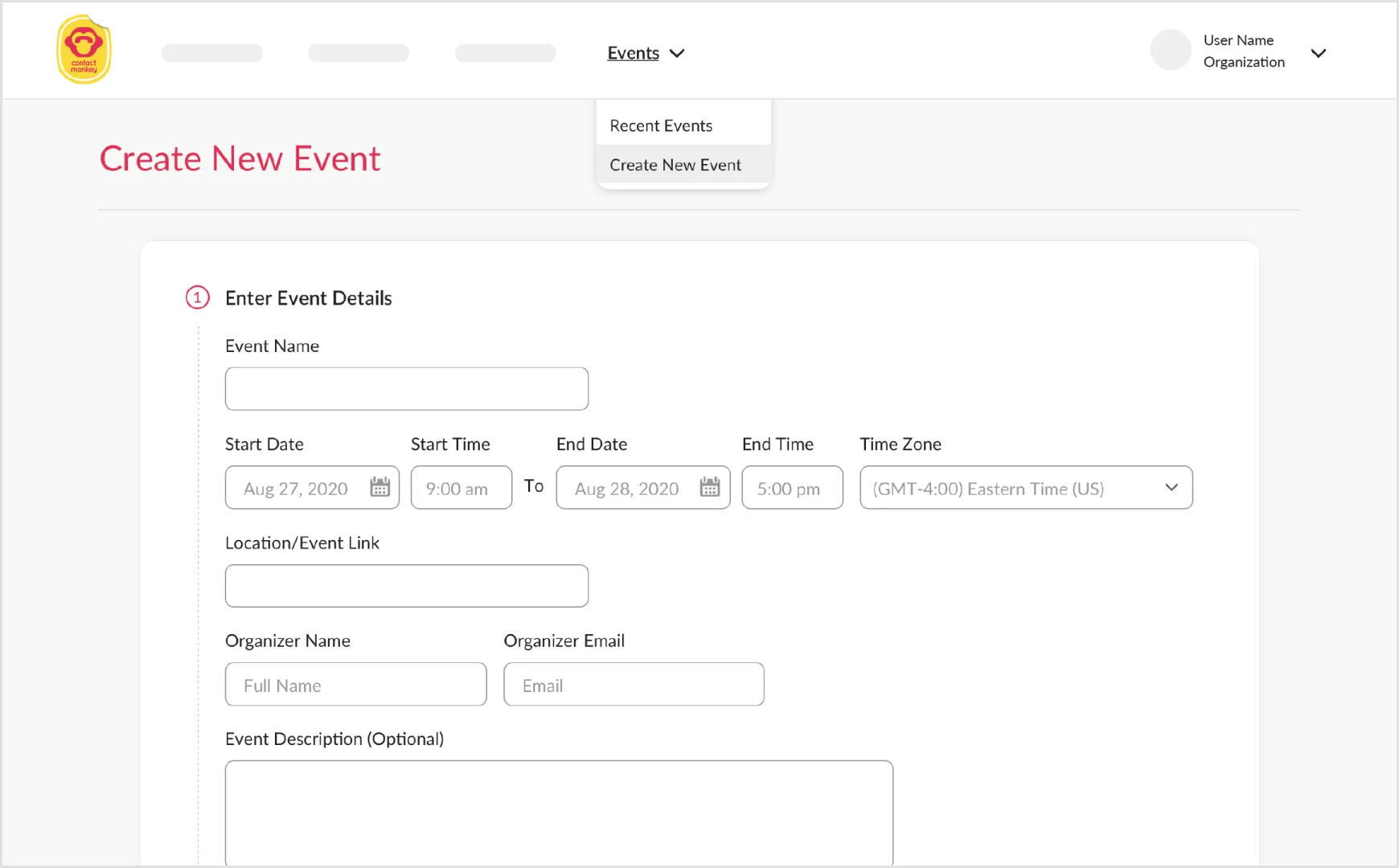 2. What is the interface like?
The user experience of your internal email tool should be intuitive and easy to use. Look for solutions with robust features that are simple to navigate. You may also want to consider how well the tool is integrated with existing platforms and third-party services.
The majority of business emails are managed via Outlook or Gmail; your selected solution should seamlessly integrate with either of these platforms. As an excellent PoliteMail substitute, ContactMonkey provides integrations for both Outlook and Gmail. This allows you to leverage ContactMonkey's comprehensive range of features directly from your email inbox or a Gmail dashboard.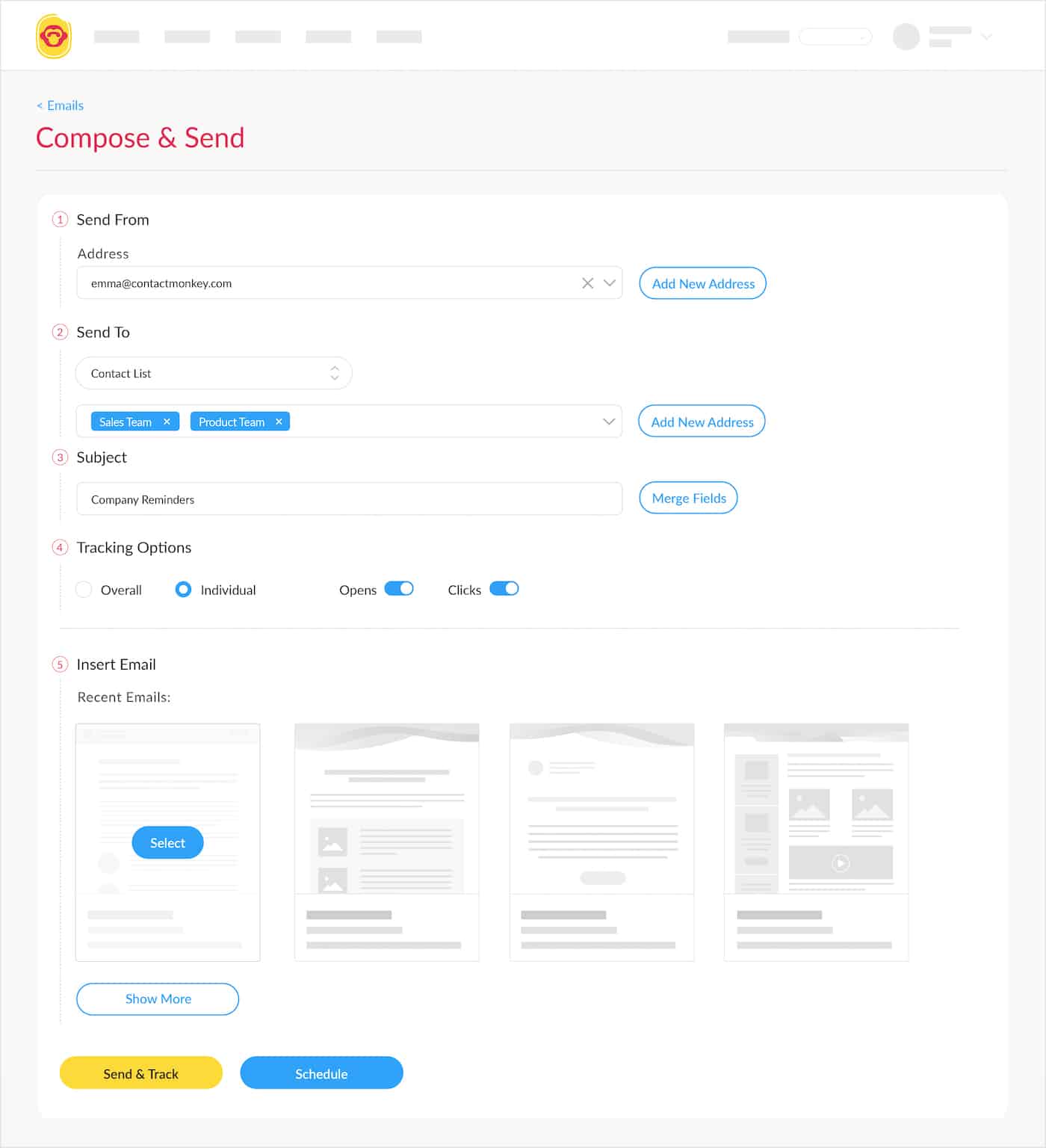 ContactMonkey makes crafting, sending, and tracking emails a breeze right from your existing email inboxes, making your internal communications workflow smoother and more efficient.
Plus, creating email content is a piece of cake with ContactMonkey's integration with OpenAI ChatGPT. Just tell it what you want in your email, and then tweak the generated text to suit your audience. It's as simple as having a chat!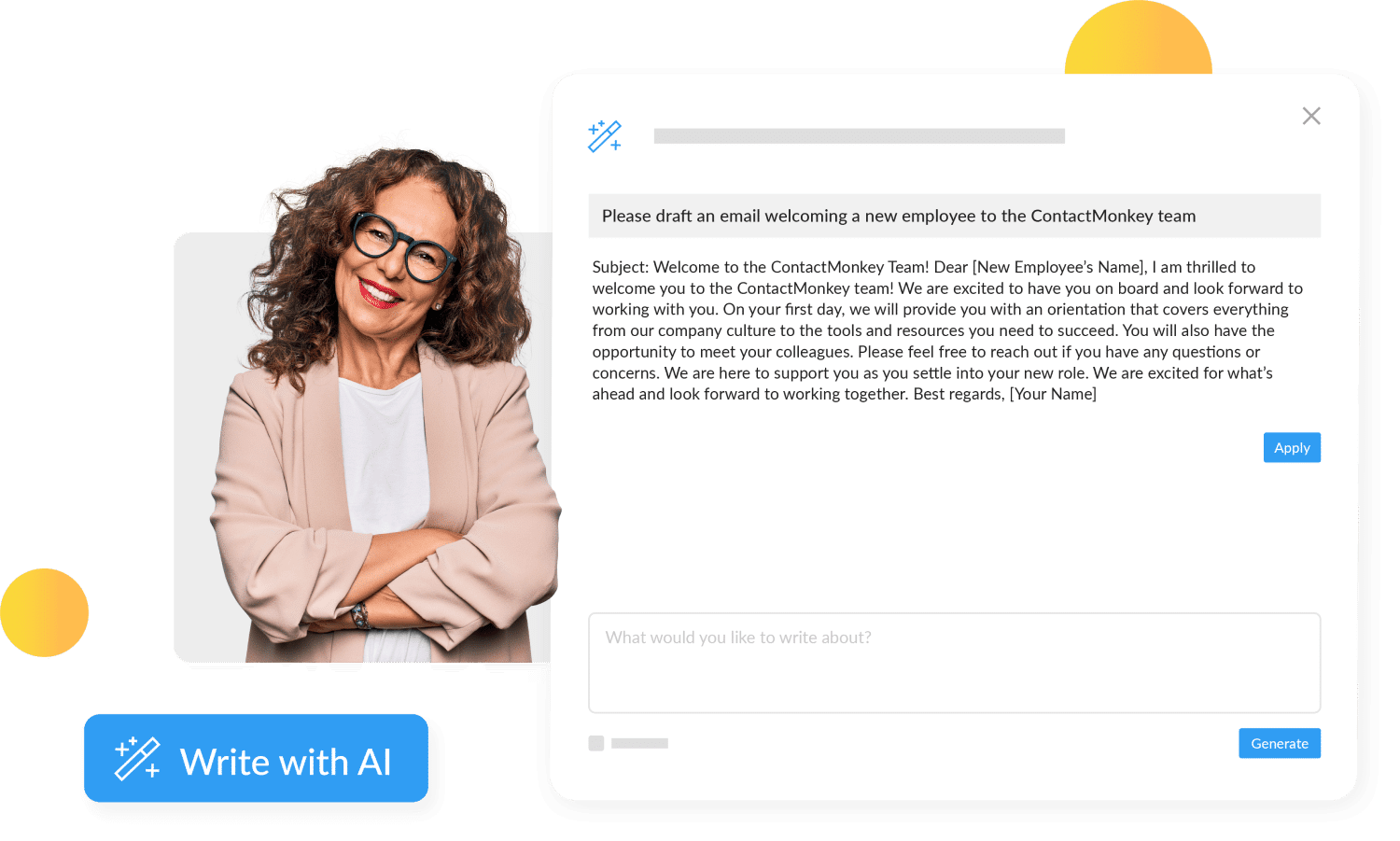 Write internal emails quicker
Try ContactMonkey's ChatGPT integration
You can also make sure your employees get the info that matters to them by using custom email lists. With ContactMonkey's nifty List Management feature, you can whip up your email lists without needing to get a thumbs up from IT. This can boost email engagement and cut down on email overload for your employees.
Plus, ContactMonkey plays nicely with your HR systems like Workday and ADP, and even Azure Active Directory. So, your lists will always be up-to-date, adding new hires and removing those who've left your organization—all automatically!
3. What metrics are collected?
Monitoring internal communications and analyzing internal emails equip you with valuable insights into the level of engagement your initiatives are generating among your staff. A simple survey can help you understand so much about your team and what is truly important to them. When paired with employee feedback, your internal communications tool can collect both numerical and descriptive data to mold your internal communications blueprint.
Both ContactMonkey and PoliteMail offer comprehensive email metrics and analytics. This allows you to track:
Open rate
Click-through rate
Read time
Engagement by time
Clickmaps
And more
This information can subsequently be analyzed using features such as segmented reporting, helping you tailor the content delivered to your employees. Internal email analytics stand as the cornerstone to pinpointing which emails resonate best with your teams.
While gathering data is important, what truly counts is how you utilize it. The way your selected solution empowers you to utilize the insights gathered from this data will eventually define your success.
Click maps, for example, give users actionable data about how their recipients engage with their emails, and help them optimize their email design. You can adjust the content you disseminate based on the interaction of different segments with your internal communications, making certain that only relevant information is distributed to particular employees.
4. How does this tool handle privacy and security?
Security and privacy are crucial factors for determining the viability of a business solution, especially for internal communications. While features may be appealing, they should not be prioritized over security and privacy.
Features like anonymous individual tracking are key here. This helps companies track user engagement with internal emails without compromising the privacy of their recipients.
ContactMonkey seamlessly integrates with your current email infrastructure, ensuring all your emails stay right where they belong—on your servers. This isn't your typical external marketing tool that could potentially compromise the security of your email transmissions. With ContactMonkey, that's a non-issue.
Additionally, emails sent via ContactMonkey come without an unsubscribe button, eliminating the concern of employees opting out from your distribution lists unintentionally—potentially having them miss important or critical information.
And the cherry on top? ContactMonkey emails have a knack for dodging the spam folder, making a beeline for your employees' inboxes instead. ContactMonkey is GDPR compliant, and is SOC 2 certified, meaning our third-party service providers are held to the highest standards when it comes to handling your information.
One of the main differences between ContactMonkey and PoliteMail in relation to security lies in the rules that control SMS text messaging—since PoliteMail does not have this feature. Several countries have precise laws that define the correct etiquette for businesses when sending SMS messages, and non-compliance with these rules can lead to considerable fines.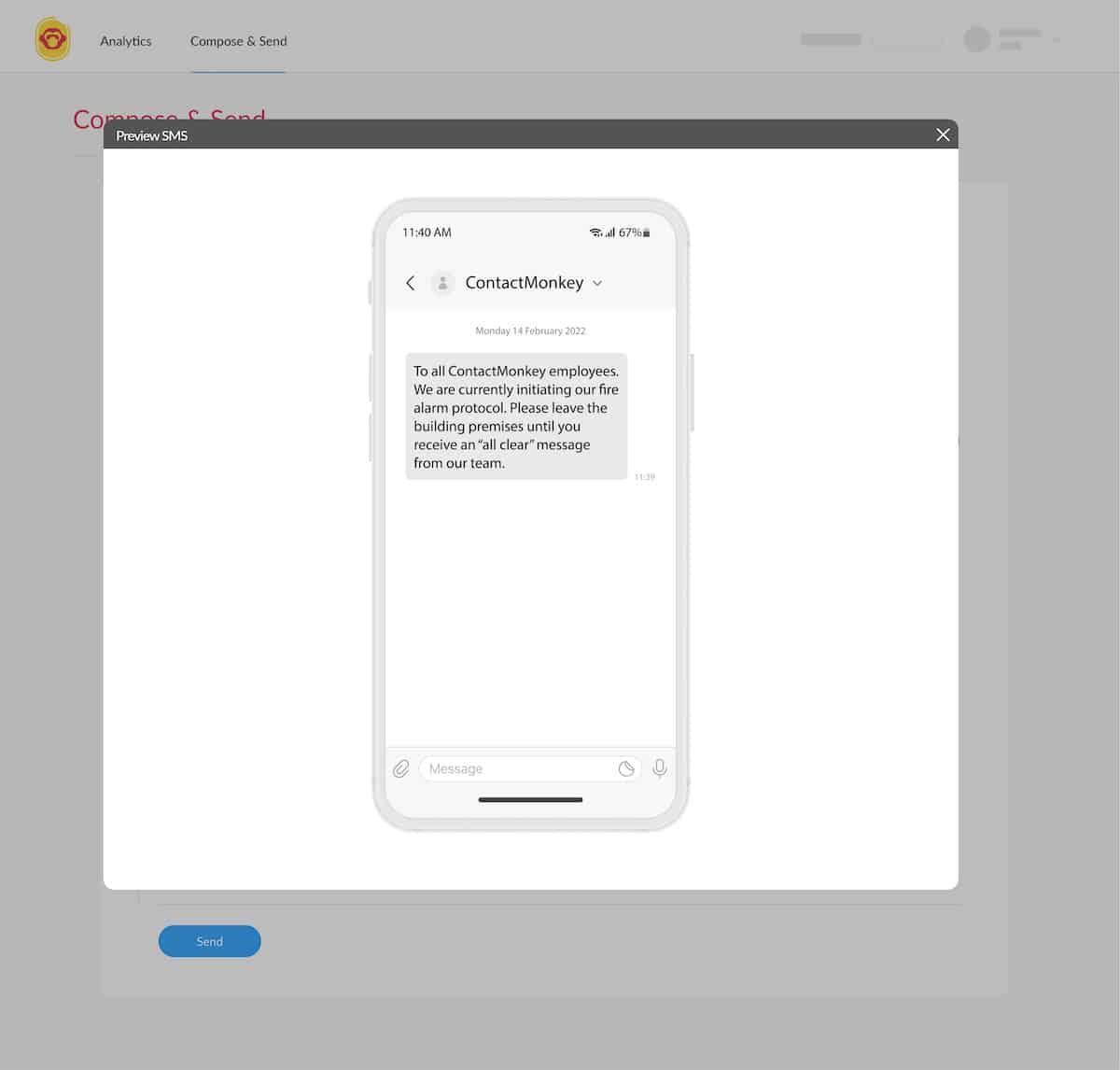 We've explored everything you need to know about the Telephone Consumer Protection Act (TCPA) and SMS compliance so you can send messages to your employees with confidence.
What Makes ContactMonkey the Best Choice For Your Internal Communications Tool?
Now that you understand your company's internal communication environment, you can assess how each proposed solution meets your business needs.
We've created a few different comparisons to help you differentiate the features offered by ContactMonkey from those offered by PoliteMail.
Features shared by ContactMonkey and PoliteMail:
Email template builder
Employee feedback collection
Surveys
Emoji reactions
Overall email tracking
Email tracking analytics
Read time
Custom branding
User management
Click maps
Anonymous email tracking
ContactMonkey exclusive features:
Gmail integration
eNPS
Event management
SMS employee communication
Campaign comparison
Team email collaboration
Segmented email stats
24/7 customer support
OpenAI ChatGPT integration
List management and HRIS integration
ContactMonkey vs. PoliteMail comparison chart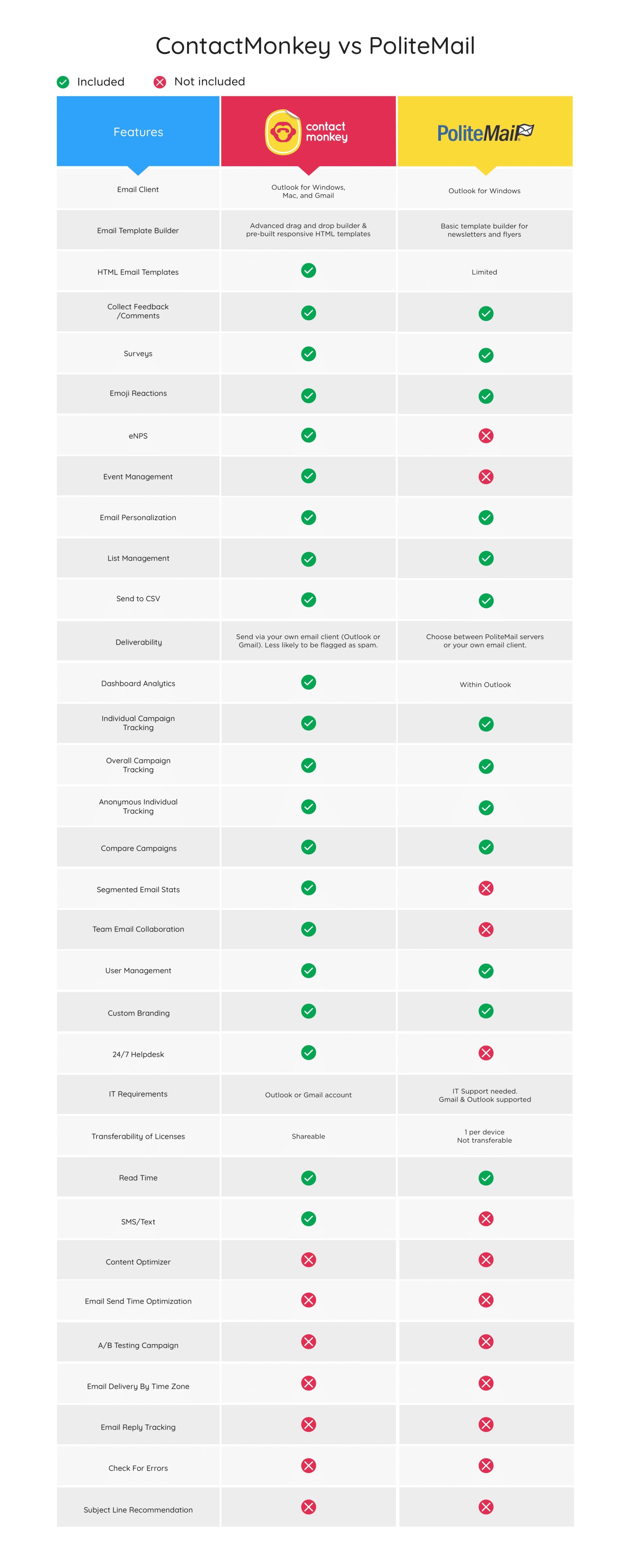 Why Choose ContactMonkey Over PoliteMail
While it is always important to consider your company's distinct communication needs when selecting an internal email tool, ContactMonkey offers a great balance of features for businesses looking to improve their internal communications.
ContactMonkey and PoliteMail offer many of the same features. But ContactMonkey stands out with its robust analytics reports and automated features, making it easy to track employee engagement and customize emails to your team's needs. It also offers unique features like eNPS, event management, SMS employee communication, and AI-powered chatbot integration that PoliteMail doesn't offer.
ContactMonkey is the smart choice if you want a reliable internal communications tool with robust features, reliable analytics capabilities, and excellent customer support. It will help you maximize the impact of your internal emails and ensure that you remain compliant with compliance requirements.
Make An Informed Decision for Your Internal Email Tool
Bottom line: if your business relies on email to stay in touch with your employees, ContactMonkey is the easy winner.
ContactMonkey's robust features, reliable analytics capabilities, and excellent customer support make it the ideal choice for any business looking to improve its internal communications. With ContactMonkey, you can optimize your emails for maximum engagement, ensure compliance with necessary regulations, and take your internal communications to the next level.
With more features, more control, and better metrics than PoliteMail, ContactMonkey is the smart choice for any business. Make an informed decision today and use ContactMonkey to simplify your internal communications.
Want to see exactly how ContactMonkey can improve your internal communications? Book a free demo to see our internal communications tool in action.