Getting IT approval for new workplace tools is crucial for ensuring a comfortable and secure user experience. But the process can be a major headache for everyone involved. We've made things simple.
In this post, we address your IT department's biggest questions about ContactMonkey!
IT teams play an indispensable role in helping your organization choose the best workplace tools and delivering exceptional employee experience. They also provide the necessary guardrails to prevent risks to your business.
But between navigating data security, usability, and user safety, IT teams have a lot of bases to cover. This guide outlines all the technical information that IT might need to evaluate our tool and make an informed decision.
10 Reasons Why IT Teams Trust ContactMonkey
With design and analytics tools packed into one seamless communications system, ContactMonkey easily integrates into your business. Not to mention, deploying ContactMonkey is both simple and secure. Here are just a few reasons why IT teams have confidence in our tool:
1. SOC 2 Approval
ContactMonkey is incredibly proud to hold SOC 2 type II compliance in accordance with the American Institute of Certified Public Accountants (AICPA).
This standard serves as industry validation that ContactMonkey provides enterprise-level security for customers' data secured in the ContactMonkey System.
This achievement demonstrates that ContactMonkey manages customers' data with the highest standard of security and compliance.
2. Seamless deployment
With ContactMonkey's Google Chrome extension and Outlook add-in, deployment is a breeze. Once a new user has activated their license, all they have to do is install the ContactMonkey sidebar, which takes mere minutes.
Once the sidebar is up and running, you can create templates, set up event registrations, and manage all of your team's internal communication metrics from your existing mailbox.
For Mettler Toledo, ContactMonkey's sidebar was a huge time-saver because their team had to leave Outlook every single time they used Mailchimp for internal communications.
3. Data Encryption and Storage on AWS
ContactMonkey uses Amazon Web Services (AWS) for cloud infrastructure hosting and services. Since AWS is fully compliant with multiple SOC and ISO regulations, this enables ContactMonkey to deliver top-tier security to clients. All of our data is encrypted at rest using AES-256 and in transit using TLS v1.2.
4. Outlook add-in vs. using an external tool
Unlike external third-party software, ContactMonkey is an add-in (also known as a plug-in), so it sits on top of the user's existing Outlook account. Nothing needs to be hosted through a third-party server, which presents risks both from a cybersecurity and usability standpoint.
When you use ContactMonkey, you can be confident that employees' personal data is secure. Not to mention, you prevent distorted emails and unresponsive templates that can easily confuse your employees!
5. GDPR Compliance
The General Data Protection Regulation (GDPR) lays down the rules for protecting personal data across the EU. Not only does ContactMonkey comply with GDPR principles, but our GDPR Policy ensures users have the right to request that their personal data be erased in certain circumstances. We make our Data Processing Addendum available to all of our customers.
ContactMonkey also offers anonymous email tracking for those organization that are subject to regulations around email privacy. With ContactMonkey, you can gather email metrics from your employees while maintaining their privacy.
6. Single Sign-On (SSO) Authorization
ContactMonkey takes the extra step to strengthen security through Single Sign-On. Available on our Enterprise plans, the SSO feature enables users to securely log in using their existing company's user/login credentials. This adds an extra layer of security so that your organization can have added confidence when using our product.
7. Secure Development
All development projects and customer support initiatives at ContactMonkey follow secure development lifecycle principles. The development of new products always involves a thorough design review to ensure security requirements are met. In addition, our software development is conducted in line with the Open Web Application Security Project (OWASP) Top 10 recommendations for web application security.
8. Development training
All of our development team members regularly participate in secure development training. This makes them highly adept in implementing secure development practices and delivering high-caliber, secure services to our clients.
9. Secure testing
Any new systems and services that we introduce are scanned prior to being deployed. We diligently roll out penetration testing both via internal security engineers and external penetration testing companies. This applies to new systems and products along with major changes to existing systems and services. In doing this, our goal is to obtain a comprehensive and real-world view of our products and environment from multiple perspectives.
10. Cloud security
We use a patented insolation approach to isolate all customer cloud environments and data. Each customer environment is mindfully stored inside a dedicated trust zone to avoid any accidental or malicious mingling of data. In addition, all data is encrypted to prevent unauthorized access and data breaches. Most importantly, our entire platform is continuously monitored by a dedicated and highly trained team of experts.
Why Top Brands Choose to Partner With ContactMonkey
Now that we've explored why IT teams trust ContactMonkey, let's look at why users love the tool:
Seamless Outlook and Gmail Integration
ContactMonkey seamlessly integrates with Gmail, Outlook for Windows, Outlook for Mac, and OWA. So anyone can use our tool from the comfort of their existing inbox—a major stress reliever for anyone who's ever sent a mass email.
After installing the ContactMonkey add-in, you'll have access to a sleek sidebar menu (pictured below) that lets you manage all of your email templates, CSV lists, and other sending functions from one place.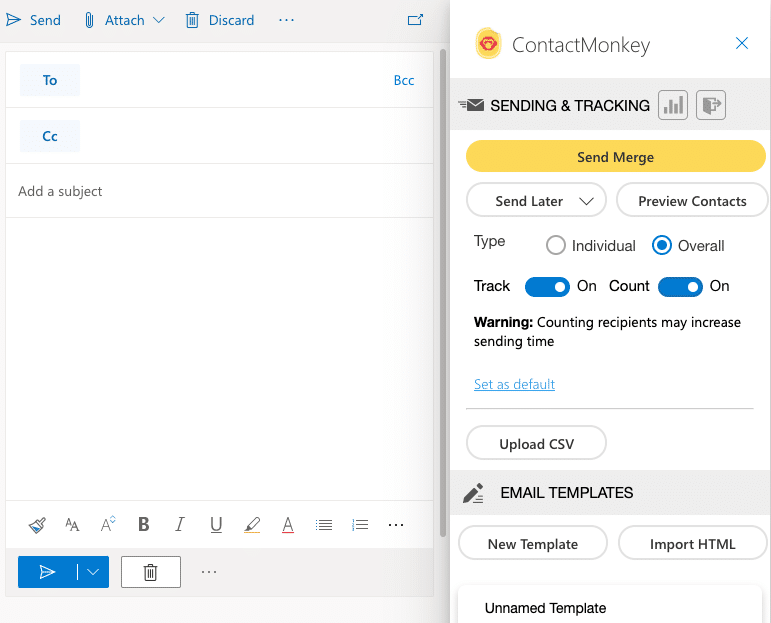 "With ContactMonkey, all employee communications come straight from our Outlook email address, instead of a third-party system like MailChimp" – Cimpress
Access to existing contact lists and shared mailbox
As ContactMonkey is a Gmail and Outlook-compatible email tool, you can always use your existing Distribution Lists, CSVs, and dynamic groups when sending email blasts. ContactMonkey even lets you conveniently send your internal communications from an address other than your own. Remember, as a plug-in, we have the same preferences and capabilities as your Outlook or Gmail inbox.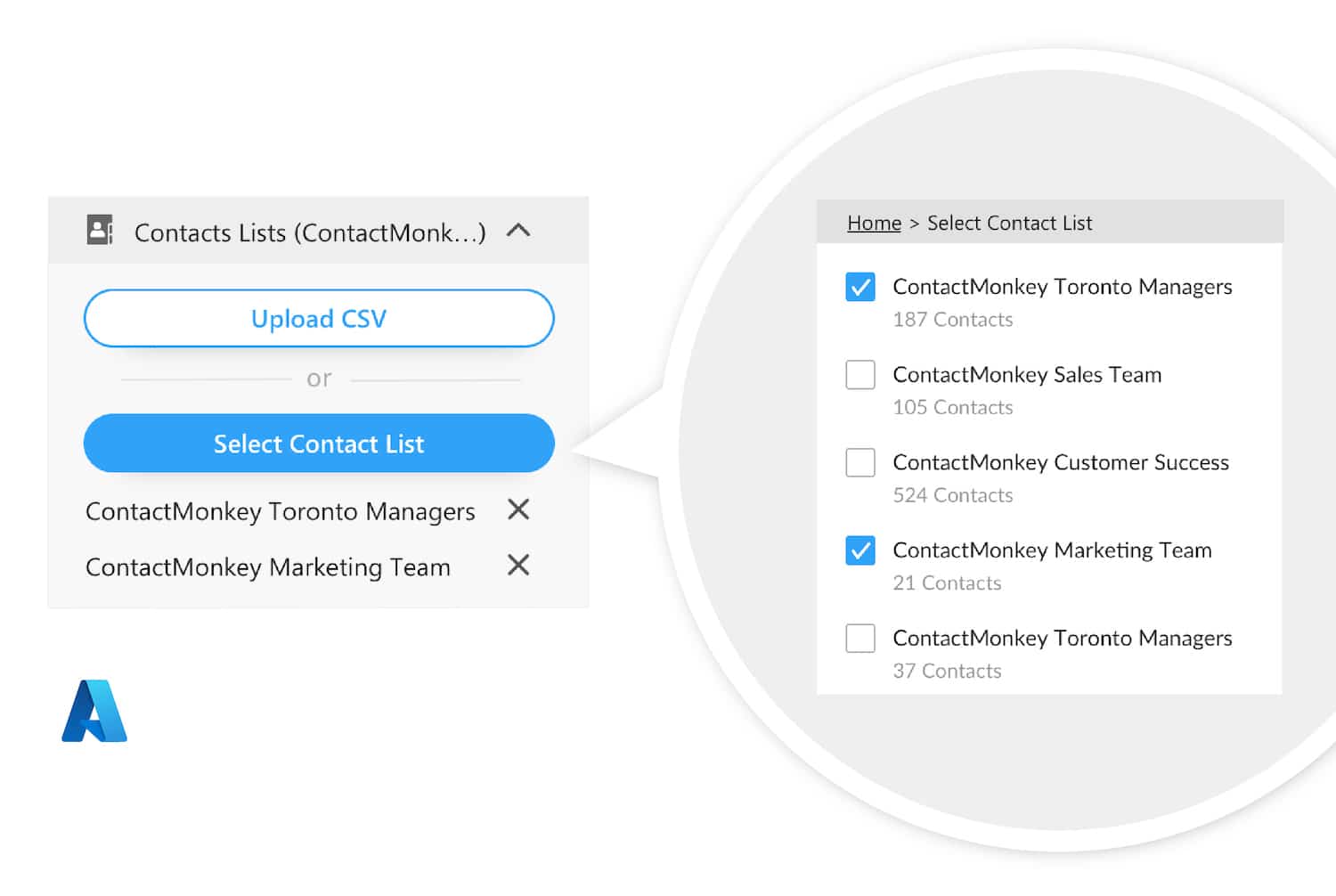 With ContactMonkey's List Management feature, you can also create a directory of recipients within the ContactMonkey platform. Segment lists based on different characteristics and automatically sync lists with their Azure Active Directory.
"We wanted an add-on to Outlook. We were looking to use the address lists we already have in Outlook, to send right from there." – Widener University
Easy-to-use email builder
ContactMonkey lets your team design responsive HTML email templates in minutes. Simple, drag-and-drop controls let you customize any sample email template from our template library or build your very own email template from scratch. Users can add text boxes, headers, images, call-to-action buttons, videos, and interactive elements into any template with the click of a button!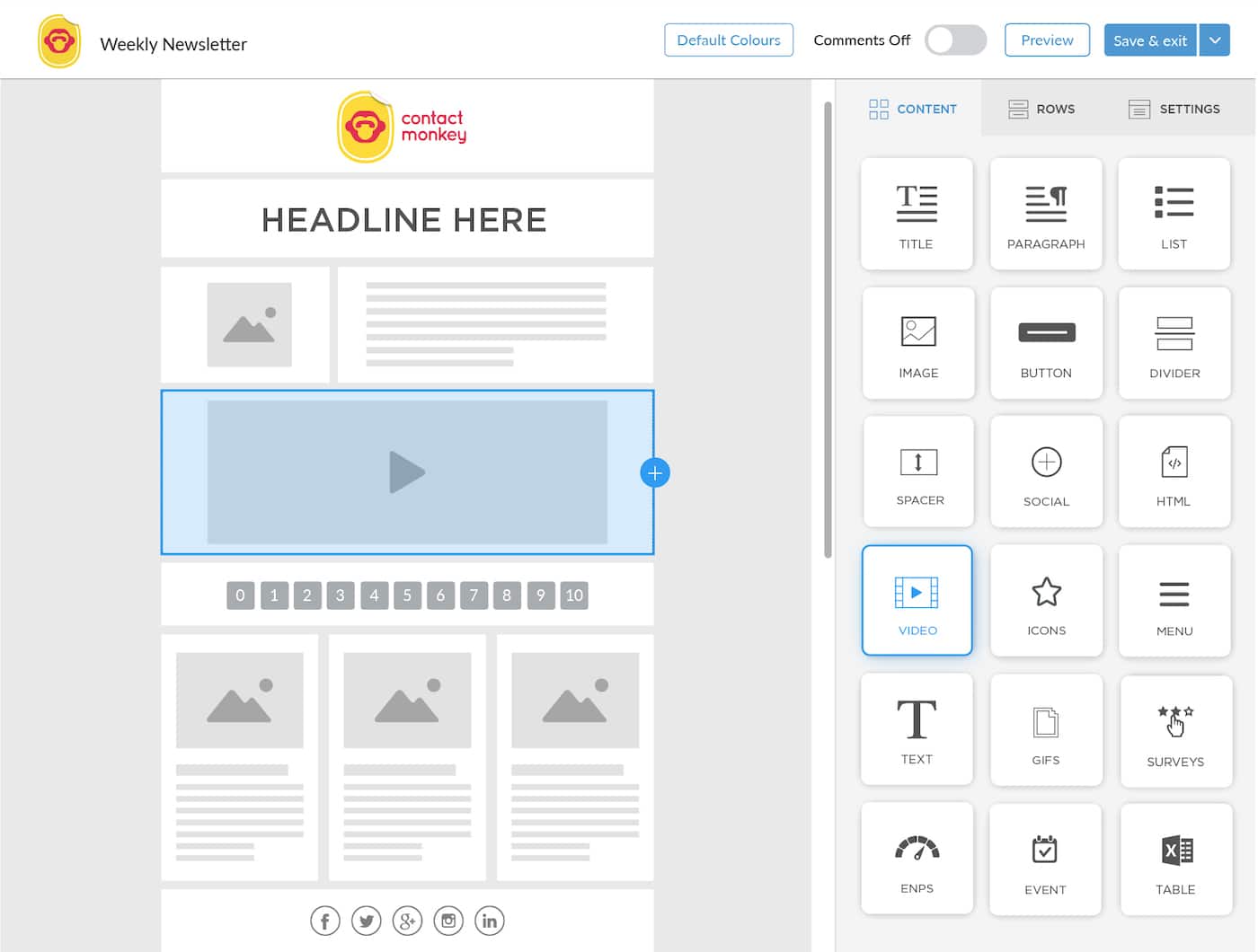 "Now that I'm able to make these visually appealing newsletters I don't have to repeat myself because I know people are reading them." – House of Travel
Responsive email templates
ContactMonkey's responsive email templates ensure that content displays perfectly across all devices. Whether you're sending a company newsletter or an employee text alert to engage frontline workers, you can be confident that your message will be delivered intact. Our ready-to-use template library offers a selection of sample emails and template designs for any occasion—from a new employee welcome to a CEO weekly update.
"The fact that the newsletters now are readable on any device is a huge bonus." – House of Travel
Event management
With embedded event management, ContactMonkey's internal communications software lets you easily launch and manage events from the comfort of your Outlook inbox. You can set up and manage multiple events with dates, locations, timings, time zones, organizer details, event descriptions, and registration forms.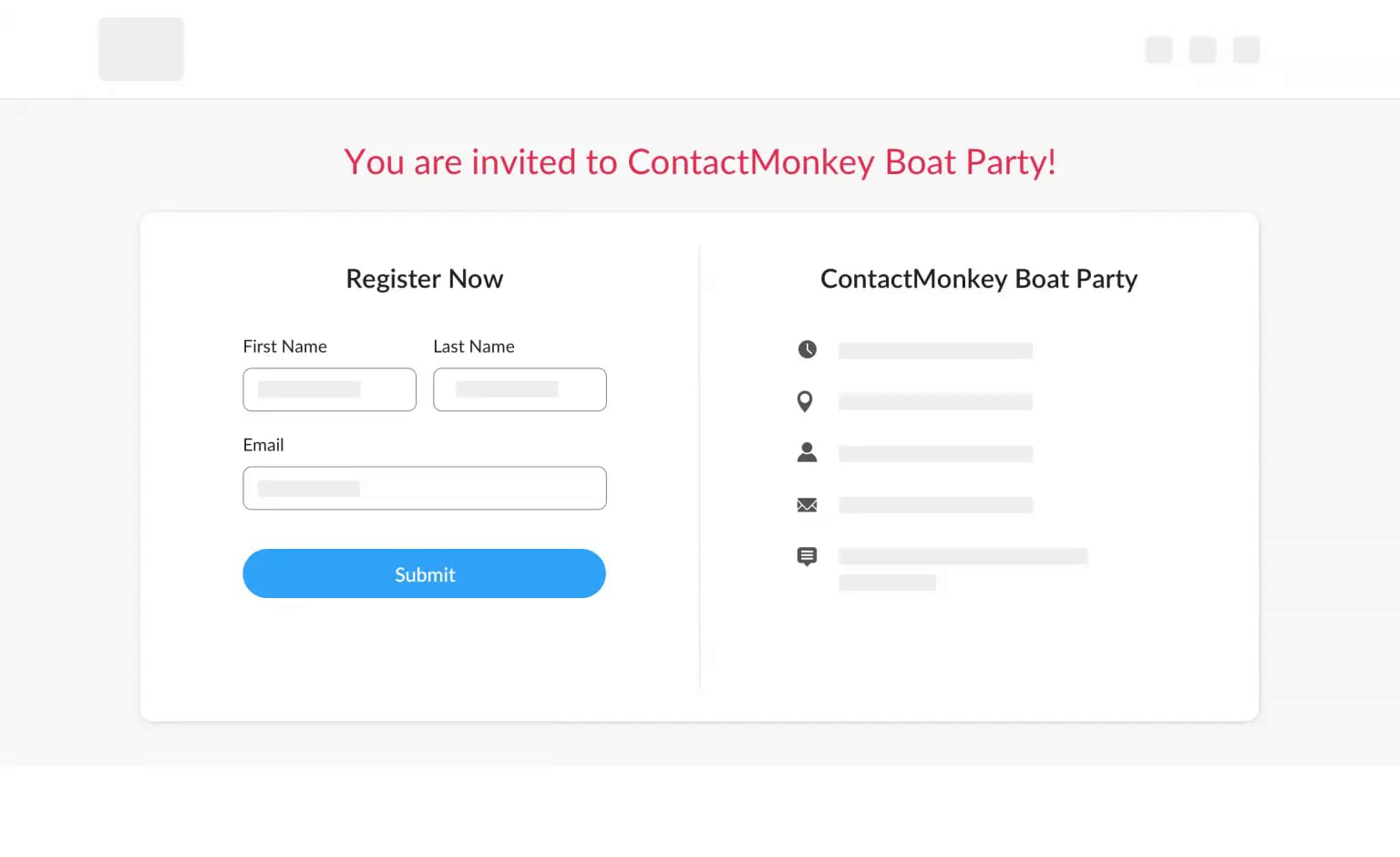 You're able to send event invites through any employee newsletter. All you have to do is select and drag the "Event" form from your email template builder menu into your template when designing an email.
Secure engagement analytics
ContactMonkey lets users safely track email performance for individual employee emails or broad email campaigns. Email opens and click rates, read times, location tracking, and dozens of other metrics are at your fingertips with an easy-to-use analytics dashboard.
ContactMonkey even offers segmented email tracking, so you can compare employee engagement across departments, job titles, and office locations. All of these metrics are securely stored in your ContactMonkey account and can later be used to identify your most engaging and effective content.
In addition to gathering email metrics, you can use ContactMonkey's click maps feature to optimize your email design: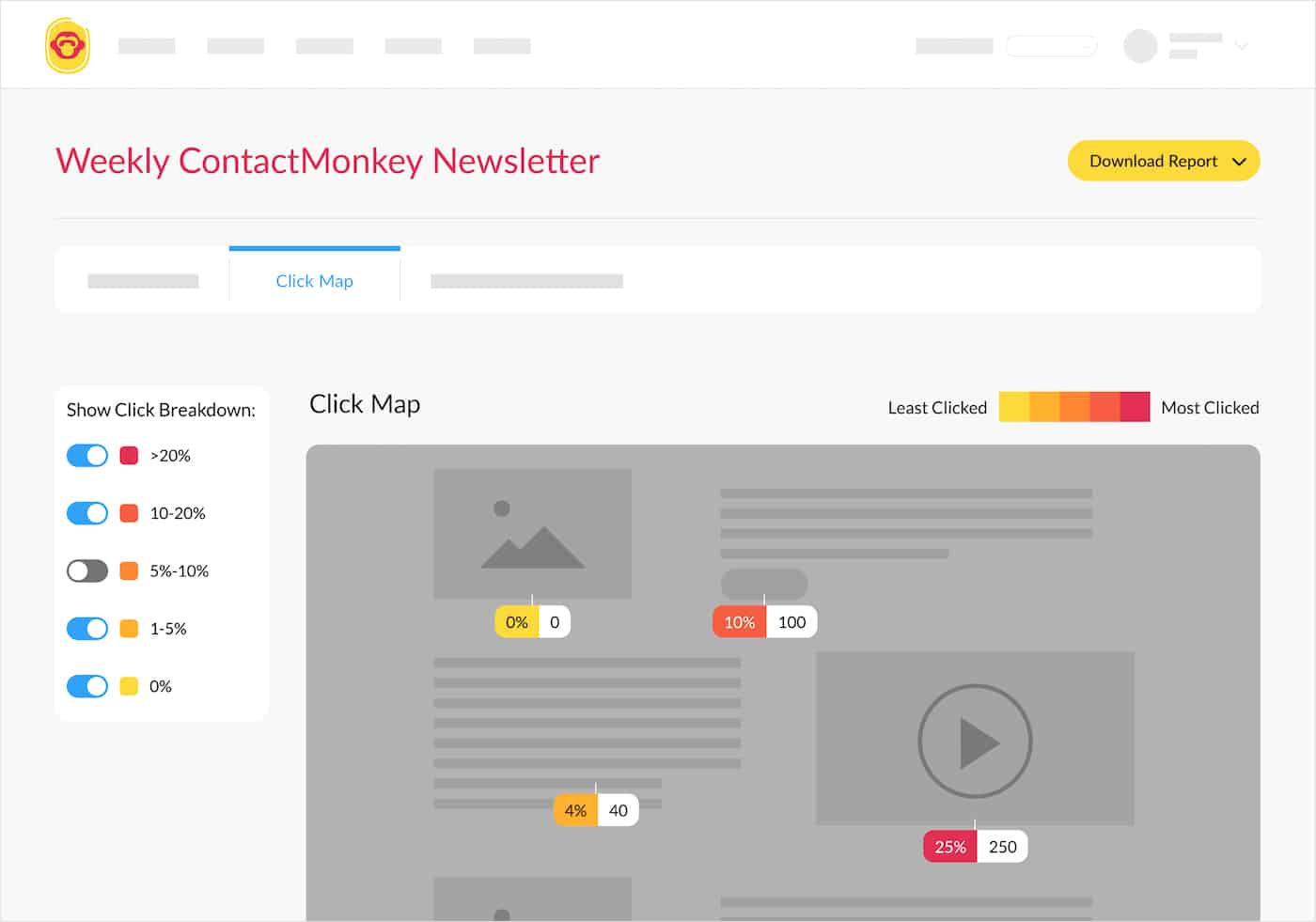 Click maps visualizes how your employees engage with your internal communications, so you can ensure your email design helps your employees see the information they need to see.
"We needed to figure out, are our people reading this? How are they reading it? We were able to get more data because of our partnership with ContactMonkey." – Cortland.
Accurate data
One thing we really pride ourselves in is the ability to deliver accurate, timely data. While many organizations have used an email tracking tool before, the numbers often don't add up. Before finding ContactMonkey, Travel Counsellors was using an email analytics tool that offered no value. With ContactMonkey's precision data, they were able to take their data further.
"The stats we had previously were unusable⁠—I was getting 200% open rates, which was just impossible. With ContactMonkey we could get that granular data." – Travel Counsellors
Quick, confidential feedback
ContactMonkey's email-embedded pulse surveys allow you to gather employee feedback straight from your internal newsletters. You can easily embed surveys by selecting the survey tile in your template builder and adding it anywhere in your email.
Gather employee feedback through star ratings, emoji reactions, 'like' buttons, or employee net promoter score (eNPS). You can also gather quick and candid employee feedback by activating the anonymous comments option in your design panel.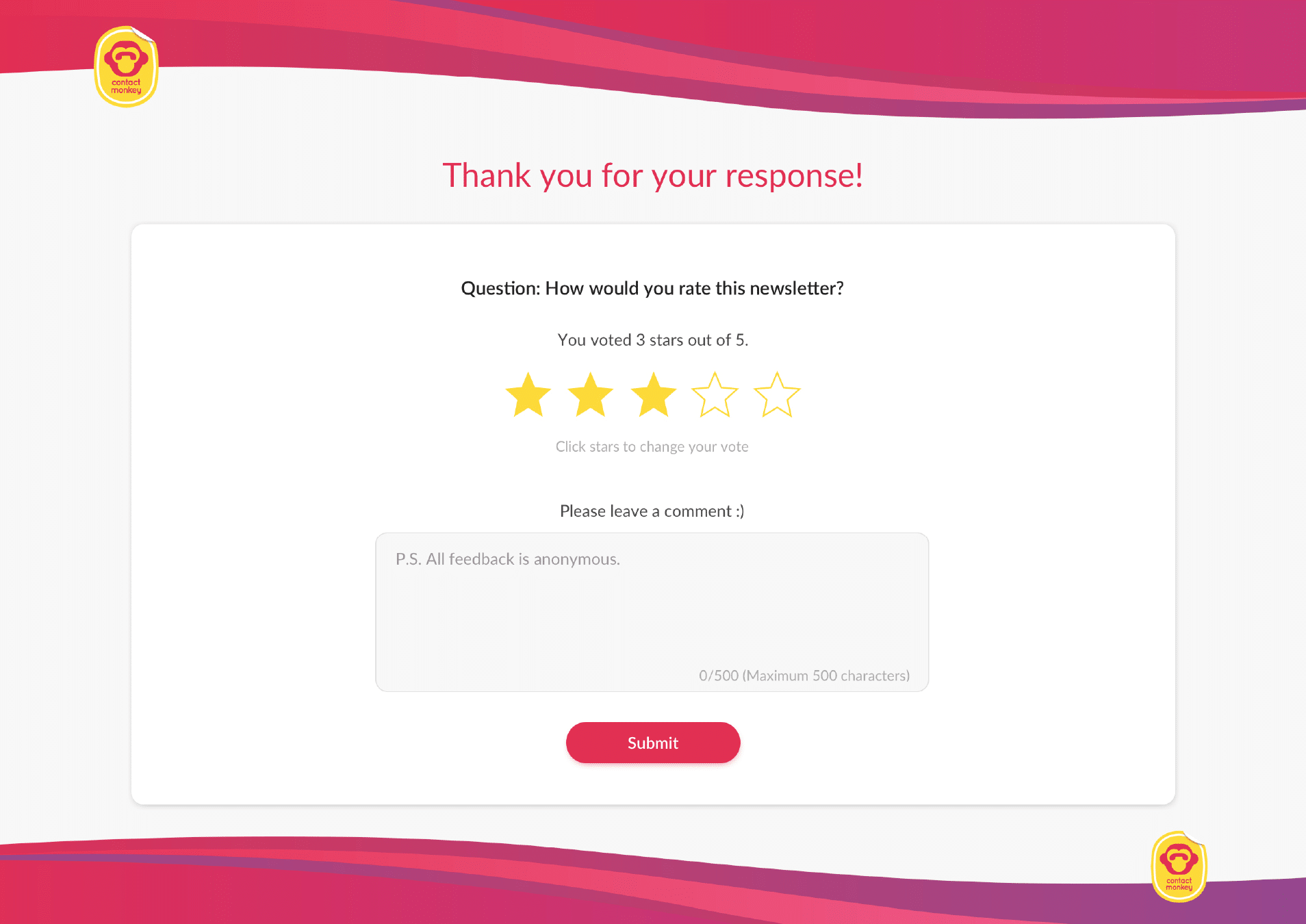 "We have a rating system and an ability for people to comment on what we send out. That's one way that we're getting feedback." – Alnylam Pharmaceuticals
Email and SMS integration
ContactMonkey allows internal communicators to create, send, and track email and internal SMS messages from one simple platform. By creating a feedback loop between the two internal communications channels, internal communications professionals can extend the reach and impact of each channel.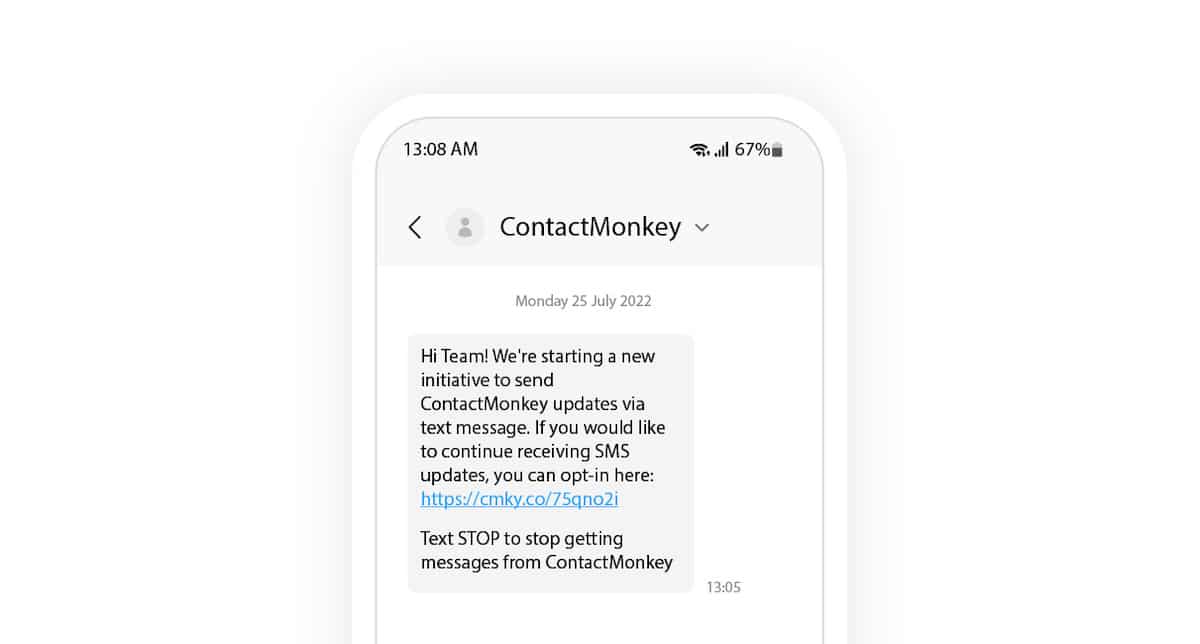 Not to mention, organizations with frontline employees can easily reach and engage deskless workers through instant messaging. By using email and SMS together, internal communicators can synchronize their communications and make sure office workers and frontline staff are equally informed and engaged.
Everything in one place
ContactMonkey's all-in-one system combines email design and sending, SMS communications, and powerful workforce analytics.
By combining multiple capabilities in one tool, ContactMonkey reduces the friction of using many different systems. This is convenient from a usability perspective. Your team doesn't need to manage multiple standalone tools.
The result: time and cost savings! Not to mention, your team has more time to create meaningful content that responds to employee interests and needs.
"Once I started using ContactMonkey, I realized I was able to save 4 hours of work a week, which translated to 25 days saved per year!" – Mettler Toledo
Secure Mailchimp Alternative
Using Mailchimp for internal communications presents tons of logistical challenges—both for internal communicators and IT teams. For starters, Mailchimp runs everything from their own servers. This means your employees' confidential details are hosted in third-party servers.
In addition, Outlook regularly blocks images and assets from external senders – and IT departments might enable this by default. The result: newsletters with missing or distorted content.
ContactMonkey sends emails from your own email servers, whih means they are not uploaded to the web. In addition, our newsletter templates are responsive, and look great in Outlook across phones, tablets, and computers.
"The HTML build in Mailchimp was also difficult to use as it didn't work well with older versions of Outlook, compromising the layout." – Mettler Toledo
Choose an Internal Communications Tool that IT Teams Trust
When it comes to implementing new software in the workplace, IT plays a critical role in today's corporate landscape. To ensure that you implement quality internal communications tools that seamlessly integrate with your existing workplace systems, it's important for IT teams to have all the information they need up front.
At ContactMonkey, we uphold a transparent approach to software development, and we're ready to answer any of your IT team's pressing questions.
Book a free demo to discover all the reasons why IT teams across the globe trust ContactMonkey!