Looking to improve your business communications but not sure what software solution is best for your business? We break down two different communication tools—Constant Contact vs. ContactMonkey—to help you decide which would be best suited for your business needs.
Effective communications are crucial for your business to succeed, but not all communications are the same. You need to understand what kind of communications you're looking to optimize before you can select an appropriate solution.
We break down two industry-leading communication tools—ContactMonkey vs. Constant Contact—to help you understand how they're best used for improving your business' communications.
We'll explore the differences between internal and external communications, the features that'll help you improve your communication strategy, and when to choose an external tool like Constant Contact and an internal communication tool like ContactMonkey.
Want a first-hand demonstration of ContactMonkey?
Learn how to supercharge your internal communications.
Constant Contact vs ContactMonkey: A Brief Overview
Constant Contact and ContactMonkey are both communication tools aimed at optimizing your design process, generating more engagement, and tracking communication metrics. But while these two solutions may seem similar, how they're best used differs significantly.
Internal vs external communication
Business communications fall into one of two categories: internal communication and external communication.
Internal communication is the transmission of information from employer to employee or employee to employee. It is what enables your business to operate smoothly and keep your employees informed and effective.
External communication is how your business connects with your customers. From marketing ads to help documentation, any customer-facing resource created by your company is considered external communication.
While both external and internal communication can take similar forms (emails, newsletters, videos, websites, etc.), how your company creates and disseminates them are vastly different.
Internal Communication Solution: ContactMonkey
ContactMonkey is a dedicated internal marketing tool designed to help your business operate more efficiently. It is a centralized tool that has both Outlook integration and Gmail integration.
With ContactMonkey you can create, send, and track various forms of internal communications including email, SMS, employee surveys and feedback, newsletters, and more.
For larger companies, ContactMonkey can help scale your email capabilities via our Email at Scale feature, which allows you to go beyond Outlook's email limits and Gmail's email limits.
ContactMonkey: Main features
Create, send, and track internal emails and employee SMS messages using ContactMonkey from your Outlook or Gmail inbox. ContactMonkey optimizes your internal communication processes to help you boost employee engagement and shave days off your email design process.
Email template builder
Using our drag-and-drop email template builder you can create HTML email templates that are fully responsive—meaning that your beautiful emails will display perfectly across all your employees' inboxes and devices. Include GIFs, videos, pulse surveys, eNPS surveys, event invitations, social media links, and more: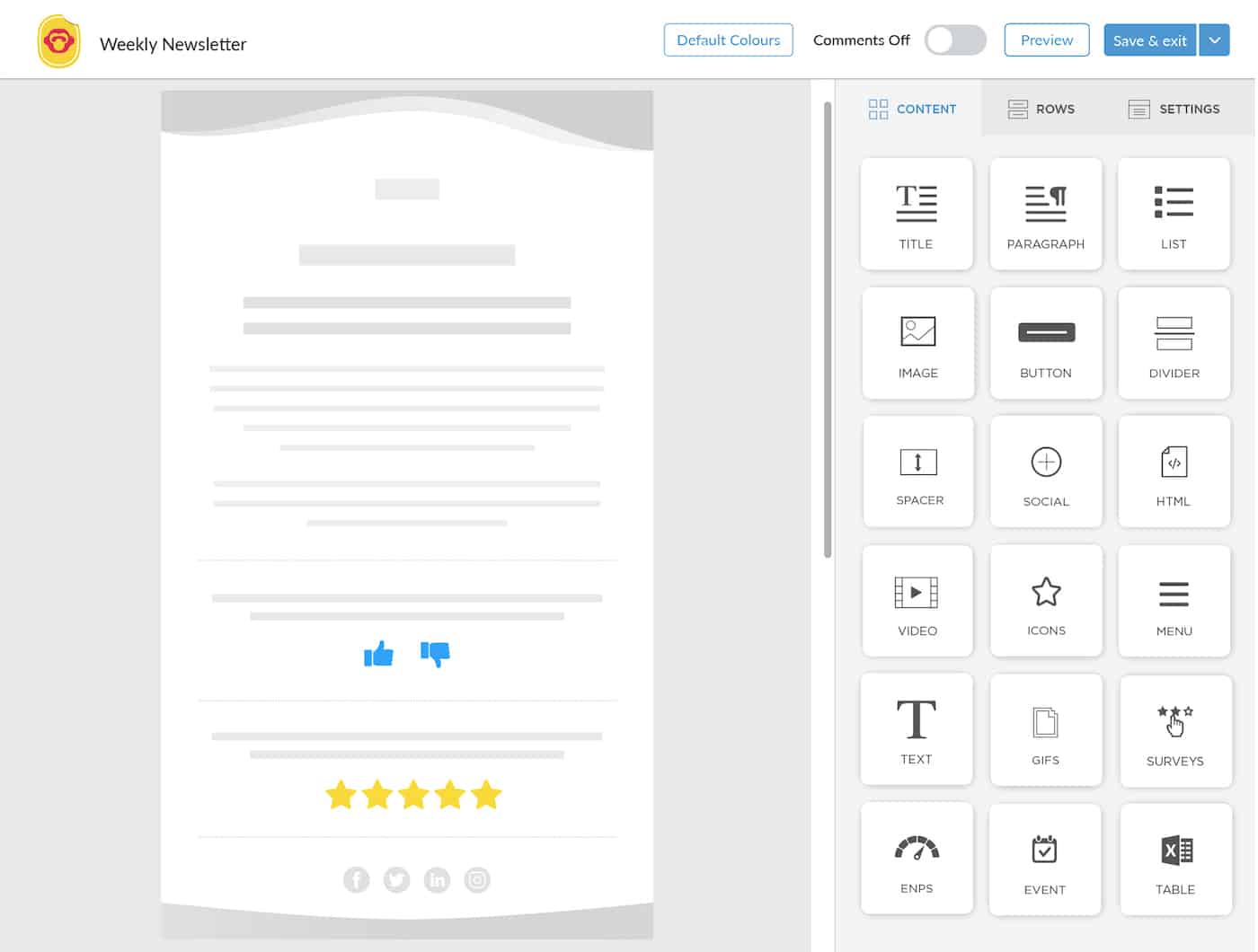 Not sure how to start your email? Let our OpenAI ChatGPT integration help you! Simply enter what you'd like to write about and our AI integration will generate copy for you to customize and include.
Have multiple members of your internal communications team? ContactMonkey allows team collaboration within the email template builder where you can view changes in real time. You can also preview your email templates to see how they'll look on mobile devices, and set custom branding settings to help you save time and stay on brand.
Easily create your own internal email templates.
Try ContactMonkey's email template builder for free.
Employee surveys and feedback
A huge part of your employee engagement strategy will rely on your internal communications; they help you understand what's important to your employees and how to ensure they're happy and productive.
With ContactMonkey, you can embed employee surveys and pulse surveys within your internal communications that you employees can complete directly from their email inboxes. You can also collect anonymous employee feedback so your employees can share their honest feelings about your business:
Use employee surveys and feedback to measure engagement, find your best internal communications content, improve your company events, and more.
Speaking of company events, you can create and send event invitations using ContactMonkey's Event Management feature. Embed invitation into your employee emails and collect RSVPs (and comments) to refine your company events.
"Once I started using ContactMonkey, I realized I was able to save 4 hours of work a week, which translated to 25 days saved per year! ContactMonkey has helped us understand what employees are interested in!"
Kate Kraley
Marketing Communications Specialist at Mettler Toledo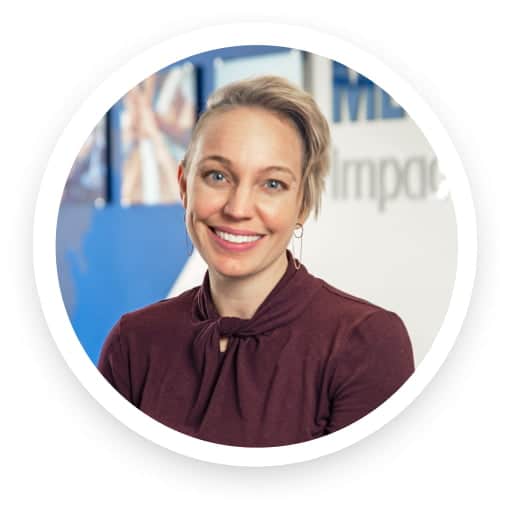 Advanced email sending
We've already mentioned how ContactMonkey can help you get the most from your Outlook and Gmail inboxes, but that's just the start.
ContactMonkey's sending tools can improve the reach and effectiveness of your internal communications. Avoid email oversaturation by targeting specific segments of your workforce with custom distribution lists. ContactMonkey's List Management feature lets you create your own distribution lists and CSVs without needing approval from your IT department:
ContactMonkey's List Management integrates with your Human Resources Information Systems (HRIS) like Workday as well as Azure Active Directory so your email lists will automatically update as employees leave and join your organization.
Sending email in Gmail? Create and schedule emails within ContactMonkey's Gmail email dashboard to save time from switching between applications: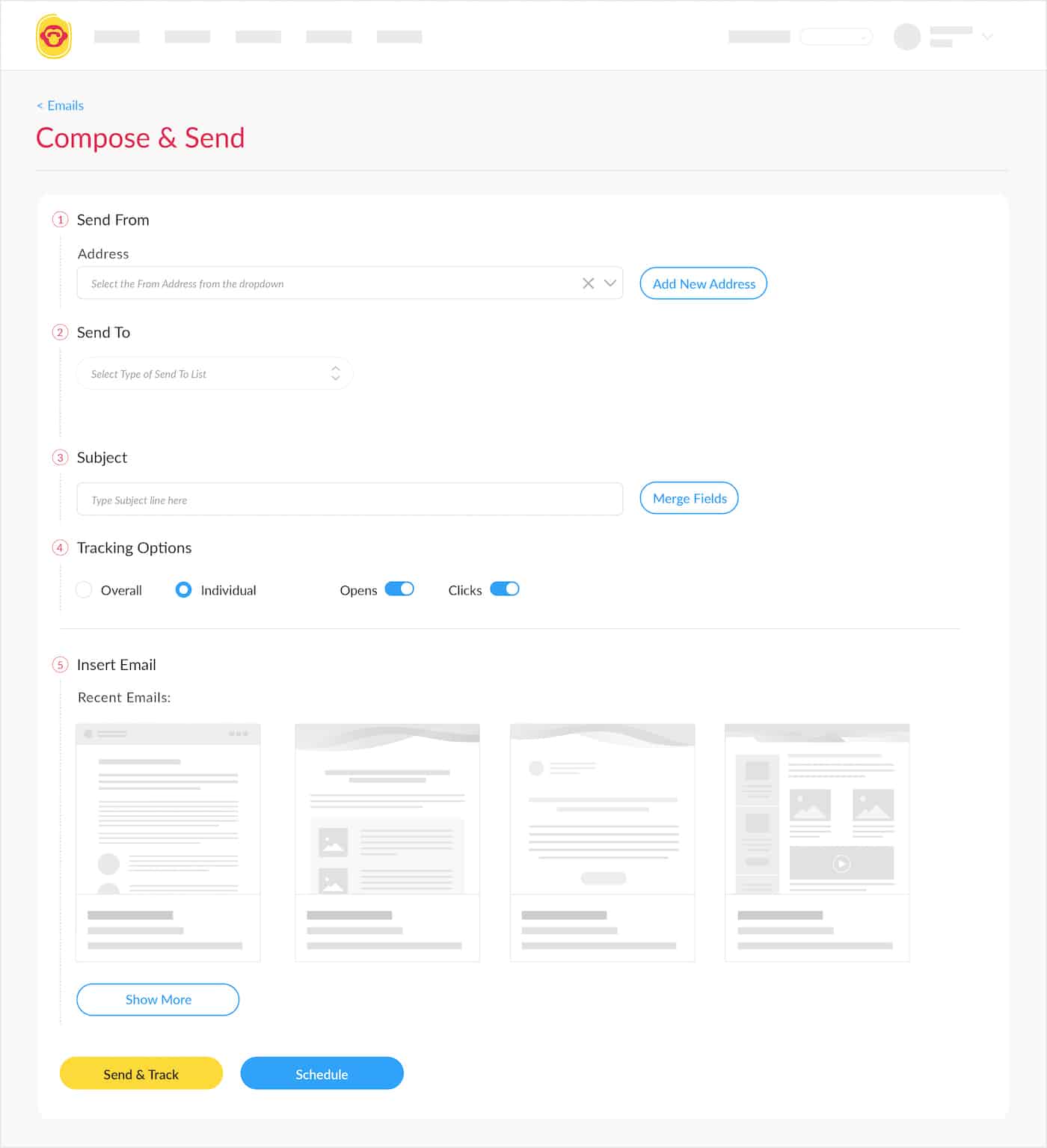 You can drive email engagement by personalizing your emails for your recipients by using merge tags. Merge tags insert custom text based on who will be receiving your emails, given your internal communications a personal touch.
Schedule your emails to hit your employees' inboxes when they're most likely to read them using ContactMonkey's scheduled sending feature. But how can you determine the best time to send internal emails? We've got you covered:
In-depth email analytics
ContactMonkey's analytics dashboard allows you to measure email metrics like open rate, click-through rate, read time, opens by device and location, individual opens and clicks, engagement by time of day, and more: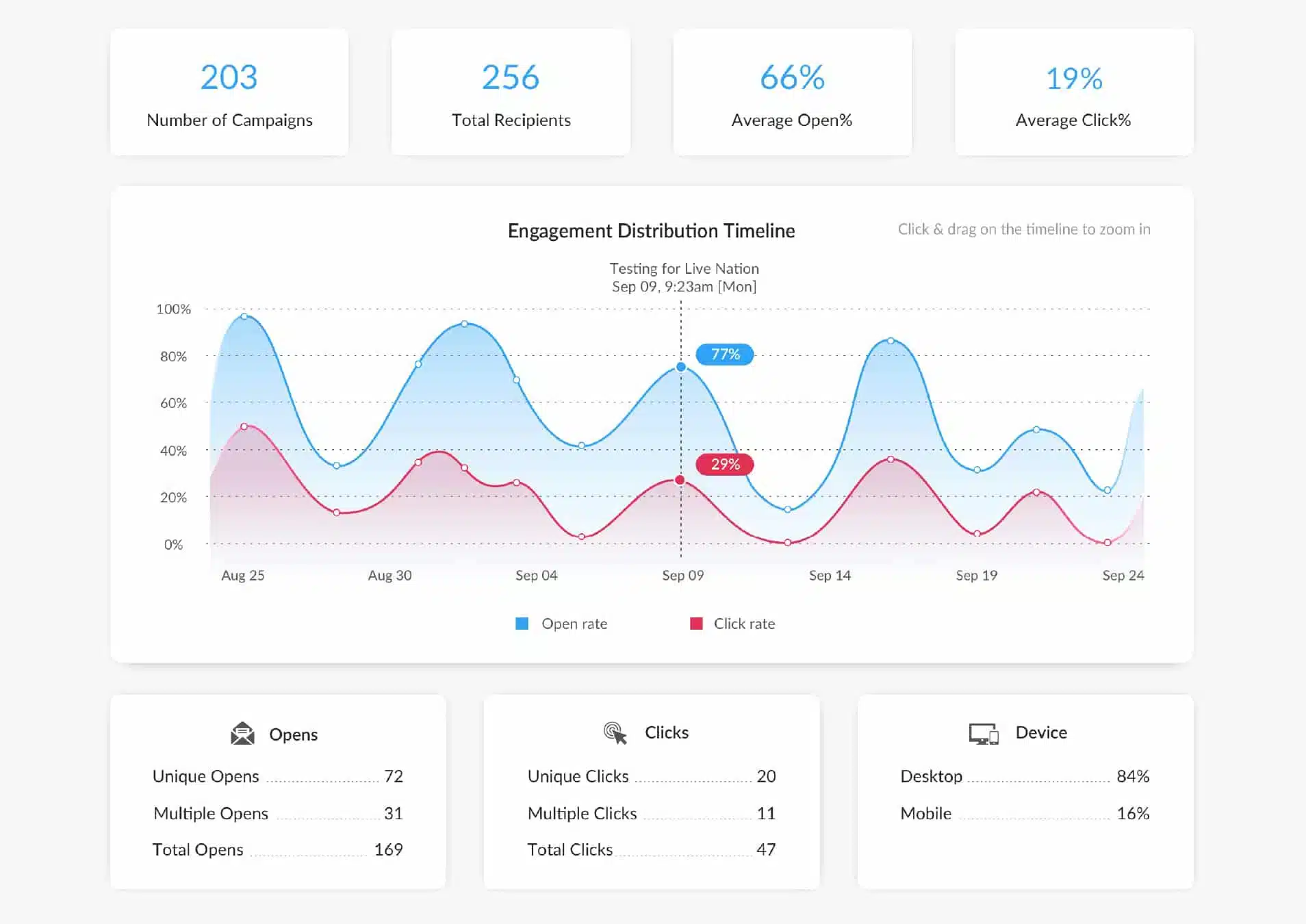 But ContactMonkey lets you take email metrics one step further via internal email analytics. Compare your email campaigns to find your best performing content using our Reporting feature, and analyze how different portions of your workforce engage with your internal communications using our segmented email statistics page: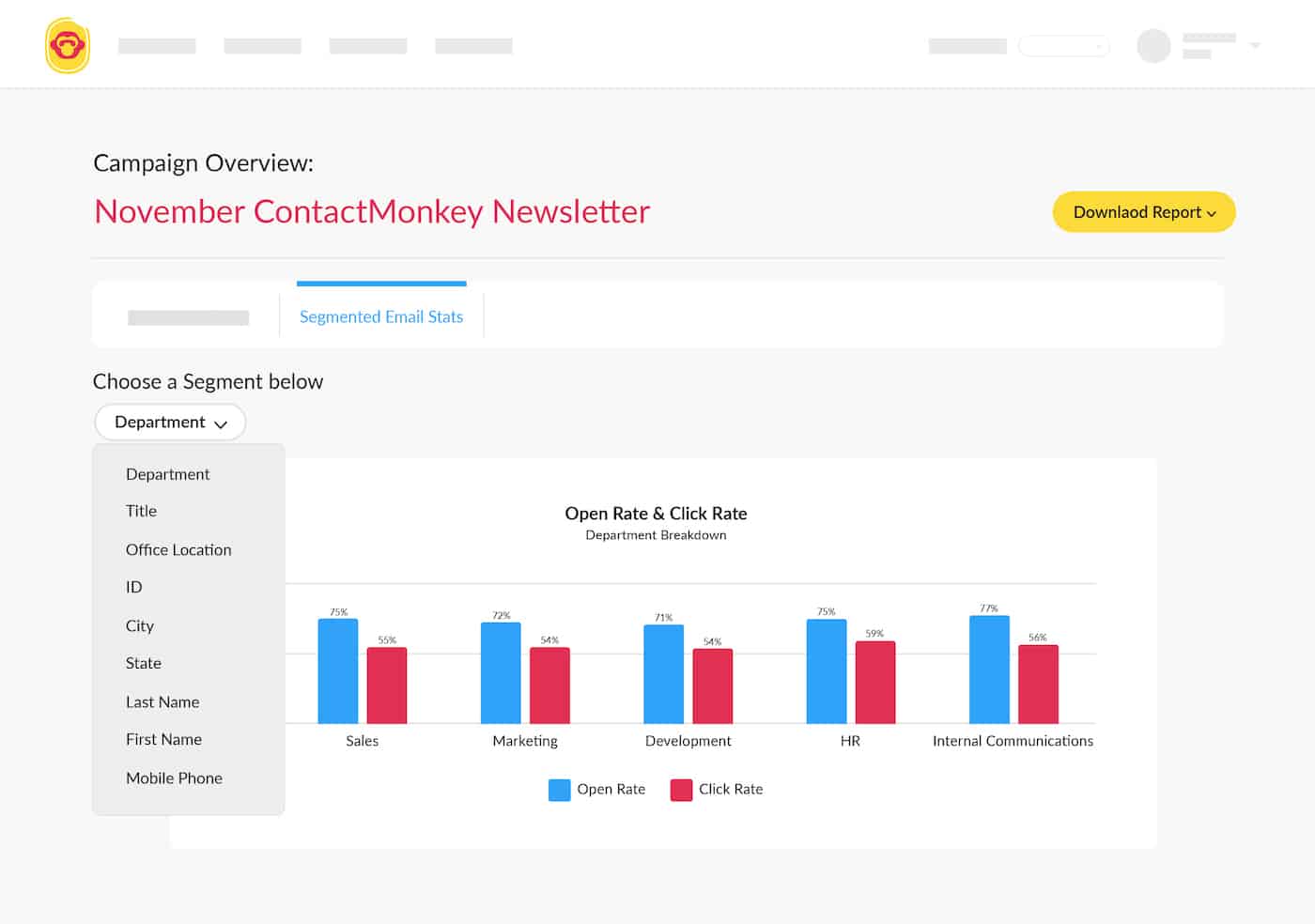 If your organization has internal or external regulations around email privacy, ContactMonkey's anonymous email tracking allows to gather email metrics while maintaining your employees' privacy.
Using ContactMonkey, you can enable click maps on your internal emails so you can see how your recipients are engaging with your content. Inform your email design with real feedback from your employees to help them see important information more easily.
ContactMonkey also helps you prioritize your email security. Because ContactMonkey works within your existing Outlook and Gmail inboxes, the emails you send will live in your own servers, and won't get sent to an external email server—unlike external email tools. Also unlike external email tools, ContactMonkey does not require you to include unsubscribe buttons on your emails, which prevents your employees from removing themselves from your email lists and negatively affecting engagement.
Ultimately, ContactMonkey's email tracking helps you improve your internal communications in multiple ways. You can track engagement trends and find where you're succeeding and where you need to improve. And you can use your collected email metrics as key performance indicators (KPIs) to show the value of your internal communications and how they drive engagement.
Email metrics are crucial for internal comms.
Prove the value of internal emails with ContactMonkey.
ContactMonkey: Pros and cons
Let's quickly breakdown the pros and cons of using ContactMonkey:
Pros:
Easy-to-use drag-and-drop email template builder
Employee surveys and anonymous email comments
List management and HRIS integration
OpenAI ChatGPT integration
Email at Scale to avoid Outlook and Gmail email limits
Optimized email sending
In-depth email metrics and analytics
Anonymous email tracking
Click maps
Outlook and Gmail integrations for robust email security
No unsubscribe buttons
Cons
Internal email use only
Not optimized for customer sales/conversions
No sales email automation
External Communication Solution: Constant Contact
Constant Contact is an excellent software for marketers and business owners, but not so much for internal communicators.
Constant Contact is an awesome solution for organizations looking for email marketing software that enables them to build and automate email campaigns to engage sales leads and customers.
With the marketing automation tools, you can build sequences and trigger emails based on certain user actions. This can be used to welcome new subscribers or even bring back shoppers who've abandoned their shopping carts.
Constant Contact: Main features
Constant Contact offers a desktop add-on for Outlook. But it's primarily built to export your contacts from Outlook into Constant Contact.
You'll have to leave your inbox and use Constant Contact's web application to build and send newsletters to your list.
Constant Contact also doesn't integrate with Gmail. Instead, you'll have to import your contacts into Constant Contact and use their web application for internal communications.
External email builder
The software comes with an intuitive drag-and-drop builder to customize and create responsive emails—no coding experience necessary.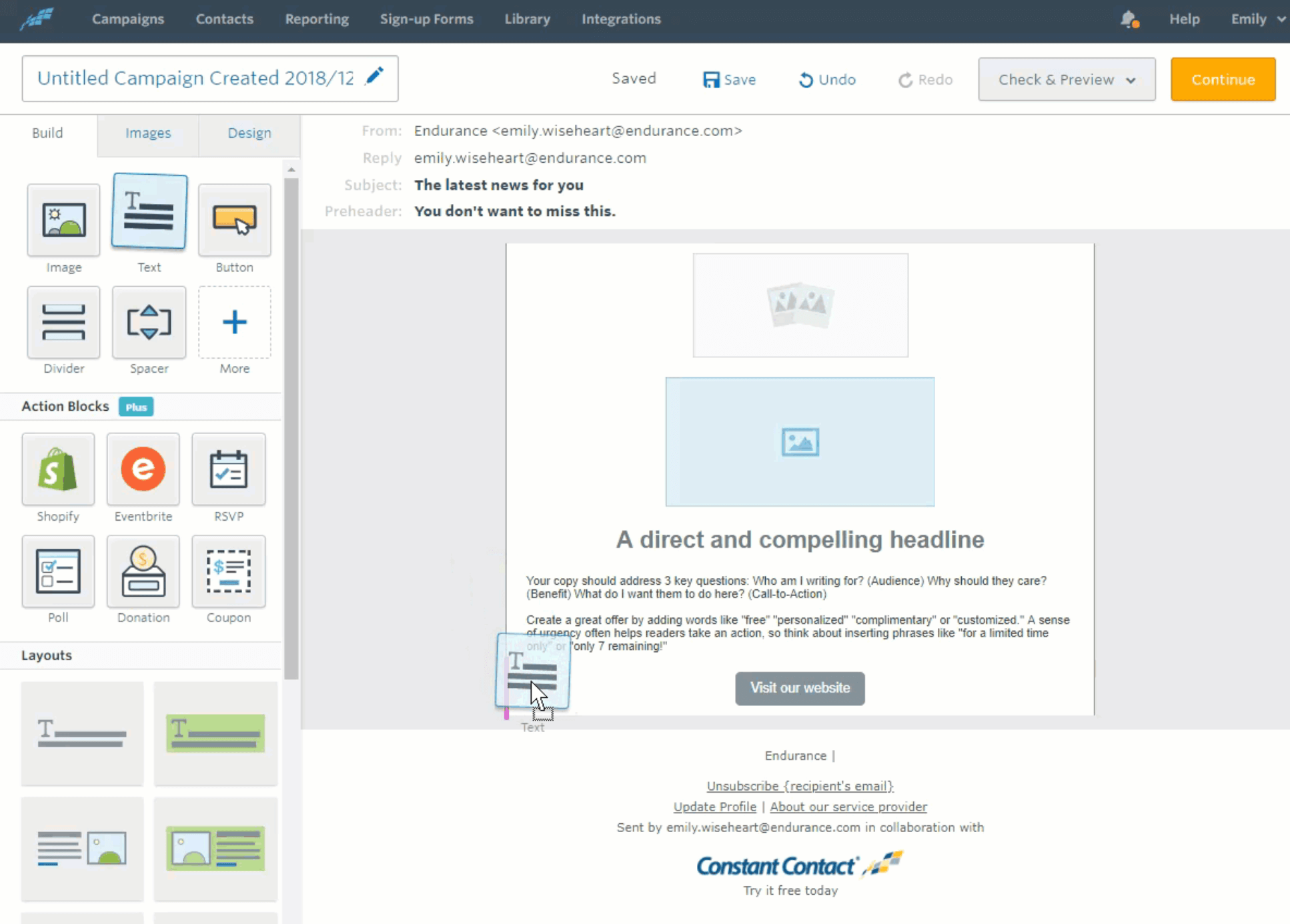 External email metrics
In Constant Contact, you can view metrics like sends, open rates, clicks, bounces, unsubscribes, and more.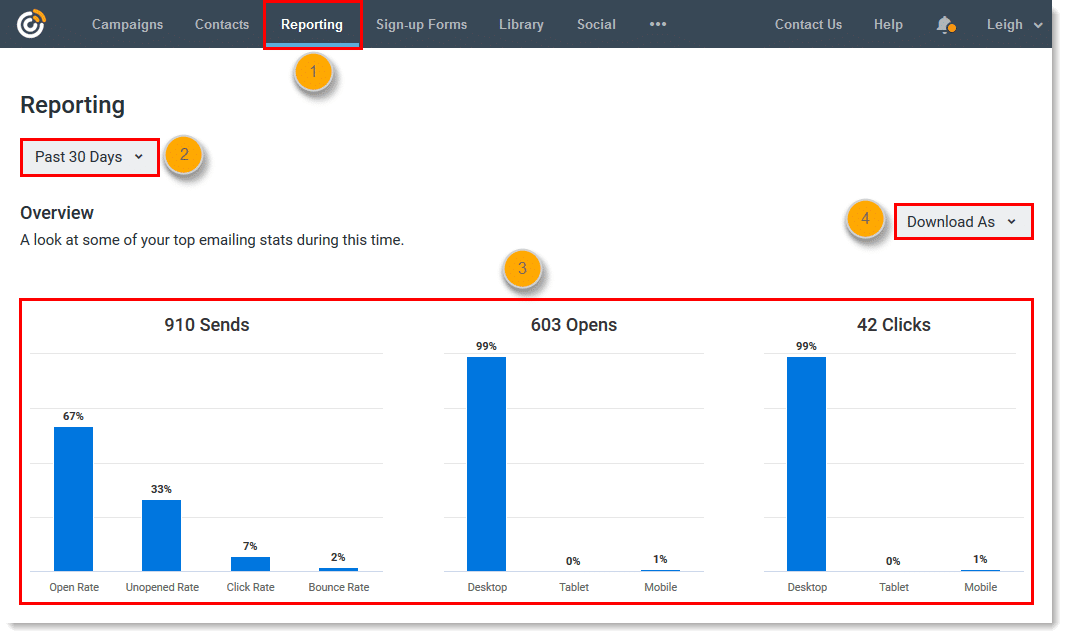 You can even compare open rates to previous time periods: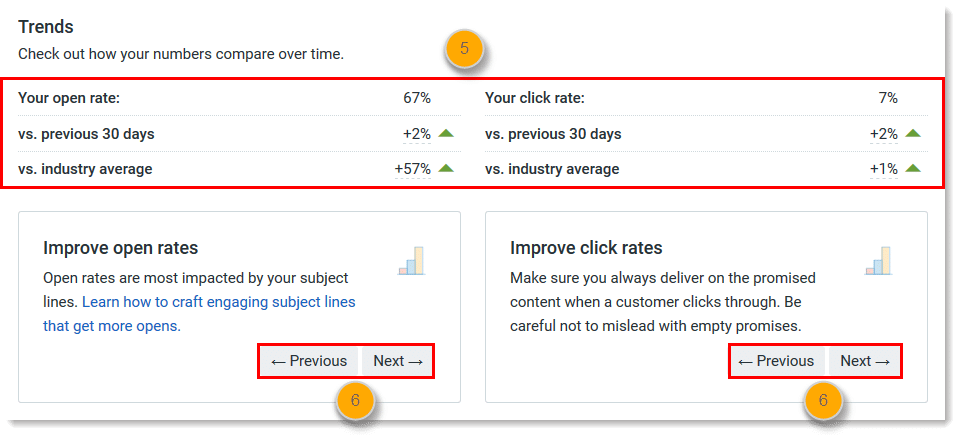 Email security
With Constant Contact, all your emails are sent through their servers. That means all internal communications and information about your employees reside on third-party servers.
Constant Contact: Pros and cons
Let's quickly breakdown the pros and cons of Constant Contact:
Pros
Email marketing automation
eCommerce integration
Social marketing
Landing page editor
Drag-and-drop email editor
Real-time analytics
Cons
Email security
Lack of engagement features like surveys and feedback
Lack of Outlook and Gmail integration
Outlook and Gmail limits still apply
Lack of list management
Constant Contact vs. ContactMonkey: Head-to-Head Comparison
We've created a helpful chart for comparing the features included with ContactMonkey against the features included with Constant Contact.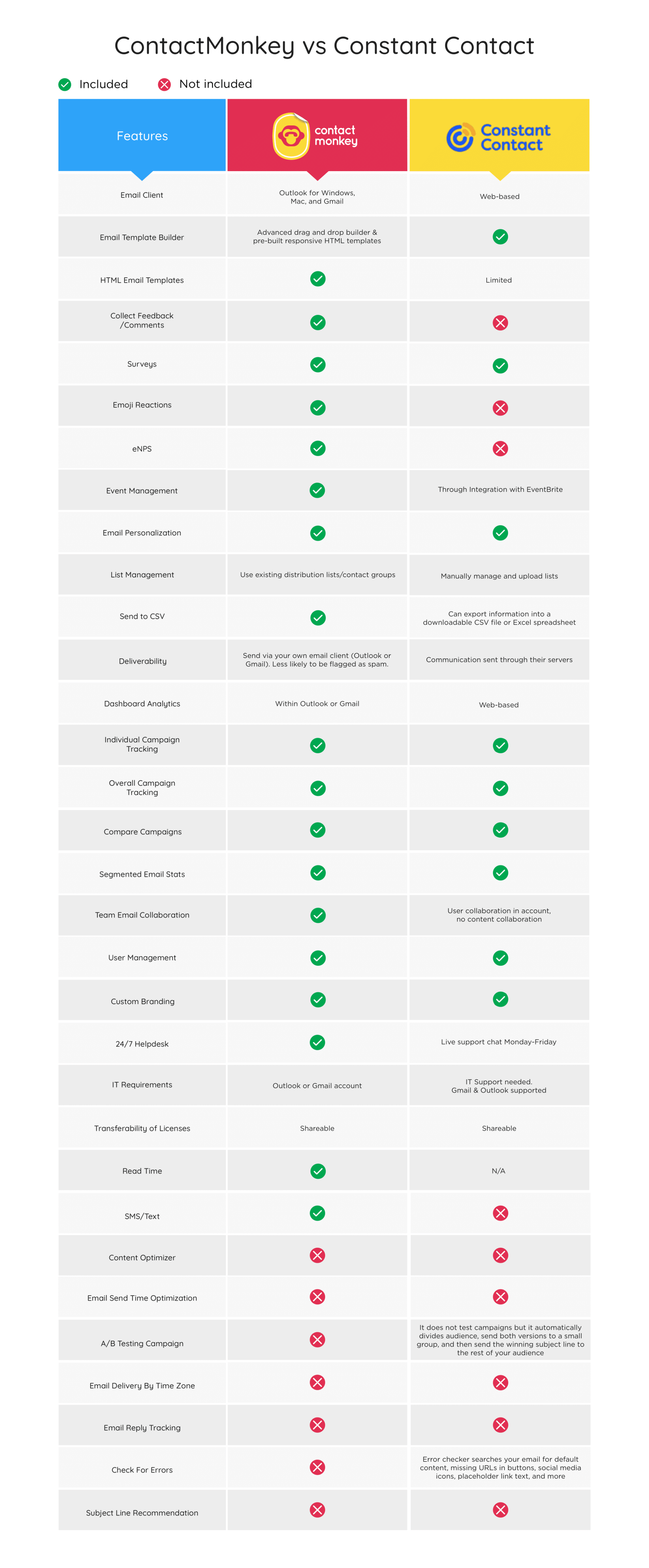 Conclusion: Choose the Right Solution for Your Business Needs
We hope that you now have a comprehensive understanding of the differences between internal vs external communication, and Constant Contact and ContactMonkey.
The right solution for your business will depend on what type of communications you plan to optimize. Carefully assess your business needs before choosing a software solution, because choosing an external email tool for your internal communications can lead to a ton of issues!
Want to learn more about how ContactMonkey is the best choice for your internal communications software? Book a free demo to see how you can supercharge your internal emails and employee engagement.