Employee communication apps can strengthen lines of communication and improve business functions across the board.
The quality of internal communication in your company determines the success of just about every business goal.
By allowing employees to instantly connect, manage tasks, and streamline workflows, employee communication apps foster workplace alignment.
In this post, we'll take you through our favourite employee communication apps and highlight what they can do for your business.
15 Best Employee Communication Apps
Whether you run a small business or a massive enterprise, an employee communication app can help you better communicate and engage with your staff. Let's take a closer look at today's top employee communications apps and what each one has to offer.
1. ContactMonkey: Email App for Outlook and Gmail
ContactMonkey is an all-in-one employee communications tool with a web-based app and a mobile SMS text messaging system.
ContactMonkey offers Outlook and Gmail integration that let you create and send interactive emails to employees right from your regular inbox You can design, schedule, and track thousands of emails and SMS messages to employees from an easy-to-use employee texting system while getting a better understanding of your employees with powerful email analytics. 
Here are the top ContactMonkey features: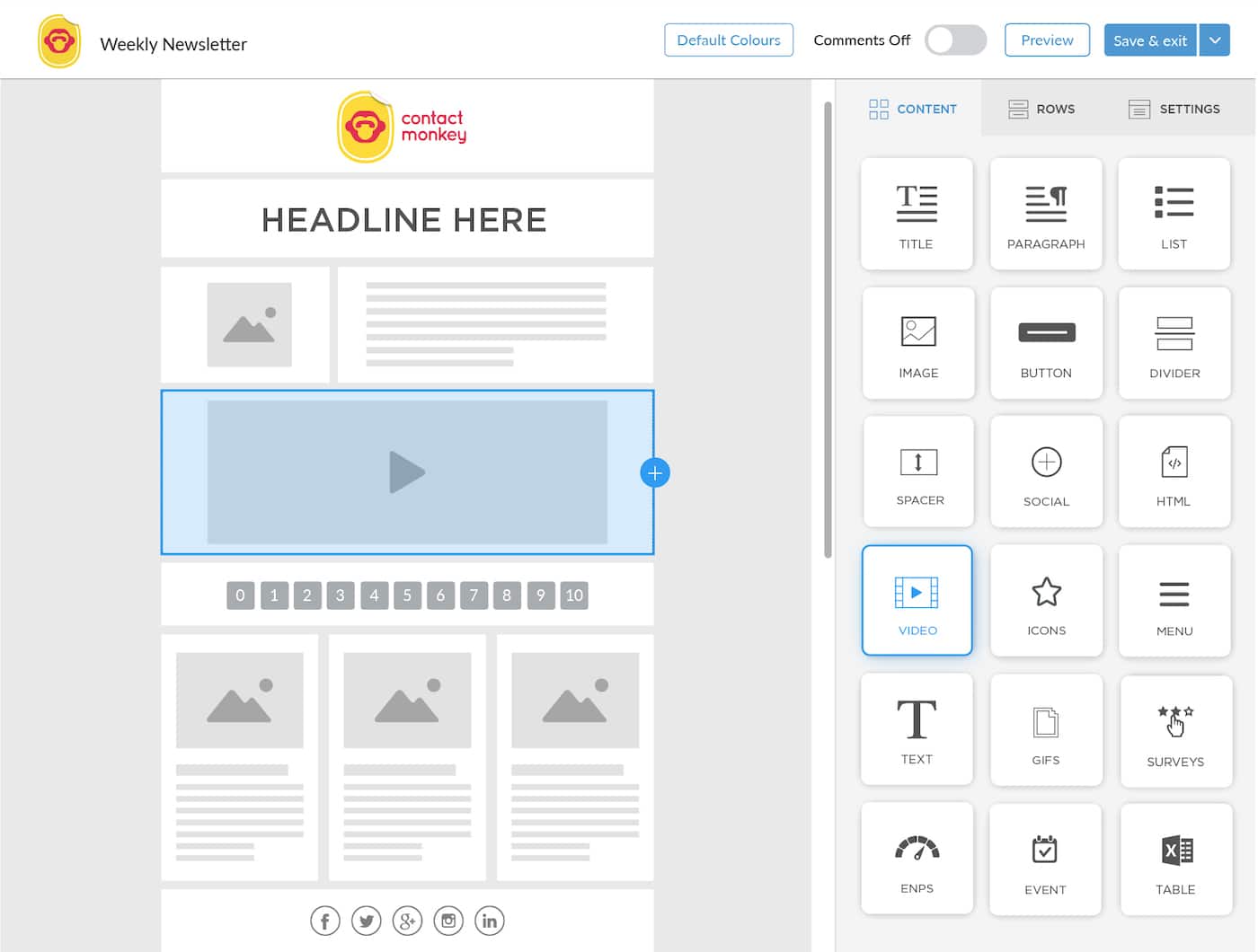 2. Slack
Chances are you're probably already familiar with this employee communication app: Slack has swept the modern workplace by spearheading channel-based internal messaging. Slack "Channels" make it easy to connect across departments, offices, time zones, and even other companies.
Slack lets you choose between multiple modes of communication, including Slack audio calls and team "huddles" over video.
Here are the Slack features we love:
Digital HQ system

Dozens of integrations

Private and public channels

Ability to tag individuals or groups in messages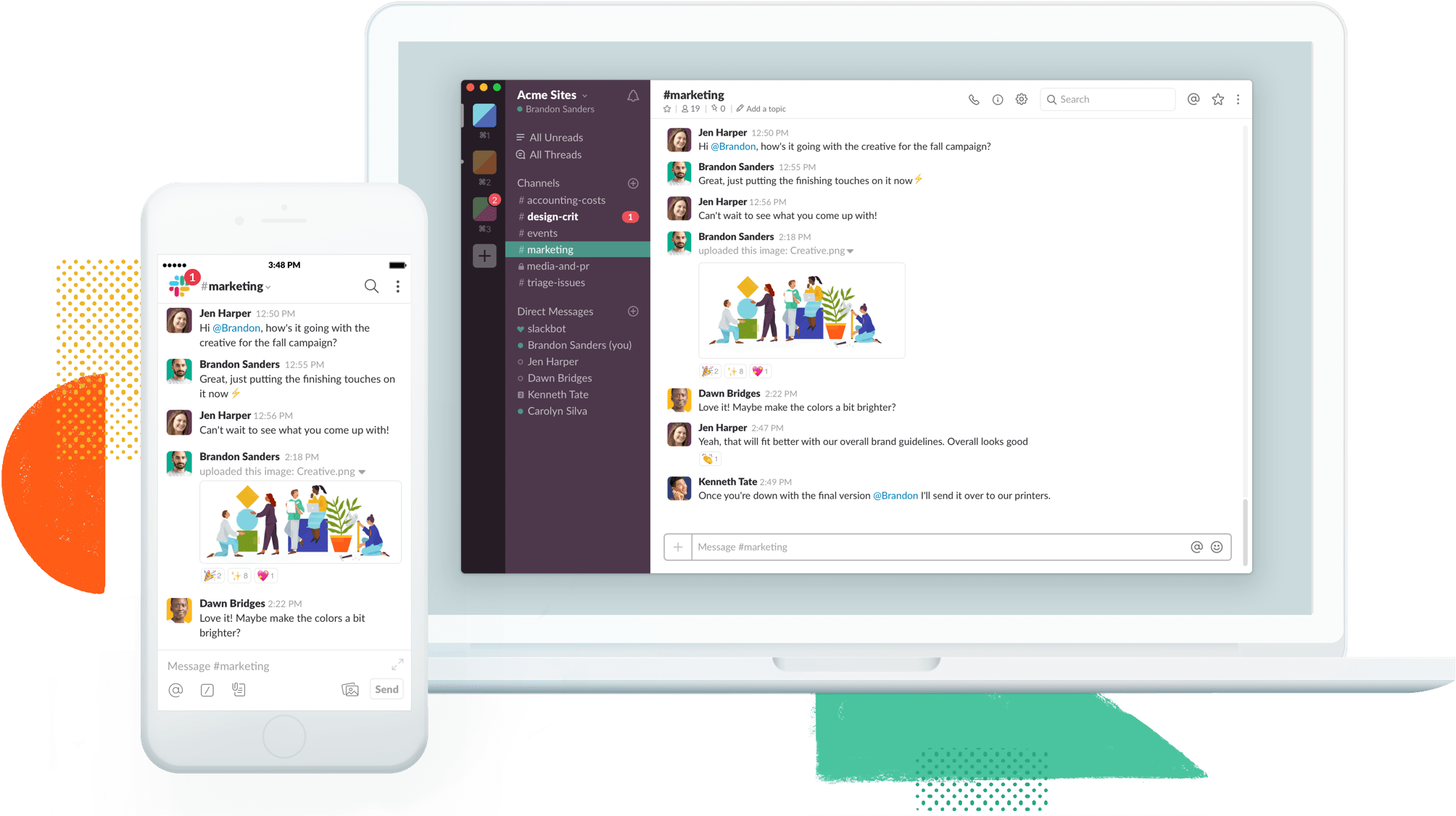 3. ClickUp
ClickUp is an all-in-one workflow management and internal communication app. The tool lets you organize, and collaborate on any project with seamless task management panels. With multiple assignees and comment threads for any task, ClickUp helps you fast-track teamwork.
You can also create docs, wikis, and nested pages right from the app.
Our favorite ClickUp features include:
35+ ClickApps to customize your task management for any work need

Real-time document and communications collaboration

All-in-one access through document and task-linking

Goal setting and target-tracking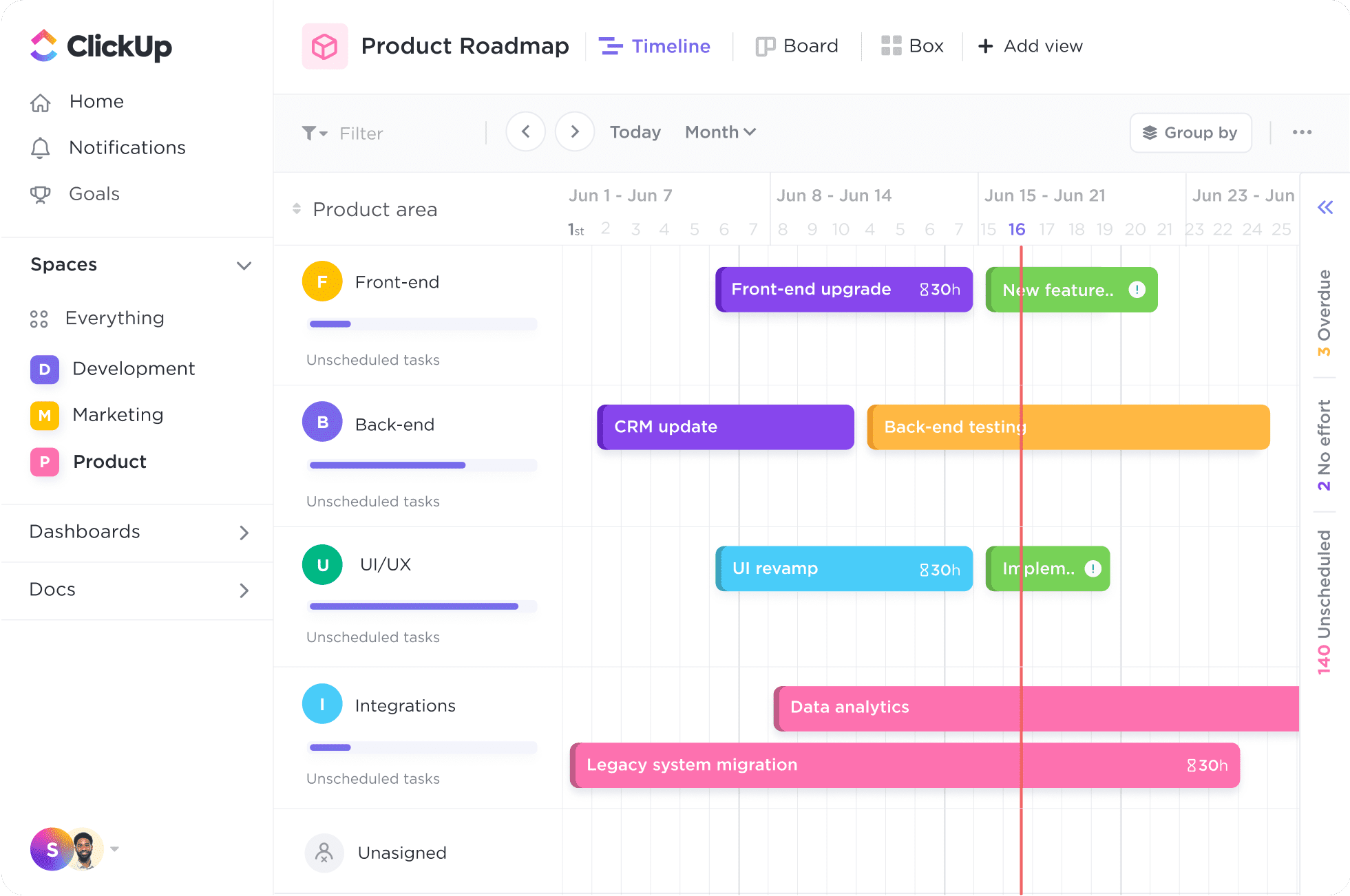 4. Yammer
Yammer is an internal social media platform and employee communications app designed to connect staff more informally. Yammer lets you build communities of interest, gather ideas and feedback, and keep employees informed and aligned. As part of the Microsoft Office suite, Yammer taps into analytics and insights from all of your Microsoft tools in order to help you understand employee activities and measure impact.
Here's what we like about Yammer:
Instant document-sharing options

Ideal for existing Microsoft customers

Analytics dashboard to track employee engagement

Microsoft-level security, compliance, and management features

Ability to host meetings with chat communications for up to 20,000 participants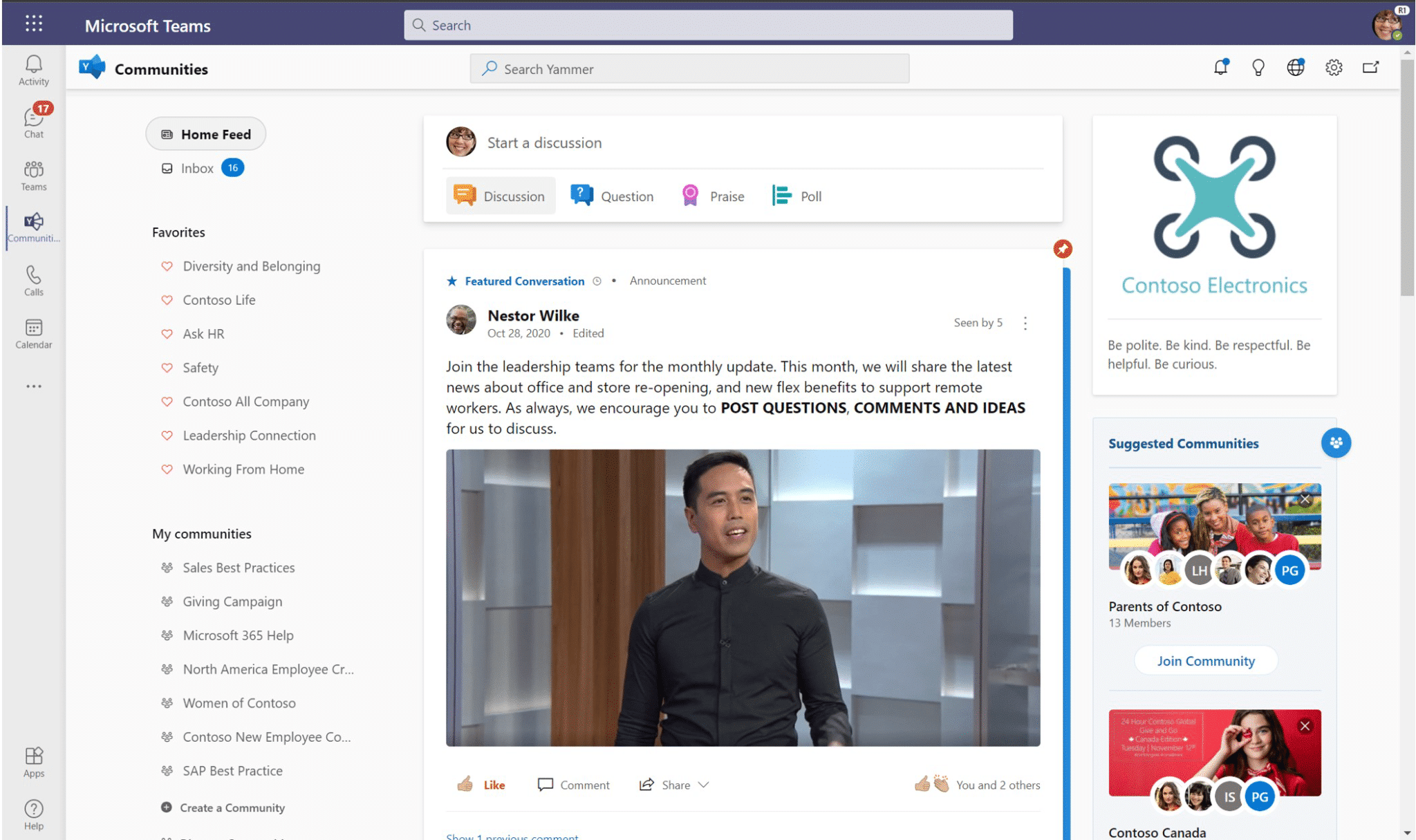 5. Haiilo
Haiilo is an internal communications hub that combines intranet capabilities with one-on-one chats, employee advocacy, and surveys. The IC tool also has HR and operational features, such as surveys, policy documentation, and even lunch menu rollout.
Here are a few things we like about Haiilo:
Analytics platform with actionable tips on how to improve

Employee recognition features

Engagement surveys

Internal social media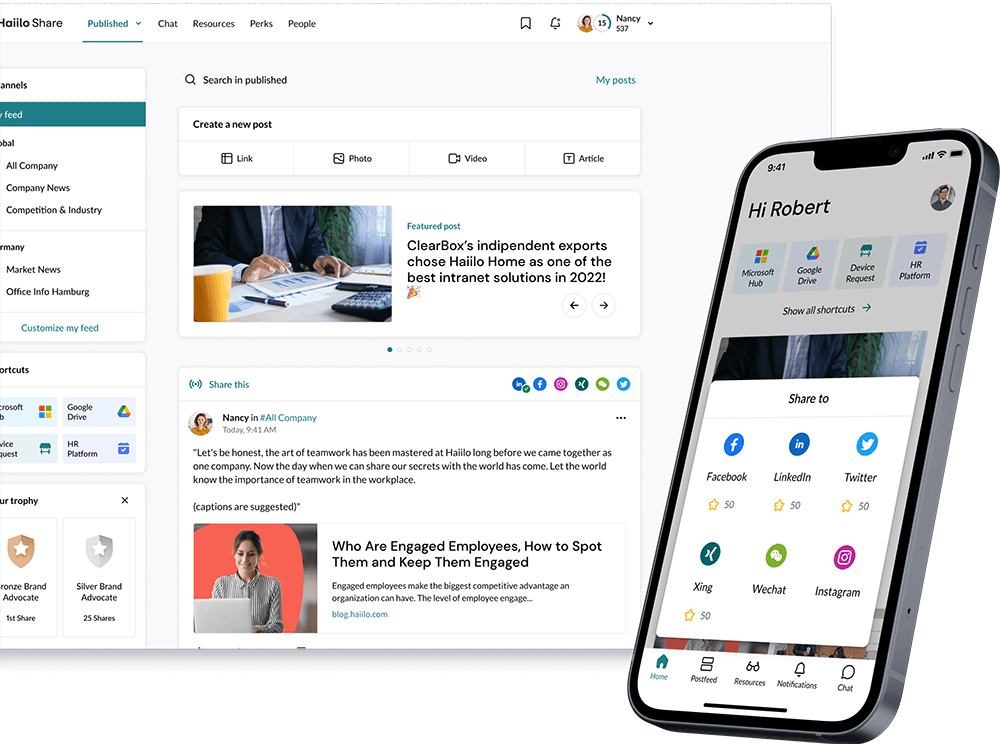 6. Firstup
Firstup's workforce communications app is designed to reach employees with personalized information. News, updates, and other workplace insights are pushed out to staff based on their interests, usage, role, team, and other relevant characteristics. The app integrates with HRIS, helpdesk, and payroll to ensure less friction across key workflows.
Firstup features we love include:
A content moderation tool

Intuitive comment, like, and sharing options

Workflow c

ustomization with employer branding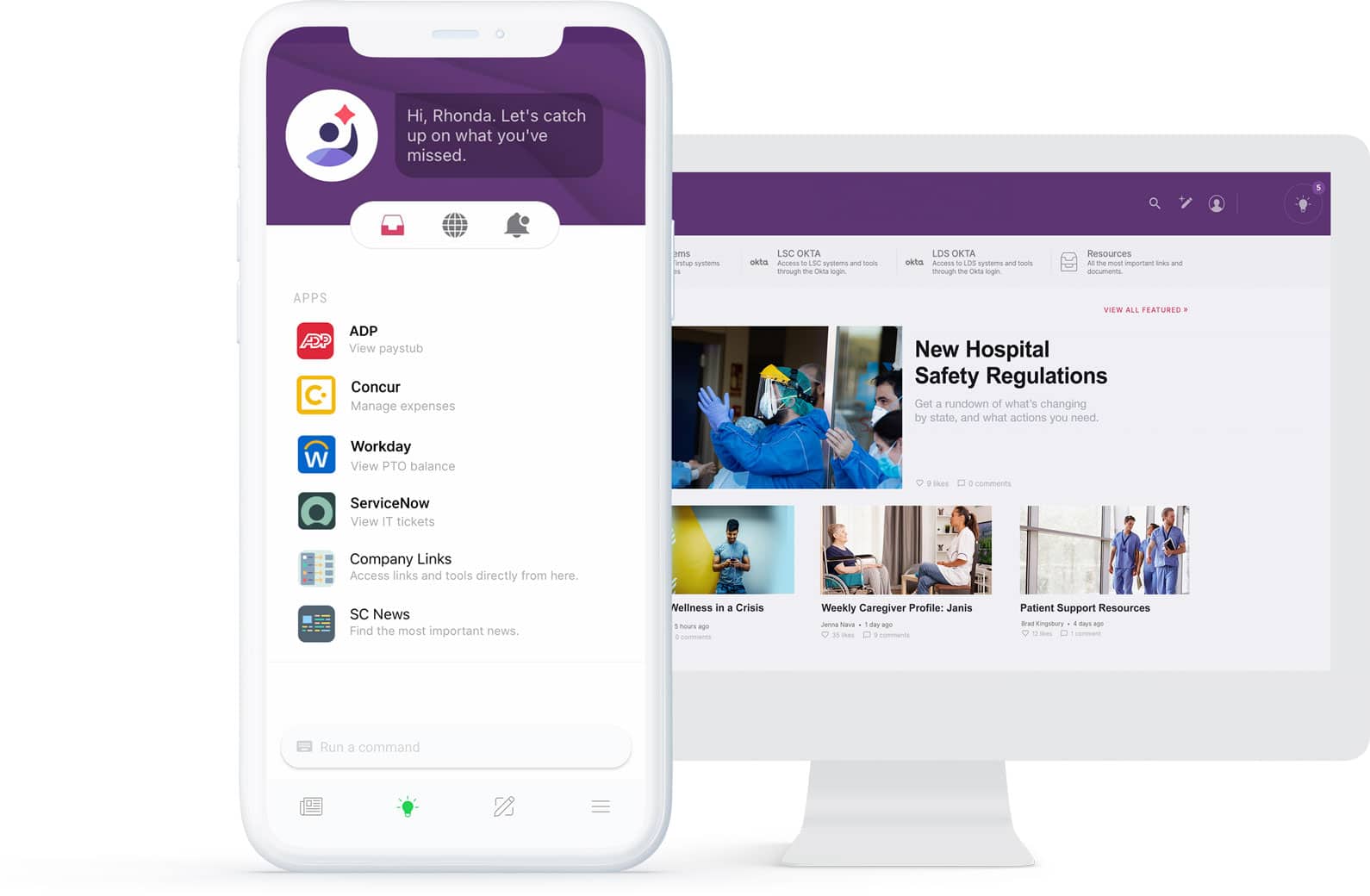 7. Workvivo
Workvivo is an employee communication and community-building platform designed to drive company culture. With an activity feed, people directory, rewards tools, podcasting, and live streaming features, Workvivo nurtures peer-to-peer engagement across all levels of your company.
The Workvivo features we like include:
Post scheduling

Push notifications

Ghostwriting capabilities

Personalized activity feed

Internal news article publication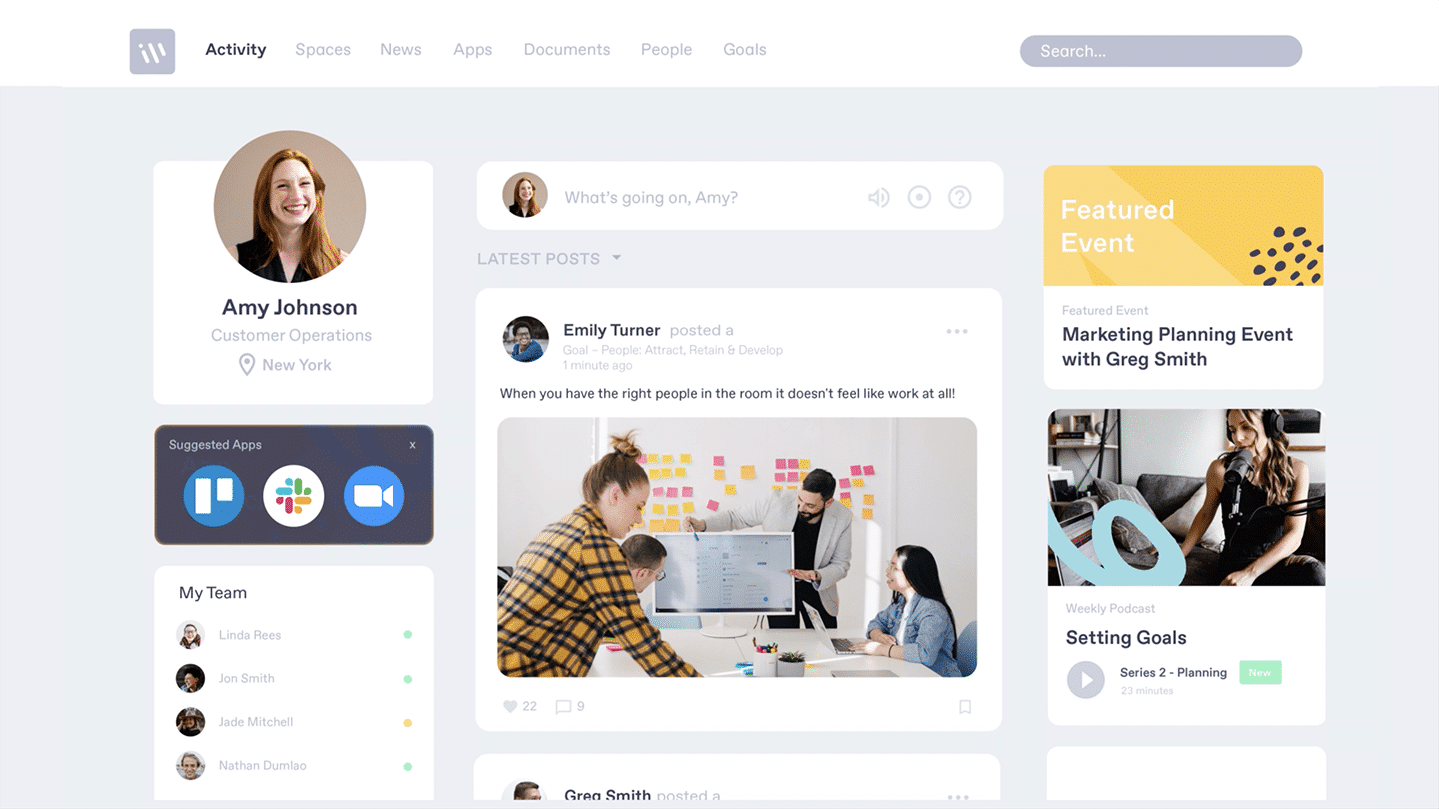 8. Chanty
Chanty is an intuitive employee communications app combined with workflow management. The platform's 'Teambook' tool neatly organizes conversations, tasks, pinned documents, and other content to allow quick seamless communication.
Here are a few of the Chanty features that we love:
@mention features

Dev-friendly formatting

Share multiple types of content in a single app

Conversation actions: a three-dot menu lets you pin, rename, or exit messages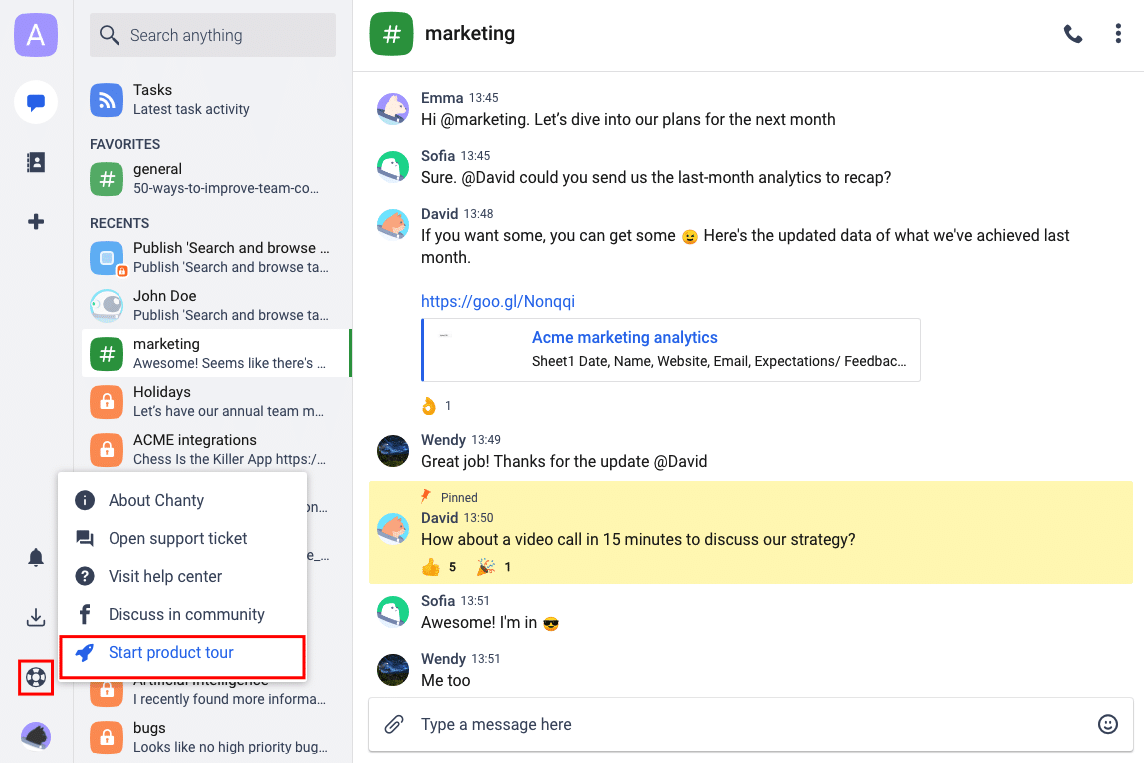 9. Microsoft Teams
This classic workplace communication app remains a staple. And there are many reasons why this is the case. For starters, the Microsoft Teams app is incredibly simple and easy to install and use. The format is straightforward: a chat system that allows you to communicate with colleagues one-on-one, create groups, or chat to others attending the same meeting. However, the simplicity of the platform also means its limited in what it can do.
That being said, here are some helpful Microsoft Teams features:
Live collaboration

Ability to create channels

Direct access to Email, Skype, OneDrive, and SharePoint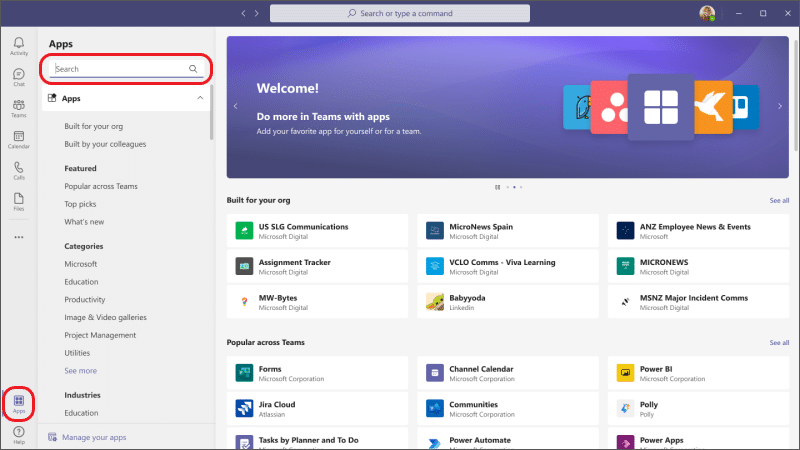 10. Zoho
A business management and internal communications tool, Zoho combines email, helpdesk, a CRM, campaign management, invoicing, and a whole lot more into one mobile app. There's even a card scanner, document builder, and survey software. The key downside is that Zoho doesn't offer the option of integrating external accounts like Gmail. This can be a deal-breaker for those who rely on major email providers for a lump sum of their tasks.
Let's recap a few key features of Zoho:
All-in-one suite of tools

Virtual conferencing capabilities

Event management

Customer support, sales, and marketing tools

Books / accounting tools

Payroll management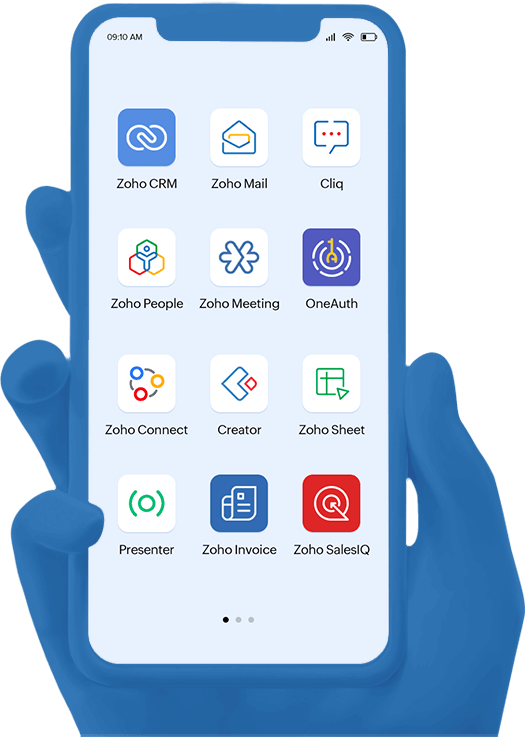 11. Basecamp
Basecamp is a project management and internal communications tool that allows you to easily organize tasks, chats, and other engagement initiatives. Basecamp's intuitive dashboard makes it incredibly easy to navigate and stay on top of your tasks. In addition to project management, Basecamp also facilitates company-wide or team-based communication on its platform.
What we like about base camp:
Kanban boards

Organizes tasks in a visual hierarchy

"Lineup" feature provides a bird's eye view of all your tasks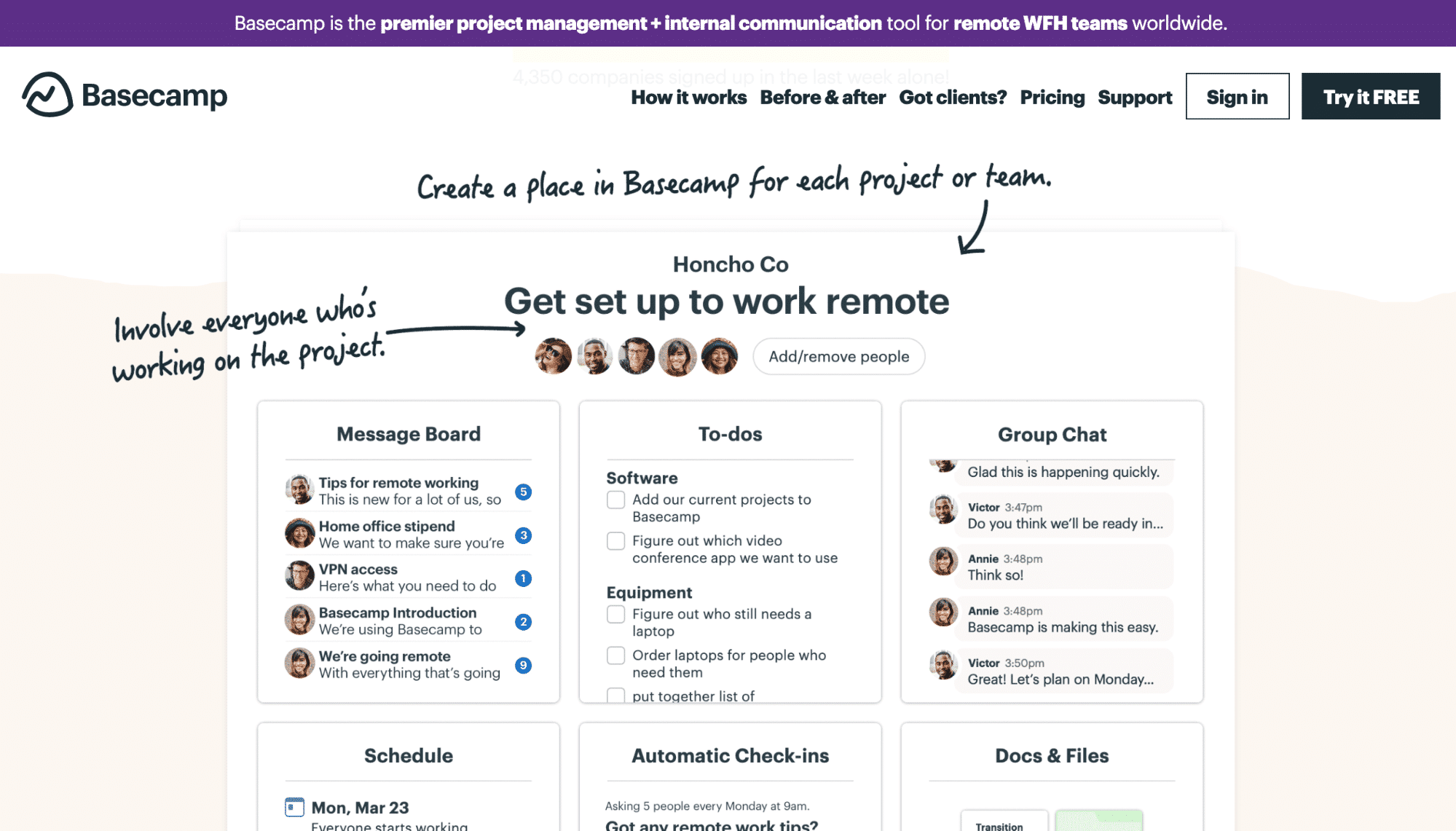 12. Culture Amp
As the name suggests, Culture Amp is an employee experience app designed to drive and nurture company culture. With comprehensive surveys and employee development tracking, Culture Amp has an ample suite of tools to guide companies in engaging employees. While Culture Amp no longer runs as a mobile app, it integrates with Slack and Microsoft Teams apps.
Slack and Microsoft Teams integration

Employee turnover forecast

Engagement analytics
13. Lattice
Lattice's mobile app makes on-the-go feedback easy and intuitive. You can give praise to their team in real-time, no matter where they are. This makes lattice a great solution for engaging frontline workers and remote teams.
Here are some of our favourite Lattice features:
OKR and goal-setting

One-on-one performance management

Comprehensive people insights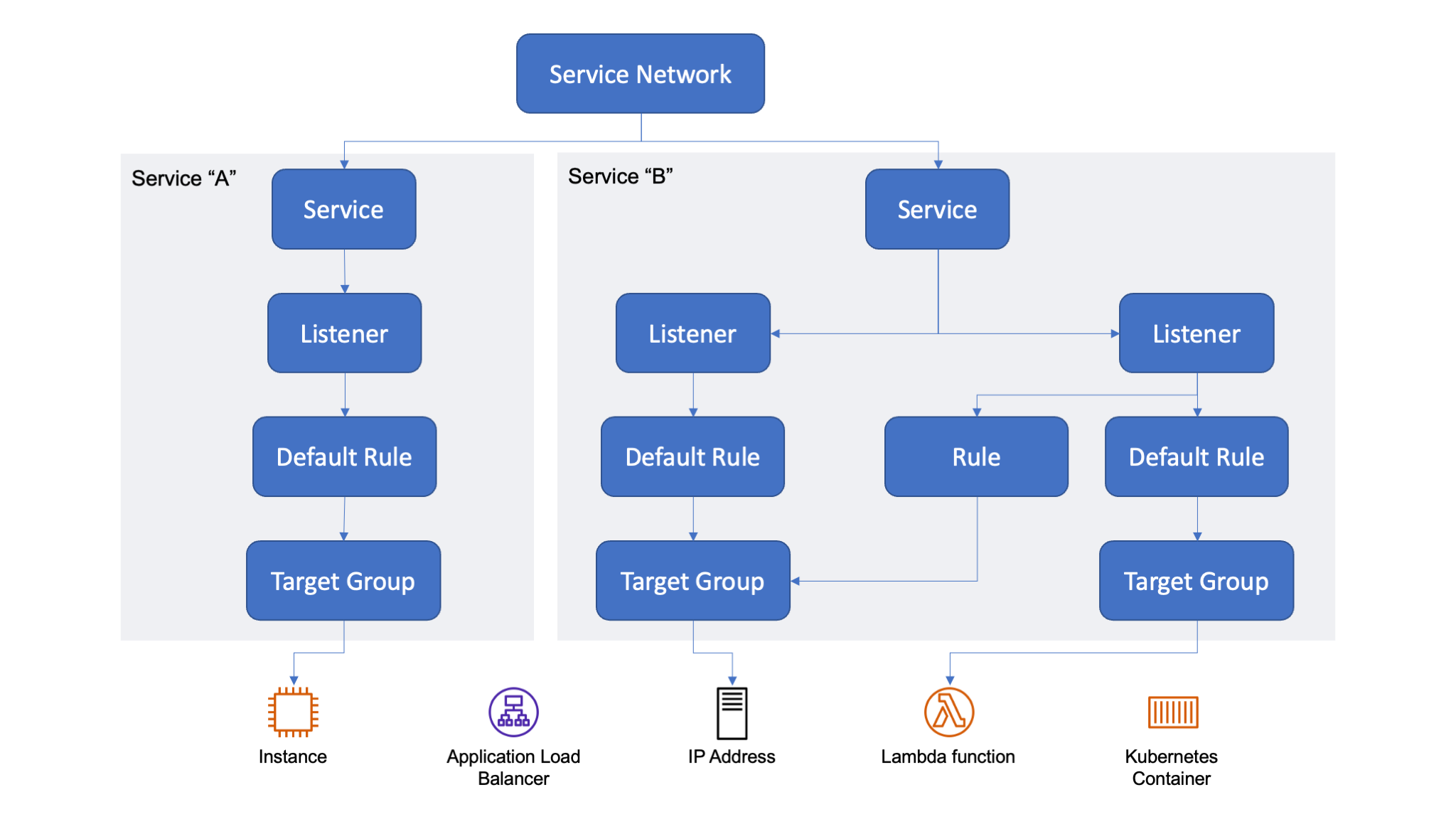 14. Jostle
Jostle is an employee communications hub and mobile app with a range of capabilities. You can upload and share documents, polls, employee milestones, and all the other resources that are important to their workforce. And with reader tracking, you can always check if employees have reviewed key documents.
Here are our favourite Jostle features:
Nearly 50 different integrations, including Slack, Microsoft Teams, and Salesforce.

Employee shoutouts feature

"Discussions" secure instant messaging feature

Sleek file library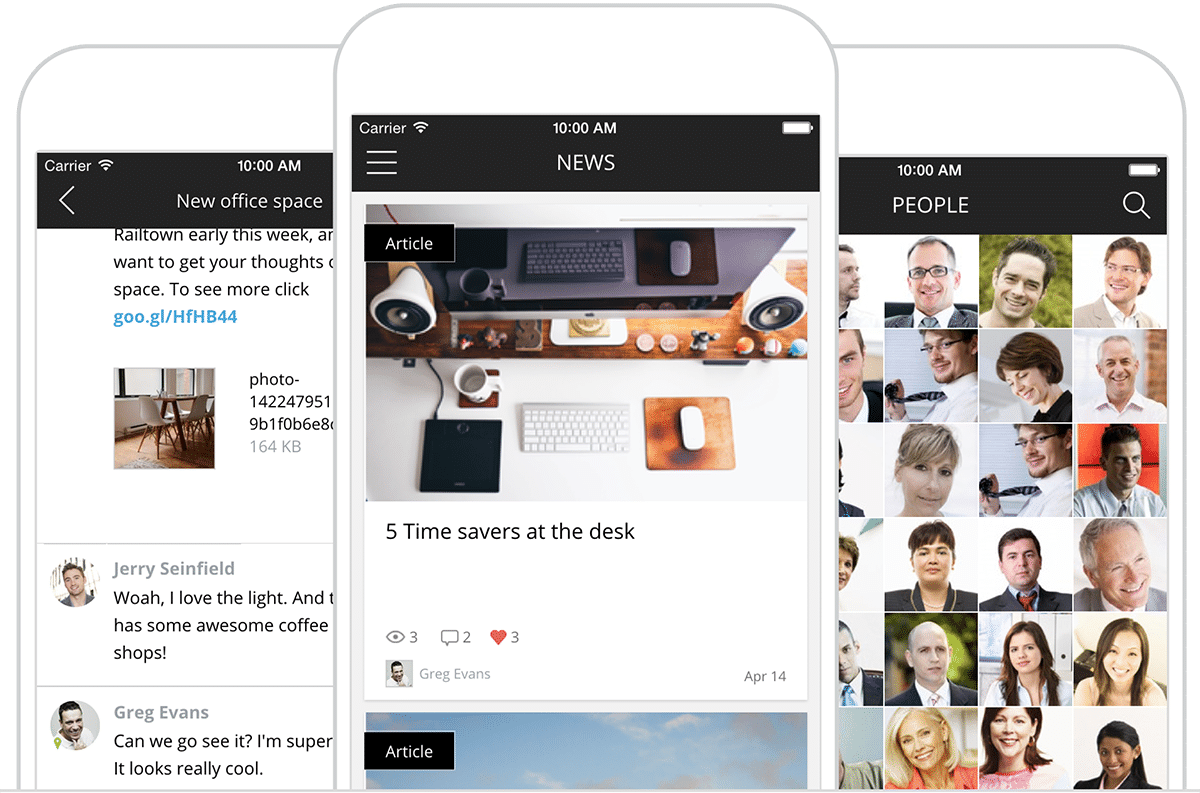 15. Monday
Monday is a visual workforce management app. You can plan, organize, and collaborate on tasks all from one place. With a focus on strong visuals, Monday simplifies management tasks through intuitive visual prompts. It also provides employee performance analytics and breaks down the numbers on a personalized dashboard.
Here are the top Monday features we love:
Fits to any device display

Drag-and-drop functionality

8 different data visualization styles

A library of 200+ workflow templates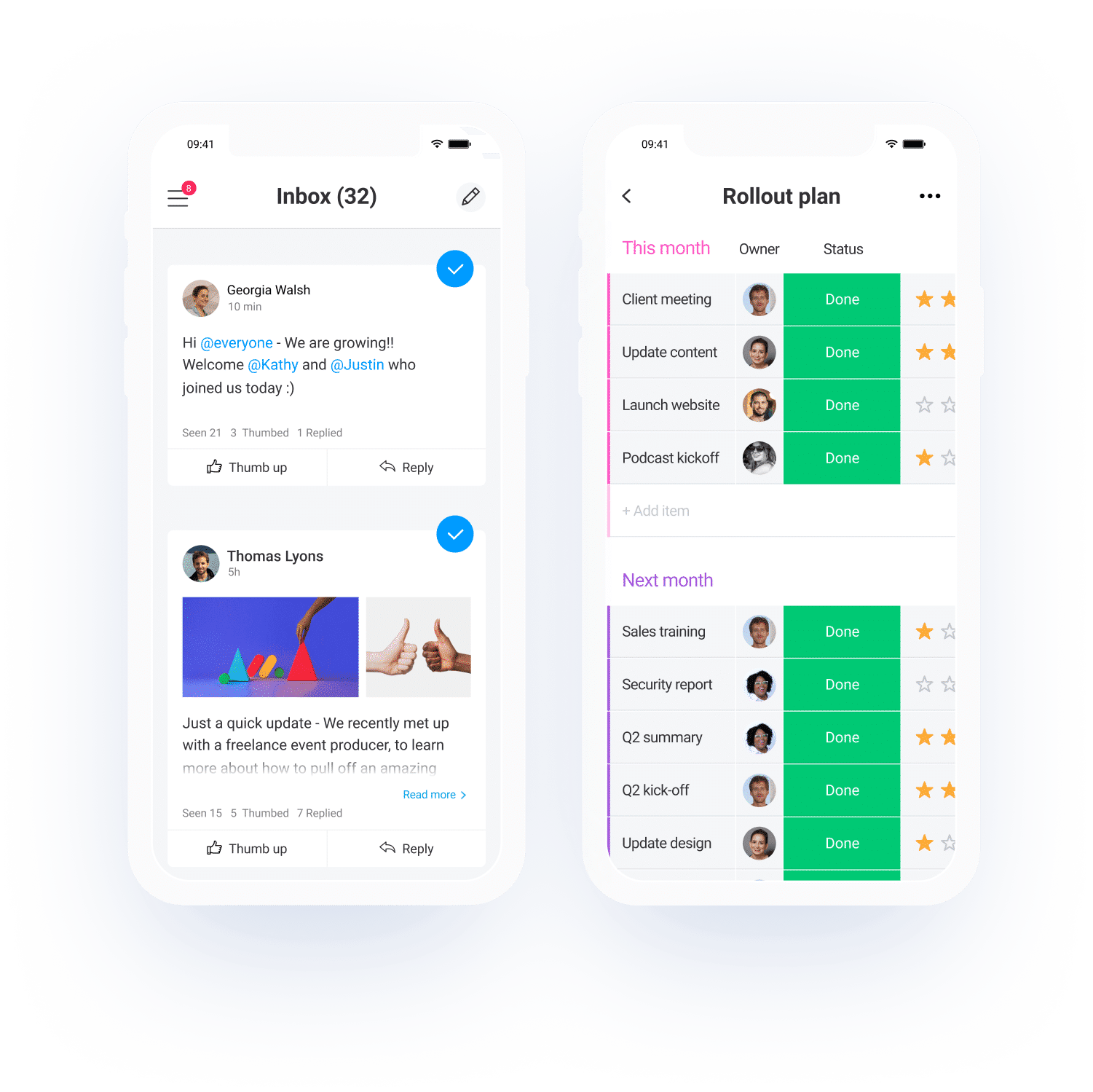 Pick the Best Employee Communication App for Your Workforce
An employee communication app should help smooth out the lines of communication across your workplace and increase productivity. And with dozens of workplace communication apps on the marketplace today, there's sure to be one that fits your unique business needs.
If you want a simple way to upgrade your internal communications, we recommend opting for ContactMonkey. As an all-in-one employee communications app, we let you reach and engage staff from anywhere while enhancing the function of the tools you already love.
Not sure if ContactMonkey is the right choice for your business? Start a free trial to watch ContactMonkey in action and see whether we're a good fit!