Shopping around for Constant Contact alternatives, or internal email tracking software in general? Even if you're not, it's always good to stay on top of market trends and be aware of what options are out there.
You may think you have the best tools possible for internal communications, but there may be something better on the market for you.
Similar to Mailchimp, Constant Contact is a tool widely used for email communications. Although easy to use and versatile, Constant Contact is best for those that are marketing externally, rather than those communicating internally. Before we jump into the best Constant Contact alternatives, let's recap on what exactly Constant Contact is.
What is Constant Contact? 
Constant Contact is an online marketing tool aimed at small businesses, nonprofits, and individuals and is a web-based service.
Constant Contact exists to help these three groups reach a wider audience without breaking the bank. In the year 2019, Constant Contact went beyond email marketing with offerings for websites and social advertising.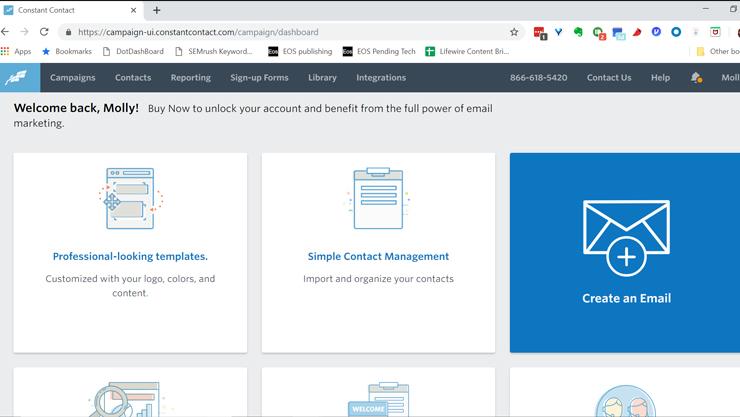 Much like Mailchimp, Constant Contact is a popular option in the email marketing world for enterprenuers or small marketing teams who are looking to create customized email newsletters with a drag-and-drop email editor. You can upload five images for free and have access to free stock images that you can use within your marketing newsletters. 
Email marketers and communicators using Constant Constant can also manage large email lists and add tags accordingly depending on the different ways users may want to segment email distribution lists. With its email preview feature, you can view your newsletter and see how it looks on desktop and mobile, and ensure its responsiveness. 
Should Internal Communicators Use Constant Constant? 
If you're an internal communicator already using Constant Contact, there's nothing wrong with that. We understand that it can be difficult to get executive buy-in for new internal communications tools, as well as adopt them effectively.
However, to ensure your internal communications are as effective as possible and you are using an external marketing tool for employee communications, considering Constant Contact alternatives is a must. 
Limitations of Constant Contact for Internal Communications
Bear in mind that like all other email marketing software, employee newsletters sent from Constant Contact will feature an "unsubscribe" button. As an internal communicator, you'll have to create a new employee list within Constant Contact, rather than using your Outlook distribution lists. 
Other reasons why Constant Contact isn't ideal for internal communications: 
Your internal emails will be coming from Constant Contact's servers, not yours 

Your internal email communications are more likely to end up in the Spam folder as they are coming from an external web app rather than your Outlook or Gmail inbox

You can't

create or send your employee newsletter

in Outlook or Gmail 

You won't have the ability to

gather employee feedback

within your employee newsletters – you'll need something like SurveyMonkey 

You have to keep the "unsubscribe" button and risk employees missing important company news or unsubscribing altogether 
href="https://cta-redirect.hubspot.com/cta/redirect/6282300/e2f159ff-ce38-4e24-88e4-2a7e1572d675″ >
Constant Contact Alternatives: ContactMonkey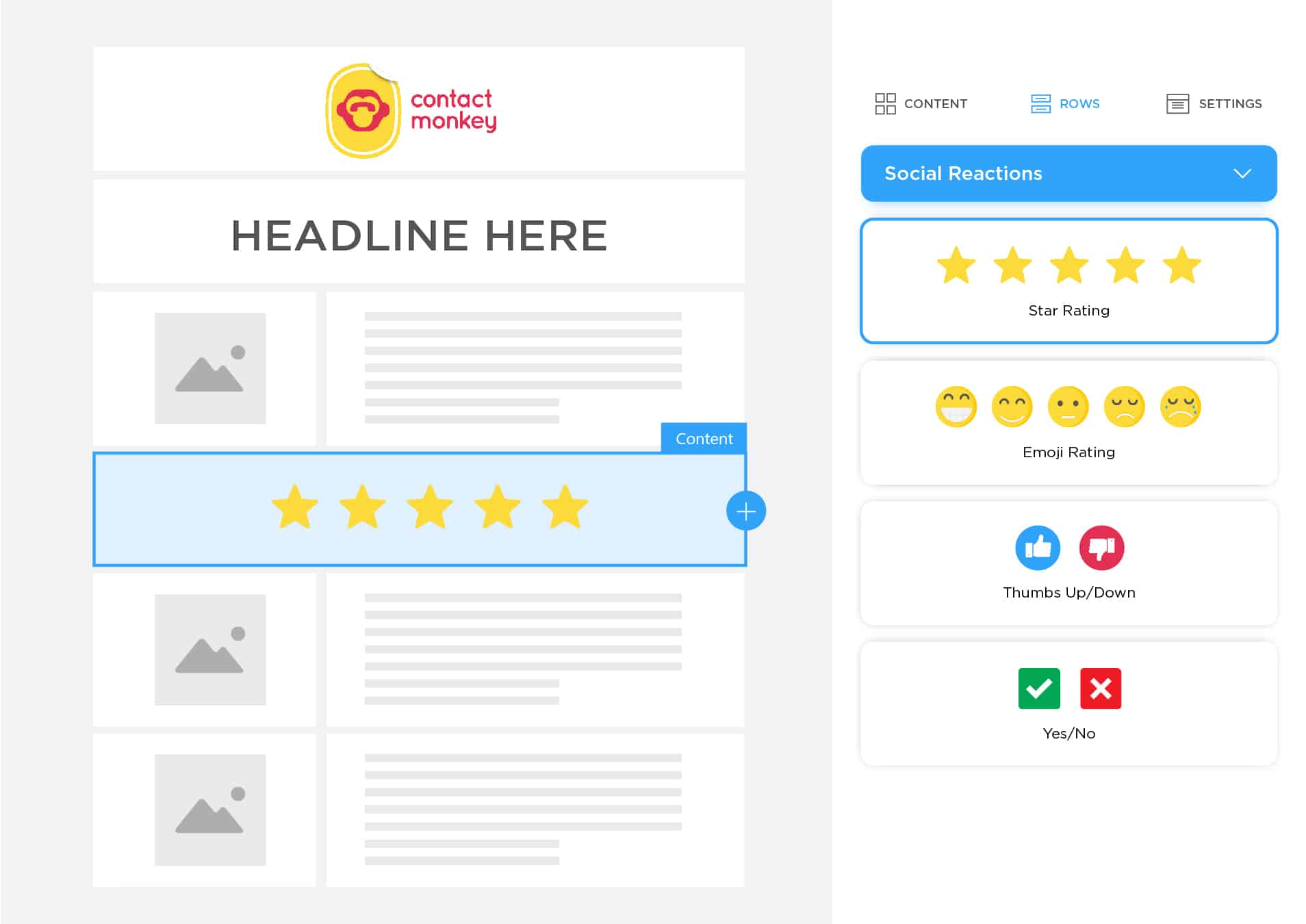 ContactMonkey's tool for internal communications is a great alternative for Constant Contact. ContactMonkey is built right into Outlook or Gmail.
With ContactMonkey, you'll be able to use a simple drag and drop email template builder to create responsive HTML employee newsletters. You can create and build templates from scratch with our drag-and-drop content blocks or choose from dozens of beautiful and responsive email templates for internal communications.
By integrating ContactMonkey into your inbox, you'll also be able to track your communications and gather employee feedback with polls, surveys and comments turning your employee newsletters into a two-way internal communication channel.
Why ContactMonkey is a great Constant Contact alternative: 
Email client integration:

ContactMonkey seamlessly plugs into your Outlook or Gmail—you never have to leave your preferred email client to create, send, and track an internal email or employee newsletter! 

Email template builder:

Design responsive HTML email templates from scratch, choose from our library of pre-built templates. Simply use our drag-and-drop

email template builder

to customize your employee newsletters. 

Personalize your employee communications:

Add your own branding, include company photos or videos, and ask questions based on events in your organization. You can even insert merge tags and personalize your email subject lines and body copy. 

Gather employee feedback with pulse surveys, comments, and emoji reactions:

Add emoji

reactions, pulse surveys, star ratings, and employee comments

to create an interactive email template which can gather employee feedback in real-time. 

You can see all results and employee comments live on your email analytics dashboard.

Easily send internal emails from Outlook or Gmail: Since ContactMonkey integrates with your inbox you'll no longer have to manage your employee lists. Simply send your employee communications to your existing Outlook distribution lists, Google Groups or upload a CSV file.
Track email metrics

: You can

track who opened

your internal newsletter, when they opened it, and on which device they opened it by analyzing opens and link clicks.

Guaranteed internal reach:

Our tool is specifically designed for internal communications pros in mind. With no unsubscribe option you can make sure all employees get the information they need. 

Increased security:

Keep your lists and campaigns on your own servers, rather than a public URL or external server. 
Although Constant Contact offers an email template builder, HTML email templates, personalization options, and options to manage shared licenses, there are a myriad of additional features that ContactMonkey offers that are suited much more to internal communicators. 
href="https://cta-redirect.hubspot.com/cta/redirect/6282300/1603ebdd-d94d-4e3e-9d1a-59d287ec24ab" >
3 Additional Constant Contact Alternatives
Even if you're convinced that ContactMonkey is the ideal choice for your internal communications, it's important to do research and consider other options. We want to give you some answers to the question: What other Constant Contact alternatives are there?
Constant Contact Alternatives: SendInBlue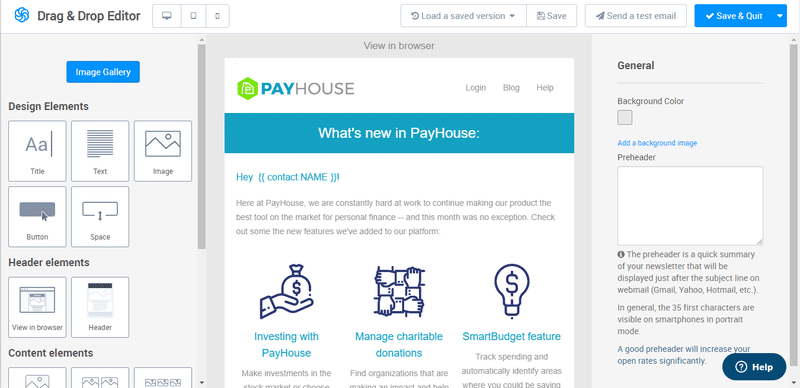 Despite Constant Contact's popularity, SendInBlue is an excellent Constant Contact alternative due to its exceptional social media tracking and how this integrates into Google Analytics.
Here are some other helpful features:
Segmentation options:

Just like in Constant Constant, you can manage your employee lists and target users based on different criteria, so you can cater your internal newsletter content to your employees' unique needs.

Detailed reporting:

Evaluate the success of your campaigns by tracking

relevant email metrics

to gauge employee engagement such as opens, link clicks, etc.

Powerful design tool:

SendinBlue's intuitive drag-and-drop interface will allow you to

create employee newsletters

with ease.
Constant Contact Alternatives: MailerLite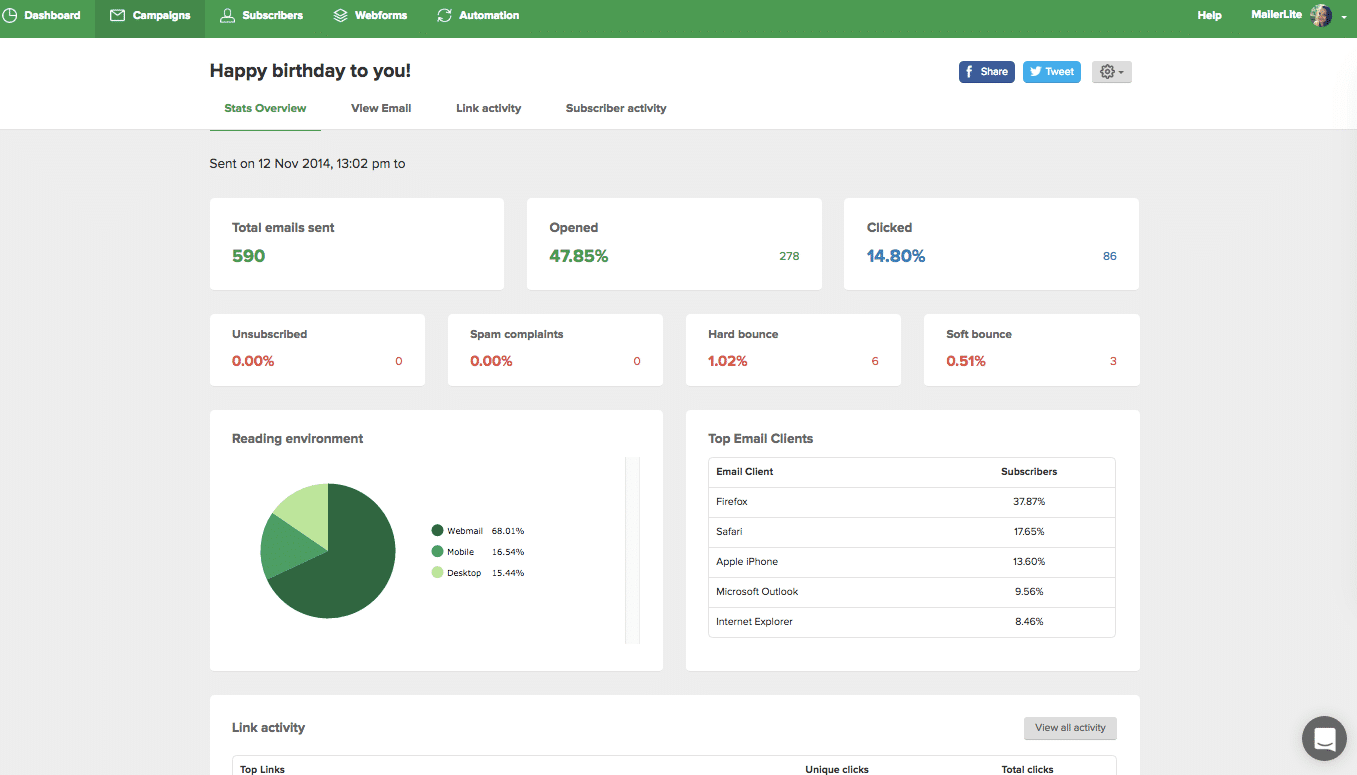 MailerLite is a somewhat young contender on the market, and an excellent Constant Contact alternative. MailerLite's newsletter tool has many great features: 
Drag-and-Drop Newsletter Editor:

No design skills necessary. Just like with Mailchimp, all you have to do is simply drag email blocks and put them where you want.

Dynamic Content:

Take personalization to the next level by dynamically targeting email blocks to specific employee lists.
Constant Contact Alternatives: Moosend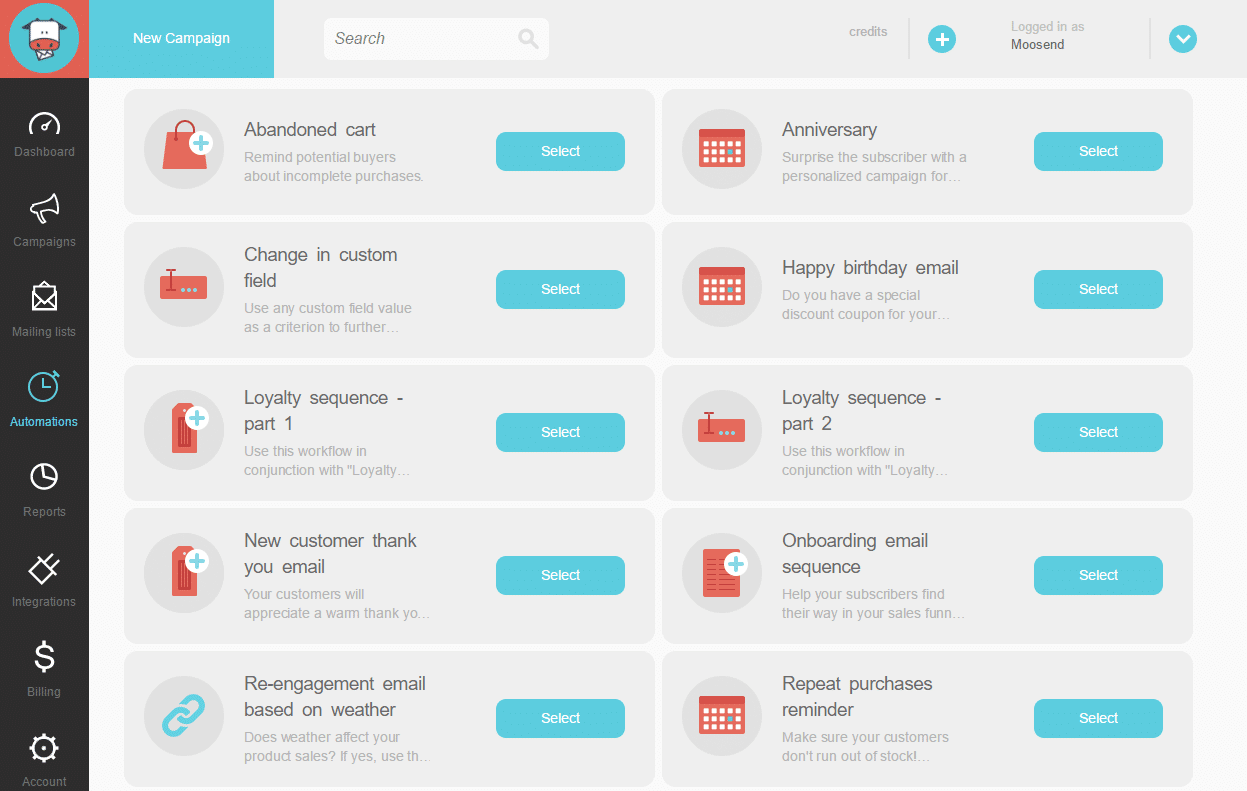 Although lesser-known, Moosend is one of the best Constant Contact alternatives on the market when it comes to creating newsletters with ease. Here's why:
Drag and Drop Campaign Editor:

You can

design beautiful internal newsletters with ease

using the drag-and-drop feature. 

Real-time analytics:

Track every email campaign sent to gauge employee engagement by analyzing opens and link clicks.
href="https://cta-redirect.hubspot.com/cta/redirect/6282300/e2f159ff-ce38-4e24-88e4-2a7e1572d675″ >
What is the Best Alternative to Constant Contact? 
While we're compelled to say that ContactMonkey is at the top of the list of Constant Contact alternatives, the needs of your organization will inform your software decision. If you're not exclusively sending out internal communications, then you may want to consider an email marketing tool that allows you to reach an external audience and comply with email opt-in legislation. 
However, if you're using Constant Contact or any Constant Contact alternatives for your internal communications, you should consider a change. 
In Summary: Constant Contact Alternatives 
All emails send via Constant Contact must have an unsubscribe feature by law 

Data that's meant to be kept internal is stored on public servers when using external marketing systems

List management cannot be automated or integrated with Outlook of Gmail

You cannot gather employee feedback with Constant Contact
Although these factors may come across as mere inconveniences, they can have a major on how your internal communications perform. If employees have the option to unsubscribe and have one less email in their inbox, they'll probably do it. If company information is on a public server and there's a security breach… you get the idea. Why take the risk? 
You may also like:
Why You Need A Dedicated Internal Communications Tool for Internal Marketing
Ultimate Guide to Internal Communications
7 Best Practices for Engaging Internal Emails
How to Create an Internal Communications Plan
Best Mailchimp Alternatives for Newsletters
Are you ready to move away from external marketing tools for your internal communications? There's no time like the present to explore Constant Contact alternatives, including ContactMonkey. Create, send, and track beautiful internals emails by booking a personalized demo today!
href="https://cta-redirect.hubspot.com/cta/redirect/6282300/5bdfb1bf-4869-444c-9ccb-234e6d7a7d55″ >