Shopping around for Constant Contact alternatives, or internal email tracking software in general? Even if you're not, it's always good to stay on top of market trends and be aware of what options are out there.
You may think you have the best tools possible for internal communications, but there may be something better on the market for you.
Similar to Mailchimp, Constant Contact is a tool widely used for email communications. Although easy to use and versatile, Constant Contact is best for those that are marketing externally. Those communicating internally should consider possible alternatives.
Before we jump into the best Constant Contact alternatives, let's recap on what exactly Constant Contact is.
What is Constant Contact?
Constant Contact is an online marketing tool aimed at small businesses, nonprofits, and individuals and is a web-based service.
Constant Contact exists to help these three groups reach a wider audience without breaking the bank. In the year 2019, Constant Contact went beyond email marketing with offerings for websites and social advertising.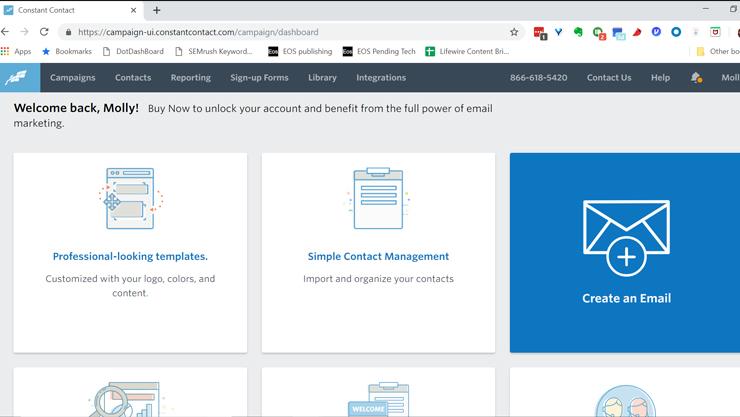 Much like Mailchimp, Constant Contact is a popular option in the email marketing world for entrepreneurs or small marketing teams.
Constant Contact is especially useful for those who are looking to create customized email newsletters with a drag-and-drop email editor. You can upload five images for free and have access to free stock images that you can use within your marketing newsletters.
Email marketers and communicators using Constant Constant can also manage large email lists and add tags accordingly.
With its email preview feature, you can view your newsletter and see how it looks on desktop and mobile, and ensure its responsiveness.
Should Internal Communicators Use Constant Contact?
If you're an internal communicator already using Constant Contact, there's nothing wrong with that. We understand that it can be difficult to get executive buy-in for new internal communications tools. Not to mention, it's often hard to adopt them effectively.
However, to ensure your internal communications are as effective as possible, considering Constant Contact alternatives is a must.
Limitations of Constant Contact for Internal Communications
Bear in mind that like all other email marketing software, employee newsletters sent from Constant Contact will feature an "unsubscribe" button. As an internal communicator, you'll have to create a new employee list within Constant Contact, rather than using your Outlook distribution lists.
Other reasons why Constant Contact isn't ideal for internal communications:
Your internal emails will be coming from Constant Contact's servers, not yours

The internal email communications you send are more likely to end up in the Spam folder as they are coming from an external web app rather than your Outlook or Gmail inbox

You can't create or send your employee newsletter in Outlook or Gmail

You're not able to

gather employee feedback

within your employee newsletters – you'll need something like SurveyMonkey

You have to keep the "unsubscribe" button and risk employees missing important company news or unsubscribing altogether.
Constant Contact Alternatives
Now that we better understand what Constant Contact can and can't do, let's dive into some alternatives. When considering these options, remember to reflect on your goals. What do you want your internal communications tool to accomplish? Is it creating the most visually appealing email designs? Are embedded feedback tools a priority?
Some tools offer multiple functions while others zero in on a particular feature. Keep reading to determine which tool is right for you.
1. ContactMonkey
ContactMonkey's tool for internal communications is a great alternative for Constant Contact. ContactMonkey is built right into Outlook or Gmail.
With ContactMonkey, you'll be able to use a simple drag and drop email template builder to create responsive HTML employee newsletters.
Not sure what to include in your internal emails? With ContactMonkey's OpenAI ChatGPT integration, you can write a prompt describing what you'd like to include in your emails, and it will produce text that you can customize for your employees.
You can create and build templates from scratch with our drag-and-drop content blocks. Alternatively, you can choose from dozens of beautiful and responsive email templates for internal communications.
By integrating ContactMonkey into your inbox, you'll also be able to track your communications and gather employee feedback. You can do this with polls, surveys, and comments, turning your employee newsletters into a two-way communication stream.
You can even create your own custom email lists without needing IT approval with ContactMonkey's List Management feature. Create different email lists so you can send relevant information to your employees and avoid flooding their inboxes with emails.
ContactMonkey integrates with your Human Resources Information System (HRIS) like Workday and ADP, as well as Azure Active Directory, so your custom email lists will automatically update as employees join and leave your organization.
Why ContactMonkey is a great Constant Contact alternative:
Email client integration:

ContactMonkey seamlessly plugs into your Outlook or Gmail—you never have to leave your preferred email client to create, send, and track an internal email or employee newsletter!

Email template builder:

Design responsive HTML email templates from scratch, choose from our library of pre-built templates. Simply use our drag-and-drop

email template builder

to customize your employee newsletters.

Personalize your employee communications:

Add your own branding, including company photos or videos, and ask questions based on events in your organization. You can even insert merge tags and personalize your email subject lines and body copy.

Gather employee feedback with pulse surveys, comments, and emoji reactions:

Add emoji

reactions, pulse surveys, star ratings, and employee comments

to create an interactive email template that can gather employee feedback in real-time.

You can see all results and employee comments live on your email analytics dashboard.

Easily send internal emails from Outlook or Gmail: Since ContactMonkey integrates with your inbox you'll no longer have to manage your employee lists. Simply send your employee communications to your existing Outlook distribution lists, Google Groups or upload a CSV file.
Track email metrics

: You can track who opened your internal newsletter when they opened it, and on which device they opened it by analyzing opens and link clicks.

Click maps: Want a qualitative look at your email engagement? Using ContactMonkey's click maps feature, you can see what parts of your internal communications grab your employees' attention so you can optimize your email design.
Guaranteed internal reach:

Our tool is specifically designed for internal communications pros in mind. With no unsubscribe option you can make sure all employees get the information they need.

Increased security:

Keep your lists and campaigns on your own servers, rather than a public URL or external server.

Gather email metrics anonymously to protect your employees' privacy.
Although Constant Contact offers an email template builder, HTML email templates, personalization options, and options to manage shared licenses, there are a myriad of additional features that ContactMonkey offers that are suited much more to internal communicators.
In short, if your focus is employee communications, external tools such as Constant Contact and Campaign Monitor simply don't cut it. Use a dedicated internal messaging tool like ContactMonkey instead.
Get powerful email analytics with ContactMonkey.
Know exactly what content resonates with employees.
2. Constant Contact alternatives: SendInBlue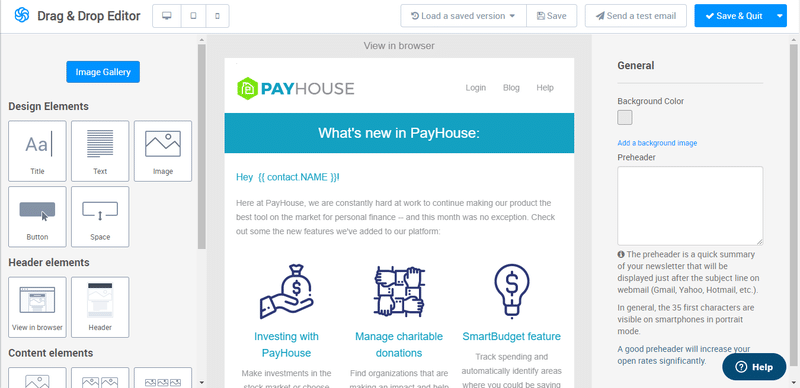 Despite Constant Contact's popularity, SendInBlue is an excellent Constant Contact alternative due to its exceptional social media tracking and how this integrates into Google Analytics.
Here are some other helpful features:
Segmentation options:

Just like in Constant Constant, you can manage your employee lists and target users based on different criteria, so you can cater your internal newsletter content to your employees' unique needs.

Detailed reporting:

Evaluate the success of your campaigns by tracking

relevant email metrics

to gauge employee engagement such as opens, link clicks, etc.

Powerful design tool:

SendinBlue's intuitive drag-and-drop interface will allow you to create employee newsletters with ease.
3. Constant Contact alternatives: Hubspot Email Marketing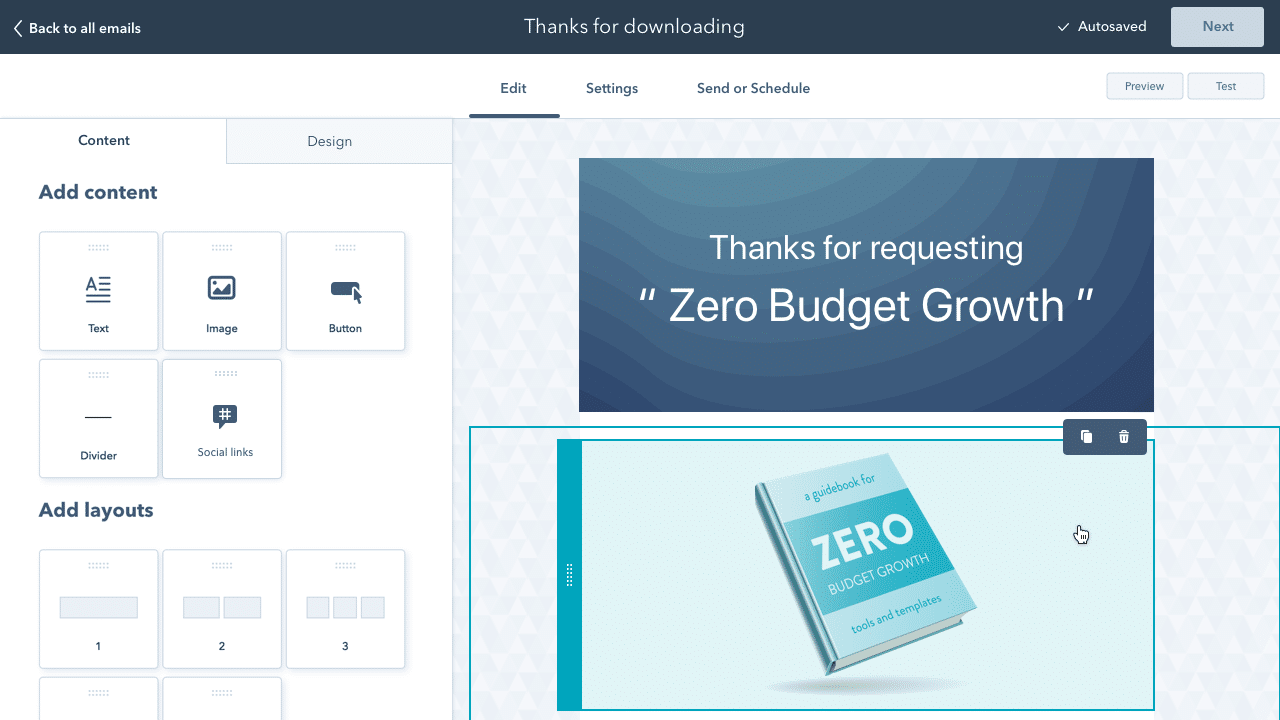 HubSpot is a good alternative to Constant Contact for its advanced automation and personalization features. HubSpot is much more than an email tool; it comes with many useful functionalities:
Drag and drop:

HubSpot Email Marketing

uses a drag-and-drop interface that makes it easy to create custom email designs that match your brand's look and feel. You can also choose from a selection of customizable email templates to match your goals.

CRM and personalization:

Your emails are connected to the

free CRM

where all of your contacts' information is stored. You get a detailed timeline of their interactions with your website. And you can use this data to personalize your emails.

Marketing automation:

HubSpot lets you create custom kickback emails and

automation workflows

. You can choose from a wide variety of triggers like clicks and page views.

Intuitive analytics reports:

The

analytics

dashboard gives you a visual representation of the impact of your emails have had on your business. With HubSpot, you can easily keep track of your goals and optimize your campaigns.
4. Constant Contact alternatives: MailerLite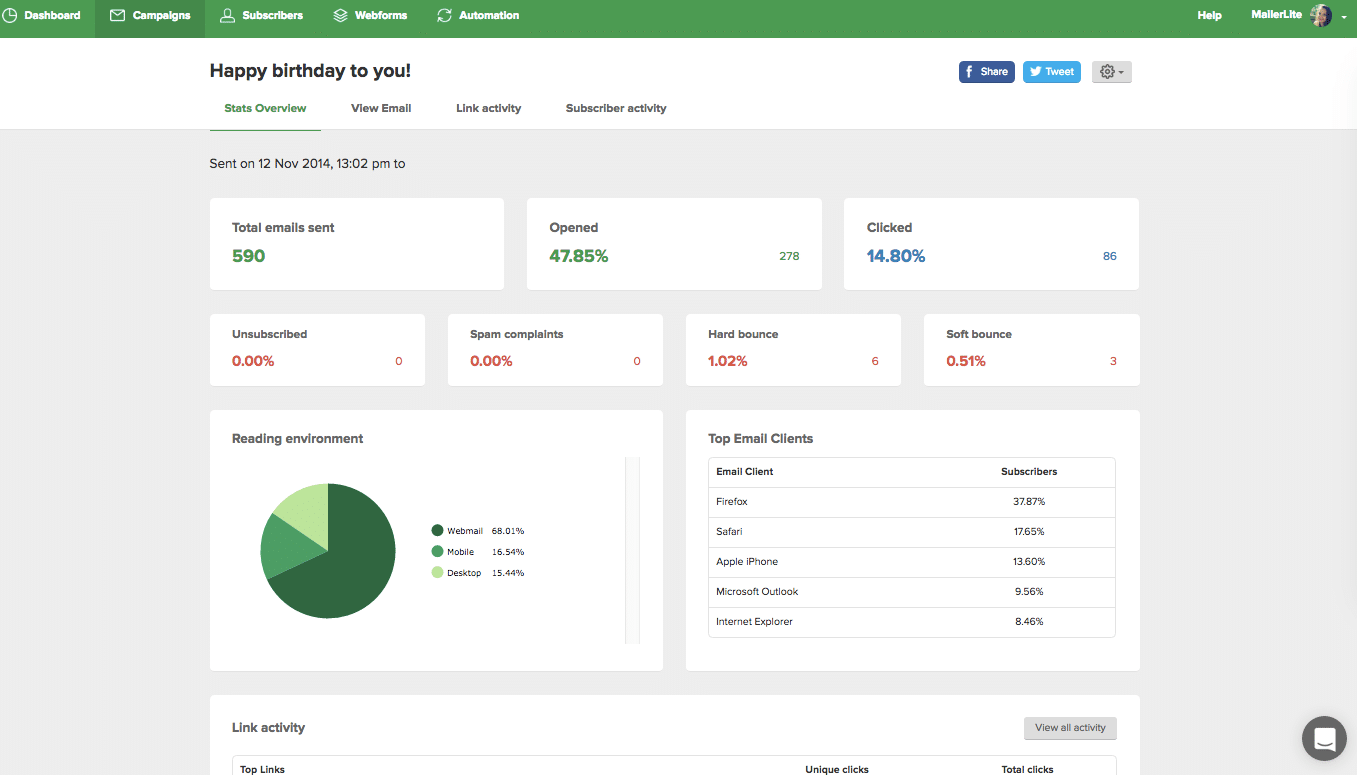 MailerLite is a somewhat young contender on the market and an excellent Constant Contact alternative. MailerLite's newsletter tool has many great features:
Drag-and-Drop Newsletter Editor:

No design skills necessary. Just like with Mailchimp, all you have to do is simply drag email blocks and put them where you want.

Dynamic Content:

Take personalization to the next level by dynamically targeting email blocks to specific employee lists.
5. Constant Contact alternatives: Moosend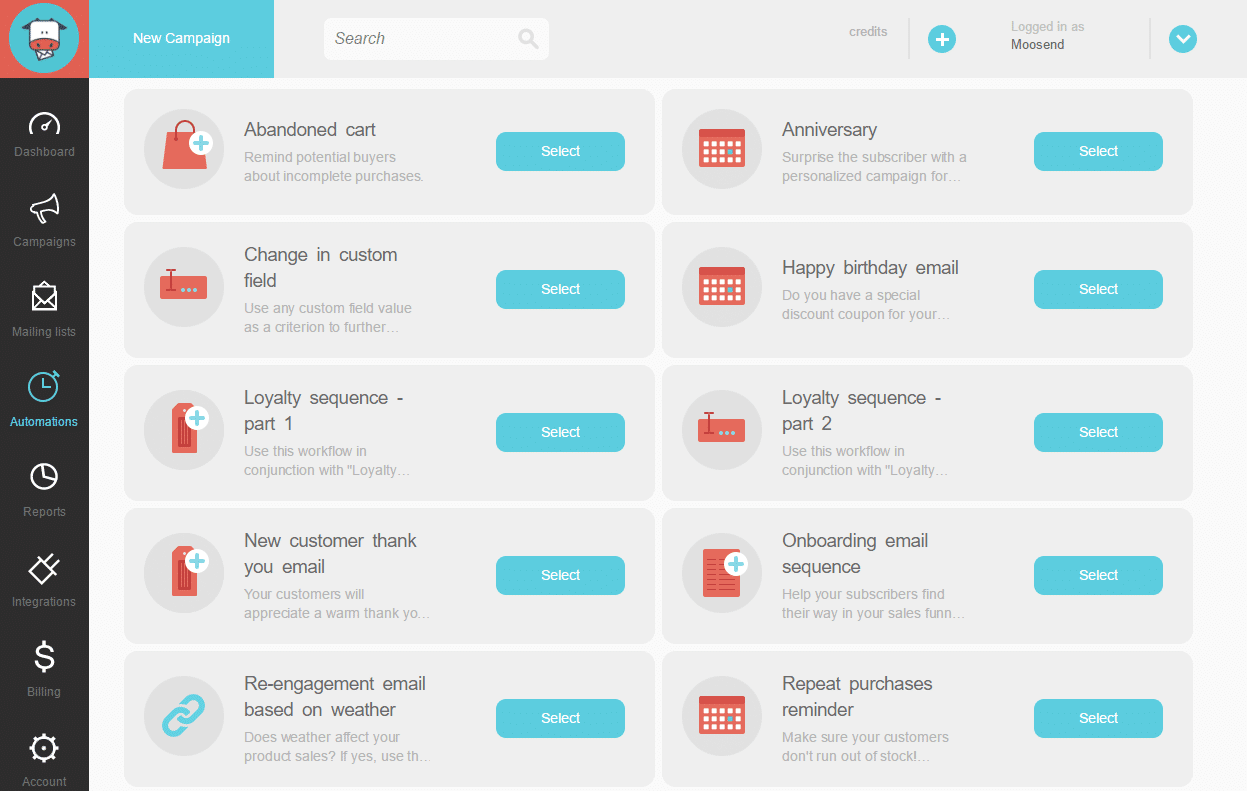 Although lesser-known, Moosend is one of the best Constant Contact alternatives on the market when it comes to creating newsletters with ease. Here's why:
Drag and Drop Campaign Editor:

You can

design beautiful internal newsletters with ease

using the drag-and-drop feature.

Real-time analytics:

Track every email campaign sent to gauge employee engagement by analyzing opens and link clicks.
6. Bonus Constant Contact alternatives: Omnisend
Omnisend has made a name for itself in the email marketing industry with its easy-to-use platform for building emails, newsletters, and automation workflows for e-commerce. As an excellent alternative to Constant Contact, Omnisend offers:
Drag and Drop Newsletter Builder: Create or customize a pre-optimized template to send a gorgeous newsletter in minutes.
Sleek Automation Workflows: Take email marketing up a notch by creating and enabling automation workflows that increase your email revenue, but not your workload.
Smart Segmentation: Use Omnisend's segmentation tools to target your customers wherever they are with the content they want to see.
7. Mailchimp
Mailchimp is a well-known marketing automation solution. Its standout features include an intuitive user interface as well as a variety of features that make it easy for any marketing team to build targeted email campaigns.
Some features that you may find useful include:
Drag-and-drop builder: create emails with drag and drop elements or choose from a number of pre-designed templates.
List segmentation: Segment your email list depending on your criteria and deliver more personalized emails.
CRM solution: offers a HubSpot CRM that enables you to manage customer data and personalize your lead generation efforts.
Real-time analytics: See how your campaigns are performing in real-time statistics like open and click-through rates.
Mailchimp comes packed with powerful email marketing automation features. But it doesn't offer Outlook or Gmail integration, so you'll need to switch between applications to send internal newsletters.
Here's a breakdown of how Mailchimp compares to ContactMonkey: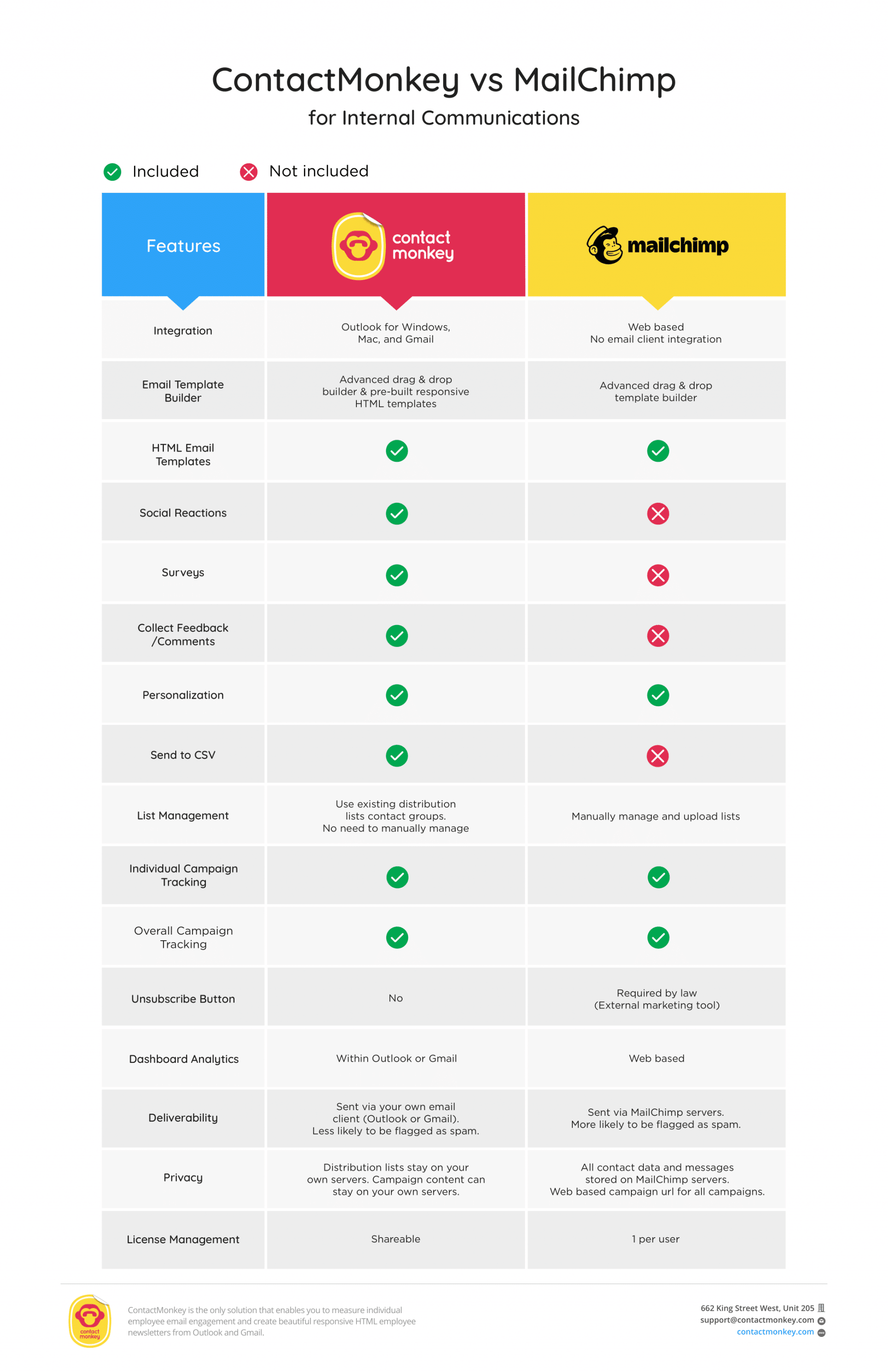 8. Keap
While Keap is a marketing software mostly geared towards startups, the platform offers a number of features for internal communications. IC teams may find the following features especially useful:
SMS messaging: send SMS messages to your team and receive alerts when someone emails, texts or calls.
Scheduling: Keap lets you ditch the back-and-forth and easily set up appointments with employees.
Reporting: measure the impact of your emails using the analytics dashboard and get insights about your campaigns.
Keap is a reliable email marketing platform, but its target audience is primarily service-based businesses and entrepreneurs.
You also need to use their web application to use their features. That means it's not ideal for internal communications teams that regularly use Outlook or Gmail.
What Is the Best Alternative to Constant Contact?
While we're compelled to say that ContactMonkey is at the top of the list of Constant Contact alternatives, the needs of your organization will inform your software decision. If you're not exclusively sending out internal communications, then you may want to consider an email marketing tool that allows you to reach an external audience and comply with email opt-in legislation.
However, if you're using Constant Contact or any Constant Contact alternatives—like Poppulo for internal communications—you should consider a change. 
In summary: Constant Contact alternatives
All emails send via Constant Contact must have an unsubscribe feature by law

Data that's meant to be kept internal is stored on public servers when using external marketing systems

List management cannot be automated or integrated with Outlook of Gmail

You cannot gather employee feedback with Constant Contact
Although these factors may come across as mere inconveniences, they can have a major on how your internal communications perform. If employees have the option to unsubscribe and have one less email in their inbox, they'll probably do it. If company information is on a public server and there's a security breach… you get the idea. Why take the risk?
There's no time like the present to explore Constant Contact alternatives, including ContactMonkey. Create, send, and track beautiful internal emails by booking a personalized demo today!