With so many communication tools available in the modern workplace, you might think email has become outdated. But the future of email looks bright: it's an essential tool for internal and external communications.
In 2021, about 319.6 billion emails were sent and received daily—that's 4.1% more emails sent than the previous year. The number of email users globally is only expected to grow in the next four years.
This comes as no surprise, as ContactMonkey's Global State of Internal Communications 2022 revealed that email is the most popular channel for internal communications, with 95% of internal communicators using email as the primary mode for communications. It's clear that email will continue to be essential for organizations worldwide, so let's look at what's in store for the future of email.
Engage staff with a modern internal email tool.
Start a 14-day trial. No credit card is necessary. Zero risk.
Why Is Email Here to Stay?
Email let's you communicate effectively with both internal and external audiences. It's fast, efficient, and accessible. It's no wonder why it's a wildly popular communication channel for almost every business on Earth.
Email goes straight to employees' inboxes, reducing the chances of them missing essential communications. Compared to other communication channels like Slack and Zoom, email does not require your recipient to download a program in order to receive information.
Unlike internal chat tools, you can confirm that your recipient has not only read your email but has also taken action. With tools like ContactMonkey's internal email analytics, you can see detailed information about your email engagement like click-through rate, read time, opens by device and locations, open times, and more: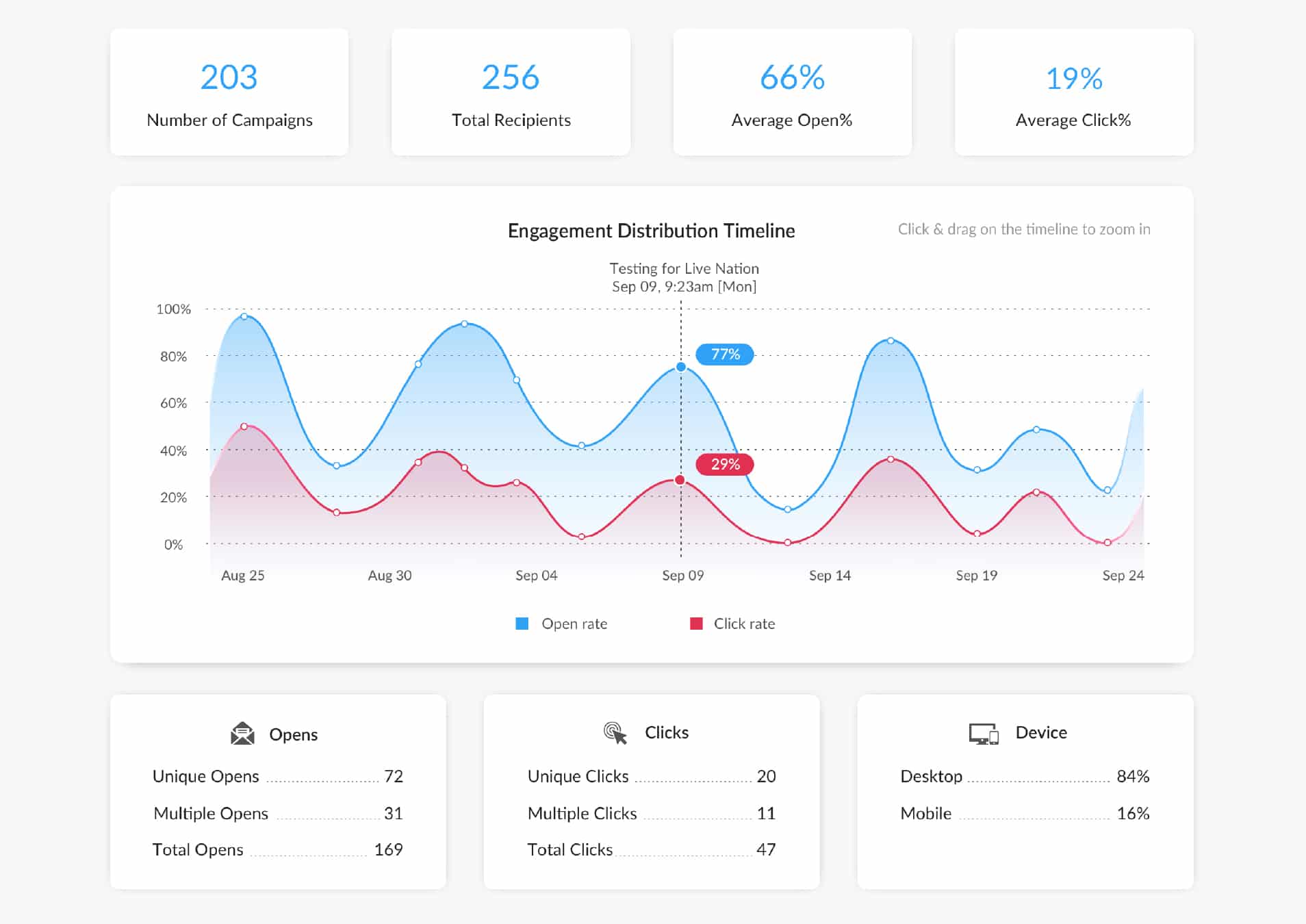 Moreover—with ContactMonkey you no longer have to deal with barriers like Outlook sending limits and Gmail email limits. Optimize your internal communications process, so you can create, send, and track emails in Gmail and Outlook with ease.
If your organization has internal or external regulations around email privacy, you can use ContactMonkey's anonymous email tracking to gather email metrics while maintaining your employees' privacy.
Email Trends for the Future
We break down some of the top trends and best practices that we see guiding the future of email. Staying on top of the latest innovations in the world of email will help your business communications remain effective.
Communicating in a variety of styles
Internally, organizations can use emails for employee newsletters, company updates, announcements, events, celebrations, collaboration, and more.
With email, you can organize all important information in one place and share it together. You can mark high-priority emails as critical and personalize email subject lines, grabbing the reader's attention immediately. Recipients can also save or sort email communications into appropriate categories for the future.
But you can do so much more to drive engagement and encourage open-ended communication using your emails. With ContactMonkey's interactive email features like emoji reactions, star ratings, employee net promoter score surveys, yes/no and thumbs up/down reactions, and more you can use your internal emails measure employee engagement and collect employee feedback: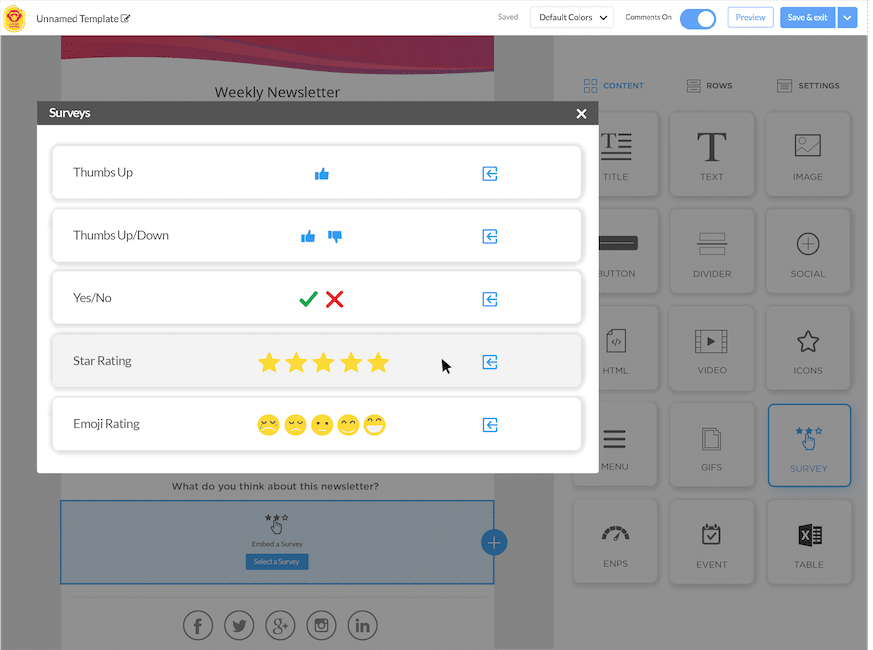 Adopting integrations
Email is continuously evolving. In the early 2000s, email only had basic features such as CC'inge email to multiple recipients or adding a signature. Later, Outlook introduced HTML templates.
Today, there are various email integrations to help you improve your digital employee experience. ContactMonkey is one email integration that lets you send enhanced emails.
With ContactMonkey, you can design beautiful emails with our email template builder.
You can use ContactMonkey's email analytics to understand user behaviour and pinpoint what email content engages your employees. All of this can be from your Outlook and Gmail inboxes.
With time and technology, we hope to see more innovative integrations for email.
Email interactivity
User interactivity within email will open room for more engaging email campaigns that create dialogue with recipients. It will also enable email designers to adapt content to readers' needs by directly engaging with them and asking what sort of content they prefer.
Interactive emails refer to a type of email that allows users to click, respond, or comment to various email features. A great example of interactive emails are those that include surveys and anonymous commenting options: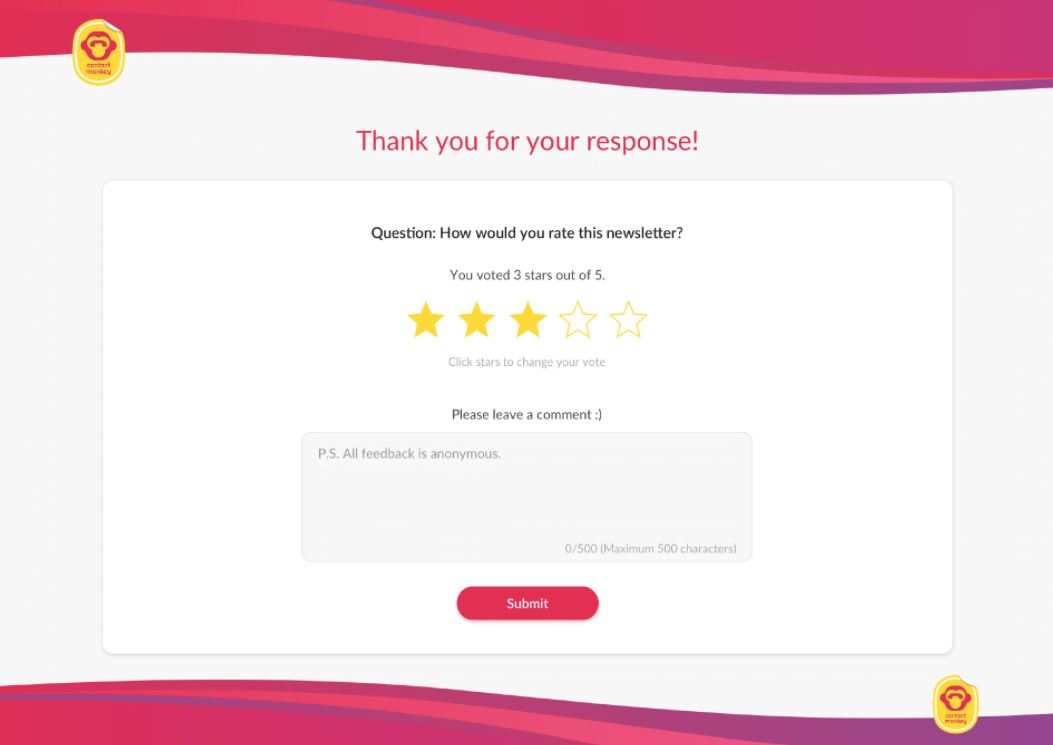 Communications teams and email designers can directly ask readers questions. By learning more about their readers, communications pros can tailor their future emails according to survey responses.
With ContactMonkey's interactive email tool, you can embed employee surveys using Outlook or Gmail and add anonymous commenting options right into your weekly newsletter.
You can also drive email engagement by targeting employees with information directly relevant to them using custom email lists. Custom email lists help you get information to employees that need it while reducing the amount of emails your entire organization receives.
Using ContactMonkey's List Management feature, you can create your own custom email lists without needing IT. These lists can integrate with your Human Resource Information System (HRIS) like Workday and ADP, as well as Azure Active Directory, so they'll automatically update as employees join and leave your organization.
Responsive design
If you often check your email on your phone, you already know that it can sometimes be a harrowing experience. Your company newsletter may look amazing when opening it in a PC inbox, but becomes unintelligible when compressed into a tiny screen with miniature fonts, thin columns, and a distorted layout.
Mobile is now the most popular communications platform, with 42% of all emails being read on a mobile device. With ContactMonkey, you can create responsive HTML emails that work on all devices and email service providers, including mobile devices. You can even preview what your email will look like with our email template builder: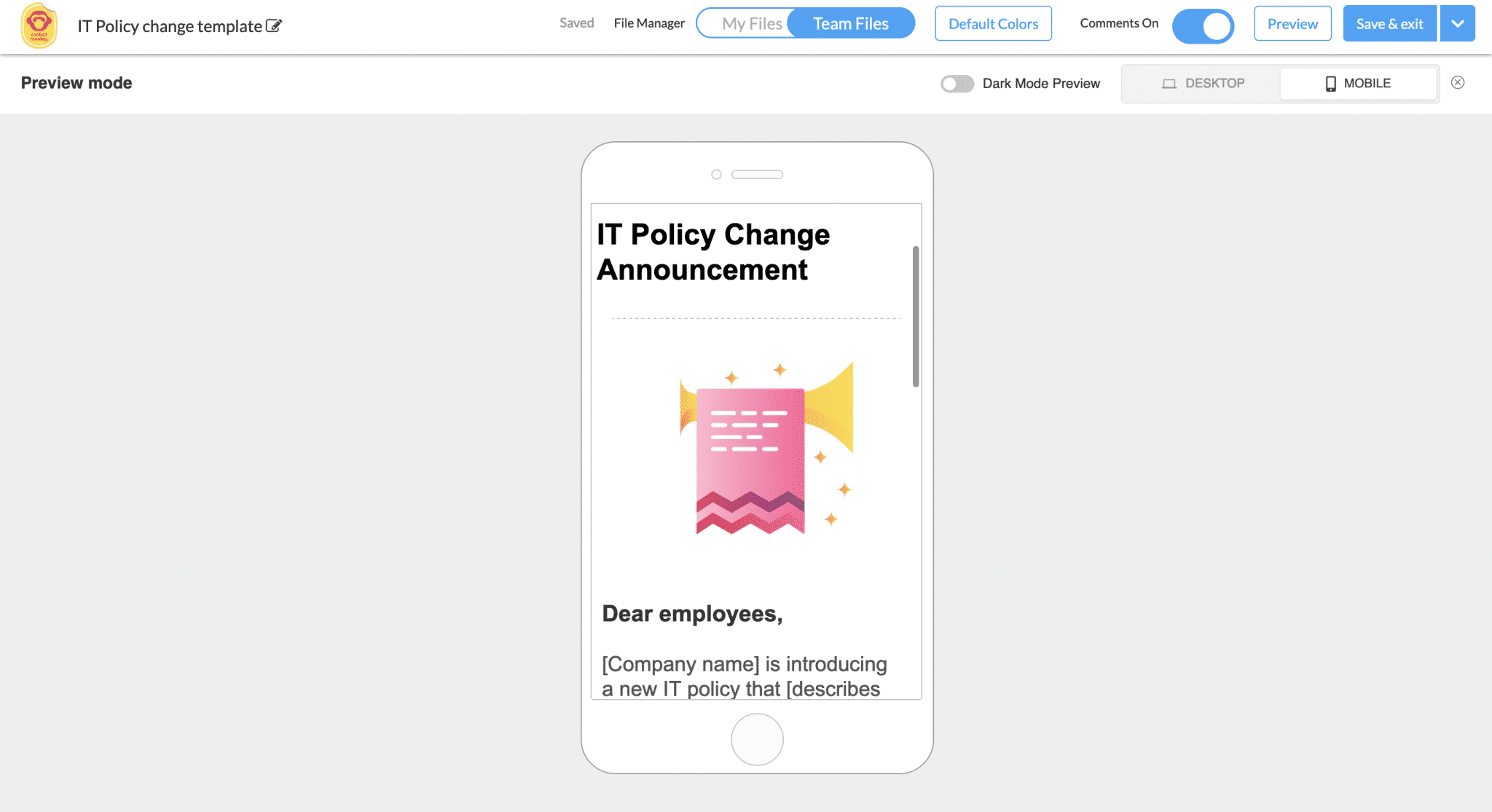 ContactMonkey's email template builder and responsive employee newsletter templates are great tools to tackle rendering issues.
You can access our extensive library of professionally-designed email templates and customize them with ease using our email template builder. You can also have multiple people working on a template all at once and watch changes happen LIVE—just like Google Docs.
Animated GIFs
We already love animation in our social media (think animated memes and boomerangs). In the near future, animation will become a key driving force of email engagement as well. CSS3 animations and animated GIFs in emails will all be giving emails a fresh, new face.
Not only do animations provide more opportunities for engagement, but they can also boost open and click-through rates. Through animations, emails gain a new shape, structure, and feel. Animated features let internal communications teams:
Catch the reader's attention more quickly
Draw emphasis to a CTA or key message
Drive recipients to sign up for events, courses, committees, and a whole lot more.
Animations also come in different styles and formats. These include:
Rotating photos: let you show different styles or types of products through a rotating set of images in your email.
Text highlights: make parts of your text alternate in colour and helping to emphasize a company name, CTA, or other important parts of your message.
Motion: this type of animation displays slightly different angles in a sequence of events and gives the appearance of movement.
Depth animation: makes your email look 3D by positioning your animation to float above other design elements and throughout the email.
To make sure your animations are rendered well across different email providers, you need to ensure responsive and thoughtful design. Animated GIFs are the best way to ensure your email renders properly with all your email recipients.
Using ContactMonkey's email design software, it's incredibly easy to add GIFs, videos and other animations into your emails. Create email templates in our drag-and-drop email template builder with as many assets as you'd like without having to worry about Outlook's email size limit.
If you're struggling to come up with email content, you can use ContactMonkey's OpenAI ChatGPT integration to quickly generate relevant information for your email. Simply write a prompt describing what you'd like to include, generate sample text, and edit it according to your needs.
Make the Most of Email with ContactMonkey
Tools like Slack and Zoom will continue playing a role in internal communications—but they will supplement email, not replace it. Email is central for organizations' internal and external communications. Given the tool's popularity, the number of email users is on track to grow for years.
If you want more effective leadership communications and employee newsletters, you need a system for organizing messages. Manage email in one place with an all-in-one email management tool like ContactMonkey. Use our platform to easily share event invites and manage responses, gather employee feedback, analyze email engagement, and more.
Learn how to use an internal communications software to improve your internal emails and boost employee engagement. Schedule a ContactMonkey demo to see how easy it is to take charge of your internal communications: