Using tables in your emails is a great way to communicate lots of information while boosting engagement. But creating great-looking tables for your emails is often easier said than done.
When you're creating tables in Outlook or Gmail, you've got a lot to consider. You have to make sure that your tables:
are easy to build;
display the required information in an easy-to-read format;
stay on-theme with the rest of your internal communications; and
don't break when being sent to different devices or email providers.
It can be tricky to meet all these criteria using the limited table-building options provided by Gmail and Outlook. If you don't have HTML coding knowledge, using an email builder like ContactMonkey can improve your email tables immensely.
We'll walk you through how to create amazing email tables for Gmail and Outlook using ContactMonkey's drag-and-drop email template builder—no coding required.
Create tables easily with ContactMonkey.
Start a 14-day trial. No credit card is necessary. Zero risk.
Why Use Tables in Emails?
With emails, you have a limited space to communicate your message. And with more people using their mobile devices to view emails, that limited space is further condensed.
Email tables help you save space while communicating more information than text alone. Tables help readers compare data by means of visual organization, rather than simple explication. This means you can show people your message, rather than just tell them.
Email tables can help boost employee engagement by easily condensing important information. Try putting a table summarizing important information at the top of your email body content to help employees get the point.
You can use email tables to improve the quality of your emails, but only if they're made and sent correctly. Broken tables are almost impossible to parse, so read on to learn how to send perfect email tables every time.
Check out our blog to learn more internal email trends and stay up to speed on the future of email.
Easy Ways to Create Tables For Gmail and Outlook
When you use ContactMonkey to build email tables, you have two options to create two different kinds of tables.
The table you choose to create can depend on a number of factors:
The email content you want to send.
Your time/effort constraints.
Company branding guidelines
Your audience.
We'll break down the pros and cons of each approach to give you an idea of how you can use each kind of table. So read on to become an email table pro:
Manual Creation
Using ContactMonkey's email management tool and template builder, you can create email tables using the Rows feature.
Drag a row onto your email template, and select how many columns you want your table to have. Repeat this process for how many rows you'd like your table to have. With the basic structure in place, it's easy to add content and customize the appearance of your table: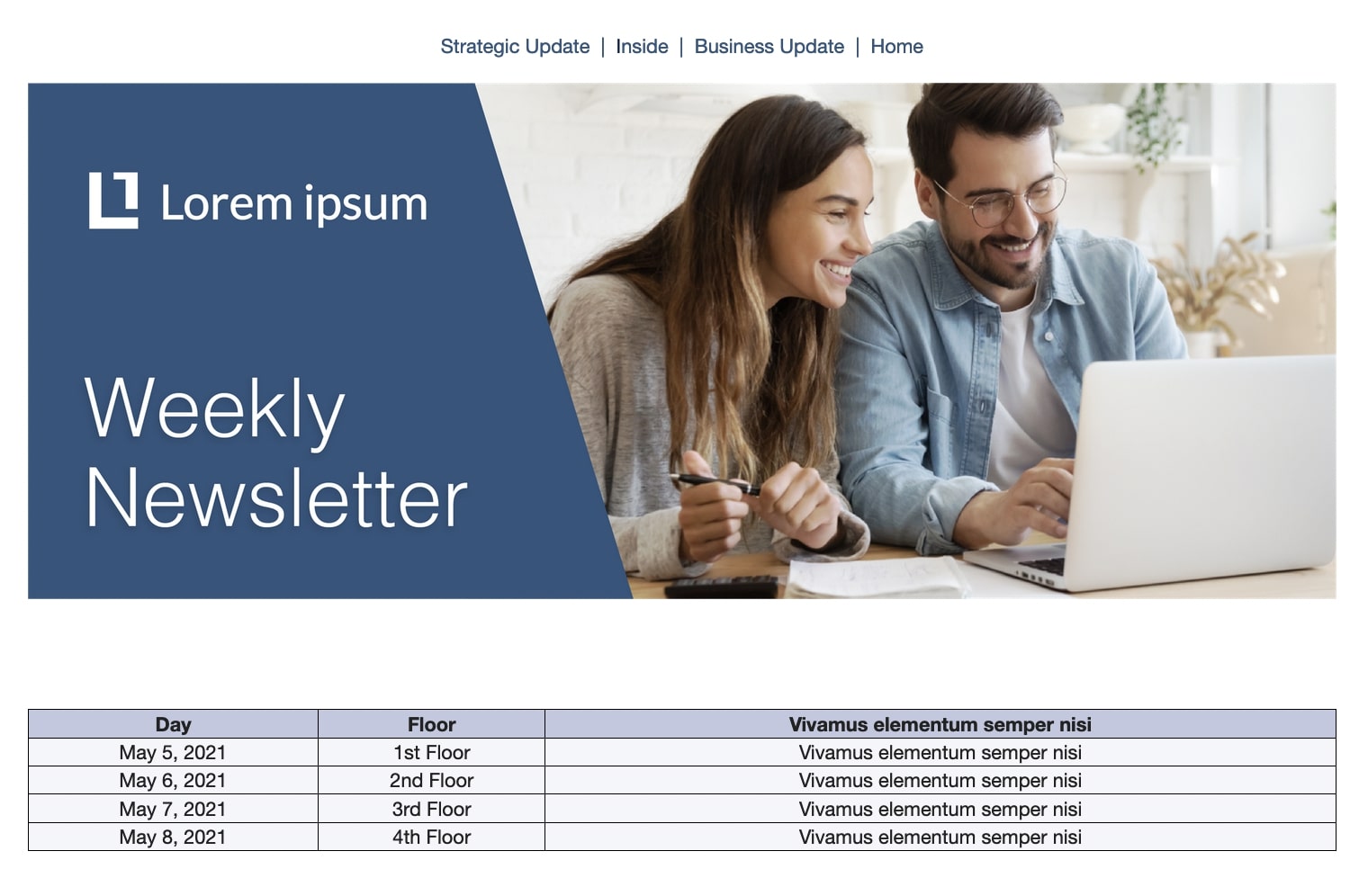 With this approach, you can customize the size of the cells in your table as well as the content—you can even add links within your email table. This approach is great for those looking to create stunning, fully-customizable email tables for their employee emails.
Pros
Fully customizable table and table content.
Mobile-friendly tables won't get distorted on mobile devices.
Add links to your email table.
Recipients can copy content from the table.
Cons
Building tables can be time-consuming.
Because they're made of multiple rows, you cannot save your table as a custom row.*
*You can, however, save one row for future use then replicate it as required.
Verdict
If you're looking to send amazing looking email tables where you can control every detail, then manually creating them in the email template builder is the right approach for you. You get full control over your table content and can make changes whenever you'd like.
Want to start building tables for your employee emails today? Book a free demo with ContactMonkey to take your emails to the next level.
Table Tool
ContactMonkey's email template builder also gives you the option to create tables automatically using the Table Tool.
Simply drag the Table tile where you want your table to appear in your email. You then enter your table information and customize its appearance in the Table Customization window: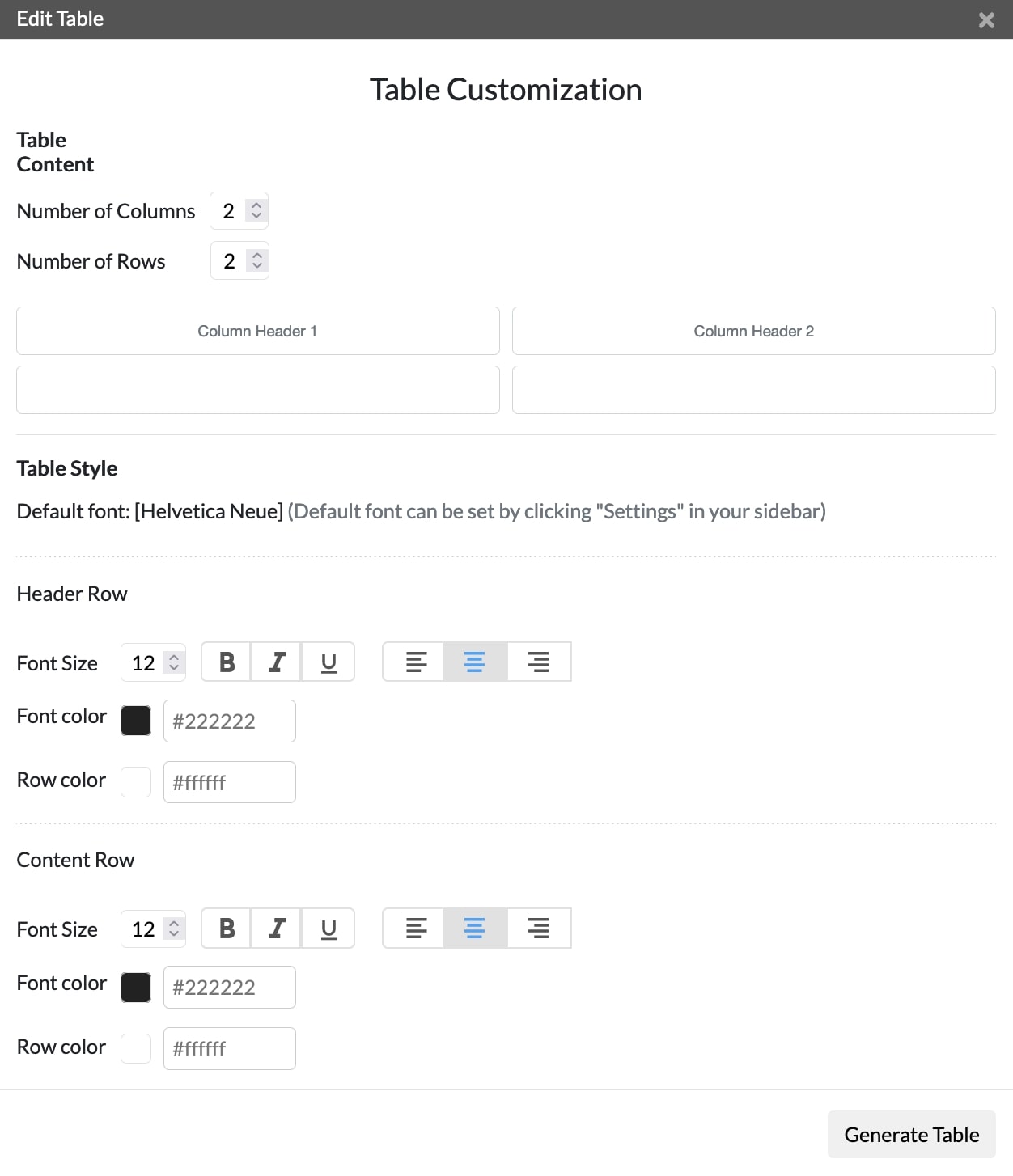 Once you're happy with your table content and appearance, click Generate Table to insert it into your email. Tables will be automatically fitted and it's size will change depending on the row you've chosen. Here is an example of what a table built with the Table Tool can look like: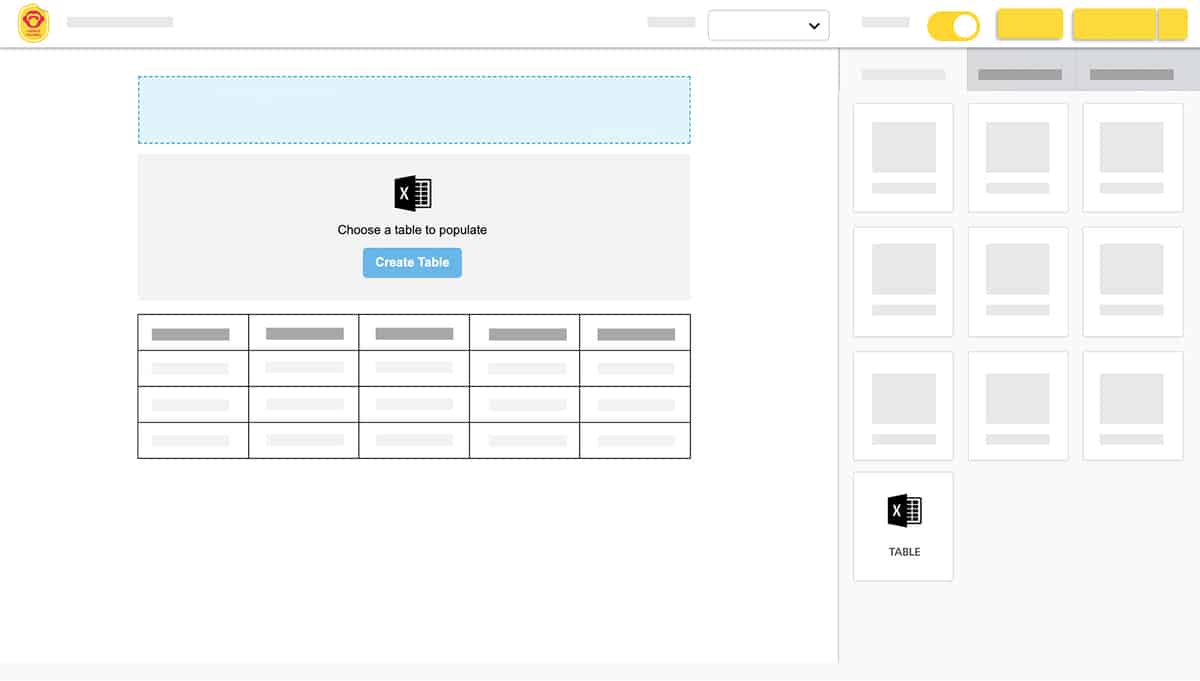 These are great for quickly and effectively communicating information to your employees. And they're quick to build!
Pros
Tables are automatically generated after entering your content.
Customize the appearance of your tables in the Table Customization window.
Similar to an excel spreadsheet which makes it easier for employees to scan.
Save time with quickly-made tables.
Cons
You cannot add links to table content.
Tables can sometimes appear stretched on mobile devices.
Verdict
For those looking for a fast and easy way to insert tables in Gmail or Outlook, then ContactMonkey's Table Tool is the way to go. You can create great-looking tables in minutes and not have to spend time on every detail when you use the Table Tool.
Use ContactMonkey To Build Email Tables
Tables can be a powerful asset in your email design playbook, but only if they aren't a major pain to create and send. When you use an email builder like ContactMonkey, you can easily embed tables in your emails to make your employee newsletters, leadership communications, and surveys more effective.
Easily build tables that look great in Outlook and Gmail, and send them knowing that they'll appear great on whatever device your employees use.
Learn how to use an internal communications software to build amazing tables in your internal emails. Book a free demo to learn how to create stunning employee emails with ContactMonkey;