When it comes to choosing internal comms email software between HubSpot and ContactMonkey–considering the ease of use, adaptability and learning curve–David knocks out Goliath.  
Congratulations! It looks like you've got budget approval to adopt new email solutions that finally generates employee engagement and love for your internal comms–whether that's in the form of an employee newsletter, a survey, or weekly company announcements.
The good news is that there are countless options out there that promise to help you out with your employee communications. The not-so-good news is that because there are so many options that promise to help with your communications, picking just one feels like buying orange juice at the grocery store.
Seriously, why do we need orange juice with no pulp, low pulp, somewhat pulpy, Pulp Fiction edition, etc, etc?
For that reason, today we're helping you out with your homework and comparing our ContactMonkey Internal Comms tool to HubSpot's CRM solution. 
(If you're interested, we've also compared our tool to Slack, and to MailChimp, let us know what you think)
I know what you're thinking. Is it fair to compare a tool specially built for internal comms against a marketing/CRM tool? Well, no, not really.
However, in our thousands of calls with internal communicators regarding internal communications tools, the name HubSpot has come up once or twice.
For that reason we thought we'd engage in this unfair comparison because, if one or two people have asked, it's probable that other people are wondering the same thing.
Criteria for Judging Internal Comms Email Software
Before we begin, let's nail down the criteria with which we'll be judging these two internal comms tools.
The first criterion will be ease of use. Specifically looking at accessibility and adaptability. Then we'll look at the intended end-user, analyzing who each tool was designed for.
Hopefully, based on those two categories, you'll be able to make a decision that helps you retain talent, attract new one, and make your current employees happy.
Ease of Use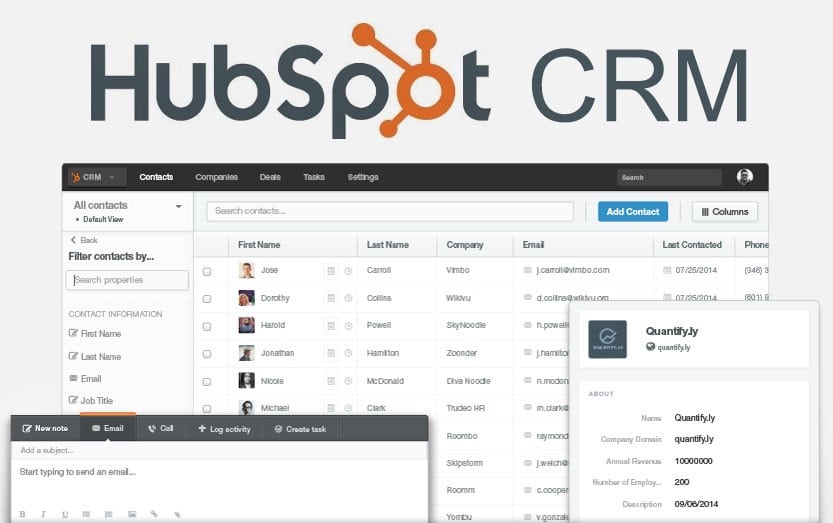 Since HubSpot offers an all-in-one solution for all your sales and CRM applications, its learning curve will depend on what you use it for.
As a marketing automation tool that gives you a wide range of marketing functions, HubSpot is an industry leader when it comes to ease of use–this is in big part thanks to its unparalleled training materials and a dedicated account manager that walks you through the somewhat complicated intricacies of such a robust software.
However, such power, dedicated support, and steep set-up process will cost you. Multiple reviews on Capterra show how all customer support is extra, making your process of adapting to the tool quite a costly process.
Like Learning a Difficult but Useful Language
Based on multiple reviews, the consensus is that HubSpot is a good solution for marketing and sales teams only if you go all in, and buy into the HubSpot doctrine.
A constant complaint we see from HubSpot users is that too much time and resources are needed to customize and set up the application before you get used to it and can use it to its full potential.
"HubSpot works best when you can produce a large amount of content. HubSpot is great at making your content beautiful and effective, but if you're not producing content, you won't get the full value," reads one review, that still rated the tool a 5/5.
Enter the Monkey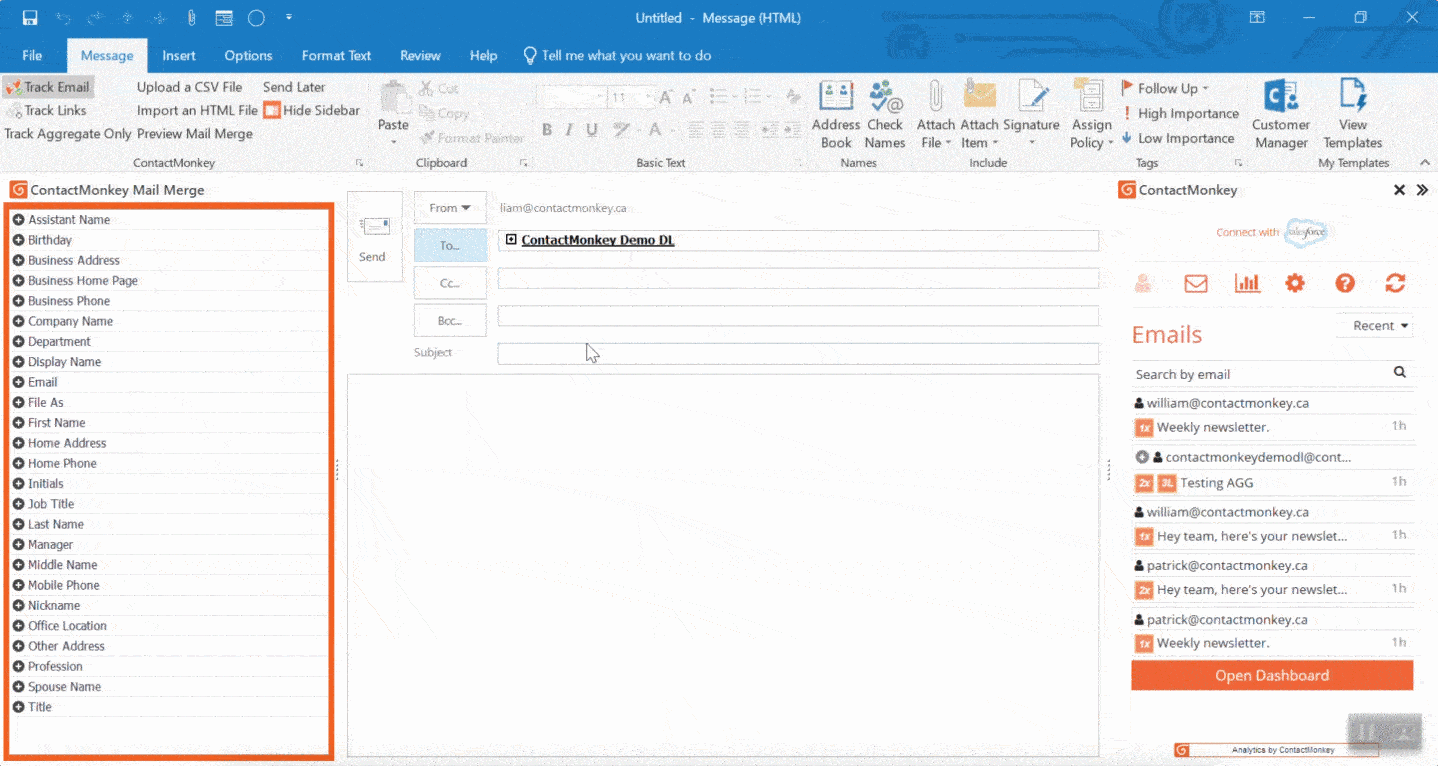 When it comes to ease of use ContactMonkey can't be beat. And yes, as mentioned above, this is an unfair comparison. Hubpsot is a robust CRM tool that naturally takes some getting used to. We're the opposite. And that's a good thing.
"The time I save by using ContactMonkey makes it pay for itself in the first week. What was taking me 2 hours a day to accomplish can now be done in 20 minutes." – Bob Garitta, 5/5 review.
As an add-on to your Gmail or Outlook inbox, instead of forcing you to learn a new language, ContactMonkey allows you to do everything from the inbox you're already familiar with: you can make your own template using our email template builder, upload HTML emails, select your recipients (both CSVs and Distribution Lists are supported), personalize subject line and body, and send via the cloud in Office 365.
You also get a dedicated account manager, but that's included in the package and all your favorite tracking tools, including the ContactMonkey sidebar can be easily minimized when you're done using them.
Intended End-User
HubSpot markets itself as inbound marketing & sales software. This means that, if your end users are going to be sales or marketing people, HubSpot is probably the king of this jungle.
As a one-stop solution for all of your marketing needs, HubSpot allows you to integrate your marketing processes with your social media accounts & your website, track your external communications and offers access to real-time updates.
However, if the end users are internal communicators, a tool designed specifically for them will probably be of better use.

Internal communicators have a very specific workflow and a finite amount of time to get stuff done.
When it comes to saving time, here at ContactMonkey, we take pride in helping internal communicators send internal emails from the comfort of the email tool they're familiar with.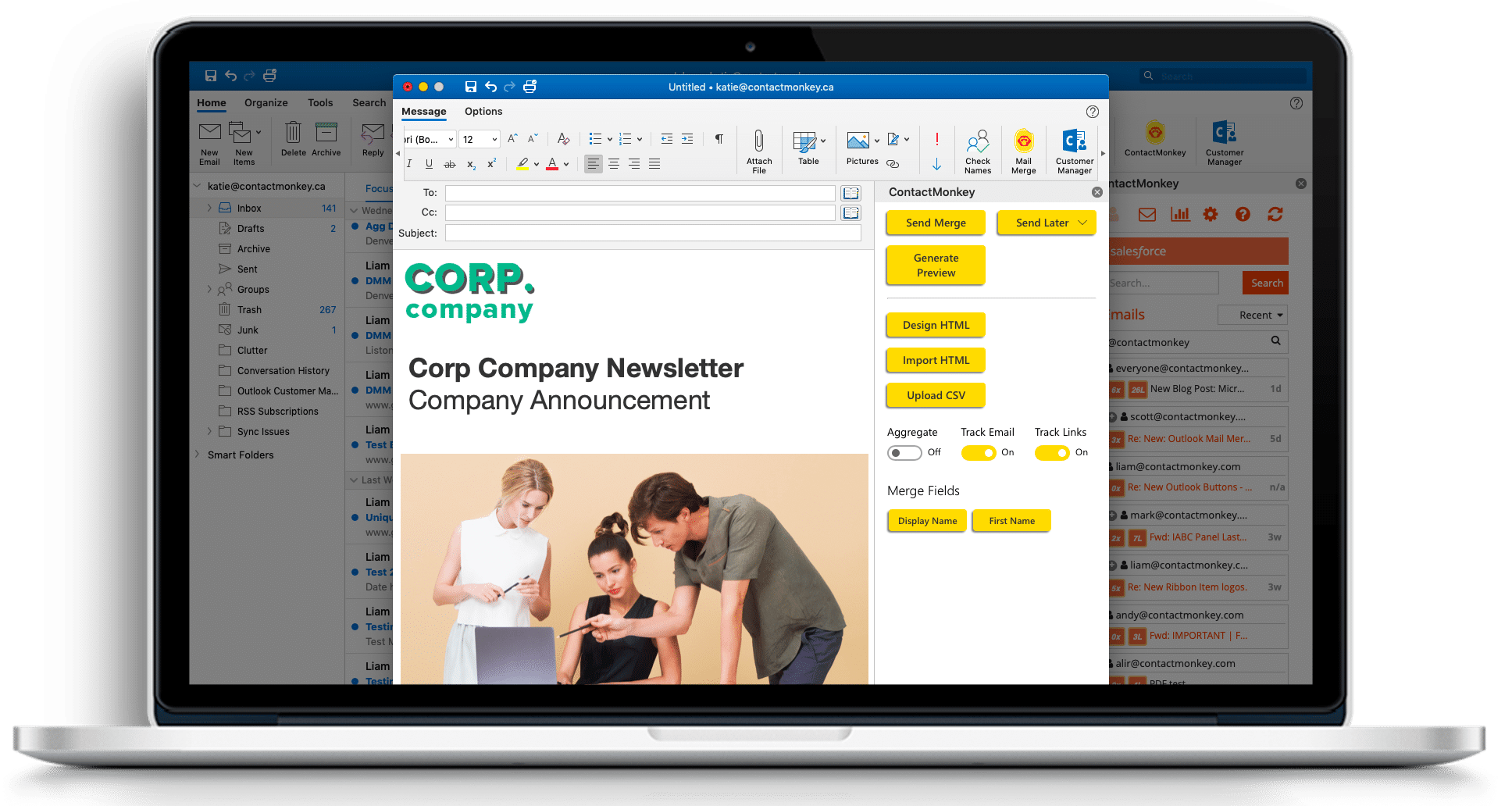 For many of them that tool is Outlook and our plugin allows internal communicators to send internal emails in 3 easy steps while staying in Outlook:
Build your own template with drag-and-drop tools

Select your distribution list(s) or upload CSV file

Upload HTML email

Personalize and send
Stop opening Word (or Excel) or multiple 3rd party tools (sorry HubSpot) to send a simple mail merge or responsive HTML emails and newsletters.
With ContactMonkey, you're able to do all of that right from Outlook, meaning that you don't have to leave the email provider you're used to in order to communicate and connect with your employees. That sounds like a lot of time saved if you ask me.
Employee Feedback with ContactMonkey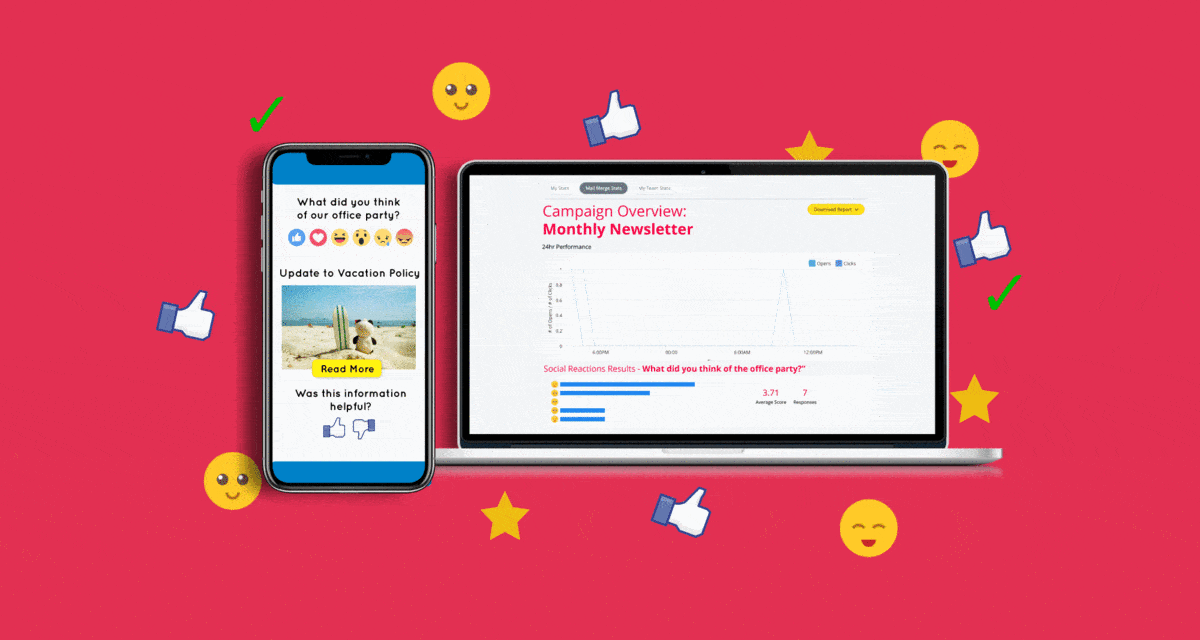 With these new features for Outlook now you can add social reactions, pulse surveys, and like buttons to the content in your internal emails by simply dragging the respective block anywhere you want in a pre-built or new HTML template.
You'll find these blocks in your email template builder that is part of ContactMonkey for Internal Comms.
Social Reactions
Give your employees the ability to react with different emojis to any content you send them via email. With social reactions now your internal comms team can constantly gather feedback by adding social reactions with a simple drag-and-drop.
Pulse Surveys
With pulse surveys you'll also get actionable feedback from your email communications every time you hit send. Whether it's a Yes/No question or Like Buttons next to your content, you'll be able to see all of the results live in real time on your ContactMonkey dashboard.
Employee Comments
Ever wondered how your employees felt about your internal emails? With the new Comments feature you can allow them to provide anonymous comments within every newsletter you send out.
Instead of waiting for the costly annual survey to figure out how engaged your employees are, simple add Comments to your newsletters from Outlook or Gmail using our email template builder! Finally, a way to turn emails into a two-way communication channel.
The bottomline for Choosing Internal Comms Email Software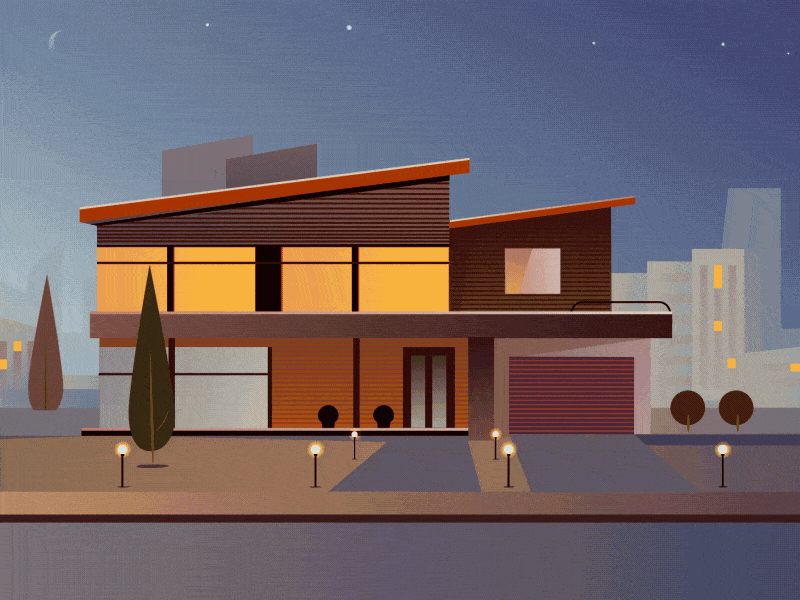 The bottom line is that ContactMonkey adds to the tools you already love while eliminating all of the pains. I like to think of it as building a home. With ContactMonkey, you get to add a pool, another floor and a new balcony to the house you already live in.
With HubSpot you're not only getting rid of your home, you're moving to a different country and are forced to learn a new language. Both of those stories can have a happy ending. It all depends on what you and your team think is best.
Do you want to see how your house can be improved? We'll show in a personalized demo!