Your company-wide surveys give you tons of employee feedback, but how do you start analyzing it all? With ContactMonkey, employee survey analysis is simple, and enables easier decision-making.
Many companies pride themselves on sending out annual or quarterly company-wide employee surveys. Regularly collecting employee feedback is critical, but what you do with employees' input is more important.
While asking employees to share their thoughts is the right thing to do, you need to go beyond just gathering employee feedback to truly make a difference.
Surveys are valuable only when you accurately interpret the data. Without the right analysis, you won't be able to make informed decisions. With ContactMonkey, it's super easy to simplify employee survey analysis and learn what matters most to your employees.
Why is it Important to Analyze Employee Survey Results?
Learning how your employees feel about working in your organization is essential for improving employee experience and increasing staff retention.
That being said, if you gather employee engagement data, but don't act on it properly, employees will take note. In fact, studies show a direct link between employee disengagement and employers failing to act on employee feedback.
Analyzing employee survey results effectively is important because it helps you make data-driven improvements. You're able to show employees that you hear them, and you're going to do everything in your power to act on their suggestions.
What are the Common Challenges of Employee Survey Data Analysis?
While employee engagement survey analysis is an important part of your workplace engagement strategy, it isn't always a walk in the park. Common challenges include:
Analyzing open-ended and closed-ended employee survey questions
Finding a way to benchmark qualitative data
Making sense of multiple survey themes
Going through countless employee engagement survey questions and calculating scores
These challenges shouldn't sway you away from conducing regular employee surveys.
Instead, you can tackle many of these obstacles by implementing a strategic approach employee survey analysis and designing effective employee surveys from the start. We dive deeper into this next.
How to Create an Effective Employee Survey
Designing an effective employee survey will make analyzing your employee survey results that much easier and more effective. Here are a few essential steps to keep in mind when designing your employee survey:
Define your goals: ask yourself, "What are we trying to learn from this survey?" and "What business pain points is our survey trying to tackle?"
Choose a specific survey topic and determine question style: when you have a clear topic in mind, it becomes easier to determine the sort of data you'll need. For instance, star ratings and eNPS will be the most appropriate response options for employee engagement and satisfaction survey topics.
Select a quality employee survey tool: when it comes to survey tools, the options are endless—from SurveyMonkey to TinyPulse. However, if you want a platform that doesn't ask employees to visit a third-party provider, ContactMonkey is your best bet. With ContactMonkey, you can embed a pulse survey directly into your HTML emails, making it easier (and more likely) for employees to respond.
Choose the right questions: your employee survey questions can make or break the success of your survey. If you choose overly complex questions, it can become hard to analyze the data. If the questions are too simple, you risk getting poor insights. Read our guide on employee pulse survey questions to make worthwhile surveys every time.
Learn how to create an effective employee pulse survey from scratch with our step-by-step guide.
How to Analyze Employee Survey Results
Once you're confident in your survey design, you want a clear plan for analyzing your employee survey results. Below, we break down three essential steps for powering through your employee engagement survey analysis.
Do you need help creating questions for your employee survey? Try using ContactMonkey's OpenAI ChatGPT integration to generate custom content for your employees. Simply write a prompt describing what you'd like to accomplish with your survey, and edit the suggested questions according to your audience.
1. Set the stage for honest feedback
It doesn't matter how elaborate your employee survey analysis features are if the responses don't reflect employees' genuine feelings. You can't make improvements within the organization if your analysis is based on inaccurate data.
Honest responses are foundational to your employee survey analysis. Organizations should invite employees to share their opinions and ideas in various areas, so employees know their voices are valued and feel safe enough to speak up.
Surveys give employees the protection of anonymity. Employees are more likely to be honest when they feel their jobs are safe; employee surveys are a great way to gather honest feedback without putting employees on the spot. ContactMonkey's survey feature goes one step further with optional anonymous employee comments, which gives employees the opportunity to provide context for their responses.
With ContactMonkey it's easy for employees to give feedback. Employees don't have to click on a link and go to an external URL to answer a survey. Embed the survey directly into your emails using our drag-and-drop email template builder.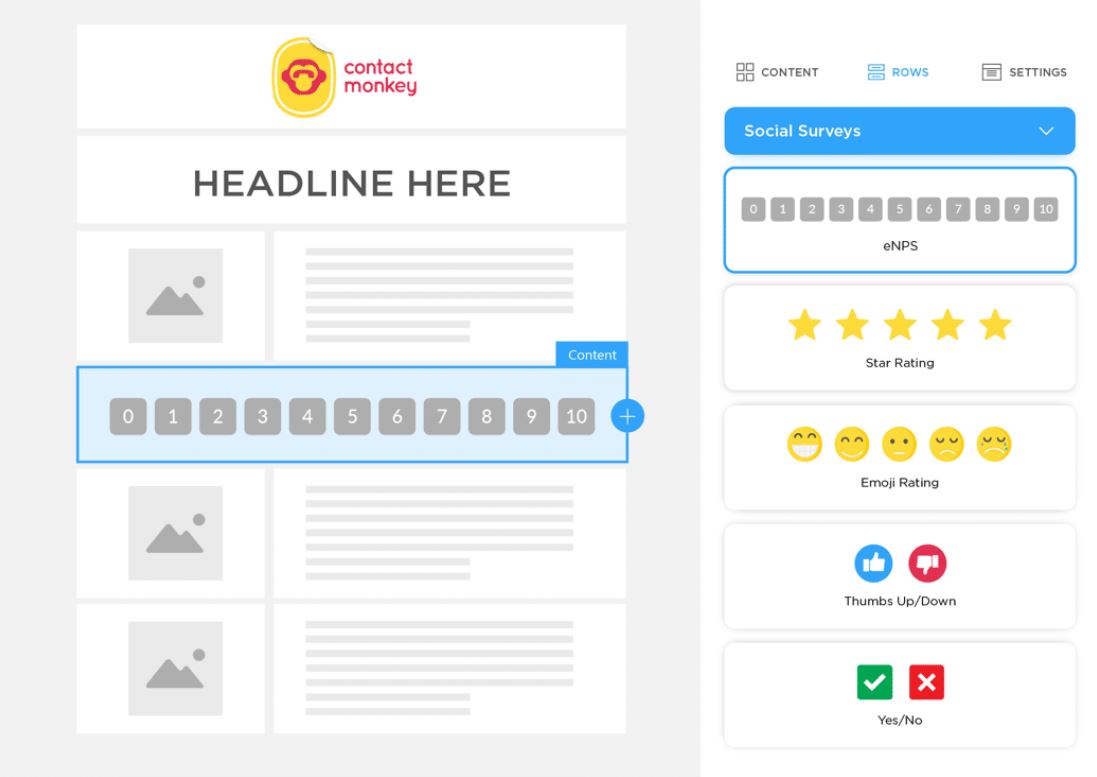 ContactMonkey also makes it easy for managers to create surveys and request feedback. One of ContactMonkey's customers, Exemplis, agrees:
"Our team loves to be able to give us real-time responses. We have a philosophy that feedback from our team is engagement of our team […] Giving our team the chance to interact with pulse surveys monthly, comments weekly and ratings frequently has allowed us to informally check in on our team without sending another bulky engagement survey."
With a platform that makes it easy to request and collect feedback, you'll be set to receive honest responses from employees and form reliable insights. ContactMonkey's various survey options include:
Pulse survey questions
Emoji reactions
An optional text box for employees to elaborate on responses.
2. Compare the data with previous survey results
Comparing results should be a part of any employee survey analysis—how else will you track progress?
Say you're trying to improve employee engagement in the company. The first survey you send out to gauge employee satisfaction will help you establish a baseline. From then on, measure the differences in data alongside organizational changes to identify progress (or lapses).
ContactMonkey auto-calculates eNPS, which allows you to quickly compare data—surveys can be sent quarterly, semi-annually, or in any frequency based on the company's goals. Quantifying your employee survey results makes it easier to see if satisfaction has improved/declined.
ContactMonkey's email analytics lets you view campaign statistics side-by-side, making it easy to compare various metrics and see if certain surveys performed better: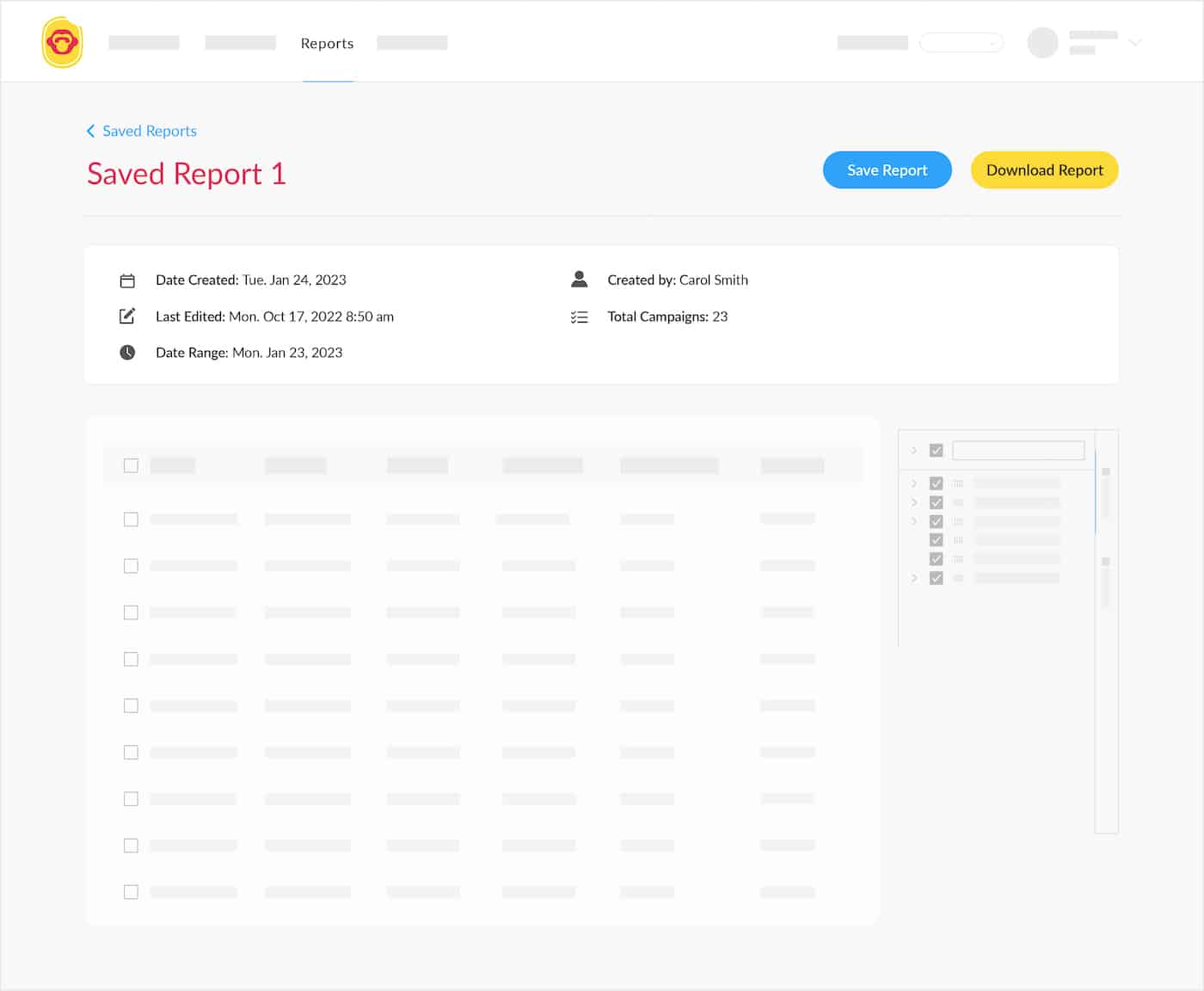 That's not all: you can also view various other metrics such as read time, unique opens, unique clicks, segmented stats, and more. Use the comparison data to set goals and track changes over time.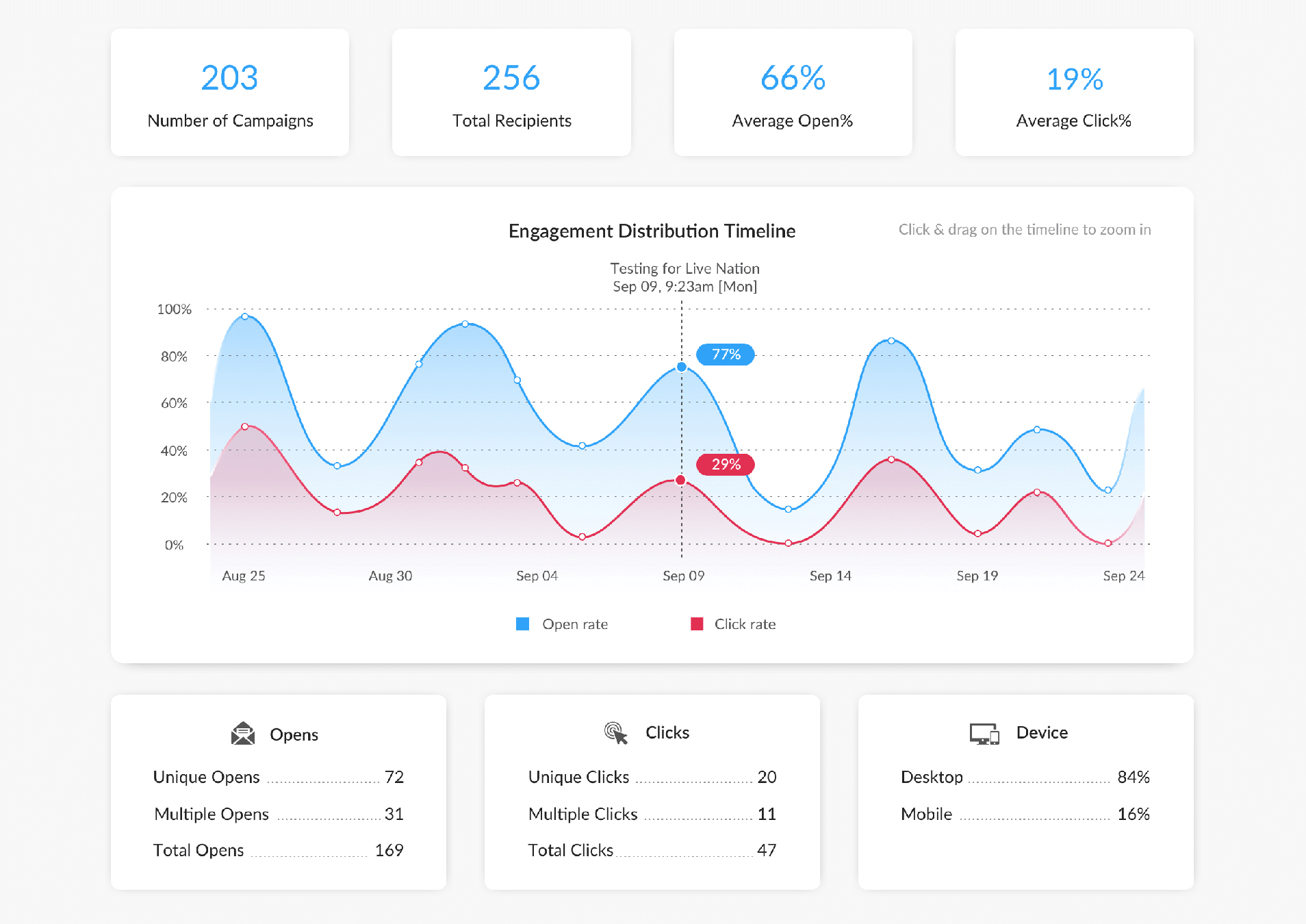 Does your organization have internal or external regulations around email privacy? You can use ContactMonkey's anonymous email tracking to gather email metrics from your employees while maintaining their privacy.
3. Validate the difference in data
Now, it's time to do a "gut check" and validate your conclusions from the employee survey analysis. There are a few ways you could do that:
Quantify the responses. Why? Numbers are memorable. Stakeholders, particularly leadership, care about numbers. Quantified data offer a clear way to set goals and measure impact. But, don't disregard qualitative responses completely—they can give you deeper insights and identify the source of an issue.
Identify patterns or similarities. If you see an opinion being echoed across the organization, it could be an indication of an existing roadblock or something the company's doing right. Knowing the company's strengths and weaknesses is essential before implementing changes.
Establish a benchmark. Ultimately, in order to track progress, you need to be mindful of where you started. Your benchmark could be your baseline or an industry-standard goal. It's the metric to work towards.
Choose your priorities. Change doesn't happen in a day, and small changes over time can be more effective in getting people onboard than drastic shifts overnight. Once you collect data, identify your pressing/immediate priorities—these could be areas affecting the bottom line or retention rate. Work on those priorities before moving down the list.
The data should help you make informed decisions to make the company better. The best part? Measure all of this right from your Outlook or Gmail inbox using ContactMonkey.
ContactMonkey Makes Surveys Easy
ContactMonkey's survey analytics simplifies your work by eliminating manual calculations. ContactMonkey will collate employee comments and auto-calculate a score based on responses and ratings, so you don't have to.
As an all-in-one internal communications tool, ContactMonkey lets you validate any survey data differences, so you can assess if the employees' survey responses show foundational improvements versus a temporary increase in responses.
Once you've analyzed your survey responses, you can act on the information you've gathered and measure how your actions impacted employee engagement. This is what is meant by a data-based approach to internal communications: you know exactly what is happening in your organization every step of the way.