Coming up with internal newsletter content ideas showcasing great content can be a pain! Do you often find yourself stumped because you've no idea what kind of content will make employees actually open and read your internal newsletter? Have you any idea if employees are even opening your newsletters?
Well, you're not alone! Luckily for you, we've compiled a list of some kick-ass content inspiration to include in your list of employee newsletter ideas that will boost employee engagement.
You should also check out our other blog, where we've provided actual newsletter examples from companies to help you craft the perfect employee newsletter.
And if you're looking for marketing ideas on creating great email content, Brafton offers some compelling advice.
The employee newsletter ideas in this blog are perfect for helping you create a list of fun company newsletter ideas and newsletter topics. If you were trying to google, "fun things to put in a newsletter," we've got you covered with this blog.
We've covered employee-focused newsletter content ideas, company-focused newsletter content ideas and customer-focused newsletter ideas.
So, let's get to it, shall we?
Internal Newsletter Content Ideas: 32 Employee Newsletter Content Ideas to Generate Employee Engagement
Employee Oriented Newsletter Content Ideas
1) Share Company Achievements
Sharing company achievements is a good tradition and a great newsletter idea to incorporate into your internal company newsletter. Why, you wonder? It helps employees feel like they're part of the bigger picture.
Employees need to understand why they're working hard at their desks each day or why they're fighting for a cause that matters. Be sure to share company achievements on a weekly or monthly basis to prevent employees from feeling lost or isolated.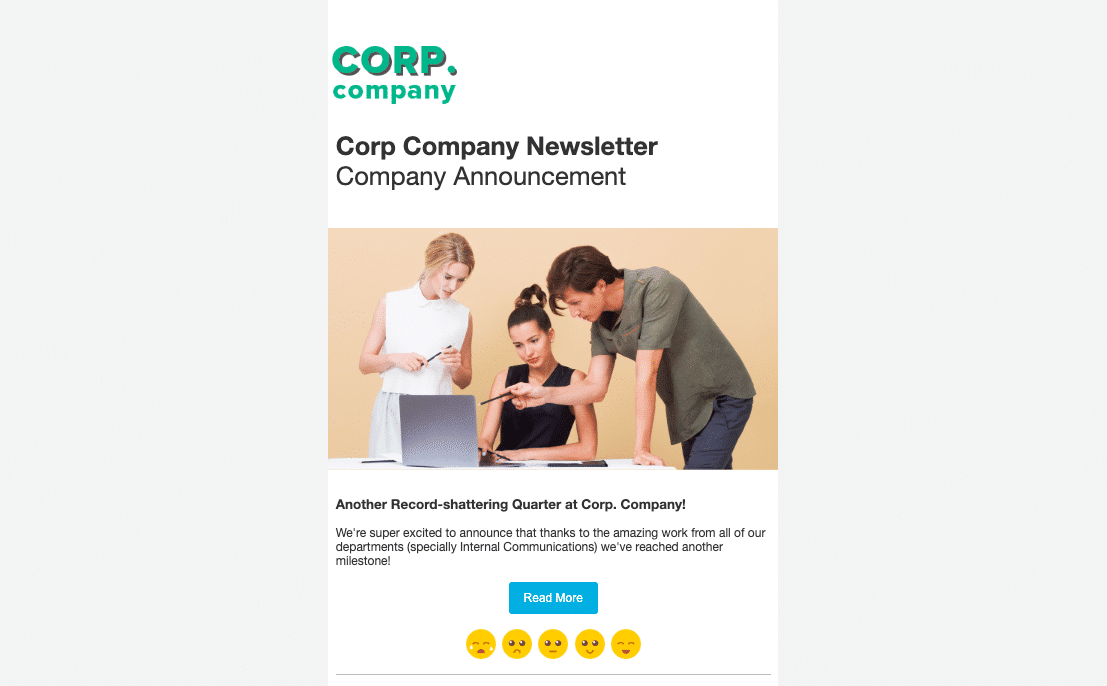 2) Profile New Hires
When a new person joins your company, he or she is often overwhelmed with having to remember new names and new procedures. Make life easier for them by giving them a warm welcome to the company.
And what's a better way than profiling them in your internal newsletter so other employees can get a stellar introduction.
Encourage employees to say hi to the new hire and make him/her feel welcome. Making employees feel welcome during the on-boarding process goes a long way in boosting overall productivity, retention and engagement.
After all, who doesn't love feeling like they're a part of the team?
(Click here to view the original source for your employee newsletter inspiration)
3) Feature Employee Birthdays
Giving a shout-out to an employee on their birthday by showcasing them in your company newsletter is one of the best newsletter ideas and a sure-fire way of  bolstering morale and employee motivation levels. After all, who doesn't love being in the limelight, especially on their special day?
Be sure to also mention upcoming birthdays in the internal newsletter so that employees can remember to bring in a birthday cake for their colleagues.
Check out how The Skimm gives birthday shout-outs in the example below.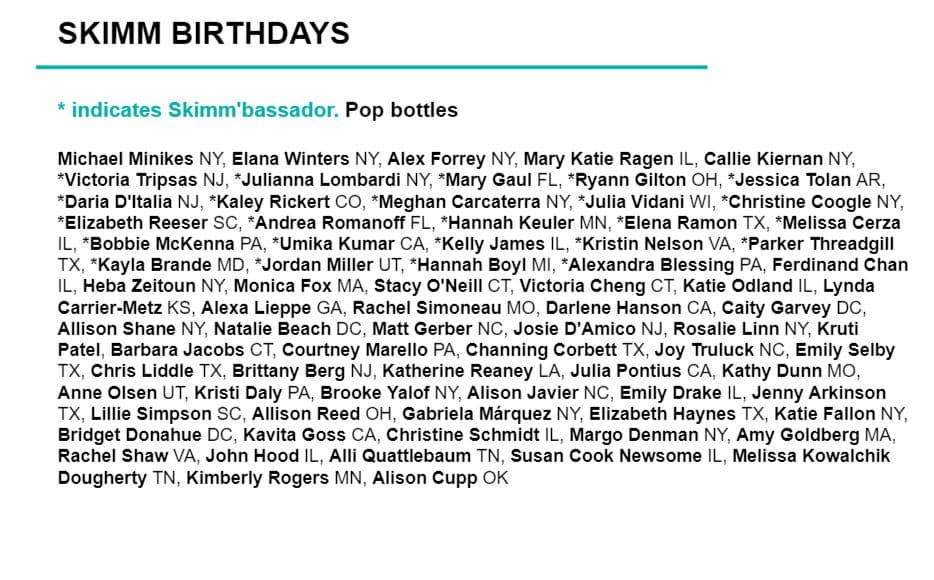 4) Team Spotlights
Another kick-ass internal newsletter idea guaranteed to boost employee engagement and team spirit is to have a recurrent section of your employee newsletter dedicated to team spotlights.
Has Sales wowed everyone by hitting their quarterly targets? Has the marketing team's re-branding efforts led to some big company wins? Every week/month you can focus on a different department, highlighting who they are and what they've accomplished.
Remember to always focus on the humans behind the stories, not on mere facts. Make it an animated GIF of the team like the example below.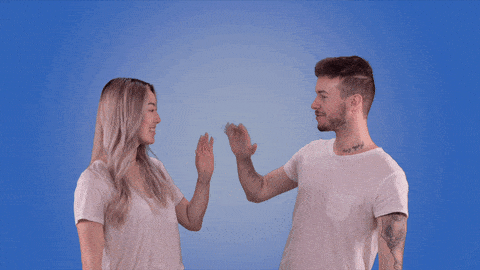 (Image Source)
5) Individual Awards and Recognition
An awesome newsletter idea in terms of content is to feature individual employees with awards and recognition.
Kick-start an awards program into your overall internal communications strategy. You can create all kinds of innovative awards for employee recognition such as Innovation Award, Years of Service Award, Core Value Awards etc.
Be sure to mention what kind of award the specific employee is receiving in the newsletter. 
It's an awesome way to make employees feel like an award-winning Oscar star!


6) Surveys, Polls & Social Reactions
This may be one of the most common newsletter ideas out there to include in your content inspiration list but it's a sure-fire way to boost employee engagement.
Make sure to get regular feedback from employees through surveys and polls in order to engage with them.
By regularly asking employees for feedback on policy changes, where to host the next company dinner or just basic feedback on your content, you're ensuring employees feel that their voices are heard.
You can easily add pulse survey questions to your employee newsletters with ContactMonkey and measure the results within your Outlook inbox via the dashboard.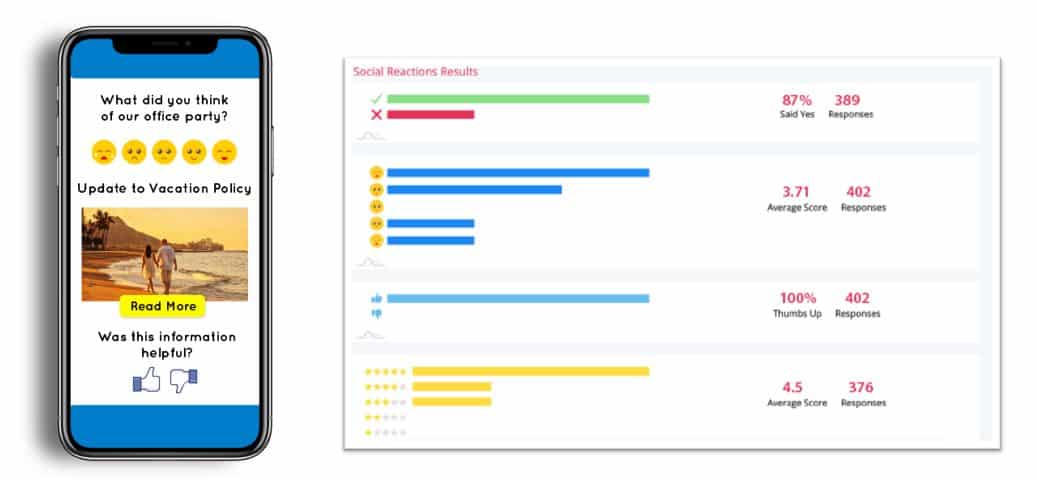 7) Personalized Messages from the CEO
When the number of employees exceeds 50, it is difficult or almost impossible for a CEO to convey messages personally to employees.
But everyone loves personalized messages. It makes them feel special. Especially if these personalized messages are coming from top management.
It's even better if the CEO is sending personalized messages. It's all part of enabling and creating a culture of good in your organization.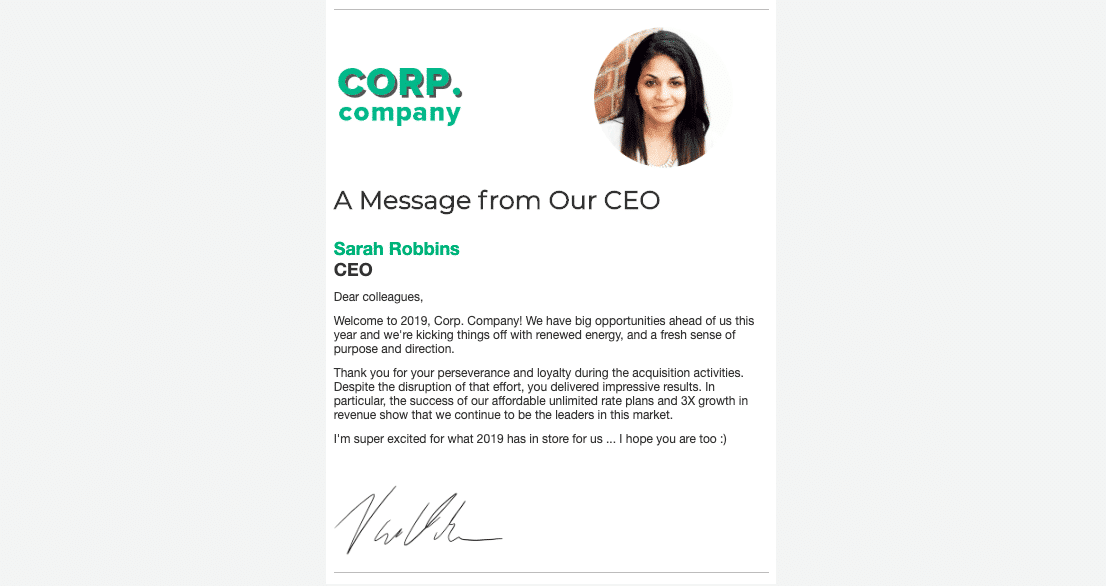 8) Important Announcements and Reminders
Now that you have plenty of newsletter ideas and content inspiration, be sure to save some space for important company announcements and reminders.
You can include reminders on flu shots, public holidays and even office rules. Be sure to announce any events your company is sponsoring.
By keeping employees in the loop on what's happening and how their work life is impacted, you will make them feel valued and appreciated, resulting in higher employee engagement levels.

9) Convey Company Policies Using Internal Influencers
We all know how important internal influencers are to an organization's success. Why not feature them within your employee newsletters to convey company policies?
Check out the example below from Ueno, wherein they've deployed an actual employee to convey their parental leave policy.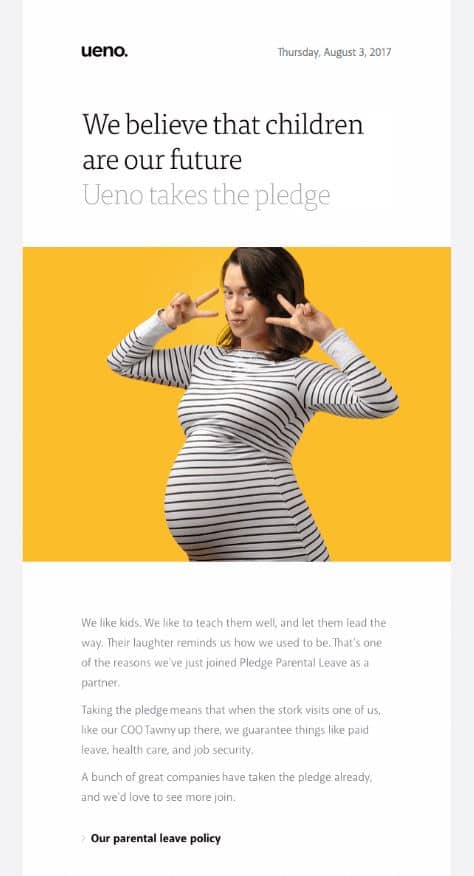 Now, isn't that one of the most epic employee newsletter ideas you've ever come across?
10) Feature Actual Employees
This may not seem like one of the most innovative internal newsletter ideas out there, but it's super important to feature your actual employees within your newsletters. After all, it's about them, it's not about you.
If they're featured within your internal newsletters, they'll definitely be interested in reading them.
Check out the example below.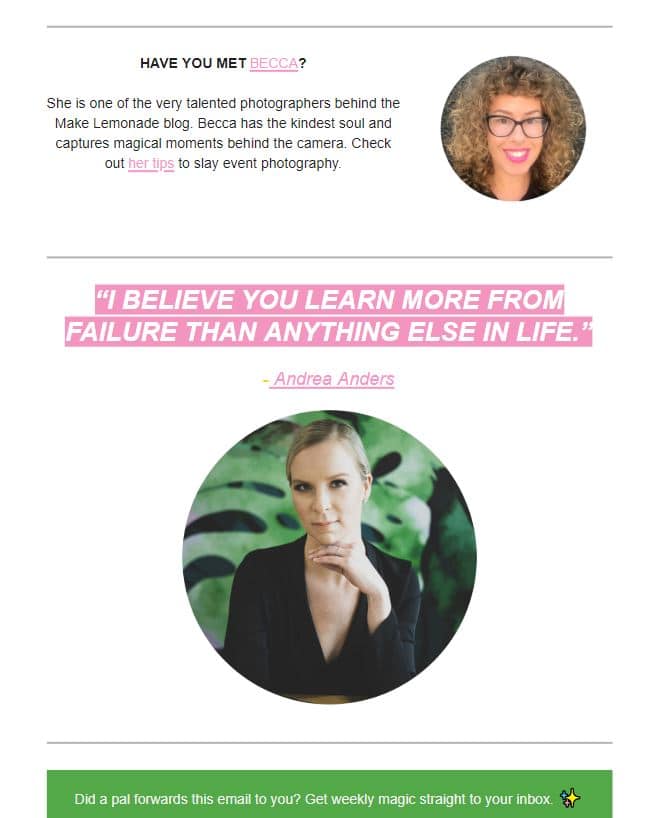 (Inspired by the above employees newsletter idea? Click here to view the source of inspiration.)
11) Job Postings
It's important to let employees know about any internal job postings.
Even if they're not applying for these, it's a good newsletter idea as employees will want to know how your company is growing.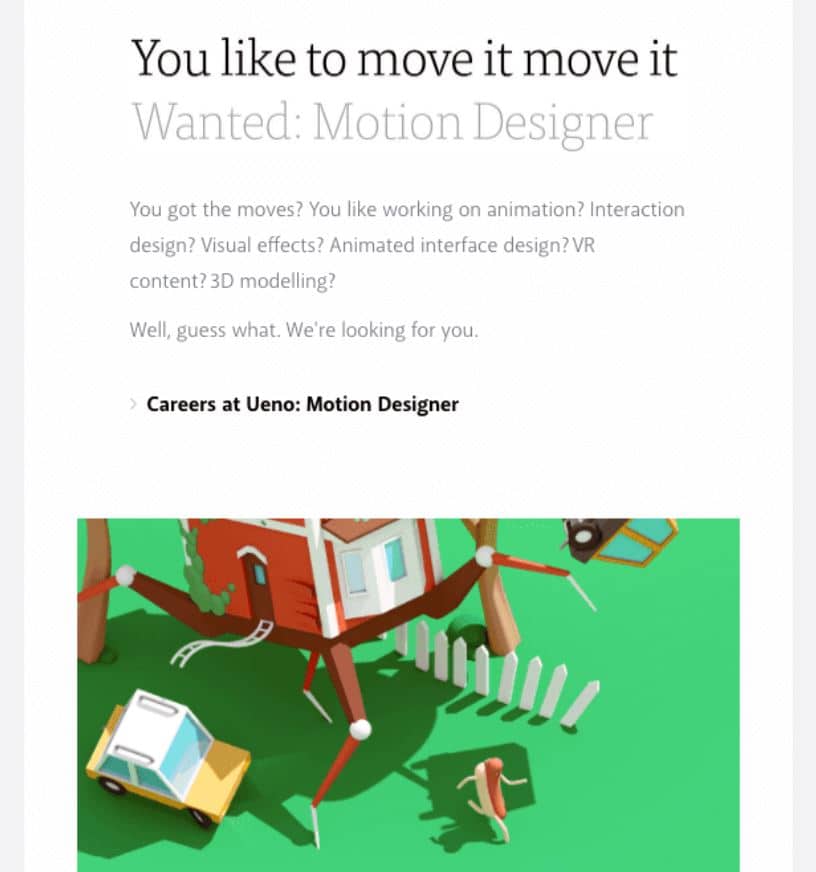 12) Employee Anniversaries or Achievements
This may not seem like one of the most innovative employee newsletter ideas, but it's important to feature employee work anniversaries within your newsletter.
Why? It makes employees feel special!
13) List of Nearby Eating Places
Yes, this one's different but you can safely add it to your list of fun employee newsletter content ideas.
It's always a great idea to feature a list of the best lunch places for employees to check out near your work area.
In fact, I would recommend asking a different employee to tell you their top ten picks every week and feature those.
Check out how Uber Eats does this in their newsletter.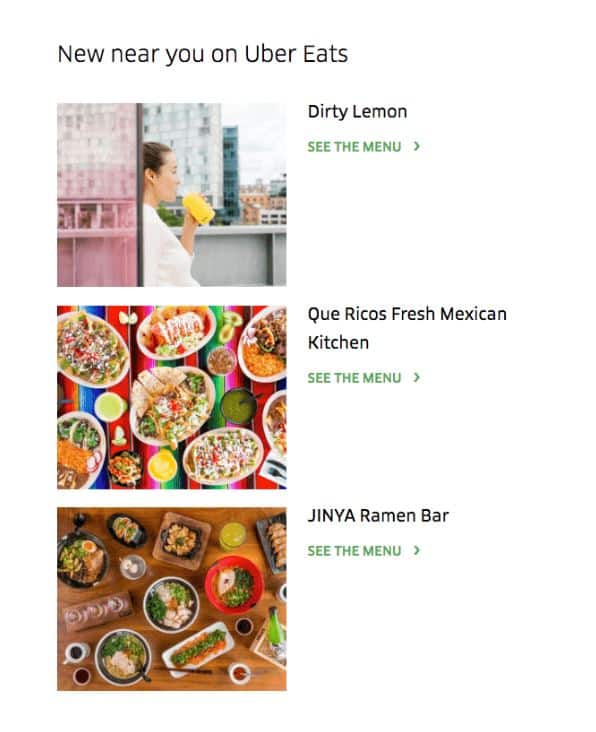 (Inspired by the above fun internal newsletter idea? Click here to view the source of inspiration.)
14) Feature Quotes from Employees
This may sound like a pretty basic internal newsletter idea but many internal comms pros often overlook the importance of featuring motivational quotes from actual employees.
In fact, I would recommend putting the quote at the very top of your employee newsletter content to motivate employees to read your internal newsletter.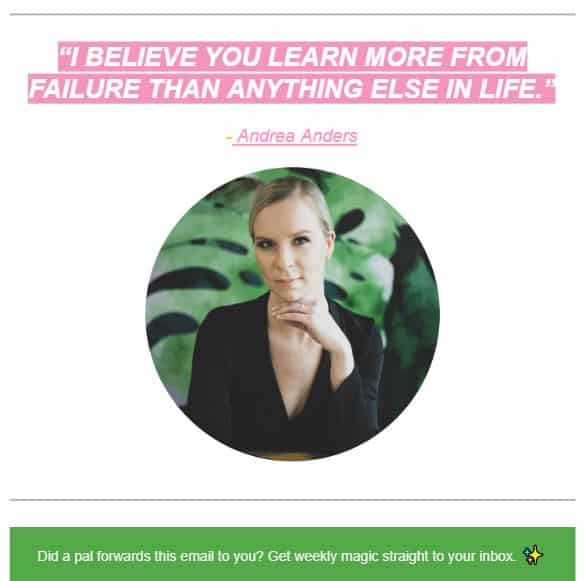 15) Employee Recommendations
One of the most overlooked employee newsletter ideas is featuring recommendations by employees. I'm not talking about lunch recommendations here.
I'm talking about featuring top movies, books and podcasts recommended by employees within your internal newsletter. Check out the example below from Pressed News on how to do this.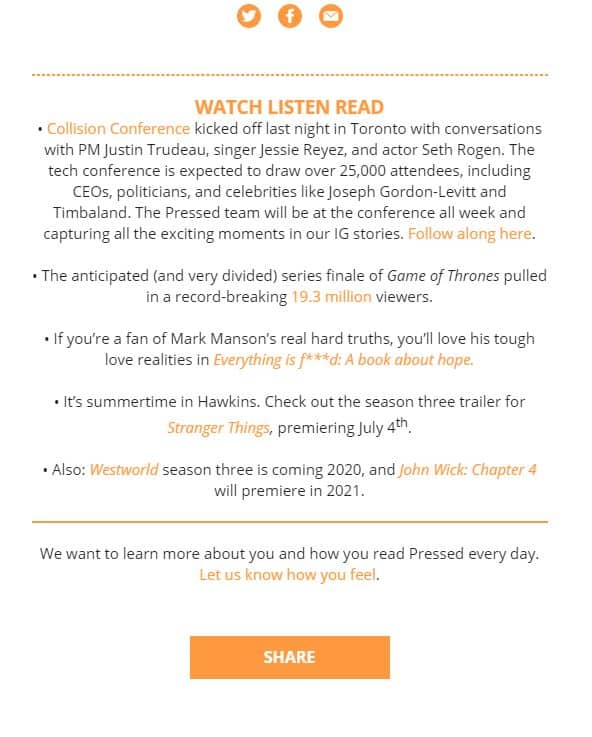 16) Profile Employee Stories
Pick one employee from a different department each month, interview them and feature the in-depth interview on your website.
Then plug it within your internal newsletter.
This is one of the best employee newsletter content ideas, and guaranteed to get a lot of traction.
The in-depth interview should be raw and emotional, filled with career advice and deep insights from each employee.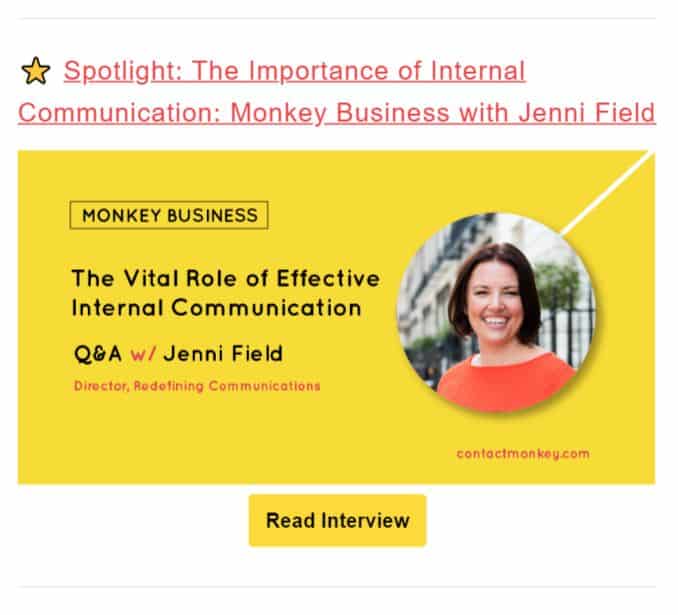 17) Contests
Why not start a creative internal campaign, asking employees to enter for a chance to win!
Check out our list of creative internal communications campaigns to inspire you.
Featuring contests as part of your employee newsletter content is definitely one of the most unique newsletter ideas you could come up with.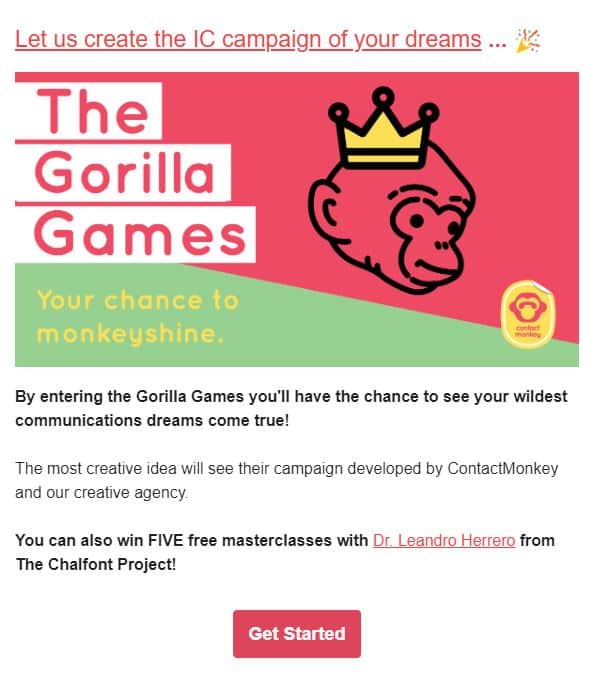 18) Professional Development Opportunities
Why not help employees advance their careers by letting them know of any workshops, webinars, events your company is willing to pay for that they can attend?
Company Oriented Newsletter Content Ideas
19) Feature Positive Press About Your Company
If you've been featured as one of the top places to work or have been in the spotlight for any reason, let employees know about this!
It's a surefire way to improve morale and boost employee satisfaction.

20) Communicate Company Policies
Change communications, of any kind, whether it's related to restructuring or just a slight change in company policy, can effect employees in a myriad of ways.
Let them know about any changes about to hit them. This is definitely one of the most important company newsletter ideas.
21) Events
Is your company hosting any award shows or conferences or sponsoring any events. Let employees know about these events so they can be there to represent a stellar employer brand.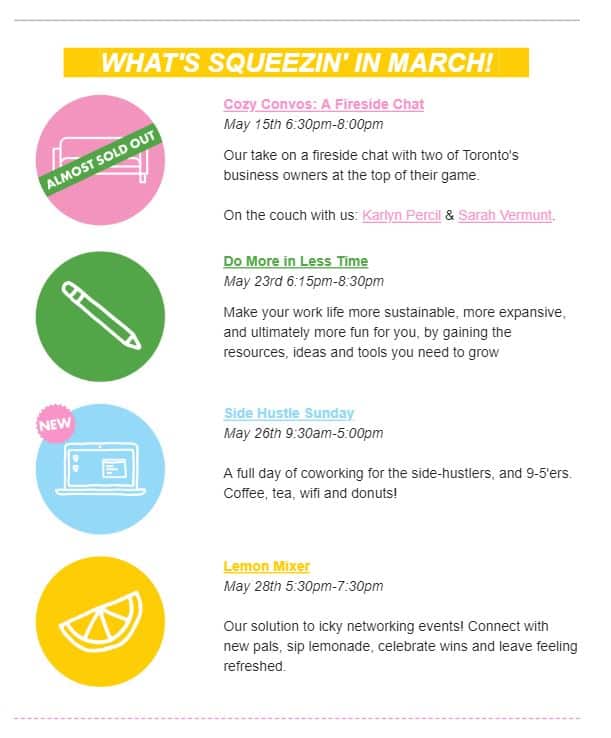 22) Departmental Highlights
Has your company's sales team hit their sales targets? Did the marketing department launch a successful marketing campaign?
Highlight the achievements of each department within your company newsletter. This is definitely one of those innovative newsletter content ideas that's going to improve employee engagement.
23) Internal Product Launches
Has your product team launched an innovative product that's about to hit the market?
Let your employees be the first to know about this.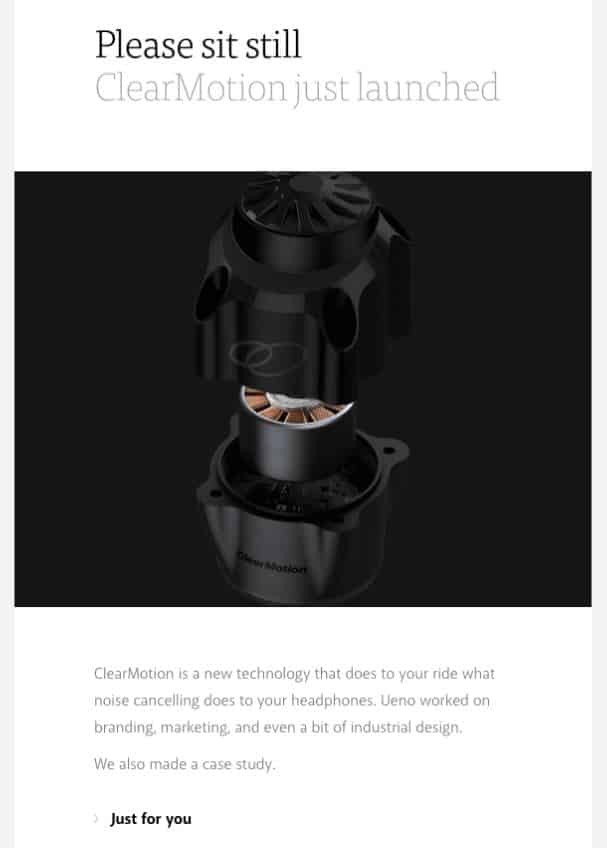 (Inspired by the above employee newsletter? Click here to view the source.)
24) Advice Column
Why not start an anonymous advice column and feature it within your internal newsletter. Pick someone from internal comms and HR to be the expert.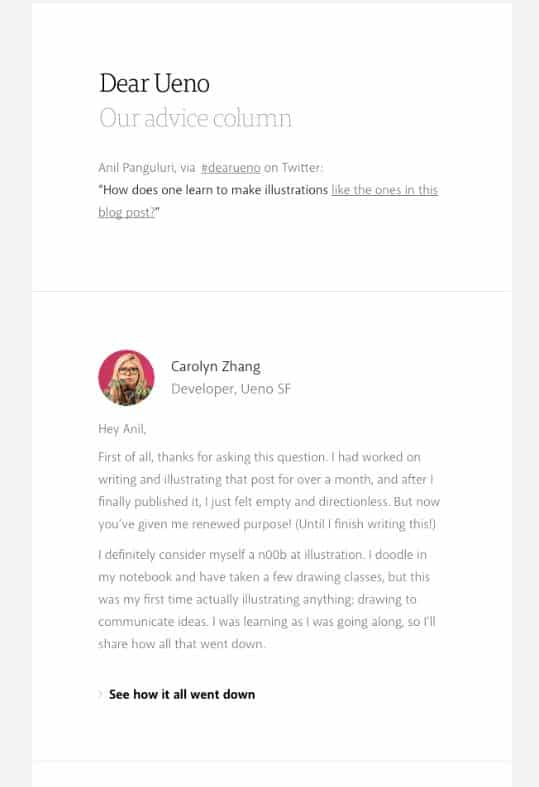 25) Celebrate Team Achievements
Did your company secure a big win? Let all employees know so everyone can feel like they're a part of the company's success story.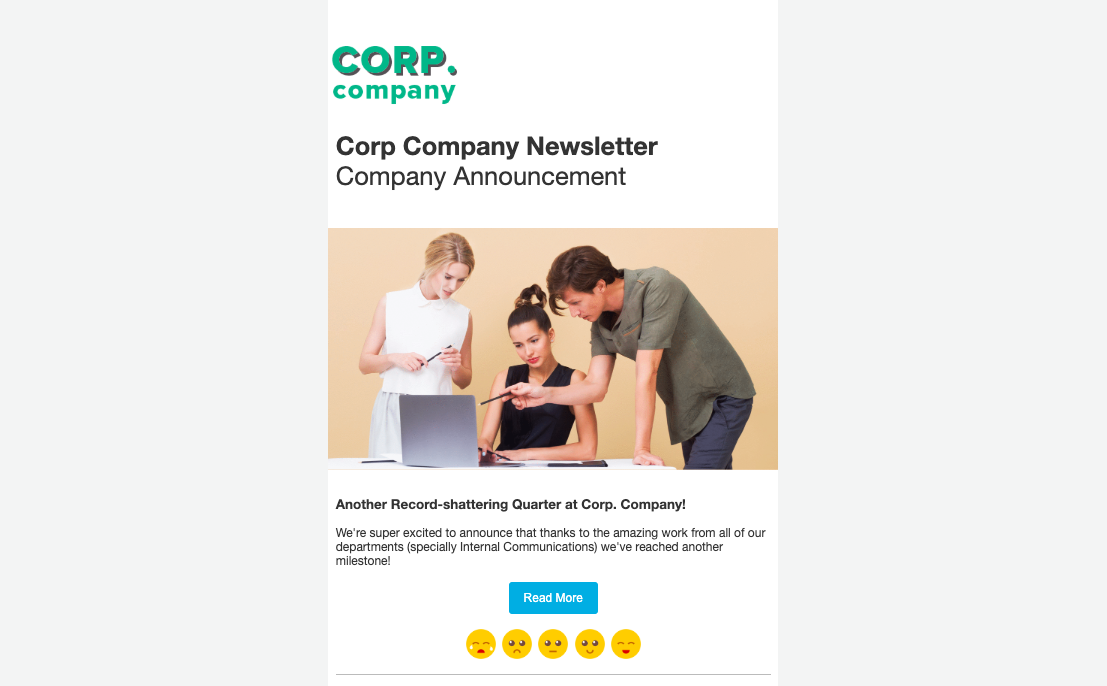 26) Reminders
Employees forget. You need to remind them about flu shots they need to take or upcoming holidays.
Add this to your list of important newsletter content ideas to feature in your company newsletter.

27) Video Updates
Need to announce important company updates? Use video within your internal newsletter to convey these updates.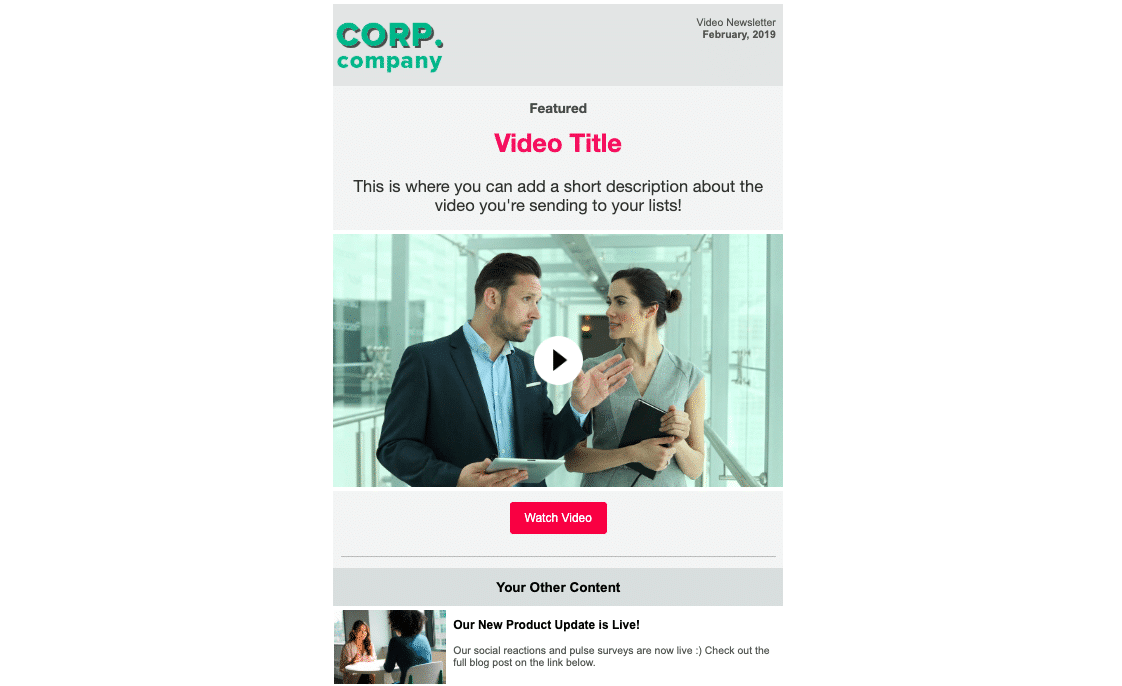 28) Alerts
Alert employees to any importance website maintenance updates or other emergency items within the company newsletter.

29) Holiday Party Invites
Hosting an internal company event? Feature it within the company newsletter! This is definitely one of the most fun newsletter content ideas you could come up with.
After all, who doesn't love parties?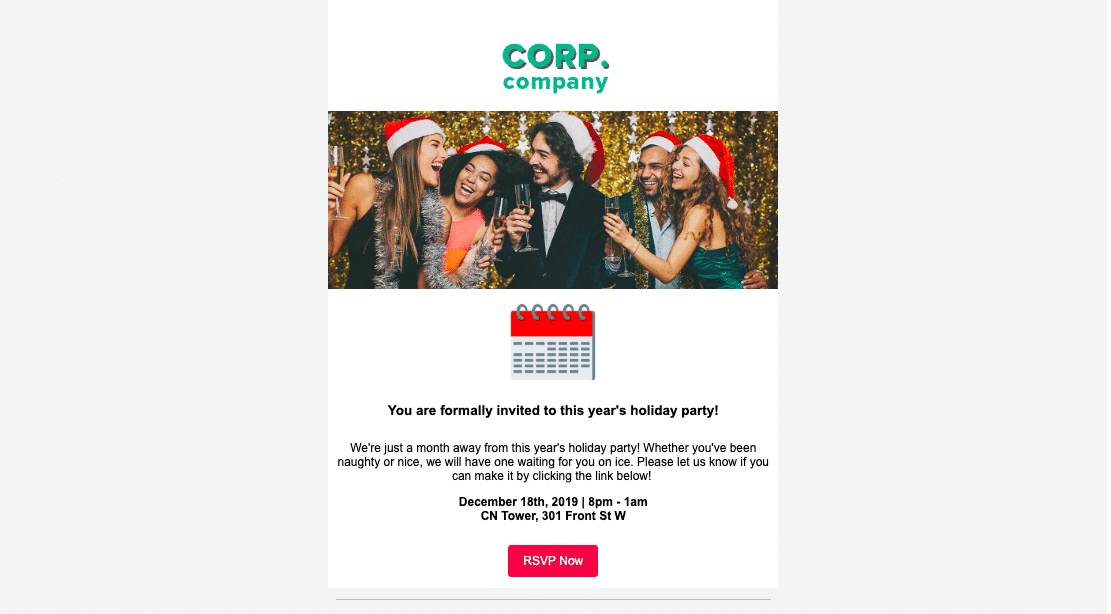 30) Customer Stories
Have a customer who loves the product or service your company offers? Feature their testimonials within your employee newsletters.
This will make employees feel their work adds value and meaning to other people's lives.
31) Tips from the Experts
Feature advice on career progression and general workplace advice from internal influencers within your company newsletter.
32) Blog Roundup
Do you have an internal company blog? Feature a round-up of the top articles featuring employees, product launches and more within your internal newsletter.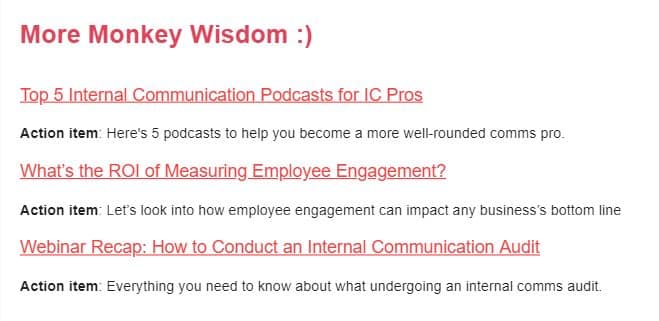 Now that you're equipped with some epic newsletter content ideas, be sure to make your newsletter look perfect across all devices. Responsiveness is a must! Luckily, with ContactMonkey, you can send responsive HTML emails with ease. 

And you don't have to worry about spending a large amount of time on this process!
ContactMonkey's email template builder enables you to create responsive HTML templates to boost employee engagement. Save entire templates to the library, then just edit the content if needed. 
And with ContactMonkey's email tracking service, you can send mass emails to Outlook distribution lists & Google groups and track every single email open!
And if you're wondering where you can get your hands on some kick-ass free templates, Stripo offers more than 220 free HTML email templates that you can easily customize or start creating your own in minutes with our easy to use drag and drop builder.
Sign up and we will get you set up on your free trial! Or if you're looking for pricing first?
Sounds like you're ready to become an internal comms superstar!
Top Internal Communications Resources for Kickstarting 2020
Ultimate Guide to Internal Communications for 2020
How to Create the Perfect Internal Communications Plan
Measuring Employee Engagement from Your Company Newsletters
8 Tips for Your Internal Communications Strategy
Why You Shouldn't Use Mailchimp for Your Employee Newsletters
How To Use Visual Storytelling in Your Communications
Have any more killer internal newsletter content ideas to wow your employees? Share with us in the comments below or tweet us. We would love to hear from you!
This blog was written by Filza Naveed & Hanna Kuznietsova, the Chief Content Officer at Stripo.email.