In search of some fresh, creative internal newsletter ideas? You've come to the right place. We've rounded up some fun employee newsletter ideas, examples, and best practices to help you take your company newsletter to the next level. 
Coming up with epic internal newsletter content ideas can be tough. In the past, you probably Googled "internal newsletter ideas" or the "7 creative ideas for your employee newsletter," in hopes of finding something that sticks. 
We're confident that by the end of this blog post, you'll know exactly what makes a good employee newsletter. 
The employee newsletter is a great piece of content for getting everyone on the same page. They should be exciting, given that a message is 5 times more likely to be seen in email than via Facebook. Email has also been proven to convert at a higher rate (about 66%) when compared to social, direct mail, and other channels.
Those numbers might seem crazy, but writing an employee email newsletter doesn't have to be hard. It starts with having the right employee newsletter ideas in mind, and then having a plan to execute on those ideas.  
How to Have the Best Employee Newsletter Content:  
When writing the employee newsletter, address it to a friend.

Get personal with your pronouns; use

I, we and you.

Explain in clear terms what's happening, why and how it affects employees.

When editing your employee newsletter, cut out redundant words.

Write one-line paragraphs.

Don't be afraid to start sentences with

and, but

and

because. 
How to Get Employees to Read Your Internal Newsletter:
Always provide value to your employees.  
Promote employee engagement with your internal newsletter by giving your employees information that matters to them. The employee newsletter is your opportunity to take important company and employee news, and tie a bow around it. 
Not sure where to start when it comes to employee newsletter topic ideas? 
Include business updates

Share employee news

Report industry trends

Provide links to the latest company blog posts

Announce upcoming events

Promote new customer stories or case studies 

In this newsletter template example, the theme is consistent, the email copy is brief, and readers have the option to explore further if they wish. 
Key takeaway: If you want to use the employee newsletter to increase employee engagement, get right to the point and provide only the most relevant information.
2. Engage employees with compelling copy.  
Today's employees are receiving 88 emails a day, so it's key that your internal newsletter gets – and keeps – employee attention. It doesn't have to be verbose to be informative; just include what's important for your employees to know. 80% of readers are skimming email communications. Shorter sentences with simple, accessible language are your best bet. 
Today's employees are receiving 88 emails a day, so it's key that your internal newsletter gets - and keeps - employee attention.
Click To Tweet
The Skimm is a daily newsletter that utilizes short paragraphs that pack a punch. They're written in a way that has their audiences hooked and makes them feel like industry experts by the end. If that's not enough to impress you, note that their newsletter has a 40% open rate.

Key takeaway: Delivering company information to employees doesn't have to be boring. Aim to have them look forward to getting the monthly newsletter land in their mailbox.
3. Number your internal newsletter sections.
Another tactic to try with your employee newsletter layout is either visually numbering each section, or using a certain amount of sections every month for consistency. Between three and five sections seems to be the sweet spot for consumption. 
Airbnb puts out a newsletter with five sections, and just a brief blurb covering each topic . If readers want to know more, they can click into each individual page. This is a good cheat for an employee newsletter, especially if what you're sharing calls for something more long-form.

Key takeaway: Numbering employee newsletter sections sets expectations for readers in terms of how long it'll take for them to consume content.
4. Have a clear call to action (CTA) for each section…
… and make these mutually beneficial whenever possible. To understand what's working for your employees (and what they want to see less of), you have to make employee feedback a priority. Some members of the group will provide feedback without expecting anything in return, but most need an incentive. Get clever with contests or giveaways in your employee newsletter, especially if you're asking to do more than just read what you've put in front of them.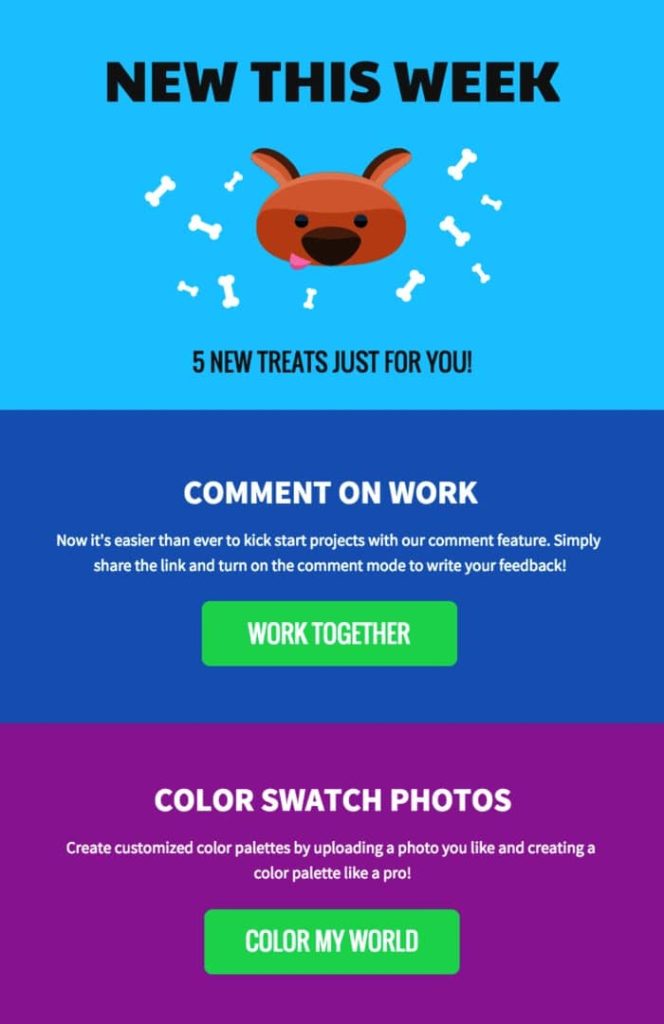 Key takeaway: Employees like to know the "why" behind what they're being asked to look at. Call to actions sum up the point of the information given, and allow them to be involved directly. 
5. Use hand-drawn icons

,

handwritten

fonts, or

bold

fonts to emphasize key ideas.  

Put your "money content" like case studies, customer testimonials, company information, and new product information at the top of the newsletter. Think about your recipients and give them things in order of importance. This is especially for reaching your internal newsletter skimmers. Playing with fonts and images only ups your chances of catching employee attention.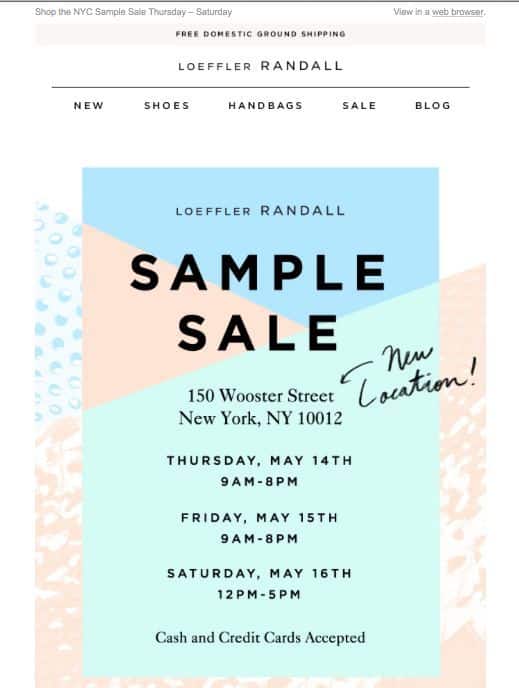 Loeffler Randall uses a handwritten font and arrow to draw attention to their new location. Aside from the title, this draws the eye in immediately.  
Put your 'money content' like case studies, customer testimonials, company information, and new production information at the top of the newsletter.
Click To Tweet
Key takeaway: Make sure employee eyes get caught on the most important information. Variety in text will lower the chances of newsletter skimming.
6. Don't shy away from a brief internal newsletter.
As a follow-up to #5, remember that you can still be thorough with something that's just a few sections long. Don't beef the information on the page for the sake of taking up more space. Employees will appreciate you getting to the point, especially when the average employee spends 13 working hours a week in their company inbox. Keep the employee newsletter clean and minimal, like this example from The New York Times. 
Bonus tip: Don't be afraid to use contractions in your sentences. It makes your newsletter writing more conversational.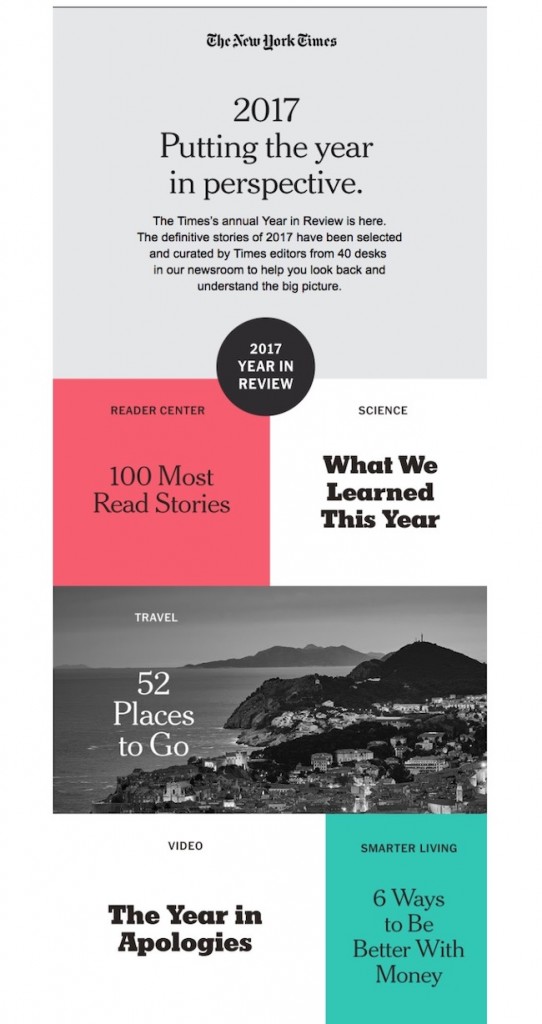 Key takeaway: Engaged employees don't want to be thrown too off track from what they're working on. Respect their time by giving them an employee newsletter that is quick to read and easy to understand. 
7. Use list infographics to get everything read. 
If it fits your context, don't shy away from the chance to use a strong infographic. If your recipients open an employee newsletter chock-full of text, they're going to either skim it or exit out of it because it seems overwhelming. An infographic that lists the topics covered with only necessary text with it can prevent this, and improve your employee engagement numbers. 
Visually offer videos, infographics, reports, presentations and more. Below is an example for an animated holiday employee newsletter, perfect for rounding up company events and milestones at the end of the year. 

Key takeaway: A lot of words on the page can be overwhelming – especially to a busy employee. Visuals and lists make employee newsletters easier to get through, and appear more brief than they actually are. Learn how to plan and create a stellar infographic.
8. Have a key takeaways section for your employee newsletter. 
This is another tried-and-true way to catch your employee newsletter skimmers. If they're the type to go right to the bottom of the page, it helps to hit them with a bulleted list summarizing the most important points made in the company newsletter. This is your insurance policy on getting the intended information across to your employees.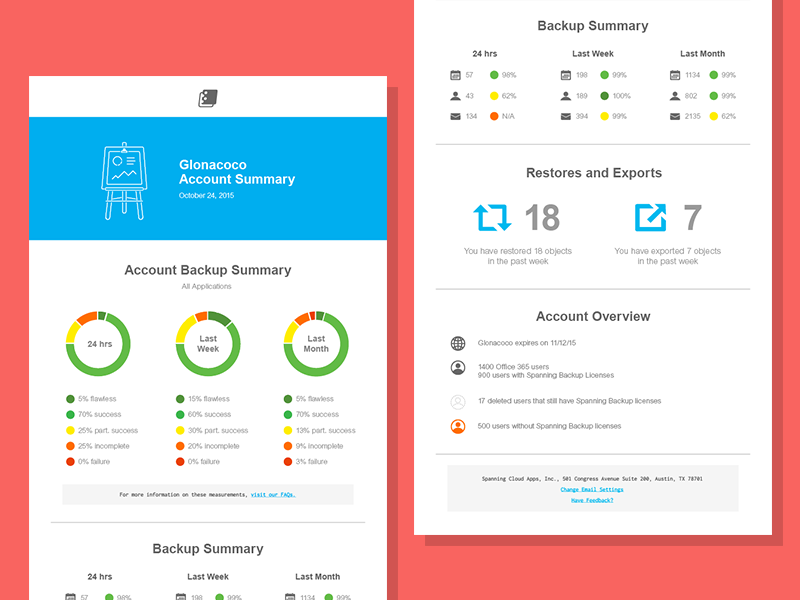 Although data-centric, this newsletter template example makes it very easy for the reader to absorb and understand the information in front of them. If the recipient is not interested in looking at the numbers, they can just go right to the overview section to get the bigger picture. 
Key takeaway (literally): Even if you do everything right, you'll still get skimmers looking for the most important points of the employee newsletter. Give the people what they want. 
9. Make employees the stars of their own show.
The employee newsletter is made by employees, for employees, so treat them as the target persona. As you start to gather content and plan out the internal newsletter design, put yourself in the shoes of your fellow employees. This is great for company culture. 
How to increase employee engagement from your newsletter:
What would make you keep reading?
What would you want to know more about at [INSERT COMPANY NAME]?
What would be a complete waste of your time?
Mention any recent milestones or accomplishments, especially if they're more personal (like retirements, marriages, and pregnancies). Seeing content like this encourages employees to share with you, and  make them feel that their personal life is just as important as the work they do. 

Key takeaway: The main goal of an employee newsletter is to keep your team members in the loop. Although it's important to inform them about the business, no company exists without its people. Give them the spotlight. 
10. 
Have fun with your company newsletter. 
The employee newsletter doesn't just have to be company-focused. Inject your own interests and personality by sharing things that you love that you might talk to employees about in a regular conversations. Include monthly book recommendations (and maybe start a book club in the process), seasonal recipes (especially in months with major holidays), motivational quotes, or fun facts.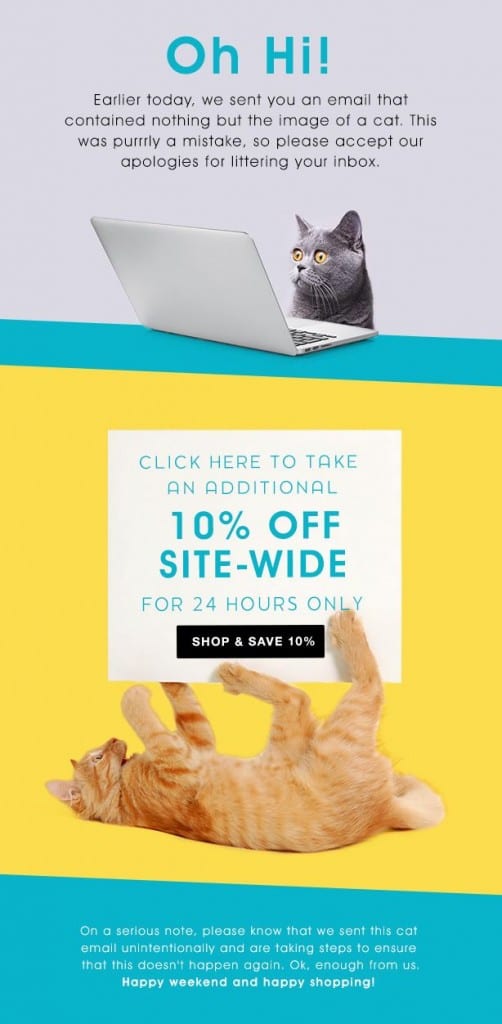 In this example of a follow-up email, Fab apologized for an earlier mishap with cute animal photos and puns. For the reader, this becomes the focus, rather than the mistake made in the first place. They also included and offer and a subtle CTA around shopping. 
When it comes to your employee newsletter, you can use this as an opportunity to offer a small gift (like a $5 gift card). 
How to Amp Up Employee Engagement 
Keep in mind that for internal communications professionals, the employee newsletter is your most direct line of communication with your employees.
As with all communications, the best employee newsletters are relevant, entertaining and interactive. While the dissemination of company information is an important task, if you don't remember to be engaging, employees will lose interest. 
Employee newsletters can also feature various forms of multimedia and enable you to monitor email performance and track how your audience responds. 
Are you looking to gather employee feedback on the last Town Hall? Or looking for ideas for the next company outing? Then lead to surveys and comments, and use some sort of incentive to increase response rates. 
The best employee newsletters are relevant, entertaining, and interactive.
Click To Tweet
As mentioned in Idea #9, it's important to put yourself in the position of your fellow employees when experimenting with internal newsletter content and ideas. Getting feedback from employees is a simple way to make changes to the company newsletter.
How to Gather Employee Feedback 
If you're using ContactMonkey to create, send and track your internal communications, you can gather feedback anonymously, and pair questions with some emoji reactions that make it more interactive. 
For a company newsletter, there is no better data than employees giving you direct feedback on any internal email you send out. With ContactMonkey, you can add emoji reactions and pulse surveys to your corporate newsletters and find out exactly what is engaging employees the most.
How to Gauge Employee Sentiment to Improve the Company Newsletter
Use social reactions to measure satisfaction on a scale. 
With social reactions, your internal comms team can constantly gather feedback in one click. Give your employees the ability to react to any content you send them by adding emoji reaction icons to your employee newsletter designs. On social media, Facebook and LinkedIn are making use of multiple reaction functions.
Pulse surveys provide answers to specific questions with comments. 
Pulse surveys will help you collect employee feedback in a matter of seconds. Whether you want to find out "what they think of the new CEO" or "if they enjoyed the summer party," you can simply add pulse surveys to your newsletter templates with ContactMonkey's email template builder.
You'll be able to see all of the responses live in real time on your ContactMonkey dashboard.
You can also personalize the subject line and body of your employee emails. Employees also have the option to go one step further and leave written comments. The anonymity can be enough to noticeably increase employee engagement.
How Can You Improve Your Subject Lines?
Attempt to ignite curiosity or urgency.
Inspire emotion.
Aim to create human intimacy.
Improve your subject lines by: Attempting to ignite curiosity or urgency, inspiring emotion, and aiming to create human intimacy.
Click To Tweet
What Can You Ask Your Employees To Get Honest Feedback On the Internal Newsletter?
What do you love about [INSERT COMPANY NAME]'s newsletter?
What is our internal newsletter missing?
What would you like us to start doing, or do more of in the employee newsletter?
What have you seen in other newsletters that works well?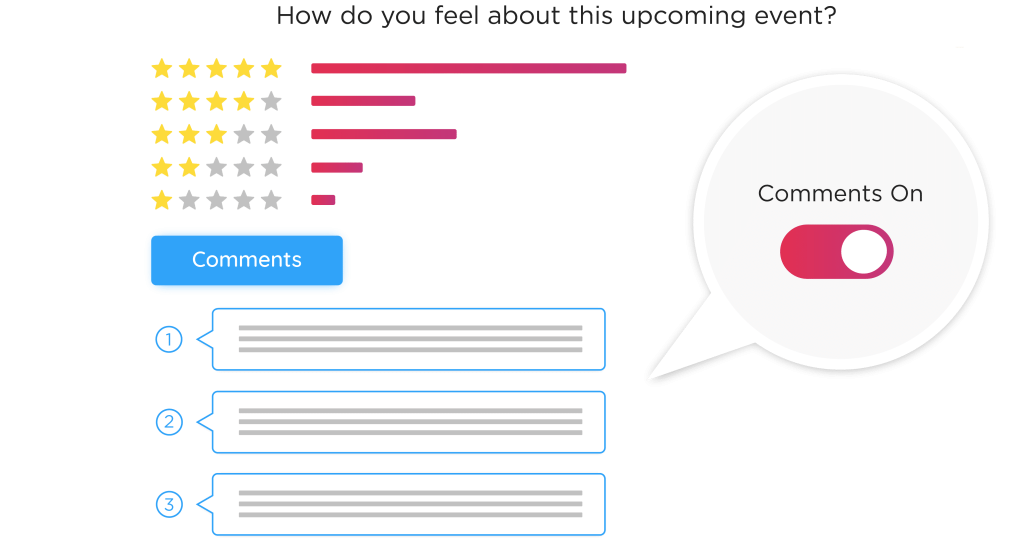 Start gathering employee feedback from my employee newsletters
Employee Newsletter Best Practices
Don't just take our word for it! See what internal communicators who are already tracking their internal email communications think: 
"Tracking for us feels like a necessity. I should know how many people are opening, clicking, and reacting to my emails. It ultimately ends up informing long-term planning. The tool has also helped me figure out which subject lines catch our team's attention." 

– Ashley Allen, Director, Strategic Communications & Operations, Cimpress
In Summary: The 10 Commandments for Creating the Best Employee Newsletters
Thou shalt check your employee newsletter to

ensure responsiveness across devices.

Thou shalt focus on your audience's needs. What do

they

want to see?

Thou shalt use the power of visuals to craft a good company newsletter.

Thou shalt always personalize the subject line & body of your company newsletter.

Thou shalt create targeted content for your various employee distribution lists.

Thou shalt communicate in a human voice.

Thou shalt utilize concise subject lines.

Thou shalt break some grammar rules (if it fits your company voice). 

Thou shalt avoid corporate jargon in your

company newsletter

.

When in doubt, thou shalt use the inverted pyramid formula (newsworthy to general).
Go forth and send out employee emails that you would want to have land in your inbox. Give employees the spotlight, keep it brief, ensure that you're adding value, and have fun with it.

Other Employee Newsletter Resources 
Ultimate Guide to Internal Communications for 2020
The Importance of Responsive Emails in Outlook for Employee Communications
7 Hacks for Creating Engaging Internal Emails
Boost Employee Engagement During Holiday Season: 5 Tips 
32 Newsletter Content Ideas to Boost Employee Engagement 
14 Epic MailChimp Alternatives for Creating an Internal Newsletter for 2019 
How to Use an Employee Pulse Survey in 2020
Feeling inspired by this article? Ready to create your own employee newsletters? Find the best internal newsletter ideas to try? Take a tour of our email tracking tool, and take your company newsletters to the next level: