If you're searching for killer newsletter ideas or specifically for stellar employee newsletter ideas to amp up your internal newsletter, then this blog is for you. We've got some fun newsletter examples to help you come up with creative company newsletter ideas. 
Coming up with epic internal newsletter content ideas can be tough. You'll Google "best employee newsletter examples" or the "7 creative ideas for your employee newsletter" but won't really find anything captivating.
Your employee newsletter is a direct line of communication with your employees so it's imperative that you whip out your cell phone and make a list of "fun things to put in a newsletter."
We've compiled a list of some great company newsletter ideas to help you come up with creative newsletter topics for your employee newsletter.
Like all communications, the best employee newsletters are relevant, entertaining and interactive. While the dissemination of information is an important task, if you don't remember to be engaging, your employees won't pay attention.  
Not only is it hard to get your employees to open emails, even when they open it, if your newsletter is missing that wow factor, your audience won't engage with it and the worst will happen: they'll hesitate to open any future internal newsletters.
I know, it's unfair. We feel your pain. But at the same time, as the person creating the company newsletter, it's on you to make sure that your internal newsletter is irresistible.
Luckily for you, we've compiled a list of 10 epic internal newsletter content ideas or employee newsletter ideas to up your internal newsletter game!
10 Killer Internal Newsletter Examples: Internal Newsletter Content Ideas for Your Company Newsletter
Here are 10 killer internal newsletter ideas and newsletter examples that will help you steal your employees attention, leaving them craving for more (and no calories!).
1) Keep it Simple, And Make it all About Your Employees

Isn't this a great example for your internal newsletter template? Check out the actual newsletter here)
The above newsletter from Airbnb effectively utilizes the power of storytelling and offers great inspiration in terms of newsletter content ideas when crafting your employee newsletter.
The first way this newsletter deploys great storytelling is the use of the word "you" in their introductory copy. They seem to know exactly who their target audience is, which in this case, are the hosts who open up their homes to other people via Airbnb.
They've then created various targeted content that would only appeal to this particular segmented audience. Everything revolves around how you can be a better Airbnb host, stand out and attract guests to choose your home.
If you're using ContactMonkey as your internal comms email platform, you can personalize the subject line and body of your employee emails.
The second way Airbnb is effectively deploying the art of storytelling in this newsletter is by dividing up the information into different content blocks.
This is a great way to tell a story visually as it ensures you don't overwhelm the reader.
Key takeaways for your employee newsletters:
Personalize all employee emails, especially the subject line and body of your email.
Segment employees according to country, region, age etc. to boost employee engagement.
Keep your copy short and snappy and use content blocks to tell more effective stories within your emails.
Aren't these fun content ideas for your internal newsletter?
2) Feature Creative Shots of Your Employees
Think about the first thing you do when looking at a picture you're tagged in. That's right, your eyes go straight to where you are. Who are you next to? Who cares! As long as you look awesome, it's a good picture.
Check out this stellar employee newsletter from Ueno. It contains all the ingredients you need to communicate important company announcements and policies. 
They've communicated their parental leave policy by featuring an actual employee within their newsletter. And what's more important, they've made her look like a complete badass!
This just goes to show you can make even boring company policies sound uber interesting to employees with the right creative approach!

Key takeaways for your employee newsletters:
Feature employees to communicate important policy changes in your company newsletters. Pro tip: Make them look super badass!
The headlines in your newsletters should be super snappy and creative and should tell your audience exactly what's going to come in the paragraph below.
Ask yourself, what's in it for them when crafting each paragraph within each content block.

3) Make Your Copy Speak for Itself
If you don't consider yourself a design savvy communicator, but are a gifted wordsmith, then The Skimm is all the inspiration you need to craft the perfect employee newsletter.
The Skimm utlizes short, punchy paragraphs to captivate their audiences and make readers feel like industry experts.
It also has an astounding 40% open rate for their email newsletter!
Try simulating this kind of snappy writing style to convey company-wide announcements and events.

Key takeaways for your employee newsletter:
Feature employee birthdays within your weekly or monthly company newsletter.
Add social media icons within your newsletter so employees can easily share interesting updates.
Use a "quote of the day" within your employee newsletter, quoting a funny quote by a different employee each month.
Simulate a casual style of writing that's conversational when talking about serious company announcements. If The Skimm can do it, you can do it!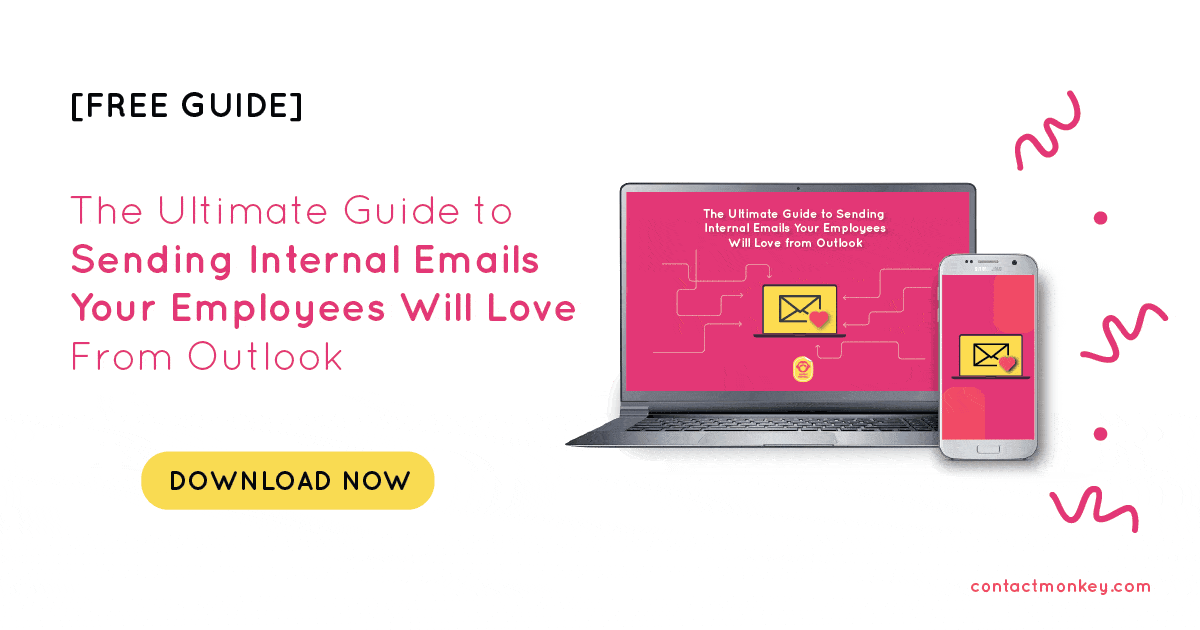 4) Ignite Curiosity or Suspense Via Your Company Newsletter
Netflix is known to use the power of suspense to draw their readers in. Suspense is a powerful emotion used in storytelling to captivate your audience and make them keep coming back for more.
Much like the addictive nature of their TV shows, Netflix utilizes suspense within their newsletters as well. They mostly draw on visuals and design to tell the story.
The below newsletter for the popular TV show, Iron Fist, is an excellent case in point. The use of the actor's animated image takes over most of the space strategically.
You're not expecting the image to become animated all of a sudden. This sudden change in the visual will make you want to press the CTA button to view the trailer.
The sleek design and dark imagery tells a story as well. It evokes emotions of suspense, tension and uncertainty.
The key to utilizing the art of internal comms storytelling in any newsletter is to ensure you don't give away the whole story.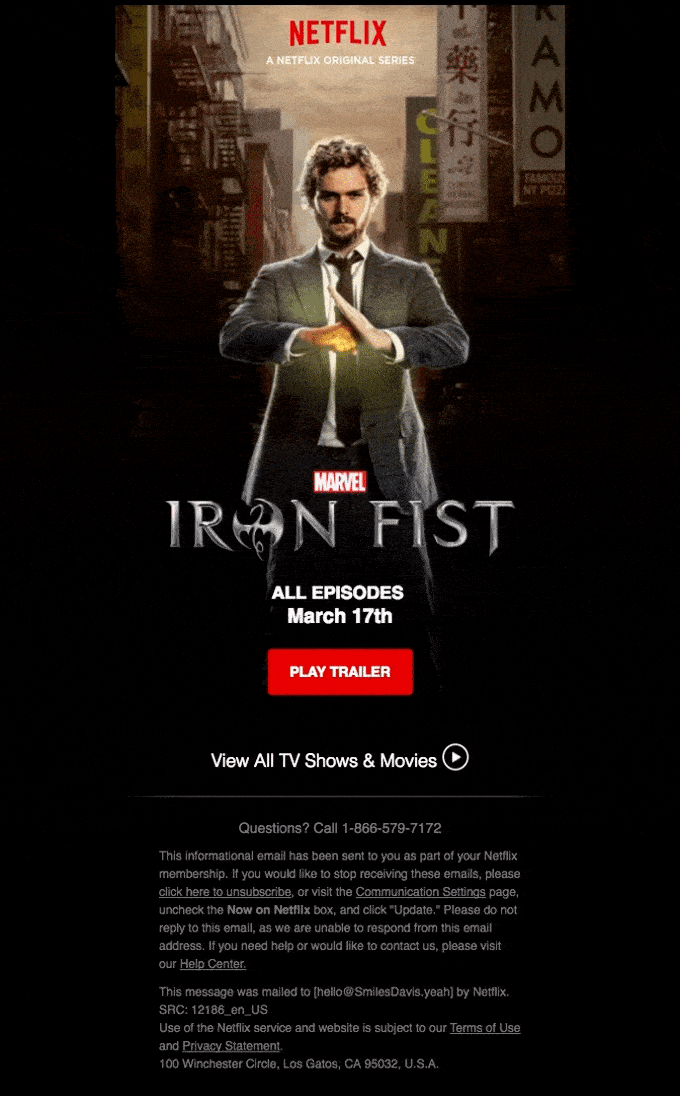 Isn't this a great sample for your internal company newsletter? Check out the entire email here.)
Key takeaways for your employee newsletters:
You can use the art of suspense by animating your employee newsletter using the above example. This can be as simple as using a visual of your employees from your company's last event, animating those visuals and then asking the audience to click on a button to read the whole story on your website.
If you don't wish to use animated visuals in your newsletters, you can try using videos or simply use a darker colour in your employee newsletter to evoke suspense.
The above newsletter example is a great one to simulate for your employee newsletter to highlight special events such as Christmas or Halloween as you're more likely to get away with using colours that aren't a part of your usual brand palette during such times.
5) Let the Words Entice Your Audience
If we're going to talk about epic newsletter content, we definitely cannot overlook The Hustle.
This is a prime example of how you can simply rely on the power of the written word to grab the attention of subscribers.
This newsletter is not only great for marketers to draw inspiration from, but is also an amazing example of how to write email newsletters for internal communications folks looking to create epic content without having to rely on visuals and designs.
The copy is slick and makes even the most mundane events around the world sound interesting
Internal communications folks, look at the copy on this one to figure out how to spice up company news in order to bolster employee engagement.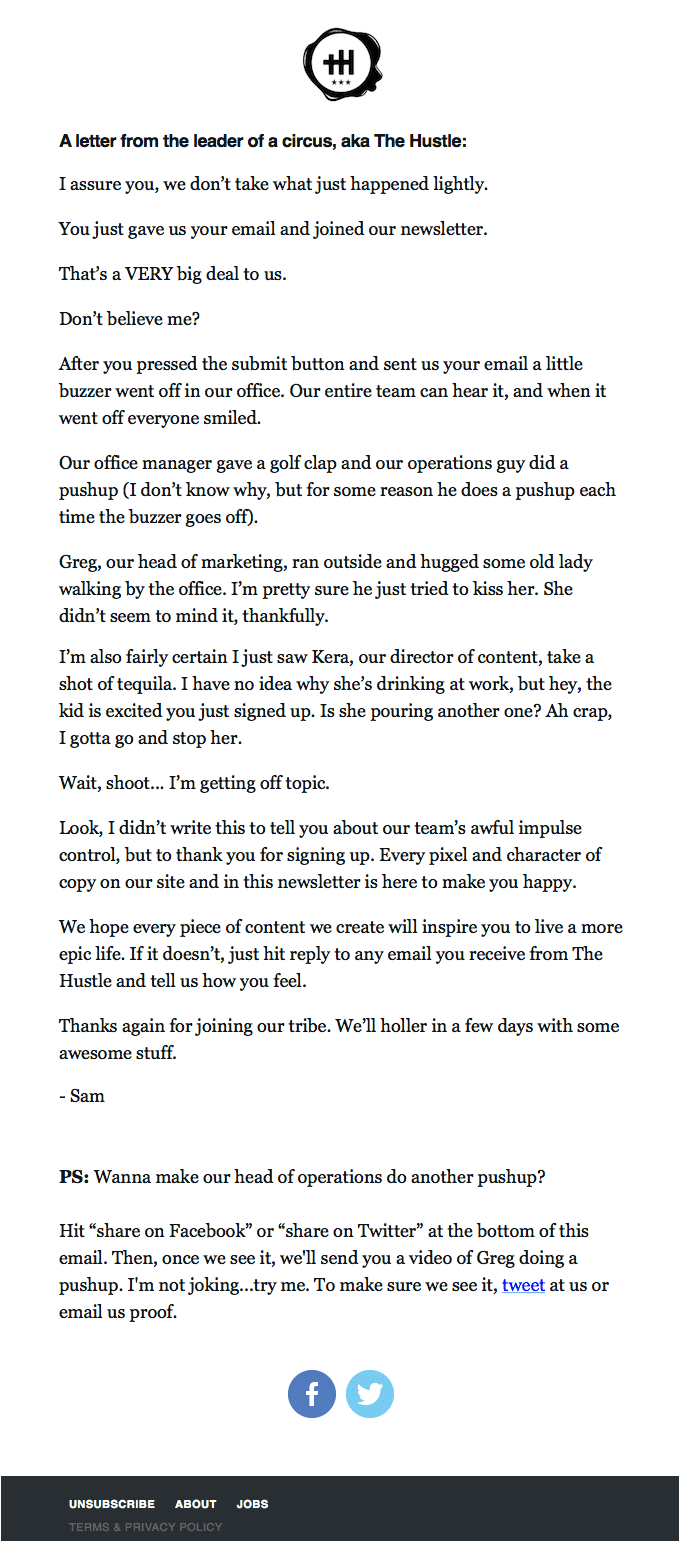 Key takeaways for your employee newsletter:
Simulate a casual style of writing that's conversational when talking about serious company announcements.
Consider simulating this style when trying to communicate change. Talk to each employee in the first person as change is sensitive.
6) Present Your Employee Newsletter as a Visual Map
Visually is the perfect source for any kind of marketer. Whether you're an external or an internal marketer, this is one resource you need to check out.
They offer videos, infographics, reports, presentations and more. It's essentially a visual haven for any kind of content creator and their newsletter really brings their vision to life.
Styled as a sort of infographic, this animated newsletter is the perfect example of a modern, attention-grabbing newsletter that is perfect for inspiring the viewer to really take notice.

Key takeaways for your employee newsletter:
Create a brilliant visual landscape within your company newsletter.
Present company updates as interesting statistics so that the viewer is able to digest the material easily.
This above newsletter is a great one to simulate when announcing end of year achievements within your company.
Showcasing all the highlights of a specific year while wishing readers Seasons Greetings is a wonderful way to garner engagement, excitement as well as hope and joy for what's to come.
7) Less is More!
Sometimes, the best newsletters are those with the least amount of content.
Consider the example below from The New York Times.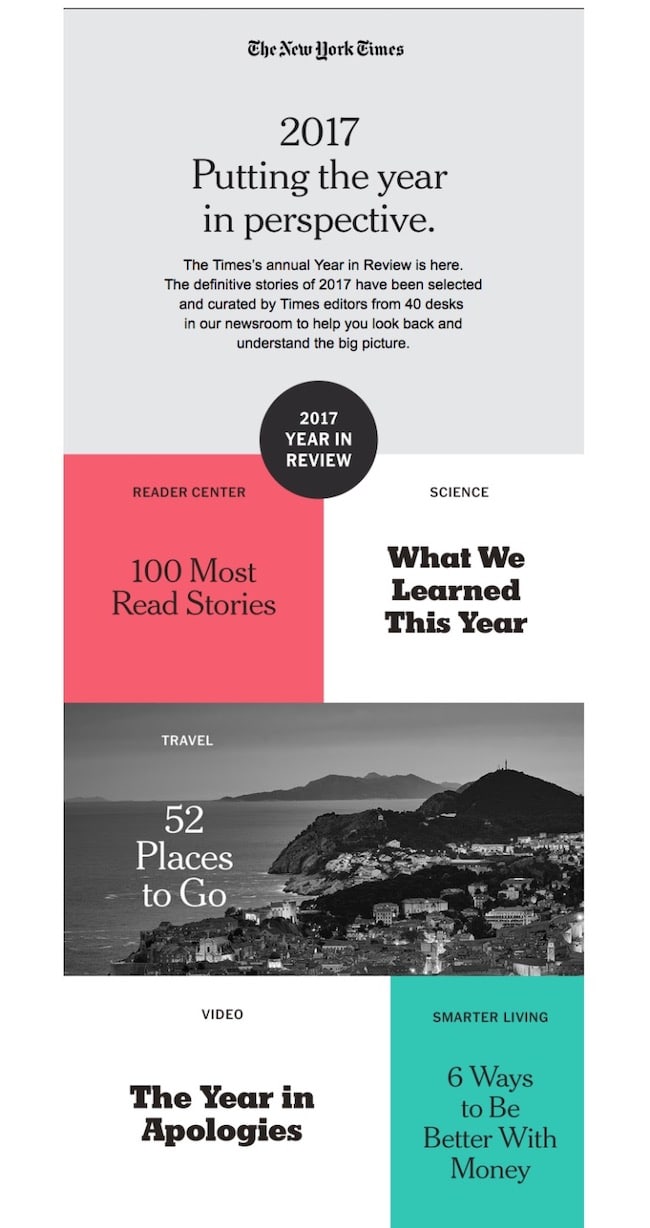 Key takeaways for your employee newsletter:
Try using a completely black and white design element and make two of your content boxes coloured. This will make the news that's important pop out vividly.
Consider simulating this newsletter style for end of year company reviews.
Consider only showcasing catchy headlines within your newsletter, as in the above, enticing employees to click on the headline and read the full story on your website.
Keep it clean! This is a minimalist newsletter design that's sure to grab employees' attention.
8) Use the "Roundup" Style within your Company Newsletter
I love this newsletter from InVision because they use simple illustrations to showcase important announcements.
This one is a great newsletter to simulate if you want to simply give employees company highlights and get them to read the full story elsewhere.

Key takeaways for your employee newsletter:
Consider only showcasing catchy headlines within your newsletter, as in the above, enticing employees to click on the headline and read the full story on your website.
Bonus Tip: You'll know which employees clicked on which headlines the most using ContactMonkey via our link tracking feature.
If you're regularly churning out news stories or have blogs featuring employees or team achievements, the above newsletter style would be perfect for your company newsletter!
9) Feature Thoughts from Your CEO
Every employee wants to hear from the CEO!
Use the newsletter below to show your employees your CEO cares.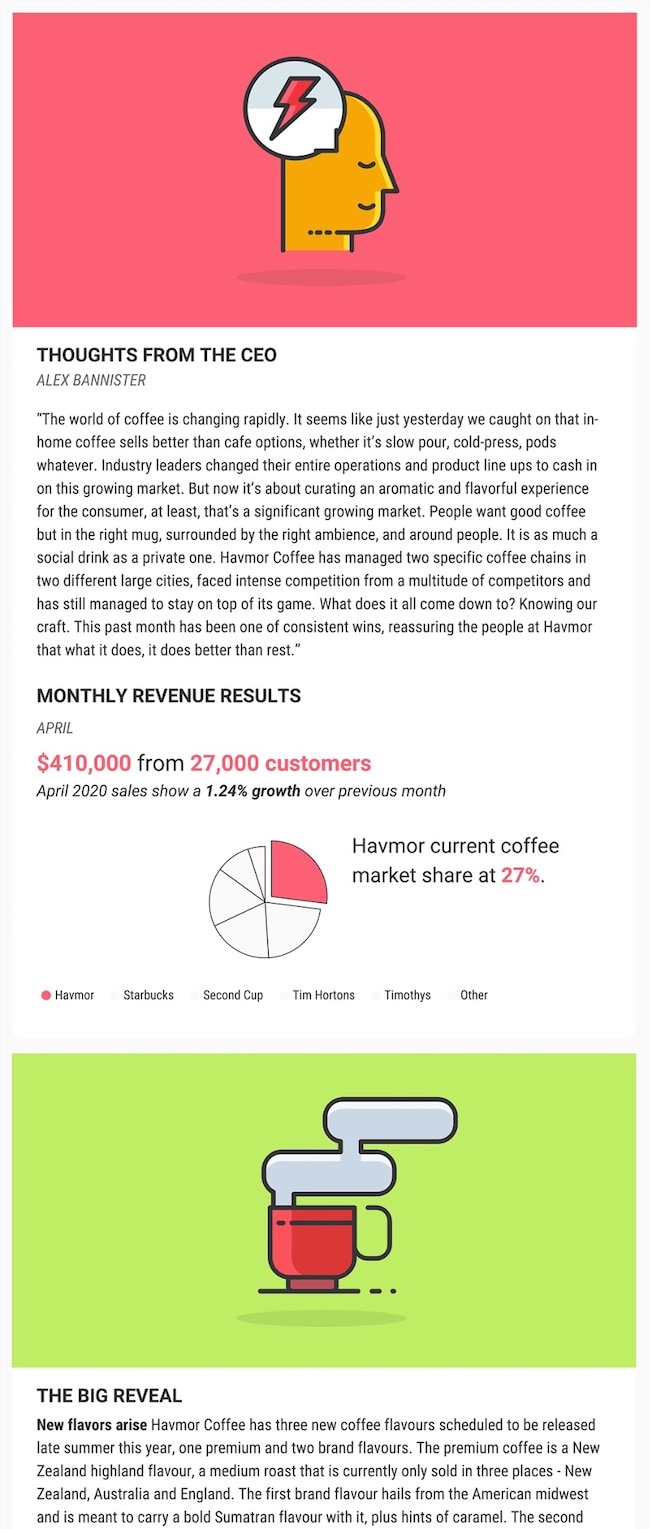 Key takeaways for your employee newsletter:
Don't have time to take employee photos or your CEO's photos? Try using simple illustrative icons to make your newsletter come alive.
Showcase important announcements, especially boring revenue related ones, using enticing pie charts.
10) Make Employees the Heroes of Your Newsletter
This is an external newsletter, but this template can be used to create an internal employee appreciation newsletter.

Key takeaways for your employee newsletter:
The first thing this brand has done spectacularly well is to directly speak to their target persona and make them the central hero of their story. Make your employees the heroes of your story!
Work on your internal newsletter design. This newsletter is designed into separate blocks with different colours so that each colour block is almost like a different chapter outlining the target persona's journey!
So, there you have it. 10 killer employee newsletter ideas to help you create the best company newsletters!
In case you didn't have time to read any of the above, read our employee newsletter best practices to help ensure you truly create killer internal newsletters.
Employee Newsletter Best Practices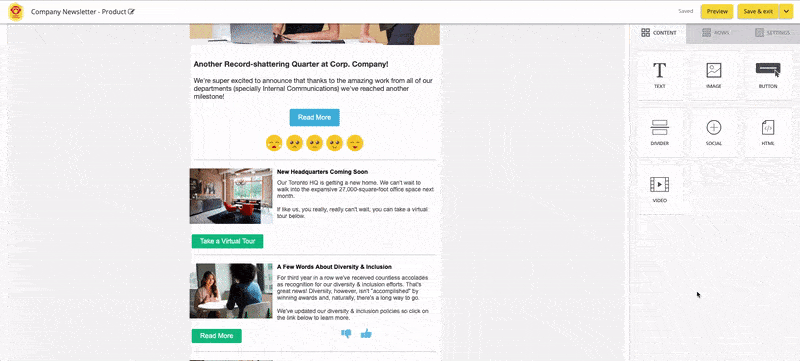 The bottom line is to send emails you would like to get! Add memes you find funny (work appropriate always, of course), and give people the attention you'd like to get whether it's through a profile or through featuring their recommendation in your internal newsletter.
What have you seen work in the past? What are the most fun and fresh employee newsletter content ideas you have come across? Is there a section of your newsletter your employees love? Let us know in the comments below or tweet us!
Further Resources on Creating Killer Employee Newsletters
How to Create the Best Employee Newsletters to Re-energize Your Workforce
The Importance of Responsive Emails in Outlook for Employee Communications
7 Hacks for Creating Engaging Internal Emails
Want to learn how to create killer employee newsletters & track them using ContactMonkey? We can set up a personalized demo for you and your team. Just click on the button below to book your demo!