University email marketing isn't simple—many higher ed communications managers will attest to that. However, the right tool can help you effectively reach your audience and engage better across the board. Learn why so many universities use ContactMonkey to communicate with their stakeholders.
University email marketing is inherently complex and difficult to manage. Between the numerous stakeholders and year-round events, there's a lot of information to convey.
Modern communications channels can facilitate better higher education communications. And the unexpected shift to online learning has made digital transformation more essential than ever.
And yet, more than 50% of students don't read the emails from their institution or academic department. Meanwhile, faculty members review a majority of their 81-100 daily emails only at a glance and delete messages that don't resonate.
What this shows is that while email is the preferred mode of communication in universities, it's not always optimized.
In this post, we'll cover all the tips and tricks to help you optimize university email marketing and newsletter design.
What is University Email Marketing?
University email marketing encompasses all the email messages and media that university communications teams plan and deliver to their student community. This includes targeted and personalized emails as well as email newsletters to prospective students, alumni, and institutional partners.
With the right tools, university email marketing can let you tailor and personalize the experiences of students, faculty, and staff based on email engagement data
An all-in-one internal communications tool like ContactMonkey can help you cut through the noise and save hours of your time each week. Book a free demo to learn why so many higher education institutions rely on ContactMonkey.
Pro Tip: Send tailored university communications to faculty and staff by segmenting email lists with ContactMonkey's list management feature.
Why is University Email Marketing Important?
From choosing student housing to picking courses and managing exam schedules, university students have a lot on their plate. They need to get key information fast and in one place.
University email marketing is important because it delivers key information, events, and deadlines to students all in one place. It's also responsible for promoting extracurricular opportunities and campus events that can connect the student community.
It's important to remember that email is one of the best-performing channels for marketing at educational institutions. In fact, most teens and millennials said they prefer to receive communications related to business and higher education via email.
That makes university email marketing a powerful tool for higher ed communications teams. But university email marketing has to be done right to actually resonate with students.
Let's look at how you can upgrade your university email marketing and newsletters.
Pro Tip: Quickly generate customized university communications with ContactMonkeys OpenAI integration.
5 Tips for Effective University Email Marketing with ContactMonkey
Now that we know its benefits, let's dive in to how to actually implement successful university email marketing. Whether you're communicating with students, staff, or faculty, you can make the best of your university email marketing with these 5 tips.
1. Tailor University Communications to Students, Faculty, or Staff
As someone handling communications in higher education, you're probably used to sending out mass emails to multiple audiences: students, faculty, and staff.
A recent study showed that larger email campaigns had lower engagement rates in the education market. Decreasing the size of the campaign resulted in higher open rates and engagement across the board. On the flip side, personalized emails increased open rates by 244% and click rates by 310%.
By targeting communications towards audiences that will find it relevant, you'll likely increase engagement.
ContactMonkey helped streamline internal communications at the University of North Texas. "The process is so much easier with ContactMonkey versus the way we were doing it previously," said Amy Armstrong, Senior Communications Strategist at the University of North Texas. "It's just much smoother, and it's shaved three hours off of the time that it took me to get each newsletter ready."
With ContactMonkey's "Merge Tags" feature, you can personalize subject lines, as well as email body copy.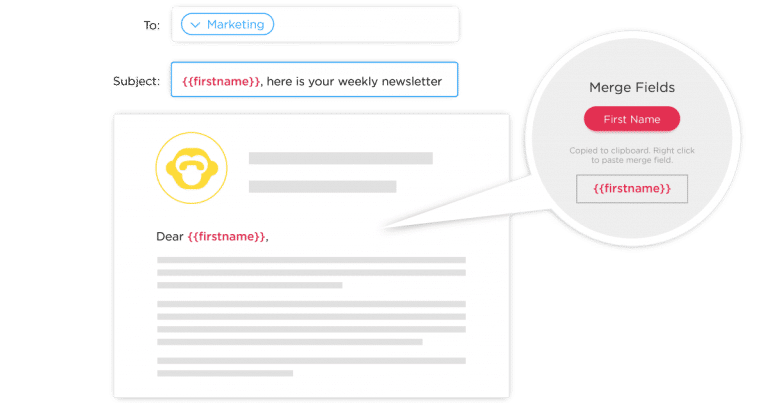 ContactMonkey also makes it possible to view segment email stats (e.g., students, staff, faculty, or alumni) and compare campaigns side by side to determine what works for different recipient groups.
With the recent switch to remote learning, this type of insight is necessary to improve higher education communications and assess engagement. Learn how you can use ContactMonkey to optimize your internal communications by booking a free demo.
2. Gather feedback
In universities, professors often value student feedback on their courses. Constructive input helps professors evaluate their teaching methodologies and improve their courses.
Remote learning has made it even more essential to gauge students' engagement levels. It's difficult to determine whether students are invested in the course when you can't see them in person.
When collecting student feedback, keep these guidelines in mind:
Students are more likely to be honest if you allow anonymous feedback.
Inform students about how you will use the feedback to improve their course experience.
Acknowledge the feedback and encourage discussion about the input.
Based on the feedback, implement changes that improve the course, student experience, or institution.
ContactMonkey's survey feature makes it easy to collect feedback right from your emails. Gather real-time feedback from students, faculty, or staff with pulse surveys, emoji reactions, and employer Net Promoter Scores (eNPS):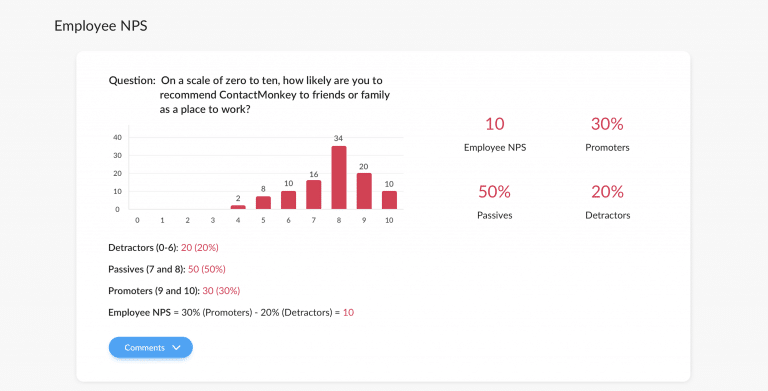 Emojis are gaining popularity in education: It's a succinct way to express feelings in the classroom. With six billion sent every day, emojis are commonly used to communicate, especially among millennials. Emoji survey responses are user-friendly, quick, and relatable to younger audiences.
3. Optimize emails for both Gmail and Outlook
With more than 2,000 colleges and universities using Google for email, and thousands of schools and colleges in 86 countries using Microsoft, it's safe to say that Google and Outlook are the leading players in email. ContactMonkey works with both.
Unlike other email marketing tools out there, ContactMonkey functions as an Outlook Add-In or Gmail Chrome Extension. You don't have to worry about uploading your email lists to an external platform because ContactMonkey works with your existing distribution lists: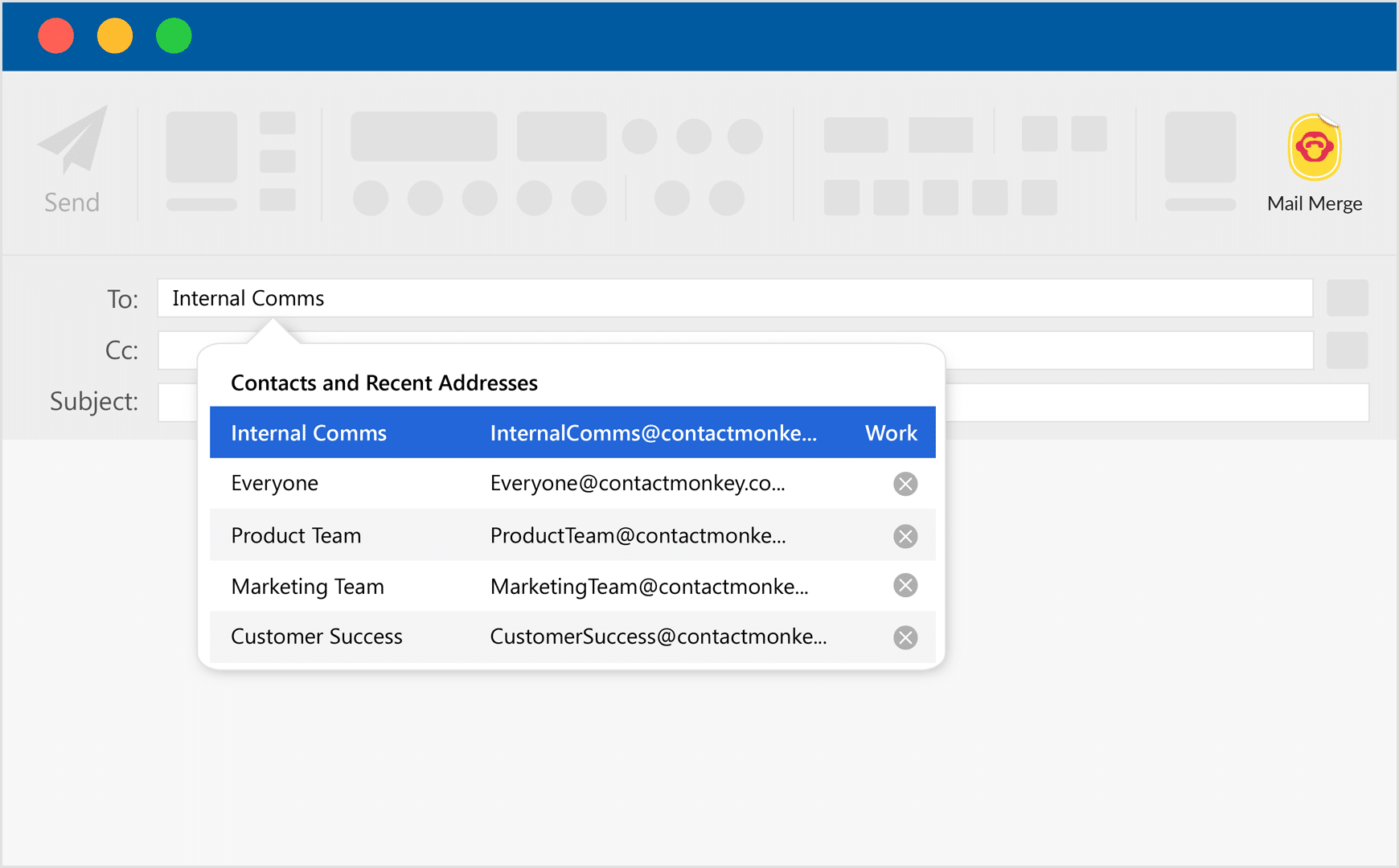 Don't have a distribution list set up? Read our blog on how to create a distribution list in Outlook to get started.
In 2018, Widener University was looking for a scalable university email marketing software that would integrate with Outlook. "We wanted a service like what you have, an add-on to Outlook," said Jessica Reyes, Widener University's assistant director of communications. "We were looking to use the address lists we already have in Outlook to send right from there."
Widener University didn't want to upload lists to an external system because they already had internal lists managed by IT and HR. ContactMonkey was the solution.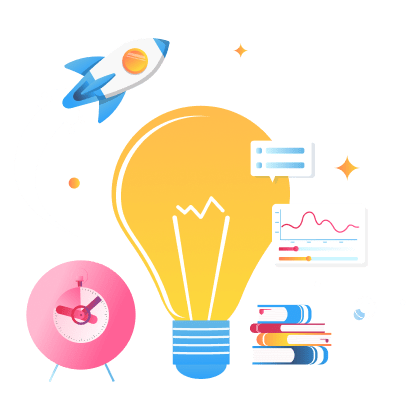 "We see ContactMonkey as a tool that a lot of departments on campus can use to ensure the newsletters they send out are branded and reflect the image we want to present for the University." – Jessica Reyes
According to Jessica, ContactMonkey was also able to help the university maintain brand alignment and consistency across different departments' emails: "We see ContactMonkey as a tool that a lot of departments on campus can use to ensure the newsletters they send out are branded and reflect the image we want to present for the University."
Since implementing ContactMonkey, Widener University's newsletter distribution frequency had doubled.
4. Manage university events and meetings
Due to COVID-19, there has been a sudden shift to online learning, and many university events have gone virtual. The University of British Columbia (as well as many other universities) hosted 11, 000 students in its first-ever virtual graduation ceremony.
Graduation ceremonies aren't the only university events to go virtual since the pandemic began. The University of Montevallo moved its student life experience online, from orientation week to sorority and fraternity recruitments.
ContactMonkey's event management feature lets you easily schedule and manage your events online—virtual and (eventually) in-person.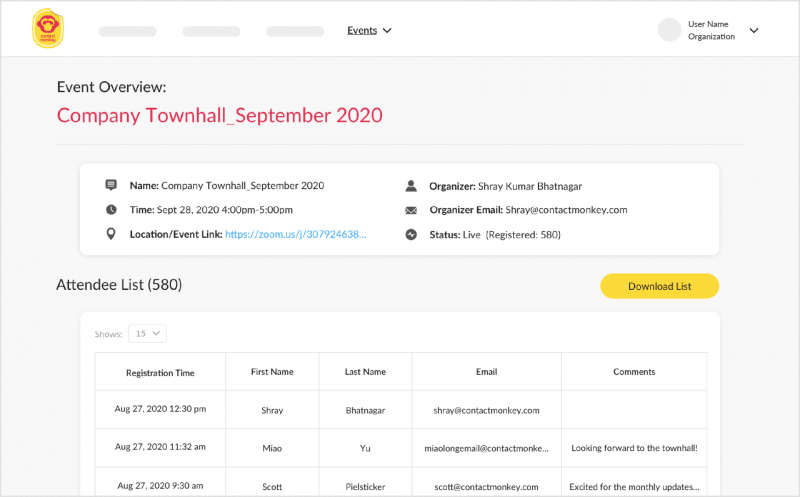 Embed your invites for events—faculty meetings, town halls, you name it—directly into your email, and manage RSVPs with ContactMonkey.
5. Ensure that you're using a responsive HTML email template
When you're finished creating that perfect faculty newsletter or student email blast, we recommend you pause before clicking send. If that great-looking HTML newsletter isn't made with a responsive email template, there's a good chance that your recipients won't get to see your impressive design. Instead, they might be seeing jumbled fragments of code and text.
That's because improperly coded HTML emails get distorted when they pass different email service providers and email rendering devices. So what your recipients get on their end isn't always what you had in mind.
With a responsive email template builder like ContactMonkey, you can make sure that your email campaigns always reach your readers the way you intended. We also have a range of ready-made Outlook and Gmail newsletter templates.
ContactMonkey's responsive newsletter templates are super simple to use and easy to import into Outlook. Simply access our library of professionally-designed email templates and easily customize them using our email template builder. You can also have multiple people working on a template at the same time and see changes in real time.
Try an All-In-One Tool for University Email Marketing
An all-in-one university email marketing tool like ContactMonkey can save hours of your time and help make communications branded and consistent across departments. Gather feedback, schedule and manage events (virtual or otherwise), create more effective leadership communications, analyze engagement, and more. Keep a strong connection with all university stakeholders while they're remote—and thereafter.
Learn how to use internal communications software to improve your internal emails and boost engagement. Schedule a free demo and see how ContactMonkey can elevate your improve university communications.