Your product launch email can make all the difference when it comes to the success of a new product. To make sure your message hits the mark, read our guide first!
You've built a fantastic new product. It's nice to think that the tough part is done. But not quite. Now it's time to create a compelling product release email!
Your internal communications for your product launch are designed to build anticipation and awareness around your new product. And (sorry to turn up the pressure here) they can make or break the first impression of your new product.
But don't sweat it. We'll teach you the tricks to crafting a new product launch email that truly stands out, gets people excited, and sells your product.
What is a Product Launch Email?
A product launch email is designed to build anticipation around a new product or an upgrade of an existing product. As a type of internal communication, it explains to employees the "what," "why," and "when" of your new product.
Importantly, your new product introduction email should include details like:
The timing of the launch

When people can buy the product

What needs/goals the product serves

The product's key, standout features
It's also important to recognize the difference between two main types of product launch communications:
Internal product launch email: this type of product launch announcement email is designed to inform and excite employees. It should provide a detailed description of product features and use cases. You'll want employees to have all the necessary information to promote the product to others.
External product launch email: this kind of new feature email is directed toward customers and the general public. It's usually designed to build anticipation or hype around a new product and eventually drive sales. You should clearly explain both the product details and the product's value proposition.
Why is Internal Comms Critical to a New Product Launch?
Product launch internal communications are essential to the success of a new product. This is because employees are a key link between your product and your customers.
Here are a few more reasons why a product launch email is so important:
Having in-depth knowledge about your products helps them talk about it to clients and/or customers with confidence.

Employees need a solid understanding of the product's benefits and use cases. This way, they can appropriately promote the benefits to clients.
Different teams need to all have a solid understanding of the product launch timeline in order to coordinate effectively between each other.
Your marketing team should know when to roll out social media campaigns about a new product. Meanwhile, your customer success team needs to be prepared to answer questions about the product launch when they're approached by customers.
With effective and timely product launch communications, you can guarantee maximal team alignment.
Internal Communication Tools and Channels to Leverage
The internal communications channels at your disposal have a big impact on the success of your new product launch.
If you have a streamlined approach to sharing new product communications, it will be easy for everyone across your teams to get accurate and aligned information. This way, teams can stay aligned when it comes to the messages they share about your product.
Here are the best internal communication tools and channels to leverage for your product launch:
HTML Emails:

send your message where your employees are most likely to read it but add the ability to embed product images, links, and multimedia with an

HTML email builder

.

Internal SMS:

keep employees up-to-date with product updates through quick and concise messages they can read from anywhere.

Employee SMS

is particularly useful for informing and

engaging frontline employees

.

Digital signage:

if an employee missed your email or text message, digital signage tools give them an extra opportunity to learn about the product while waiting in the boardroom or in the elevator.

Internal social media:

employees can spread the word about a new product informally by linking information from their initial product launch

internal email

to Yammer or

Slack

.

Intranet communications:

intranet communications

are a great way to reinforce your email and SMS product launch communications by ensuring they reach the maximum number of eyes.
Did you know there's an easy way to simplify your new product launch communications? ContactMonkey's email builder has purpose-built Outlook and Gmail email templates to help you create product launch emails in minutes.
Create, customize, save, schedule, and send dozens of pre-set email templates straight from your Outlook or Gmail inbox: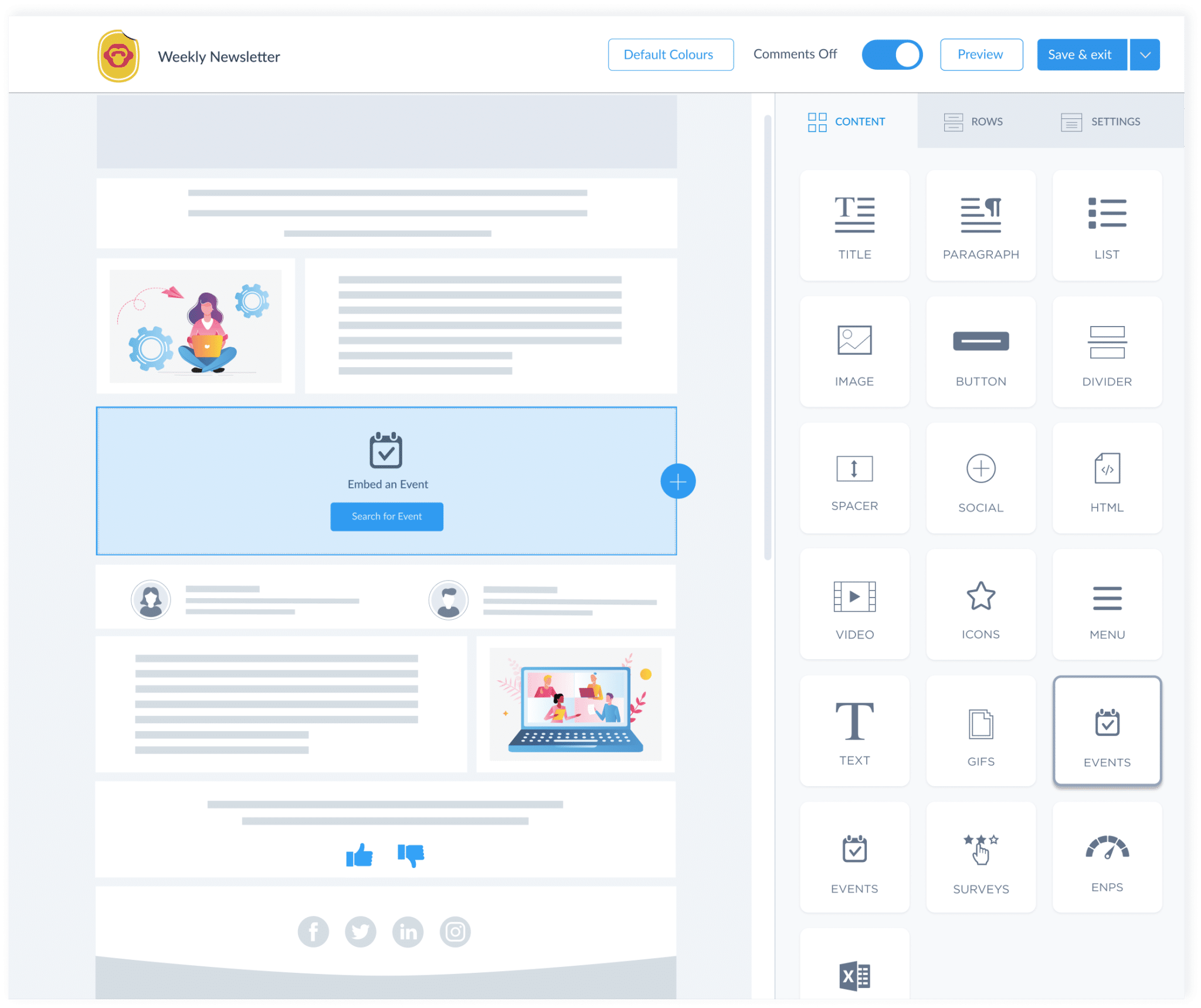 With ContactMonkey's plug-in, you can track emails to see how different product launch templates perform and make informed improvements to keep those email open rates high.

How to Create a New Product Launch Email
Your product launch email should be sent across your entire organization and should include the "what," "why," and "when" of your product launch. The goal of the email is to turn your employees into well-informed product promoters.
Here are the key steps to creating a quality product release announcement:
1. Write an engaging subject line
Engaging product launch email subject lines are what get your employees to open and read your email. It's absolutely vital to have a subject line that instantly grabs your employees' attention.
If employees scroll past your email, they'll miss essential details about your product and find themselves totally in the dark when confronted by customers. Or worse, they may share inaccurate or misleading information about your product.
To build anticipation, we recommend using a short and snappy subject line with a descriptive emoji at the end. Here are some you can try:
We have news!

Drum roll please our new product feature is…

Have you heard? We're launching something new.

We have something up our sleeves.
2. Provide an overview of your product launch
Take this space to share 2-3 sentences introducing your product. Include when the product is launching, why it was created, and who will be using it.
For instance, if you're rolling out a new service upgrade, will it be used exclusively by "Pro Plan" members? Or will it be accessible to all subscribers? Clarify target users so that employees can share the correct information with clients and/or leads accordingly.
3. Break down the key product features or updates
Create a bullet list of your product's essential features and explain how each one functions. For instance, if you launched a new customer rewards program, what are the main things customers can do with it? How can they access the program? Explain these things in detail.
Likewise, include any exceptions and limitations for users. You don't have to go in-depth about all the shortcomings of your new product, but you do want to disclose key details so customers avoid unpleasant surprises.
4. Outline a few use cases/benefits of the product
Think about the customer needs that your product seeks to fulfill. Does your new product help speed up customer workflow? Does it fix a bug or error in a previous product?
Explain exactly how your product benefits users and what makes it stand out from competitors. We recommend filling this section with benefit statements and adjectives, that begin with words like:
Accelerate…

Improve…

Enhance…

Upgrade…
This type of language conveys the purpose of your product in a more compelling way. It also gives employees a framework for talking about the product themselves.
5. Provide sample social copy
Sample social copy is a useful addition to your product launch email. It ensures that the messages your employees share about your product are accurate and aligned.
Providing social copy also helps speed up the job of different teams and allows them to roll out launch messages in a timely manner.
Internal product launch email template(s)
Knowing how to write an effective product launch email is great. But having ready-made product launch email templates can make your job twice as easy. Below, we've shared some tried and true new product launch email templates and product launch email examples that can help you create a strong statement every time! Let's dive in:
1. Pre-launch email template

Hey Team,
We're only [X] days/weeks away from the launch of [product name]. Here's what you can expect as we prepare to roll out [product name]:
[Date]: [product name] officially launches!
Key Updates:
Bug fixes to [product name]

Issues resolved – [product name[

New features – [product name]
Launch Goals:
Campaign goal 1

Campaign goal 2

Campaign goal 3 (number of upgrades)
Ahead of the launch, we'd like to make sure everyone is on the same page and all the messaging we send out about [product name] is aligned. In order to accomplish this, please review the "to do" list for your specific team:
Public Relations: [list any tasks to complete]
Sales: [list any tasks to complete]
Marketing: [list any tasks to complete]
IT: [list any tasks to complete]
Other key resources, including social media copy for promoting our new product, can be found here [link to folder/resource].
Do not hesitate to reach out to us if you have any questions about the upcoming launch—we're thrilled to help!
Thank you,
[Company] Team
Download Now! [CTA]
2. Product launch announcement template

Hey [name]!
We know we've been keeping things under wraps lately. But we're finally ready to show you what we've been working on!
Our team is super excited to announce a brand new product: [name of a digital product/service]!
[brief one-liner overview of the product and its function].
We believe that [name of the product] will significantly enhance our clients' experience with [company]. With [product feature 1], [product feature 2], and [product feature 3], customers are empowered to:
Benefit 1
Benefit 2
Benefit 3
Customers can access [feature name] by [actions needed to access feature].
The [feature name] will be available on [launch date].
Here are some frequently asked questions about [product/feature name]:
[CTA Button] LEARN MORE! [link to your product landing page/informational documents]
Best,
The Product Team
Download Now! [CTA]
3. New feature upgrade

Hey team,
We're happy to announce that the updated version of [product/service name] is up and running smoothly!
Here's what's new:
Update 1

Update 2

Bug fixes
The new feature will officially launch on: [date]
Questions about the new feature can be directed to: [name, contact info].
You can find additional resources/information about our new product feature here: [link to help centre/explanation page].
Want to see a sneak peek of our updated version?
[CTA Button]: Click Here! [link the button to a relevant demo/product text page]
Best,
The Product Team
Download Now! [CTA]
4. Official product launch

Hey team,
It's the moment you've all been waiting for.
[Product name] is finally here! After all the hard work, we're so excited that [product name] is available to customers as of this [morning/afternoon/evening].
With [product name], our customers will be able to [benefit 1], [benefit 2], and [benefit 3]. New features like [feature 1], [feature 2], and [feature 3], will enable clients to target their biggest pain points and simplify [need].
Customers will be able to [download/order/upgrade] to [product] directly from [location/platform].
Our product FAQ page provides an in-depth overview of all of the new features of [product name].
We recommend that you review the document to confidently answer any questions that customers may have. We've also provided sample social media copy that you can use to promote our new product across your social networks!
[CTA button]: LEARN MORE [link to FAQ page/product landing page]
Best,
The Management Team
Download Now!
5. Official feature upgrade launch

Hey team,
We have exciting news! This [morning/afternoon/evening] we launched our new update to [product name]. Here are the key components of our upgrade:
New feature/upgrade 1.

New feature/upgrade 2.

New feature/upgrade 3.

New feature/upgrade 4.
If you or your clients have been having issues with [bugs/problems] while using [product name], the new upgrade will clear up many of those challenges.
If you're interested in learning more, please visit our FAQ page at the link below. You'll find tons of information about the newly released product features, along with suggestions for support that you can provide to our clients.
[CTA Button]: Learn More! [link to FAQ page]
Thanks,
The Product Team
Download Now! [CTA]
Writing an External Product Launch Email
An external product launch email should be informative and enticing—much like the internal communications for your product launch. But unlike your internal announcement, the customer-facing product launch should be even shorter and snappier.
You want to give clients a taste of what you're offering while encouraging them to test, try, or reach out to a representative in order to learn more about your product.
Here's a new product launch message sample that you can implement across your client communications:
Hi [First Name],
We're thrilled to welcome [product name] into the [company] family.
If you're not familiar with [product name], it's a [brief one-liner about your product]. [Two-sentence overview of product features, use cases, and/or benefits].
Can you tell we're stoked about it? Just check out some of the things [product name] can help you do:
Benefit 1
Benefit 2
Benefit 3
…
Pretty compelling, eh? But if you're not convinced—check it out for yourself:
[FREE TRIAL CTA]
If you have any questions, don't hesitate to reach out to our team by responding to this email.
We look forward to hearing what you think!
Best,
The ContactMonkey Team
How to use ContactMonkey to Create Product Launch Emails
With ContactMonkey's AI-powered email builder and intuitive drag-and-drop interface, you can customize your email templates to match your company branding and adapt sample emails with ease.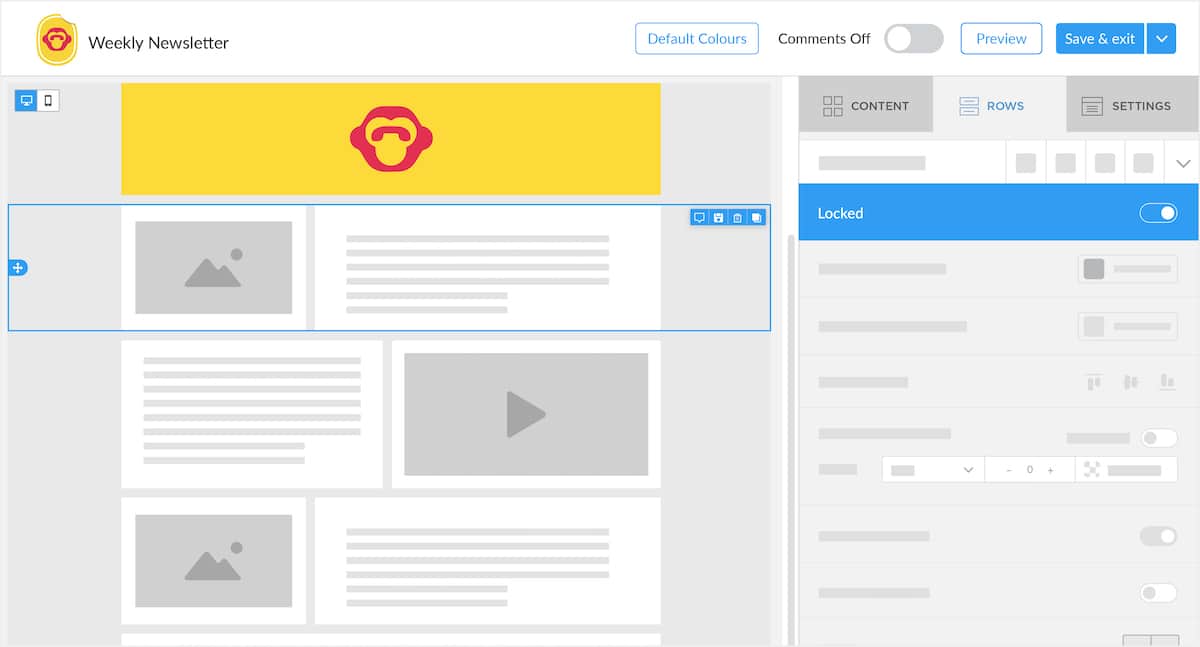 ContactMonkey's email templates don't just save you hours on your internal communications, they are fully responsive so they display perfectly no matter the device or email service your employees use. With more employees using mobile devices to manage their emails, you can design emails specifically for viewing on mobile devices.
An added bonus: sample product launch emails built with ContactMonkey's internal communications app are interactive as well. Embed employee feedback surveys within your new product launch emails to learn whether your employees truly resonated with the email content.
Pro tip: if you're not sure how to write an effective product launch email, ContactMonkey has got you covered with our ChatGPT integration. Simply write a prompt for what you want your email to say and our AI integration will create copy that you can use and customize.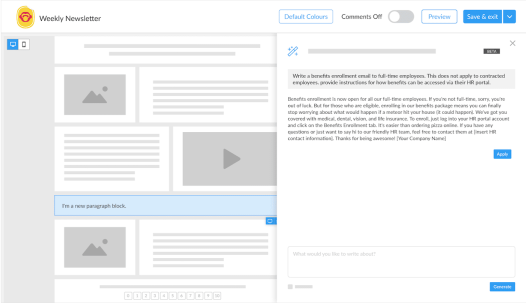 Other Sample Email Letters to Employees
Looking for more sample email templates? Whether you're launching a new product or sending out an open enrollment announcement, ContactMonkey has a sample email template just for that!
Product Launch Email FAQ
How do you write a product launch email?
Writing a product launch email is all about getting employees excited about a new product and building anticipation. Begin with a compelling subject line to grab your audience's attention. We recommend starting the email with a personalized greeting and a teaser, such as "We have something up our sleeves!"
Then, explain the purpose of the email. Highlight the problem your new product solves and emphasize its unique features and benefits. Include social proof to build credibility and use a strong call to action to encourage immediate action.
Provide additional information, such as pricing or limited-time offers – anything that your employees can pass onto clients – and end with a friendly closing, reiterating the product's benefits. Keep the email focused, visually appealing, and proofread before sending.
What is a product launch email for internal employees?
A product launch email for internal employees is a communication sent within an organization to announce the introduction of a new product or service. This kind of email is specifically targeted towards employees to inform and engage them about an upcoming product launch. It typically provides key details about the product, its features, benefits, and how it aligns with the company's goals.
Additionally, the email may outline any internal processes or guidelines related to the product launch and may include specific instructions or actions that employees need to take. The goal is to generate excitement, encourage employee support, and ensure everyone is well-informed about the new product.
How do you announce a product launch internally?
When announcing a product launch internally, it's important to effectively communicate the key details and generate excitement among your employees. Start by crafting a clear and engaging announcement email that highlights the product's value, features, and benefits.
Share the launch date, provide a brief overview of the product's purpose, and explain how it aligns with the company's goals. Include any supporting materials like product demos or visuals. Consider hosting a company-wide meeting or presentation to provide in-depth information, answer questions, and generate enthusiasm.
Additionally, utilize internal communication channels such as company newsletters, intranets, or collaboration tools to ensure widespread awareness. Encourage feedback, involve relevant teams, and provide resources or training to support employees in promoting the new product effectively.
How do you announce a new product feature through email?
When announcing a new product feature through email, it's important to create a clear and engaging message that grabs the recipient's attention. Begin with a compelling subject line that highlights the new feature's value. In the email, provide a concise and enticing introduction that describes the feature and its benefits.
Use visuals or screenshots to demonstrate the feature in action. Clearly explain how the feature solves a problem or enhances the user experience. Include any relevant details, such as availability or implementation instructions.
Encourage recipients to explore the feature further by providing links to additional resources, tutorials, or demos. End the email with a strong call to action, inviting recipients to try out the new feature or provide feedback.
Craft the Perfect Product Launch Email with ContactMonkey
A quality product launch email plays a huge role when it comes to driving employee awareness and ultimately, customer service and sales.
ContactMonkey offers a simple way to amp up your product launch internal communications. Choose a pre-set product launch template, import it into Outlook or Gmail, and send it off instantly to get dozens of email analytics. It's that easy.
Not convinced? Book a free demo to see ContactMonkey in action!