Great email design can make all the difference when it comes to your email click-through rates. Read our email design best practices to level up your newsletters without any graphic design skills whatsoever.
In an age of information overload, no one has time to read everything that ends up in their inbox.
Great HTML email design helps email recipients distill key messages from an email in a clear and compelling way.
By understanding responsive email design best practices, you can create eye-catching newsletters that nurture lasting engagement.
We break down how to create email design templates that carry the "wow" factor and help you get noticed—whether it's by customers, employees, or all of the above.
What is Email Design?
If you think email design is only about throwing together colourful banners, graphics, and logos on a page, think again.
Email design is a strategic approach to organizing email content in a reader-friendly way. This involves taking information and asking yourself, "How do I make sure my readers click on this link?" and "How do I enhance the reading process?"
The best way to make informed email design decisions is by looking at your email analytics. You can do this with a tool like ContactMonkey, which combines email tracking and design in one.
"I can go and design templates based on the learnings from the analytics."- Assured Partners, ContactMonkey Customer
The end goal of effective email design is to help readers navigate your content as quickly and easily as possible. When you set design goals and make data-based decisions, this process becomes more simple and intuitive.
Why is Professional Email Design Important?
Professional email design is important because it grabs and retains your reader's attention. It also helps you communicate more effectively.
If you're an external marketer, effective email design means presenting products in a captivating way (think vibrant banners and seamless CTAs). It's also about making it simple for readers to click on deals, giveaways, and campaigns.
If you're an internal communications professional, great email design draws your employees' attention to key events and deadlines. It also helps clarify complex policies and procedures.
In both cases, effective HTML email design can:
Simplify confusing information (

studies show

that visuals are processed faster than words).

Build trust and reliance through familiar branding, graphics, and content.

Convey a unique employer brand that readers can connect with.

Guide readers to the messages you want them to see

Make information more memorable.

Retain reader attention
Top 10 Best Practices for Email Design (With Examples)
You don't have to be a design expert to come up with killer email design ideas. But you do need to approach your email content strategically. That means thinking about what you want readers to get from your email communications and then arranging your content accordingly.
You can use our email design best practices as a checklist to guide your design journey. We've also thrown in a few email design examples to serve up some inspiration.
1. Create an intuitive layout
This is perhaps the most important email design best practice. Why? Because your email layout is a roadmap for the reader's journey. It determines the order in which they consume content and the ease with which they're able to do this.
Certain layout patterns work with rather than against the reader's eye movement.
Z and F-shaped layouts are popular for a reason.
The Z shape mimics the way you'd read a book, from left to right, while spotlighting essential content at the edge of each line. The F pattern creates an order of importance and your eyes naturally sway across the page reaching the CTA (call to action) at the end.
In both cases, content is broken down into scannable text blocks that make it easy for your reader to navigate across your email.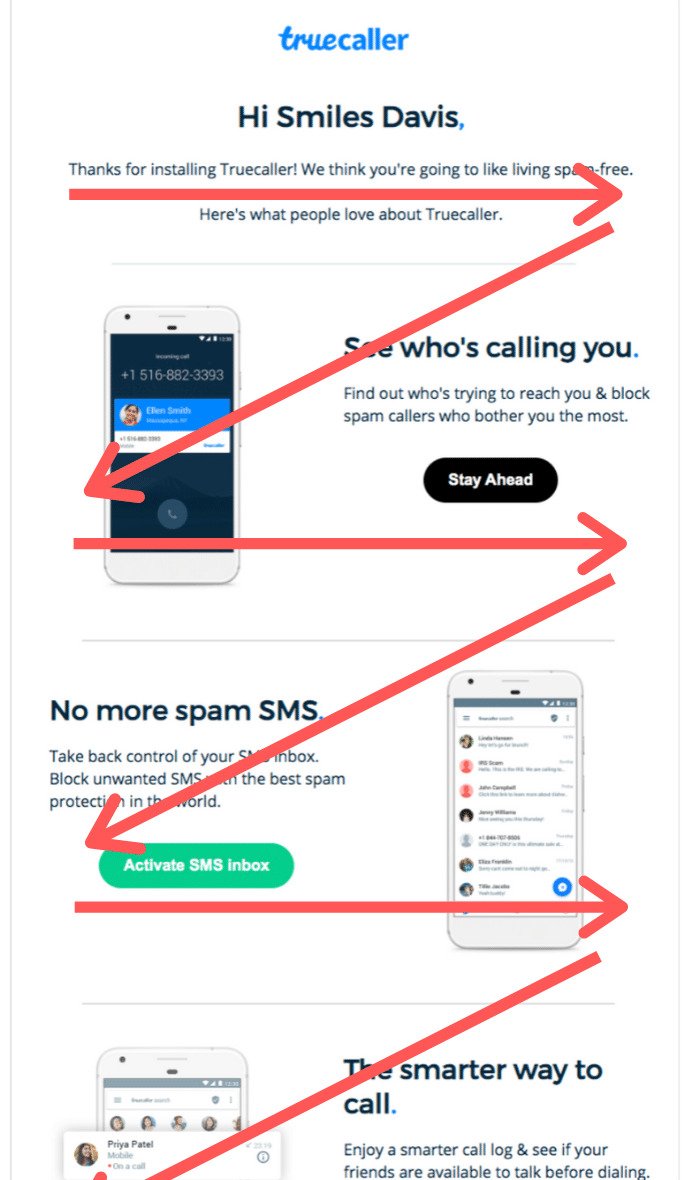 Source: TrueCaller
2. Establish a visual hierarchy
Your visual hierarchy works hand in hand with your email layout to create an intuitive reader experience. To optimize this email design best practice, you'll want to determine what information takes priority.
For instance, say you're launching a new company workshop and want readers to learn all about its benefits. The best thing to do would be to create a vibrant product banner and place it well at the top. Then, provide a short description of your new product and follow this with a CTA linking to your product landing page.
After this, you can proceed with adding content that is less significant in the middle. And finally, add information of the least importance at the very end of your newsletter.
And voila—you've created an inverted pyramid structure for your newsletter content. This type of hierarchy ensures that key content reaches the employee first and hooks them into reading more.
Consider this email design example for some inspiration: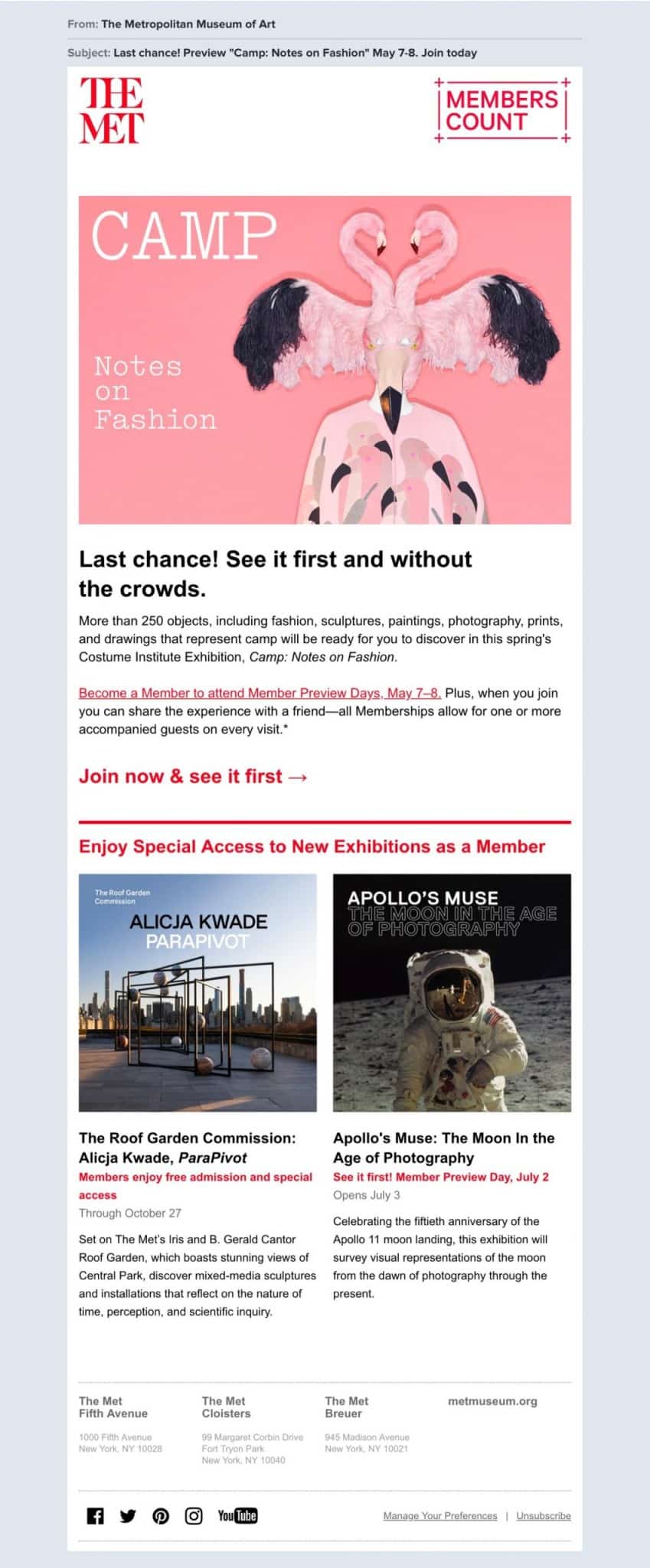 Source: Instasent
3. Reflect your brand identity
Your email newsletter is the ideal place to showcase your employer brand. This is a set of images, words, ideas, and values that come to mind when people talk about your company.
Reflecting your employer brand across your newsletter makes it easy for readers to recognize, which can create a sense of trust.
With ContactMonkey, you can even create and save branded HTML email templates to use across all of your communications. Or you can enlist our in-house email design service to create custom templates that let your employer brand truly shine.
4. Ensure consistent design
Consistency is key when it comes to effective email design. While you might want to wow audiences with your creativity, having different designs across each newsletter will add up to a confusing experience.
You want your email to feel familiar and reliable to readers. While you don't need to make each part of the email the same, it's important to keep some elements aligned.
For instance, you might stick to a specific colour palette or use a single HTML email template layout and then simply switch up images and graphics.
If you're using ContactMonkey, you can also save and share email template guidelines. This way you can guarantee consistent design no matter who's creating the email.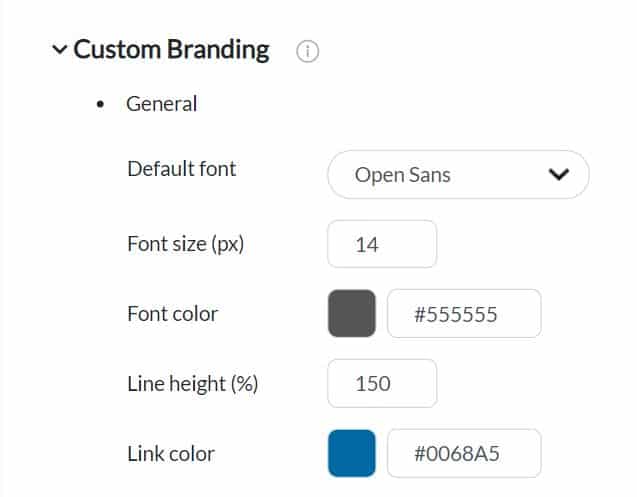 5. Use email design templates
Using email design templates is an invaluable email design best practice. In addition to ensuring consistent design, email templates simplify and accelerate the design process tenfold.
Not to mention, email templates are a blessing for those who don't happen to have a knack for design. They provide you with designer-approved layouts that you can simply select and tailor to your goals.
With ContactMonkey, you can access a library of over a hundred Gmail and Outlook email templates or customize your own using an intuitive drag-and-drop email builder.
Learn how to send designed emails with ContactMonkey using our internal communications software tutorial!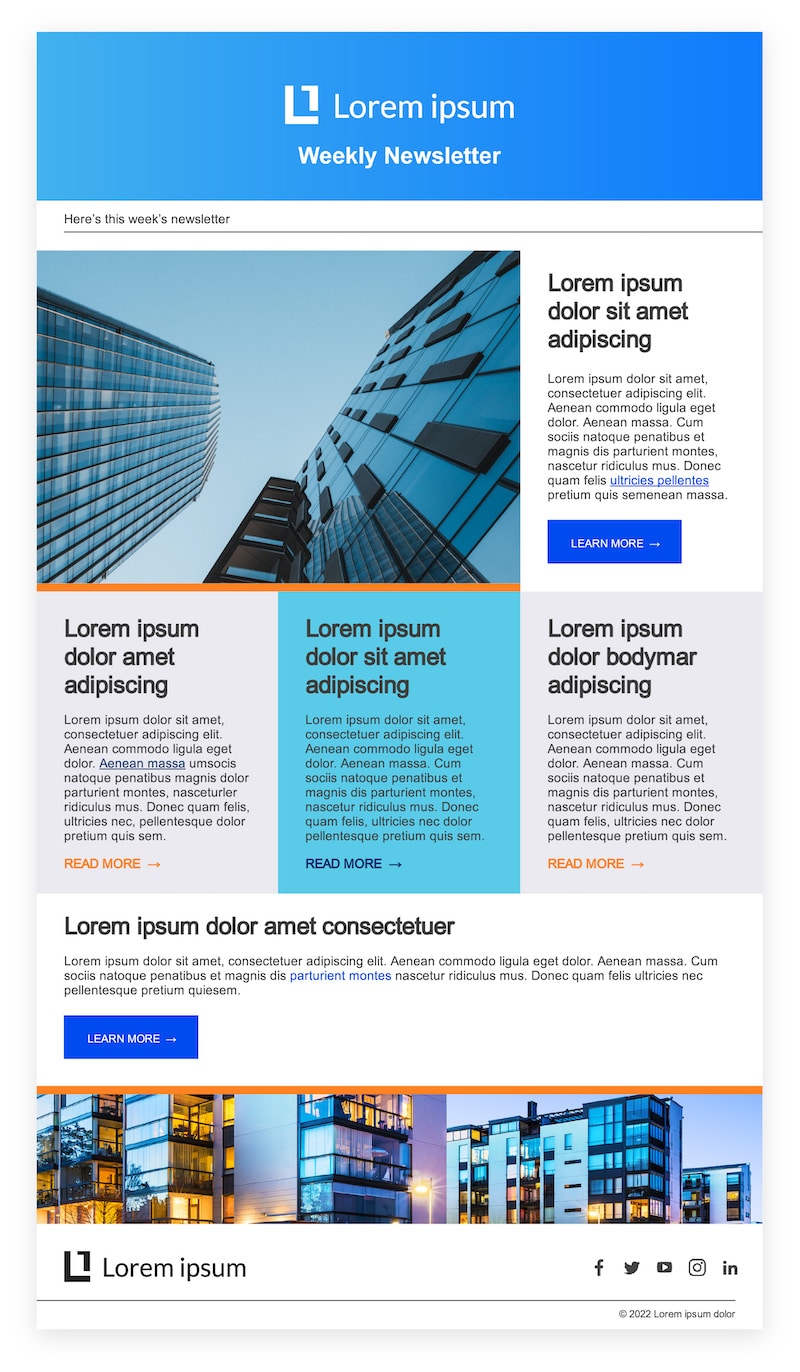 6. Incorporate interactive elements
Incorporating interactive elements into newsletters is quickly becoming a leading email design trend. This is likely due to the advent of responsive email templates.
If you're wondering what "responsive email design" is, don't sweat it. The term simply refers to emails that are able to display properly across different devices and email servers.
With responsive templates, you don't have to be a coding expert to create email designs that recipients can enjoy across all of their digital communications channels.
Responsive Outlook and Gmail newsletter templates allow you to add interactive content like pulse surveys, polls, emojis, GIFs, and videos straight into your emails. These elements make your email feel more personable and turn boring monologues into dialogue. 
And with tools like ContactMonkey, creating interactive email newsletters is a breeze. Simply select which interactive feature you want from the sidebar menu and drag it into your email template. It's that easy.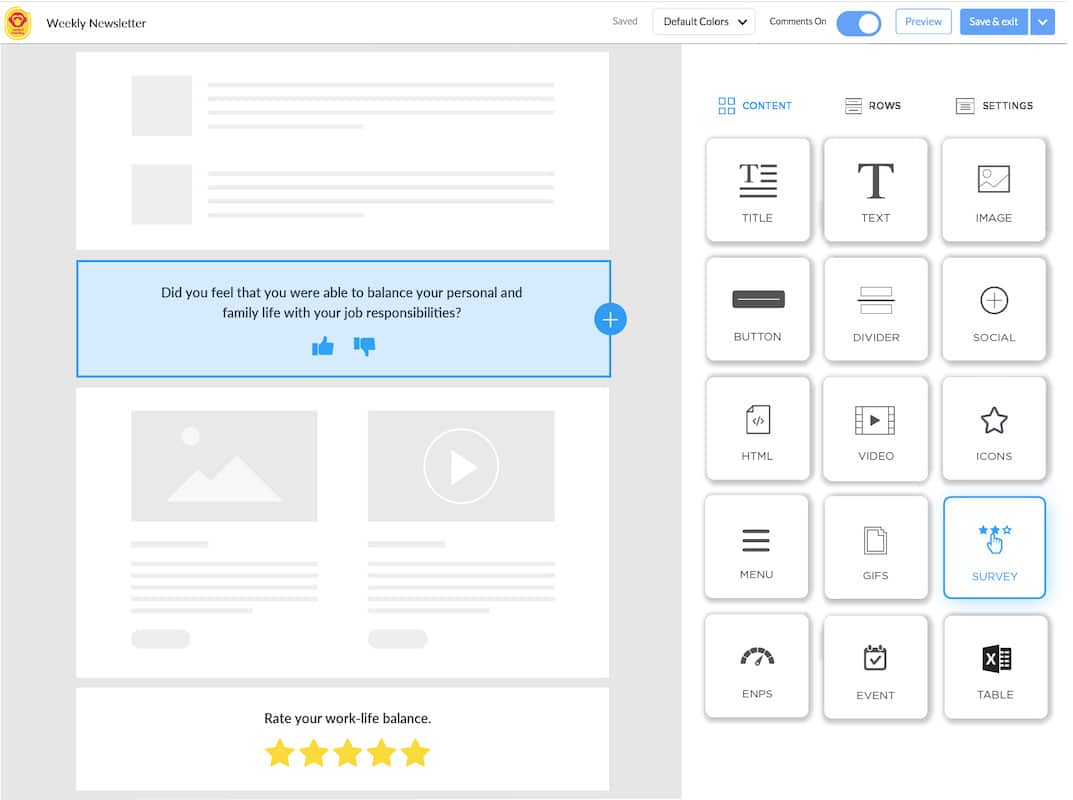 All you'll need to do next is import your template and send your email directly from Outlook or Gmail. You're all done. Just make sure to turn on email tracking to get those engagement analytics!
7. Make your CTAs stand out
Whether you're an internal communicator getting staff to enroll in employee coaching or a marketer trying to get customers to convert, CTAs are your email's crowning glory.
CTA buttons get your readers to complete the action you want and fulfill the ultimate goal of your email.
Great CTAs are more than just big buttons. Every element of your email contributes to making your CTA stand out —from the layout to the surrounding text.
Since your CTA is the climactic point of your email, you need to build the story leading to that button. You can do this with the inverted pyramid visual hierarchy we discussed earlier. So when readers gets to the CTA, they are primed to click.
If you haven't already, check out how ContactMonkey can boost your email click-through-rate by optimizing CTAs with custom shapes, fonts, and colours.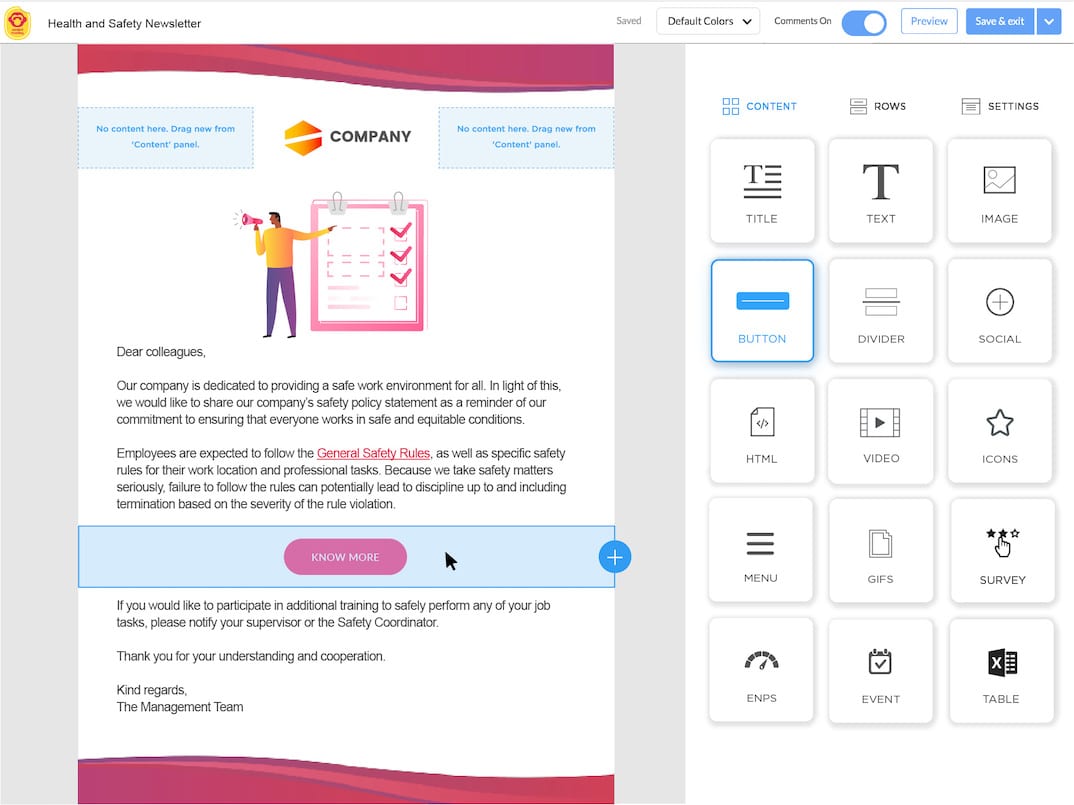 8. Place images strategically
Adding images to your emails is an essential email design best practice because it helps strengthen your email copy. How does it do this?
By grounding concepts visually

Captivating readers' attention

Appealing to readers' emotions
However, to be effective rather than distracting, images need to be placed strategically.
Before placing an image, ask yourself, "how does this complement or support the message i'm trying to convey?"
This template from the New York Times is a great example of an email design that uses images strategically. The image complements the accompanying copy and helps motivate readers to click: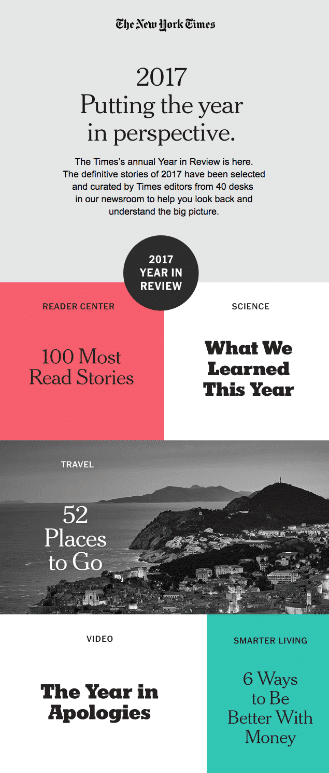 Source: New York Times
Now if you're sending out leadership communications and add a stock photo of a serious-looking CEO, this does nothing to strengthen your message.
In short, use images but be mindful of how they play into the rest of your email content. And please avoid stock photos—add user-generated content and images from employees instead!
9. Use videos
There's a reason we turn to YouTube for explainer videos, tutorials, and recipes.
Similarly to images, videos help clarify and simplify information. But videos are often even more engaging and can increase the time readers spend engaging with your email.
Among email marketers, 86% of businesses said they use video. The same study showed that marketers found videos to help customers better understand their product or service. This led to more sales.
When it comes to internal email engagement, videos make complex instructions or policies more lucid. And employees are 20–25% more productive in companies where they feel informed and connected.
The best part: adding videos to emails is quick and easy. With ContactMonkey, you can embed videos into your newsletters in minutes and boost employee engagement long-term:

Source: Instasent
10. Add personalized content and customization
Personalized emails are better at capturing your employees' attention. When you add recipient names or custom content into your newsletter, the email feels more direct, intimate, and personable.
With ContactMonkey's email segmentation and mail merge, newsletter content can be tailored to individuals like never before.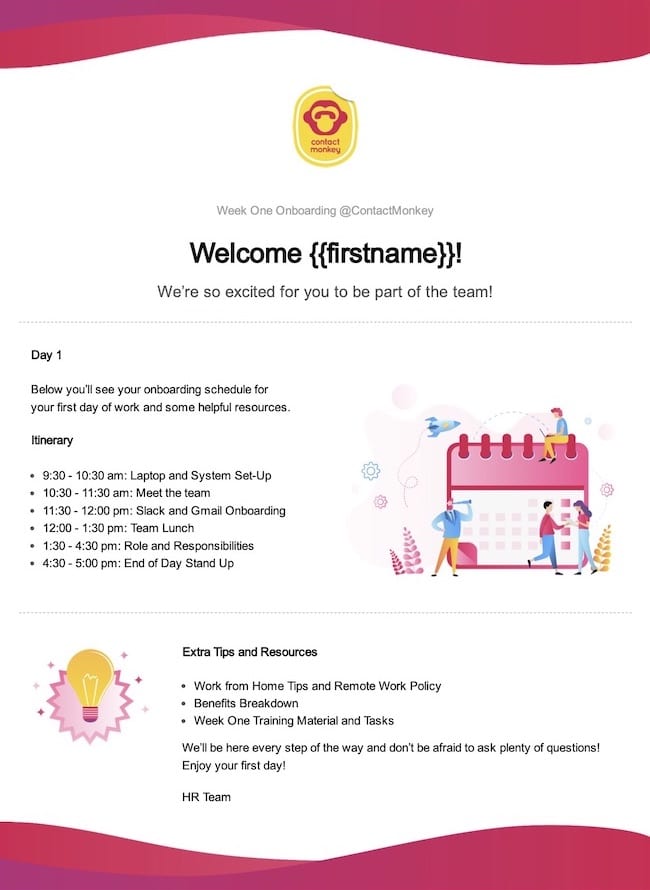 Mail merge lets you add individual recipient names across mass email subject lines and copy. Do this instantaneously by uploading an email distribution list or CSV file into ContactMonkey's email builder.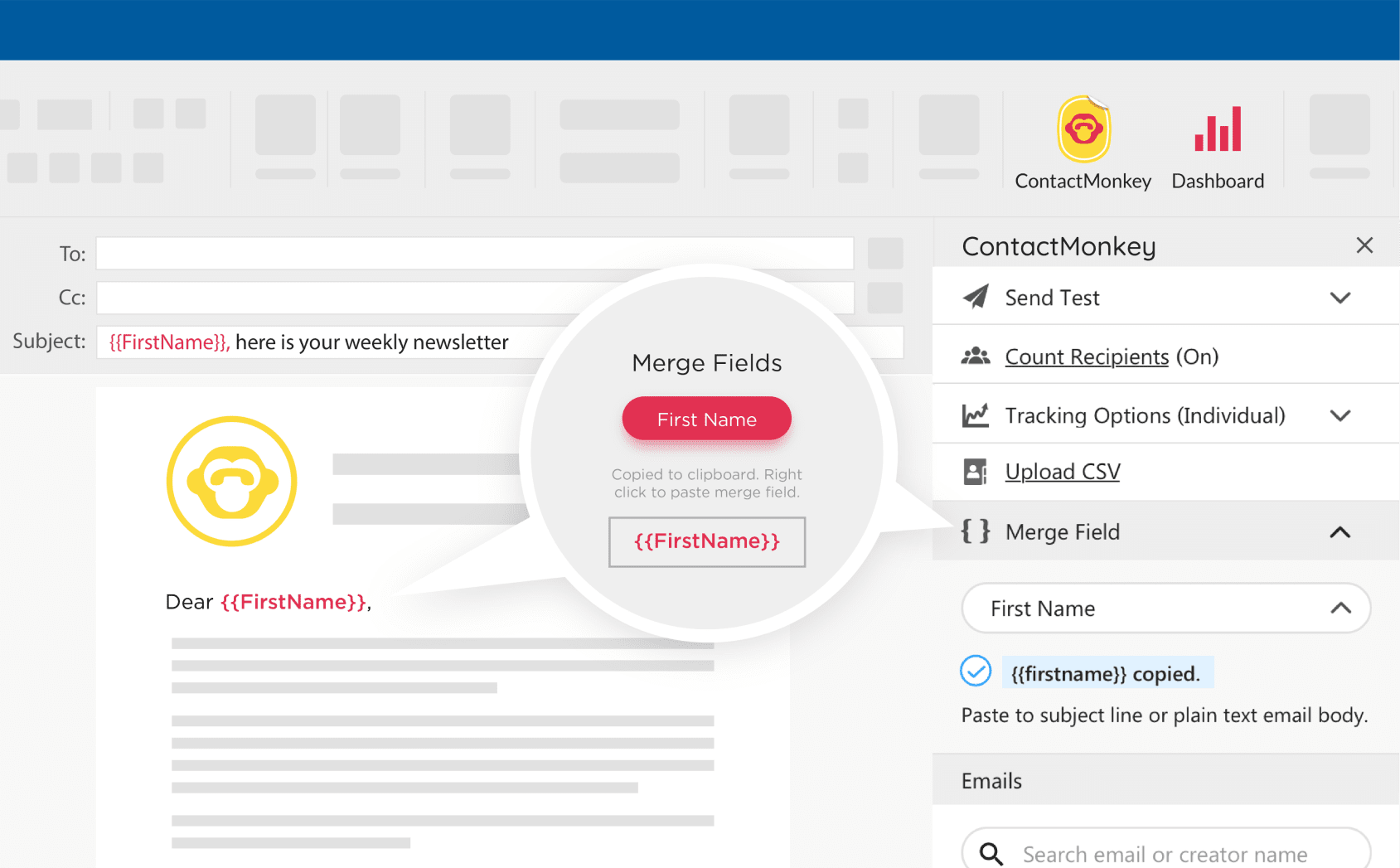 Meanwhile, email segmentation lets you target specific teams, departments, and office locations with content that reflects their engagement analytics.
The result: customized email content that is more relevant and engaging to your audience.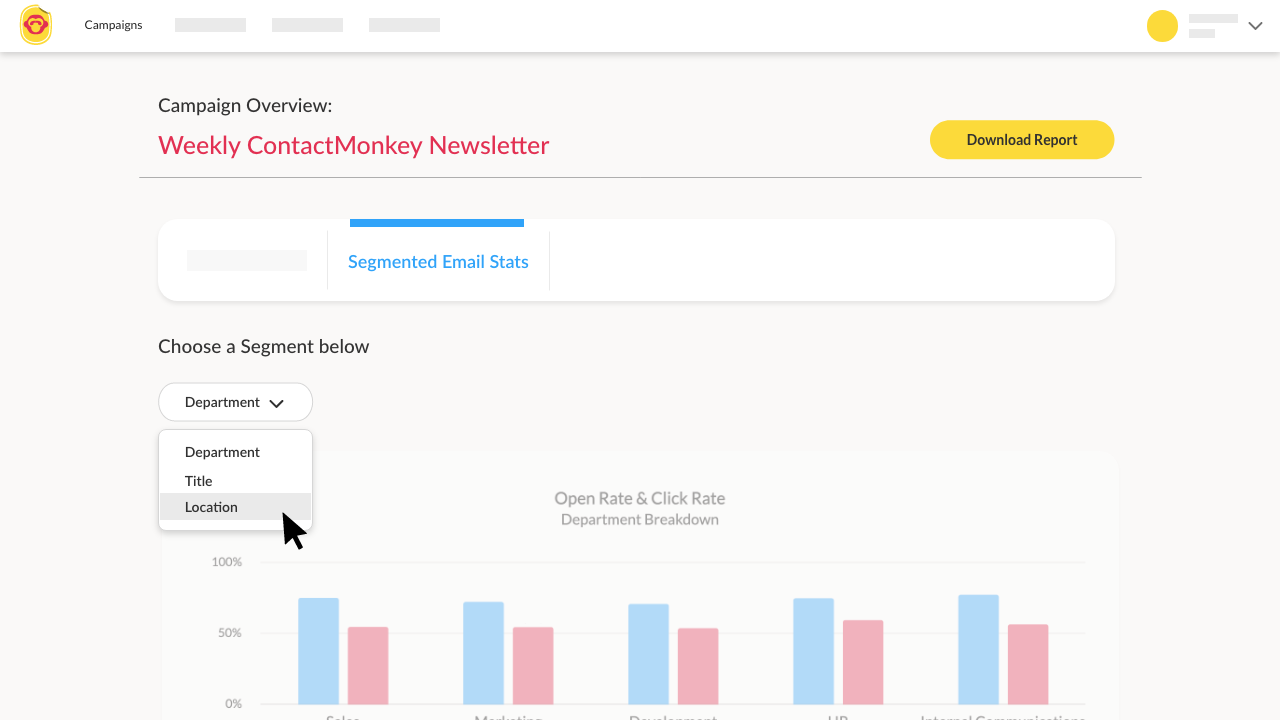 Like our email design tips but not sure where to start? You can learn how to create email design templates from scratch with our intuitive email design guide.
5 Best Email Design Tools
Now that you know how to create email designs that stand out, you'll want a tool that can help put the lessons to action. Here are a few of our favourite modern email design tools to consider:
1. ContactMonkey
ContactMonkey is a leading email design tool and dedicated internal communications software. With an easy-to-use email template builder and dozens of customizable templates to choose from, ContactMonkey makes design a breeze.
The tool integrates directly with Outlook and Gmail, so users never have to go through tons of arduous steps just to import their template. The responsive designs display perfectly across all devices, so you never need to worry about your email server messing up your masterpiece.
ContactMonkey's email collaboration tool even lets different members of your team work on the design together—like google docs.
2. Canva
Canva has hundreds of email templates for both external and internal marketing. Not to mention, the customizable templates are created and curated by real designers.
The drawback with Canva is that you'd have to save the templates and import them into your email each time. This adds extra steps to your email design process and can make your email workflow more cumbersome.
3. Stripo
Stripo is an easy-to-use email template builder with a selection of both free and paid templates. Stripo also offers a brand guidelines kit, so users can save and share email design styles that they used in previous emails.
The drawback with Stripo is that it wasn't designed to automatically integrate with all email servers. As a result, importing and sending your template can often be tedious and unpredictable.
In addition, the free tier has a limited amount of options for HTML template designs and the number of exports per month.
4. Mailchimp
Mailchimp is a popular email marketing tool and HTML template builder. It integrates with a handful of email providers and offers sophisticated email templates alongside email analytics.
The big drawback with Mailchimp is that it wasn't designed for internal communications. As a result, internal communicators are faced with a handful of challenges, from employees unsubscribing from newsletters to privacy concerns.
Learn about Mailchimp alternatives if you're interested in similar tools for internal communications.
5. Constant Contact
Constant Contact is another email tool that allows you to build and customize your own HTML template designs. The builder is intuitive and you don't need any coding skills to use it.
The email design software also gives you the option to integrate social channels and live events.
However, the major drawback with Constant Contact is that there aren't too many interactive capabilities. You can't add pulse surveys or collect employee feedback and comments. This makes it difficult for users to keep pace with the latest email design best practices.
Create Captivating Email Designs With ContactMonkey
Captivating email design isn't just a nice-to-have. It can help strengthen and complement the information in your email by making it easy and engaging to read. Not to mention, great design can help retain your audience's attention longer and help you get your message across more effectively. The best part: you don't need to have design or coding experience to create stellar emails.
Whether you're a design pro or novice, you can design stunning, on-brand emails with ContactMonkey's drag-and-drop email template builder. Learn how to design emails that truly stand out with a free ContactMonkey demo.