Hubspot is a well-known marketing tool that helps businesses send better marketing emails, but how does it handle internal emails? We'll compare Hubspot Marketing Hub and ContactMonkey to see which is the better internal communications software.
Emailing customers and potential customers is very different from emailing your employees. Design, tone, content, frequency, and other factors will all differ between internal and external emails.
This is why choosing the right tool for the job is so important. Internal communications software can help you save time, improve your emails, and increase employee engagement.
We'll look at what both software have to offer so you can decide between Hubspot Marketing Hub vs. ContactMonkey for your internal communications.
If you want to skip the comparison and see ContactMonkey in action right now, you can book a free demo to see how we can improve your internal communications.
How To Choose Internal Communications Software
Both ContactMonkey and Hubspot Marketing Hub feature a wide range of email and tracking tools for your business. But how can you decide which is better for your internal communications? We break down some important criteria to consider.
How efficient is the software for your workflow?
An effective internal communications software will reduce the amount of time you have to spend creating and sending emails.
ContactMonkey
ContactMonkey works with your Outlook or Gmail inbox. Whether you're managing internal comms for an SMB or overseeing university email marketing, all emails built with ContactMonkey will be sent through your existing email inbox. So there's no need to change how you send emails.
ContactMonkey's drag-and-drop email template builder makes internal emails easy. You can create fully-responsive HTML emails that look amazing on all devices and email service providers. Edit within mobile view to tailor your content for an increasingly mobile-audience: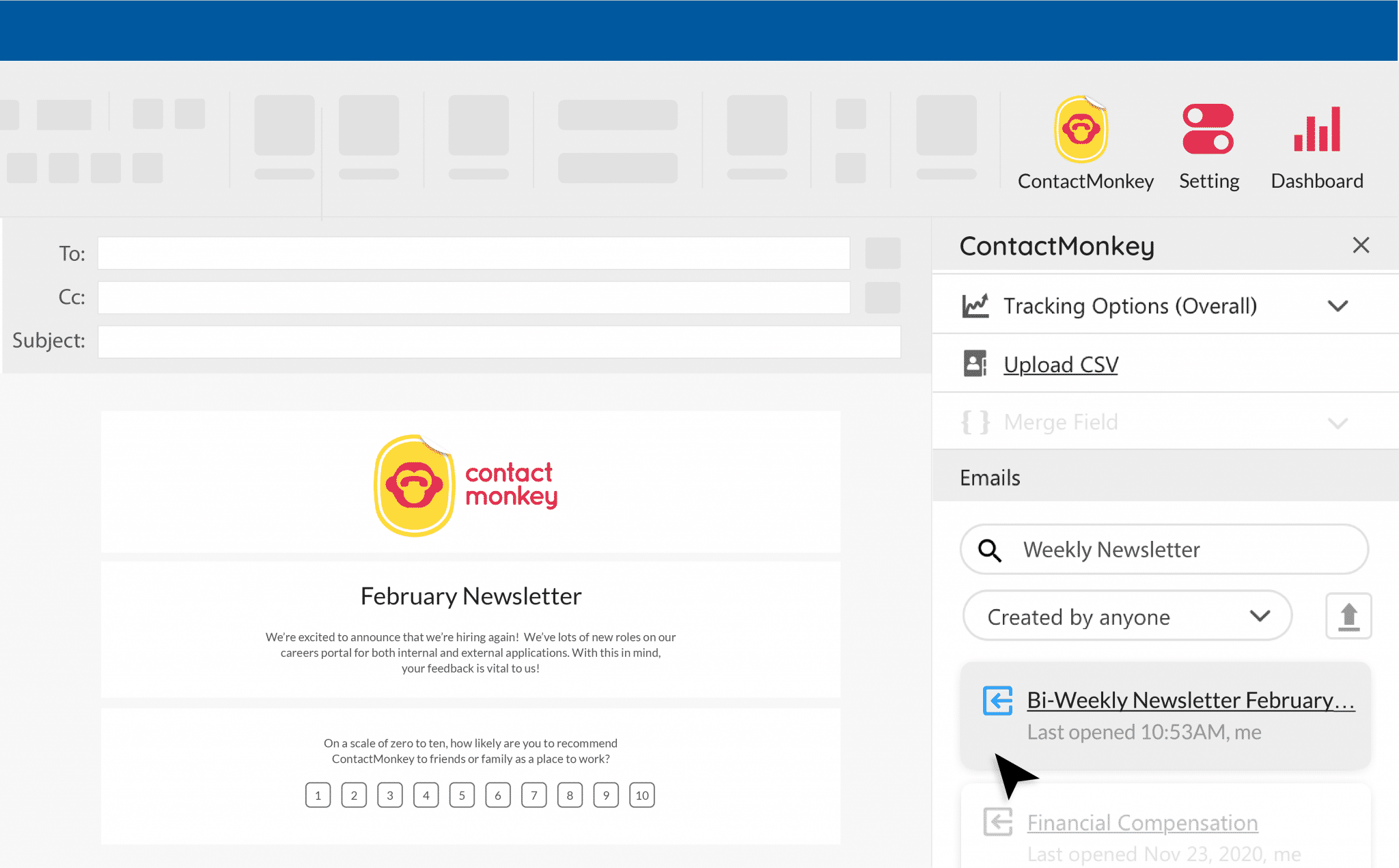 Emails created in ContactMonkey can be used as templates for future emails. This makes it easy to swap newer content into existing communications to save time on the creation process. You can even have multiple team members work on an email simultaneously with email collaboration and leave revision comments that alert tagged employees immediately.
Unsure how to start your internal emails? ContactMonkey's OpenAI ChatGPT integration can help you get fresh ideas for your emails. Simply provide a prompt describing the kind of content you'd like to feature, and then customize the output text for your audience.
After you've created your email, simply import it into your inbox using the ContactMonkey sidebar. Your newest emails will appear in the sidebar and can be inserted with a single click. Send the email immediately or schedule it for later, and wait for the email metrics to roll in: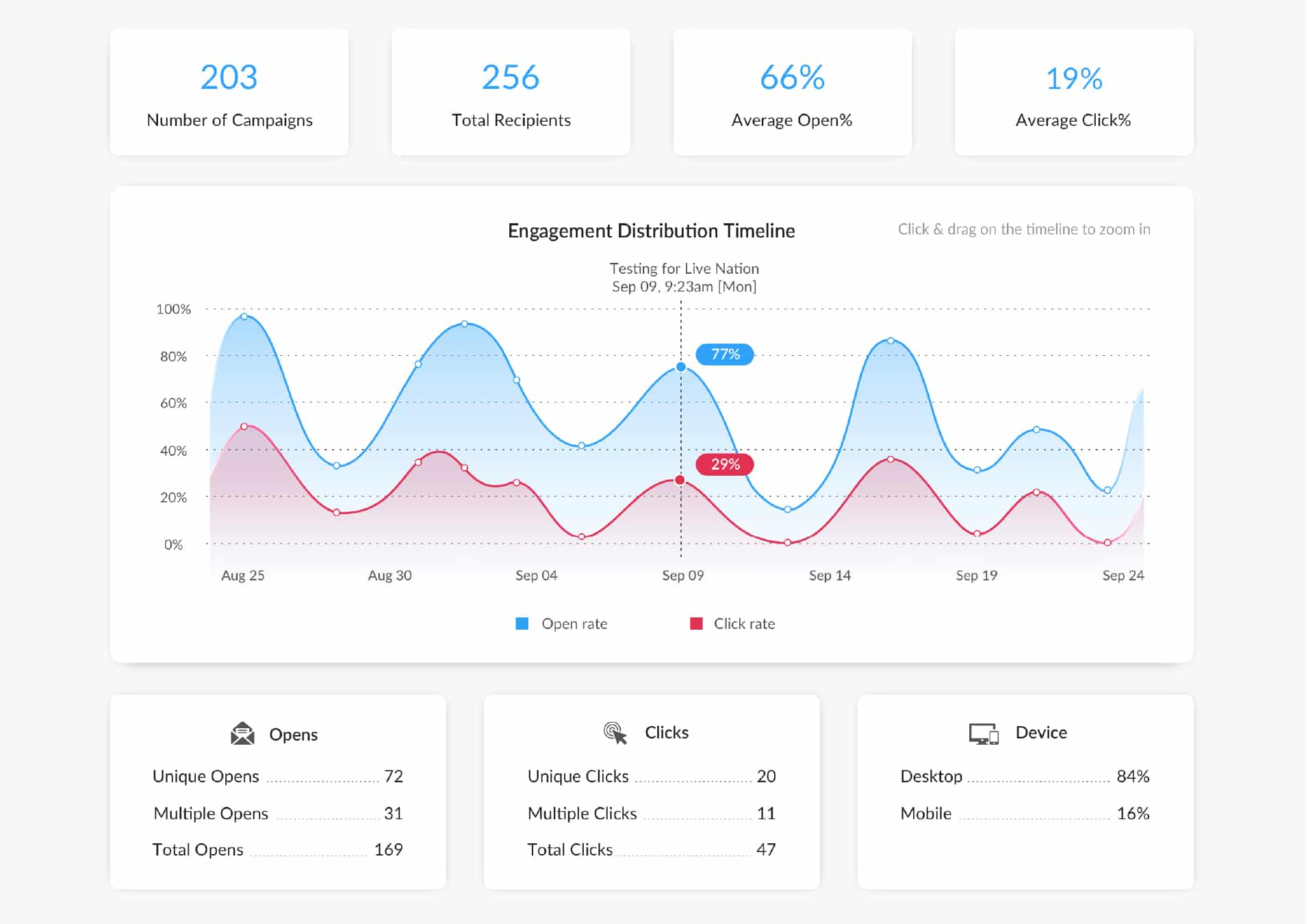 Add personalized subject lines and body copy that's based on your existing Gmail or Outlook distribution lists for even higher engagement.
You can even create your own custom email lists without having to wait for your IT department using ContactMonkey's List Management feature. Use your own email lists to target your internal communications to drive more email engagement.
ContactMonkey integrates with your Human Resources Information System (HRIS) like Workday and ADP, as well as Azure Active Directory, so your custom email lists will automatically update as employees join and leave your organization.
ContactMonkey is a stellar Hubspot alternative, and your email design and sending process can get much, much more efficient.
For more information, be sure to check out our guide on how to use internal communications software.
Hubspot Marketing Hub
Hubspot Marketing Hub offers a one-stop shop for your email creation and sending needs. They offer a powerful interface in which you can build emails, send them to your contacts, and track their performance.
Like ContactMonkey, Hubspot Marketing Hub features a drag-and-drop email builder. They also offer section-based editing that allows individual data entry to different parts of the email. Your created emails can be used as templates, though you have to save them specifically as a template: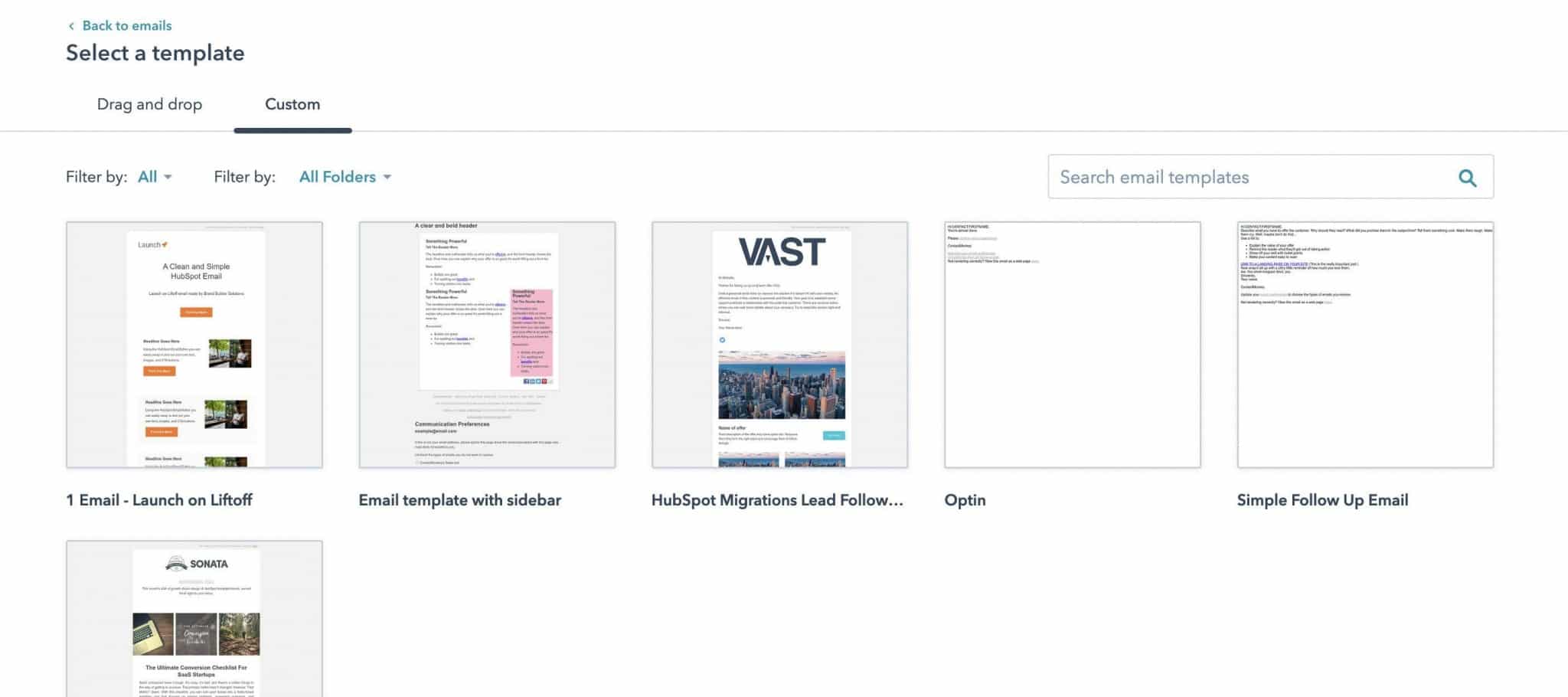 Though Hubspot integrates with your existing email service provider, your email sending process will now take place within Hubspot. This means that you will have to learn how to send emails using Hubspot's portal. While comprehensive, it can be overwhelming for those unfamiliar with it.
The bottom line: ContactMonkey is great for those looking for an easy way to boost their internal email capabilities. Hubspot Marketing Hub has a standalone portal and suite of email design tools. In terms of efficiency, we think the choice is clear: ContactMonkey's integration with Outlook and Gmail can't be beaten.
That's why Mettler Toledo after choosing ContactMonkey was able to save 25 days a year on their internal communications.
What email metrics are collected?
Tracking your internal emails is just as important as creating and sending them. Let's compare how ContactMonkey and Hubspot Marketing Hub handle email analytics.
ContactMonkey
When you send emails with ContactMonkey, you have the option to track both individual and overall email metrics. Gather information about how your overall email campaign performed. And you can track how your employees engaged with your email.
Track open rate, click-through rate, read time, opens by device and location, and more on your campaigns. Or see how often individual employees open and click on links within your email. You can even see how long your employees read your emails with our read time feature.
Does your company have internal or external regulations for email privacy? ContactMonkey's anonymous individual email tracking lets you gather email metrics from your employees without violating their privacy rights.
Once you've collected all your email metrics, you can use them to pinpoint your best content. Compare email campaign performance and use segmented emails stats to sort individual engagement by department, location, and title
Above all, ContactMonkey gives you the power to collect employee feedback via your employee emails. Pulse surveys, eNPS, thumbs up/down, yes/no, and anonymous employee comments help you gather qualitative employee feedback to contextualize your email metrics: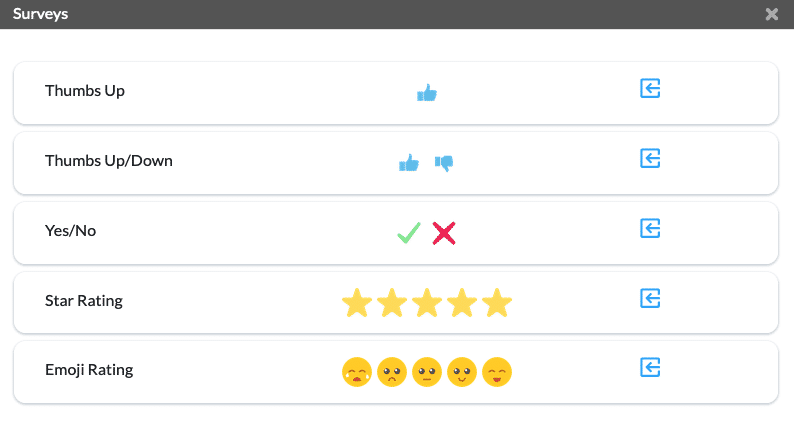 Hosting an in-person event or webinar? Create and track events using ContactMonkey's event management tool. Easily embed event invitations in your employee emails, and track and gather feedback via your employees' RSVPs: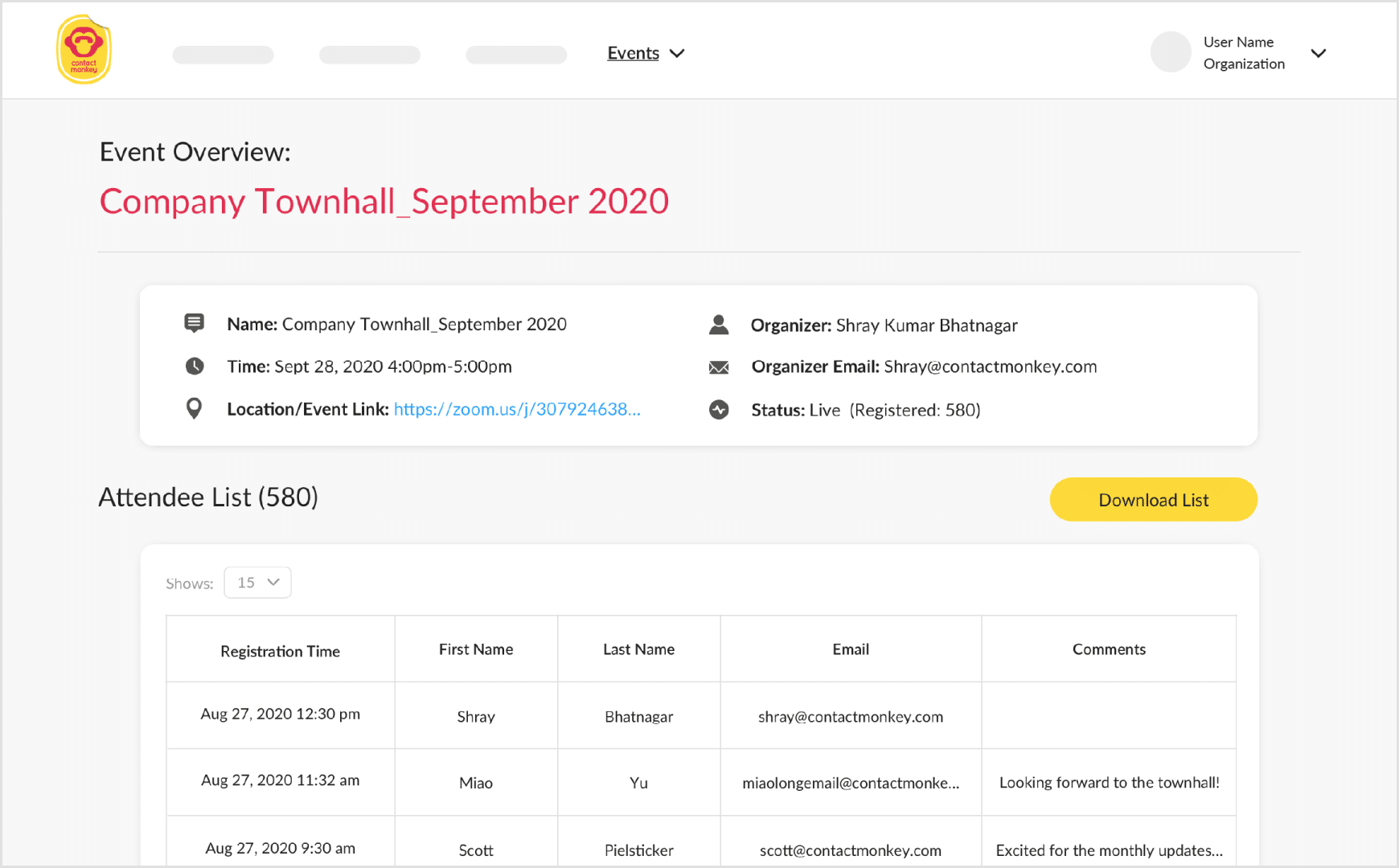 You can track virtually every aspect of your internal communications with ContactMonkey. If your organization is serious about measuring employee engagement, make internal email tracking a central part of your internal communications strategy.
In addition to quantitative engagement metrics, ContactMonkey allows you to gather qualitative data on your emails as well. With our click maps feature, you can see the specific parts of your email that your employees engage with. Use this data to refine your email design to ensure your employees are seeing the information you need them to see: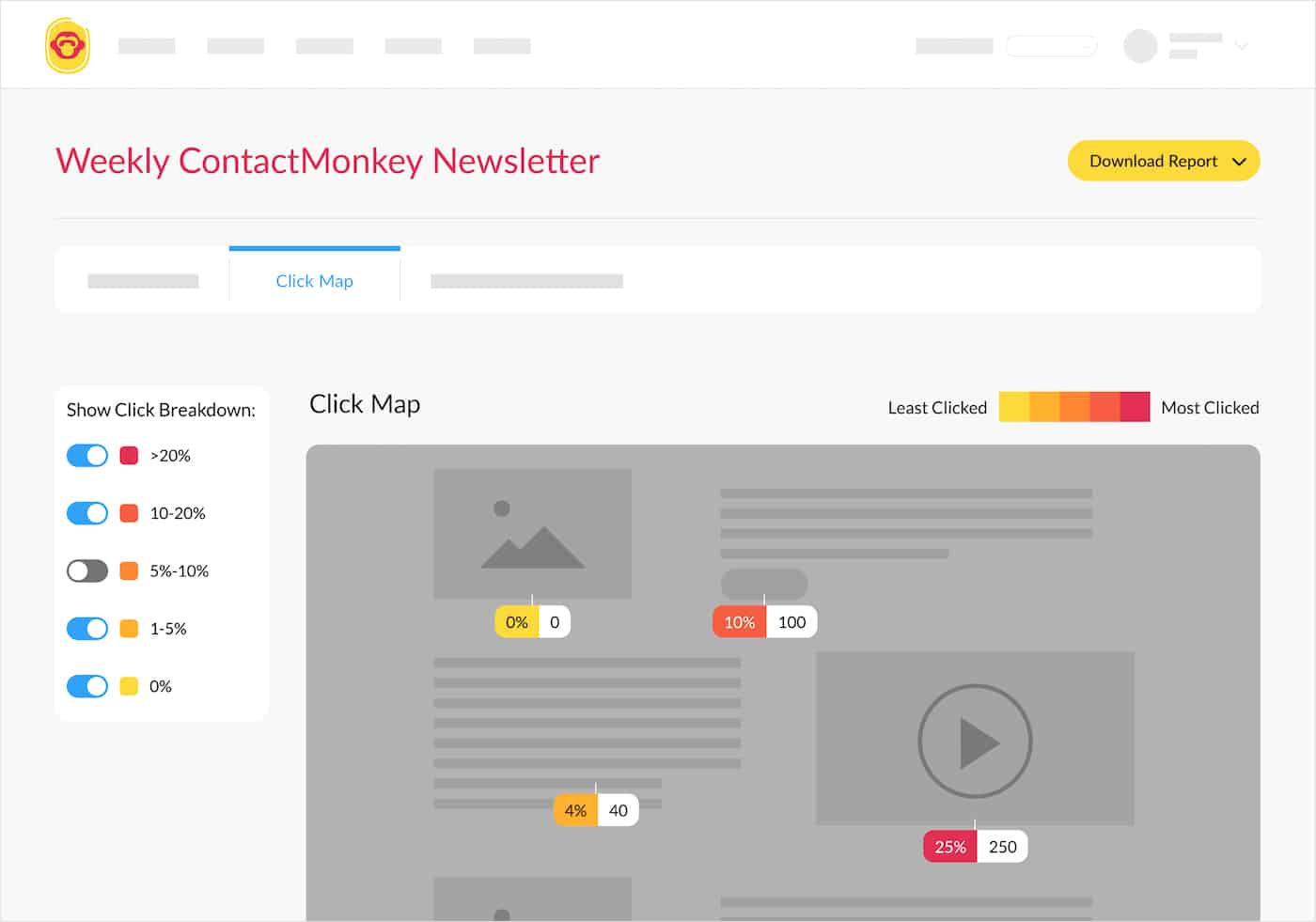 Hubspot Marketing Hub
Using Hubspot's email software, you can track a variety of metrics about your internal communications. Measure engagement using information like open rate, click rate, reply rate, and more.
Hubspot offers email-delivery statistics like bounce rate, unsubscribe rate, and spam rate. These stats are useful for those sending external marketing emails, rather than internal communications. Ideally, your employee emails:
Don't go to your employees' spam folder.
Can't be unsubscribed from.
This is the crucial difference between Hubspot and ContactMonkey for internal communications. With ContactMonkey, employees can't unsubscribe from your emails so they won't miss any important information. ContactMonkey emails are also far less likely to go to your employees' spam folder, and we'll explain why in the next section.
Get powerful email analytics with ContactMonkey.
Know exactly what content resonates with employees.
How does this software handle privacy and security?
Your internal communications can contain sensitive information meant only for employees. We'll break down how each tool sends your internal emails.
ContactMonkey
ContactMonkey works with your existing Gmail or Outlook account. Emails created with ContactMonkey are sent using your existing email infrastructure. What this means is:
Your internal emails don't go through a third-party email server.
Your internal emails don't go into your employees' spam folder.
When you send emails with ContactMonkey, you can rest assured that your emails are safe according to Outlook and Gmail standards of security.
Hubspot Marketing Hub
Unlike ContactMonkey, Hubspot requires you to send your emails through their servers. While this allows you to send emails directly from their portal, it also comes with its share of problems.
Hubspot emails are primarily used for external marketing purposes rather than an internal marketing strategy. Because of this, they contain an unsubscribe link at the bottom of every email. This can present a big problem for internal communicators as it can result in employees opting out of your distribution lists and missing crucial emails.
Another issue with sending internal emails via a third-party server is that your emails can end up in the spam folder. Hubspot's email tracking contains a spam report, which shows how many of your employees marked your email as spam versus those that didn't. This can be helpful, but ideally your employee emails won't be considered spam ever.
What Are The Differences Between Hubspot Marketing Hub And ContactMonkey?
Here we compare the features of each tool to see how they stack up against each other:
Hubspot Marketing Hub exclusive features:
Email health
Automated emails for workflow
Spam report
Features shared by Hubspot Marketing Hub and ContactMonkey:
Drag and drop email builder
Saved Layouts
Email tracking
Compare Campaigns
Schedule emails
Click maps
ContactMonkey exclusive features:
Individual email tracking
Anonymous email tracking
OpenAI ChatGPT integration
Event management
Easy integration with Outlook and Gmail
No unsubscribe
Email collaboration
Segmented email stats
List management
Personalized subject lines and body copy
Employee feedback
Edit emails in mobile view
Emails are sent from your servers
Why Use ContactMonkey For Your Internal Communications?
ContactMonkey is a dedicated internal communications software; every feature is designed to make creating, sending, and tracking employee emails easier. ContactMonkey uses your existing email inbox and servers and is quick and easy to learn.
You can send amazing HTML emails with confidence knowing that they won't get marked as spam. And you can track your internal email performance to find your best content or areas to improve.
Beyond the tool itself, ContactMonkey has your back from the start with extensive customer support and Help Centre. If you ever have any questions or suggestions for how ContactMonkey could help you achieve your internal communications goals, our customer service team is always happy to help.
Final Verdict: Hubspot Marketing Hub vs ContactMonkey for Internal Communications?
When we face off marketing tools vs internal communications tools, the outcomes are clear. Hubspot Marketing Hub is a great resource for those looking to create and track marketing emails sent to external stakeholders. But ContactMonkey is the clear winner for internal communications.
ContactMonkey is easier and more comprehensive for internal emails than Hubspot, and its integration with Outlook and Gmail can't be beat. You can get set up within 24 hours with our customer success team, and be sending and tracking employee emails in no time.
Want to try ContactMonkey for yourself? Book a free demo to see why ContactMonkey is the only choice for your internal communications.