Looking to improve collaboration in the workplace? We've lined up today's top email collaboration tools to help you level up teamwork and boost productivity.
In a digitally-driven workplace, successful teamwork depends on the tools at your disposal.
Quality email collaboration software can enhance internal communication and strengthen team alignment. The result: fewer workplace silos, better coordination, and greater employee satisfaction.
The key is to find collaboration tools that balance functionality and simplicity. In this post, we'll help you filter out the bad from the good and guide you in choosing the best email collaboration software.
Collaborate with your team using ContactMonkey.
Work on internal email templates simultaneously. Easy.
What is Email Collaboration?
Email collaboration enables multiple people within an organization to work on emails together.
This can be valuable in many respects.
For instance, you might have a support channel where customers submit questions and multiple employees respond through a shared inbox. Or you may have an IT mailbox where employees can send troubleshooting requests.
Collaborating Through a Shared Inbox
To collaborate through email, many companies set up a shared inbox, such as info@compay.com. This enables teams to manage incoming emails in a collaborative manner. Not to mention, by sharing email workload, teams can deliver quicker answers.
That being said, collective emails don't address many internal employee needs. For starters, they lack transparency on who's responding and working on what.
In addition, a shared email account doesn't allow multiple people to work on a single email together. When it comes to creating company newsletters or HR email templates, this can be a huge problem as these communications require input from multiple players.
How ContactMonkey simplifies email collaboration
ContactMonkey's internal email software offers an alternative to traditional email collaboration. Up to 5 users can edit an email simultaneously and collaborators can see changes in real time. It's like Google Docs for email!
Learn how you can amp up email collaboration with ContactMonkey—book a free trial today.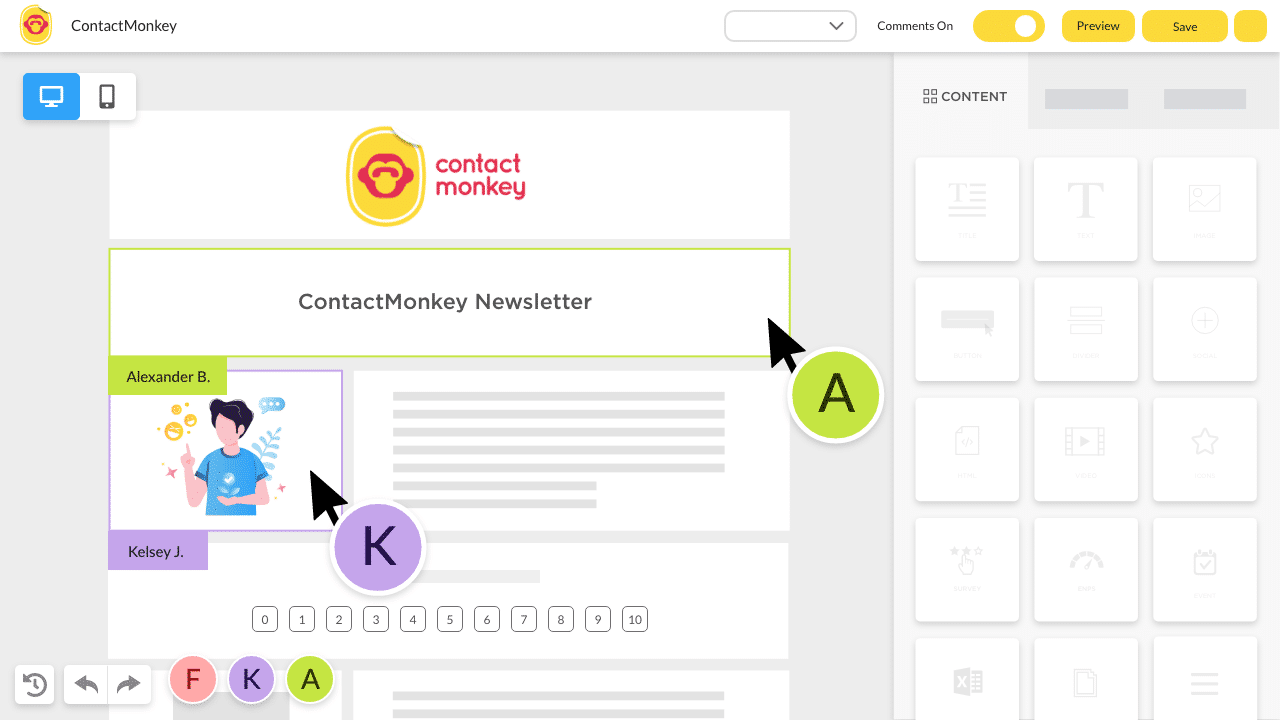 Why Your Company Should Implement Email Collaboration
Email collaboration helps companies streamline both external and internal communication in the workplace.
Here are just a few benefits that you can expect from implementing email collaboration across your teams:
Faster response times

Fewer departmental silos

Distributed email workload

More efficient email workflow

Better

crisis communications

management

Improved information-sharing across departments

Up-to-the-minute information for employees and customers
Why Buy an Email Collaboration Tool?
An email collaboration tool lets your team work on emails collectively while helping you avoid the pitfalls of poor coordination.
A shared inbox can be helpful but it doesn't account for a lot of user needs. Importantly, it doesn't let users see who is working on what response. This often leads to multiple employees tackling the same question.
Even worse, poor coordination can lead to no response at all. In other words, staying organized and on top of email progress can be a challenge for teams without an email collaboration tool.
With email collaboration software, you can take the legwork out of email management. Here are just some of the things you can do with an email collaboration software:
Track email changes

Delegate email tasks

Coordinate email scheduling

Reuse branded email templates

Organize HTML email templates

Monitor email response progress

Co-create an email template library

Work on a single email at the same time
Who Can Benefit from Email Collaboration?
Any team that sends joint emails in your company can benefit from email collaboration.
Say your IT team wants to inform customers and employees about a new software upgrade. Or your marketing team wants to a new campaign among internal stakeholders. In all these cases, an email collaboration tool makes it easier to create a well-crafted and coordinated response.
An email collaboration tool can be especially useful for certain teams. Internal communications and IT departments as well as HR teams can get a lot of extra value out of collaboration software.
These teams often consist of multiple individuals, but they tend to send communications as a team. An email collaboration tool enables team members to navigate emails together, keep track of email progress, and streamline communications.
Email Collaboration Use Cases
Sales, customer support, and billing teams collaborate on external emails the most. When it comes to internal emails, it's HR, IT, and internal communications teams that tend to tackle the biggest volume of employee emails.
| External Emails | Internal Emails |
| --- | --- |
| Usually owned by sales, customer support, and billing teams | Usually owned by HR, IT, and internal communications teams |
Let's take a closer look at how these teams might collaborate on emails:
Using a dedicated email account: every person on the team needs to share a password and constantly switch between email accounts. An email collaboration synchronizes this process by providing a dedicated portal for collaborative communications work.
Using an email alias (e.g., "info@company.ca") where emails are forwarded to team members: no one knows who's responding to what and there's tons of back-and-forth. An email collaboration tool with a responsive template builder allows you to build out team templates together, prepare coordinated responses, and send out pre-made communications for specific occasions.
Collaborating through Google Groups: team members get notified about incoming emails and work on communications together. An email collaboration tool like ContactMonkey can remove this extra step by letting your team to co-create, organize, schedule, and track emails from a single portal.
In each instance, staying on top of email progress and delivering consistent communications is a challenge—to say the least. There's a lot of guesswork involved and transparency is scarce. In other words, something is bound to go wrong.
An automated process can make your email collaboration efforts more simple and reliable. It also helps your teams work together more effectively, thereby reducing conflict and curbing employee disengagement.
What Features to Look For in an Email Collaboration Tool
The email collaboration tool features you need will often depend on your communications goals and company size. But some features are non-negotiable.
Here are the key features you want to look for in an email collaboration platform:
User management

Real-time co-editing

Email change tracker

Shareable email templates

Email collaboration for teams in Outlook and Gmail
Popular Email Collaboration Software and Tools
The best email collaboration tools should reduce your workload and contribute towards stronger, more aligned teams. With that in mind, here are the best email collaboration tools on the market today:
1. ContactMonkey
With a drag-and-drop email builder, collaborative email design, and real-time editing, ContactMonkey is the ultimate email collaboration tool for business.
Users can create, save, and share email templates or customize emails together. And they can do it all through a user-friendly interface that works just like Google Docs. The result: faster communication, less errors, and more organized teams.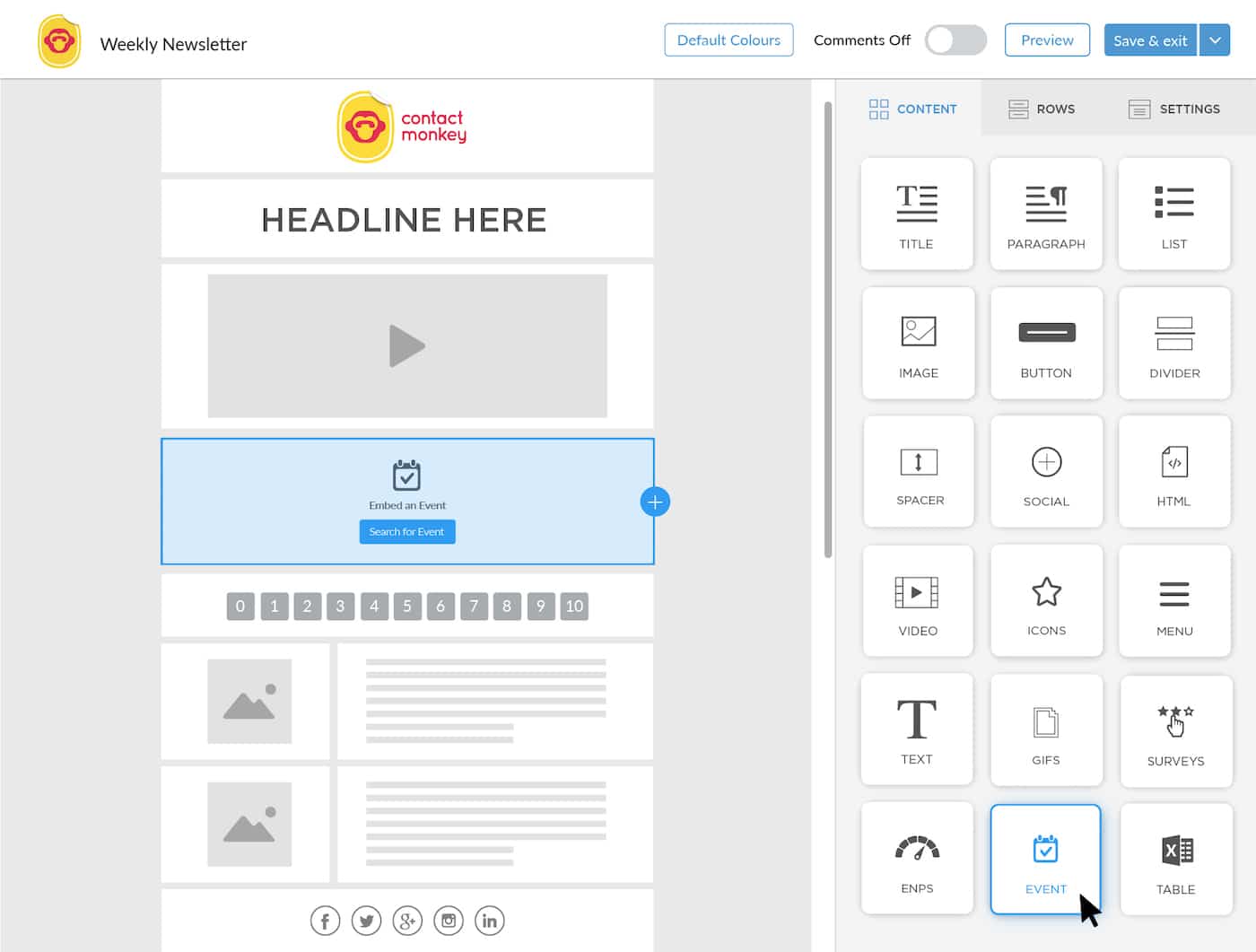 Here are a few key features available with ContactMonkey:
Synchronized email design

Outlook and Gmail integration

Email automation and scheduling

Easy-to-use email template builder

Ability to set default employer branding

High-performance email tracking

Anonymous email tracking
OpenAI ChatGPT integration
List Management to create custom email lists without IT. Includes Human Resource Information System (HRIS) integration.
See how it works for yourself—start your free ContactMonkey trial today!
2. Gmelius
Gmelius is a team email collaboration tool that removes the need for tedious back and forth conversations. It enables teams to share and delegate email tasks through @mention capabilities.
By allowing teams to sidestep Bcc's and Forwards, Gmelius paves the way to a decluttered inbox.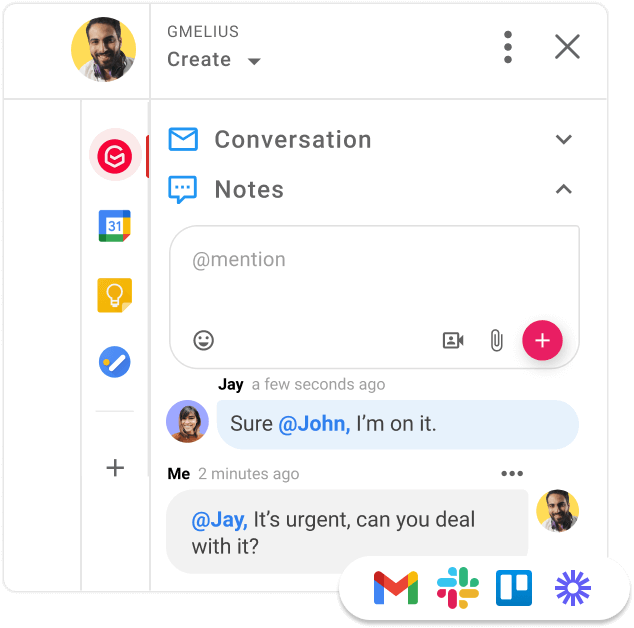 Here are some standout features available with this tool:
Meeting scheduler

Ability to assign email workflows

Automatic email thread sharing through @mention

Team member tagging in automated email workflows
3. Hiver
Hiver is an email collaboration software for Gmail. It's dedicated to larger teams that already rely on Gmail for their email workflow, allowing them to delegate email tasks, add tags, and use email templates.
While Hiver is a strong email management tool, it's limited in the sense that it can only work with Gmail.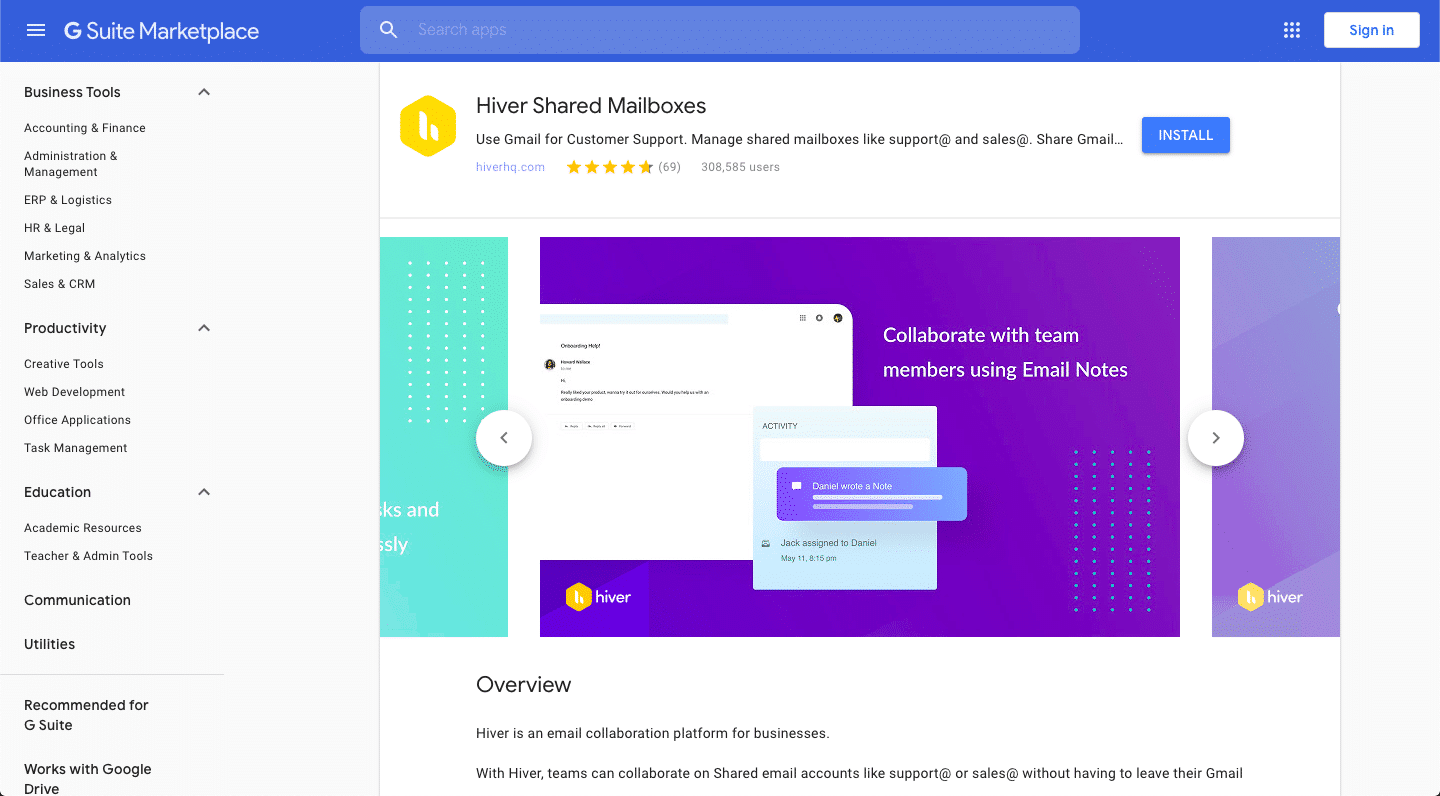 Key features from Hiver include:
Allows for many collaborators

Offers pre-made email templates

Enables users to create email templates from scratch

Allows users to assign tasks in automated email workflows
4. Help Scout
A one-stop-shop for managing customer emails, Help Scout makes it easy to delegate and manage email tasks seamlessly. Users can instantly track email progress and communicate with one another from within the platform.
While Help Scout is great for managing customer support, it's not designed for internal communications.
Internal teams will not have use for many of the features and won't be able to tap into HTML functionalities.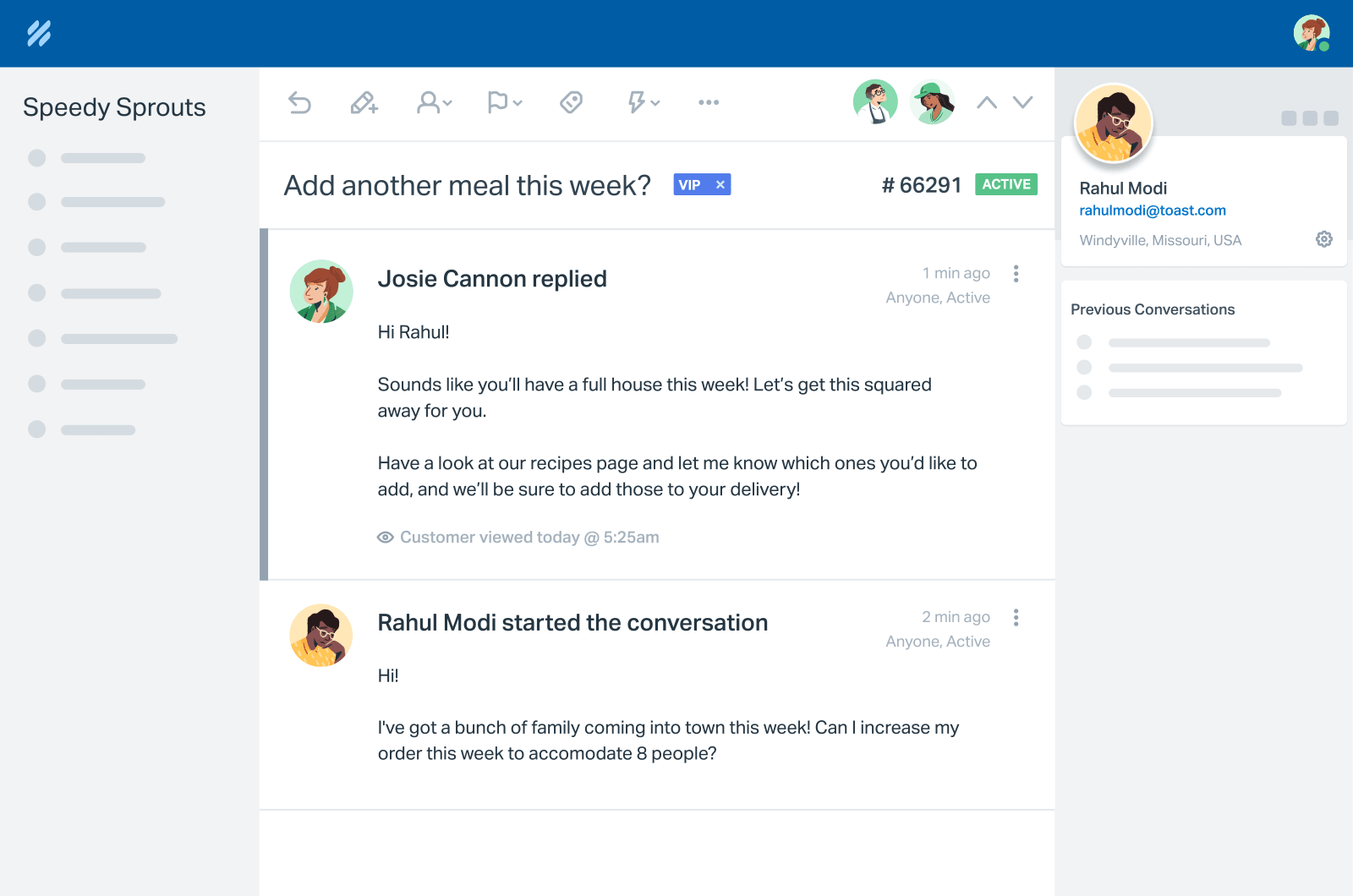 Here are the top features available with this tool:
Email templates

Ability to see customer profiles when responding

Email collaboration across multiple shared inboxes

Team members can attach and send notes to one another
5. Front
Front is an email collaboration tool that lets users easily navigate between a personal inbox and a shared inbox. With instant messaging and real-time email collaboration, front is designed to help team members provide customer support faster and without errors.
The email collaboration tool works great for managing customer emails but it's not designed for internal support. Users won't be able to collaborate on HTML newsletters and there's no Outlook or Gmail integration.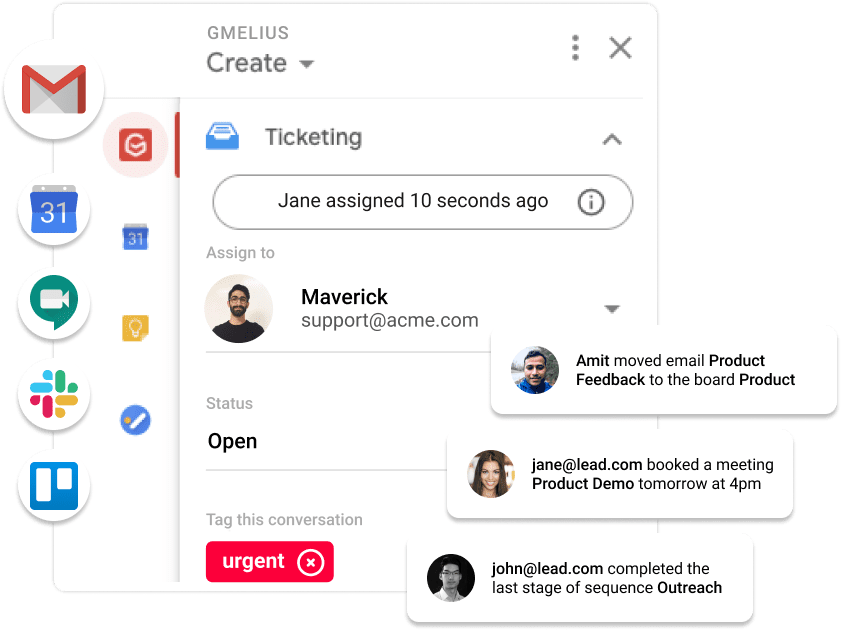 Front's standout features include:
Email automation

Internal comments

Customer prioritization

Email tracking and analytics

CRM integration on certain plans
Boost Email Collaboration With ContactMonkey
ContactMonkey turns your internal communications workflow into a seamless team effort. By allowing teams to create and edit emails from a single interface, ContactMonkey takes away the needless headaches of email collaboration. So your team is left to reap the benefits, including:
Improved teamwork

Faster feedback

Time savings
Simplify email management with ContactMonkey's all-in-one internal communications software. Book a free demo to see ContactMonkey in action!