ContactMonkey's internal communication tool is now available for Office 365 for Mac. Create, send, and track emails using your Mac like never before!
Macs have a fantastic user interface, but its compatibility with popular software leaves much to be desired. With ContactMonkey for Outlook 365 for Mac, you can enjoy the workflow of a Mac with the power of Windows-supported software.
ContactMonkey makes creating email templates and email tracking for Mac easier than ever.
We have partnered with Microsoft to launch a new Outlook add-in to the Office Store! You can check it out yourself, or you can book a free demo to see how ContactMonkey boosts your Outlook 365 for Mac inbox.
Create better emails. Try ContactMonkey today.
Start a 14-day free trial. No credit card is necessary.
Internal Communications for Outlook 365 for Mac
With just a couple of clicks, access ContactMonkey's email template builder and in-depth email tracking for Outlook for Mac. Our suite of internal comms tools are designed to optimize your email process and boost employee engagement in your organization.
ContactMonkey also integrates with your Gmail and Outlook inboxes on PC, so you can send stunning, responsive emails from whatever operating system your business uses.
Want to learn more about ContactMonkey? Watch our demo video to see what we're all about!
How ContactMonkey Works with Outlook 365 for Mac
Internal communications is indispensable for large businesses, but not every big business relies on Windows operating systems.
ContactMonkey's new Outlook app for Mac is designed to optimize your internal communications process to help your business save time and increase employee engagement.
Here's how we do that:
Work from your Outlook inbox
Say goodbye to the counter-intuitive act of leaving Outlook to send your beautiful newsletters. All emails will be coming from your own inbox.
Design your templates with an easy drag-and-drop builder
You can now create responsive HTML emails, without the help of a designer or a developer. Include merge fields to give your employee emails a personal touch with your subject line and body copy:
Access your email template builder from your Outlook inbox, and using drag-and-drop tools you can edit dozens of pre-built templates or build your own from scratch!
Our team templates feature will enable you to share and access your team's best performing templates and email designs. Once you're done designing, simply insert your beautiful responsive HTML template and send from Outlook.
Gather employee feedback directly from your emails
Integrate employee engagement surveys into your employee newsletters with our email template builder.
Emoji Reactions: Give your employees the ability to love, like, and laugh at any content you send via email. With emoji reactions now your internal comms team can constantly gather feedback in a seamless way: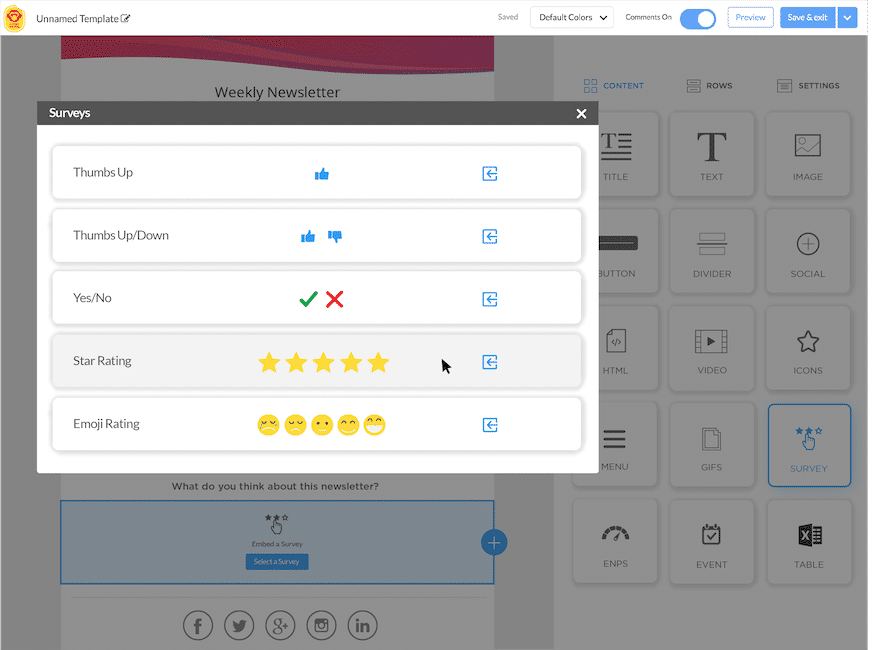 Pulse Surveys: With pulse surveys, you'll also get actionable data on your email communications in seconds. You'll be able to see all of the responses live in real-time on your ContactMonkey dashboard.
Like Buttons: Your employees are already liking content on all the social media platforms they use on their own time. By adding like buttons to your own internal emails, you'll be able to engage your employees with your content and actually learn what they like.
Combine Like Buttons with Employee Comments to gather qualitative employee feedback:
With employee comments, you can collect feedback directly from employees by enabling them to provide anonymous comments within your internal emails.
By simply enabling the "Comments" feature from your email template builder, your employees will have the option to answer any question you ask via your internal emails.
Preview on desktop and mobile
You can never be too safe when emailing hundreds or thousands of employees. We've made previewing your emails a one-click action. Now you can preview results and emails before sending, both on desktop and mobile:
Send directly to your Outlook distribution lists
Use Outlook Distribution Lists, Dynamic Distribution groups, your Outlook contacts or a CSV file. You can send it immediately or schedule it to send later with the power of Office 365.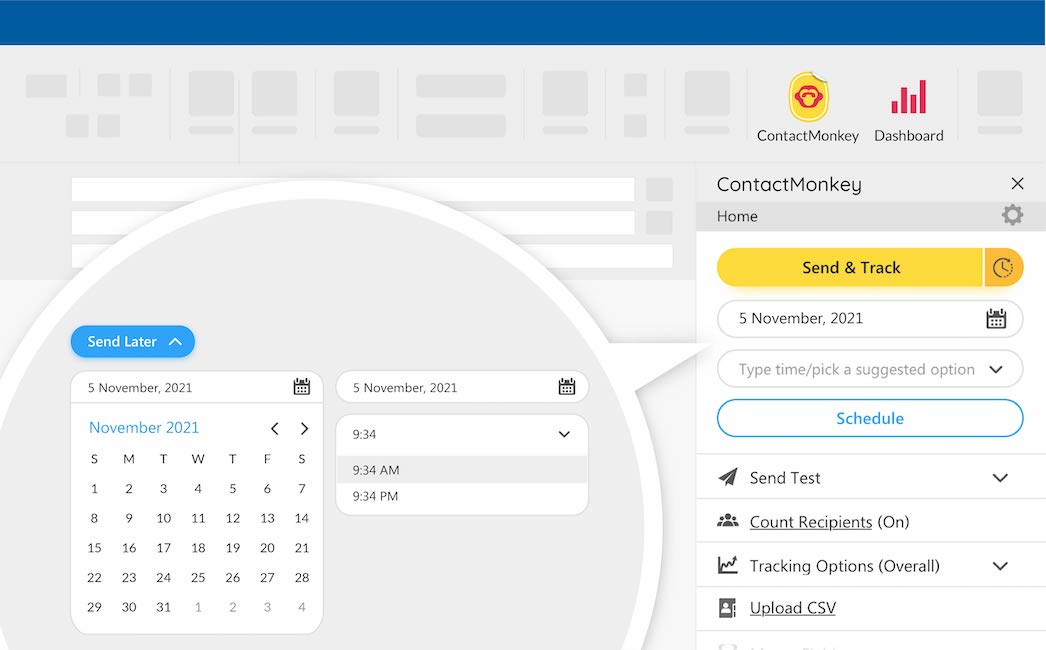 Track individual and/or overall campaign performance
ContactMonkey is the only tool that enables you to track both individual employee and overall campaign results. Track overall metrics like Open Rate, Click-through Rate, Opens by device and location, and more.
With ContactMonkey's Outlook for Mac email tracking, you can also determine how your individual recipients engage with your emails.
See how many times a recipient opens your email or clicks on a link. With ContactMonkey it's super easy to find your most engaged employees.
Campaign dashboard
If you're not tracking your emails, can you really prove the ROI of your IC efforts? With our email tracking software for Mac, you can measure email opens, link clicks, subject lines, devices used, and location with your campaign dashboard: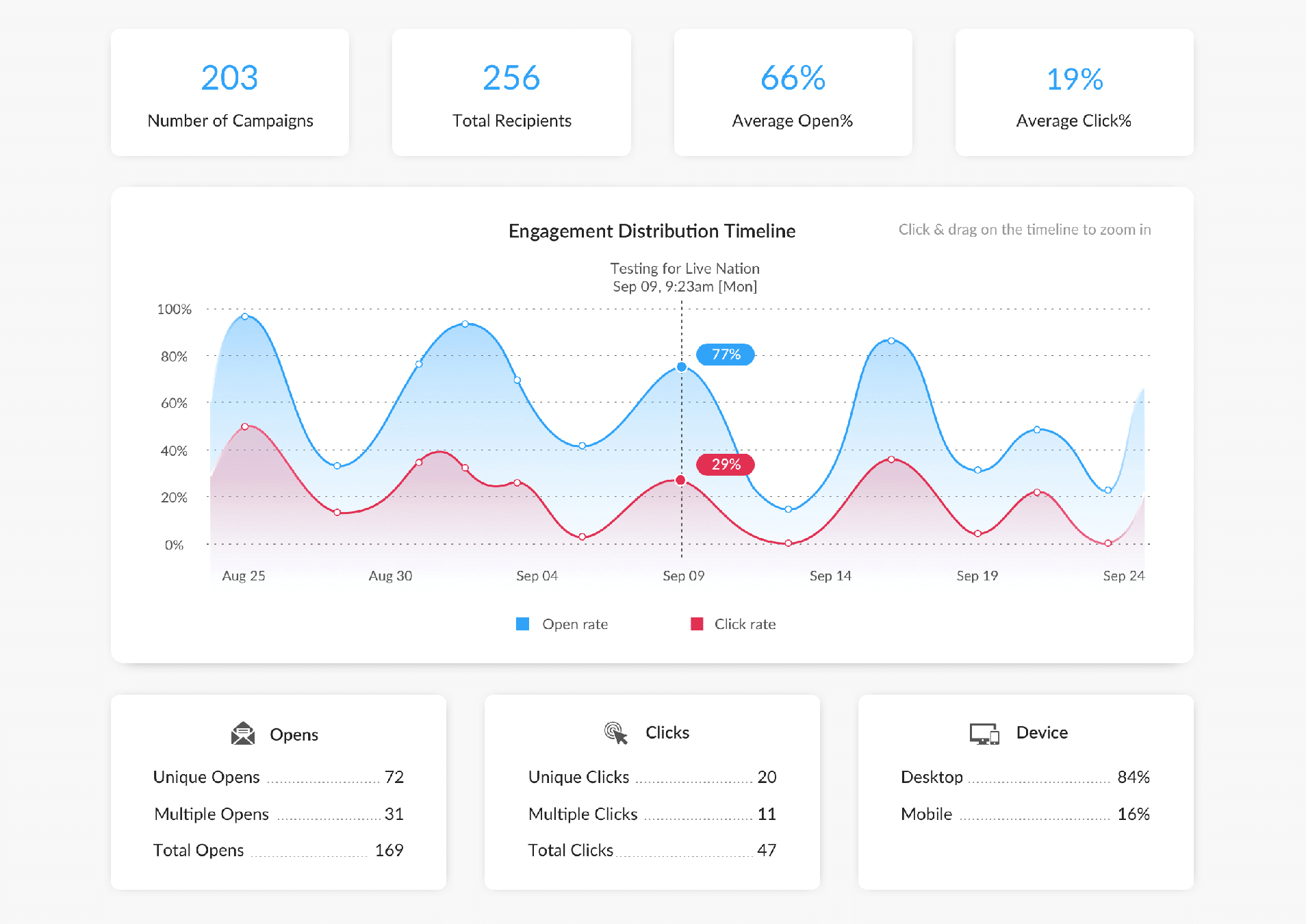 Get real-time notifications on email opens and link clicks sent to your internal communications database all within your own Outlook inbox.
With our new dashboard, you can also see best performing links, a locations map and share or download any report, making it easy to share your performance with your team.
Powerful Internal Comms for Outlook 365 for Mac
Now you can enjoy optimized internal communications on whatever operating system you're working on.
Create stunning and responsive Outlook email templates, collect employee feedback, and enjoy Mac mail tracking, all from your Outlook 365 inbox.
We love showing people what their life could be like using our tool. Sign up for a personalized demo and we'll walk you through the tool in under 5 minutes, it's that easy to use!