Do you need help creating a diversity and inclusion communication plan? We've pulled together our top tips for creating a diversity and inclusion communication plan in a handy infographic. 
The modern workplace is more diverse than ever before.
With more females taking up executive positions, and employees from different ethnic backgrounds participating in the workforce, it's integral to have a diversity and inclusion communication plan in place.
A growing number of organizations understand the business case for a diverse workforce and inclusive culture and have launched initiatives to cultivate culturally effective workplaces in a number of ways.
That being said, it can be challenging to incorporate diversity and inclusion into an existing internal comms strategy. For the reason, we've compiled 4 tips to help you get started.
4 Tips For Creating Your Diversity and Inclusion Communication Plan
1. Layout the Groundwork for Your Diversity and Inclusion Strategy
It's easier to tell a coherent story if your company has a clear understanding of why enhancing Diversity and Inclusion is important as well as the steps it will take to ensure greater diversity.
By showing management the importance (and benefits) of having a more inclusive workforce, you'll be able to sell them on the idea of having a proper diversity and inclusion comms plan.
As 2018 research from McKinsey shows, greater diversity in the workforce results in greater profitability and value creation. The same holds true at the executive level, as McKinsey found a statistically significant correlation between diverse leadership and better financial performance.
2. Set Achievable Goals
Once you have a strategy in place, it's important to set clear goals and objectives to carry out the initiative. By doing so, you are letting your employees know that D&I is a serious investment the organization is willing to make.
Here are some examples of some diversity goals from our friends at Lever.Co:
Percentage of employees to submit responses in an initial benchmark survey
Number of internal events/trainings with a target number of attendees
Number of diverse candidates in your pipeline, or interviewed for a role
Number of blog posts about your culture written by current employees
Number of job descriptions overhauled for inclusive language
3. Action Your Talk 
You can't gain employee trust when you don't walk the talk. It's important for communicators to keep their workplace informed of all the actions they have already taken or going to take in the near future.
A good way to do this is to use internal comms software to send and track a diversity & inclusion newsletter with news about new initiatives and milestones.

4. Multi-Channel Diversity and Inclusion Communication Plan
Social media and digital tools play a role in everyone's daily routine. Communicators should use tools such as internal email, intranets, social apps, and internal blogs to communicate the D&I initiatives with employees.
A diverse and multigenerational workforce can be a challenge to reach. Using just one channel to reach employees that may be used to different technologies won't do the trick. Instead, internal communicators should try to adopt a multichannel approach to better engage with all of their employees.
To accomplish this, internal comms pros need to look at how strategy, behaviours and technology connect, and use the results to improve the flow and quality of communication and collaboration.
Diversity and Inclusion Communication Plan Infographic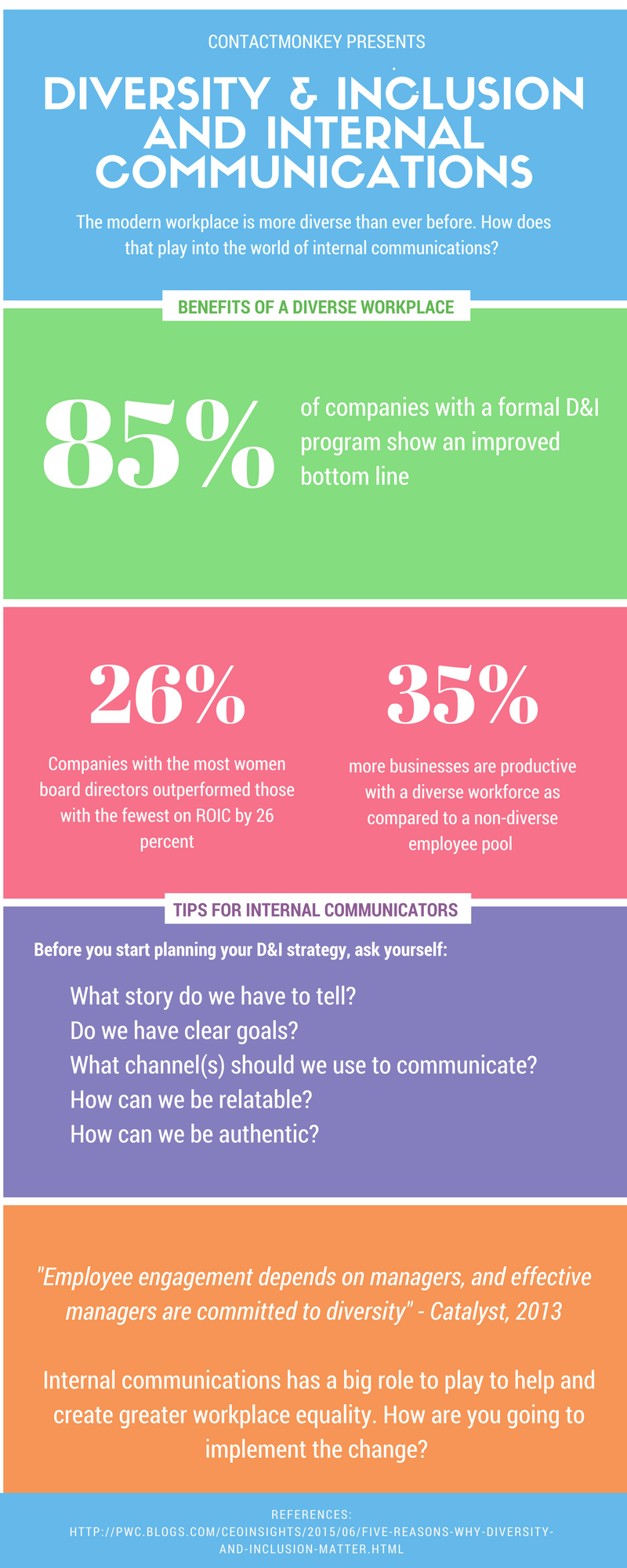 Need more guidance in creating an inclusive communications plan? You might also like:
Are you looking to start improving your internal communications with email? Do you wish you could send responsive newsletters straight from Outlook? Get your FREE TRIAL of our Internal Communications measurement tool today and start boosting employee engagement!