So you've created an awesome, HTML responsive newsletter for your employees and now that it's time to send it, you're panicking. Is it possible to send an employee newsletter in Outlook?
Wouldn't it be great to know how to send mass email from Outlook using responsive HTML email templates that look exactly how you envisioned them?
At ContactMonkey we understand that your employee newsletter plays an incredibly important role in your internal communication strategy, helping you increase employee engagement.
Just as well, we also know that sending mass emails or an employee newsletter in Outlook has been, historically, a surprisingly difficult task. Well, not anymore 😉
5 Steps to Sending an Employee Newsletter in Outlook 
With ContactMonkey's new Outlook mail merge in Office 365 tool, you can now upload responsive HTML emails from Outlook, personalize them, and send them with the certainty that your emails will look exactly how you want them to in all email providers, including Outlook!
Additionally, all emails will be coming from your own email address and can be personalized for each recipient, making every interaction feel personal and caring, as opposed to just "another email blast."
Another cool thing is that we support Outlook for Windows, Mac, and Outlook Web App, so no matter where you use your Outlook, you'll be able to use our tool.
Let's go over 5 easy steps to send an employee newsletter in Outlook.

1) Start your Mail Merge and Upload your HTML email in Outlook or Create a New One
You can now stop asking yourself, Is this template too complicated? Will it look all funny in Outlook? Because ContactMonkey's Outlook plugin ensures successful delivery and perfect rendering.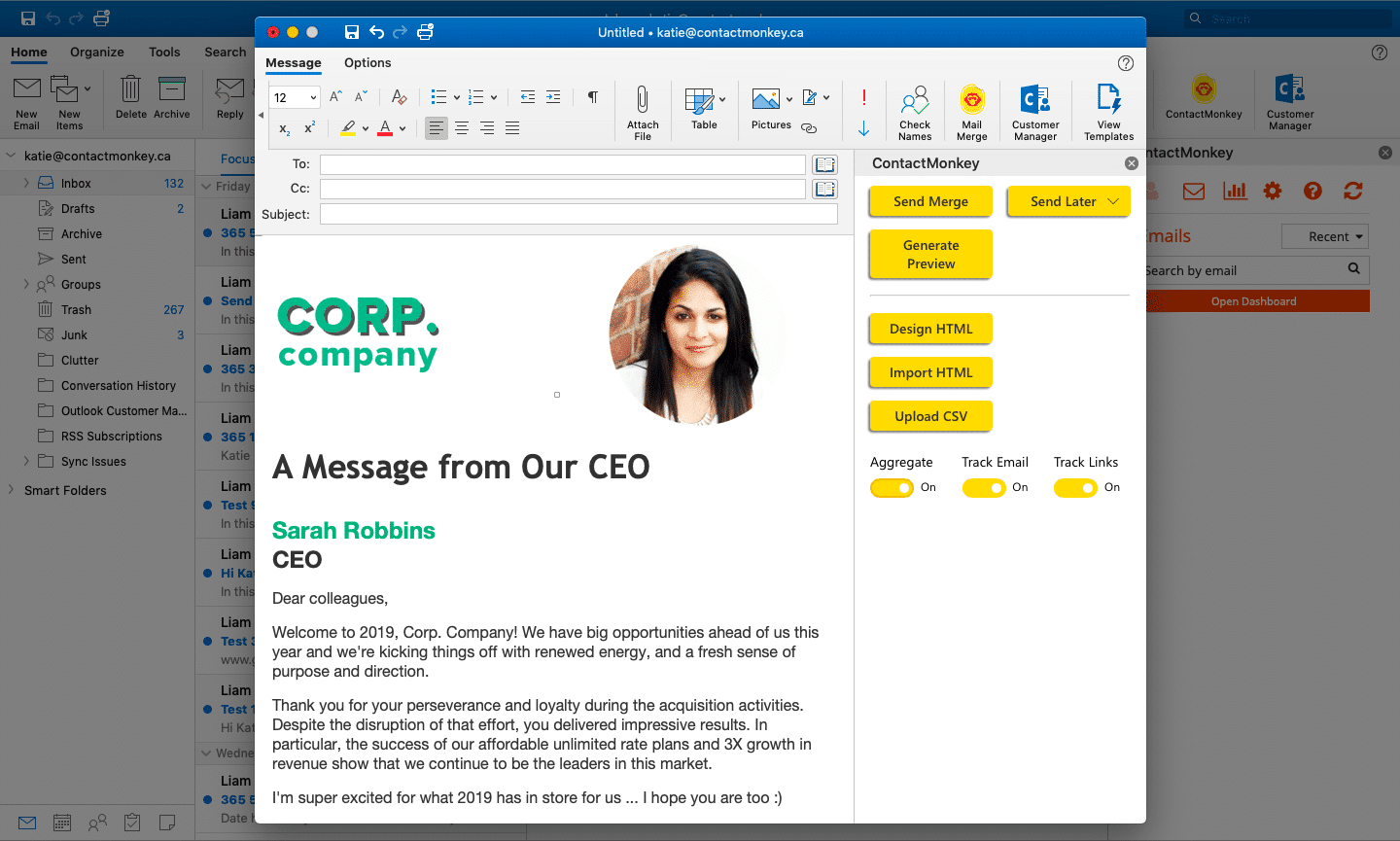 Click on "Mail Merge" to get started.

An Outlook message window with our Mail Merge tool will pop up.

On your ContactMonkey Ribbon simply click on "Import an HTML" and select your HTML email. Click "Open"

Don't have a template? Click on "Design HTML" and make your own template with our intuitive email template builder.
Design Your Templates with an Easy Drag-and Drop Builder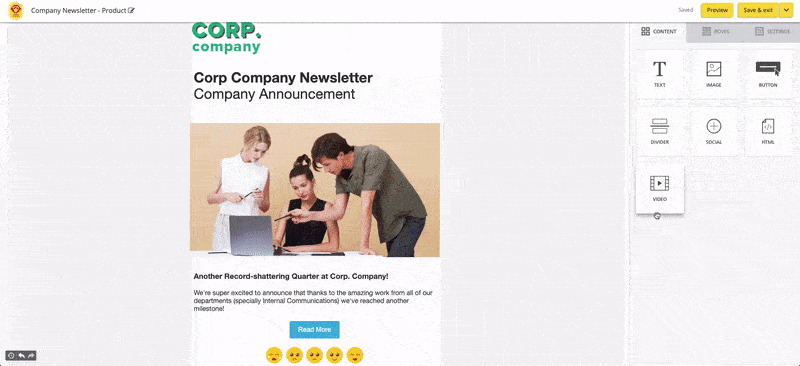 If you don't already have a responsive HTML newsletter template, not to worry, you can create one from scratch or use our pre-built templates within our drag and drop email template builder and send straight from Outlook to your Outlook distribution lists!
Add Social Reactions, Pulse Surveys & Employee Comments 
Internal communicators crave feedback and data, so we've created three features to help them gather both easily.
With pulse surveys, social reactions & employee comments for Outlook or Gmail you'll finally have access to both qualitative and quantitative data from your internal newsletters.
While the results to social reactions give you powerful data, employee comments allow you to understand what your employees are feeling and thinking, since they can tell you directly through a newsletter.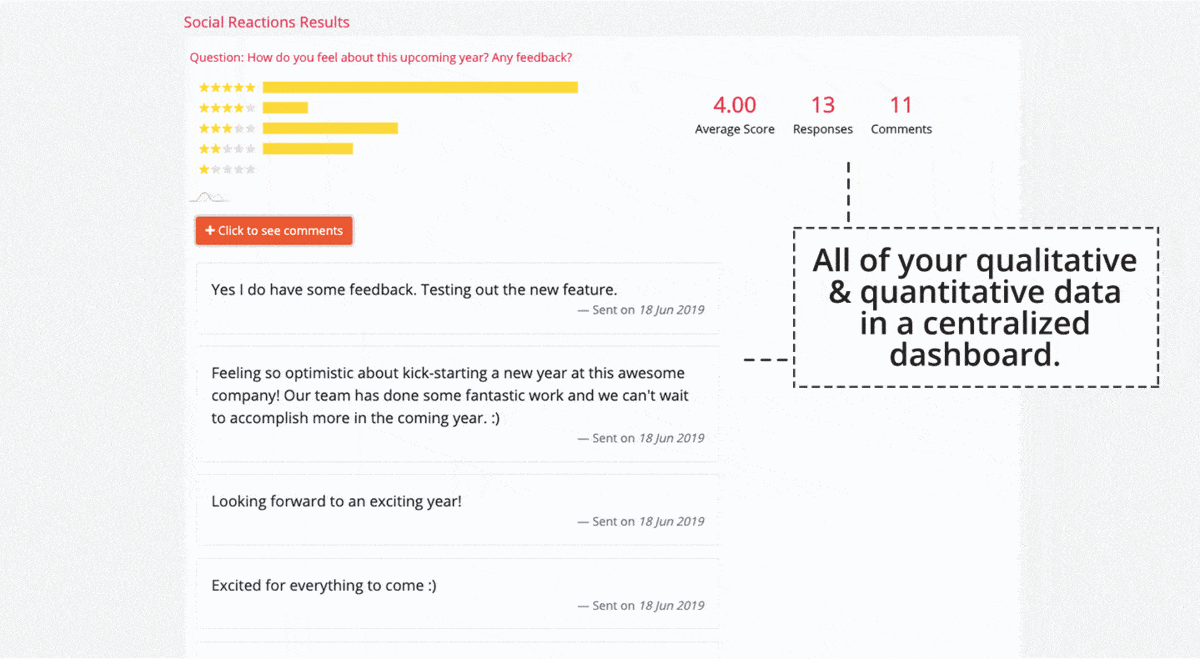 2) Choose Your Distribution Lists or Import a CSV in Outlook
Since ContactMonkey integrates within Outlook, all of your Outlook functionality remains the same, including selecting a distribution list for sending your HTML email template from Outlook. We've also made importing a CSV a one-click task.
To select a distribution list: click "To", select your distribution list from the drop down and press "OK".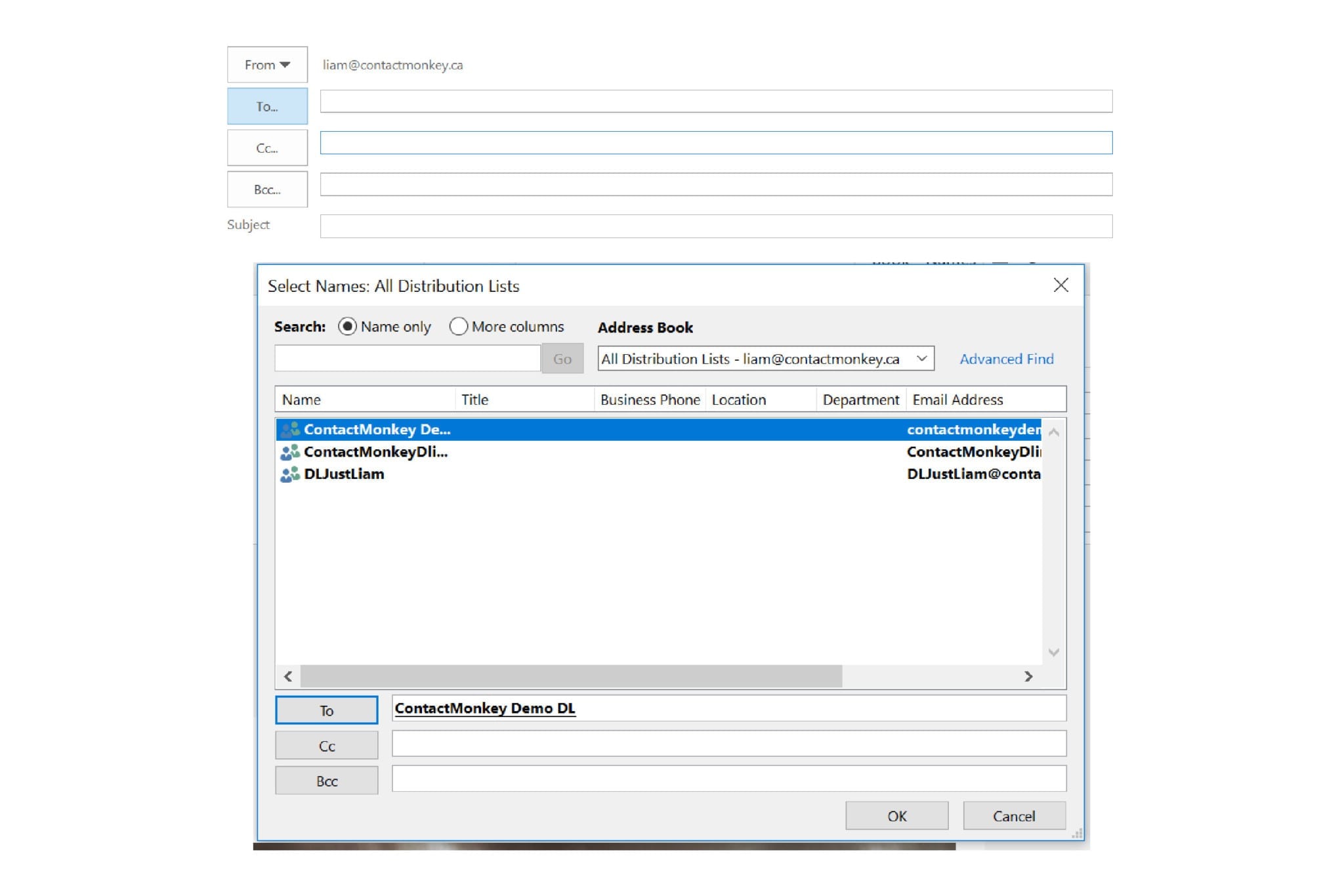 You can also upload a CSV by clicking on "Upload a CSV File" on your ContactMonkey ribbon.
3) Personalize The Subject Line or Body of your Mail Merge in Outlook
Personalization helps drive email engagement so we recommend adding a personal touch to your subject line.
On the ContactMonkey Mail Merge Picker (on the left) click and drag any merge field you would like to use into your subject line. Probably "First Name".

To personalize the body, make sure you add the respective merge fields in your HTML file before uploading.

4) Preview and Send Your Outlook Mail Merge 
Preview Your Templates Both Desktop and Mobile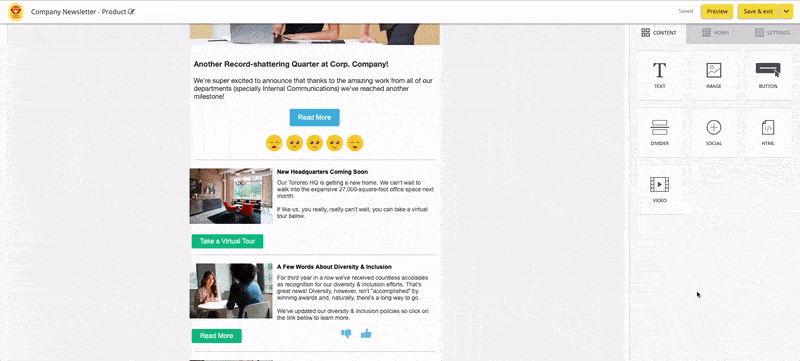 Test Your Mail Merge Before Hitting Send
You can preview by clicking on "Preview Mail Merge". A window will pop up showing you whether you've inserted your merge fields correctly.
Green means everything is working properly, red means some information is missing.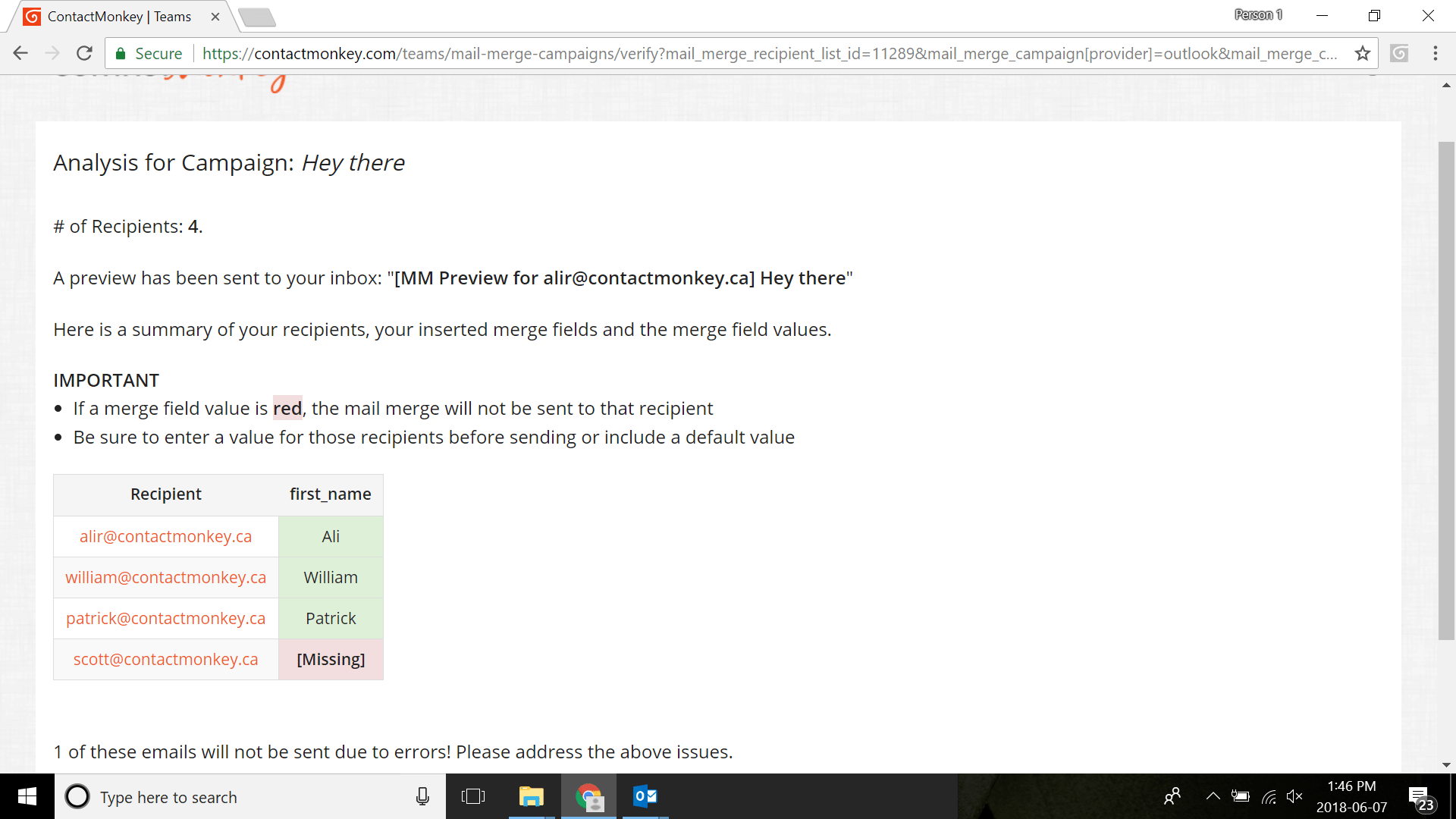 After hitting preview you will also be sent a preview of your HTML email from Outlook so you can make sure that everything looks right.  After that you can hit send and voila! You've now sent a fully responsive HTML employee newsletter from Outlook in 4 easy steps!
5) Track in Real Time And Optimize your Employee Newsletter in Outlook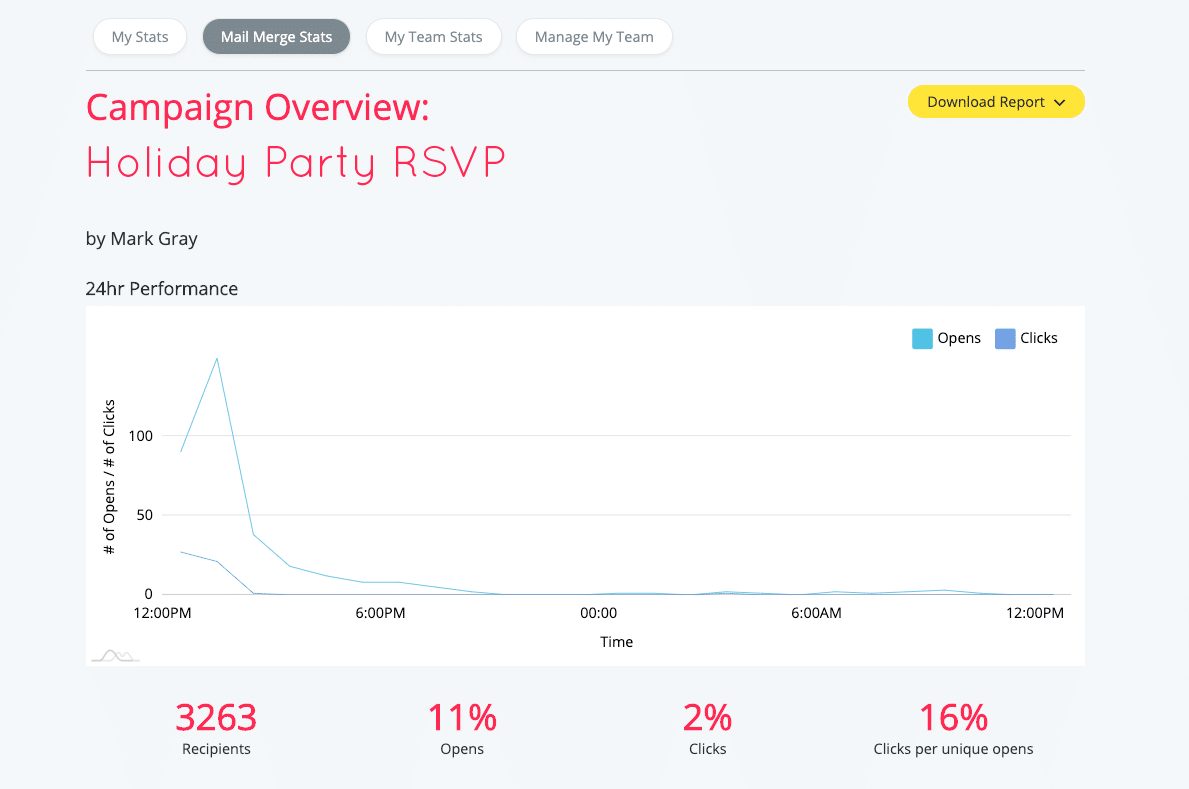 As mentioned above, sending better employee newsletters in Outlook painlessly is just the beginning. What makes people open an internal email?
Included with the ability to send responsive emails to your employees, you can use Outlook email tracking for internal communicators to track the message and gather employee feedback in real-time.
We will show you overall campaign performance, or performance at an individual employee level including open rates, link clicks, location, devices, pulse survey results and more.

Gathering employee feedback is an essential part of an internal communicators role. Unfortunately, more often than not this consists of a 60 question survey that is sent once or twice a year! 
Using our pulse survey tool you can add a simple employee engagament survey questions to your emails and have employees directly give you feedback from within that email. No extra steps, no extra tools. It literally takes less than 3 seconds! 
Since you're also able to track opens, link clicks at a personal and aggregate level using our dashboard, you'll be gaining the insights needed to keep optimizing your internal emails every time you hit send.
So … what are you waiting for? Start sending responsive HTML emails from Outlook now. Your employees and your boss will love you for it.