Are you looking for the best internal communication tools or the most effective employee communication tools that will help you design beautiful visuals without relying on a designer? Then this blog is for you!
As an internal communications pro, have you ever wished you had access to design tools that'll enable you to no longer rely on a designer?
We know internal comms pros are busy! From presenting the latest employee engagement analytics to the C-Suite to compiling an epic employee newsletter highlighting all the latest news from your company, your plate is full.
And you definitely don't have time to assign tasks to a designer and wait on them to give you the graphics you need to insert in your newsletter or sit in anticipation for the drool-worthy pie charts to showcase your stellar employee engagement numbers.
(We know how much the C-Suite loves pie charts and graphs.)
Luckily for you, you don't have to rely on a designer anymore to come up with beautiful visuals fast. From amazing stock photography, to free image editors, to online video makers, there's sure to be a tool out there that will help you get more creative.
We've compiled a list of top 12 design tools for internal comms pros like you so you never need to rely on a designer again!
While most of these tools are free to use, you may have to get the premium plan for some of the tools in order to get access to more features.
And in case you're looking for the latest email design trends, Brafton's got you covered in their blog!
Now, let's get to the top design tools for internal communicators, shall we?

12 Effective Internal Communication Tools to Use to Design Compelling Visuals
1) ContactMonkey
We must mention our handy email builder tool that'll make your employee newsletter shine! We may be a bit biased but we think it's definitely one of the best design tools out there for non-designers. 
Our email template builder enables you to choose from a library of beautiful HTML email templates — or make your own using easy-to-use drag and drop content blocks. The ContactMonkey Email Template Builder coupled with your Outlook Mail Merge tool truly gives you the best of both worlds: the power of the cloud without having to leave Outlook to send and track beautiful, responsive internal emails.
Why you should be using this internal communications tool:
Users can choose from dozens of templates and edit them with easy-to-use drag and drop tools. What's even better, you can also save your templates under your  "My Templates" section of the tool, so you can continue using your favourite personalized templates.

From basic to more advanced templates, you can access pre-built templates and customize them as you like. No more boring plain text emails!
Bonus: Add Social Reactions & Pulse Surveys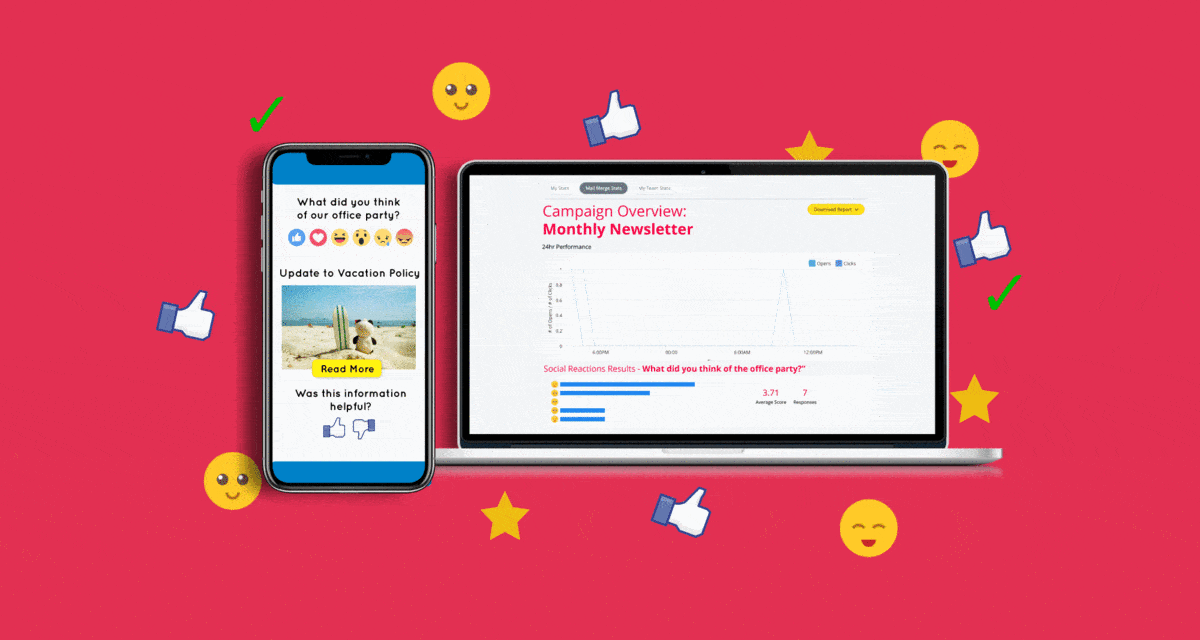 Just like the thumbs up and down on Spotify give you the ability to teach Spotify what you like, by adding social reactions to your communications, you'll be able to proactively learn what your employees crave. Here's what you can do now with ContactMonkey for Internal Comms:
Social Reactions 
Give your employees the ability to love, like and laugh at any content you send them via email. With social reactions now your internal comms team can constantly gather feedback in a seamless way.
Pulse Surveys 
With pulse surveys, you'll also get actionable data on your email communications in seconds. You'll be able to see all of the responses live in real-time on your ContactMonkey dashboard.
Like Buttons 
Your employees are already liking content on all the social media platforms they use on their own time. By adding like buttons to your own internal emails, you'll be able to engage your employees with your content and actually learn what they like.
2) Canva
Canva is one of the best designer tools out there for non-designers who don't have the time to play around with Adobe Photoshop or InDesign.
You can play around with Canva's pre-made templates or create your own template, using your company's colours, images and branding.
Canva also has quick video tutorials that teach you how to to use this simple and efficient tool like a pro.
Why this is one of the best design tools for internal communications:
You can download your visuals in a variety of formats such as JPEG, PNG and PDF and create images in all sizes for social media or for print. 

You can play around with a variety of fonts and colours to make your visuals more vibrant or simply use their colour picker tool to align everything with your company's branding.
3) Piktochart
When looking for stellar design tools, you must look for a tool that can enable you to create beautiful infographics, presentations and flyers? Look no further than Piktochart!
It's free and you need absolutely zero design experience to get started.
You can choose from Piktochart's pre-made custom templates and also edit various elements of these templates such as images, fonts and colours.
They also have a variety of text options with different font styles, sizes, colours and opacity settings. You can easily flip and rotate images as well or stretch them if you need to. This is one nifty design tool you must use!
Watch this video to get started with Piktochart as a beginner:
Why we love this corporate internal communications tool:
We love how you have the option to include charts within your infographic to represent any type of data. We know the C-Suite loves charts so this one's extremely useful for internal communications professionals.

You're also able to insert a map or include a YouTube or Vimeo video within your Piktochart to illustrate something further. Pretty neat, isn't it?
4) Venngage
If you're looking for an alternative to Piktochart, Venngage is a great design tool to have, enabling you to create beautiful infographics as well as other great visual content.
You can choose from a variety of different charts, themes, templates and icons and also upload your own photos and backdrops to align everything with your brand.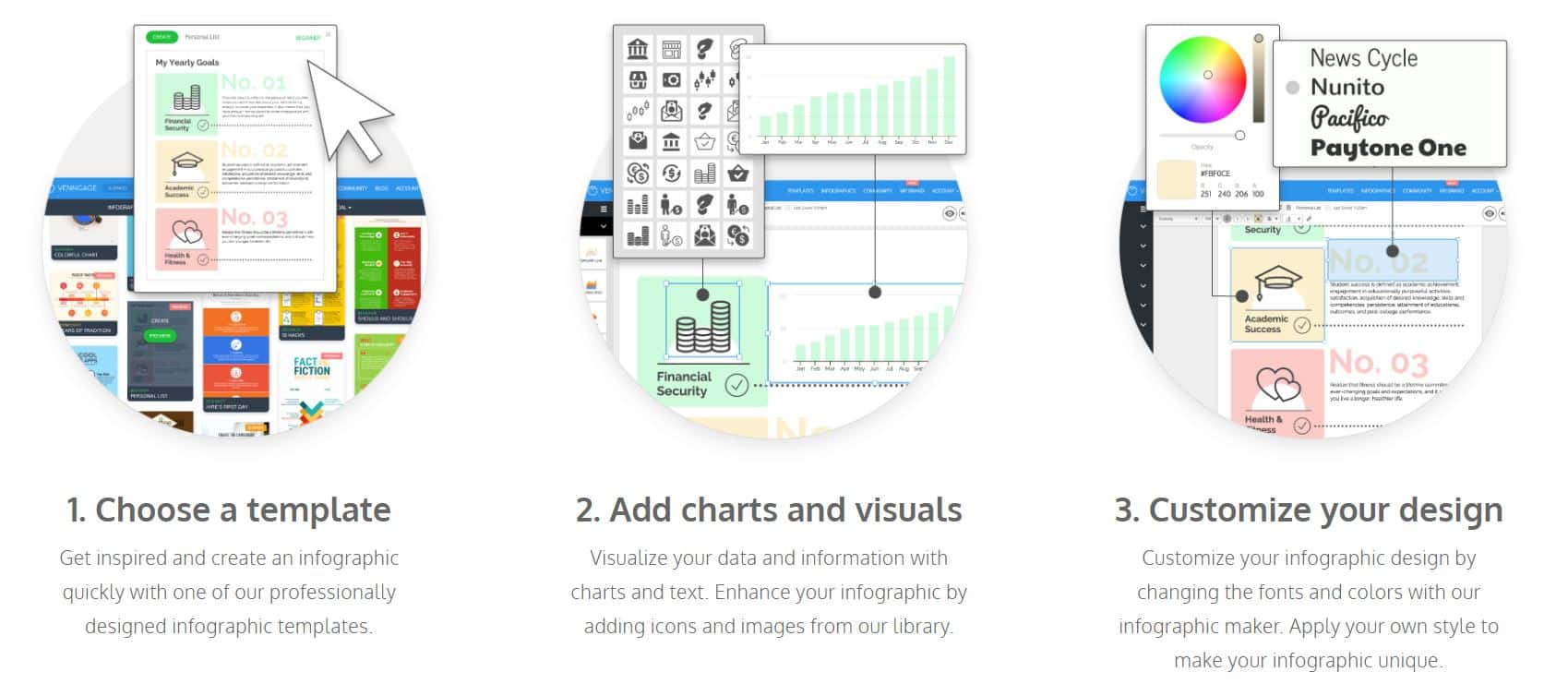 Why we love this design tool for internal communications:
You can track who is viewing your images through the social analytics feature so this is a great way to keep track of your employee engagement.

Venngage's templates are much simpler to use and play around with when compared to some of the other options out there so it's perfect for those who aren't too design savvy.  
5) The Noun Project
When it comes to examining free designer tools, we must talk about some of the iconography websites.
Don't you just love icons? We sure do! Whether you want some handy icons to include in a business presentation, add an icon to your social media visual or use them to enhance your infographics, icons can really make your work stand out like a pro!
We recommend using The Noun Project to choose from dozens of amazing icons.
Internal communications pros can download previously created icons or add their own to their projects by signing up for a free account. 
The only disadvantage with The Noun Project is that when you download an icon, you either must attribute it to the designer or pay a fee (usually $1.99) to buy it without attribution.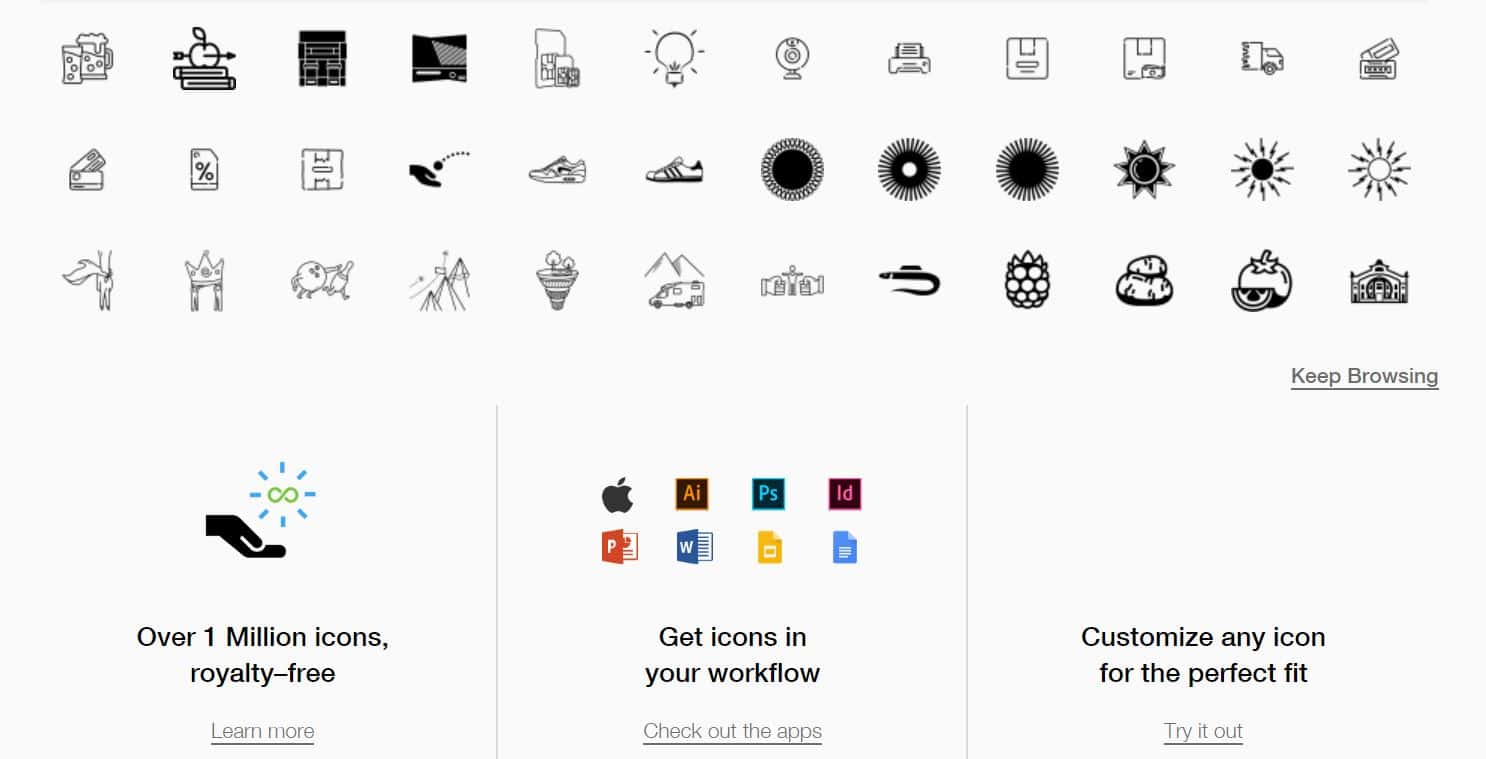 Why this is one of the best internal communications tools:
You can fully customize the icon colour, rotation and background by using their pro-download feature, where you won't even have to attribute the designer.

Choose from over a million curated icons and enhance any creative project you're working on! You can easily add icons to Google Docs, PowerPoint or Word without interrupting your workflow.
6) Icon Finder
When researching design tools, another great option if you're looking for icons is Icon Finder. You can search for icons on any given topic and find tons that are completely free to use.
You can also switch to the premium account if you want more access to various icons.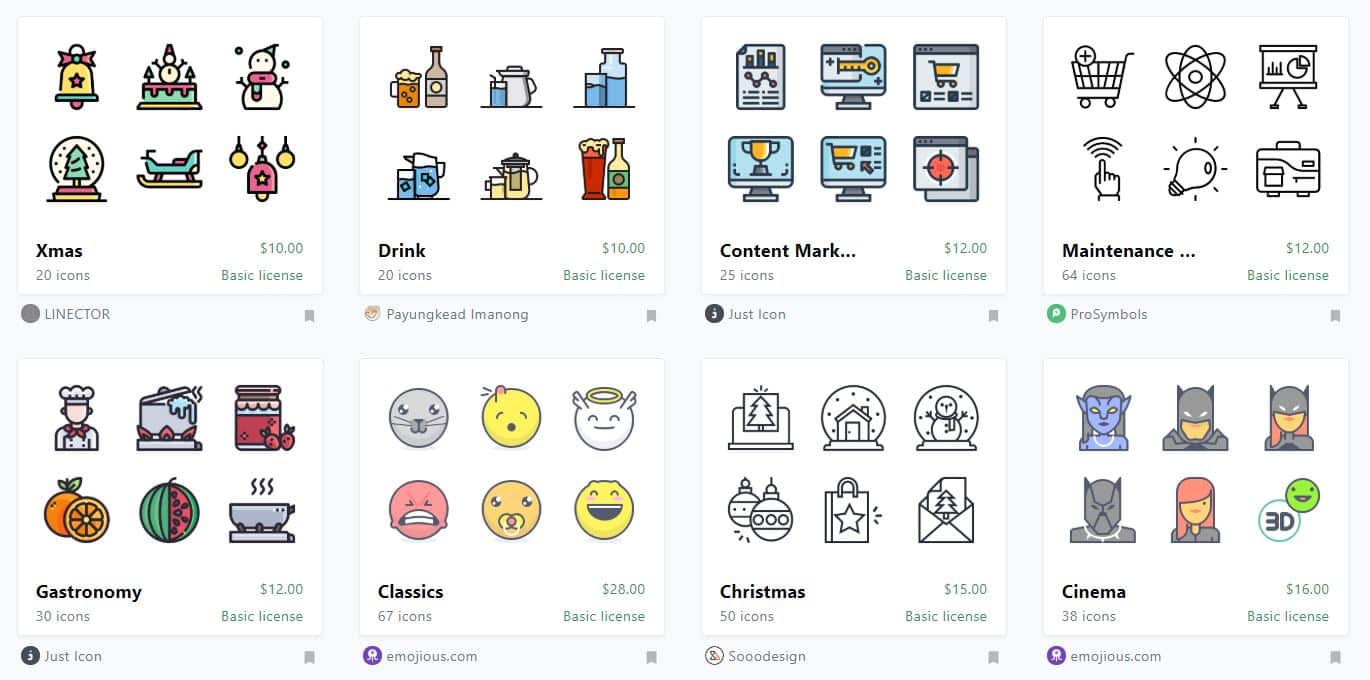 Why we love this free tool for internal communications:
You can change the colour of any icon you want to use before you download it.

You can use various backgrounds against any icon to see how it looks against a certain backdrop and download it with that same backdrop if you wish to do so.
7) Unsplash
Exploring tools with gorgeous photographs is a must when talking about great design tools.
Unsplash offers a large collection of free high-resolution photos and has become a great resource for those looking for free stock images.
You can choose photos from various categories such as "Animals," "Fashion," "Business," "Arts and Culture" and much more.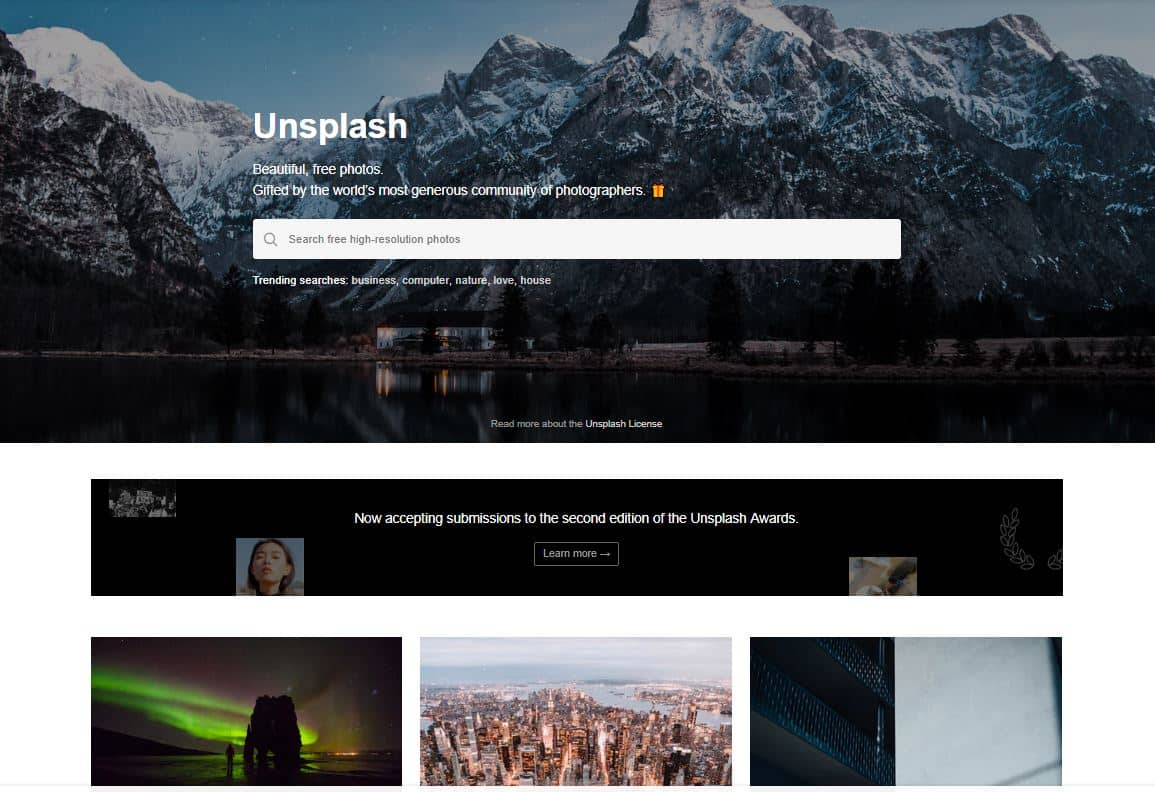 Why we think this is a great design tool for internal comms:
Unsplash photos are free to use for distribution purposes and you don't need to give attribution to the photographer.

You can find photos on almost any industry and add them to your presentations or social media to make your feed or presentation more professional.

8) Pexels
Another great stock photography website that has made it on this stellar design tools list is Pexels.
If you're looking for more than one website to get stock photos from to add more variety to your projects, you should definitely check out Pexels. They offer tons of gorgeous visuals that'll make your projects look spectacular!
Just like with Unsplash, Pexels offers free stock photos on almost any topic and from a variety of industries by professional photographers.

Why we love this company internal communication tool:
All the photos are free for personal and commercial use so you can freely share these on social media without attribution.

You can even use animated visuals by choosing from Pexels' stunning videos to make your social media feed or presentation stand out even more!
9) Animoto
When talking about great design tools, we must also bring in  some video tools. Video, after all, is quite key to boosting employee engagement and making your content stand out even more.
Unfortunately, most of us don't necessarily have the skills, equipment or expertise to churn out flawless videos.
This is where you could really benefit from a cloud-based video tool, such as Animoto, enabling you to create professional videos in minutes.
If you want to try out Animoto, watch the video below to see how you can create great stuff as an internal comms pro.
Why you should use this internal communications video tool:
You can create your own unique videos by adding different photos and visuals and choose from Animoto's music library to add sound to your video.

The finished video can be directly uploaded to your social media channels from Animoto and there's even an Animoto app so you can play around with video without ever having to leave your phone.
10) Magisto
Another great option to use to make great videos is Magisto.
This is a web-based video tool for your PC but you can also download the Magisto app and create great videos in minutes.
You can choose the videos or photos you want and decide which editing style suits your business's tone and style. You're also able to add music to your videos.
Why we like this communication tool:
Magisto will edit your raw video and make it look visually appealing.

You're able to keep track of video engagement through the analytics provided by Magisto, which are great for gauging

employee engagement levels.
11) Ripl
If you're not really looking to create videos but are more into the idea of GIFs or quickly animating images, look no further than Ripl.
Ripl is an app for iPhone and is completely free to use if you don't have a problem with their watermark being displayed on your visuals.
But you can switch to the paid version and get rid of the watermark by paying $9.99 per month.
Why we love this design tool for internal communications:
You can easily turn quote images into animated quotes with Ripl to share on social media or within your employee newsletter.

If you use the pro version, you can use Ripl's music library and choose from dozens of fonts and designs and add your company logo to your visuals.
12) Adobe Photoshop Lightroom CC
Ever taken employee photos at a team event but they came out looking too dark to put on your social media channels or share within your employee newsletter?
You should download the Adobe Photoshop Lightroom CC app.
It doesn't matter if you've never used Photoshop before. This app is super easy to navigate and it'll literally take you seconds to adjust your photos and make them good enough to share on social media.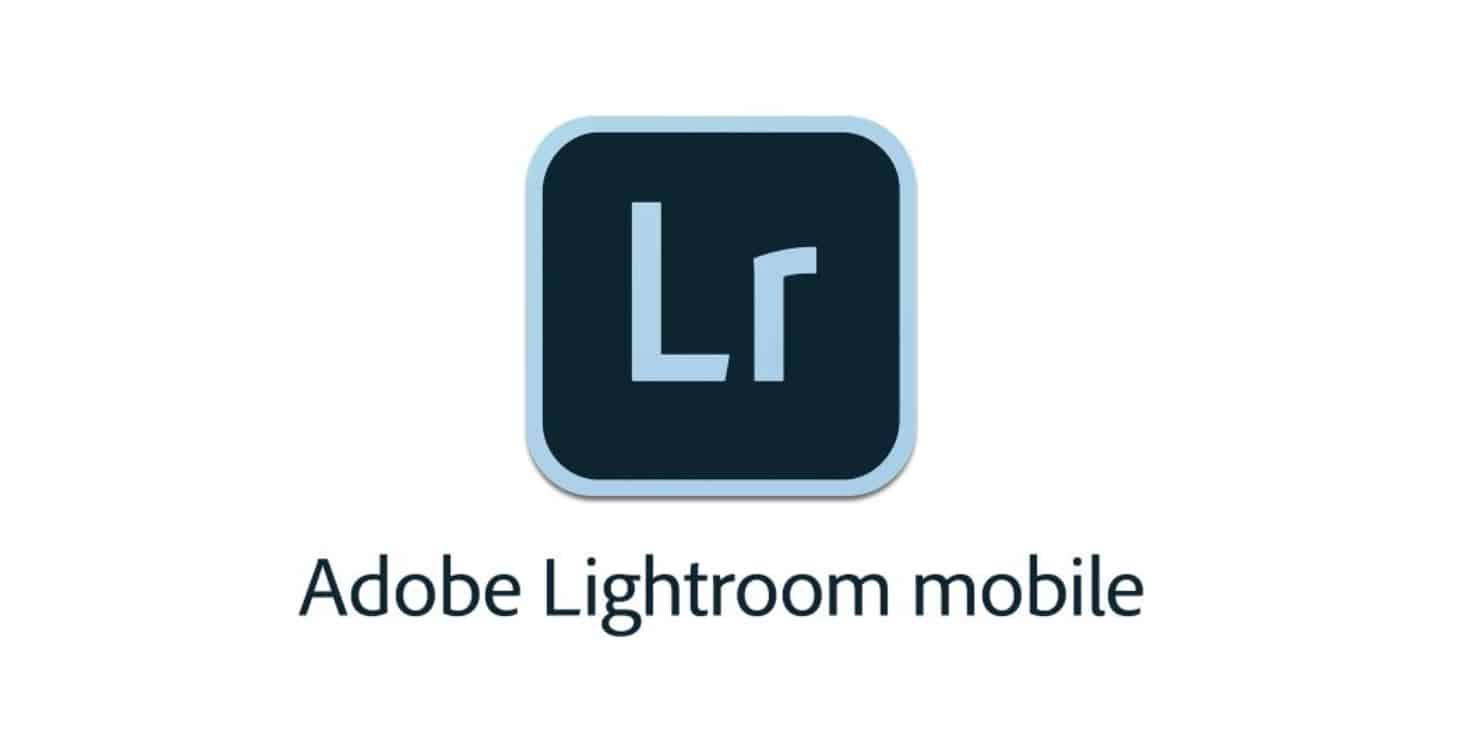 Why we love this free tool for internal communications:
The app is completely free to download, enabling you to easily crop photos, use the "light" feature to adjust the exposure, balance the vibration or saturation of your photos using the "colour" feature and much more!

If you're a budding or aspiring photographer, this is must-have tool that can enable you to totally up your photography game!
So, there you have it. 12 amazing design tools to help you up your design game without having to rely on a designer. Have you used any other design tools that we could add to this list? Tell us in the comments below. We'd love to hear from you!
Want to start using our epic email template builder and create beautiful employee newsletters in minutes? You may be interested in learning about our tool for internal comms. Just click on the button below to book your demo!