COVID-19 changed how we live, work, and communicate. Take the lessons you've learned from your coronavirus crisis communications and apply them to all your internal communications.
When your business experiences a crisis, your employees will look to leadership for information and instructions. In the age of COVID-19, we've learned a lot about how best to communicate with your workforce to ensure safety and minimal disruption.
We'll examine how COVID-19 has changed how we approach communications. We'll also identify which internal communication best practices have emerged among leading businesses as a result of coronavirus crisis communications.
If you're looking for an email tool to send and track crisis communications, ContactMonkey can help you prepare for the next major business interruption. Draft emails, schedule campaigns, and track employee engagement to ensure your crisis communications are effective.
Manage crises with a modern internal comms tool.
Start a 14-day trial. No credit card is necessary. Zero risk.
How Does COVID-19 Affect Crisis Communications?
Crisis communications is a proactive practice. The goal of your crisis communications is to minimize the impact of crises on your business via prescribed processes and communications.
A crisis communications plan outlines your response process, provides pre-drafted communications, and contains benchmarks to measure a successful crisis response.
But COVID-19 changed how businesses approach crisis communications. Prior to the pandemic, many crisis communications strategies featured written communications, rigid expectations, and business-first thinking. Your employees' expectations are likely very different since then, and how effectively your business navigates a crisis will depend on meeting your employees' expectations.
The effects of COVID-19 on crisis communications are easy to see. Some of the most common changes include:
Personal over professional messages: Employees stuck in their homes often felt isolated from others. Crisis communications featuring effective leadership communications helped employees remember everyone is facing the struggle together.
Frequent, brief updates: Companies helped ease their employees' anxieties by providing frequent updates about the COVID-19 pandemic.
Focus on wellbeing: Rather than focusing on returning to "normal", crisis communications during the COVID-19 pandemic focused on helping employees handle the mental, physical, and communications challenges of the many lockdowns.
Emphasize flexibility over timetables: Your employees faced constant uncertainty about the future during the COVID-19 pandemic; employers responded by accommodating the various needs of their employees.
What many of these changes boil down to is understanding the human needs of your employees. Stressed employees simply don't benefit your business the same way engaged employees do. An employee-focused approach to your crisis communications should be your top priority in a post-COVID world.
How to Keep Your Internal Communications Sharp During Crisis
As an internal communications professional, it's your responsibility to make sure that the information you're giving to employees is accurate, up to date, and essential.
To keep your employee communications sharp during this public health crisis:
Have a communication plan to ensure you're not over-updating your employees.
Use reputable outlets for your information.
Make sure that you're using accessible language in your internal emails.
Outline any company-wide policies, such as expectations around remote work.
How to communicate with employees during a crisis
There are seven key things employers need to do when communicating to employees about a crisis. These include:
Be proactive before a crisis hits.
Get a crisis management team in place.
Notify employees, rather than expecting them to come to you.
Provide employees with accurate, up-to-date information.
Inform employees in a timely manner.
Test out your communication process regularly.
Evaluate your internal communications pre and post-crisis.
Keep these points in mind when drafting your critical communications strategy. Though every crisis is different, knowing what needs to be done can take the guesswork out of your crisis response.
If you're struggling to create content for your crisis communication email, consider using ContactMonkey's OpenAI ChatGPT integration. Simply describe what you want your email to accomplish in a prompt, generate example text and edit it according to your audience.
What Channels to Use for Employee Updates
We're big fans of newsletters and succinct internal emails for crisis communications. With ContactMonkey, you can easily draft, schedule, and track crisis communications to your employees. We even provide a free guide that includes pre-drafted crisis communications templates you can use to help you get started.
Other internal communications channels for crisis communications that you may want to consider include:
Conferencing apps like Slack or Zoom
Chats and forums
Social media
Employee SMS communications can be a powerful asset during a crisis event. SMS text messages are easy to draft, concise, and quick to send, especially if you're using SMS text templates. With ContactMonkey you can draft and send emergency SMS alerts from the same platform you create your email-based internal communications.
If you need to send numerous crisis communications to only one section of your workforce, consider using custom email lists to avoid inundating your entire organization with irrelevant emails. Custom email lists help you target employees with relevant information to increase email engagement.
Using ContactMonkey's List Management feature, you can easily create your own custom email lists without needing IT. Email lists created using ContactMonkey integrate with your Human Resource Information System (HRIS) like Workday and ADP, as well as Azure Active Directory, so your lists will update automatically as employee join and leave your organization.
Measuring your crisis communications' success
The function of your crisis communications is to convey information to your employees. But if your employees aren't reading or engaging with your emails you may struggle with your crisis response.
You can measure your crisis communications using an internal communications tool like ContactMonkey. Track open rate, link clicks, read time, and more to ensure your crisis communications are read and your employees are properly informed: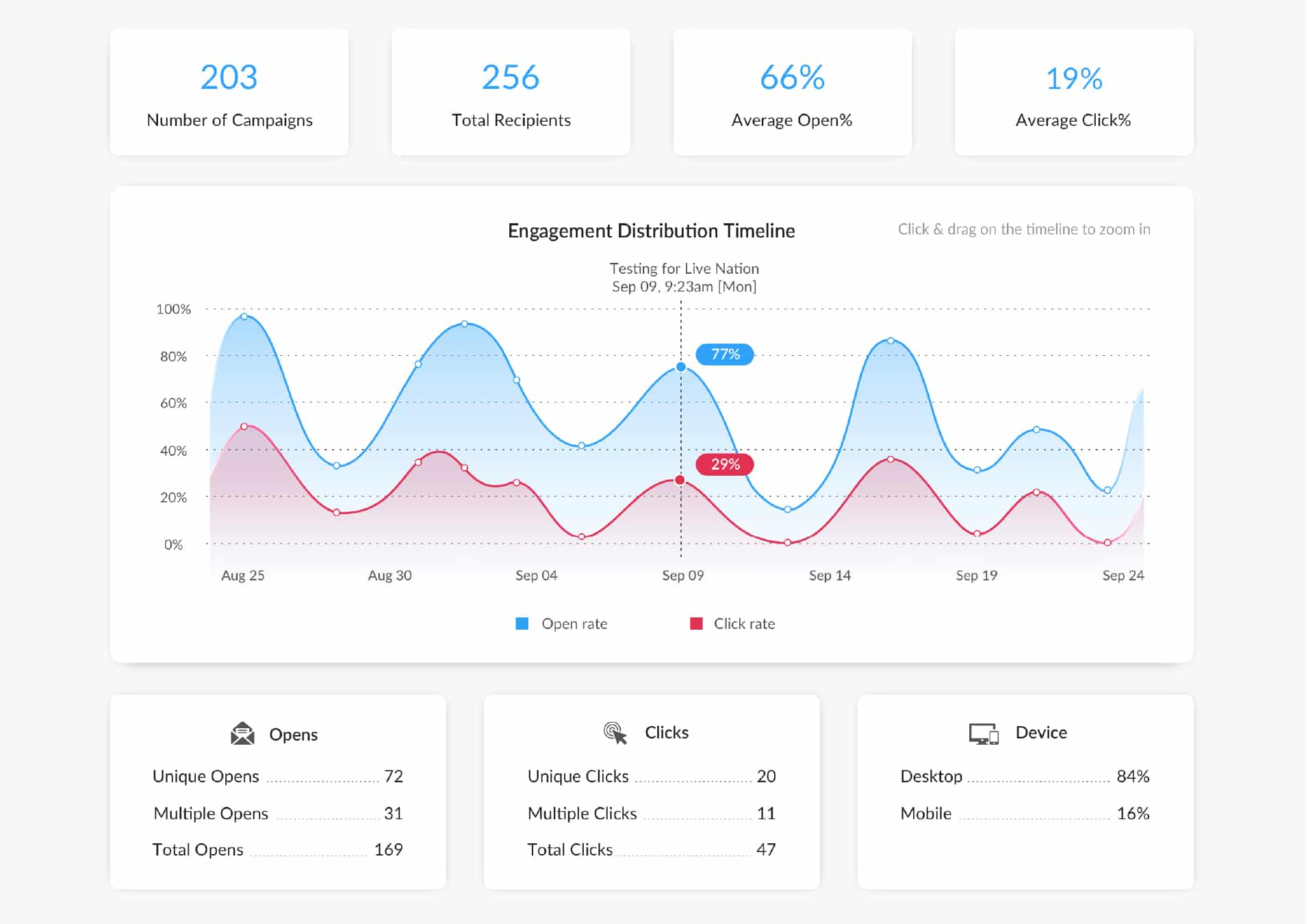 With these stats you can set up benchmarks by which to measure your crisis communications. See if you performed better or worse than last time, and pinpoint where you need to improve.
If your organization has internal or external regulations around email privacy, you can use ContactMonkey's anonymous email tracking to gather email metrics while maintaining your employees' privacy.
Use The Right Tool For The Job
There are a ton of tools available for internal communications that can fortify your crisis communications strategy— but what you choose will depend on the type of organization you're in.
The right crisis communications tool for your organization is the one that helps your employees navigate work interruptions the easiest. The focus of crisis communications is minimizing disruptions, so look for a tool that works with your existing internal communications framework.
"Prepare, act, and adapt" is a good mantra for internal communicators during a crisis; let this theme guide your crisis communications strategies.
Learn how to use an internal communications software to prepare your business for crises and mitigate interruptions. Book a free demo to see how ContactMonkey can improve your internal emails: